Top 9 Email List Building Plugins for WordPress
Many online entrepreneurs take too long, if ever, to start building an email list. Perhaps they don't understand the value of an email list to an online business. Perhaps they can't setup email marketing, and third party services aren't all that helpful.
The real reason, however, is they are unaware there are many list building plugins that make creating or reinventing their lists incredibly easy. If you don't know this already, you need a great list to drive more traffic and sell your products.
So are you ready to create appealing and highly converting opt-in forms? If so, we have just the plugins for you. Read further to find one that's best for you.
Best Mailing List Plugins for WordPress
01. Thrive Leads


When I was doing my research, I found many people talking about Thrive Leads. So I got interested, dove in and boy was I impressed or what. Thrive Leads is easily one of the best list building plugins for WordPress.
With a one of a kind visual editor, you don't need to go tinkering with code to build breathtaking opt-in forms. Just drag and drop elements to customize any of the over 30 opt-in form templates and in matter of months you'll have a huge email list.
Further, you can add your opt-in forms anywhere on your WordPress blog maximizing your conversion rates. Using advanced targeting technology, you can use Thrive Leads to get "…massive conversion boost by showing relevant…offers to your visitors based on posts, categories, tags and more."
And since this list building plugin comes with an advanced A/B testing feature, you know exactly what to optimize to increase list conversions.
Diversity is the way of Thrive Leads what with multiple ways to generate leads including popup lightbox, sticky header ribbon, in-line forms within your content, 2-step opt-in forms, and slide-in forms among others. Additionally, integrating Thrive Leads with autoresponders and email marketing services is as easy as A, B, C.
When you finally get your email marketing machinery up and running, you can use the Smart Analytics feature to gain actionable insights and detailed reports on your traffic.
Thrive Themes, the company behind this feature-rich email list builder offers you three plans: a Single Site License for $59 bucks, the Unlimited Sites License for $97, and the Agency License that goes for $247 per year. Each plan comes with its unique set of features, so choose the plan that's suitable for your business.
02. Bloom Email Opt-in Plugin for WordPress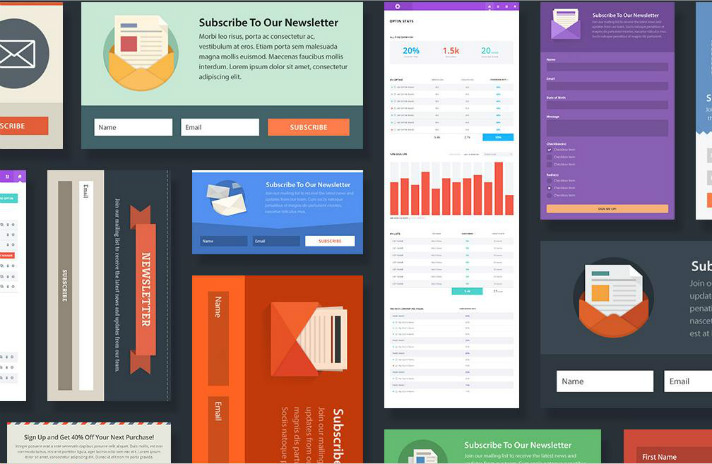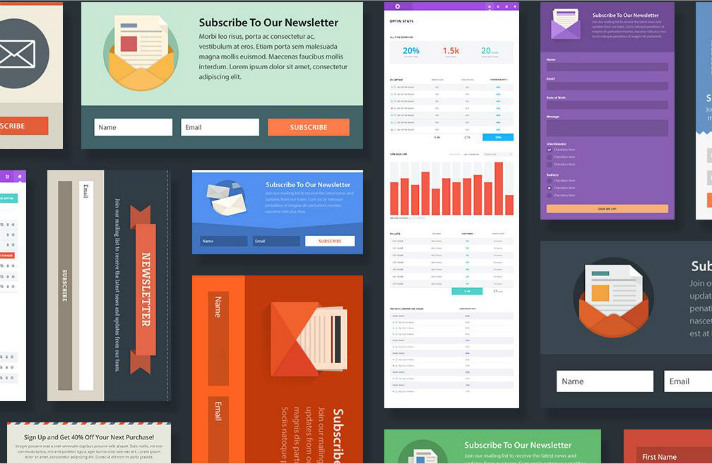 You've probably heard a thing or two about Elegant Themes and their awesome themes. But building awesome themes isn't their only forte, and Bloom is evidence enough.
This email opt-in plugin offers you the power you need to convert mere visitors into ready-to-buy customers. Featuring a refreshing unique design, your forms will look amazing and convert exceptionally well.
Curious about the features? You get:
The ability to target specific content
Over 100 amazing and easy to customize templates
6 different opt-in types
Opt-in triggers
16 email marketing integrations
Multiple style options
Unlimited colors
A/B split-testing
Tracking
Responsive design
An intuitive dashboard
Etc
You can get Bloom and over 85 amazing themes by joining the Elegant Themes family for $69/year, $89 per year or $249 one time fee. Speak of getting true value for your money.
If you decide go with Developer's license, use our exclusive Elegant Themes coupon for 20% off.
03. OptimizePress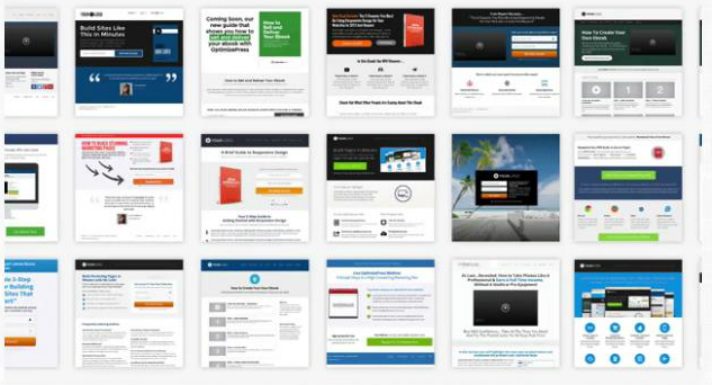 OptimizePress is not your typical opt-in form builder. It's an entire suite of features that will add ease and fun to your email marketing.
Business leaders such as Micahel Dunlop and Melanie Duncan among others love and trust OptimizePress because it is a "…new way to create high converting landing pages, sales pages and membership portals." I told you this is not your typical list building plugin for WordPress.
Let's dig deeper, and find out which features make this bad boy standout from the crowd.
For starters, you can easily and quickly create mobile-ready landing, sales and marketing pages using the intuitive LiveEditor system. This just means you can see your forms live while building – no need to refresh your browser.
If you don't know where to start, you can choose any of the 30+ templates. You can further customize any template easily using the Element Browser, which offers you an additional 40 custom elements.
You can integrate OptimizePress with platforms such as AWeber, MailChimp, GetResponse, iShoppingCart, iContact, Google Analytics, and iMember360 just to mention a few.
Other features include:
Product launch funnels
Plenty of customization options
Access to a premium blogging system
Secure membership portals
Webinar registration pages and
Free training among others.
You can try OptimizePress risk-free with the 30-day money-back guarantee. Or you can dive in and get this list building plugin working hard for your business for as little as $97 for the Core Package. Alternatively, you can choose the Publisher Package or the Pro Package at $197 and $297 in that order.
04. Content Upgrades Pro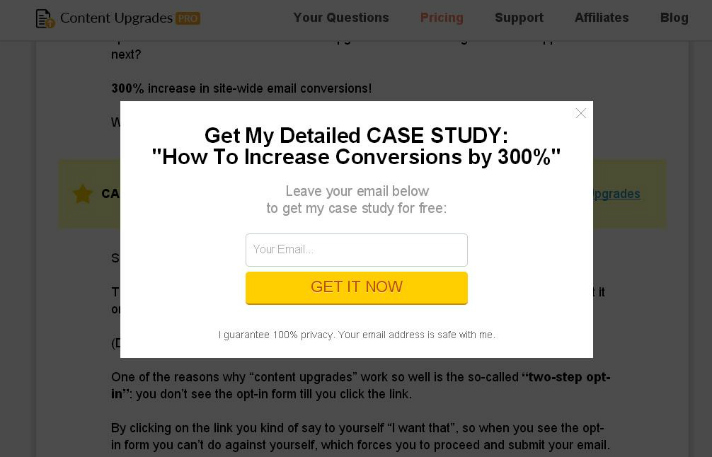 This WordPress list building plugin employs a relatively new lead generation tactic known as content upgrades. But what the hell is this animal known as content upgrades?
It's simply a tactic that involves putting bonus material into your article and making visitors subscribe in order to get it.
This tactic is so effective the likes of Brian Dean and Bryan Harris reported improving site conversion by 185% and 30% respectively.
Content Upgrades Pro is a simple plugin designed to play one role, and play it well; tapping the potential of content upgrades.
It comes with:
6 easy to customize popup designs
5 different fancy blocks to encourage click-throughs
Detailed reports
A/B split-tests
Unlimited number of content upgrades
Integration with MailChimp, AWeber, GetResponse & Ontraport
Export feature
Email delivery
60-day money-back guarantee
Free updates
Quick-response support
Etc
Tim Soulo, the author, offers you three price tiers. You have the Single License for $37 only, Multi-License plan for $47 and Developer's License for a one-time fee of $77.
05. Plugmatter Optin Feature Box
Right now, the feature box is averaging something like 33.6% conversion rates. – Derek Halpern, Founder of SocialTriggers.com
Other entrepreneurs are getting more than 50% conversion rates using the feature box. But hey, what in the name of web development is an opt-in feature box?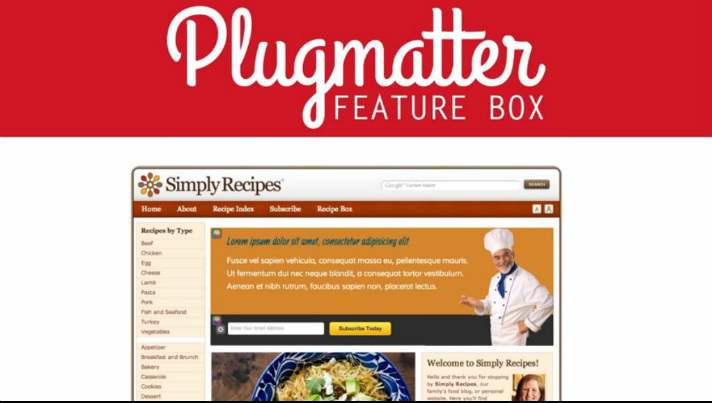 An opt-in feature box is simply an opt-in form that sits right below the header but before your main content. This way, it attracts the most attention helping you to turn more readers into customers.
Now for the first time ever, you have a top-of-the-drawer list building plugin that allows you to tap the huge potential of feature boxes. Ladies and gentlemen, say a big welcome to Plugmatter's Optin Feature Box.
What can you expect to get with this WordPress list builder?
You have an in-line editor
10 beautiful templates
Plugmatter Optin Feature Box utilizes responsive technology meaning your site will look amazing across all platforms
To boost your conversion rates you can create attention-grabbing video opt-in forms because, well, static forms are just too mainstream. What's more? You can create your own custom feature boxes and place them wherever you desire on your WordPress site.
Additionally, you can create laser targeted lists by placing opt-in forms on specific posts/posts. Moreover, you can A/B split-test your feature boxes and even treat returning visitors differently; for instance, you can choose to hide the feature box from subscribed visitors.
Moving on, you can add Google Events tracking to keep tabs on activity on your feature boxes, and integrate your boxes with all the major email marketing services. Other than that, you get 24/7 support, 30-day money-back guarantee and updates.
Depending on your budget or preferences, you can go with the 37-dollar Single Plan, the Professional Plan for $57 or the Developer Package for just $97 bucks.
Get Plugmatter Feature Box Plugin
06. OptinMonster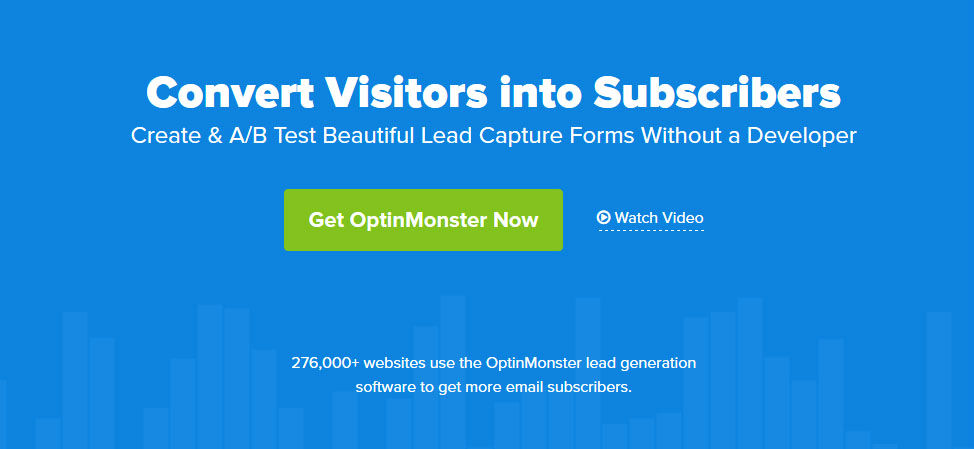 With a 60 second setup time, and a slew of amazing features, OptinMonster is the list building plugin you want fueling your email marketing campaign.
Brought to us by Syed Balkhi of AwesomeMotive and Thomas Griffin of Soliloquy Slider, OptinMonster is a popup plugin on steroids.
The plugin is cloud based which means you can manage multiple opt-in forms on different sites from a central place. How convenient? And seeing this plugin is a cloud app, you can further use it on any other website, not just WordPress-based sites.
Features include:
The drag & drop OptinMonster builder
Analytics
Exit intent technology
Ability to add custom CSS
Shortcodes
A variety of opt-in forms (popover, sidebar, after post, footer etc)
Page level targeting
A/B split-testing
Support for multiple autoresponders/email marketing services
And much more
OptinMonster is easy to use and customize, and with more features than you'll need, we can easily understand why over 275k websites use the plugin. Additionally, you get world class support and documentation to help you out when stuck. Here's the vibe doing rounds…
Ever since we installed OptinMonster we have seen a 240% increase in newsletter signups on Search Engine Journal. Not only have we had more signups, but the popup itself is very easy to customize and comes across as an unobtrusive way to transparently build a marketing list. – Loren Baker, Founder at Search Engine Journal.
In the pricing department, you're well covered with prices ranging between $49/year and $199/year. You're protected by a 100% 14-day money-back guarantee.
07. Ninja Popups for WordPress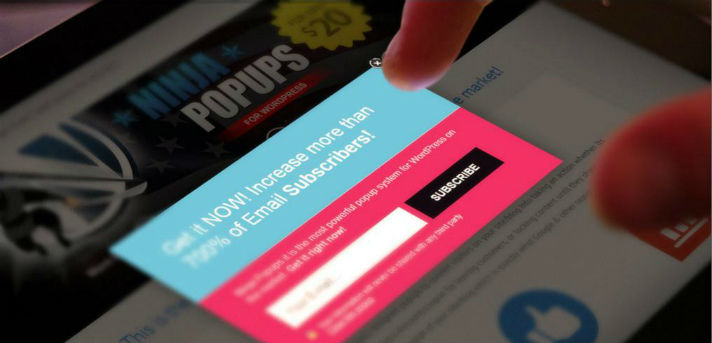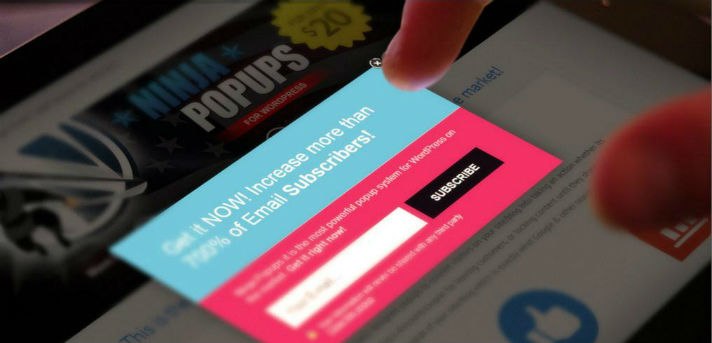 People hate popups. They are intrusive, and if they are designed haphazardly, they can give off a spammy vibe. Yet, popups are extremely effective in building email lists, especially if the plugin you're using is as good as Ninja Popups.
Am I just talking a good one or is this plugin worth its salt? Built by arscode, a power elite author, with an impressive rating of 4.43/5.00 and over 16k sales, Ninja Popups will take your list building game to the next level.
In the features department, you're thoroughly spoilt for choice. You get:
A drag & drop builder to design your popups as you fancy
40 stylish popup themes
An import feature to add your popups to WordPress easily
SEO-ready
Support for major mailing systems
Statistics
A/B split-testing
Responsive design
Newsletter locker to restrict your content
Easy configuration
Unlimited styles
Free lifetime updates
Customer support
And much much more
This plugin is compatible with WPML, WooCommerce, the latest version of WordPress and all major browsers. Ninja Popups for WordPress will set you back $21 but it's a worthy investment for your business.
08. Ninja Kick: Subscription WordPress Plugin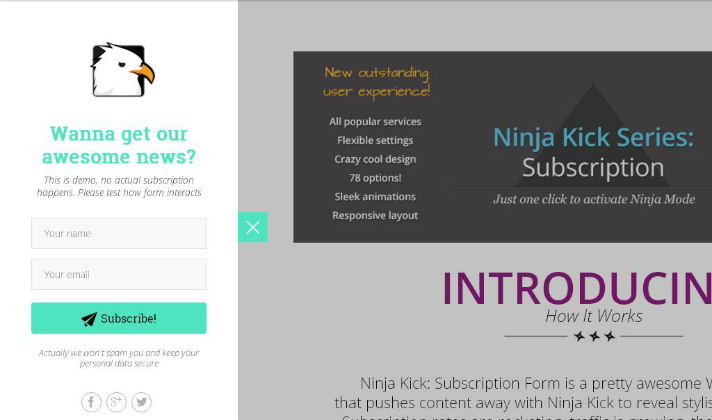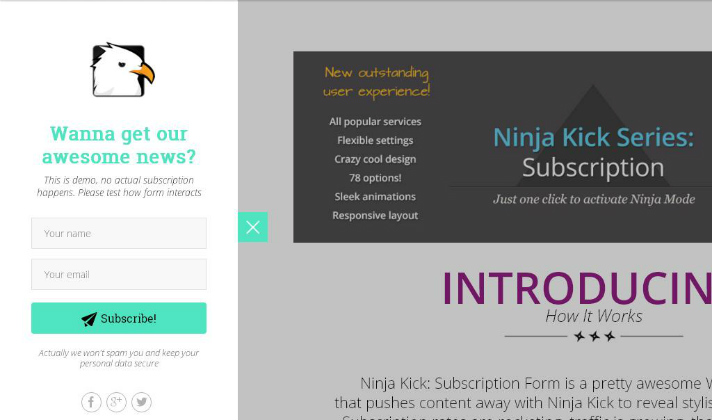 Look-awesome is one elite author who knows the place of elegant and sleek design in boosting user engagement. And when such an author builds you a list building plugin, you get a kick. You get Ninja Kick, the third installation in the Ninja Kick Series.
Thanks to CSS3 transitions, you get a cool opt-in form that slides into view when the visitors activates a trigger e.g. getting to the end of an article.
You can add the opt-in form anywhere on your site by attaching a class to any element (button, images, link etc). The form will slide in when you click on said element.
Other features include:
Support for all popular mailing services
Responsive design
78 style options
Multiple form layouts
Flexible settings
Crazy cool design
Swipe support for mobile devices among other features
Ninja Kick has an incredible buyer rating of 4.69/5.00 and costs just $17 bucks.
09. WP Subscribe Pro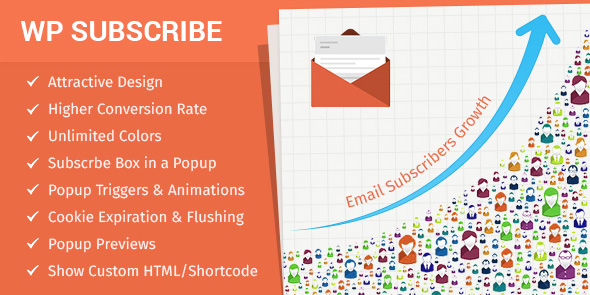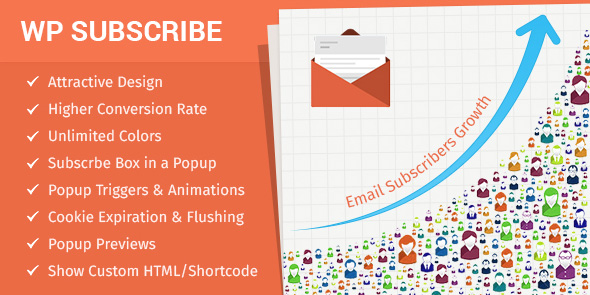 You can do everything under the sun to get visitors to your WordPress site, but even with the best content, it's nearly impossible to convert more than 30% of the visitors into customers. Yeah that's right, 70% of visitors exit your site never to return :(.
However, you can turn the tables using the WP Subscribe Pro list building plugin by our friends over at MyThemeShop. After testing this plugin on a number of sites with amazing results, the guys at MyThemeShop decided to share the plugin with the world on November 11, 2014.
Since then, the plugin has grown in popularity thanks to awesome features such as:
A fully responsive design so your popups can look incredibly good on multiple platforms
Exit intent which shows the popup when the visitor is about to leave your site
Shortcodes
An easy-to-use options panel
Zero-load on your site
Unlimited colors
Easy integration with the likes of MailChimp, AWeber, and Feedburner
Cool animations
For only $29 bucks, you can use WP Subscribe Pro on unlimited sites, get updates and 24/7 x 365 dedicated support. The plugin has an awesome rating of 4.3/5.0.
Bonus: 10. Optin Forms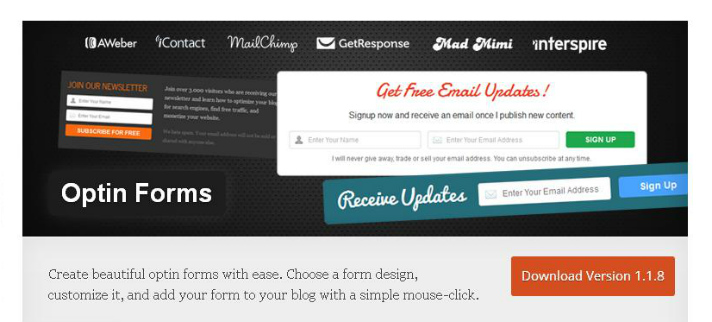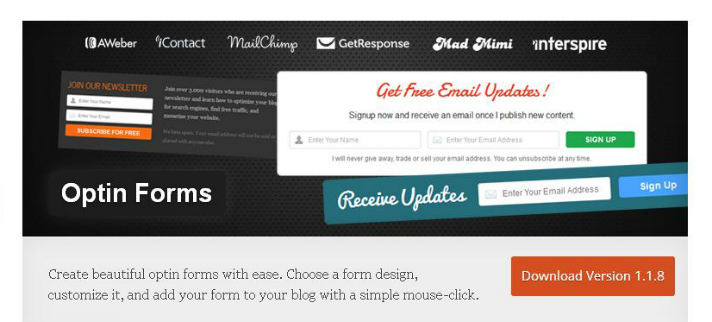 The only free opt-in plugin on this list, Optin Forms is for the person who hates popups but needs an equally effective solution. This plugin will place non-obstructive opt-in forms anywhere you will on your site.
You don't even need any special skills to use this plugin, because you can create stunning opt-in forms in less than five steps. That's right, just choose your favorite email solution, pick a form design and add your forms to posts/pages with a simple click.
At the time of writing, Optin Forms supports six email marketing services namely AWeber, iContact, GetResponse, Interspire, MailChimp, and MadMimi.
The plugin ships with five beautiful form designs that are fully customizable so you can build forms just the way you imagine it. It supports shortcodes, has an impressive rating of 5.0/5.0 and over 57k total downloads.
How to Choose the Perfect List Building Plugin
We've covered ten(10) of the best list building plugins out there, but how do you choose one that will suit you best?
Bloom is the perfect choice if you're looking for an all-round solution and something extra in the form of WordPress themes. The plugin is well designed and comes with enough features to supercharge your list building efforts. It's developed and managed by a renowned company.
Thrive Leads is a darling of many if the numerous positive reviews online are anything to go by. All the same, Thrive Leads is ideal for WordPress lovers looking for a lightweight solution at a great price.
Optin Forms is free and easy to use. The number of email solutions is, however, limited to just six at the moment.
This is where our inquiry into the best list building plugins ends. We hope this article helped you find the right list building solution for you site. You may also want to see our comparison of 8 best contact forms plugins for WordPress.
If you have any question or suggestion, feel free to drop a line in the comments below.