Elegant Themes membership not only gives you full access to the Divi builder and theme with hundreds of free starter sites, but you also get Extra – a magazine theme built on Divi, Bloom – an email opt-in plugin, and Monarch – a social media plugin. What's even better – we've got an Elegant Themes coupon for our readers to save you money on membership.
We've negotiated a deal with the team at Elegant Themes and we're happy to offer all Design Bombs readers 10% off yearly or lifetime membership.
Ready to get the discount? There's no code needed – just click this link to visit Elegant Themes and your discount should be automatically applied at checkout.
Want to know more about Elegant Themes and what exactly you get with membership? Keep reading!
About Elegant Themes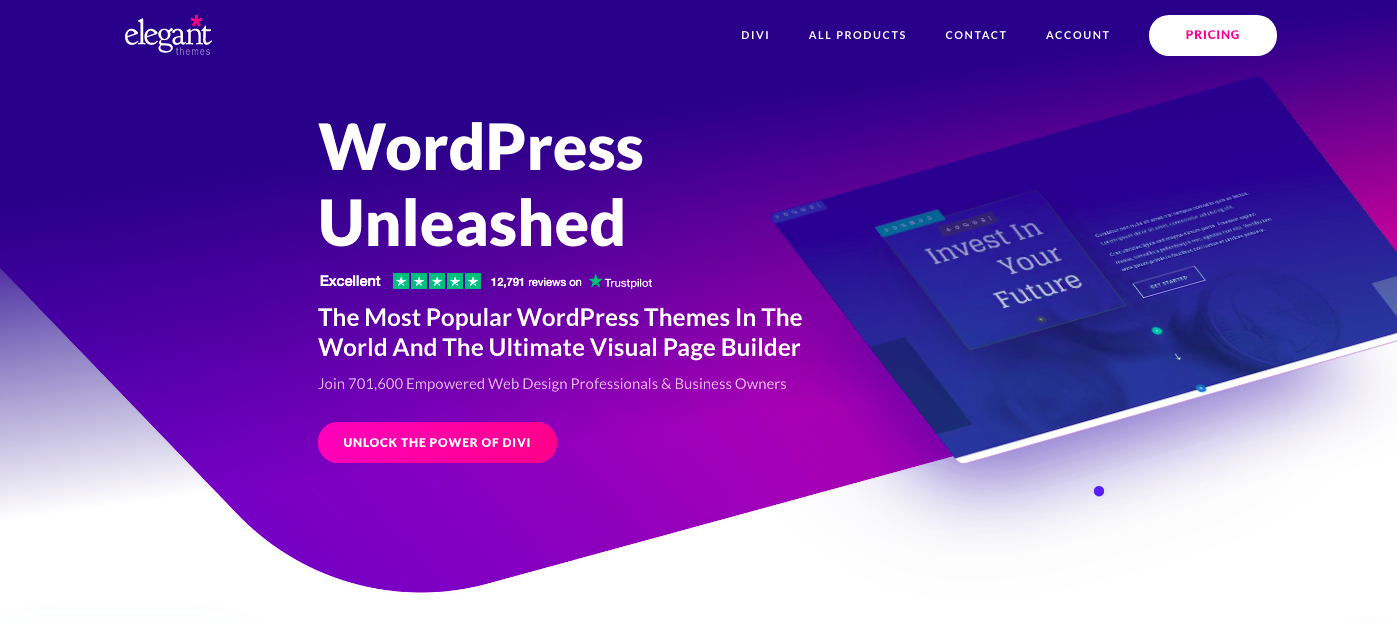 Elegant Themes originally made a name for itself as a theme shop selling dozens of creative themes for WordPress users. They're now best known for their Divi theme and drag-and-drop page builder – a theme that owns the coveted title of being the most popular WordPress theme on the web.
Elegant Themes was founded in 2008 by web designer Nick Roach. He originally started the site as a "digital playground" to experiment with WordPress and created all the original themes on the site himself.
The popularity of Elegant Themes quickly grew due to its quality of designs and value for money and the company grew and continued to add more themes to its library.
In 2013 Elegant Themes launched Divi as its flagship theme. This multi-purpose and flexible theme was pretty groundbreaking and quickly grew in popularity. Eventually, the company decided to stop updating their other themes and creating new ones, and concentrate on developing Divi.
Divi is now a very popular visual page builder that competes with other products such as Elementor and Beaver Builder.
Elegant Themes Membership Plans
There are two membership options available when you join Elegant Themes: Yearly Access and Lifetime Access. Both plans give you complete access to Divi builder, Divi theme, Extra theme, and Bloom and Monarch plugins.
Your license for both plans gives you permission to use these plugins and themes on unlimited websites and with unlimited users. You also get full access to hundreds of pre-designed website packs with both plans.
So what's the difference between the two plans? Essentially, the lifetime membership option is a one-time fee, which gives you lifetime access to support, and updates. You get exactly the same products with the yearly access plan but you'll have to pay again after a year if you want to keep getting updates and support.
It's a bit of a no-brainer opting for the lifetime plan if you intend on using Divi on your websites for longer than 2 years but for a short-term project, you might want to opt for the yearly plan. There's a 30-day money-back guarantee on both membership plans, so you can try out Elegant Themes risk-free.
It's also worth noting that most other page builder themes and plugins including Elementor, Beaver Builder, and Visual Composer do not offer a lifetime membership. This means Elegant Themes lifetime membership is excellent value for money. 
Yearly Access price: $89 per year (just $80 with our 10% discount)
Lifetime Access price: $249 one-time fee (just $224 with our 10% discount)
Features of Elegant Themes and the Divi Theme and Builder
With Elegant Themes, you get access to two themes (Divi and Extra, both including the Divi drag-and-drop visual page builder) and two plugins (Bloom and Monarch). The following is a basic overview of these products. For more information, you can read our full Elegant Themes review.
Divi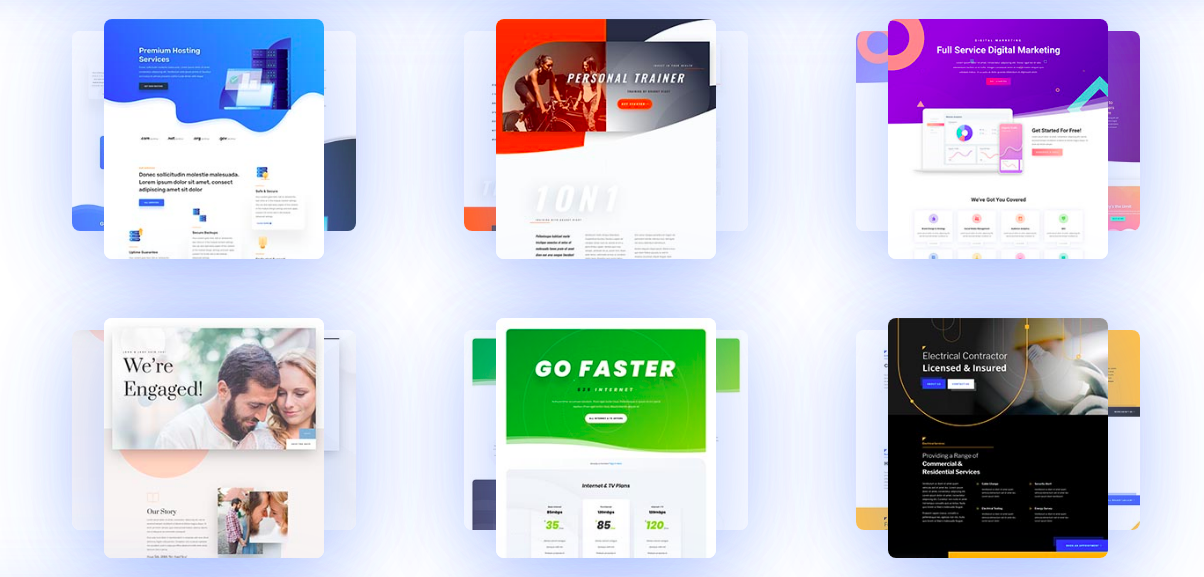 Divi is the most popular WordPress theme in the world and includes a visual drag and drop page builder. Some of the best features of Divi include:
Real-time visual editing with no code needed
40+ pre-built website elements
100+ pre-built website packs
Responsive design and editing
Complete customization via Divi settings or CSS
Built-in split testing and analytics
Compatible with WooCommerce
Use the Divi builder to customize any theme
To find out more, read our Divi theme review to discover exactly why many people consider this to be the ultimate WordPress theme
Extra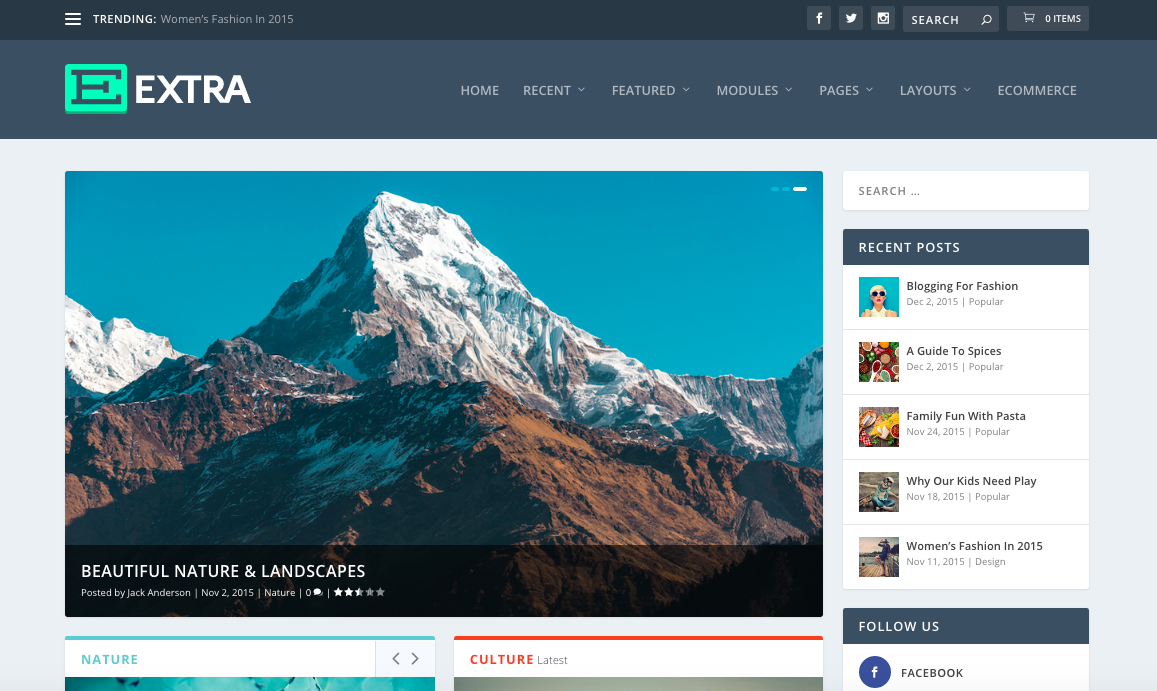 Extra is a magazine theme built on Divi that's designed for bloggers and online publishers to display a lot of content in a clear way.
Extra comes with all the features of Divi, with extra page elements for category pages, custom Mega Menus, secondary navigation, posts optimized for social sharing, a reviews system, and more.
Bloom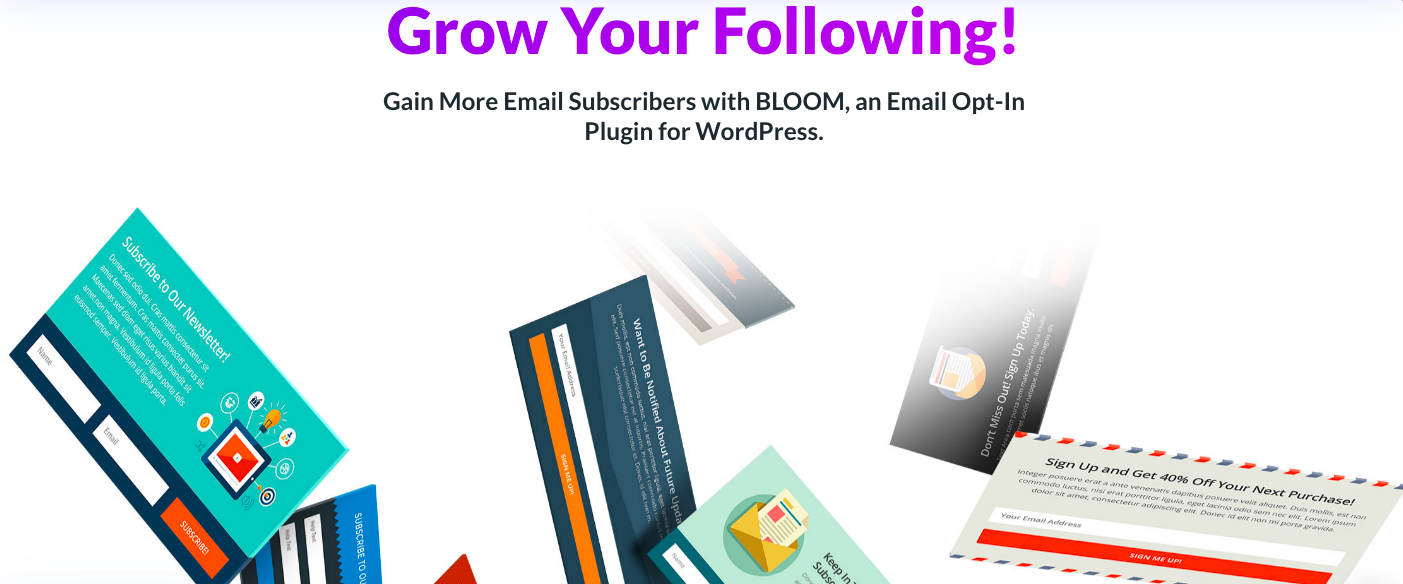 Bloom is an email opt-in plugin that includes various forms, automatic pop-ups and fly-ins with multiple triggers to convert visitors into followers. It integrates with all the major email marketing software platforms and is fully customizable to fit into any design.
Monarch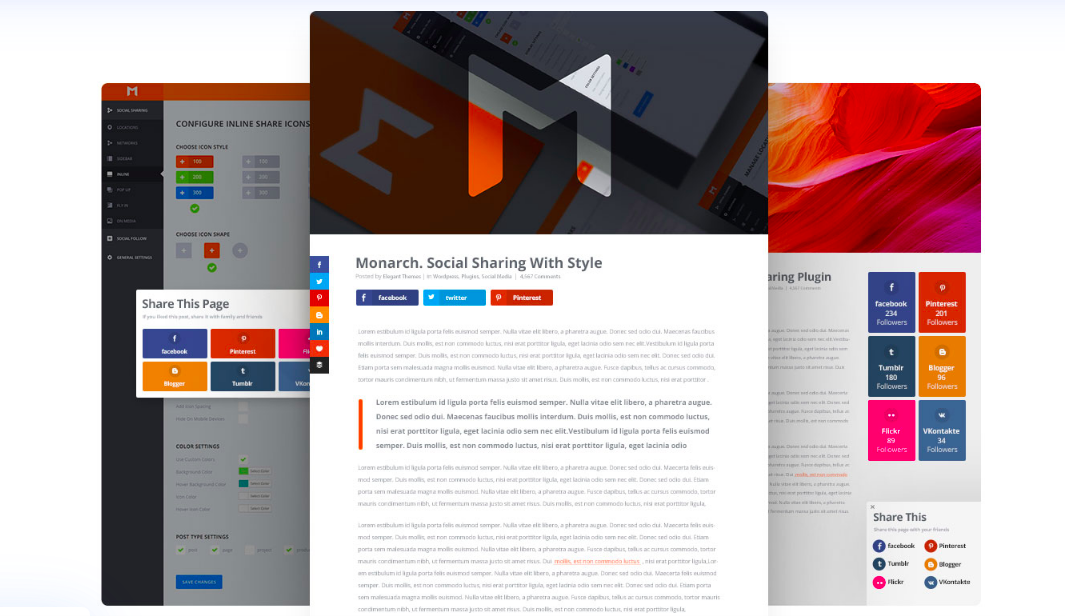 Monarch is a social media sharing plugin that makes it easy for you to add social sharing buttons for 20 social networks to any location on your site with a variety of automatic pop-up and fly-in triggers.
Elegant Themes Documentation and Support
Elegant Themes is well known for its excellent tutorials, documentation, and technical support.
There are detailed articles and videos talking you through every aspect of Divi and Extra and the Bloom and Monarch plugins.
Elegant Themes also maintains a YouTube channel where they regularly publish tips and tricks for using their products, feature updates, and advanced tutorials.
As well as the full website packs you get access to with Divi, Elegant Themes creates new layout packs, templates, and presets multiple times a week, which are available for free for all Elegant Themes members.
The Elegant Themes community includes a community support forum where you can get advice for any product.
If you still need further help, you can contact technical support, which is available via chat 24/7. Most questions are answered within 30 minutes but if you need to leave your computer, answers will be sent to your email.
How to Use the Elegant Themes Coupon
There's no coupon code needed to get our 10% off discount offer with Elegant Themes. Just click this link to visit Elegant Themes and you'll be taken to a special 10% discount page.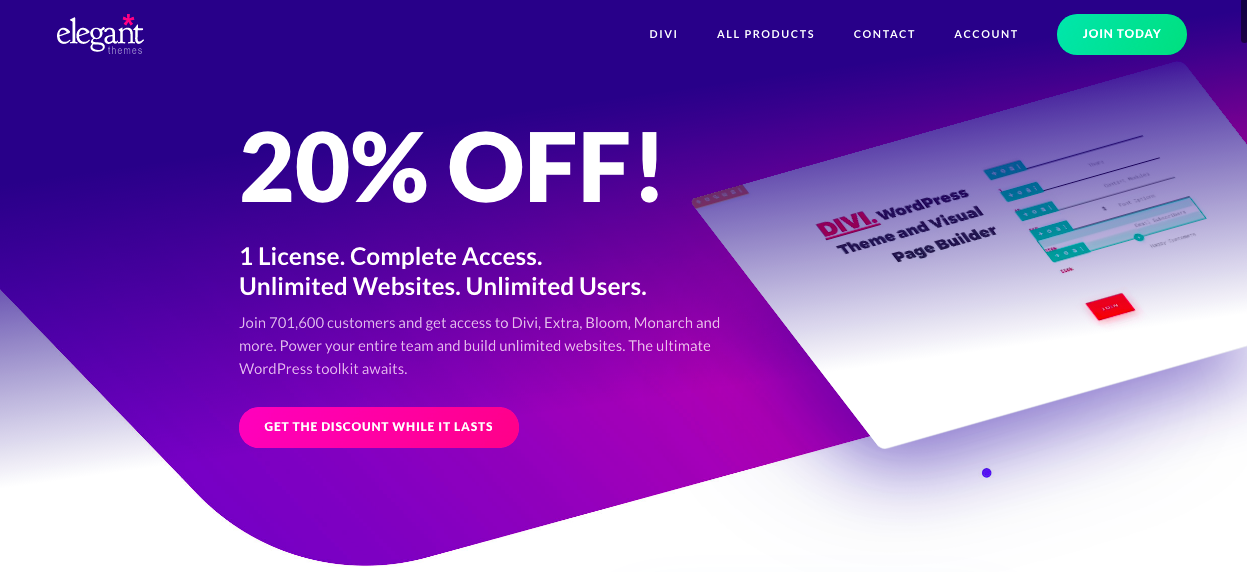 Scroll down the page to see the plans. The discount will already be displayed.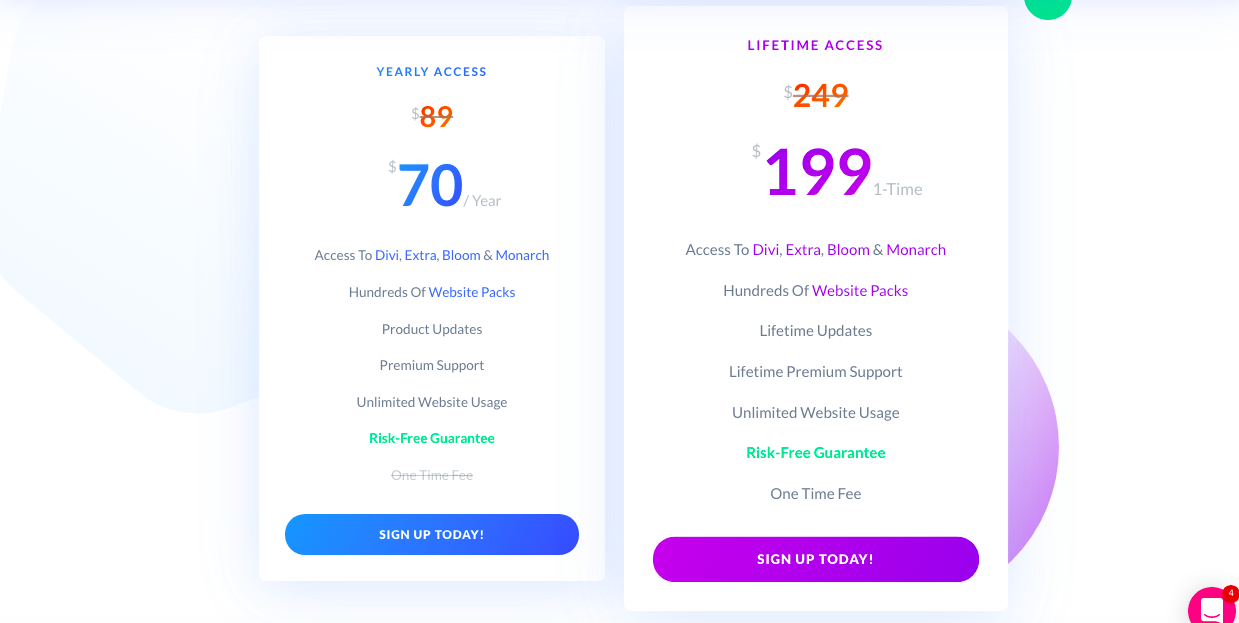 Click the "SIGN UP TODAY" button on your chosen plan and you'll be taken to checkout. Fill out your personal and payment details and hit the "COMPLETE REGISTRATION" button to join Elegant Themes.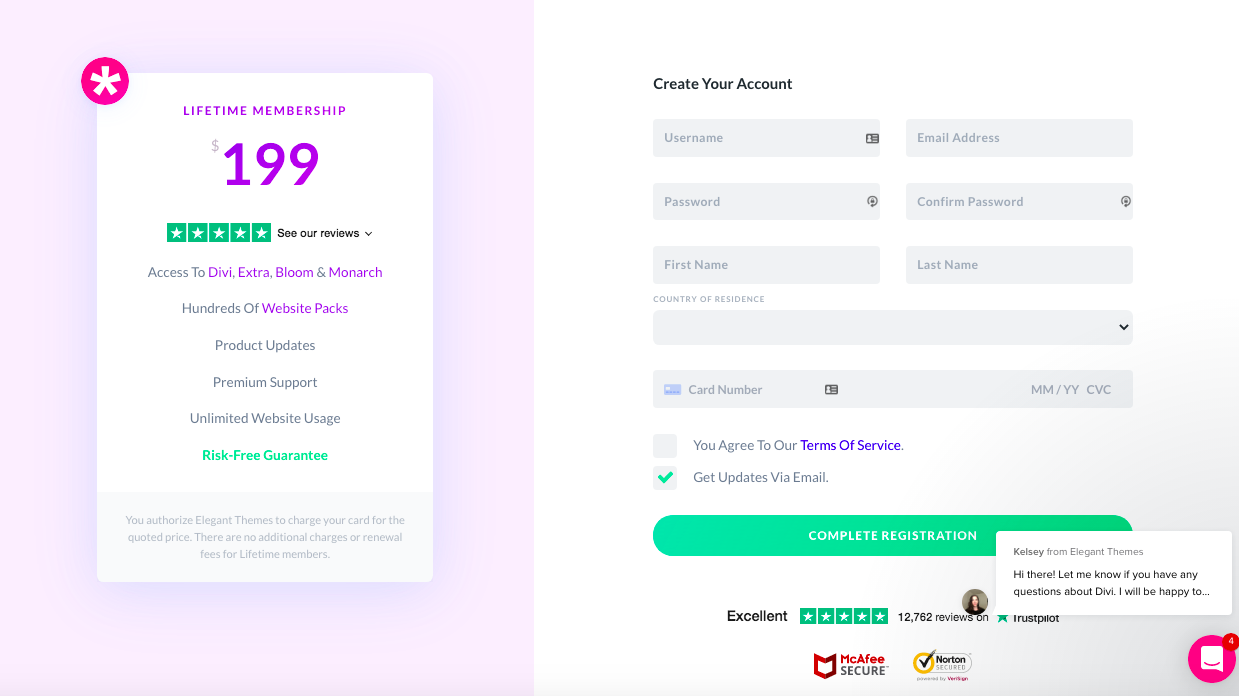 Remember, all plans come with a 30-day money-back guarantee, so if you change your mind you can ask for a refund with no questions asked.
If you're still unsure about signing up, you can read our full review of Elegant Themes to help you decide if membership is worth it.
But for most people who want to create more than one website and don't want to waste money on multiple themes, Elegant themes membership represents great value for money and it's even better with our 10% off Elegant Themes coupon!