How to Start a WordPress Blog – The Definitive Guide
You've decided to start a blog. It's the popular thing to do, and if you're a business owner, you know it's great for business. Indeed, businesses who blog experience 126% higher lead growth than those that don't blog.
But you've got a lot of questions. There's a lot of technical jargon you don't understand and you're worried about how much coding you might need to do, and how much it's going to cost.
In this guide, you'll learn how to start a WordPress blog with SiteGround – easily, inexpensively, and no technical knowledge required.
Why Blog?
There're many reasons to start a blog.
You might want to share your thoughts with the world. Or you might be blogging for your business as a way to attract clients.
Blogging can also be a great way to maintain a portfolio or a resume and show your expertise in your field.
Or you might be looking to make money blogging by using ads, affiliate links, sponsored posts, or by selling a product or service.
How to Start a Blog (Table of Contents)
There are five main steps to starting a blog:
Choosing your platform.
Deciding on hosting and domain name.
Setting up your WordPress site.
Creating your site – choosing a theme, creating the essential pages, and posting your first blog post.
Getting traffic.
Step 1. Choose your platform
With WordPress powering over 91% of all blogs, you can be forgiven for thinking that WordPress is your only option.
Other options include Drupal, Joomla, Squarespace, and Voog, among others. However, we're only going to cover WordPress in this guide because it's easy, it's free and beginner-friendly. And with its overwhelming popularity, it's easy to find support and resources online.
The first thing you'll need to decide on is hosting.
# What is hosting?
Hosting is where your blog 'lives'. It's the server where your blog files, images, videos, and content is stored so that you can share it with the rest of the world.
# Free hosting or Self-hosted?
If you've searched for WordPress, you might've noticed that there's two options – WordPress.org and WordPress.com. What's the difference?
WordPress.org
WordPress.com

Self-hosted – requires you pay for hosting and a domain name.
You own your own content, and you're free to do with it as you will.
You can install plugins, premium WordPress themes, and customize your site to your heart's content.

Free hosting, via a subdomain (your blog will appear as yourblogname.wordpress.com.)
Limited customization options and no access to plugins.
Must abide by the Terms of Service or risk your blog being shut down if WordPress thinks you've violated them.
We recommend self-hosting because:
You can get a great discount through our affiliation with SiteGround and you get a free domain name too.
Free hosting can give the impression that you aren't willing to invest in your business, which isn't attractive to clients.
Free hosting is less attractive to brands if you're a blogger looking to get sponsored post opportunities.
Free hosting is 'rented space'. Your host may terminate your blog for any reason and you may lose your data.
Step 2. Deciding on hosting and your domain name
There are a lot of options out there for hosting, ranging from low budget options to high-end, enterprise solutions. Most hosting companies have tiered plans available so that you can choose the plan that suits you right now and upgrade as your blog expands and becomes more popular.
SiteGround is a reputable company, with affordable options for new bloggers. We also have a deal with them for up to 60% off your first year of hosting, which also includes a free domain name. You can read our SiteGround review here.
Opening your hosting account with SiteGround
#1. Click here to visit SiteGround.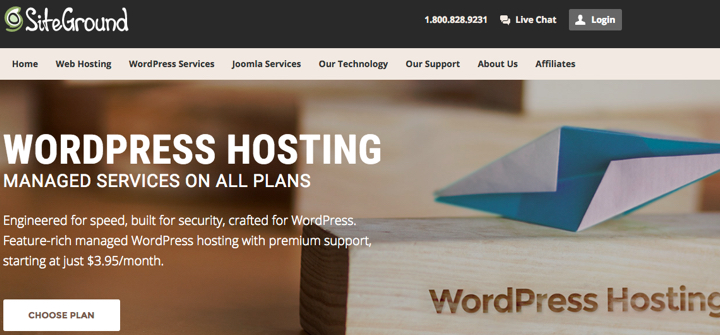 #2. Click on Choose Plan.
SiteGround offers three different plans that suit different size bloggers. If you're starting from scratch, feel free to sign up for the starter membership. Otherwise, choose the level that suits your needs for the number of visitors and amount of data you're using.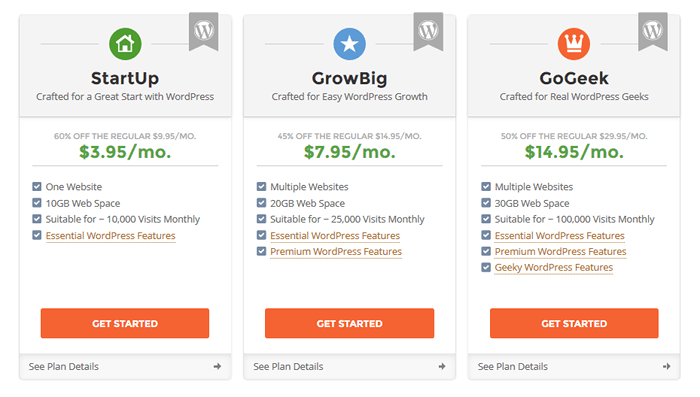 #3. Confirm Your Details.
You'll need to enter your name, address, and payment details to create your account. In the next step, you'll get to choose your domain name and finally install WordPress.
#4. Choose Your Domain Name.
The next thing you need is a domain name. This is your site name – for example, DesignBombs.com. There're a couple of things you need to keep in mind when choosing your domain name.
Here's what you need to know in a nutshell:
.com is the most common extension, used by 48.7% of all websites, and should be your first choice. Because .com is so popular, it's easy for your visitors to remember. With the wave of new extensions, it might be tempting to choose something creative, like a .ninja, however, the .com should still be your first choice.
Be careful of infringing on brand names in your domain – for example, if you wanted to start a blog about WordPress tutorials, you can't use WordPress in your domain name.
Try to avoid hyphenating your domain – it makes it harder for your visitors to remember.
Short and memorable is best, so your visitors will be able to find you.
One of the great things about SiteGround is that you get your first domain name included in the price of your hosting.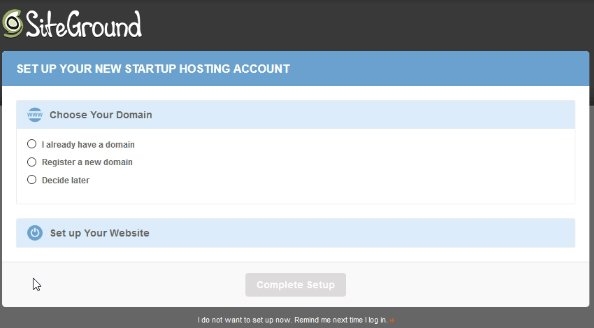 If you already have a domain name, you can choose that option in the above screen. If you need to register a new domain, click that option and enter your domain into the search box that pops up. You'll also need to select whether you're starting a brand-new site, or transferring a site from elsewhere.
Select the option that applies to your situation and continue.
Step 3. Setting up WordPress
SiteGround makes installing WordPress very easy. After you choose your domain name you'll have the option to choose a one-click WordPress install: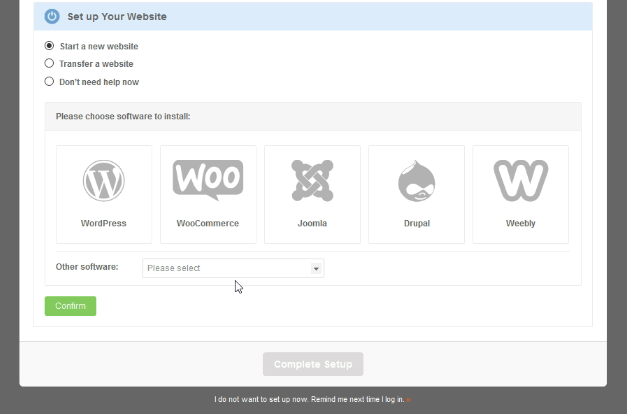 Select "Start a new website" and then choose WordPress from the list of software. Click on "Confirm".
You'll now get a chance to create your login details for your website – you'll need your email address, and you'll need to create your username and password.
Here's a couple of security tips:
Don't use admin as your username.
Using a random password generator that can generate a password that uses all character types is ideal.
Confirm your WordPress install, click "Complete Setup" and you'll soon be redirected to the user panel where you'll be able to start working on your site.
Step 4. Creating your blog
Congratulations! You now have a blog. But, there's still a bit more work to do before you can call it done.
The next steps are:
Setup an email account.
Choose a WordPress theme.
Install essential plugins.
Create your About Me, Contact, and Privacy Policy pages.
Publish your first blog post.
Setup an email account
Collecting the email addresses of your visitors is a great marketing strategy. Email can have a 4,300% ROI, which is much higher than most other forms of marketing.
You should get a branded email address to use to send emails to your subscribers, to avoid DMARC issues sending from a free email account.
Here's how to set it up:
#1. Click on "Go to cPanel."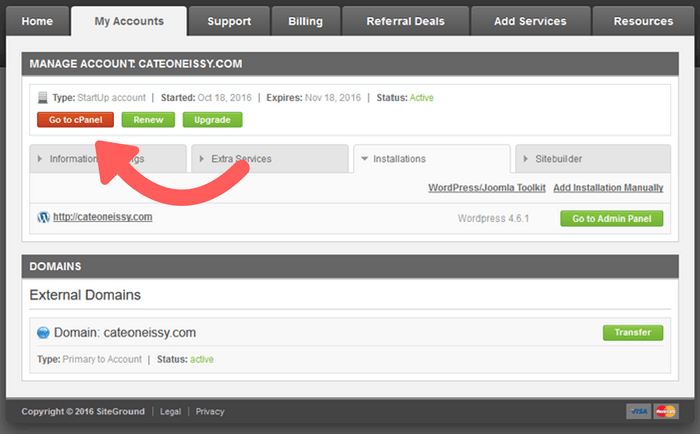 #2. Click on Email Accounts.

#3. Fill in the form to add your desired email address.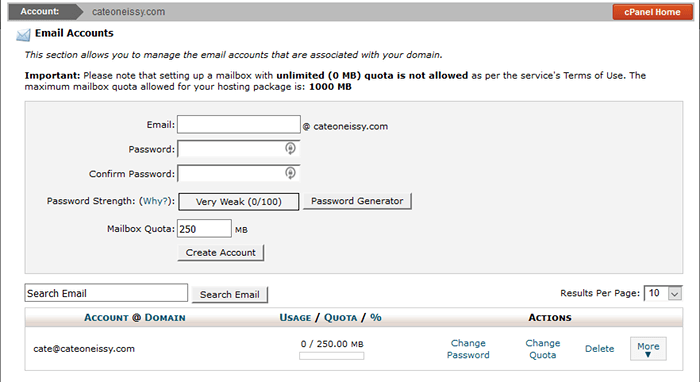 Choosing a WordPress theme
Head back to the home user area on SiteGround and click "Go to Admin Panel".
This will open your site and you'll be asked for your login credentials. Enter your username and password and you'll be taken to your WordPress dashboard. You'll need to spend some time getting familiar with the dashboard.
The first thing to do is select a theme for your site. Your theme governs how your site looks, and they often come with special features like sliders, custom post types, and options to change the layout and appearance of your site.
You can choose to use a free theme or go with a premium theme.
Here are the main differences between free and premium themes:
Free Themes
Premium Themes

Easy to install from within your WordPress dashboard
Have limited or no support and may be updated infrequently
Limited or no options for customization
May not be compatible with all plugins

Costs usually between $39-$99
Must upload and install them yourself
Comes with support and updates
Most have customization options for layout, colors, typography, and more.
The best option is to choose a premium theme from the start. You can do more with it, and you'll also have support should you need help with anything. Here's a list of some of our favorite themes for blogs.
Consider design and function – if you're starting a food blog, a theme that allows you to create custom recipe posts will be invaluable. Or if you want to create a portfolio site, a theme that has custom options to display your work attractively will save you trying to customize this yourself.
The one thing your theme MUST be is responsive – this means that your blog will resize to display attractively for smartphone, tablet, or monitor – with the rate of mobile browsing outstripping desktop browsing, your site needs to look good on any screen.
To install a theme, click on "Change your theme completely" on your WordPress dashboard (or you can navigate to Appearance – Themes on the sidebar.)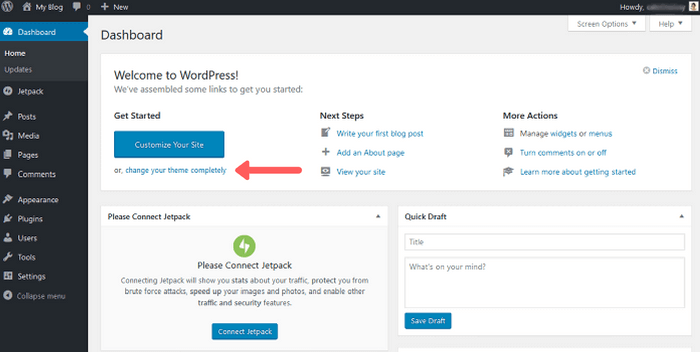 Click "Add New."
You will then be able to browse the range of free themes available from WordPress. Select one and click "Install."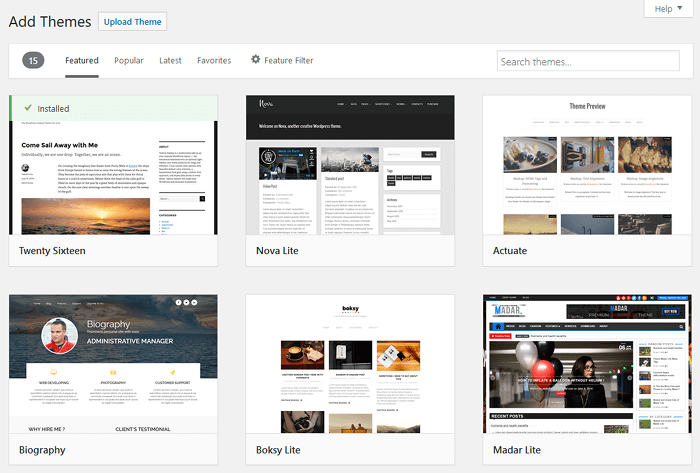 If you want to install a premium theme that you've purchased, click "Upload Theme". You'll then be able to navigate to the location of your theme file (this should be a .zip file) and upload.
Now that you've installed a new theme, you need to click "Activate" for the change to take place.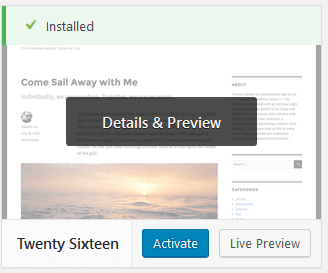 If you want to customize the appearance of your site further, you can explore your options in Appearance – Customize on the sidebar.
Plugins
What are plugins? Plugins add functions to your site, without you having to code them in. Some plugin functions might be built into your site if you have a premium theme – for example, sliders.
Many plugins are available for free, and you'll be able to download them right from your WordPress dashboard. However, not all plugins are of equal quality, and many have not been updated for years.
Here are our top recommendations for plugins:
Contact Form 7 – a simple plugin that makes contact form creation a breeze. Simply install this plugin, grab a shortcode and enter it into your page and you'll have a contact form. If you want to try a different contact form plugin, read our review of the 10 best.
UpdraftPlus – one of the best plugins for backing up your WordPress site.
Yoast SEO – an essential tool for optimizing your site for search engine traffic.
JetPack – this one simple plugin packs loads of features and functions that will boost your site. It comes pre-installed, but you'll need to follow the prompts to activate it.
How to install plugins?
Navigate to Plugins and click "Add New".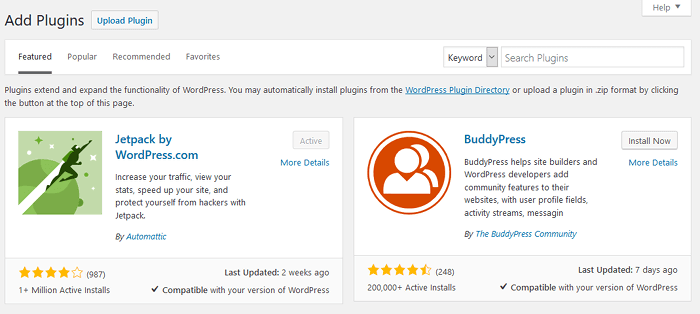 Search for the plugin you'd like to install, click "Install Now" and then "Activate".
If you've purchased a premium plugin, you have the option to "Upload Plugin" which will prompt you to select the .zip file of your purchased plugin. Follow the prompts to install, and activate.
A note on plugins – it's easy to go plugin crazy and install loads of plugins, however, they do have an impact on your site performance. It's recommended that you don't exceed 15 plugins.
Create important pages
There're only a few pages you need to have – your about me page, a contact page, and a privacy policy page.
Here's an overview of what you need to know to create a new page.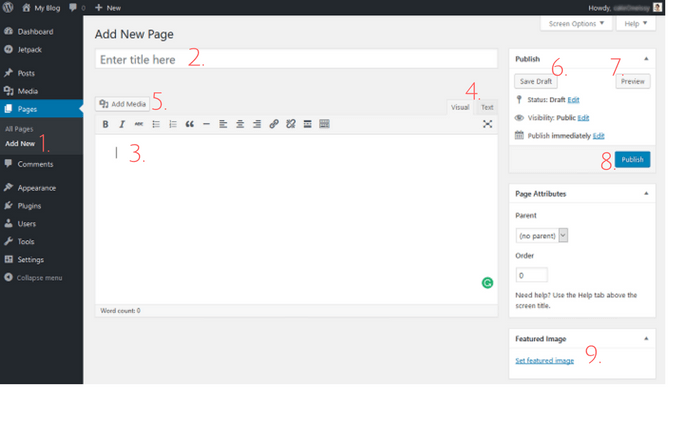 Click on Pages – Add New.
Enter the title of your page.
Enter your page content.
Choose between Visual and Text editing. Text editing allows you to use HTML.
Add media (videos, images, etc.) to your page.
You can save your page as a draft to come back to it later.
Preview your page by clicking Preview, this will open it in a new tab.
Publish your page when you're ready.
Set your featured image to choose an image to display. Whether this displays, and how it displays, is a function of your theme.
Go ahead and create new pages for your About page, contact page, and privacy policy.
Publishing your first blog post
Publishing your first blog post is very similar to creating a page. Here's an overview: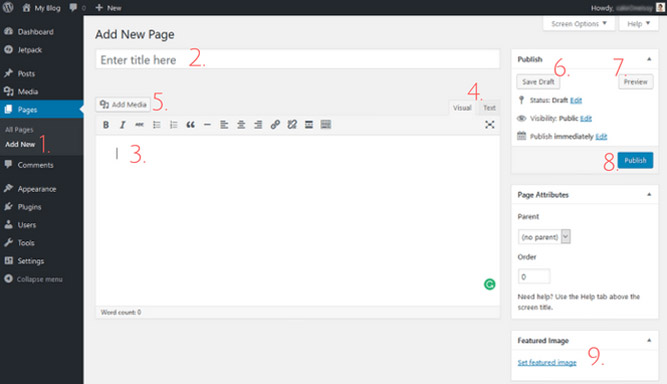 Click on Post – Add New.
Enter the title of your post.
Enter your post content.
Choose between Visual and Text editing. Text editing allows you to use HTML.
Add media (videos, images, etc.) to your post.
You can save your post as a draft to come back to it later.
Preview your post by clicking Preview, this will open it in a new tab.
Publish your post when you're ready.
If your theme has Custom post types, you'll be able to choose the format of your post here. For example, quote, gallery, or chat post.
You can set up categories to allocate to your posts.
You can tag your posts to make it easier for your visitors to find related posts.
Set your featured image to choose an image to display. Whether this displays, and how it displays, is a function of your theme.
Go ahead and write your first blog post. You might like to let your future readers know why you're starting your blog and how your blog will help them.
Step 5. Generating Traffic
You've got a blog, now what? How do you start getting traffic, subscribers, and making money?
First things first, let's get your blog ready for traffic.
# Get Your Blog Subscriber Ready
The first thing you want to do before you start promoting your blog is to get your blog ready for email subscribers. Why? Because an email list is the best way to market your products and services for the greatest ROI.
There are many choices for your email marketing provider, including GetResponse, MailChimp, and ConvertKit.
Once you've signed up for an account with an email marketing provider, you'll need to set up opt-in forms on your blog. You can choose to either install a plugin that will take care of forms for you, or you can copy and paste a code from your email marketing provider into your site.
How to Get People to Subscribe to Your Blog
No one signs up for generic newsletters and updates these days – if you want to entice people to subscribe to your blog, you need to offer something with tangible value.
Here's an example of an offer advertised throughout the SmartBlogger site: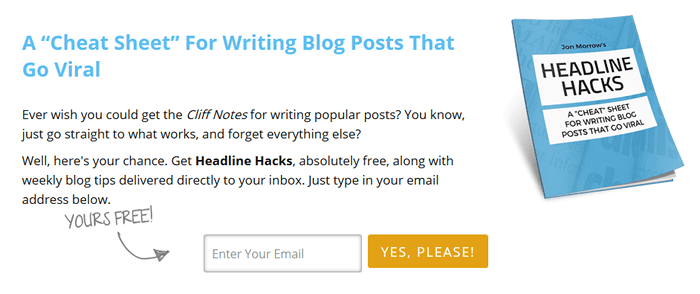 This headline is irresistible to any blogger trying to grow their traffic. Who doesn't want their next blog post to go viral?
This is one method for converting visitors into subscribers.
An even better method is using content upgrades. In fact, by using content upgrades, one popular marketer increased his conversion rate by 700%.
What's a content upgrade? Basically, a content upgrade is an add-on, optional download that adds value and 'upgrades' your blog post. They are specific, highly targeted downloads which is why the conversion rate is so good.
Here's an example of a content upgrade on a blog post: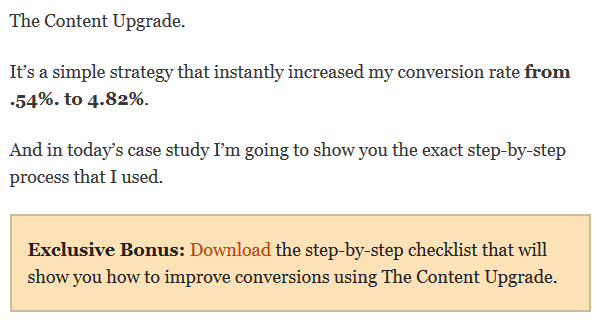 Add this to your blogging strategy by:
Spending an extra 30 minutes creating an upgrade – it doesn't need to be complex, a PDF version of a long blog post, a one-page checklist, a quick start guide, or a printable all make excellent content upgrades.
Deliver your content upgrades by adding a link to your upgrade in your email subscription confirmation or welcome email or you might choose to house all your upgrades in a password-protected page on your site (a resource library) and send your subscribers the password to the page.
Traffic Generation Tips
Now that your blog is ready to collect the email addresses of your visitors, you need to work on getting those visitors.
There's five types of traffic. These are:
Organic traffic – this is from the search engines. This is where Search Engine Optimization (SEO) comes into play. SEO is multi-faceted, with more than 200 Google ranking factors being identified. A few points to note about SEO:
The age of your site matters – as your site ages, Google will trust it more.
Keywords are important to tell Google what your site is about.
The length of content matters – the Google algorithm ranks long content above short content.
If you want to learn more about SEO, read the Beginners Guide to SEO by Moz.
Direct traffic – this is traffic that has entered your site into their browser. You'll get more of this type of traffic once you've built up some brand recognition.
Social traffic – this is traffic from social media, it includes all the social media platforms from Facebook, to SnapChat. For each platform you use, set up your profile with bright, high-quality images, and a strong call to action. Each social media platform has its own set of 'rules' for what makes great, shareable content but what works for you will depend on what niche you're in. Here're a few tips to generating tons of social traffic:
Facebook – use attractive images that are either square or horizontal rectangles. Share on your own page and in groups that allow promotion. Tag influential bloggers you may have mentioned in your post.
Twitter – use images because Tweets with images get 150% more retweets than those without. Don't be afraid to repeat your Tweets, as the lifespan of a Tweet is only about 18 minutes.
Pinterest – use tall images with text overlay of your blog post title. Join and save your pins to group boards to see your traffic increase.
Referral traffic – this is traffic that's clicked on a link to your site from another site. This means someone has linked to you or you might have left comments on other blogs. You can increase this traffic by:
Guest posting – most allow you to link back to your site in your author bio.
Blog commenting – visit larger blogs in your niche and leave thoughtful, detailed comments on recent blog posts.
Paid traffic – this is traffic you pay for through advertising. There are several different ad networks that you can use to get paid traffic – including Google Ads, Bing Ads, and Facebook Ads.
Monetizing Your Blog
Now that you're clued up on how to get traffic to your blog, you need to know how to make money from it.
Here's five main ways of making money from a blog:
Ads – one of the easiest ways to make money, you will need to apply to ad networks to get access to ads to place on your site.
Affiliate links – this is another easy way to monetize your blog. Again, you will need to apply to become an affiliate either through affiliate networks or some companies run their own affiliate program.
Sponsored posts – as your blog becomes more popular, you may have the opportunity to do sponsored posts.
Selling a Service – one of the fastest ways to make significant money online is by selling a service. You might have a talent for writing or graphic design, that you can sell to those in need. Create a 'Work With Me' or a 'Hire Me' page on your blog.
Selling a Product – this might be a physical product or it might be an eBook or an e-course. The e-learning industry has been projected to exceed the billion-dollar mark, making it a very lucrative business to be in.
Wrapping It Up
Starting a blog doesn't have to be difficult, expensive, and only for the tech-savvy. With SiteGround you can have a blog site up and running in less than an hour.
If you've followed all the steps in this guide, you're well on your way to building a successful blog.
Let us know if you've started your blog following this guide!