A Guide to the Top 4 WordPress Ecommerce Plugins for 2020
Thinking about launching an online store with WordPress? You've picked the right platform — now you need the right WordPress eCommerce plugin.
Whether you want to sell physical products, digital goods, or even services, WordPress provides a solid foundation on top of which you can build a flourishing store.
Since WordPress doesn't come with built-in eCommerce functionality, you'll need to add an eCommerce plugin. Fortunately, there are several excellent options available that can add everything that's required to sell online, from product pages and shopping carts to checkouts and payment processing.
In this post, we'll cover the best WordPress eCommerce plugins available in 2020, with the goal of helping you decide which option best suits you and your online business.
What to Look for in a WordPress Ecommerce Plugin
When choosing a WordPress eCommerce plugin, there are a few things to keep in mind.
1. What are you selling?
What you plan to sell will influence which WordPress eCommerce plugin you go with.
Some eCommerce plugins are good for selling physical products that require inventory and shipping, and others are more suited to selling digital products, such as software, music, ebooks, and other types of downloadable files. If you are selling services, such as appointments or rentals, you'll need a WordPress eCommerce plugin that supports bookings.
2. How do you want customers to pay?
You'll also need to think about what payments methods you want to offer customers. Do you want to accept credit card payments or cash on delivery? Or are their other payments methods you would prefer?
Make sure that whatever WordPress eCommerce plugin you choose supports the payment methods you need either by default or via third-party plugins.
3. How do you want your store to look?
You'll want your store to reflect your brand and that means ensuring your WordPress ecommerce plugin plays well with your theme. So make sure that the plugin you choose works well with your chosen theme, or any themes you plan on switching to later.
4. Do you need extra functionality?
The WordPress ecommerce plugins we'll take a look at below work great out-of-the-box, but some require extensions / add-ons for any additional functionality.
So before choosing an ecommerce plugin for your site, make a list of functionality you need and check whether the plugin you want to choose offers it, or whether you'll need to find an add-on.
5. How much do you want to pay to get your store up and running?
Depending on the WordPress eCommerce plugin you choose, it may be free or you may have to pay a yearly subscription. And if you add any extensions or add-ons to your store, you'll have to pay for those, too.
So do your research first. While some options, like WooCommerce, might be free, you may have to pay ongoing costs for extensions in order to get the functionality you need to run your store.
The 4 Top WordPress Ecommerce Plugins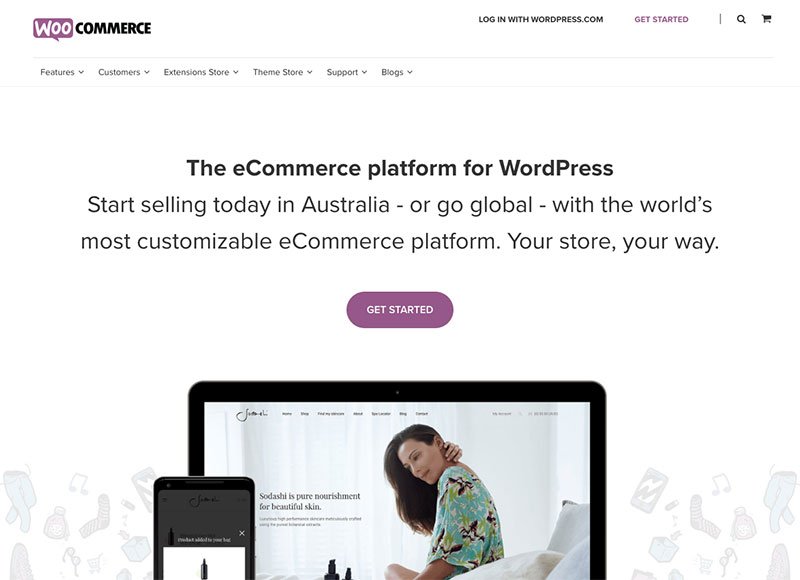 With 4+ million active installs, WooCommerce is the most popular, flexible and customizable WordPress eCommerce plugin.
Originally launched in 2011 as a fork of Jigoshop and acquired by Automattic (owner of WordPress.com) in 2015, WooCommerce has grown to become the world's most popular eCommerce technology. It now powers 22% of the world's top 1 million websites.
With WooCommerce, you can sell anything, including physical and digital goods. It's hugely scalable — you can sell one product or thousands of products — and there's a plugin that can let you extend WordPress to do just about anything.
Pros:
Easy to extend. There are hundreds of WooCommerce extensions (aka plugins) available, which you can use to add just about any functionality to your store, from marketing and shipping to social media and subscriptions.
Hundreds of WooCommerce themes. There are also hundreds of WooCommerce-compatible themes available, which you can use to make the most of WooCommerce's full feature set.
Payment and shipping options. WooCommerce comes with built-in payment processing support for Stripe and PayPal. You can also accept credit cards, direct bank transfer, checks or cash on delivery. You can add other payment options using extensions, and also calculate shipping and taxes.
Inventory management. Track stock levels, hold stock after an order is canceled, get notifications for low and out-of-stock items, hide out-of-stock items and more.
Support and documentation. The official WooCommerce site provides extensive documentation on how to set up and use WooCommerce. You can also find help in the WordPress.org support forums.
Cons:
Can be overwhelming. When you install WooCommerce for the first time, there's a wizard that can help you set-up the basics. But it can still be quite intimidating for beginners.
Theme customization can be tricky. If you don't have a theme that supports WooCommerce, it will be tricky trying to make your store look good on the front-end for your customers.
The extension you need might not be available. There are hundreds of add-ons available, but if you can't find something that provides the specific functionality you need, you may need to hire a developer (aka WooExpert) to build it for you.
Pricing: WooCommerce is free, but you'll need to pay for any premium extensions you use, which can cost as much as $299 a year.
Best suited to: Whether you want to sell one PDF file or thousands of t-shirts, you can do it with WooCommerce. If you want maximum control, flexibility, and features, then this WordPress ecommerce plugins if the best solution for you.
For more on WooCommerce, don't miss 7 Top WooCommerce WordPress Themes on the Market + Why They're Best and 11 Best WooCommerce Plugins to Spike Sales with Design in Mind.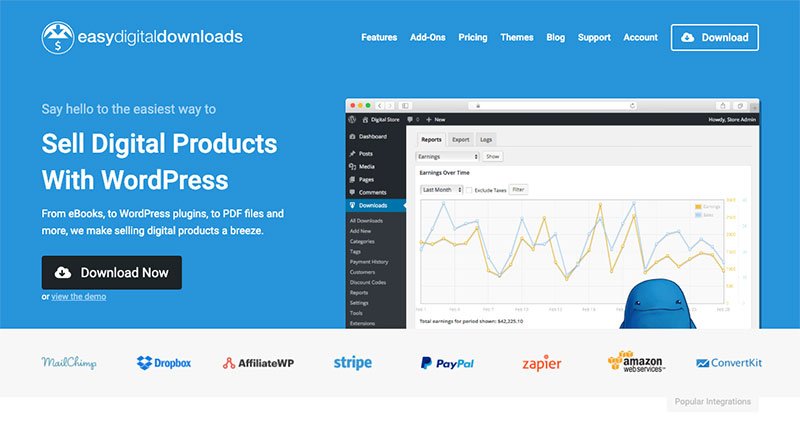 Easy Digital Downloads markets itself as the easy way to sell digital products with WooCommerce.
EDD (as it's often abbreviated to) was first released in 2012 by Pippins Plugins and now powers .21% of the world's top 1 million websites. While it might not seem like an impressive figure, EDD has proven to be hugely popular in the WordPress community as the go-to plugin for selling digital goods.
EDD has built to handle digital products — music, videos, ebooks, plugins, PDF files, and more. The core plugin is free to use and there are hundreds of extensions available that can add all kinds of functionality, from recurring payments and Stripe support to software licensing (for selling license keys) and commissions tracking.
Pros:
Supports digital products. If you want to sell digital goods, you can do it easily with EDD. Unlike other ecommerce plugins, EDD has been built specifically to sell all kinds of digital goods.
Intuitive and easy-to-use. Whether you're setting up an online store for the first time or you're a seasoned pro, it's easy to figure out how to get your store up and running. Ideal for beginners.
Hundreds of extensions. There are hundreds of free and premium extensions available to extend you store your way.
Works with any theme. You can integrate EDD with almost any theme. If you're just getting started setting up your store, there are EDD themes available.
Developer-friendly. A complete RESTful API provides easy access to sales and product information in either jSON or XML format.
Support and documentation. EDD comes with comprehensive documentation. There's an active community of users and developers, and priority support is available.
Cons:
Supports digital products. You can sell physical products with EDD, but it was built from the ground up for non-physical things. So selling physical goods is not its main focus.
Pricing: Easy Digital Downloads is free, but you'll need to pay for any premium extensions you use. A Personal Pass that includes everything you need to get started cost $99 a year, and the top-range All Access pass costs $499 a year.
Best suited to: If you want to sell digital goods, it's worth checking out Easy Digital Downloads. It's built specifically to handle digital products and it's easy to get your store up and running quickly with its intuitive interface.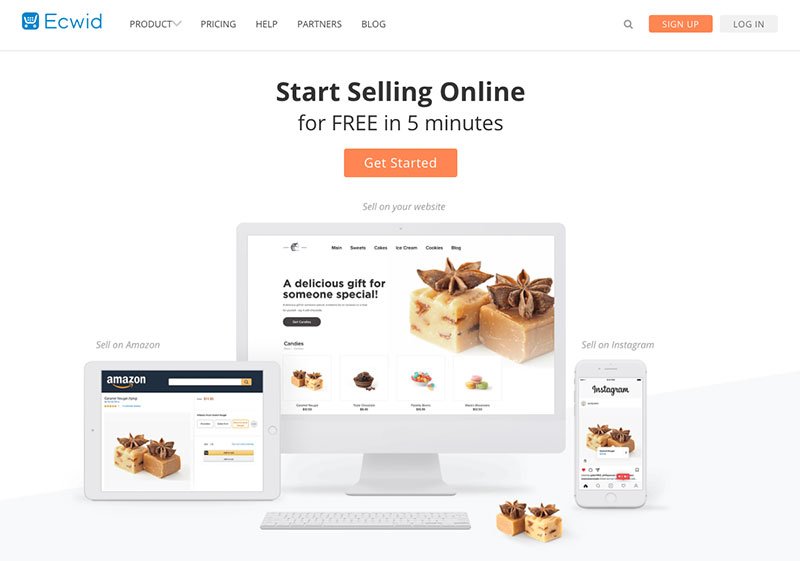 Ecwid is an ecommerce solution designed for small businesses that want to add store functionality to an existing WordPress site.
Ecwid was first launched in 2009 by Ruslan Fazlyev, who co-founded X-Cart. Ruslan recognized that many small businesses already had websites and simply wanted to add store functionality on top. So he built Ecwid, which has grown to become the world's most popular "add-on" store builder for SMBs.
Here's how it works:
You sign up for Ecwid and create your store.
Add the Ecwid Ecommerce Shopping Cart plugin to your WordPress site.
Use shortcodes to add store functionality to your site.
Pros:
Easy integration with WordPress. After installing the Ecwid plugin, you can start adding shortcodes to your sites and display products for sale on your site in minutes. 
Get started for free. With Ecwid's Free plan, you can sell up to 10 products for free.
Updates are taken care of for you. Unlike plugins like WooCommerce, Ecwid updates are taken care of for you so you don't have to run tests or update the software that powers your store.
Sell anywhere. You can sell products on your WordPress site, your Facebook page — anywhere you can display some shortcode.
Well-supported. There's documentation for free users, and chat, phone, and priority support for paid users.
Cons:
Lack of control over SEO. As far as I can tell, you can't manually change the URL of a product — you have to stick with what's auto-generated for you.
Pricing: Free for 10 products, $15 per month for 100 products, $35 a month for 2500 products, and $99 a month for unlimited products.
Best suited to: Small business owners who have an existing WordPress site and want to get a store up and running quickly and easily, or want to share their products on sites like Facebook.
4. Ninja Shop (formerly iThemes Exchange)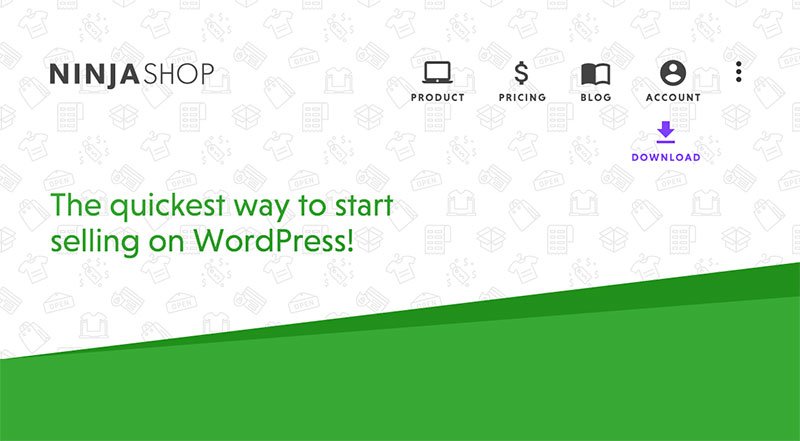 Ninja Shop is a relatively new WordPress eCommerce plugin that promises to help you get an online store up and running in under 5 minutes.
It's the new kid on the block as far as WordPress eCommerce plugins go, while at the same time having been around for a while. Ninja Shop started out as iThemes Exchange back in 2013 and was acquired by ExchangeWP.com in 2017. It's since been rebranded as Ninja Shop.
After installing and activating the Ninja Shop plugin, a wizard guides you through setting up the basics — whether you want to sell physical or digital products, payments gateways, etc — and then you can start adding products to your store. 
Pros:
Easy to use. Ninja Shop's user-friendly wizard makes setting up your store and adding your first product really easy.
Sell memberships. With Ninja Shop, you can create a membership site that offers exclusive access to content. Access to content can be granted on a custom schedule and time frame, including delayed access, drip content, and more. 
Customize your store with add-ons. There are add-ons for just about everything — payment gateways, email marketing, recurring payments, SEO, and event memberships, 
All-inclusive pricing. Since you get access to all Ninja Shop add-ons, you can go crazy customizing your store without worrying about the cost.
Support and documentation. There's extensive documentation available, as well as email support.
Cons:
Limited add-on functionality. Compared to other more well-established options like WooCommerce, Ninja Shop doesn't offer as many add-ons. However, this is likely to change in coming years, with talk that Ninja Shop has its sights set on competing head-on with WooCommerce.
Pricing: Pricing starts at $9 per month, which includes access to all Ninja Shop's add-ons. When your store revenue hits $500 per month, Ninja Shop starts charging 0.9%, with monthly fees capped at $99.
Best suited to: If you want a quick setup and ease of use, then Ninja Shop is the best eCommerce solution for you.
Choosing the Right WordPress Ecommerce Plugin for You
So which WordPress eCommerce plugin is the best solution for your site?
If you want control, flexibility, features, and scalability, then WooCommerce is the best WordPress eCommerce plugin for you.
If you want to sell digital products, check out Easy Digital Downloads — it's been built specifically to handle digital goods.
If you run a small business, already have a WordPress site, and would like to share your products on sites like Facebook, then Ecwid is the best solution for you.
If you want a simple solution that easy to set up so you can get your store up and running quickly, you can't go wrong with Ninja Shop.
For more on building an eCommerce site, check out How To Create An eCommerce Store In An Afternoon's Work.