Build Your Tribe: 6 Top WordPress Membership Plugins Compared for 2023
Gone are the days where membership plugins could afford to be clunky, difficult to integrate with third-party services or offer second rate support.
In 2023, with 30+ WordPress membership plugins on the market, it goes without saying that competition is tough. Plugin developers need to bring their "A-Game" or risk falling off the map.
All this competition is great news for website owners who are looking for a way to integrate memberships into their WordPress websites. Plugin capabilities and features are no longer the obstacles to your success as you look to grow your membership base and establish authority.
In most cases, success comes down to putting in the hard work. Most plugins are easy to set up which means you'll spend less time messing around with settings and more time attracting new members and interacting with the ones who have already joined.
However, the question that remains is how do you decide which of the 30+ WordPress membership plugins is right for you? With so many options, it can seem overwhelming, right? Once you take a little time to sort through the features of each plugin, it becomes much easier to figure out which one is most capable of meeting your needs.
Top Membership plugins for WordPress
In this post, we're going to take a closer look at 6 potential options. We'll cover as many relevant points and features of each plugin with will hopefully save you a ton of time and research.

MemberPress is well established in the membership plugin space. Their claim to fame is a "ridiculously easy setup" that requires just a few steps to be up and running. If you're looking for a plugin that offers plenty of features, this is a great place to start. You'll have the ability to restrict access to specific pages, posts, categories, tags, specific files and more.
Other important features include:
Subscription Management – Both you and your members will have the ability to manage membership subscriptions. As your list of members grows, you don't want to spend countless hours micromanaging people's memberships. MemberPress gives your members the ability to create, update, upgrade, and cancel their memberships.
Drip Content – If you need the ability to release content on a specifically timed schedule, MemberPress has you covered.
Great Compatibility – MemberPress will work with almost any theme so there is no need to spend a lot of time customizing.
Integrated Affiliate Program – MemberPress integrates with the Affiliate Royale Plugin so you can easily allow your members to be rewarded for helping to promote your business.
Business Reports – An important part of any successful business is accurate reporting. MemberPress provides detailed and relevant information about the health of your business.
In addition to plenty of great features, MemberPress also offers competitive pricing and a 14-day money back guarantee. The business edition of their plugin costs just $99/year and the Developer edition comes in at $199/year. The primary difference being that the Developer edition has the following additional features:
Use on unlimited sites
Includes the Affiliate Royale Developer Edition Plugin
Authorize.net integration (PayPal and Stripe are standard)
Pros
Compatible with almost every WordPress theme
Users can manage their own subscriptions
Detailed reporting capabilities
Cons
Need to upgrade to Developer Edition to add Authorize.net integration.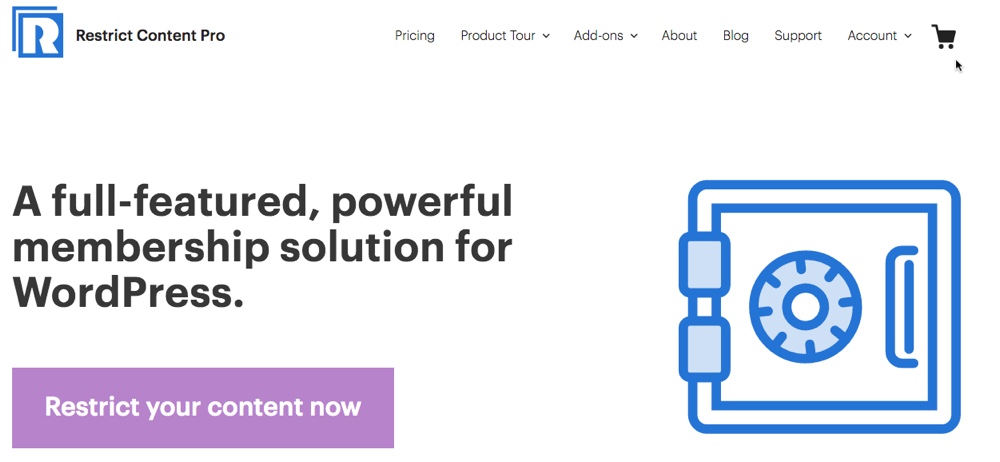 Restrict Content Pro (RCP) has been around since late 2010 so like MemberPress, they are not new to membership plugins or to WordPress in general (RCP is built by the team at Pippin's Plugins). In the past, Restrict Content Pro was a great option if you were looking for a well-designed, easy to use plugin. However, it lacked some features that many users considered vitally important such as the ability to drip content. As of July 2016, RCP added several new features (including drip) that resulted in a more well-rounded plugin. Possibly going from good to great in the eyes of their users.
A few other important features include:
Easy Setup – Restrict Content Pro offers easy setup and the ability to add only the features you need or want.
Payment Integrations – Options include 2Checkout, Stripe, Alipay, Braintree, and PayPal.
Unlimited Subscription Packages – Add as many membership levels as desired including free, trial or premium memberships. Members are also able to upgrade or downgrade their memberships on a prorated basis which eliminates work for you.
Add-Ons – Restrict Content Pro allows you to expand the capability of your plugin by using the desired add-ons (both free and paid). Just a few of the free add-ons include download monitor, force strong passwords and various email marketing integrations.
Pro Add-Ons – These add-ons require that you purchase the professional or ultimate plan. Once you see the additional functionality that is available, it makes a strong case for the two higher price-points. A few of the pro add-ons include drip content, member WooCommerce discounts, restriction timeouts, and restrict past content.
Restrict Content Pro offers 4 pricing options. It's important to pay attention to the features included with each one because some of the most important add-ons are only available at the higher price-points. Here are your options:
Personal: $49/year – 13 free add-ons, plugin updates, email support and 1 site
Plus: $99/year – Same features as Personal, up to 5 sites
Professional (Most Popular): $199/year – 11 pro add-ons plus any released in the future, same 13 official free add-ons as above, unlimited sites
Ultimate: $449/one-time – Same free and pro add-ons as professional, lifetime updates, lifetime support, unlimited sites
Pros
Updated in 2016 to include the ability to drip content.
Unlimited subscription packages, managed by members, minimizing your administration work.
Cons
Drip content, member WooCommerce discounts, restriction timeouts, and past content restrictions are pro add-ons only available at the higher price points.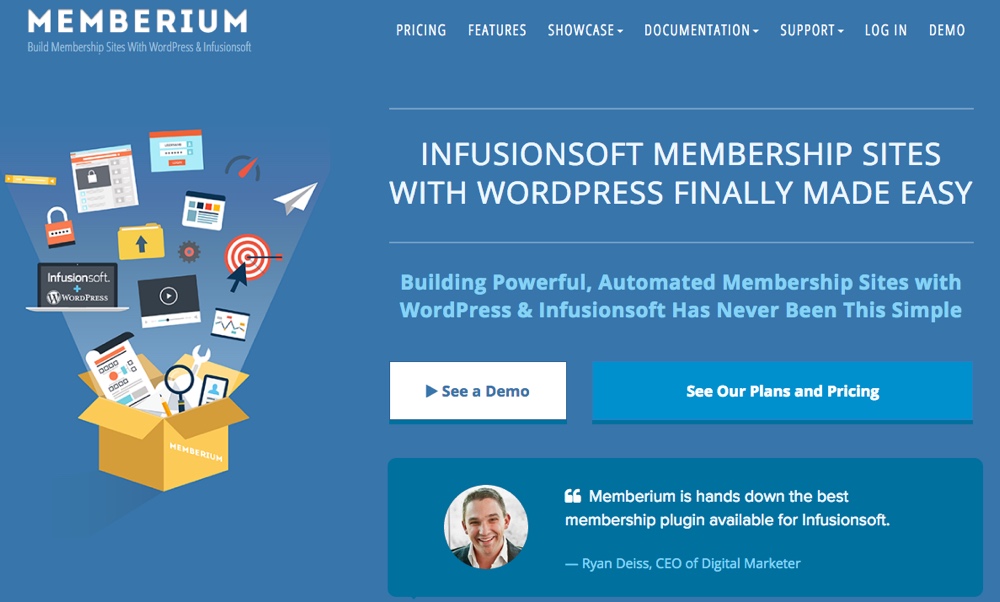 If you rely on Infusionsoft to run your business and need a membership plugin, Memberium is probably where you should focus your attention. If you've used Infusionsoft, you're probably familiar with how challenging it can be to integrate with WordPress. Creating and integrating attractive web forms is just one example of an area where Infusionsoft falls short. Memberium aims to close the gap by making it easy to build membership site that utilize WordPress and Infusionsoft.
Standout features include:
Advanced Infusionsoft Integration – Memberium allows you to use Infusionsoft actions, triggers and campaigns within WordPress and comes with a large list of easy-to-use shortcodes.
Unlimited Membership Levels – Free, trial and paid memberships are all available for use and members can start or cancel their own memberships.
Well-Documented Installation – Not only does Memberium come with a well-documented installation process (including videos), they also offer a free "done-for-you" installation with each license purchased.
Integrations – Popular plugin integrations are available including Gravity Forms, LearnDash LMS, Yoast, and WooCommerce.
Several pricing options available that range from $47/month for a single domain (or $470/year) to $87/month for unlimited domains. It important to note that all plans include a single connection to Infusionsoft. As well, a 30-day money back guarantee is provided on all plans.
Pros
Advanced integration with Infusionsoft.
All plans include a single connection to Infusionsoft.
Integrates with Gravity Forms, LearnDash LMS, Yoast, and WooCommerce.
Cons
You'll need to check that Memberium is compatible with your hosting. It's not currently compatible with Pagely.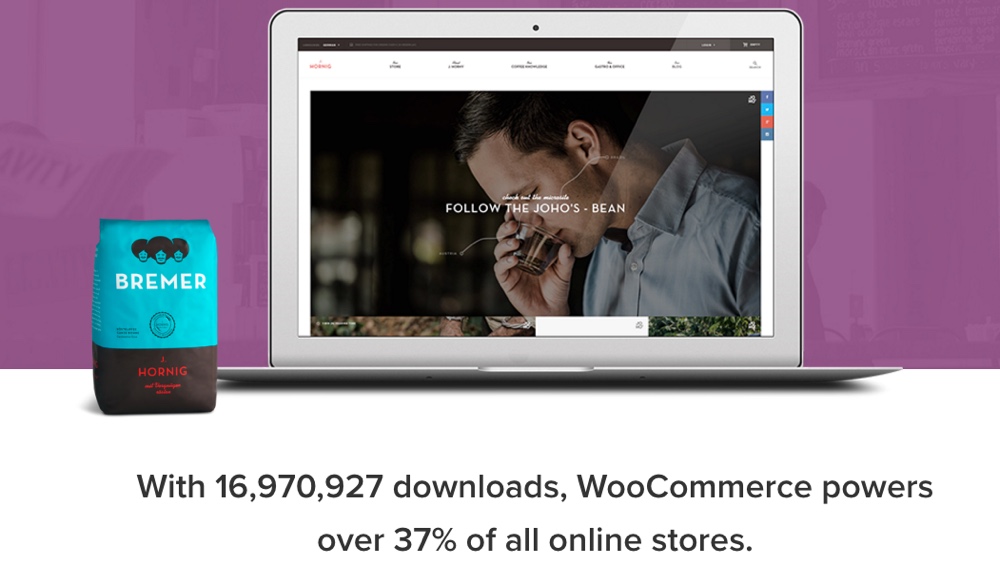 With WooCommerce being an Automattic Company, you probably have high expectations for their membership plugin. I don't think you'll be disappointed. This plugin allows you to create a standalone membership website or integrate memberships into your WooCommerce store.
There are plenty of standout features including:
Membership Levels – As with other plugins, unlimited membership options are available. When combined with WooCommerce Subscriptions (not required) you'll have even more control over things like recurring payments, free trials, and increased member control.
Unique Options – This plugin has several unique features including the ability to give access to a membership as part of a product purchase or restrict product viewing to members only. You can also reward members with special discounts.
Communication – Easily communicate with members including expiration and renewal reminders.
Access – You can easily restrict access to posts, pages, custom post types and more
WooCommerce Memberships isn't the least expensive option available but it is one of the most feature-rich options available (especially if you're running an eCommerce store). There are three pricing plans available that range from $149 for a single site to $249 for 25 sites. All plans come with 12-months of updates and support.
Pros
Integrates with WooCommerce (great if you're already running an eCommerce store.)
Can reward members with discounts.
Cons
Requires WooCommerce Subscriptions to add the ability for recurring payments and more control over drip content.

S2Member is a membership plugin that is in use on thousands of membership websites. They also boast a community forum with over 50,000 posts. This plugin relies almost entirely on shortcodes which means it can easily be integrated into pretty much any WordPress theme.
Both the free framework and the pro version come with an extensive list of features including:
Content Restriction – S2Member offers plenty of flexible content restriction options Protect, pages, posts, categories, tags, files and specific portions of content. You can even sell access to specific pages, post, or downloadable content.
Payment Processors – Plenty of payment processors are available including PayPal, PayPal Pro, Stripe, Authorize.net, and ClickBank
Login Welcome Pages – Display unique login welcome pages based upon a user's membership level.
Affiliate Integration – S2Member can be integrated with both iDevAffiliate and ShareASale for easy affiliate promotions.
S2Member has a unique pricing structure in that the basic framework is free to download and use although functionality is somewhat limited. As a free user, you'll only have access to PayPal Standard and you'll discover that several content and security features are disabled.
In addition to the free version S2Member also offers two pro versions that are priced at $89 for a single site version and $189 for unlimited sites. Both options include lifetime updates and 12-months of support.
Pros
Basic framework is free.
Integrates with iDevAffiliate and ShareASale.
Uses shortcodes, so can easily be integrated with any WordPress theme
Cons
Free version is limited in functionality.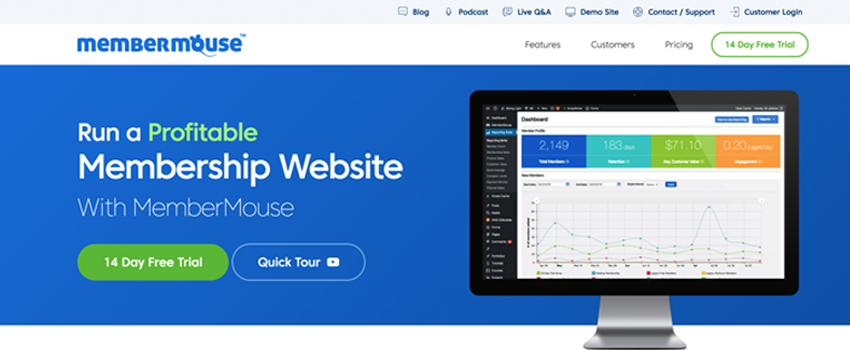 MemberMouse is the oddball in our list because although it's a feature packed plugin, it's also the only plugin that does not allow you to modify their software in any way. MemberMouse takes a lot of flack for this and almost all of the other membership plugins happily take the opportunity to point out that they provide access to their source code.
If you can look past this shortcoming, MemberMouse has a lot to offer including:
Account Management – Both you and your members can easily access individual membership information. Updating account information, canceling memberships and pro-rated upgrades are all available. You can also add custom fields to capture unique member details.
Content Access – Easily restrict access to products, pages, posts, categories and custom post types. You'll also have the ability to drip content and provide unique trial offers.
Split Testing – Easily test different pricing levels for the same membership with built-in split testing.
Integrations – Plenty of integrations are available including email marketing (MailChimp, GetResponse, AWeber, and iContact) and payment processors (including Stripe, PayPal, Authorize.net, Braintree, and more).
MemberMouse offers some unique pricing options. Although they use a recurring subscription model (which can get expensive), they do make it easy to get started by providing a basic plan that starts at just $29/month for 5000 members.
From there, they have Advanced and Premium levels available at $79/month and $199/month respectively. As soon as you can afford it, the $79 Advanced option offers what is probably the best value (especially for larger membership sites).
💲 Use our MemberMouse coupon to get 25% OFF.
👉 Read our full MemberMouse review.
Pros
Plenty of integration options for the most popular email marketing and payment processors.
Members can easily update their own account information, saving you administration time.
You can choose to drip content, and also have the ability to offer unique trials
Cons
You can't make tweaks to the software
Subscription payment model can easily get expensive
Which WordPress Membership Plugin is Right for You?
Keep in mind that we've only covered 7 of 30+ membership plugins available in this post. There are plenty more to pick from although we've definitely included some of the best options available.
Before deciding on a membership plugin, the best thing to do is write out a list of your unique requirements. Then, make sure that each of the plugins you're considering will meet your needs. Be careful to consider more than just price. The ability to grow your business, features, customer support when needed and plugin updates are all important considerations.
Our top picks for the best membership plugins are:
We hope this article helped you find the right membership plugin for you WordPress site. You may also want to see our comparison of best landing page plugins & mailing list plugins.
If you're currently using one of these plugins, we'd love to hear about your experiences. Please share in the comment below.