5 Top WordPress Landing Page Plugins Compared (2022)
"Landing page plugins for WordPress? What are those?" – You ask.*
Let's hold off on that for a second, and start somewhere else (which will eventually lead us to the answer).
This happened a couple of years ago… All I wanted was to create a nice page that would promote my writing services effectively. And I was struggling brutally.
No matter what I did, I was always left with a basic page/post that consisted of a header, content section, sidebar, and footer. I could do very little in terms of making things look custom.
In other words, I wasn't able to build a proper landing page to promote my services. But, luckily, that was a long time ago, and things have changed since then.
Today, we have at least a handful of credible landing page plugins for WordPress that will help you build something custom, and thus get away from your otherwise uniform site design whenever needed.
What makes a good WordPress landing page plugin?
* A landing page, as defined by the guys over at Unbounce, is "a standalone web page, distinct from your main website, that has been designed for a single focused objective."
Here are the parameters we're going to look into, as we go down the list of different landing page plugins (plus why they matter):
Features. How much you get for your investment, and whether you'll be able to build all sorts of landing pages with a given plugin.
Can it work with your current theme? I guess you don't want to be forced to change your current theme just because you need some landing page functionality.
Can you make a landing page that's completely different from your current design? We want complete freedom. The more freedom your landing page plugin gives you, the better.
Is it mobile-friendly? Whatever landing page you create needs to be mobile-friendly. More than 80 percent of internet users own a smartphone these days.
Ease of use.
Price.
Top WordPress Landing Page Plugins for 2022
Now let's get to the fun part. Here are the top 5 WordPress landing page plugins:
| | | | | | |
| --- | --- | --- | --- | --- | --- |
| | Thrive Architect | Qards | OptimizePress | Beaver Builder | WP Landing |
| | | | | | |
| Price (single site license) | $67 | $99 | $97 | $99 | $0 (paid add-ons) |
| Features | 10/10 | 8/10 | 10/10 | 9/10 | 6/10 |
| Ease of use | 9/10 | 10/10 | 9/10 | 9/10 | 8/10 |
| Works with current theme? | yes | yes | yes | yes | yes |
| 100% custom landing pages? | yes | almost | yes | almost | yes |
| Mobile-friendly? | yes | yes | yes | yes | yes |
| VISIT | Thrive | Qards | OP 3.0 | Beaver | WLP |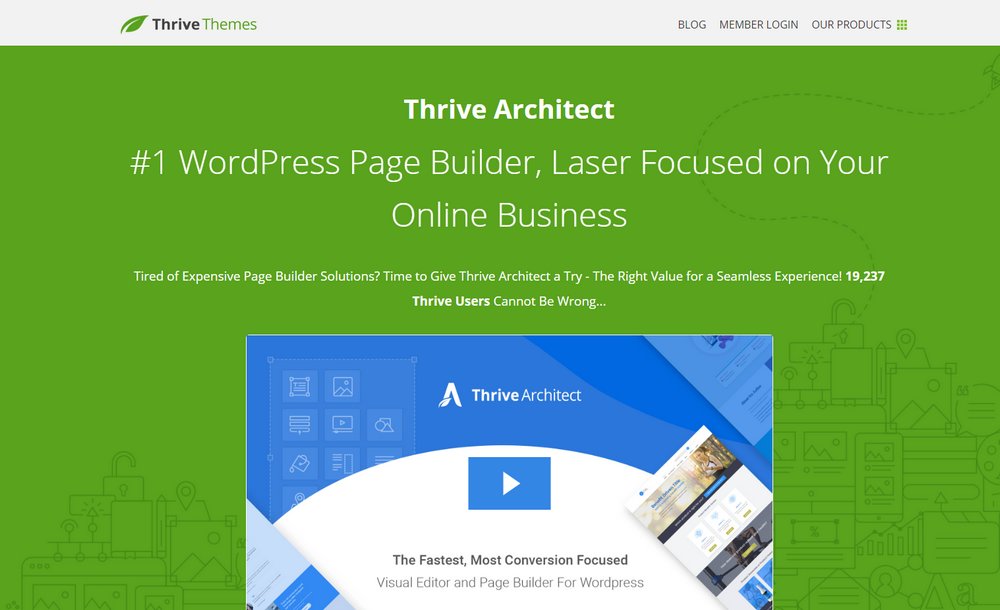 Thrive Architect (formerly Thrive Landing Pages) is a WordPress landing page builder plugin made for businesses, bloggers, and developers. This landing page plugin specializes in building product landing pages, sales pages, and all kinds of promotional page designs.
For a one time price of $67, you get full access to the plugin and unlike most other landing page builders, you don't have to renew a subscription every year or purchase any of the custom templates separately.
Thrive Architect supports integration with all popular third-party apps, including MailChimp, AWeber, Amazon AWS, and comes with lots of useful features that make it worth more than its price.
Features:

With access to more than 270 pre-made landing page templates, you can use the plugin to build many different types of sales, product, webinar, and other types of landing pages

Offers a wide variety of landing page designs, including sales pages, landing pages, webinar pages, event pages, lead capture pages, and more, all of which are optimized for conversions

Drag and drop builder allows you to make unique designs without any design experience

Add countdown timers, email signup forms, testimonials and more to your pages without having to install additional plugins
Get Thrive Architect Our Review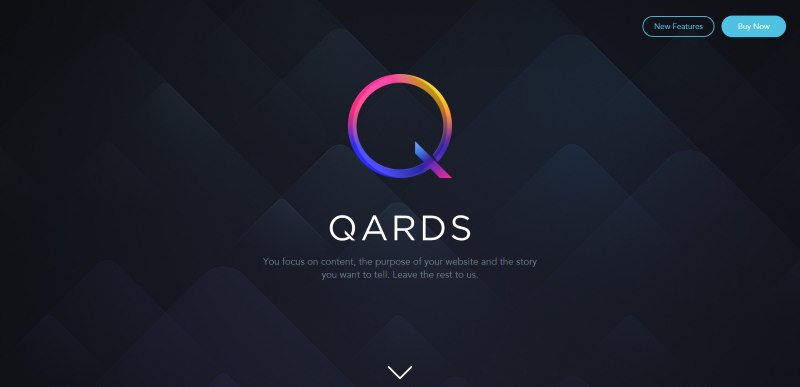 Coming from team Designmodo, Qards is an interesting solution in the realm of landing page WordPress plugins. Its strongest points are a) that it works with most WordPress themes, and b) that it's really easy to grasp thanks to card-based structure of the content (as the name suggests).
The plugin gives you access to a selection of content cards that you can put on a canvas – one after another – until you get a complete landing page built. Every individual card can be adjusted to fit your needs – you get a nice front-end editor for that.
Features:

A really extensive set of content cards, which should be enough to satisfy all your landing page needs.
There are multiple types of content boxes available, each fully customizable.
The default designs make things look sharp and modern.
Everything works with drag-and-drop.

Works with current theme? Yes, you can use the plugin for your landing pages, and leave the rest of your site intact.
100% custom landing pages? Nearly. At the end of the day, you're working within the idea of individual content cards arranged one after another.
Mobile-friendly? All landing pages are fully responsive and mobile-friendly.
Ease of use. No design or coding skills required, full drag-and-drop support, plus a front-end editing capability.
Price:

single site – $99,
agency – $199.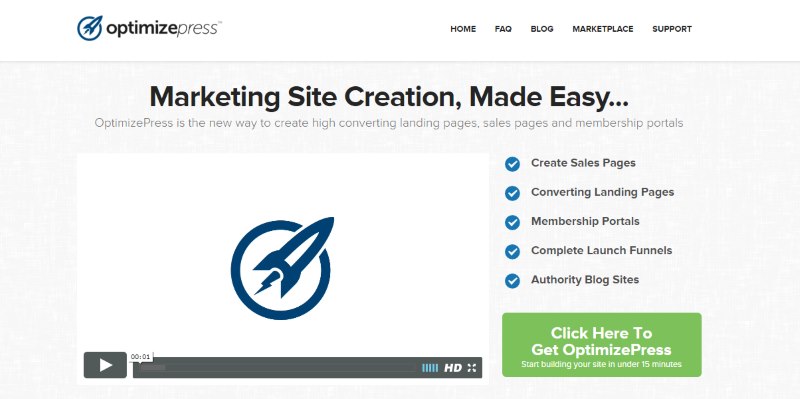 OptimizePress is a very versatile solution that stands apart from everything else on this list due to one main detail – it's available both as a WordPress theme and a WordPress plugin.
The theme allows you to hand over your whole site design to OptimizePress, while the plugin lets you keep your current design, and only use OptimizePress on individual landing pages.
Apart from that, OptimizePress also delivers a load of features, and an intuitive drag-and-drop editor. It's not a true WYSIWYG experience, though (which, depending on what you like, might be considered an advantage or a flaw).
Features:

More than 30 page templates to choose from.
More than 40 content elements available (text, buttons, images, feature boxes, etc.).
Available as a theme and a plugin.
Membership functionality included (you can build a membership site with it).
Drag-and-drop editor.
Split testing capability.

Works with current theme? Yes. You can stay with your current theme if you want to.
100% custom landing pages? Yes. Modify a template or build your own from the ground up.
Mobile-friendly? Yes, everything is 100% mobile-compatible.
Ease of use. Very easy to use and intuitive, especially thanks to the pre-designed templates.
Price:

for 3 sites – $97,
for 10 sites – $197.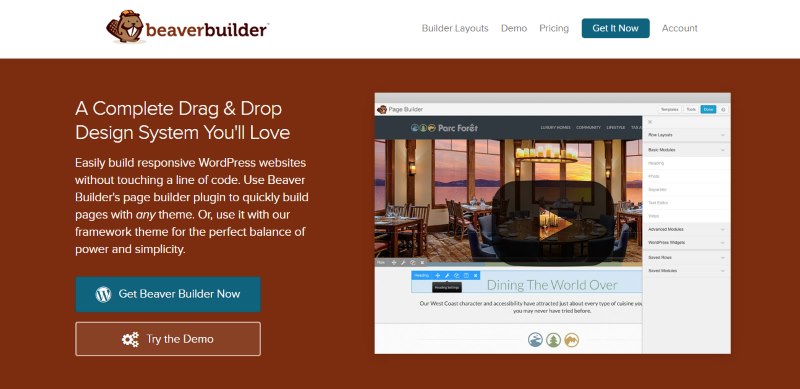 Beaver Builder is a theme + plugin combo, but you can get the plugin alone (depending on the range of features you need).
However, it's worth noting that the Beaver Builder plugin, on its own, already provides you with all the landing page building functionality you might ask for.
It offers full drag-and-drop content building that works on the front-end of your site, giving you a real-time feedback on what your landing page is going to look like when you finish adjusting it.
Features:

You can use it on posts and pages.
Built-in landing page templates.
Drag-and-drop content editing.
Front-end editing in real time.
Import/export features. Share your work with others, or reuse existing designs.
A wide set of content elements (everything from headings, photos, text, videos, and so on).

Works with current theme? Yes, but you can also get the landing page plugin + theme combo.
100% custom landing pages? Slightly limited by your current theme. Unlimited if you also use the Beaver Builder theme.
Mobile-friendly? Yes.
Ease of use. Very easy to use and intuitive. No coding skills required.
Price:

Beaver Builder plugin for unlimited sites – $99,
Beaver Builder theme and plugin – $199.

The list couldn't be complete without at least one free solution. That being said, there really aren't many sensible free landing page plugins for WordPress out there. As it turns out, landing pages are complex concept to master, and when someone figures it out, they just can't afford to make it available for free.
This makes WordPress Landing Pages a nice breath of fresh air for those of us who don't have a budget to invest. There is a hidden price, though. While the plugin is free, the functionality it offers isn't on par with the other solutions on this list (especially in terms of design). Still, a viable choice for someone who just wants to test the waters, so to speak.
Features:

Visual editor where you can view the changes you're making in real-time.
A number of pre-design templates to choose from.
Conversion rate tracking and built-in split testing.
Add-ons available (those are premium).

Works with current theme? Yes, the plugin works with all WordPress themes.
100% custom landing pages? Yes, you can select from one of the templates, base the design on your current theme, or work with a blank demo template.
Mobile-friendly? Yes.
Ease of use. Creating new landing pages is done through a similar interface that's used for WordPress posts and pages, so everything feels familiar.
Price:

$0 for the basic version + paid add-ons to extend the functionality.
This plugin has been closed as of May 2020 and is no longer available for download.
Which landing page plugin for WordPress should you choose?
I have to be honest – the choice isn't the easiest one. There's no clear winner on this list, as it all depends on your own needs and requirements. A couple of ideas, nonetheless:
If you want to work with the plugin on multiple sites – Beaver Builder is going to be the most cost-effective choice.
If you want a solution that has no learning curve at all – one you can just install and start building your landing pages in minutes – I'd recommend Qards.
If it's a massive range of features that you're after – you're going to be very happy with Thrive Architect.
We hope this article helped you find the best landing page plugin for your website. You may also want to see our comparison of 9 best list building WordPress plugins.
What's your take? Any favorite WordPress landing page plugins on the list?