Beaver Builder Review (Hands-On in 2021): Is it the Best WordPress Page Builder?
Considering using Beaver Builder on your WordPress site?
In our hands-on Beaver Builder review, I'll take you through everything that this popular WordPress page builder has to offer.
If you're not familiar, Beaver Builder is a visual WordPress page builder plugin that lets you easily build custom designs using a simple drag-and-drop interface.
I'll start by giving you a hands-on look at how the Beaver Builder interface works and what I think its strong points are. Then, I'll dig into some other parts of the Beaver Builder experience, like Beaver Themer and the Beaver Builder theme.
By the end of this Beaver Builder review, you should know whether Beaver Builder is right for your needs.
Let's dig in…
What Can You Use Beaver Builder For?
In a nutshell, you can use Beaver Builder any time the default WordPress editor isn't giving you enough design freedom.
At a basic level, you could use Beaver Builder to add some flair to your blog posts.
A more common approach would be to use Beaver Builder to design your core pages, like your homepage and about page. Beaver Builder also makes a great WordPress landing page builder plugin if you're more focused on marketing.
With the Beaver Themer add-on, you can go even further and design entire websites using a visual, drag-and-drop interface.
You can even include dynamic content from custom fields, which lets you build some truly custom WordPress sites.
As you read through our Beaver Builder review, you'll probably spark some ideas of how you can apply the features that you see to your specific situation.
Beaver Builder Review: Hands-On with the Interface
To kick off the hands-on section of this Beaver Builder review, let's take a look at the main page builder interface.
Beaver Builder offers an immersive full-width editing experience. The only fixed interface element is a toolbar at the top – everything else is a live preview of your design exactly like your visitors will see it: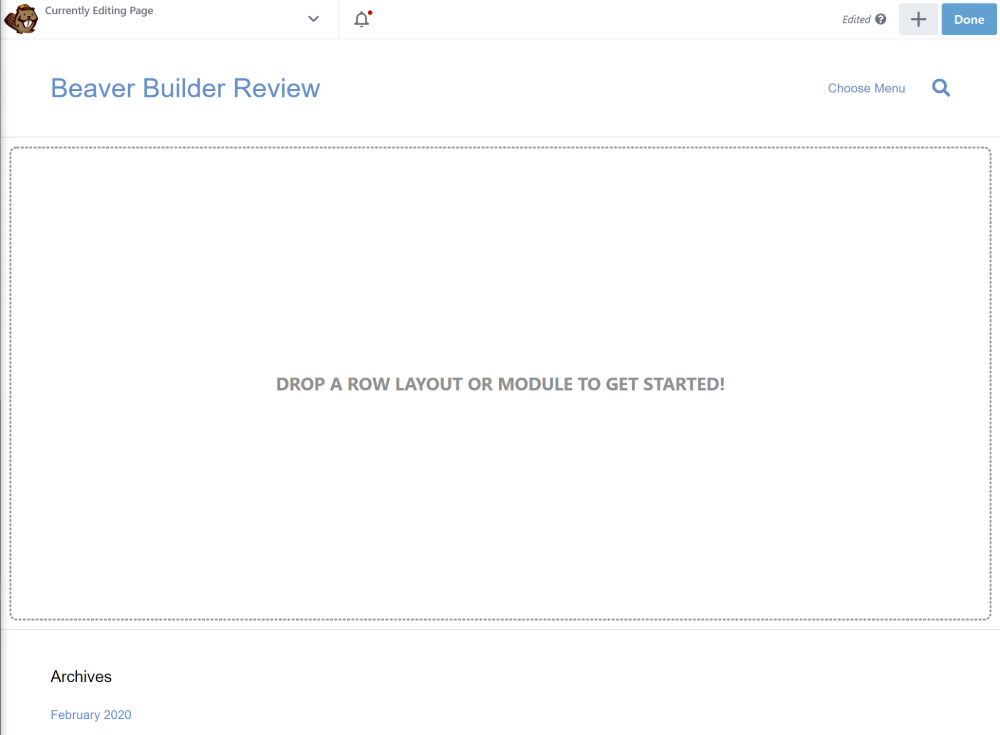 The Basics of How Beaver Builder Works
If you want to add a content element (called a module) or a template, you can click the plus icon in the top-right corner. That opens a list of all the available modules, divided into sections.
To add one of those modules to your design, all you do is drag it onto your design: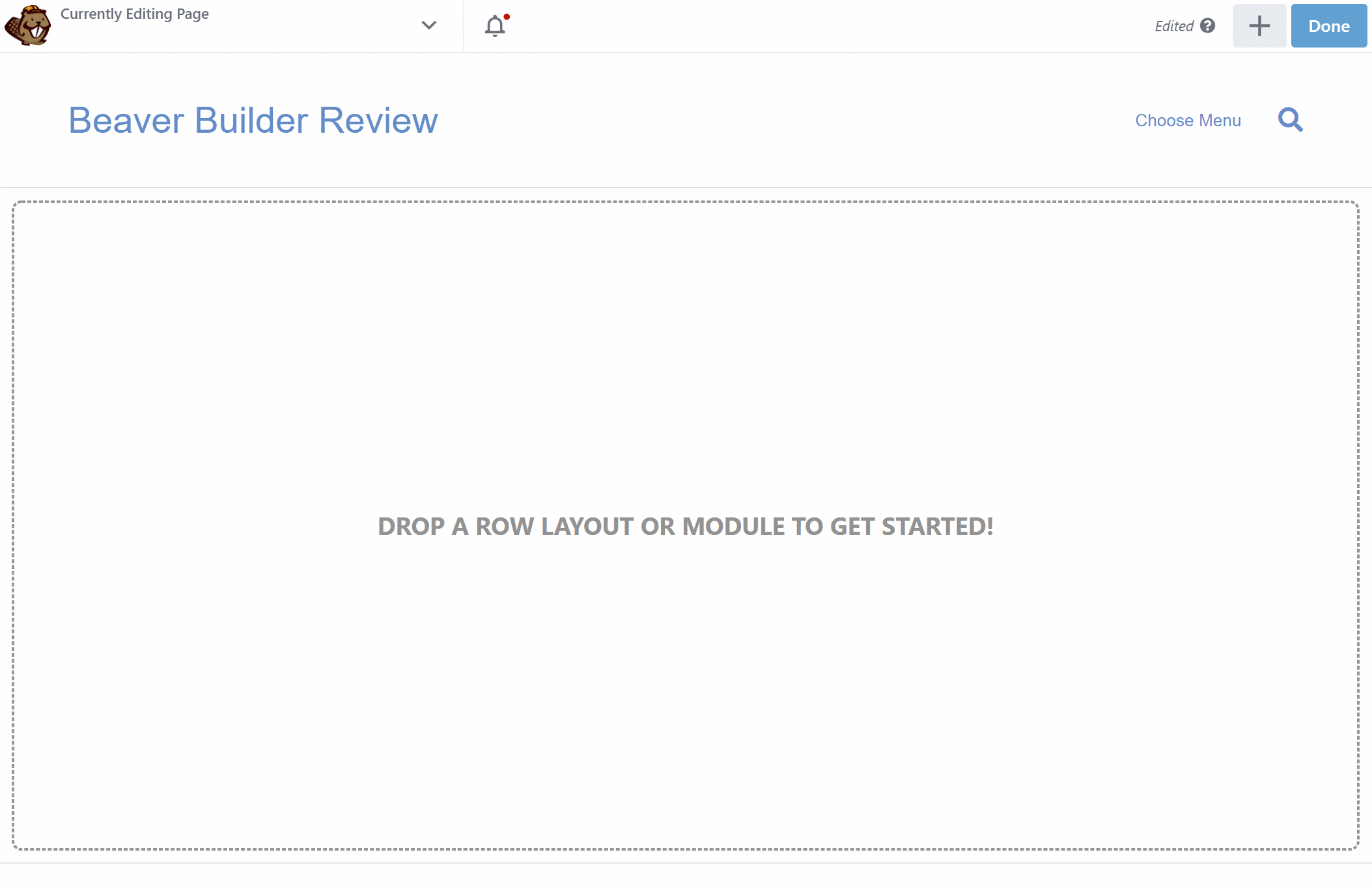 Then, you can customize that module in the popup interface that appears, which is divided into three tabs: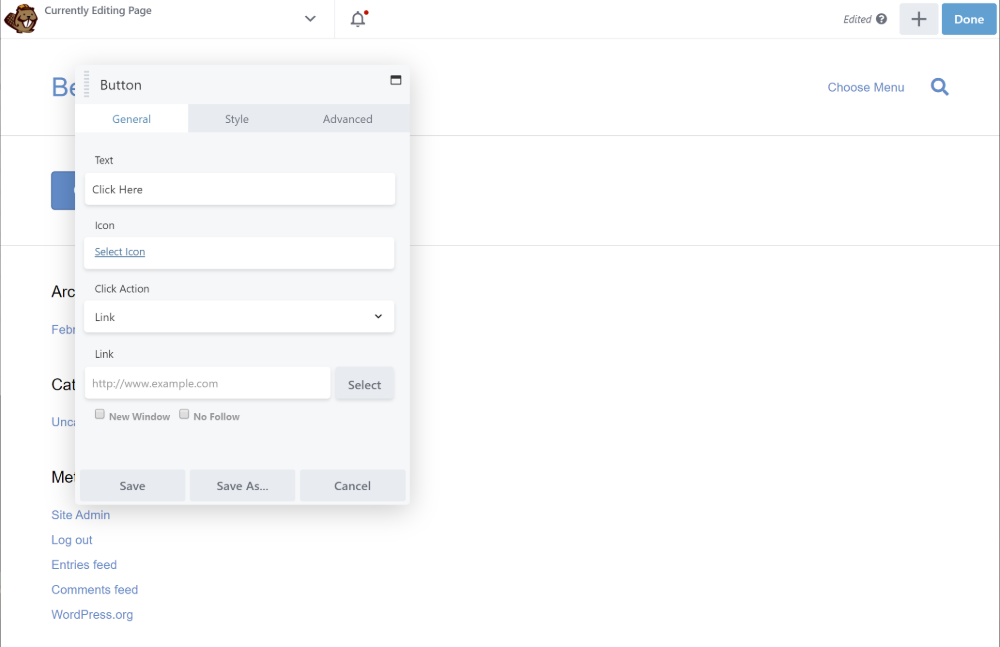 You can drag the settings interface anywhere on your screen, and you also have the option to stick it to either side of the design as a sidebar: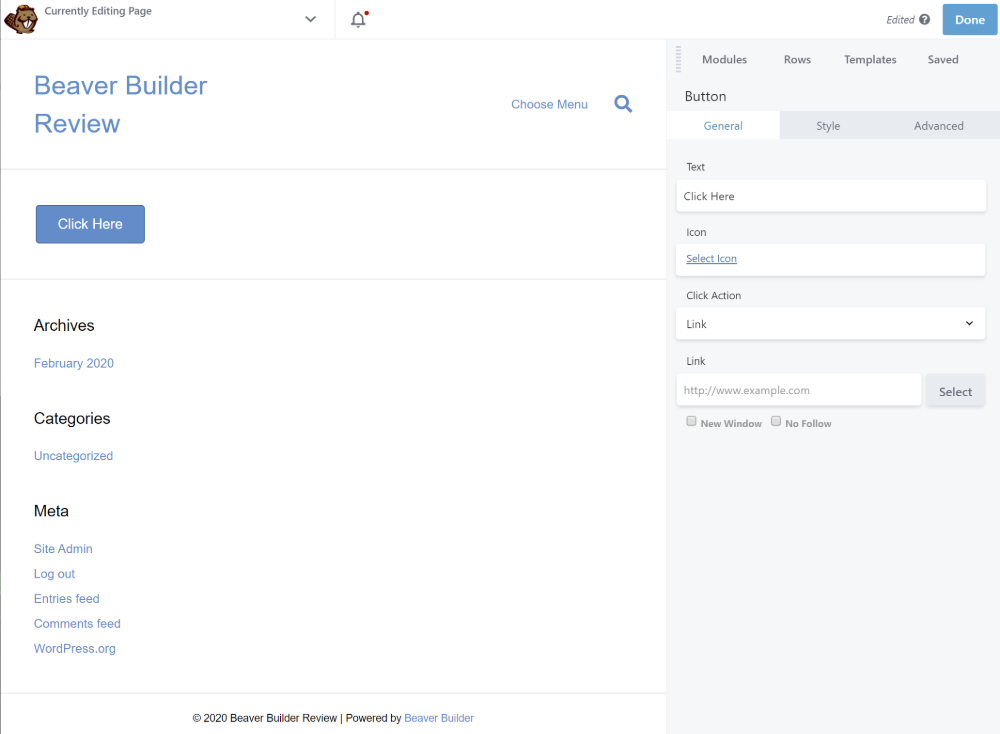 If you want to customize the text on the page, Beaver Builder offers inline editing, which means that you can just click and type right on the visual preview.
Easy enough, right?
Next, I'll single out some specific things that I think Beaver Builder does well.
Easy Column Creation
If you want to create multi-column layouts, you have two main options.
First, Beaver Builder includes pre-built layouts in the Rows section: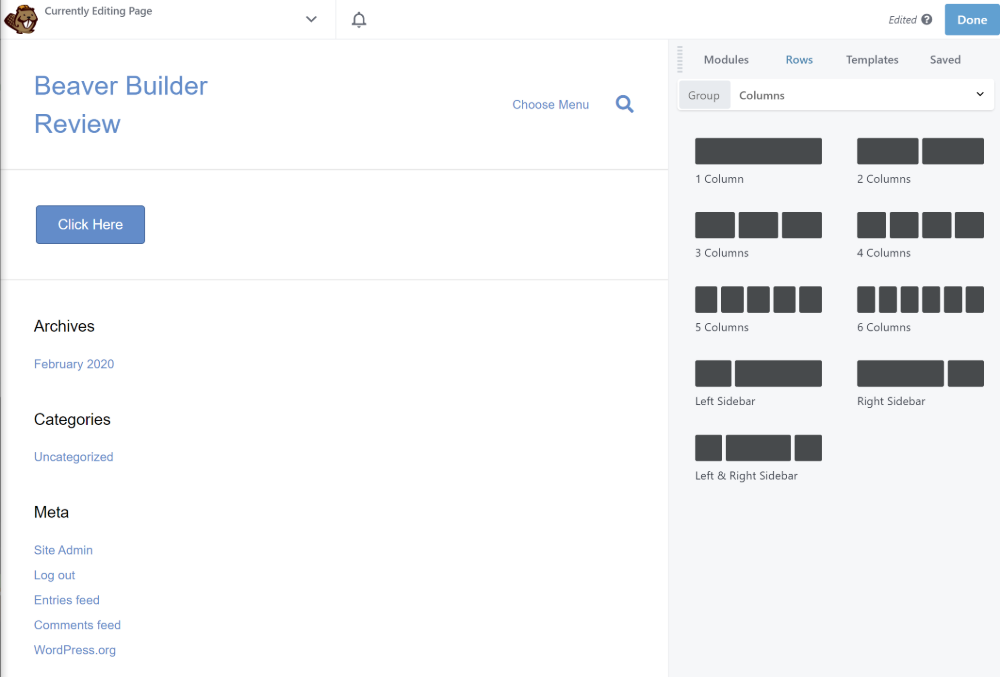 That's useful, but my favorite feature is the second method.
See, a lot of WordPress page builders only give you the first method. That is, you have to choose your layout before adding new content, which is limiting.
But with Beaver Builder, you can also just drag a module next to another module to automatically create a new column: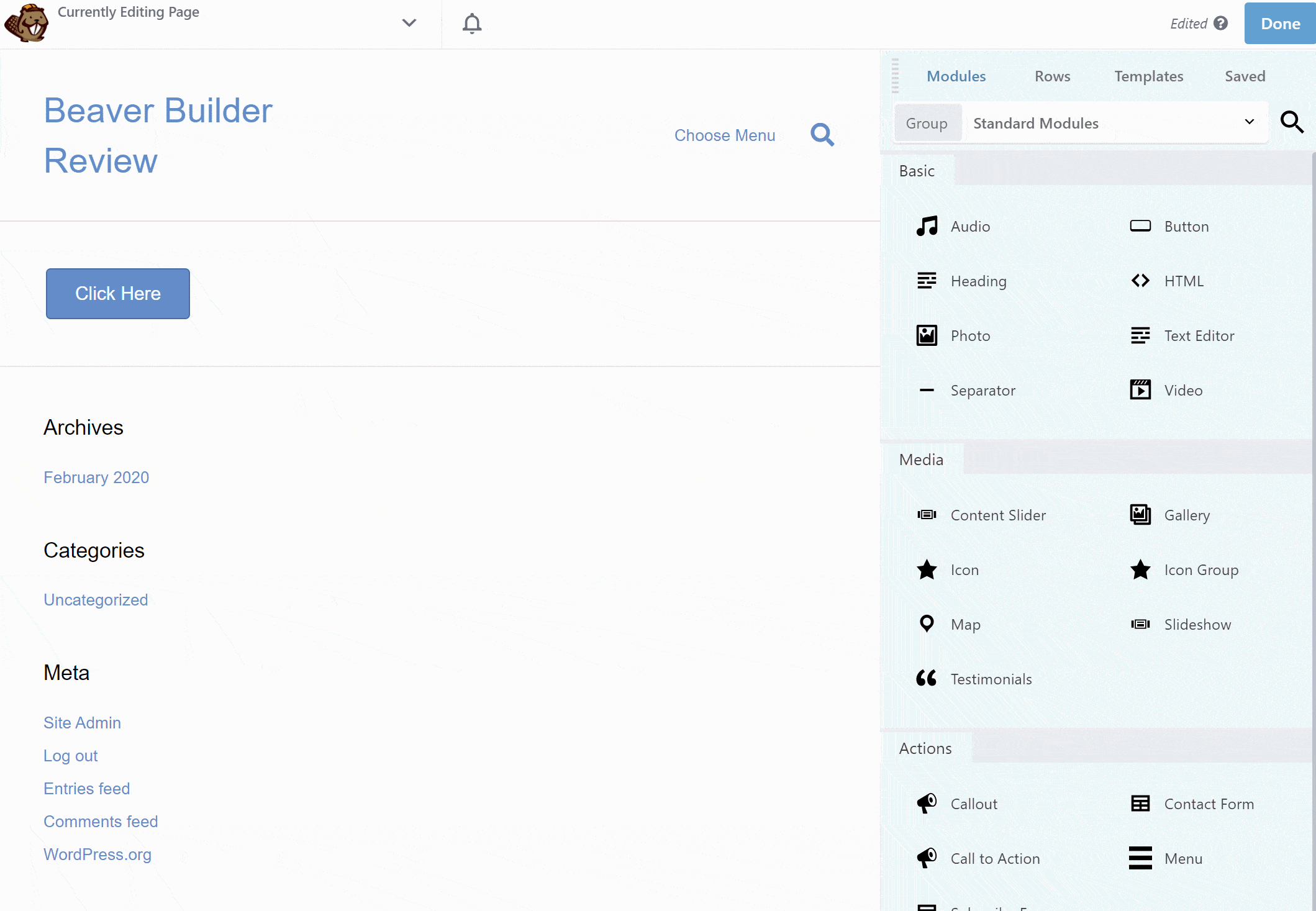 It might seem like a small feature, but I find this super convenient because it lets you build your designs more quickly.
Responsive Design Settings
All of your Beaver Builder designs are responsive by default, but you also get some additional tools to control how your designs look on different devices.
First, when you're working with style settings, like fonts and spacing, you get an option to use different settings for different devices. As you toggle between different device settings, Beaver Builder will automatically update the preview to reflect how your design will look on that device: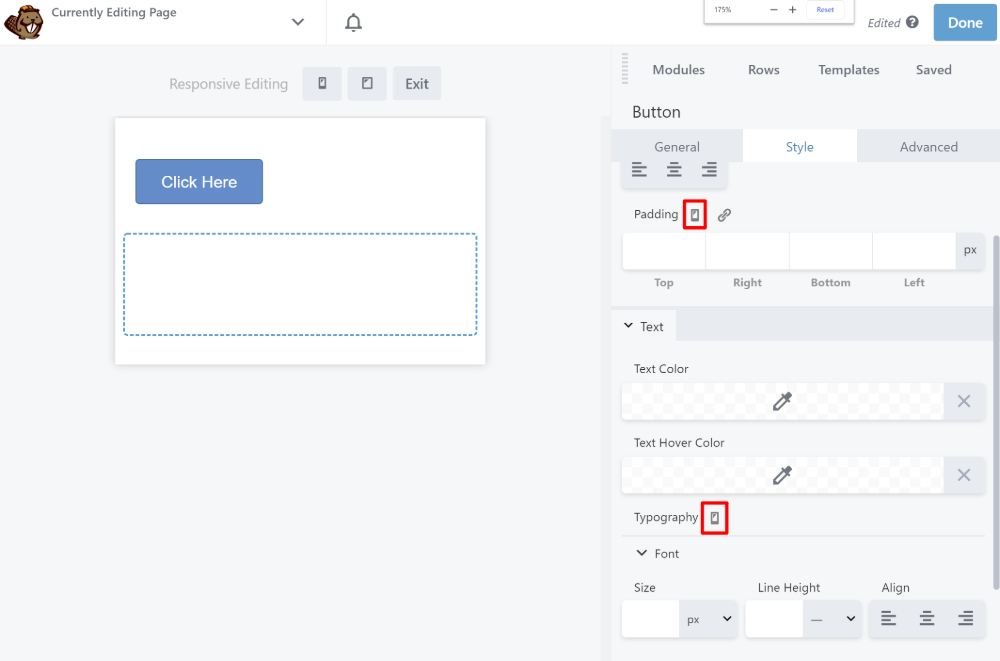 Second, you can hide specific modules or rows for certain devices (or breakpoints):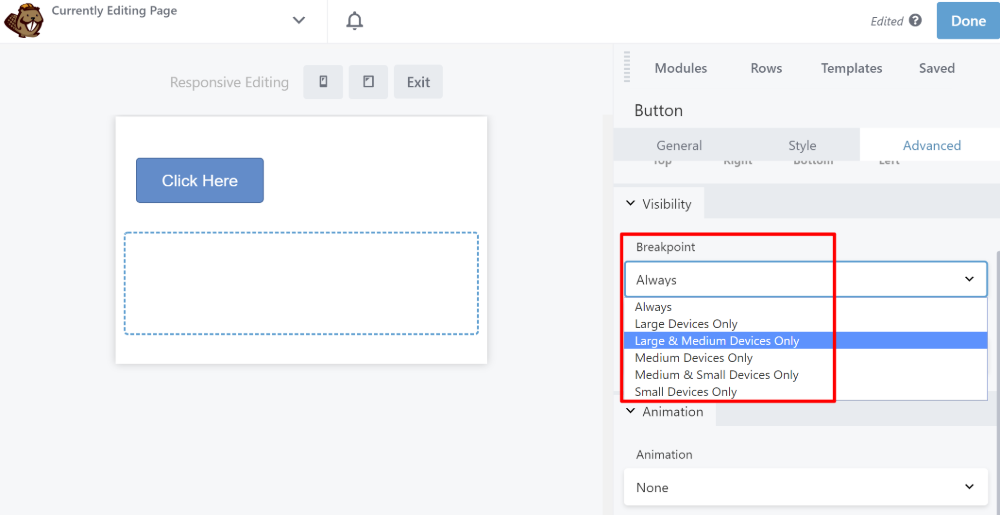 Save Your Designs
To help you save and reuse designs, Beaver Builder lets you save:
Once you save something, you can quickly insert it from the Saved tab: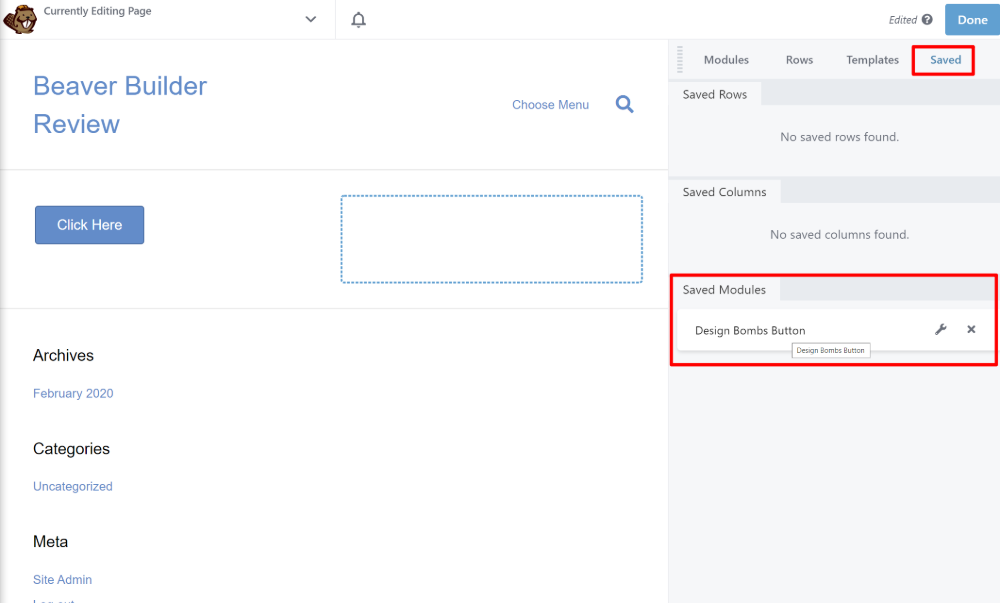 You can also save your templates as Global. When you save a template as global, you only need to edit it one time to automatically update all instances of that global template.
Easy CSS and JavaScript
If you're a more advanced user, you'll love how easy Beaver Builder makes it to add your own CSS and JavaScript.
If you turn on the Layout CSS & JavaScript tool, you'll get a sidebar where you can directly add your own custom code: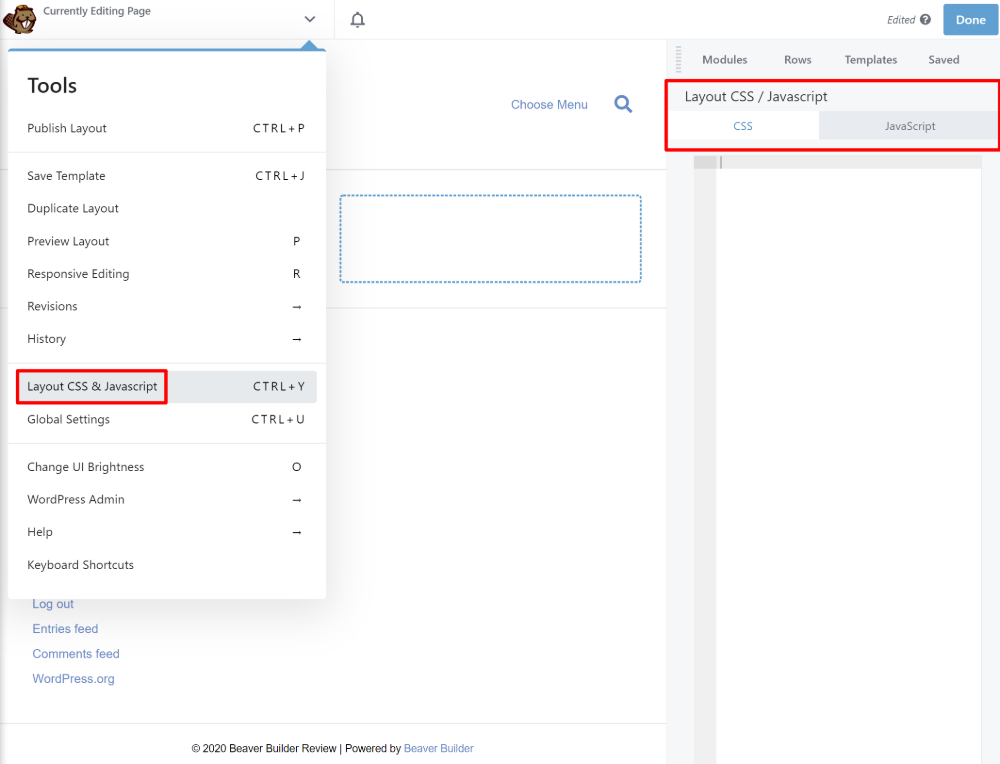 Dark Mode Interface
This is another small thing, but one that I love. Beaver Builder comes with dark mode! You can toggle it on and off at any time by just hitting the "O" key on your keyboard: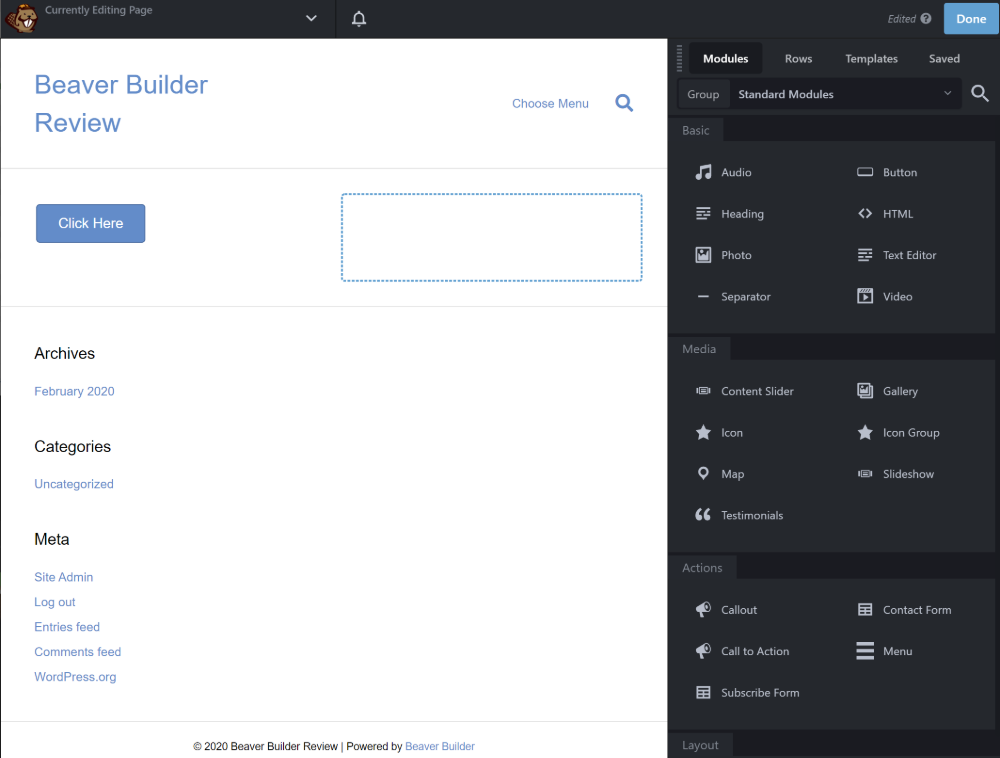 Custom Breakpoints
This is another more advanced setting. But if you want to use custom responsive breakpoints, Beaver Builder lets you set those on a per-design basis from the Global Settings, which is pretty unique: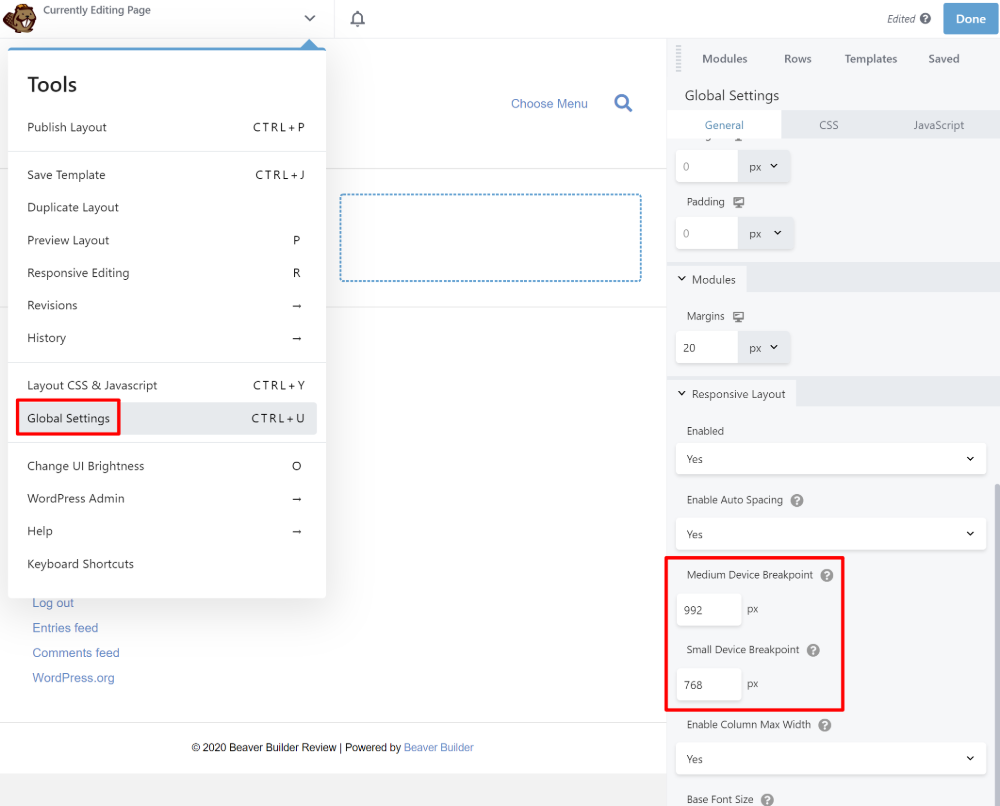 Subscribe Form Module
Beaver Builder includes a solid set of content modules. It's not the largest that I've seen, but it includes all the most important elements.
One module that's worth singling out, though, is the Subscribe Form module.
This module lets you create custom email opt-in forms that automatically connect to 24+ email marketing services including Mailchimp, GetResponse, Campaign Monitor, and more: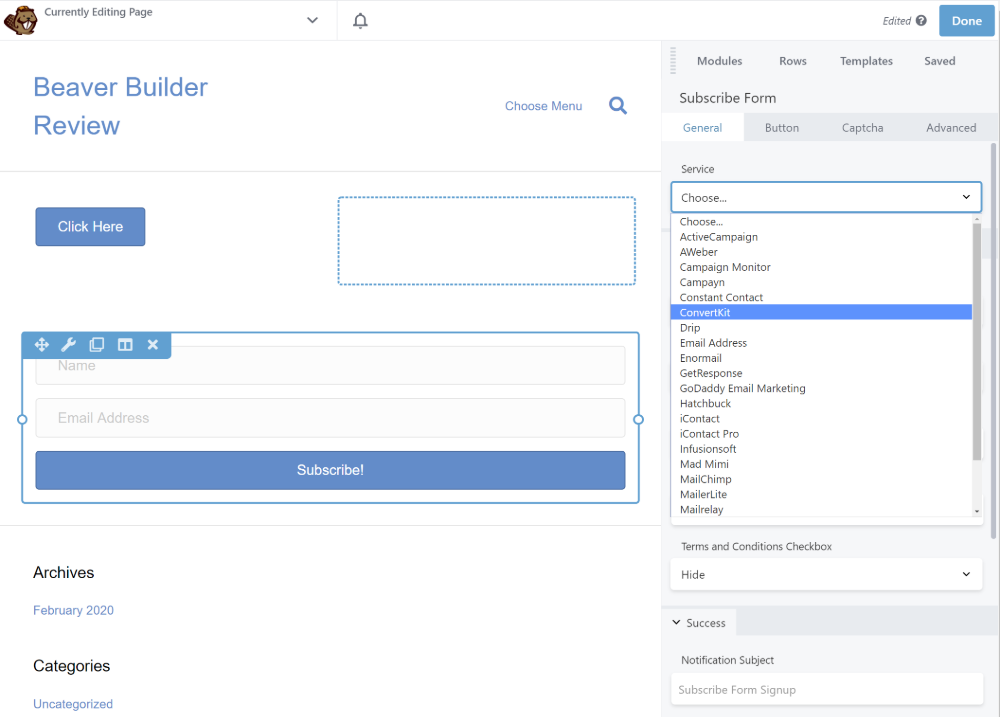 Hide Content By Logged-In Status
Another unique Beaver Builder feature is the ability to show/hide content based on whether or not a visitor is logged in to your WordPress site. Not many other page builders offer this feature and it comes in handy for sites with public registration: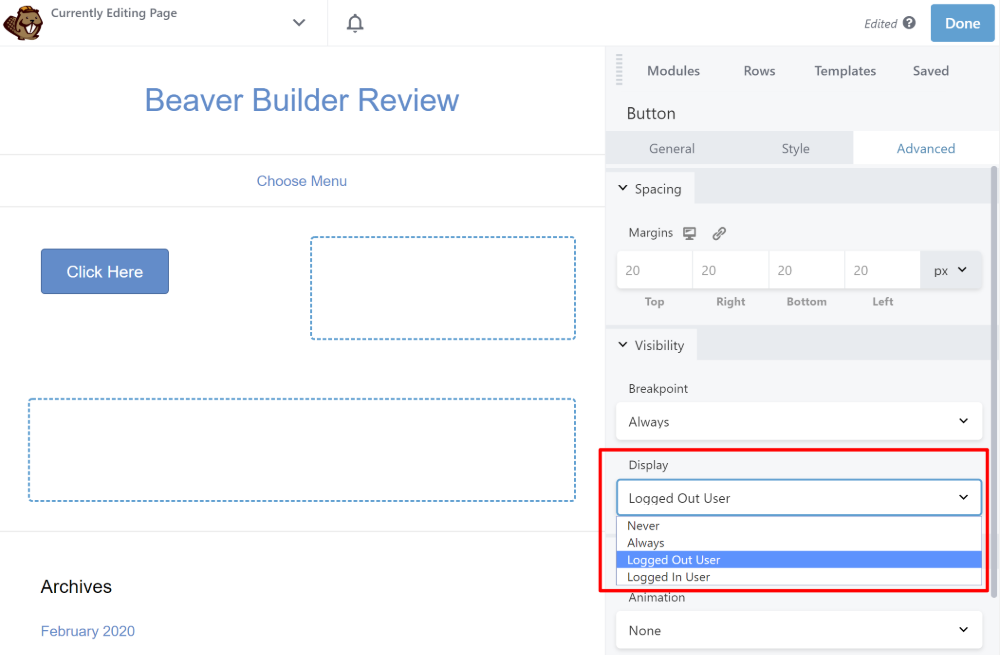 White Labeling
If you build websites for clients, you'll love that Beaver Builder is one of the few WordPress page builder plugins that offers white labeling.
Basically, this means that you can replace all of the Beaver Builder branding with your own branding, which lets you create a more tailored experience for your clients.
Final Thoughts on the Beaver Builder Interface
Overall, I'm a big fan of the Beaver Builder interface. It doesn't necessarily have the same collection of modules and design options as something like Elementor or Divi Builder, but it has everything that most users will want.
Additionally, I would highlight three areas as being strong points of the Beaver Builder interface:
Speed – the interface is super fast and smooth – no lagging or glitching.
Stability – while other page builders prioritize rapidly pushing out new features, Beaver Builder has always put stability first, which I think is one reason why it doesn't have quite as many options as some competitors.
Pleasant – this one is kind of subjective, but I just generally find Beaver Builder to be pleasant to use. Little features like automatic column creation and dark mode make for a great editing experience.
Exploring the Built-In Templates
In the previous section, I mostly focused on building designs from scratch with Beaver Builder. But Beaver Builder also includes two types of templates:
Page templates – these are finished page designs – all you need to do is edit in your content.
Row templates – these are designs for part of a page, like a contact section or hero section. You can mix and match them to create complete designs.
I don't think templates are a strong point for Beaver Builder, especially compared to other popular page builder plugins. However, they can give you a starting point for your designs.
Additionally, you can get access to a lot more templates with third-party extensions, which I'll cover a little later on.
Beaver Themer Adds Full Theme Building Functionality
Beaver Themer is a separate add-on plugin from the Beaver Builder team that lets you use the same interface that you saw above to design your entire WordPress theme including your:
Headers
Footers
Single templates
Archive templates
Etc.
To get started, you can choose where to apply your themer layout: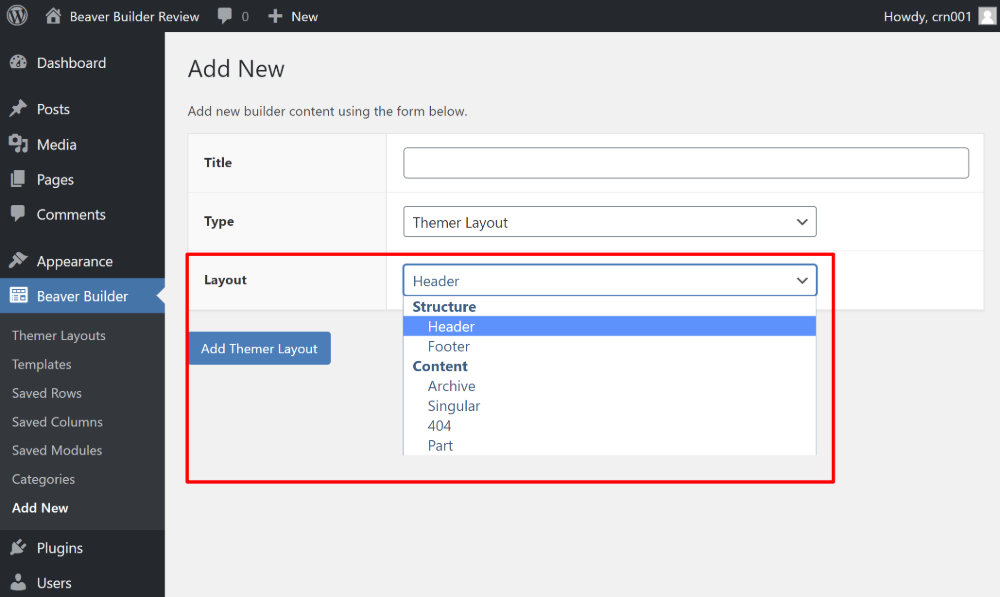 Then, you can choose where to display it, like targeting a specific post type or a category of posts.
You can also add more detailed rules, like only applying the template to content from specific authors: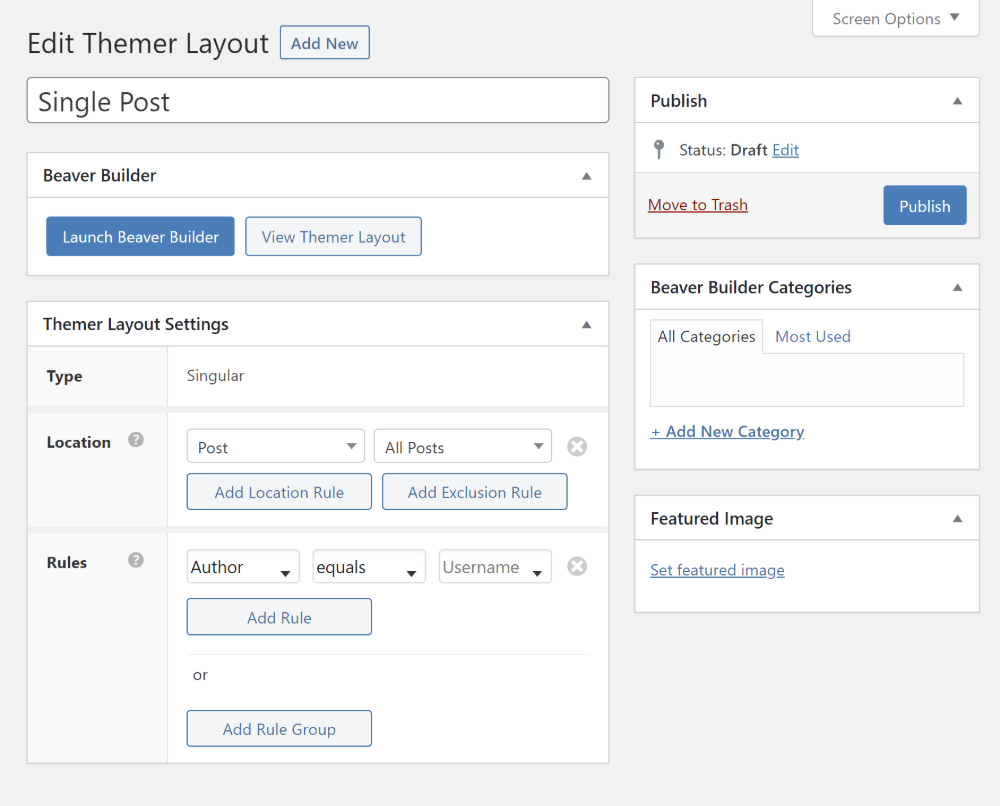 And once you've set that up, you can launch the same Beaver Builder interface that you saw before.
Only now, you'll get a new set of Themer Modules that help you dynamically pull in content for the template, like the title or content of a blog post: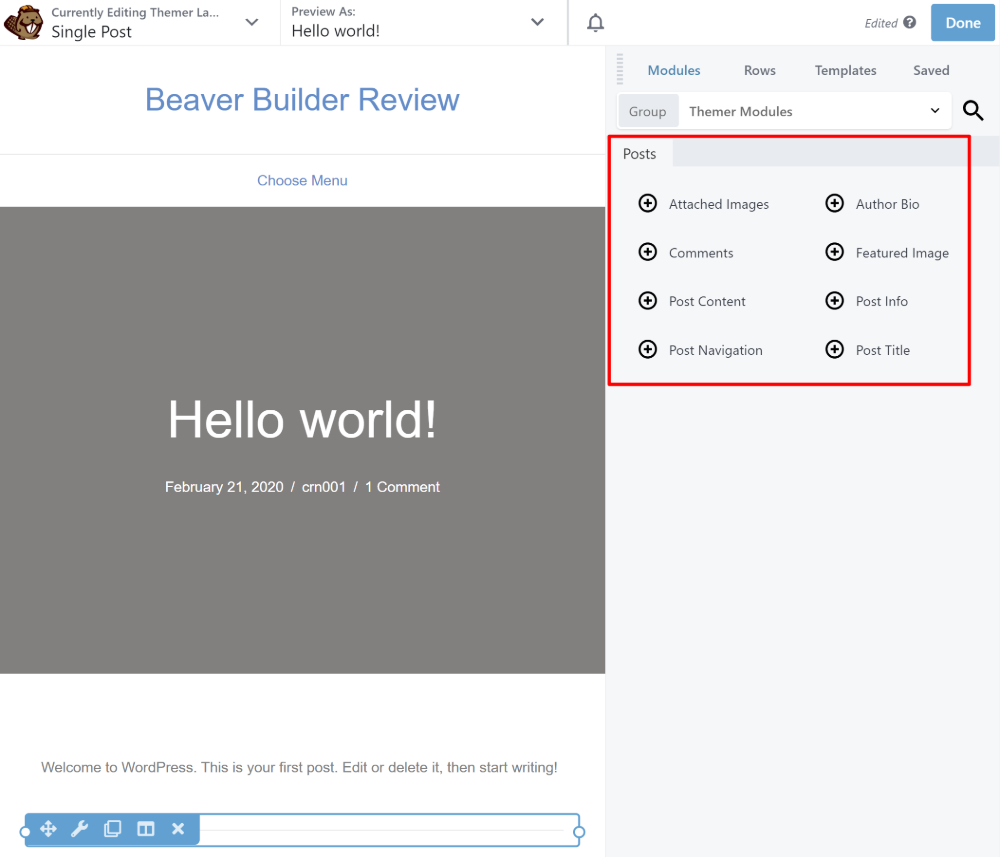 You can also dynamically insert content into other modules, like a regular text editor. The really powerful thing here is that this also lets you insert information from custom fields, like those you've added with Advanced Custom Fields: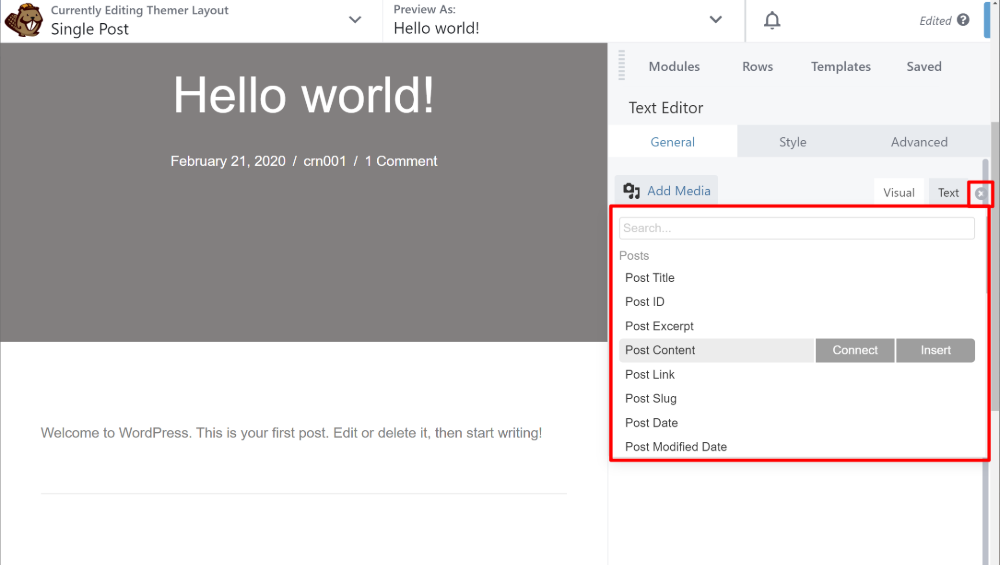 All in all, Beaver Themer is a very powerful tool for building custom WordPress sites.
The Beaver Builder Theme Offers Another Approach
Whereas Beaver Themer lets you design your entire WordPress site using the Beaver Builder interface, the Beaver Builder theme is an actual theme that's made to pair with Beaver Builder.
To configure your design, the Beaver Builder theme gives you tons of options in the WordPress Customizer. It also uses Bootstrap for its CSS framework, which makes it easy to add your own customizations.
However, with the advent of page builder-friendly themes like Astra and GeneratePress, I don't find the Beaver Builder theme to be quite as valuable.
All in all, it's a quality theme, but most people will be just as happy (or happier) with something like Astra or GeneratePress.
Third-Party Developer Ecosystem
Beyond the official offerings, another nice thing about Beaver Builder is the third-party marketplace. You'll find lots of third-party plugins that add new modules and templates.
For example, PowerPack adds:
55+ new modules
150+ page templates
200+ row templates
The same developer also offers a WooPack add-on that adds WooCommerce-focused modules for Beaver Builder.
Ultimate Addons for Beaver Builder is another popular option that adds:
60+ new modules
100+ page templates
200+ row templates
You'll find plenty of other free and premium extensions as well.
As I mentioned, Beaver Builder doesn't have the largest module collection by itself, but these third-party add-ons give you access to a much more robust set of offerings.
Beaver Builder Pricing
The price that you'll pay for Beaver Builder depends on the exact features that you need.
First, Beaver Builder does offer a limited free version at WordPress.org. However, it is very limited, so I think it's really only valuable for getting a feel for the interface. If you're specifically looking for a free WordPress page builder plugin, there are other options with more generous free feature lists.
To unlock all of the functionality that I showed you in this Beaver Builder review, you'll need one of the premium versions.
The nice thing about all of the premium plans is that they all let you use Beaver Builder on unlimited sites. There's no hard-cap site limit like a lot of other WordPress page builders use.
There are three plans:
Standard – $99 for a one-year license – the premium page builder plugin.
Pro – $199 for a one-year license – adds the Beaver Builder theme and WordPress Multisite support.
Agency – $399 for a one-year license – adds support for white labeling and more advanced Multisite network settings.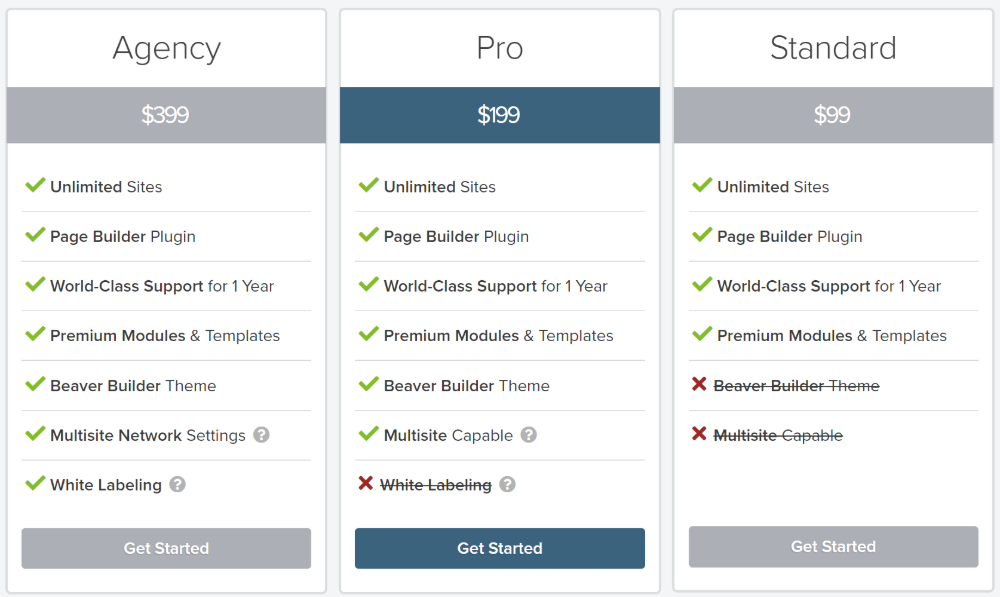 If you want to use Beaver Themer, that's a separate purchase. Beaver Themer costs $147 for use on unlimited sites.
You also need to pair it with the premium version of Beaver Builder. That is, you cannot use Beaver Themer with the free version of Beaver Builder at WordPress.org. So if you just want Beaver Themer, you're still looking at at least $246.
All of the paid plans come with one year of support and updates. If you want to renew your license after that first year, you'll get a 40% discount.
Final Thoughts on Our Beaver Builder Review
Beaver Builder has been around for a while and has rightfully developed a great reputation in the WordPress page builder space.
In terms of the quality of the product, I would absolutely recommend Beaver Builder and it has a great team behind it.
But is Beaver Builder the best WordPress page builder for you?
Well, I think that depends on what you value. There are a lot of good page builder plugins nowadays, each with their own strengths and weaknesses.
If you want fancy animations and lots of unique design/style options, you might prefer a plugin like Elementor (our review) or Divi Builder (our review) instead. Similarly, if you want advanced features, like a popup builder, Elementor Pro would also be a better choice there because it includes Elementor Popup Builder.
As I mentioned, I think the Beaver Builder team is pretty honest that they prioritize stability over breakneck development and pushing out new features, and there's certainly value in that as well.
So if you also prioritize having a dependable product that you know is always going to work for you, I think that's where Beaver Builder is strong. It doesn't offer all of the bells and whistles of some other page builders, but it does offer a rock-solid page builder that can do what most people need.
I also personally find it to have one of the better interface experiences, especially because it never lags or glitches on me.
If that sounds like your kind of WordPress page builder plugin, head to the Beaver Builder website to learn more.