The web host you use to store your site's data and files is one of the most important parts of your website. This is particularly true if you're a web developer in need of a reputable managed hosting platform to place your client sites on.
WPEngine Coupon: 25% OFF
WPEngine often comes up when talking about top managed hosting solutions. After all, it's a beautifully run company with some affordable and flexible pricing options.
And the cool part is that you receive a 25% discount if you tell WP Engine that you heard about them through Design Bombs!
To get in on the discount, first click on the scissor icon at the top of this page:

You'll know you're in the right spot when the click redirects you to WP Engine's webpage: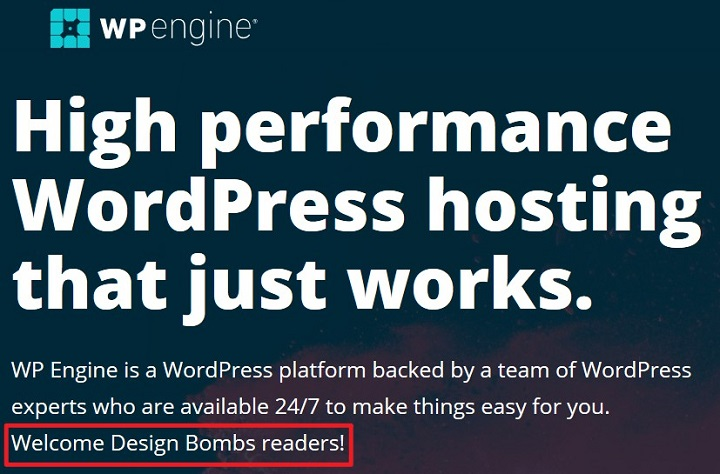 Next, scroll down to the available hosting plans and click Get Started on the plan that best suits your needs: Startup, Growth, or Scale. You'll see your discount right there in the comparison table.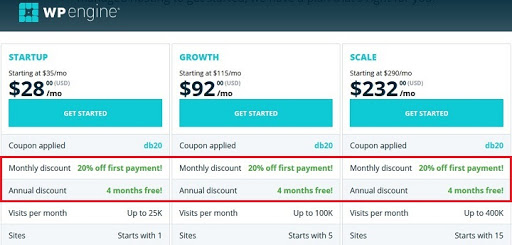 On the checkout page, you'll be able to customize your WP Engine hosting plan and sign up. You'll also notice the exclusive Design Bombs coupon code that's automatically entered for you: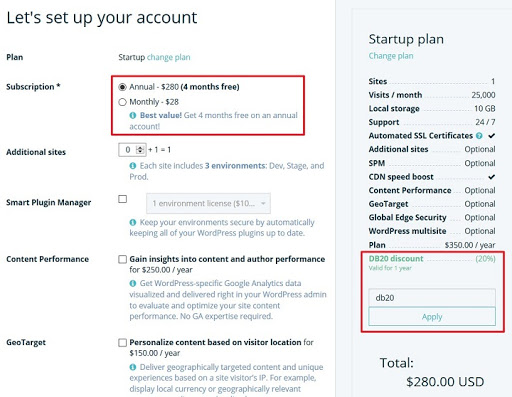 Don't see the discount code at checkout? No problem! Just enter the coupon code DB20 into the coupon code field on the checkout page and click Apply. Your discount will automatically be applied.
What Makes WP Engine Stand Out?
WP Engine offers managed WordPress hosting, meaning it can boost your site speeds considerably compared to regular shared hosting solutions. Plus, WP Engine puts a lot of effort into ensuring that your site is consistently protected from hackers.
Finally, the 24/7/365 customer service from WP Engine is some of the best in the industry. You'll have access to a real live person via phone, an extensive knowledge base and blog to troubleshoot and learn on your own, and even a contact form to reach out whenever you want. And don't forget, if you need to talk to someone right now, there's always the live chat option.
Standout Features You Can Expect with WP Engine
1. Daily Backups
What happens if a hacker breaks into your website and ruins your website files or completely crashes your site? If you don't have a recent backup, you're going to be out of luck.
However, WP Engine takes care of this for you, since it runs automated backups without you even knowing. And to top it off, all your site files are stored in an offsite location, just in case you'd like to restore them in the future. All you need to do is contact one of the WP Engine reps to help you out.
2. Firewalls and Malware Scans
Threats to your website are constantly knocking on the door, so firewalls are implemented on the WP Engine system to ensure that fewer data breaches occur. Not to mention, the malware scans are running at all times providing proactive detection.
What's cool is that WPEngine even eliminates malware if it locates something wrong. Not a lot of web hosts in the industry can make this claim.
3. Caching Technology
Caching serves as one of the easiest ways to speed up your site's loading time. Of course, you could install a caching plugin, but why not just have it included with your hosting platform instead?
With WP Engine, you get a proprietary caching technology serving up copies of the most recent versions of your site, so that site visitors never have to wait for your website to load.
4. CDN Ready Technology
A content delivery network (CDN) becomes necessary when your traffic starts coming in from all over the world. For example, a person in India is not going to receive the same loading speeds as someone near one of your servers in Chicago.
However, a content delivery network utilizes hundreds of servers all over the world. Then, when someone lands on your website, the server that's closest geographically to them delivers your site content instantly. And luckily for you, all WP Engine customers have access to global CDN services.
5. A One-Click Restore Feature
WP Engine has a one-click restore button so you don't have to have much technical knowledge in case your site crashes.
It uses Easy Snapshot backups so you can quickly go into your hosting account and tell the system that you'd like to restore a certain part of your site. It doesn't get much easier than this.
What's WP Engine Pricing Like?
There are 4 WP Engine hosting plans for you to pick from:
Startup – $28/month for 1 site, 25K visits per month, and 10GB local storage.
Growth – $92/month for 5 sites, 100K visits per month, and 20GB local storage.
Scale – $232/month for 15 sites, 400K visits per month, and 30GB local storage.
Custom – Custom pricing for 25 sites, millions of visits per month, and 100GB-1TB local storage.
In addition, all hosting plans come with neat features such as:
Genesis Framework and 35+ StudioPress themes
Staging sites
PHP 7.3 support
Proprietary Page Performance tool
Automated SSL certificates
Keep in mind that all of these pricing options are the base rates, meaning they don't include the coupon we're talking about here. In other words, you can expect your hosting plan to be 25% cheaper once you use the exclusive Design Bombs coupon code.
Don't Forget Your WP Engine Coupon!
We know it's exciting to get started with your new managed hosting account and website, but don't forget that you can save some solid cash by using the coupon code dbsummer25 on the checkout page. This helps you save 25% on any purchase, bringing your website expenses down quite a bit.