Managed WordPress Hosting 101: Is It Right for Your Business?
It's generally accepted that managed hosting was officially introduced to the WordPress community back in 2009. Of course, back then, with few options, things were much simpler.
Today, deciding on a host is a more complicated process. For one thing, there's a long list of competitors at a wide variety of price points. But what really makes deciding between one host or another so challenging is the wide variety of definitions when it comes to the term "managed WordPress hosting".
You see, hosting companies quickly realized that the idea of managed hosting was more than just a flash in the pan. And once that happened, it didn't take long before everyone seemed to want a piece of the pie.
Before you knew it, there were there several new managed hosting companies in the marketplace. Eventually, even some of the old-standby shared hosts hopped on board as well.
Update: Here is the short version of our Managed WordPress Hosting case study, if you're in a hurry.
WPEngine is perfect choice, comes with all the features you need + amazing support, costs $29 / month. All of the features you'd expect are available at WP Engine including staging, CDN access, SSL support, and multisite support although not all features are available with the less expensive plans. Don't forget to use our special link to get 20% off WPEngine.
Flywheel is a bit different compared to other hosting providers, they offer unique features such as simplified collaboration, billing transfer, blueprints, and more, for designs and developers.
SiteGround is not necessarily falls under managed hosting category, they are more of an high-end shared hosting, so if you are just starting out and looking for an inexpensive solution, you may want to take a look at SiteGround. Don't forget to use our special link to 60% off SiteGround.
In this post, we're going to take a closer look at the Managed WordPress hosting marketplace. This will include trying to come up with a clear definition managed hosting as well as help you understand whether this might be a viable option for your website.
Then we'll also take a closer look at 4 hosting options (3 Managed and 1 shared) at a variety of various price and value points
What is Managed WordPress Hosting?
Managed WordPress hosting was initially introduced as a way for Pagely to create a more stable revenue stream during the economic downturn that started in 2008. The concept was simple: Provide value added hosting to their existing customer base that included automated deployment, WordPress core and plugin updates along with a variety of server refinements designed to improve both security and performance.
But that was 2009. What about managed hosting in 2018? Well, over the last seven years things have become more complicated — lines have been blurred and offerings have been tweaked. What you'll find when researching managed hosting is that there are three general categories you'll run across:
True Managed Hosting – Companies that fall squarely within the definition of managed hosting. Despite the fact that there are varying service levels, target markets and price points within this category, these companies leave no doubt about their niche. A few examples include Pagely, Kinsta, Flywheel, and WP Engine.
Pseudo Managed Hosting – There are several companies that like to be lumped in with the true managed hosting providers. While they often provide some overlap in services (like automated backups/restores and servers configured for WordPress), they are not in the same category as those mentioned above. When you really start to compare the offerings, you'll discover that they are really just "feature-rich" shared hosts.
"Me Too" Managed Hosting – The third and final category are the "me too" managed hosts. These are the companies who have traditionally operated in the budget shared hosting space but woke up one day and decided they would also like a piece of the managed pie. This is akin to Tata Motors (the manufacturer of the world's cheapest car) deciding they would like to enter the luxury car market. I don't think you can build your brand based on being on cheap and affordable and then flip a switch expecting to legitimately compete in the high-end luxury market. I just don't buy it.
If you're researching your next WordPress host, it won't take long to discover that feature and services levels can vary quite significantly. With so much cross-over, it's important to understand exactly what you're looking for in a host before making a final decision.
Selecting the "Managed" WordPress Host That is Right for Your Business
You'll notice the quotations around the word "managed". That because not all four of the hosts mentioned below are "true" managed hosting companies. While they're all great options in terms of maximizing the speed of your website, service levels and features vary quite extensively.
Let's take a closer look!
01.

WP Engine

WP Engine boasts over 50,000 customers in 120 countries. They also offer what is probably the widest range of service levels — from affordable entry-level plans, all the way up to Enterprise grade plans capable of handling 5 Million visits per month.
If you do a little searching on the web, you find some concerns regarding the customer service level at Manage WP. Some of them are actually quite negative. However, what I can tell you from my personal experience in dealing with two separate client accounts is that customer service was always first-rate. I never waited more than a few minutes for chat support and my questions were always answered (and resolved) quickly.
As far as plans and pricing go, there are three options that will likely be on most people's radar:
Personal plan: $29/month, WordPress Install, and 25,000 Visits/monthly
Professional plan: $99/month, 10 WordPress installs, 20GB storage, and 100,000 Visits/monthly
Business plan: $249/month, 25 WordPress Install, 30GB storage, and 400,000 Visits/monthly
Get 50% Discount on WPEngine Our Review
02.

SiteGround

SiteGround is the one host in this article that isn't a managed host. Despite that, you'll find a few reviews out there that place them in the same category as WP Engine, Flywheel, and other managed options. This simply isn't true – technically SiteGround qualifies as high-end shared hosting.
That said, there are a few things you'll get with Siteground that are awesome. Considering their price point, they offer relatively good performance. In our recent test, they fared well against a variety of popular hosting options. SiteGround also offers a decent list of features including caching, daily backups, CDN access, and the ability to select your preferred data center. As well, they provide full cPanel access including the ability to host and manage your email.
There is, however, one area where SiteGround does not perform well and that is customer service when it comes to security. If your website is hacked, you'll be on you own — expected to clean it up yourself or hire a third-party to do so. In my experience, SiteGround has great overall customer service. But when you need them most, you'll feel like you're being dropped like a hot potato.
I've had many very positive experiences with SiteGround but if I was looking to host a single website I would look very closely at the entry-level managed hosting options from FlyWheel or WP Engine.
For plans and pricing, Siteground offers three options with very attractive introductory rates:
Pricing:
Startup plan: $3.95/month, one website, 10 GB space, 10000 visits, and daily backup.
GrowBig plan: $7.95/month, multiple websites, 20 GB space, 25000 visits, and priority support.
GoGeek plan: $14.94/month, multiple websites, 30 GB space, 100000 visits, one-click staging, and priority support.
03.

Flywheel

Flywheel didn't actually perform all that well in our recent hosting roundup. However, I am inclined to chalk those up to a bad day or poor conditions because they are certainly not representative of what I have experienced.
A quick disclaimer here: I currently have several accounts with Flywheel Hosting including one of their Bulk Plans.
Flywheel has done a great job of differentiating themselves from some of the other managed WordPress hosting options by specifically targeting developers and designers. They offer a variety of unique features designed to eliminate some of the repetitive tasks associated with setting up and managing multiple WordPress installations for clients. A few examples include:
Simplified collaboration – Means you can invite people to a specific project and have them set up their own username, password and corresponding SFTP access.
Blueprints – These allow you to create multiple standardized WordPress installs that include specific themes, plugins and settings.
Client Transfers – Websites can be built on free accounts and then handed off to clients to set up billing (WP Engine now offers this as well).
Most of the other features you'd expect to find with managed WordPress hosting are also available including staging, SSL support and one-click backups and restores.
Flywheel offers a variety of pricing options that include both single site and bulk plans designed to simplify the management of multiple client accounts. Flywheel also offers their Tiny Plan at $15 per month. If you have a single WordPress website, I think this is one of the best "entry level" options available — it comes with plenty of great features.
Custom and enterprise plans are also available on request.
Here are some more details on the options available at Flywheel:
Tiny plan: $15/month, 1 WordPress install, 5000 visits, and SSL included (via Lets Encrypt).
Personal plan: $35/month, 1 WordPress install, 25000 visits, 10 GB disk space, and SSL.
Professional plan: $75/month, 1 WordPress install, 100000 visits, and SSL, CDN, & Multisite included.
Freelance plan: $100/month, 10 WordPress installs, 150000 visits, 40 GB space, and SSL included.
Bulk Plan Options – Great for Agencies and People with Multiple WordPress sites.
Agency: $250/month, 30 WordPress install, 600000 Monthly Visits, 120GB Disk Space, 8TB Bandwidth, SSL Included, CDN $8/site, and Multisite $8/site
Signup for Flywheel 20% OFF Coupon
04.

Kinsta

Kinsta is the most expensive option available in our short roundup but only because they don't offer an inexpensive entry level plan. As a general rule, Kinsta receives rave reviews from their customers both in terms of speed and support. It's also the only host covered in this post that I don't have any personal experience with.
Kinsta relies on Google Cloud which means you can count on both speed and scalability. They also offer something called multi-regional mode. This means if you're operating multiple websites under the same plan, you're not restricted to a single overall data center — you can choose a different one for each website.
Everything else you'd expect to find is there. From nightly backups, staging, free migrations and a hack-fix guarantee. Kinsta is also fairly proactive in the introduction of new features. One look at their ongoing list of feature updates at it's clear they are not satisfied with resting on their laurels.
As I previously mentioned Kinsta is the most expensive of the options covered in this post. Their most basic, single WordPress install hosting plan starts at $30 and goes up from there. In addition to the plans listed below, there are several enterprise plans available at higher price points.
A quick disclaimer: DesignBombs runs on Kinsta hosting, you can see the full list of tools & plugins, we use to power our site here.
Starter: $30/month, 1 WordPress Install, 10GB SD Storage, 1 Free Migration, 20000 Pageviews & Visitors
Pro: $60/month, 2 WordPress Installs, 20GB SD Storage, 1 Free Migration, 40000 Pageviews & Visitors
Business 1: $100/month, 3 WordPress Installs, 30GB SSD Storage, 100GB Bandwidth, 1 Free Migration, and 100000 Pageviews & Visitors
Business 2: $200/month, 10 WordPress Install, 40GB SSD Storage, 100GB Bandwidth, 2 Free Migration, and 250000 Pageviews & Visitors
Business 3: $300/month, 20 WordPress Install, 50GB SSD Storage, 200GB Bandwidth, 3 Free Migration, 400000 Pageviews & Visitors
Business 4: $100/month, 40 WordPress Install, 60GB SSD Storage, 400GB Bandwidth, 4 Free Migration, and 600000 Pageviews & Visitors
05.

Pagely

Honestly, we weren't going to include Pagely in this roundup because chances are good that you've already heard of them. As the original managed WordPress host, Pagely has been around since day one — inventing the space which has turned into a billion dollar market.
Pagelys' claim to fame is their ability to work with some of the largest companies including the likes of Disney, Facebook and Boooking.com. Although Pagely has an inexpensive entry level plan, their focus is on enterprise clients. If scalability and redundancy are at the top of your list of important features, then this is a strong contender. Relying on Amazon (AWS) for their backend has resulted in 99.99% uptime since 2014.
All the features you'd expect to find at a managed host can be found here. Multiple data centers, integrated CDN, airtight security and automatic backups are all available along with both ticketed and chat support. They offer a wide variety of price points including:
Neutrino: $299/month, 10 WordPress installs, 30GB of disk space, 50GB of bandwidth, Access to PressCDN, PressCache, and PressArmor
VPS-1: $499/month, 35 WordPress installs, 50GB of disk space, 200GB of bandwidth, 3.75GB RAM, Access to PressCDN, PressCache, PressArmor, and PressDNS
VPS-2: $999/month, 60 WordPress installs, 50GB of disk space, 300GB of bandwidth, 7.5GB RAM, Access to PressCDN, PressCache, PressArmor, and PressDNS
Pros of Managed WordPress Hosting
Let take a look at some features commonly available with managed WordPress hosting:
Site Migrations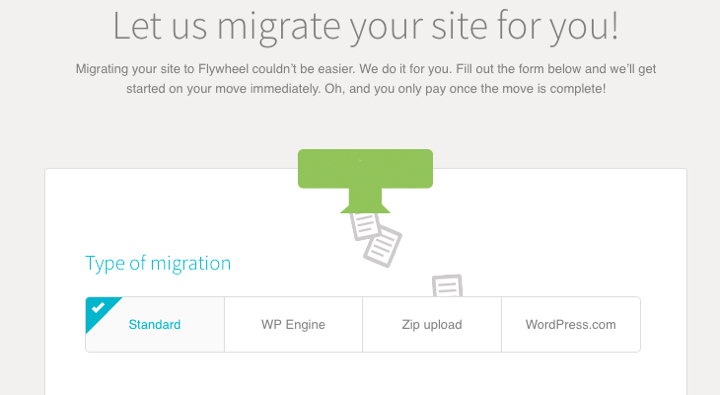 Moving from one host to another isn't the most difficult process in the world. But it does take time and there is room for error. It's one of those things where practice makes perfect.
Managed hosting companies offer a variety of different levels of support in this department. For example, WP Engine has a custom site migration plugin. Flywheel offers migrations to match the number of installations in your plan. No matter how you slice it, this is a convenient feature that I have taken advantage of on numerous occasions.
Improved Security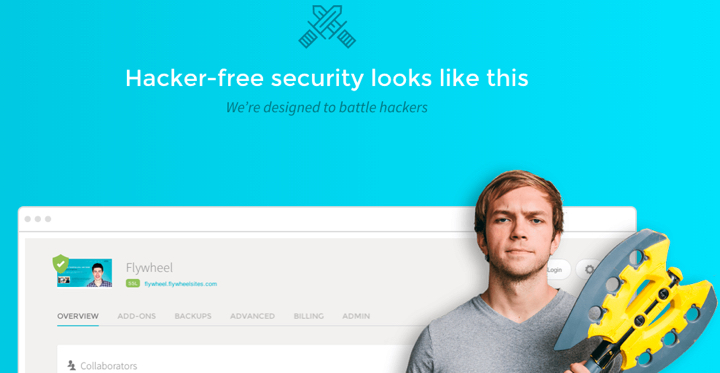 If you been around WordPress for any length of time you already know that security is a big issue. There are two important points to consider when it comes to WordPress security:
1. Because managed hosts deal strictly with WordPress, they naturally become very skilled at creating a more secure environment. This can include custom firewalls, continuous malware scanning, strong password enforcement and IP blocking. In most instances, they discourage the use of security plugins and instead choose to manage things themselves at the server level.
Either way, you'll be relieved of duty when it comes to many of the common security concerns. Freeing up your time for more rewarding tasks.
2. If your site has ever been hacked, you already know what a massive headache this can create. Hacked WordPress websites can be notoriously difficult to clean and herein lies a critical differentiator between shared and managed hosting.
In the event that your site is hacked, every managed hosting provider that I looked at provides a guarantee against your website being hacked which includes fixing it for free.
Now, let's compare that to a "premium" shared hosting environment. If your site is hacked in a shared environment, chances are you'll be on your own. Other than being notified, via email, 100% of the responsibility will fall on your shoulders — even if it's not your fault.
As it turns out, I have a personal example to share that demonstrates this exact issue. Below is a typical message you'll receive shortly after your hacked site is discovered by your shared hosting company: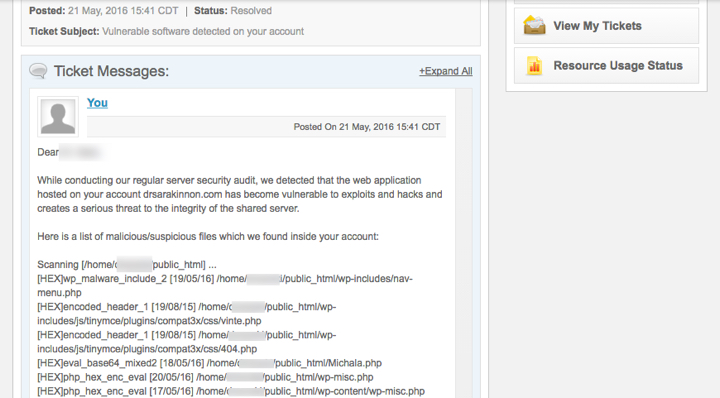 That's the first half of the email and it gets worse because, without any warning, your website goes offline. You're left to resolve the problem yourself with virtually no assistance. Of course, they are more than happy to recommend that you spend a few hundred dollars to have it cleaned by a third party. Oh, and in case you're curious I'm 100% confident that this site was both up to date and used no plugins with known vulnerabilities.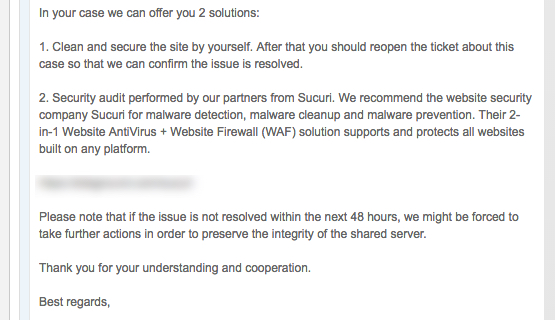 Even more frustrating was the fact that although I received a long list of files that needed to be cleaned/removed, their security experts we not able to identify all of the malicious files in question. In my mind, if you're going to shut down a customer's website and leave them hanging, you better be 100% confident about the source of the problem.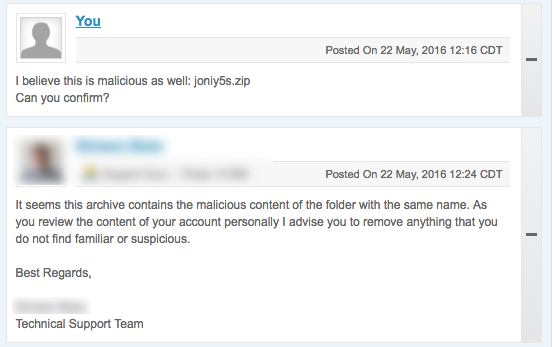 I won't belabor this point other than to say the following: When deciding between shared and managed WordPress hosting, make sure you take into consideration the additional cost of repairing your website in the event that it's hacked. Less expensive hosting isn't always the cheapest option once you account for the potential of additional expenses. With some shared hosting plans, you might even find that you're paying as much as an entry-level managed plan without receiving the same level of service.
Scalability

If you've ever been on the receiving end of a traffic burst you'll understand the importance of scalability. In the event that your website lands on the front page of Reddit or Google news or is mentioned by an industry influencer, it's nice to know that your hosting company will be able to handle the sudden spike in traffic.
That's not to say that every managed WordPress hosting company offers comparable scalability, because they don't. But as a general rule, you'll be much safer that with out-of-the-box shared hosting.
Just remember, if being highly scalable is important to your business, it's something you'll want to discuss with your hosting provider in advance.
Automatic Updates
Although this is still a core piece of managed hosting, it has become less of a stand-out feature.Most one-click installers used by shared host now give you the option to force updated to the WordPress core and plugins.
Daily Backups

This is another area where many website owners face additional costs. On a shared hosting plan you usually have to allow for the additional cost of a backup plugin and storage space.
One of the convenient features available with managed hosting is nightly website backups and one-click restores. Most managed hosts will also allow you to create a manual restore point as well.
WordPress Specific Server Configuration
Chances are, your business targets a specific niche market. Doing so has allowed you to become an expert in your space — offering advantages in speed, efficiency, customer service and more.
The companies that offer managed WordPress hosting have created the same advantages. Because they only host WordPress websites, they naturally become very skilled at creating server configurations designed to maximize efficiency, speed, scalability, and security.
Caching & CDNs
Caching is essentially the creation of temporary files that can be served more quickly to your website visitors.
Instead of relying on your server to assemble the requested information for each and every request, caching allows your website visitors to be served a static version of content that includes things like HTML, text and images in a fraction of the time. It's kind of like take out food vs made-to-order. By serving static resources from the cache, hosting companies create a win-win scenario — can reduced server load and happier visitors.
Managed hosting providers do away with the need for third-party caching plugins that are often required at shared hosts. This is yet another instance where specializing in WordPress allows them to create proprietary cache environments that have a dramatic effect on website speed.
In addition to caching, most managed WordPress hosting environments include the use of (or option to use) a content delivery network (CDN). Doing so can vastly reduce the time it takes for your website to load regardless of a visitor's geographical location.
Staging
If you're a developer or designer, you're probably already familiar with the concept of staging. It a feature that many managed WordPress hosts provide and it's insanely useful — especially when the time comes to roll out a new version of your website.
A staging environment allows you to implement changes to your website (including design, database or plugins) and then test in a non-live environment. Once you're happy with how things are working you can roll out your changes to a live environment with just a few clicks.
Look for Unique Features That Make Your Job Easier
Not every managed WordPress hosting company offers the same set of features. When it comes time to perform your research, you'll discover that different hosts target different markets.
As a result, each one offers at least a few unique features designed to make managing your WordPress website easier.For example, Pagely has experience dealing with a variety of compliance related issues. If PCI-DSS or Sarbanes-Oxley are terms that grab your attention, Pagely may be well suited to help.
Flywheel, on the other hand, specializes in helping WordPress developers and designers manage the hosting for their clients. They have several unique features available including website blueprints, simple team collaboration, billing transfer and a single SFTP login.
Cons: Managed Hosting Isn't All Good News, Is It?
When it comes time for people to start picking holes in managed WordPress hosting, there are usually a few specific points that most people like to mention — they carry some weight but not as much as you might expect.
Managed Hosting Costs More
One of the first things most people like to point out is the extra cost associated with a managed environment. While I agree that the higher level of service does cost more, at least initially, I also think this a short-sighted viewpoint. A few paragraphs ago I talked about the improved security you are likely to experience with managed hosting. I also shared an example of what happens when your website is hacked at a shared host and you have a malware mess to clean up.
With every managed host mentioned in this article, the cost of remediation is included in your hosting fee. With a typical shared host, you'll have to pay for that cleanup out of your own pocket. Sucuri offers a service that does exactly what you're looking for.
However, it'll cost you an additional $24.99/month. A fair price considering the amount of time and work involved. The problem is that for the same price, you could pay for a Personal Plan at Flywheel or WP Engine.
This only includes one aspect of overall cost. We still haven't touched on the additional cost of a quality backup plugin like Backup Buddy or the required storage space.
It's worth mentioning that in most cases you'll have to pay for a separate email provider. Most managed hosting companies don't allow you to manage email. However, there are plenty of free options available or you could even use Google Apps for a mere $5/month per user.
Of course, we're only talking about low-level manager hosting plans here. Chances are if you're in need of an enterprise plan costing hundreds or thousands of dollars per month, managed hosting is probably your best and in some cases, your only option.
While you could turn to non-managed VPS or dedicated hosting, you also have to consider the time and cost of management. Chances are, your energy is better spent running your business, not your server.
Server Access and Control Are Reduced
This is a valid point. With managed WordPress hosting you'll find that access to some of the setting you're accustomed to seeing via cPanel are missing.
That means you won't be able (or need to) mess with your .htaccess file, Cron Jobs or denying IP addresses.In many ways, this makes things easier (and better) for both you and the host. You can focus on what you do best while leaving server management to the experts.
You Won't Be Able to Host More Than One Install on Plans Under $100
If you have more than a few websites, this may, in fact, be your biggest downside. Most managed WordPress hosting plans (especially if the price is sub $100/month) only allow for a single WordPress installation.If you've got more than one website that you need hosting for, you're looking at a minimum of about $100/month.
Flywheel, Pagely, and WP Engine all offer plans at that price point which will allow you to set up between 5-10 WordPress installs. If you use Kinsta, you'll need to use their Business 2 plan at $200/month — pricey, but highly rated.
Is Managed Hosting Right For You Business?
Deciding whether managed WordPress hosting is right for you or your business is a choice you'll eventually have to make. In the end, your decision will be based upon your personal experiences, requirements and desire or ability to manage the technical aspects of the hosting environment.
In moving from shared hosting to managed hosting, here's what I experienced.
For a long time, I was a huge proponent of shared hosting. I simply couldn't justify the added cost of using a managed host — especially when I was capable of managing things myself.
Then about 18 months ago, I decided that I was tired of dealing with websites and WordPress backends that loaded moderately fast one day and dreadfully slow the next; I was tired of endless emails warning me that a malicious file had been intercepted or that an up to date website had been hacked and requires fixing.
My switch to managed hosting involved moving about 14 websites. The migration process from a variety of shared hosts went as seamlessly as one could hope for. Personally, I chose Flywheel (use coupon code "flydesignbombs" for 50% off) although I think you'd do well with any of the managed options described in this post. If you're looking for a more affordable starting point, WP Engine is also a solid choice (use our exclusive WPEngine coupon code "db20" for 20% off). If your traffic, scalability requirements and available capital are greater, then services like Pagely and Kinsta are also become great options.
Since switching to managed hosting, I've experienced considerably faster load times both on the front and back end. Less (actually 0) downtime that I have noticed and no technical issues that required my attention.
So, if you were asking my advice, I'd say that more often than not, managed WordPress hosting makes sense. There are plenty of options available that cost a small fraction more that shared hosting and once you take into consideration the added features or reduced headaches, you might even find yourself saving money in the long run.