Kinsta Hosting Review: A Powerful Managed WordPress Host
Kinsta is a powerful managed WordPress host that's quickly developed into a leader in the industry when it comes to the best WordPress hosting for small/large businesses and professional developers.
The company was founded by WordPress developer Mark Gavalda on December 1, 2013. Now, the Kinsta team works all around the world. Kinsta is headquarted in London, and a second office is located Budapest.
What Makes Kinsta Stand Out as a Managed WordPress Host
Let's talk about a few of the things that make Kinsta stand out as a managed WordPress host before we get into specifics. The first is the fact that the company's infrastructure is powered by Google Cloud Platform. This allows them to offer cloud servers on an exclusive basis. We'll get to why that's beneficial in a bit.
The second point ties in with the first, and that's this host's ability to give businesses and professional web developers the speed and power their websites need. Too many web hosts try to bring in new customers by lowering their prices as much as possible, causing the quality of their services to decline as a result.
Kinsta is different. Their target audience is businesses and professional developers, so they don't skimp on performance to chase bargain-basement prices.
Let's get into what you have to look forward to as a customer of Kinsta.
Advantages of Hosting with Kinsta
Businesses and professional developers need a lot of powerful specs, tools, and features to run their businesses properly. Businesses rely on site speed and optimization, and professional developers can't offer that if the hosts they use can't keep up with the times.
Let's go over the many advantages of hosting with Kinsta, then we'll go over a few disadvantages.
1. Powered by Google Cloud Platform
Kinsta is powered by Google Cloud Platform, which means its servers are running on the same cloud-based infrastructure that Google uses to power its own products.
This is important because cloud servers are not limited by what the hardware they're running on is capable of. This means if your site gets hit with a random spike in traffic, your cloud server will scale automatically to accommodate it. Traditional servers, on the other hand, need manual upgrades to accommodate for higher amounts of traffic, and that can't happen in real time.
2. 100% Uptime Reliability
We tested Kinsta with Design Bombs and are happy to report an uptime reliability rate of 100% even with Design Bombs receiving well over 120,000 unique visitors every month.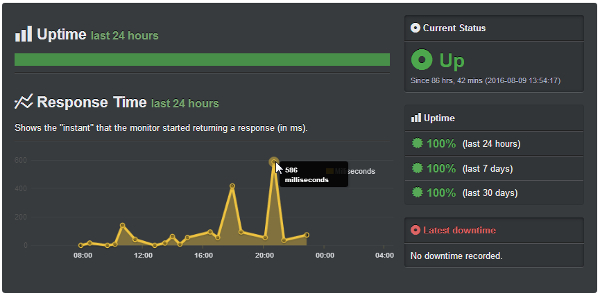 Uptime checks are conducted every minute on every plan at Kinsta, which adds up to 1,440 uptime checks a day. In fact, Kinsta's Service Level Agreement guarantees an uptime reliability rate of 99.9% and promises to credit your account if they fail to correct error response codes within 30 minutes of them occurring.
3. Speed
Design Bombs has an average load time of 400 ms on Kinsta's servers. The lowest time was 359 ms, and the highest time was 499 ms.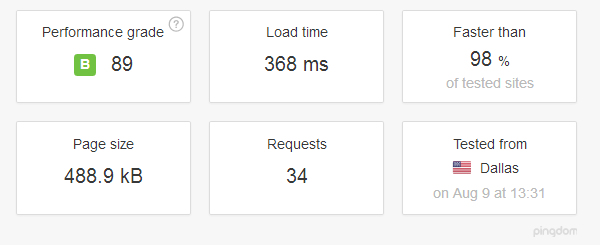 Kinsta uses state-of-the-art technology to achieve this. Its servers use Ubuntu 16.04 as of August 2016, which features Linux 4.4 kernel, Python 3, OpenSSH 7.2p2 and Apt 1.2. Other components of its infrastructure include Nginx, PHP 7.X, LXD containers, and MariaDB.
You can keep up with any new features Kinsta adds to its infrastructure on its Feature Updates page.
4. 24/7 Security
We've already mentioned how Kinsta performs uptime checks every minute, but it does more than that during this analysis of your server. These checks also help to ensure your site has DDoS protection in real time.
They also scan for malware continuously and keep threats at bay using hardware firewalls with tight, software-based restrictions. If your site does get hacked, you'll receive a fix from Kinsta free of charge.
Related Reading: 14 Ways to Secure Your WordPress Site – Step by Step
5. In-House Caching Plugin
Kinsta offers an in-house caching feature that can be accessed from the Kinsta dashboard. This feature adds a Tools option to your dashboard, which you can use to access the Cache Management tool. This tool lets you perform a full page cache from the dashboard.
The plugin is enabled and configured on every site by default, but you can ask the team to fine tune it to suit your needs. At most other hosts, you'd need to choose your own caching plugin.
6. One-Click Staging Area
Kinsta makes it easy to create a staging area. You even have direct access to SFTP and MySQL in your staging area. And moving a site between live and staging takes just a couple clicks.
What's extra nice is that Kinsta will automatically back up the live version of your site whenever you move from staging to production. This ensures you always have a copy in case something goes wrong.
Speaking of backups…
7. Daily Backups
Kinsta creates daily backups of your site no matter which plan you choose. Backups are stored on an encrypted, off-site vault, and they allow you to roll back your site whenever you need to.
You can also, of course, take a manual backup at any time.
And when you go to restore a backup, you have the option to restore it to either your production or staging site.
Related Reading: 8 Best Backup WordPress Plugins Compared
8. Integrated CDN And Lots Of Data Center Options
Kinsta has a partnership with KeyCDN to offer an integrated CDN service. You get a certain amount of free CDN bandwidth depending on which plan you choose. And you can also choose to use your own third-party CDN provider if desired.
They also let you choose your own data center for each individual site on your account thanks to the multi-regional deployment mode in Google Cloud. Currently, Kinsta offers 20 different data center locations:
Council Bluffs, Iowa, USA (us-central1)
St. Ghislain, Belgium (europe-west1)
Changhua County, Taiwan (asia-east1)
Sydney, Australia (australia-southeast1)
The Dalles, Oregon, USA (us-west1)
Ashburn, Virginia, USA (us-east4)
Moncks Corner, South Carolina, USA (us-east1)
São Paulo, Brazil (southamerica-east1)
London, UK (europe-west2)
Frankfurt, Germany (europe-west3)
Jurong West, Singapore (asia-southeast1)
Tokyo, Japan (asia-northeast1)
Mumbai, India (asia-south1)
Montréal (northamerica-northeast1)
Netherlands (europe-west4)
Hamina, Finland (europe-north1)
Los Angeles, California (us-west2)
Hong Kong (asia-east2)
Zürich Switzerland (europe-west6)
Osaka, Japan (asia-northeast2)
If you're not sure which data center to pick, you can use CloudPing to ping data centers around the world with your browser and send the results to the support staff at Kinsta. They'll use the information to help you decide which data center to choose.
9. Free Site Migrations
Kinsta offers at least one free site migration on each plan. If you don't want to go through the hassle of migrating your site yourself or find the process overwhelming, you can ask the support staff at Kinsta to do it for you. They'll even assign a temporary domain to your site so you can test drive it before pointing its DNS to Kinsta's nameservers.
10. Expert Support
Kinsta offers 24/7 support through Intercom, which is an always-accessible live chat tool. What's nice is that unlike other live chat tools, Intercom:
Is always accessible no matter where you are in your dashboard
Stores chat transcripts for easy access at a later date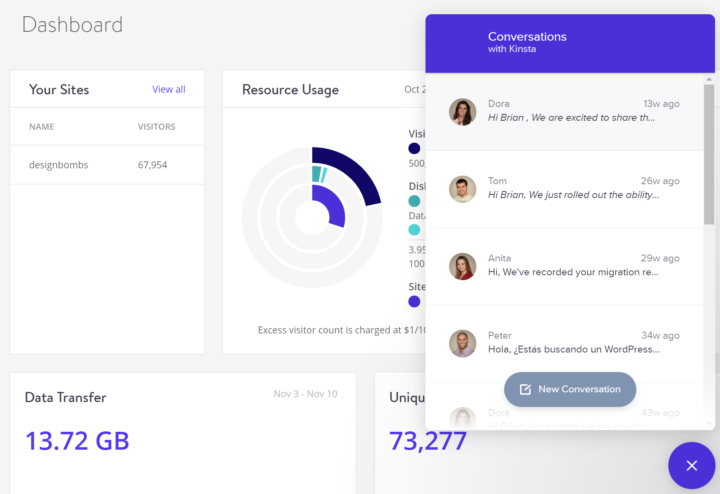 Because Kinsta only focuses on WordPress, their support staff are all WordPress experts, which is something you won't get at a jack-of-all-trades host.
11. Developer Features
Kinsta is a wonderful option for developers, whether you need a place to build your own site, a test server to test drive themes and plugins, or a place to build professional sites for clients. The Kinsta dashboard has a Companies feature that lets you organize your sites into separate dashboards. This lets you create a different dashboard for each client you work with.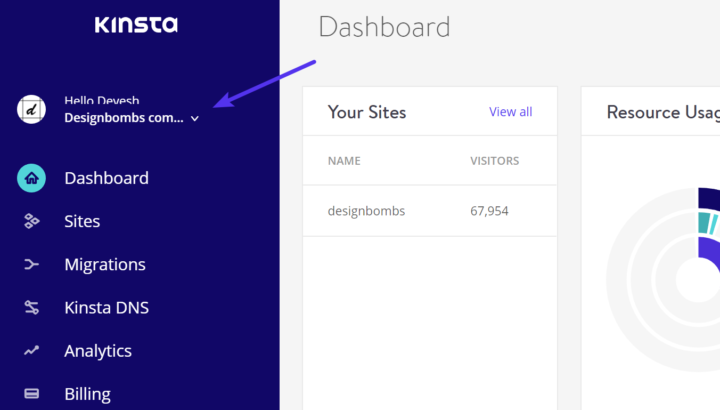 You can add other users to individual companies so your clients have access to their own dashboards and no one else's.
The staging area is obviously a great feature for developers, but you'll also have access to SSH so you can use WP-CLI to perform updates and other functions from the command line. Developers who use clients like HeidiSQL and Sequel Pro will also be delighted to hear that Kinsta supports secure-SSH tunneling into databases stored in Google Cloud.
WordPress sites hosted with Kinsta can run on PHP 7, PHP 7.1, or PHP 5.6, and you can switch between them with ease.
12. Month-to-Month Pricing
Some hosts advertise monthly prices but require you to pay for at least one full year upfront. Kinsta allows you to pay on a monthly basis, and the prices you see on their Plans page are the actual prices you'll pay each month.
If you do want to pay annually, though, you'll get two months free.
13. Honest Pricing & Advertising
One thing we like is that Kinsta is completely honest on their pricing page. For example, you'll know exactly how many visits you can get per month or how many PHP workers your account has.
In contrast, many cheaper hosts will advertise "unlimited" X but throttle your site if you ever use too many resources.
Disadvantages of Hosting with Kinsta
There are a few disadvantages of hosting with Kinsta, but none of them should come as a surprise to you if you have any experience with managed WordPress hosts.
1. Not The Cheapest Option
Kinsta gives good value for the money, so we're not trying to imply that it's overpriced. Just that it is significantly more than a cheap shared server. So if you're just getting started and don't have much traffic yet, you might be better off with something cheaper until you need Kinsta's level of performance.
2. No Domain Registrations
Kinsta does not register domains. You'll need to register your domain with another service instead.
3. No Email Hosting
Kinsta doesn't offer email hosting, either. You'll need to host your email somewhere else. A positive point about this is that it lets Kinsta focus its server power on hosting your site rather than domains and emails.
4. Certain Plugins Not Allowed
We've talked about Kinsta's caching and backup services. It doesn't allow you to install any caching or backup plugin as a result, which may be a problem for those who are used to making and storing their own backups. However, keep in mind these services are implemented at the server level while the plugins that offer them implement them through PHP alone.
It also has a small list of additional plugins it doesn't allow, which include EWWW Image Optimizer, and WordPress Popular Posts.
Kinsta Hosting Plans
Kinsta offers ten different plans in two categories as well as a bonus custom option. The plans are based on how many sites you need, how much storage you need, and how many visitors you get.
The cheapest plans are in the Starter and Pro category. Here's a breakdown of their features:
$30-$400/month (as of April 2018)
Up to 40 Sites
10-60GB of SSD Storage
Up to 400,000 Visitors
Free site migrations (the number depends on your plan)
Up to 500 GB Free CDN
Here are the features of the Enterprise plans:
$600+ (as of April 2018)
100+GB of SSD Storage
Millions of Monthly Visitors
5+ Free Site Migrations
Should You Host Your WordPress Site with Kinsta?
Kinsta is a fantastic host to choose if your business relies on WordPress. Whether you started with a small blog, eCommerce shop or web development company, you'll reach a point where quality is considered more than price and budget are.
Kinsta is a host that focuses on offering quality for a very specific type of customer. It isn't trying to compete on price with shared hosts. This is most definitely a host you need to consider taking a look at if your current host can't meet your needs or if your entire business model revolves around the use of WordPress.
One nice thing is that you can sign up for a free account and check out its dashboard to see if you like it. Kinsta will then help you migrate your site when you're ready.
Here's a preview of the Kinsta dashboard: