Kinsta Review 2023: The Good & Bad (Hands-On)
Considering using Kinsta to host your WordPress website(s)? In our hands-on, genuine Kinsta review, we'll help you decide whether or not it's the best spot for your websites.
Overall, we think that Kinsta is an excellent WordPress host, which is why we host DesignBombs on Kinsta hosting. Yes – the website where you're reading this Kinsta review is indeed hosted by Kinsta. That should give you some confidence that we really do believe Kinsta is a top-notch host.
With that being said, that still doesn't mean Kinsta is the right host for every single person. There are some considerations that might make another host a better option for you, especially when it comes to price and budget. If money is tight, you might be able to save some money while still finding a solid place for your websites.
To that end, our review aims to showcase both the good and the bad of hosting with Kinsta. Here's everything that we'll cover:
Let's dig in!
We Use Kinsta to Host DesignBombs
At DesignBombs, we always want our reviews to be authentic and accurate. To make that happen, we usually purchase our own hosting account for testing purposes.
However, that wasn't necessary for this review because, as we mentioned above, we actually use Kinsta as the host for DesignBombs. Therefore, we already had our own personal account that we can use for testing.
Everything that you read in this review is based on our own honest experience with using Kinsta hosting.
⚙️ Kinsta Key Features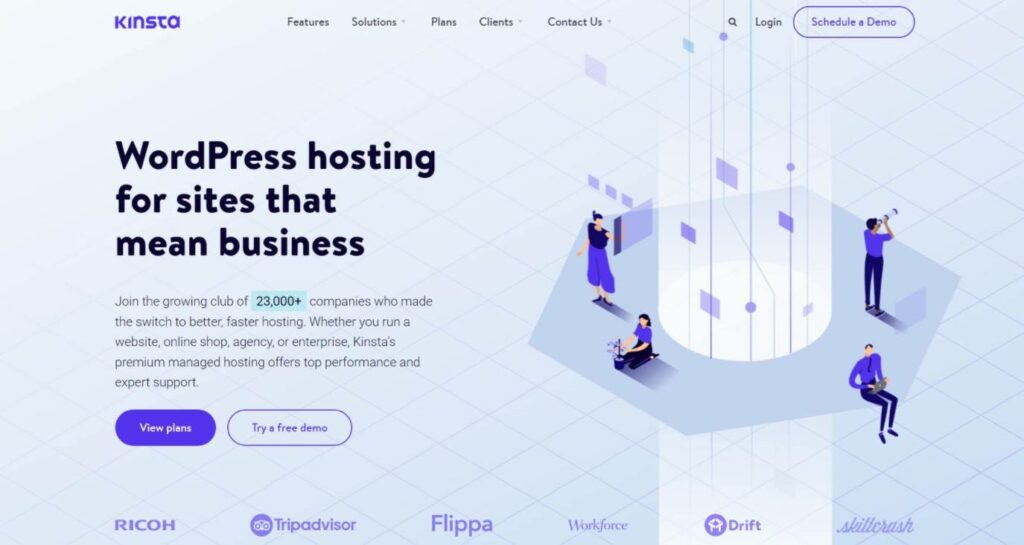 To kick off our Kinsta WordPress hosting review, let's go over some of the general features that Kinsta offers. We won't spend too long here because you can find all of this in Kinsta's marketing copy, but it will provide some useful context for what you'll get with Kinsta.
Performance-Optimized Tech Stack
To start with, Kinsta offers a performance-optimized tech stack that will set your site up for success when it comes to achieving fast page load times.
The foundation is an all-Nginx setup powered by Google Cloud Platform, as well as built-in server-level page caching. If your site experiences a traffic surge, Kinsta will automatically scale up its resources to ensure that your site doesn't slow down under the pressure. For example, Kinsta has worked with companies that were featured on Shark Tank to handle the associated traffic surge with appearing on the show.
You can also choose from 29+ data centers around the world, and Kinsta is constantly adding new data centers to its platform.
Kinsta also recently moved to integrate Cloudflare Enterprise into its stack in a big way. Kinsta now offers enterprise-level security firewalls and DDoS protection from Cloudflare, as well as access to Cloudflare's CDN to speed up the global delivery of your site.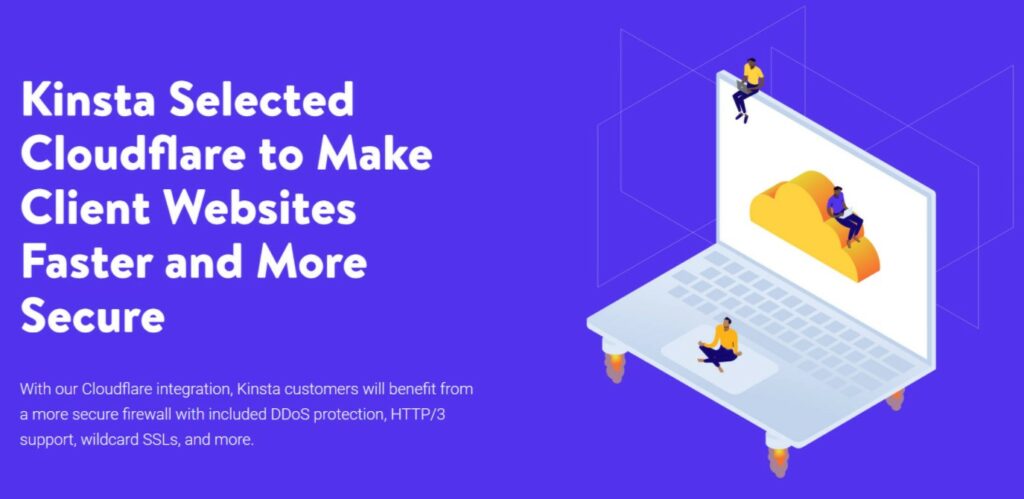 Currently, Kinsta only caches your site's static assets on Cloudflare's CDN. However, Kinsta is moving towards offering full-page caching on Cloudflare's global network, which is an approach that leads to super-fast global load times (as we demonstrated in our Rocket.net review).
Kinsta has also recently added Cloudflare's built-in minification to the CDN, so you can automatically optimize your site's CSS and/or JavaScript.
The Cloudflare integration is still somewhat new at the time that we're writing our Kinsta review, so it's not inconceivable that Kinsta will continue expanding this integration. For example, we're guessing Kinsta will add in built-in image optimization via Cloudflare Polish at some point (though they haven't announced plans to do so yet).
Managed WordPress Hosting Features
As a managed WordPress host, Kinsta offers all of the features that you'd expect including the following:
Custom hosting dashboard – you get a user-friendly dashboard called MyKinsta.
Automatic daily backups – Kinsta will store those backups for 14-30 days depending on your plan.
Manual on-demand backups when needed.
Optional backups every hour or every six hours (for an extra fee).
Send your backups to S3 or Google Cloud Storage (for an extra fee).
Easy staging sites – when pushing staging sites live, you get a new conditional push feature to choose what content to push live.
Dedicated security firewalls – including protection from Cloudflare Enterprise at no extra cost.
Free SSL certificates.
Useful Features for Developers and Advanced Users
Kinsta also offers a bunch of features for more advanced users:
Local development – Kinsta has its own local development tool called DevKinsta that integrates directly with Kinsta hosting so that you can push sites from your local environment to your staging or production environments.
Application performance monitoring (APM) – Kinsta offers a free APM tool on the same level as New Relic to help you dig into your site's performance on a very specific level, such as catching slow database queries or PHP processes.
WP-CLI – Kinsta pre-installs WP-CLI for you.
SSH access
Git integration
🚀 Kinsta Performance Tests
Performance is one of the most important considerations in choosing a host, so let's start off the hands-on section of our Kinsta review by running some performance tests.
Kinsta has a strong focus on performance and puts in place a lot of built-in optimizations, such as server-level caching, the Cloudflare CDN, built-in code minification, and more. These not only help your site load fast, but they also eliminate the need to use separate WordPress performance plugins for a lot of features.
In general, these features add up to a very fast-loading site. To demonstrate that, we ran tests using two different tools:
WebPageTest – this lets us see how Kinsta performs for a single visitor.
Load Focus – this lets us see how Kinsta performs under scale by mimicking a high-traffic scenario.
To create a realistic test scenario, we imported a full demo site from the popular Astra theme. Then, we ran our tests without making any performance optimizations beyond those that Kinsta offers.
Kinsta did great in WebPageTest, with a median Largest Contentful Paint time of under 0.55 seconds:

Kinsta also handled our Load Focus test with zero issues – you can see that there are no load time spikes as the traffic goes up. The average response time was ~.45 seconds and the 90th percentile time was still just ~.66 seconds: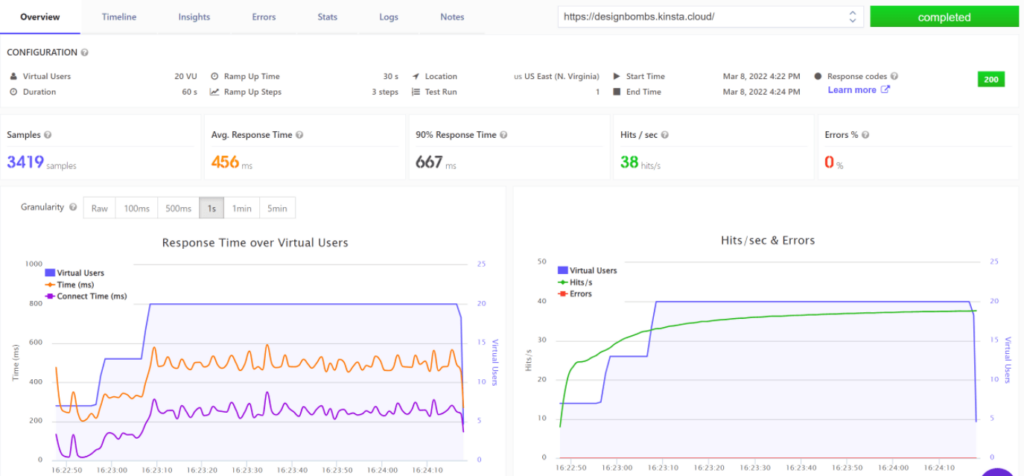 Overall, Kinsta performed very well, which is what you'd hope for from a host that emphasizes performance so much.
We imagine that the performance will only get better once Kinsta rolls out full-page caching on Cloudflare's network, especially for static sites that are able to fully take advantage of the caching.
Basically, if you value fast load times, we can be pretty confident that you'll be happy with Kinsta.
🤗 Kinsta User Experience
To help you manage your account, hosting, and websites, Kinsta offers a custom dashboard called MyKinsta.
While dashboard preferences are somewhat subjective, we think that Kinsta definitely has one of the best dashboard experiences in the managed WordPress space. There are two reasons for this:
The user interface is well done and pleasant to interact with.
The dashboard includes lots of useful tools to help you manage your sites.
When you first sign in, you'll see a summary dashboard that looks like this: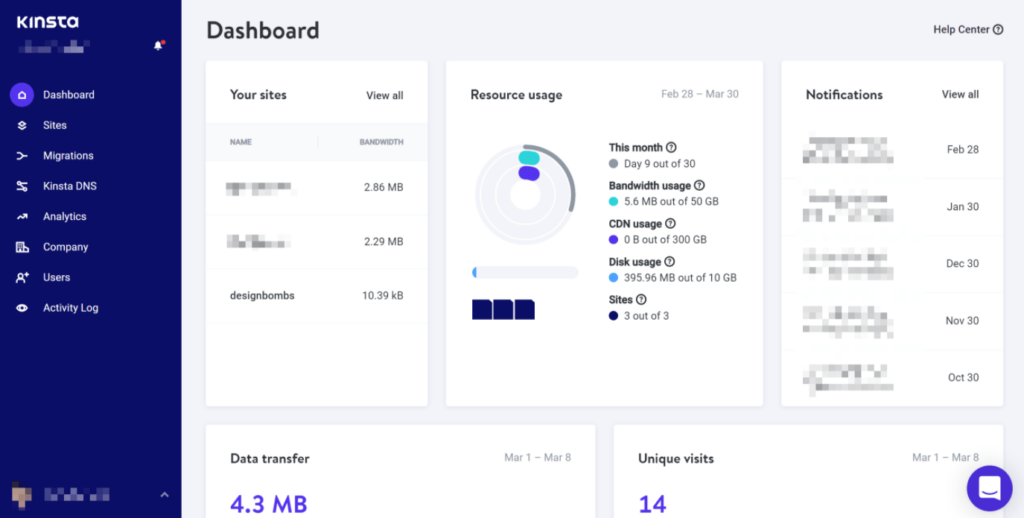 Most of the tools are located in the Sites tab, which is where you can access the tools for individual sites on your account.
But first, let's take a quick look at what it's like to set up a WordPress site with Kinsta.
WordPress Install Tool
Installing WordPress on Kinsta is easy. You get a dedicated tool to set up your site, along with presets for WordPress multisite and WooCommerce.
Kinsta also lets you choose a data center on a per-site basis, rather than needing to use the same data center for your entire account.
This is great if you have sites that target different geographic regions – especially for dynamic sites where traffic might still be hitting your origin server: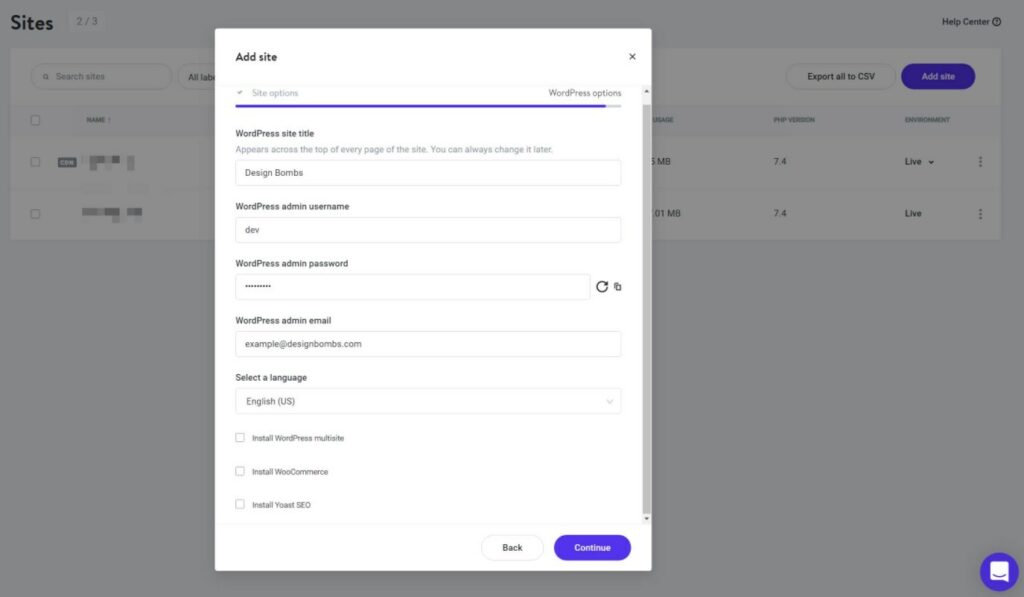 Sites Dashboard
The main sites dashboard shows a list of all the WordPress sites in your account: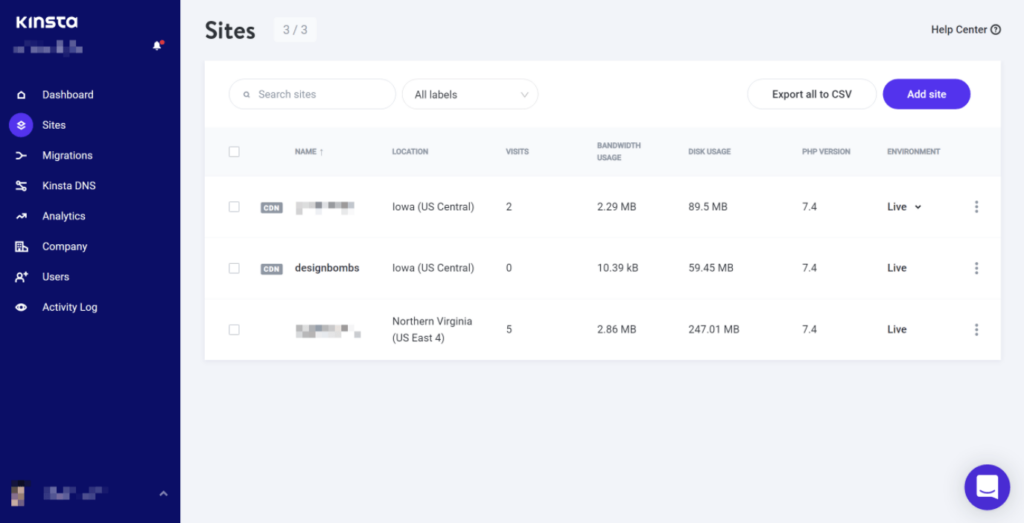 If you click on a specific site, you'll open that site's individual dashboard, which is where most of the tools are. You can see them arrayed in the sidebar on the left: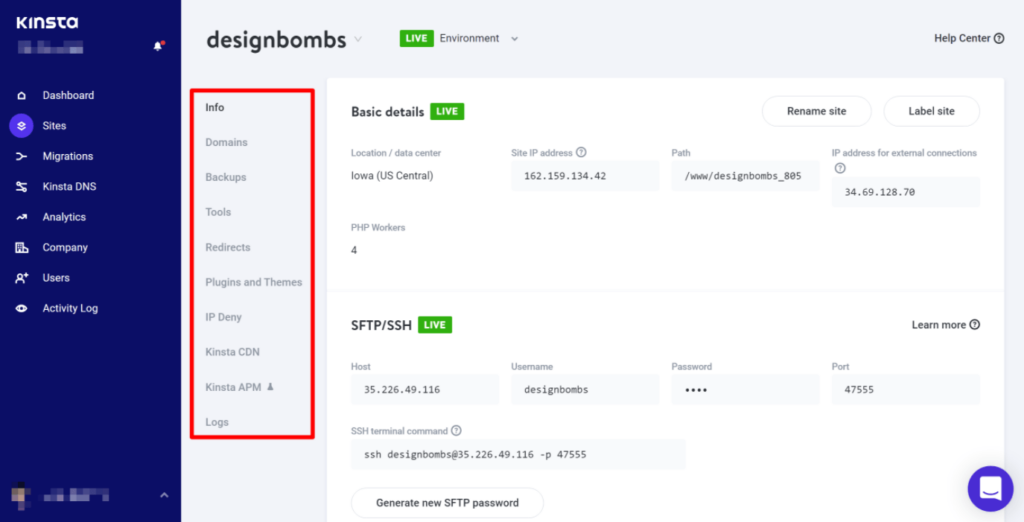 Backups
If you go to the Backups tab, you can see a list of all the automatic backups for your site. In addition to the automatic daily backups, Kinsta will also automatically back up your site before key actions, such as moving a staging site live.
You can also initiate an on-demand backup if needed: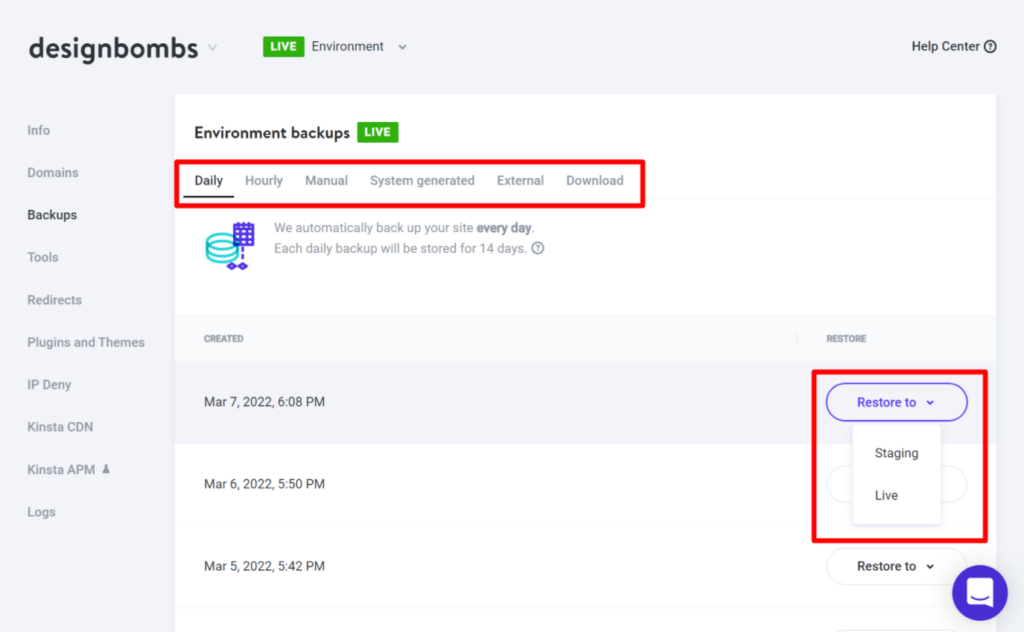 For each backup, you can easily restore it to the live version of your site or the staging site.
Speaking of staging sites…
Staging Sites
When you create a staging site, you get a duplicate of the dashboard, but for the staging version of your site instead of the production version.
When you push a staging site live, Kinsta now offers conditional pushes so that you can choose exactly what to make live: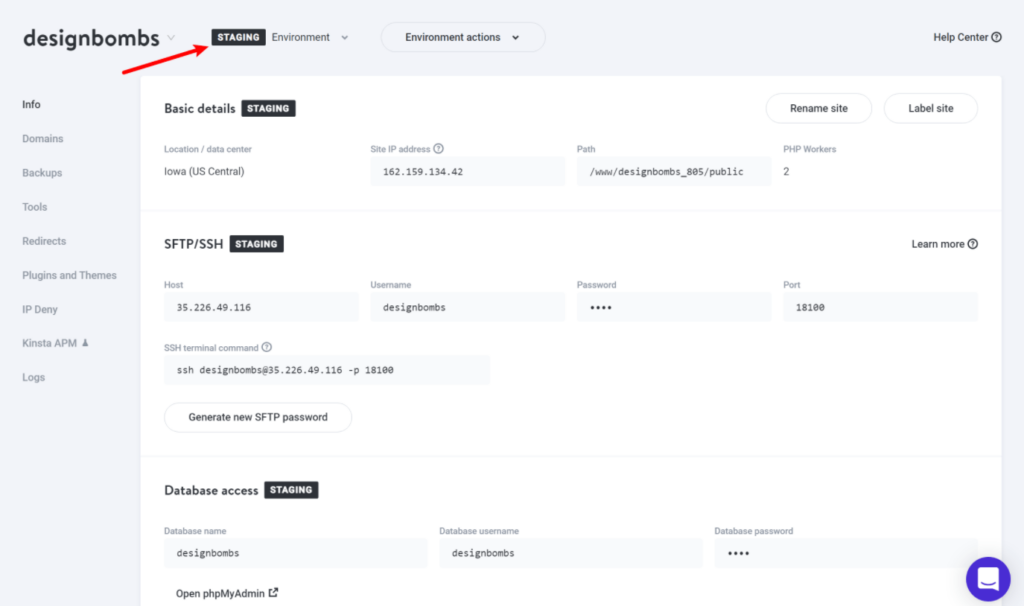 Tools
The Tools tab includes a few handy tools, such as options to clear your site's cache, enable debug mode, force HTTPS, enable geolocation, and more: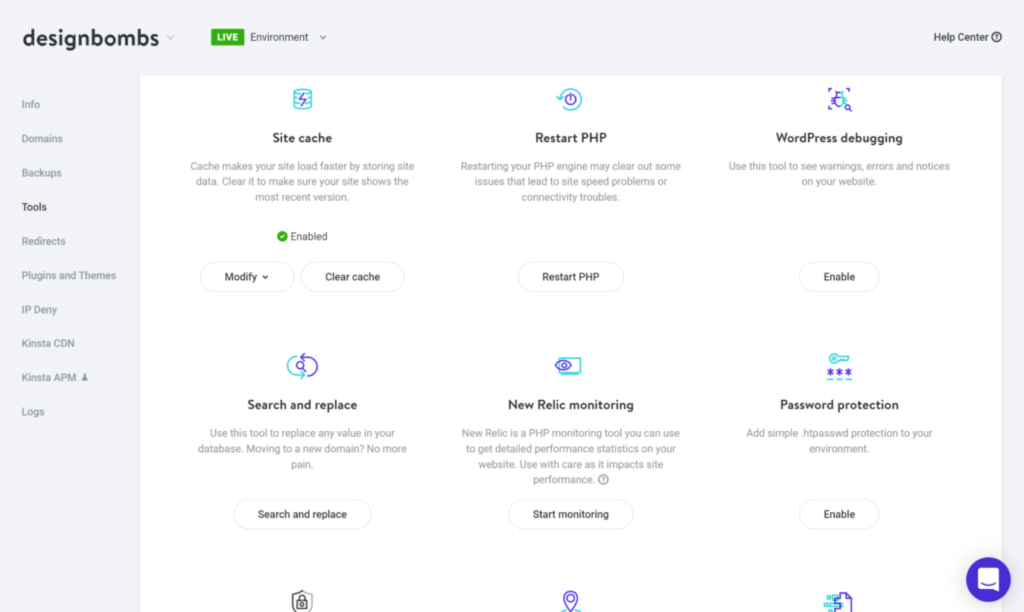 Redirects
The Redirects tab gives you an easy way to set up your own redirects. Because Kinsta uses Nginx, you can't use .htaccess for redirects like you can with hosts that use Apache or LiteSpeed. This tool exists to make it easier for you to add redirects when needed: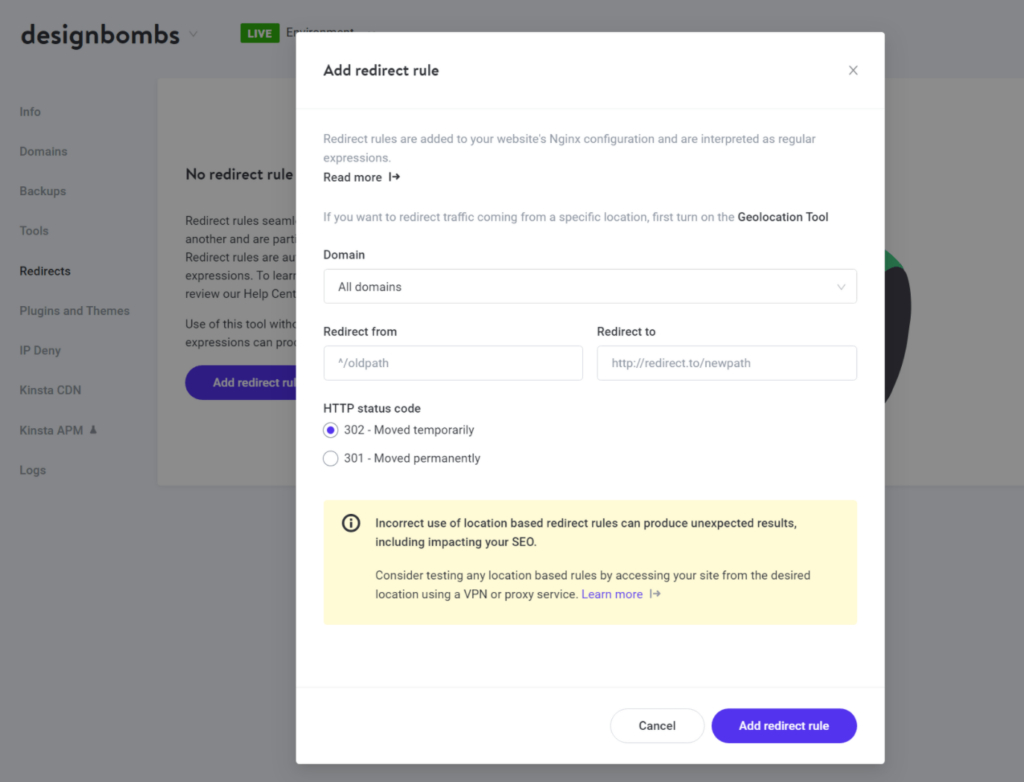 This is just a small sampling of the dashboard – you get lots of other options including activity logs, detailed analytics, and more.
📞 Kinsta Support Review
Kinsta offers 24/7 support via live chat, powered by Intercom.
They only offer live chat support – there's no option for phone support. This is intentional – you can read Kinsta's support reasoning here.
If you're a fan of phone support, you might view this as a negative. However, the live chat services are quite good and Kinsta's support staff are responsive and friendly.
Additionally, the Intercom chat widget is user-friendly and lets you maintain your chat even if you click around to different pages in your dashboard.
If you're not a native English speaker, Kinsta also has another trick up its sleeve – multilingual support. Kinsta offers support in five different languages:
English
French
Italian
Spanish
Portuguese
English support is available 24/7, while the other languages are only available during specific hours: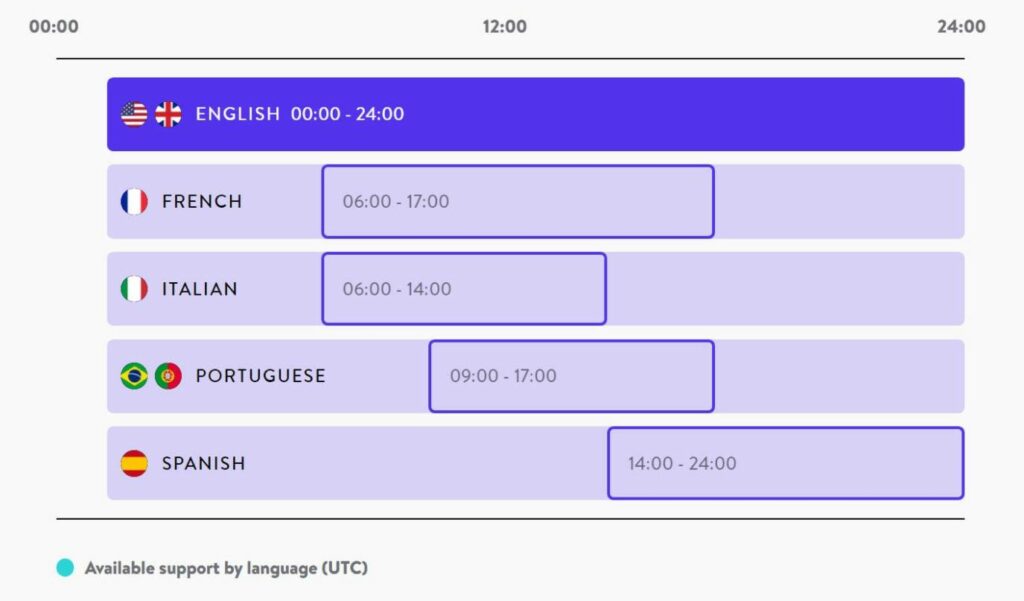 💰 Kinsta Pricing Review
Kinsta is a premium managed WordPress host, so you should expect to pay more than your average shared host.
With that being said, Kinsta's pricing is competitive for the managed WordPress space, so they're not expensive for the space that they're operating in.
One nice thing about Kinsta's pricing plans is that they have a lot of different tiers. This means that it's easier to scale your plan up without paying for unnecessary resources.
For example, WP Engine (which we reviewed) only offers four main tiers when it comes to website and visitor limits, which means you might be forced into an awkward situation where you have to pay for more resources than you need.
In contrast, Kinsta offers 10 different tiers, which means you have a better chance of finding one that fits your needs (and not overpaying for resources you don't need).
Kinsta's entry-level plan starts at $30 per month for the following:
One website
25,000 visits.
10 GB storage.
50 GB free CDN bandwidth.
This is identical to the entry-level plans from WP Engine and Flywheel, which is why we say that Kinsta's pricing is competitive. Flywheel does have a "tiny" plan, but it's not viable for most sites.
If you pay yearly, you can get two months free. Again, that's identical to WP Engine (and many other hosts).
Here's the full list of Kinsta pricing plans with monthly billing: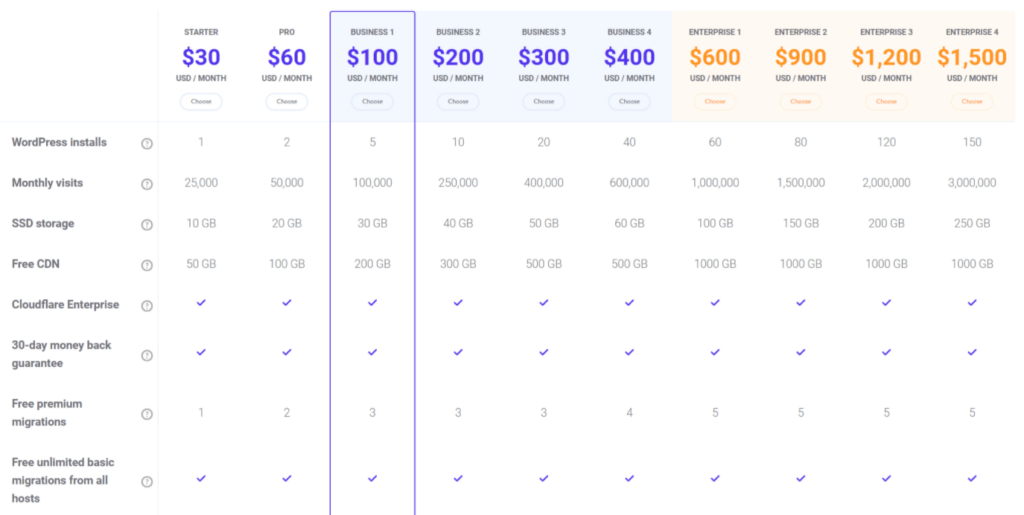 👍👎 Kinsta Pros and Cons
As we near the end of our Kinsta hosting review, let's single out some of the pros and cons of using Kinsta for WordPress hosting.
👍 Pros
Excellent performance – Kinsta offers excellent performance for WordPress sites. Simply put, your sites will load really fast with Kinsta, without requiring much/any input from you.
Cloudflare Enterprise infrastructure – Kinsta recently integrated Cloudflare Enterprise into the Kinsta stack in a big way, which leads to a lot of benefits when it comes to performance and security (as we discussed earlier).
User-friendly dashboard – Kinsta's custom MyKinsta dashboard is very user-friendly and includes lots of useful tools such as a redirect manager, easy staging sites, manual backups (in addition to the automatic daily backups), and more.
Flexible staging pushes – Kinsta recently added a flexible staging deploy tool that lets you choose between pushing the database and files or just the database.
Quality support – Kinsta offers excellent support that's available 24/7 via the Intercom chat widget.
Multilingual support – if you're not a native English speaker, you might appreciate that Kinsta offers multilingual support (which is pretty rare to find in a managed WordPress host).
Lots of pricing plans – the fact that Kinsta offers 10 different pricing plans makes it easy to choose a plan that fits your needs.
Value-added tools for developers/advanced users – Kinsta offers a local development tool (DevKinsta) and performance monitoring (Kinsta APM) at no extra cost.
👎 Cons
Big increase in price if coming from shared hosting – while Kinsta is competitively priced for the managed WordPress hosting space, it's definitely a step up in price if you're coming from shared hosting.
No email hosting – Kinsta doesn't offer email hosting, so you'll need to pay for a separate service like Google Workspace or MXroute.
No phone support – if you value phone support, you might not like that Kinsta only offers live chat support. Kinsta's support is excellent, though. We're only noting the lack of phone support, not criticizing the quality.
❓ Kinsta Review 2023 FAQ
Let's finish out our Kinsta review by running over a few common questions. Then, we'll get to our recommendations.
Is Kinsta safe?
Absolutely! Kinsta is one of the most established managed WordPress hosts and they haven't had any major security incidents. Your sites also benefit from Cloudflare Enterprise's security features if you host them with Kinsta.
Is Kinsta faster than Bluehost?
Kinsta is significantly faster than Bluehost. It's not even close – if you value fast performance, you should absolutely choose Kinsta over Bluehost.
Do I need Cloudflare with Kinsta?
Cloudflare is already tightly integrated into the Kinsta hosting stack, so there's no need to use Cloudflare independently from Kinsta. If you host your sites with Kinsta, you'll already be benefiting from the Enterprise-level performance and security features that Cloudflare offers.
When was Kinsta founded?
Kinsta was founded in 2013. Since then, they've quickly grown to become one of the biggest managed WordPress hosting providers.
Where is Kinsta based?
Kinsta is a remote-first company with team members located around the globe. For business purposes, Kinsta's headquarters are in the USA.
🤔 Should You Use Kinsta WordPress Hosting in 2023 and Beyond?
Now for the most important question of our Kinsta review – should you use Kinsta to host your WordPress websites?
Well, as we mentioned in the beginning, we actually use Kinsta to host DesignBombs, so we obviously think that Kinsta is a good choice.
However, that doesn't necessarily mean it's the best choice for your specific situation. So let's talk about when you should and should not use Kinsta.
Use Kinsta If…
Kinsta is an excellent option for people who are willing to pay a slight premium for not just excellent performance, but also convenient features and built-in optimizations, as well as excellent support.
That's the key – you can find hosts that perform similarly well to Kinsta at a lower price, but the tradeoff is usually that those hosts can't compete when it comes to features, support, and general hands-off, "done for you" experience.
So if you want your site to load fast and you want everything to "just work" without requiring you to dig into the technical details, that's where Kinsta is the perfect option.
Without any effort on your part, you'll get a fast-loading site along with lots of convenient features like automatic backups, staging sites, and more. And if anything goes wrong, you have 24/7 support there to help with pretty much anything.
Use Another Host If…
The main reason to consider another host would be the price. There are two ways that the price might affect your decision:
The entry-level plan is more expensive than some other options.
Kinsta has lower limits than some other options, which can have a big impact if you have a lot of websites and/or your websites get high traffic.
If you're mainly put off by Kinsta's limitations when it comes to websites and/or visitors, then you should consider Cloudways.
Cloudways also offers excellent performance by letting you choose from different cloud hosting providers. However, unlike Kinsta, Cloudways doesn't put in any arbitrary limits on the number of websites or visitors you can have. As long as your server's specs can handle it (CPU, RAM, etc.), you can do whatever you want.
The downside of Cloudways, though, is that it's a little more complex than Kinsta and it doesn't offer the same level of support and features. While you certainly don't need to be a developer to use Cloudways, we don't recommend it for beginners or non-technical folks. Read our full Cloudways review to learn more.
For beginners, the other option to save money would be to go with shared hosting. Shared hosting will not offer the same level of performance, support, and features, so there are definite trade-offs here. However, you can find shared hosting that is pretty good, even if it's not at the same level as Kinsta.
Based on our testing, these are some of the shared hosts that still offer solid performance for the money:
To see more options, check out our full collection of the best WordPress hosting (based on hands-on testing). You can also read our collection of managed WordPress hosting if you specifically want a managed host.
Do you still have any questions about Kinsta or our Kinsta review? Let us know in the comments.