Rocket.net Review (2023): Is It the Best WordPress Hosting?
Considering using Rocket.net to host your WordPress sites? In our hands-on Rocket.net review, we'll help you decide if it's the best provider for you in 2023 and beyond.
Rocket.net hosting, not to be confused with the WP Rocket plugin, is a new breed of managed WordPress hosting that's powered by Cloudflare Enterprise.
We'll talk about some of the benefits of this below, but the basic idea is that Rocket.net is different than most of the other hosts you might be familiar with because so much of its functionality lives on "the cloud".
You get quick global load times, rock-solid security, and on-the-fly performance optimizations that eliminate the need to use performance plugins.
It's an attractive package – but is it the best spot for your sites?
Keep reading our hands-on Rocket.net review to find out. Here's everything that we'll cover:
How We Tested Rocket.net – We Bought Our Own Account
To keep our Rocket.net review fair and objective, we purchased our own hosting account and did not coordinate with the Rocket.net team at all.
All of the tests that we ran, the screenshots we collected, and our general opinions came from our direct experience of using the Rocket.net account that we purchased with our own money.
With that out of the way, let's dig into our Rocket.net review.
⚙️ Rocket.net Key Features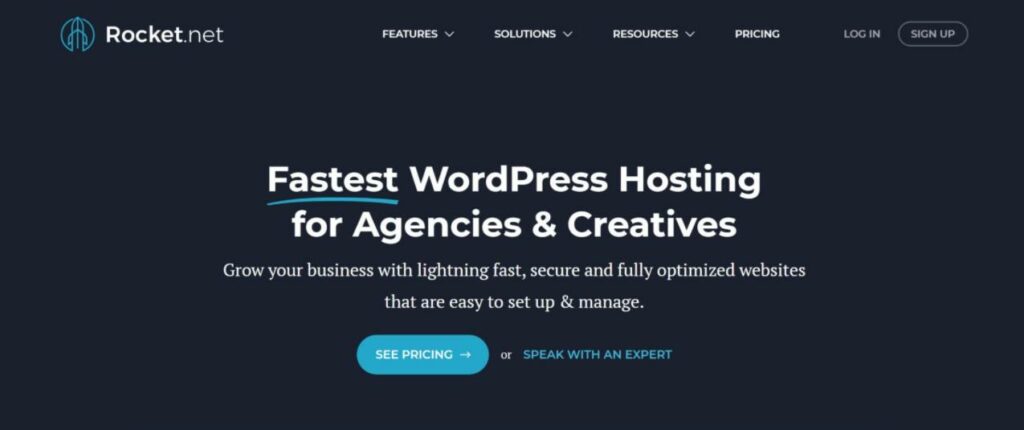 Rocket.net offers managed WordPress hosting, which comes with all the bells and whistles that you'd expect from any managed WordPress hosting provider.
However, as we mentioned in the introduction, the most unique thing about Rocket.net is how it uses the Cloudflare Enterprise network.
As far as we're aware, Rocket.net is one of the first mainstream WordPress hosts to use Cloudflare Enterprise in this way (though Kinsta has since moved to a similar, but not identical, approach).
So – what are the benefits of this approach? There are three big ones…
Global Full-Page Caching
The first is that Rocket.net will fully cache your entire site on the huge Cloudflare Enterprise global network (CDN).
This isn't just serving images and static files from the CDN, Rocket.net will cache the entire page whenever possible (like a page caching plugin) and then serve the entire page from the CDN.
It will also intelligently purge and update the cache to make sure visitors see the latest version of your content.
If you're a little confused by what I'm saying, here's the important takeaway:
When you use Rocket.net, your site will load equally fast no matter where a visitor is browsing from, which isn't true for "normal" hosting.
For example, visitors from the USA, the UK, Australia, and Singapore will all have pretty similar load times because each visitor is able to download the complete page from their local Cloudflare edge node.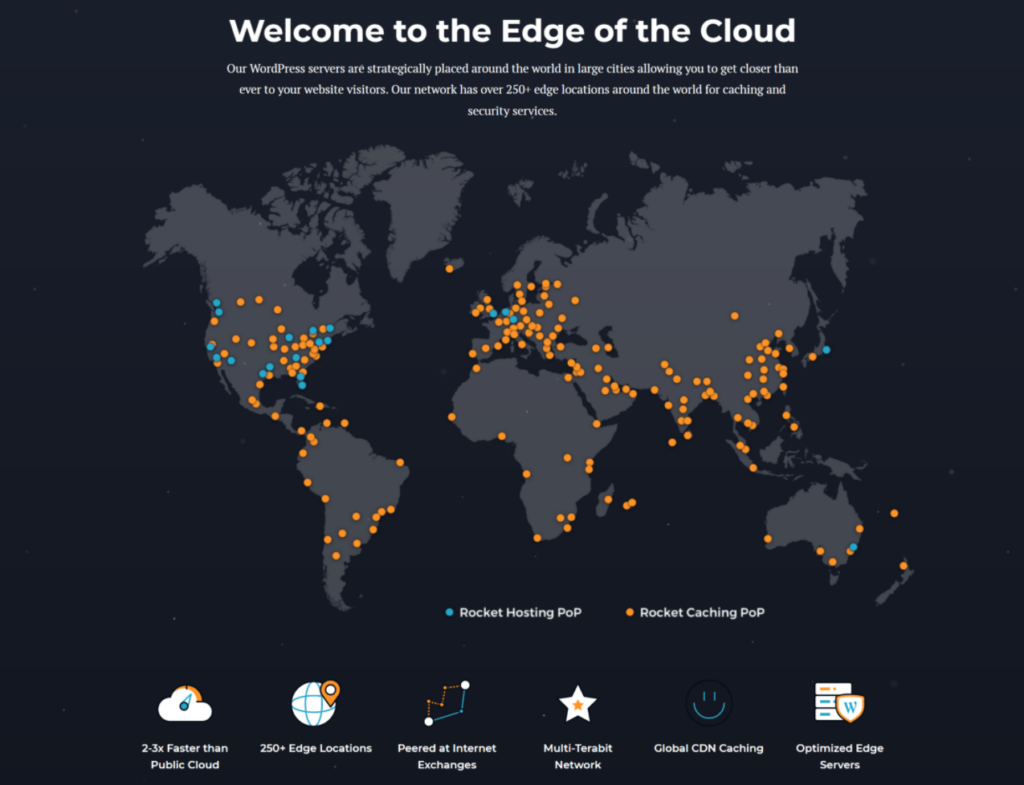 This is especially true for blogs or other static sites where Rocket.net is able to serve all of your content from the cache. Dynamic sites like WooCommerce stores might not be able to rely on caching for all content.
Cloudflare Enterprise Firewall
The second big advantage is that your site benefits from the Cloudflare Enterprise firewall, which will stop threats before they can even reach your WordPress site.
Rocket.net also configures it in an optimal way. For example, it will add extra levels of protection to your wp-admin area and login page.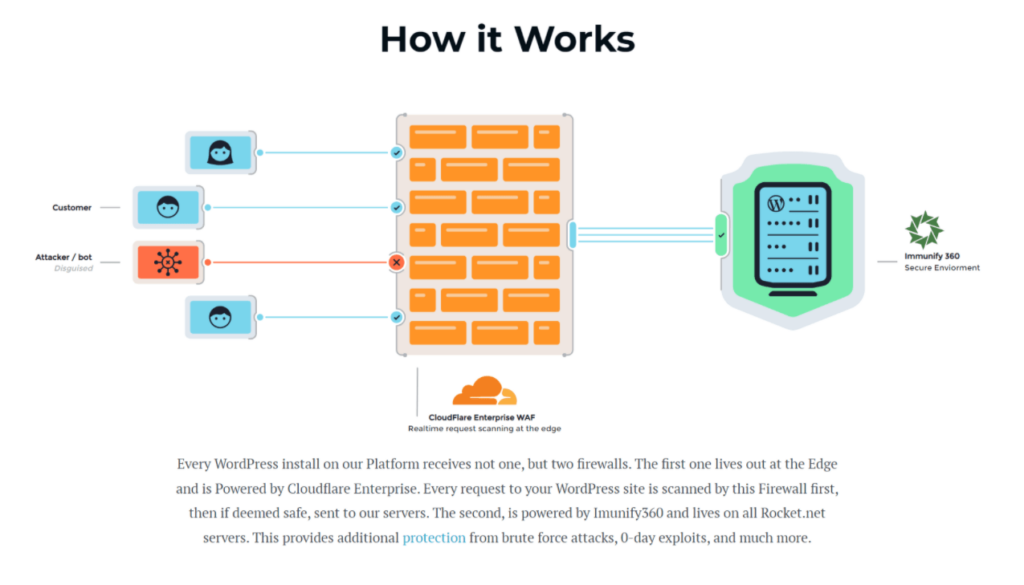 Automatic Performance Optimization
By serving your site via Cloudflare Enterprise, Rocket.net is also able to take advantage of Cloudflare Enterprise's suite of performance optimization features.
This lets Rocket.net offer on-the-fly performance optimization for images, CSS, JavaScript, Google Fonts, Brotli compression, and other aspects of your site.
For example, Rocket.net can automatically compress, resize, and convert your images to WebP – all without the need for a separate image optimization plugin like you'd need at most hosts.
All the Other Managed WordPress Features
Beyond what we discussed above, Rocket.net still offers all of the features that you'd expect from something billed as "managed WordPress hosting". Here's the list:
Automatic daily backups – Rocket.net will also store the backups for 30 days.
On-demand backups – you can also manually take backups when needed.
Staging sites – easily create staging sites for free.
Hack and malware removal – if anything gets by the built-in WAF, Rocket.net will fix it for you.
Plugin/theme management – you can manage plugins and themes from your hosting dashboard, including installing, activating/deactivating, and deleting them.
Automatic updates – you can control updates for the core, plugins, and themes.
There are also some general-purpose tools to make your life easier:
In-browser file manager – Rocket.net created its own custom file manager that lets you manage files from your browser.
phpMyAdmin – you get phpMyAdmin for database management.
For advanced users and developers, you also get some useful features:
SSH access
Git integration
Easy cron job management.
WP-CLI – this includes a web-based WP-CLI terminal, which is a unique feature and very helpful for quick commands
Agency Features
If you're an agency, Rocket.net also offers a special white-labeled reseller platform that lets you sell white-labeled managed WordPress hosting services to your client.
🚀 Rocket.net Performance Tests
Performance should be one of the most important factors in choosing hosting, so let's dig into that next in our Rocket.net review.
To set up a realistic scenario, we created a test site using the Astra theme and one of its full importable demo sites. We use the same demo sites for all our hosting reviews, which makes it easy for us to compare performance between hosts.
Typically, we run two tests when we test a hosting provider's performance:
WebPageTest to collect data for a single visit.
Load Focus to see how the host performs in a higher-traffic scenario, which is important for busy sites.
Because of Rocket.net's unique approach to full-page caching on the Cloudflare Enterprise network, we're also going to add a third test with Wordfence's Fast or Slow tool, which lets us test performance from 18 different locations around the world to show the global performance.
WebPageTest
In the WebPageTest test, the median load time from nine tests was under half a second, which is one of the best results that we've had. It's similar to Kinsta and Cloudways and much faster than other hosts that we tested: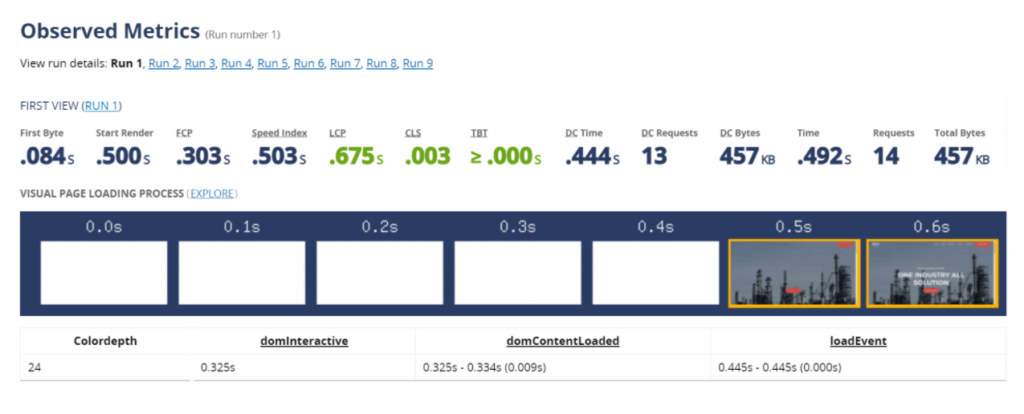 So far, so good!
Load Focus
Rocket.net had zero issues with our Load Focus test, which is what we'd expect from Cloudflare's network. There were no spikes as traffic went up and the average response time was 564 ms: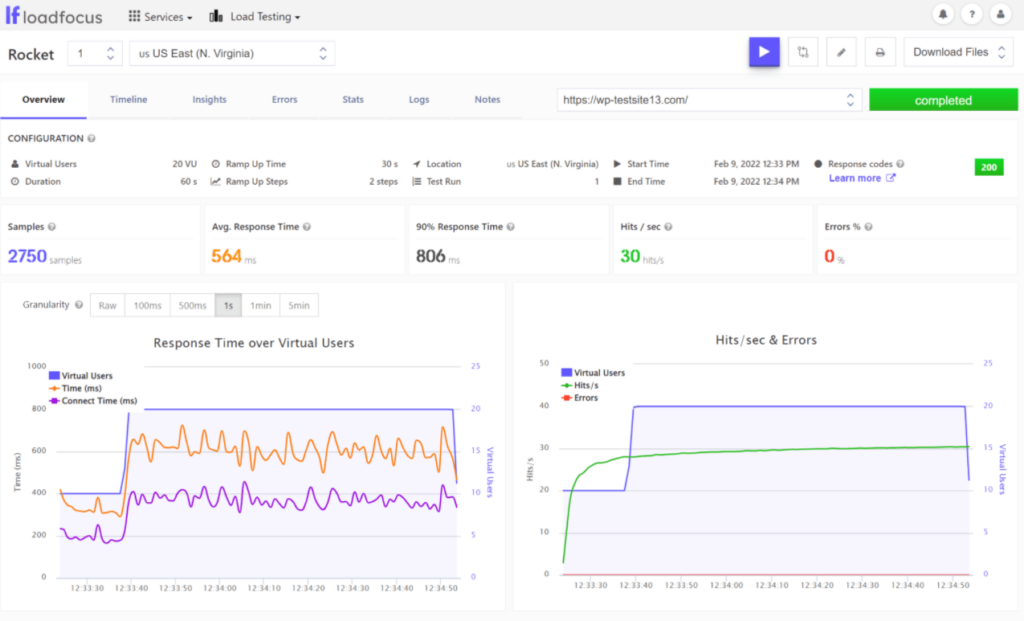 Again, this is one of the best results of any host that we've tested.
Fast or Slow
In Fast or Slow, you can see that the load times are equally fast across the globe.
17 locations had a meaningful paint time under one second and India, the holdout, was just barely over the one-second mark at 1.04 s.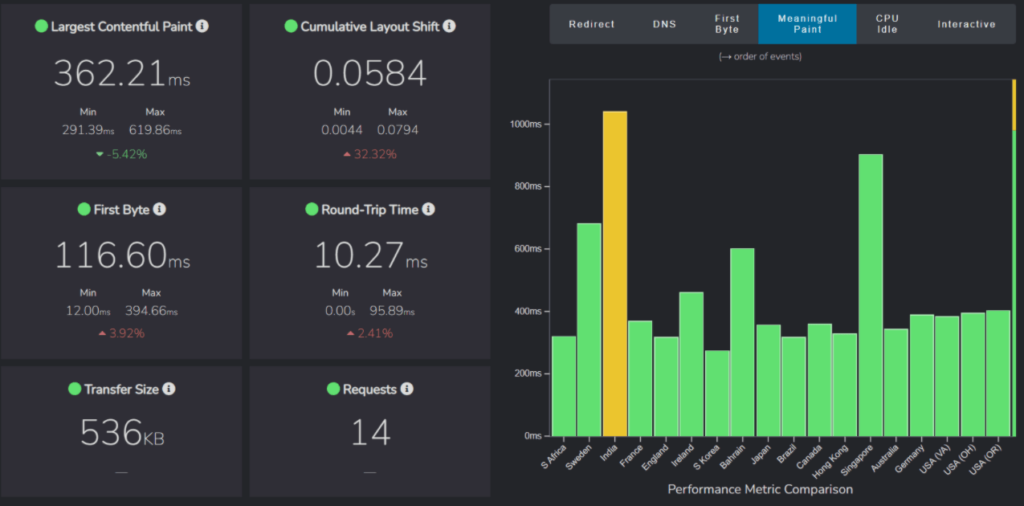 You can see that there's very little difference between the load times for South Africa, England, Brazil, the USA, Australia, Hong Kong, and so on, which really shows the power of Rocket.net's Cloudflare edge-caching approach.
🤗 Rocket.net User Experience
Next, let's talk about what it's like to use Rocket.net on a day-to-day basis.
The Rocket.net dashboard, called Mission Control, is well-designed and easy to use. In terms of the user experience and general pleasantness, it's quite good.
When Rocket.net first launched in 2020, the dashboard was pretty barebones and only provided the essentials.
However, since then the Rocket.net team has been hard at work at adding a ton of useful features, which is great to see.
With that being said, I still don't think Rocket.net quite matches the value-added tools that you get with a host like Kinsta (though Rocket.net does have some unique tricks up its sleeve). Rocket.net does all the core features well, but Kinsta has some useful tools like a redirect manager, easy WordPress debug mode, and so on.
Is this a big deal? No, it shouldn't be a large factor in your decision. But, having those little conveniences is a nice-to-have.
Rocket.net is still quite young compared to WP Engine or Kinsta, so it's natural that they have some catching up to do in terms of these non-critical value-added tools. Given that they've been doing a good job of adding tools as they grow, there's a pretty good chance you'll get some new goodies in the future.
Let's go through it in more detail.
Exploring the Dashboard
The main Rocket.net dashboard page gives you a high-level look at your account's usage and a list of all your sites: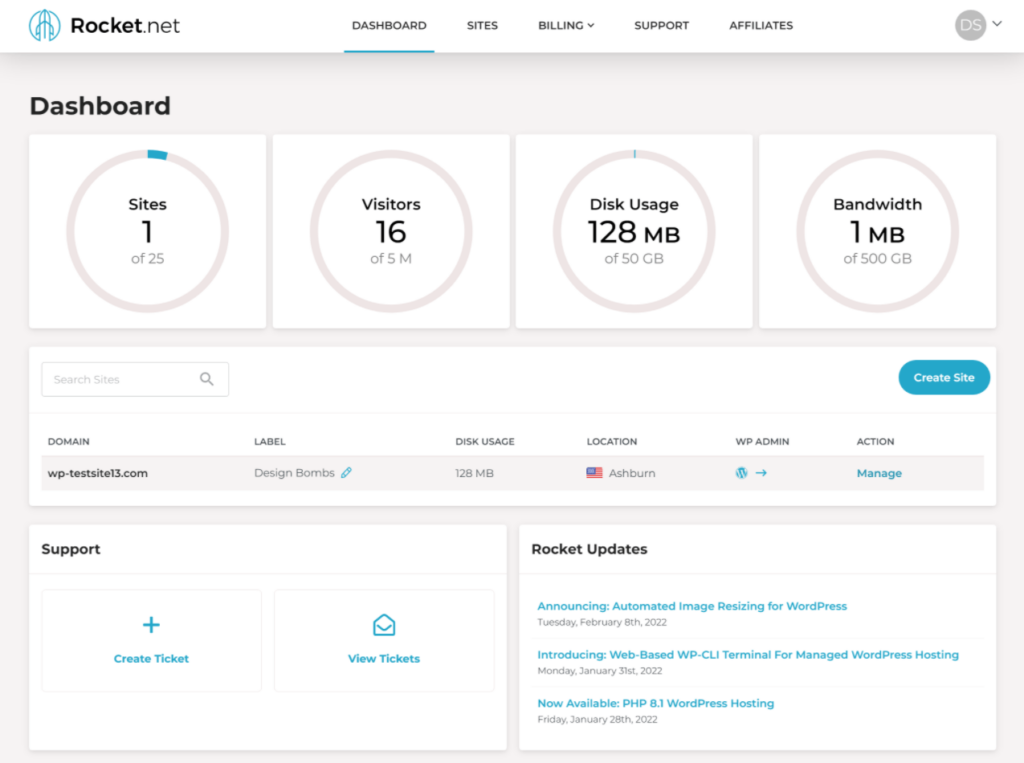 To open the dashboard for an individual site, you can click the Manage button. Then, you'll see all of the tools for that site: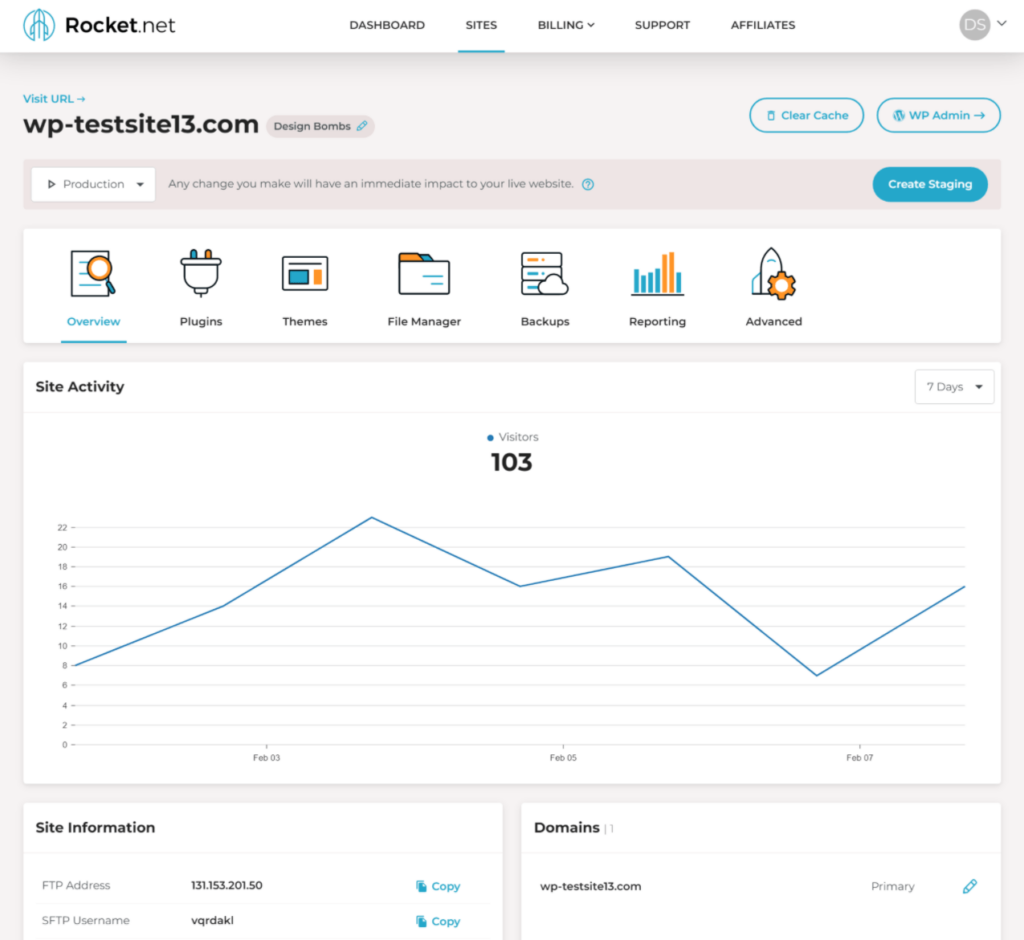 Creating a WordPress Site
Before we dig into the single-site dashboard, let's first look at what it's like to actually install WordPress on Rocket.net.
Rocket.net makes it super easy to spin up new sites.
First, you can choose the origin server for your site, which you can do on a per-site basis (which is notable as many hosts force you to choose a server on a per-account basis instead):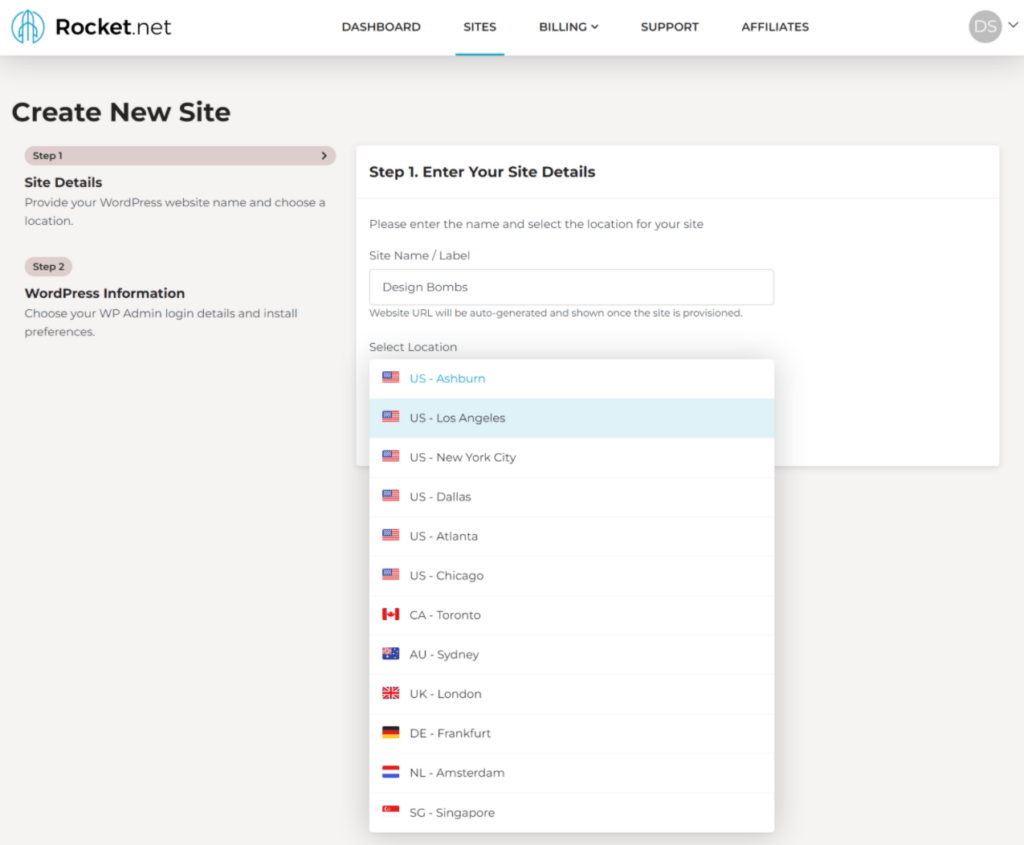 Next, you can enter your desired WordPress user information.
Rocket.net also includes some useful presets to pre-configure your WordPress install for WordPress multisite and/or WooCommerce.
You also have the option to install "recommended plugins", which are a suite of plugins from Awesome Motive:
SeedProd
MonsterInsights
OptinMonster
WPForms
WP Mail SMTP
You'll see these "recommended plugins" at a lot of hosts because Awesome Motive pays them to do it. If you don't want them, you can just turn off the toggle: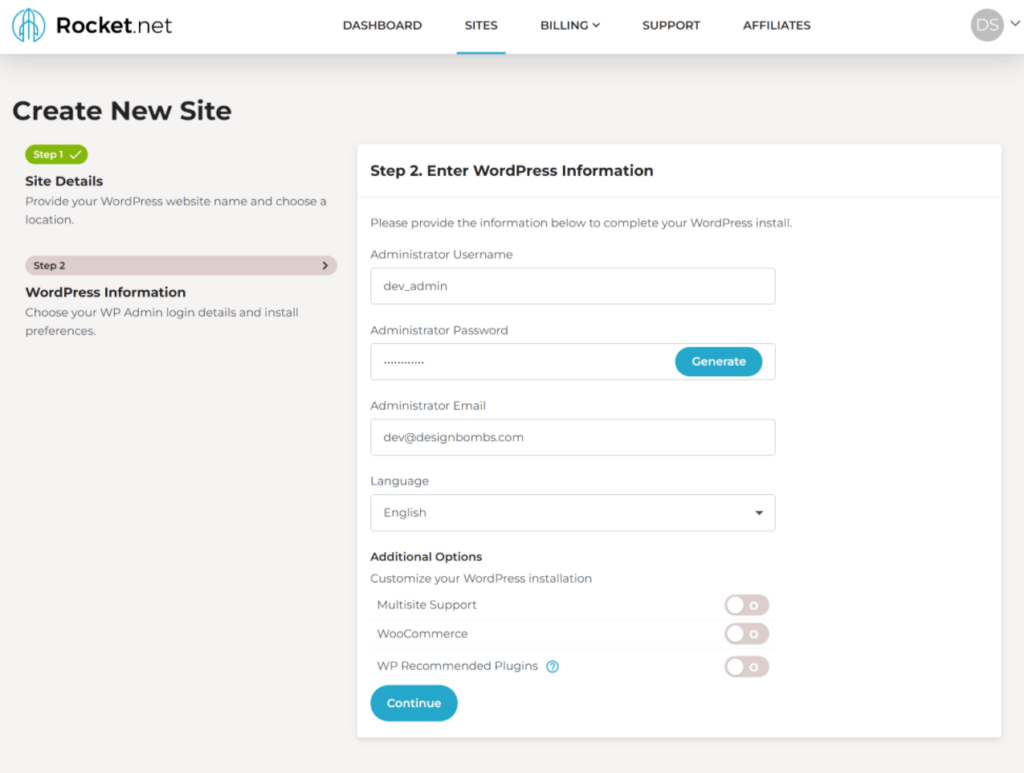 And that's it! Rocket.net will now install WordPress for you.
You'll start on a temporary subdomain from Rocket.net.
To make your site live, you'll need to add your domain name and configure DNS information. As part of this, Rocket.net will automatically install and configure an SSL certificate for you so that your site starts off using HTTPS from day one: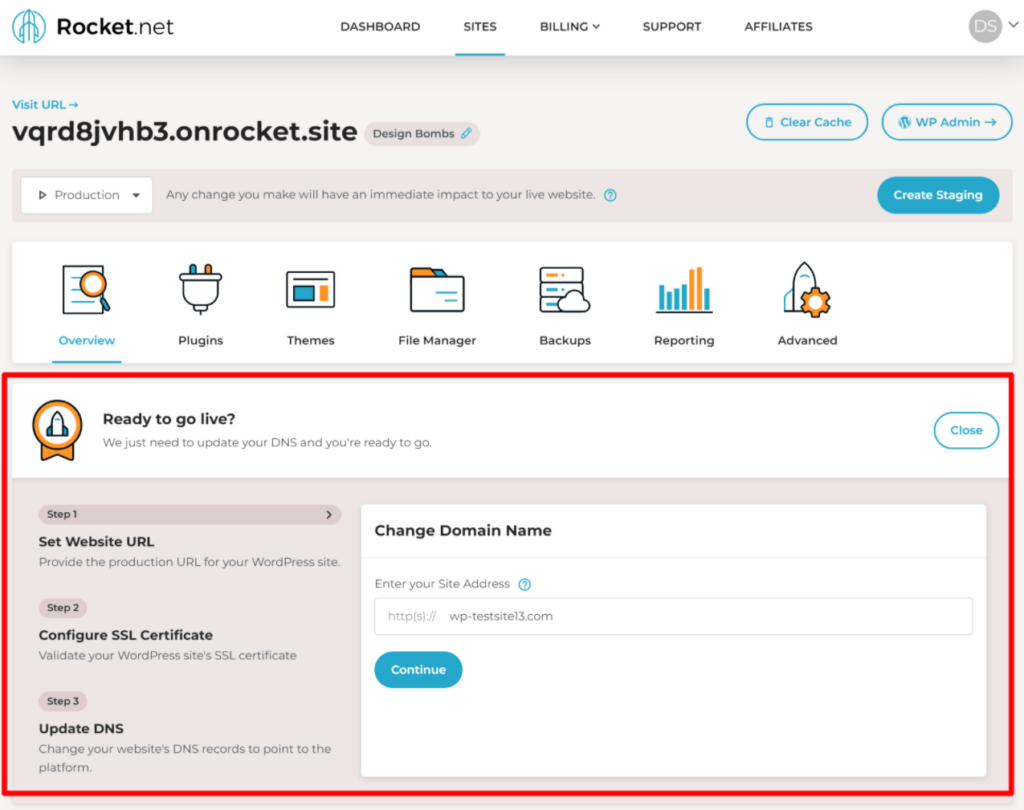 Rocket.net doesn't offer its own nameservers, so you'll need to go to wherever you added your domain name and manually add the DNS records.
Managing Plugins and Themes
Now, let's dig into the tools in the single site dashboard.
From the Plugins and Themes tab, you can manage those extensions including being able to update, activate, deactivate, and delete extensions right from the hosting dashboard.
You can even search for plugins and themes at WordPress.org and install them right from Rocket.net, which is pretty unique: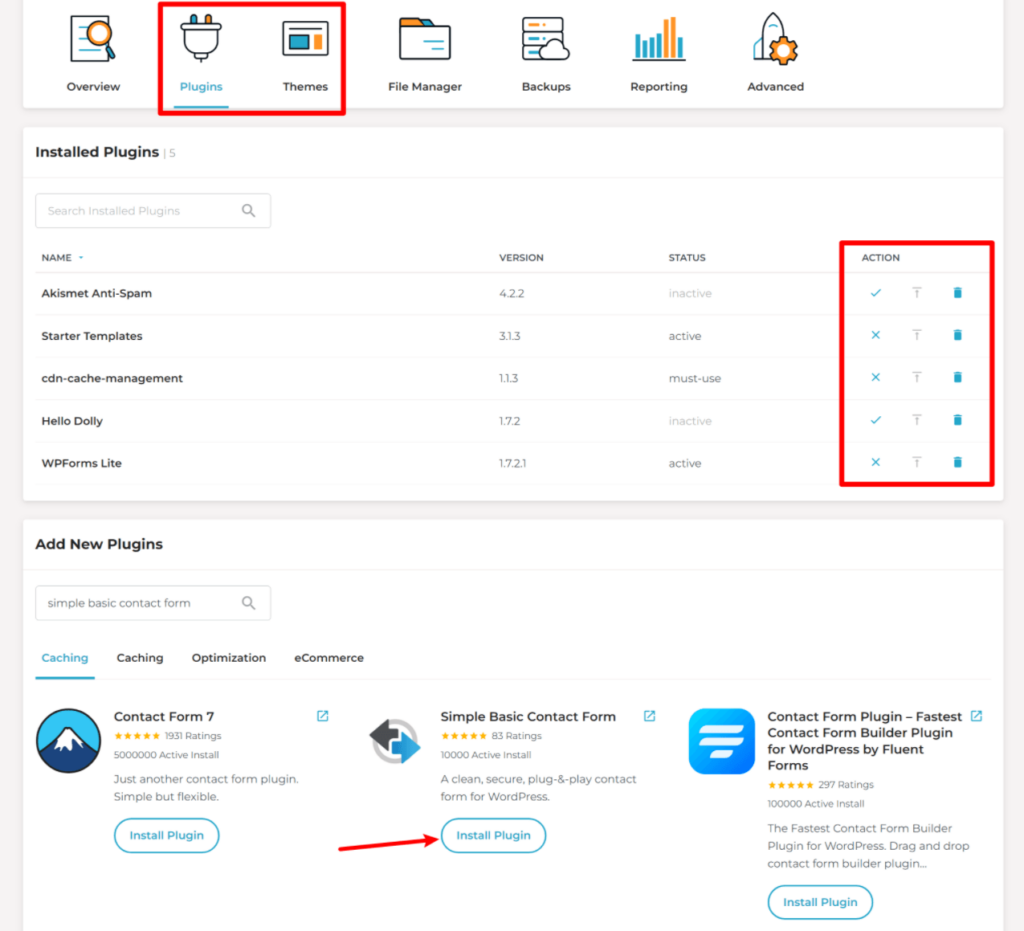 Managing Files
To help you save time while working with files, Rocket.net has its own custom in-browser file manager tool where you can upload and edit files on your server: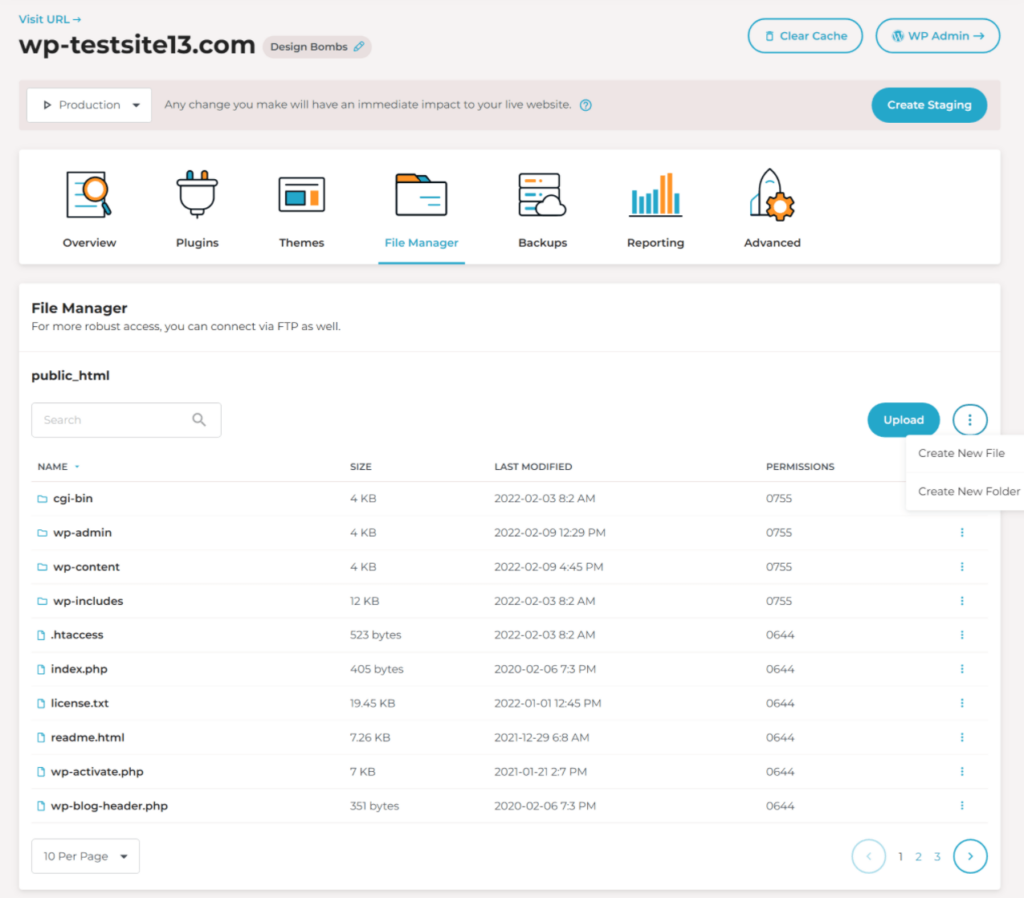 Managing Backups
The Backups tab lets you manage the daily automatic backups and create manual backups if needed: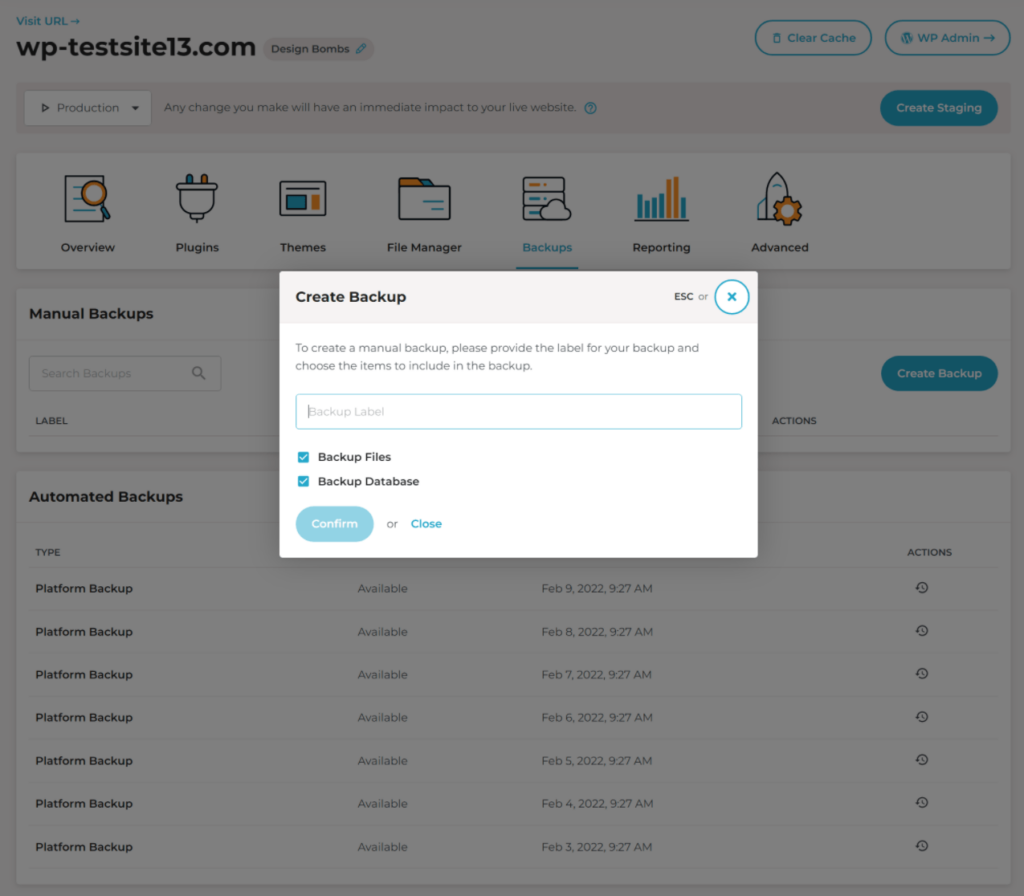 Rocket.net will store the backups for 30 days.
You cannot download the automatic backups to your local computer, but you can download the manual backups to your computer.
Viewing Reporting
The Reporting tab gives you fairly detailed analytics for your CDN usage and WAF events, including cache hits and misses: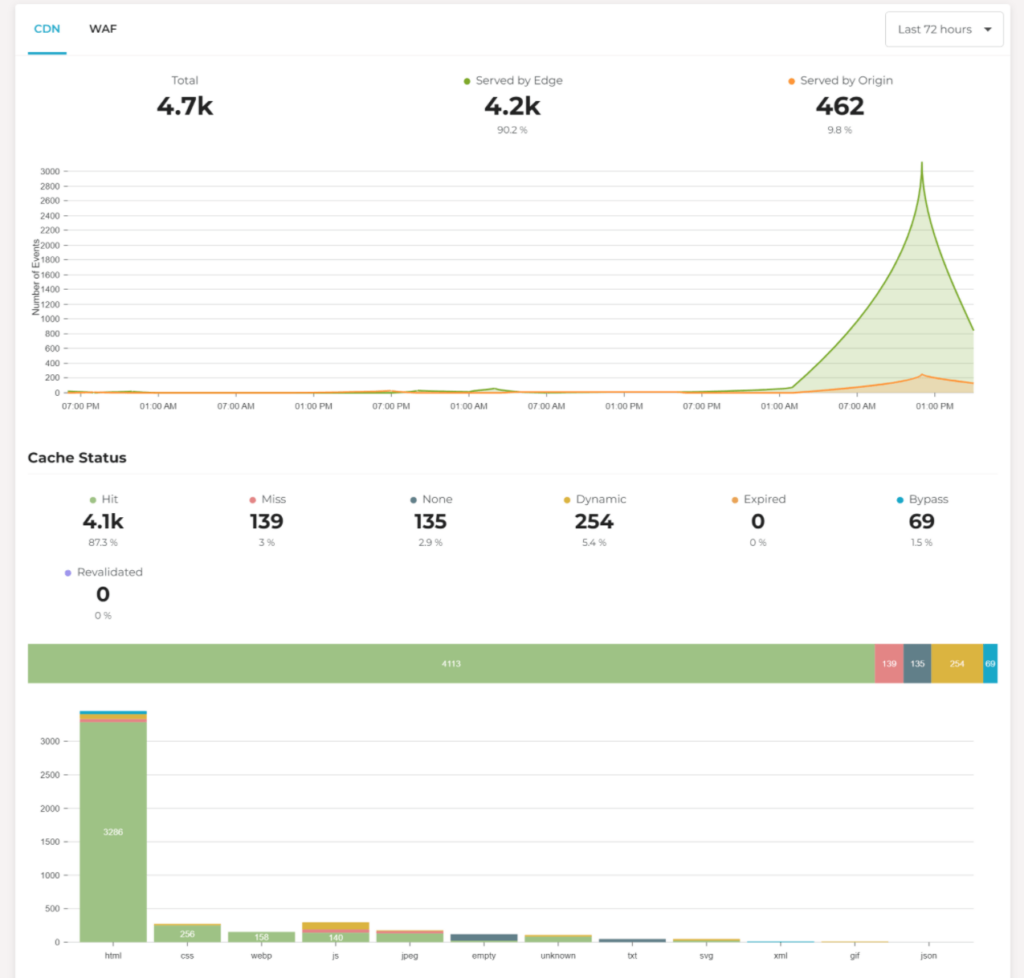 Creating Staging Sites
To create a staging site, you just need to click the Create Staging button in the Rocket.net site dashboard.
This will essentially create a duplicate of the site dashboard for the staging version: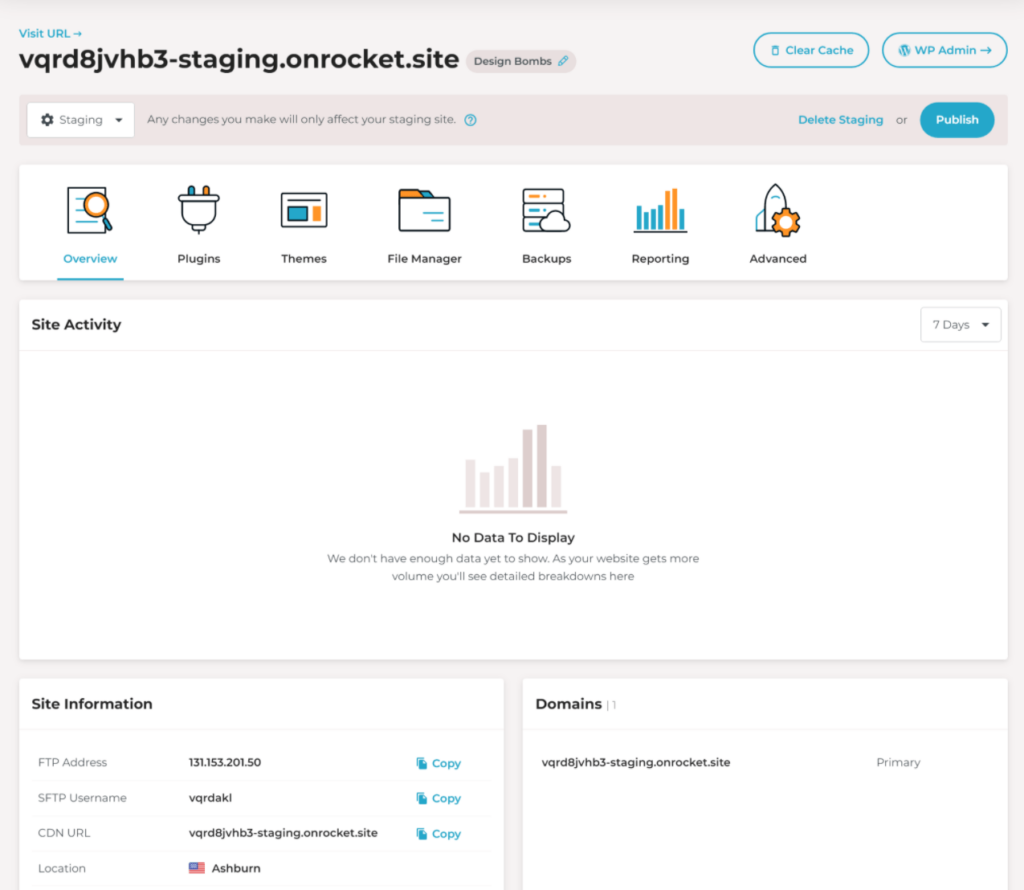 However, Rocket.net only supports full overwrites if you want to push your staging site live. You can't do a conditional push where you only push the files or database live, which is something it would be nice to see.
WP Engine has had conditional staging pushes for a while and Kinsta also recently added it.
Using the In-Browser WP-CLI Terminal
If you're an advanced user or developer, Rocket.net includes a really neat tool in the Advanced tab that lets you use WP-CLI right from your web browser, instead of needing to connect via SSH (though you can do that too).
This is really convenient for just jumping in and running some WP-CLI commands when needed: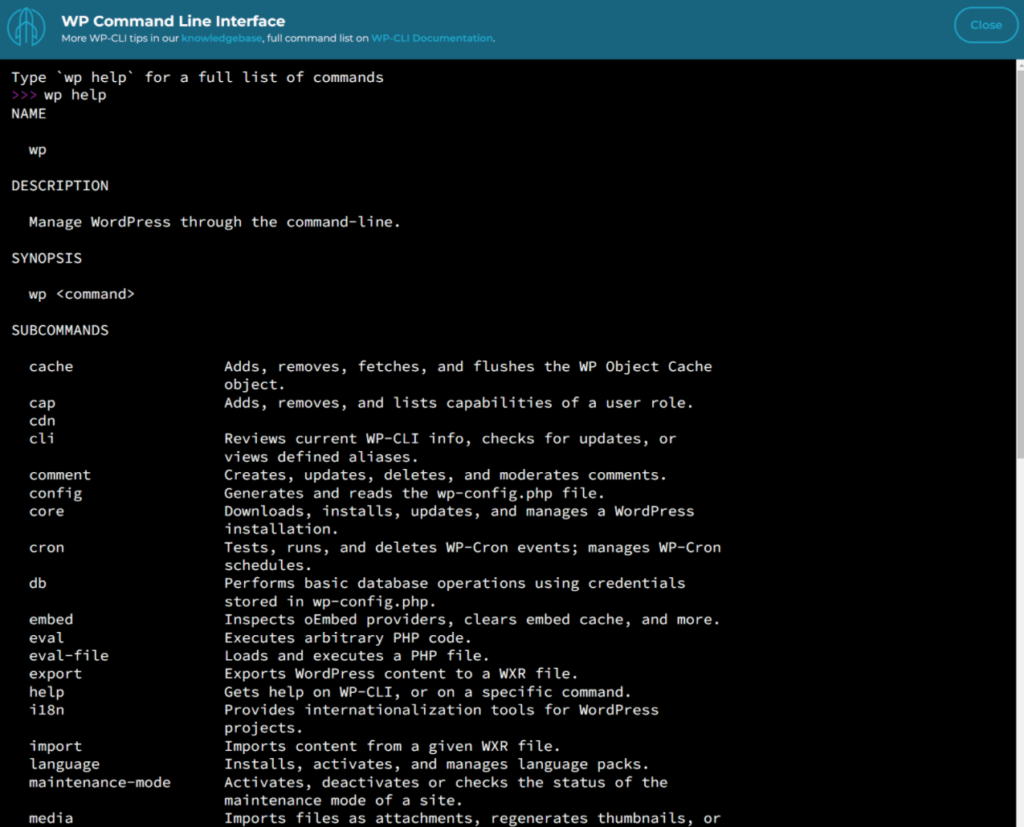 It's something that I've never seen in another WordPress host, so this definitely deserves a special mention.
📞 Rocket.net Support Review
Rocket.net offers 24/7 support on all plans, though not all support channels are available on all plans.
Every single plan, even the cheapest one, gets access to 24/7 support via live chat and email.
Then, customers who are on the $100 per month Business plan or higher also get the option of 24/7 phone support.
This setup is quite competitive with other managed WordPress hosts, especially because some only offer live chat support.
💰 Rocket.net Pricing Review
Rocket.net offers very straightforward pricing, with no hidden promo prices or price jumps.
All of their plans are full-featured. The only difference is the resources that are available to you. The variables here are:
Number of WordPress sites
Monthly visits
Storage (disk space)
Bandwidth
Here are the prices with monthly billing: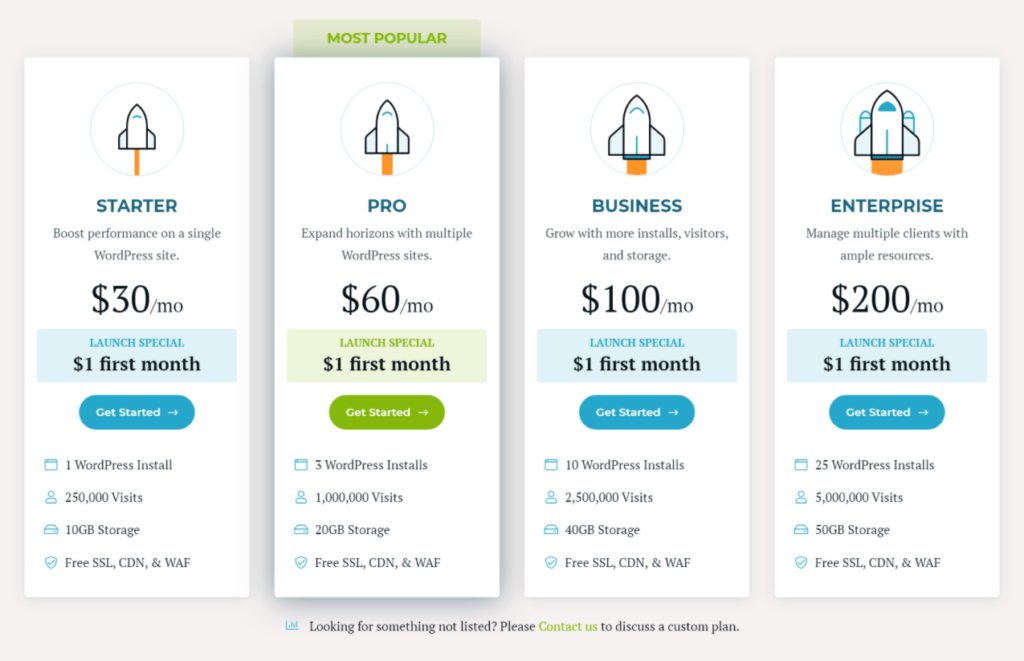 And here are the prices with annual billing: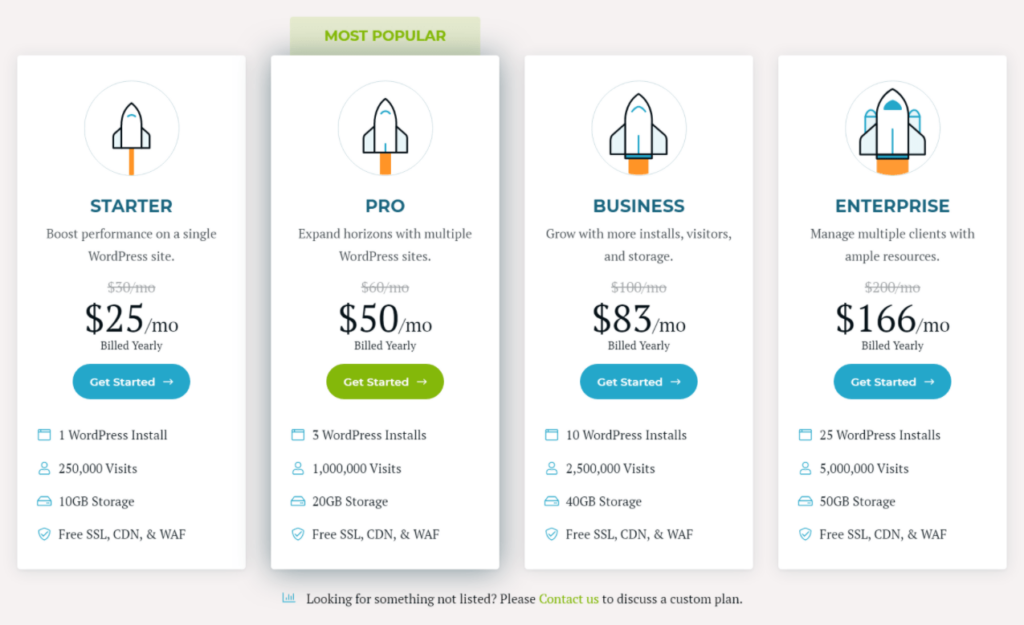 At the time that we're writing our Rocket.net review, they're also offering a special promo where you can pay just $1 for your first month.
While the $30 starting price is identical to Kinsta and WP Engine, Rocket.net does have a big advantage in the resources that it gives you for that $30.
Here's a comparison of the resources that you get on the entry-level $30 plan at all three providers:
| | | | |
| --- | --- | --- | --- |
| | Rocket.net | Kinsta | WP Engine |
| Price | $30 | $30 | $30 |
| Websites | 1 | 1 | 1 |
| Visits | 250,000 | 25,000 | 25,000 |
| Storage | 10 GB | 10 GB | 10 GB |
| Bandwidth | 50 GB | 50 GB | 50 GB |
While the other resources are identical, Rocket.net offers 10X the number of visits, which is a huge advantage if you have a high-traffic site.
There are also much higher tiers on the reseller hosting plans: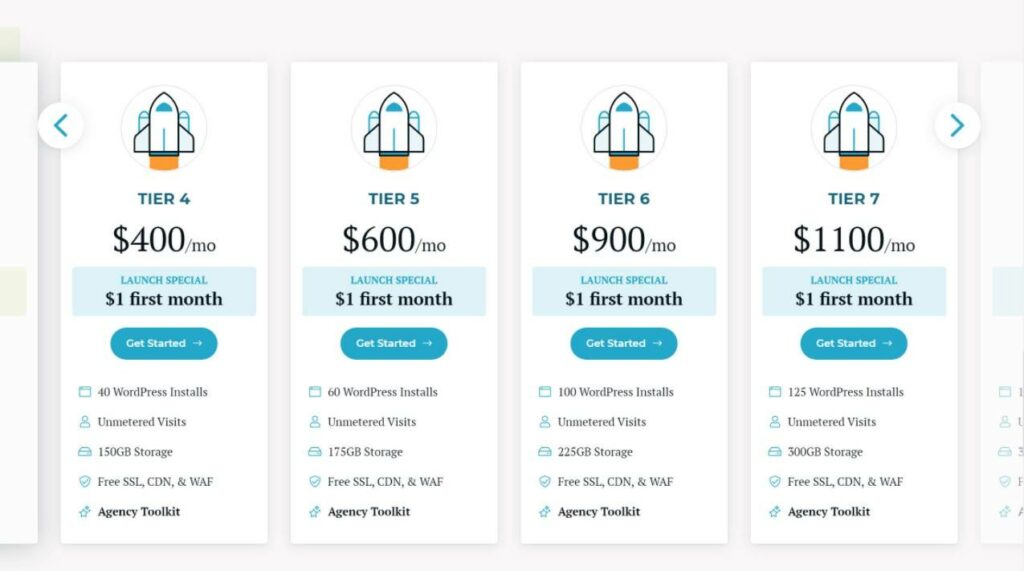 👍👎 Rocket.net Pros and Cons
To recap all of the details that we discussed above, let's summarize some of the pros and cons of using Rocket.net WordPress hosting.
👍 Pros
Unique approach to hosting – the way that Rocket.net utilizes Cloudflare Enterprise is unique in the managed WordPress hosting space and leads to some unique benefits that we discussed above.
Excellent global load times – Rocket.net's approach to caching your entire site on Cloudflare Enterprise leads to equally fast load times all around the world (especially for static sites like blogs).
Full performance platform – by utilizing Cloudflare's features, Rocket.net offers real-time image optimization, CSS, and JavaScript optimization (plus more). This can eliminate the need for separate performance plugins.
Strong security – the built-in Cloudflare Enterprise firewall adds a strong security layer.
Phone support – Rocket.net offers phone support on higher-tier plans (and live chat support on all plans).
High visit limits – while Rocket.net's prices are similar to other managed WordPress hosts, the visit limits are significantly higher for the same amount of money.
White-labeled reseller plans – if you're an agency, the white-labeled reseller hosting option is really convenient.
👎 Cons
No email hosting – like many other managed WordPress hosts, Rocket.net doesn't offer email hosting. You'll need a separate service like Google Workspace or MXroute.
Not as many dashboard tools – while Rocket.net is growing their dashboard experience, they still don't offer as many tools as a host like Kinsta. You do get the most important features, though, such as backups and staging, as well as some unique features like the WP-CLI tool.
Young company – this one is a little unfair because Rocket.net hasn't had any issues. But it is still a young company in comparison to more established hosts, which might be a consideration for some people.
❓ Rocket.net Review 2023 FAQ
As we finish out our Rocket.net WordPress hosting review, let's go over a few common questions.
How does Rocket.net caching work?
Instead of using page caching to cache your site's pages on its local server, Rocket.net uses full-page caching and then caches those pages on the global Cloudflare Enterprise network.
Who owns Rocket.net hosting?
Rocket.net's founder is Ben Gabler, with Josip Radan as the co-founder. Ben was formerly the Chief Product Officer at StackPath, so he knows a thing or two about serving up content from the cloud.

The company's headquarters are in West Palm Beach, Florida, but the team is located all around the world.
Does Rocket.net include email hosting?
No, Rocket.net does not include email hosting. You'll need to use a separate email hosting service like Google Workspace or MXroute.
🤔 Should You Use Rocket.net WordPress Hosting in 2023 and Beyond?
Now for the most important question of our Rocket.net WordPress hosting review – should you use it to host your WordPress sites?
Use Rocket.net If…
The main reason to choose Rocket.net over similar managed WordPress hosts is if you like the way Rocket.net builds on Cloudflare Enterprise.
As we covered in the review, there are a lot of benefits to this approach:
You get very fast global load times no matter where visitors are browsing from because Rocket.net is caching full pages to Cloudflare's global network.
Your site is protected by Cloudflare's enterprise-level firewall.
You can benefit from Cloudflare's other performance features such as automatic real-time image optimization, JavaScript optimization, Google Fonts optimization, and so on.
The second reason would be pricing, especially for high-traffic sites. While Rocket.net is in the same price range as other premium managed WordPress hosts like Kinsta and WP Engine, Rocket.net's visit limits are ~10X those hosts for the same money (though the other limits are generally pretty similar).
If you have a high-traffic site, this can save you a lot of money vs using Kinsta or WP Engine.
Use Another Host If…
One big reason to choose a different host might be your budget. While Rocket.net is competitively priced for the premium managed WordPress hosting space, you can certainly find cheaper options if you're on a tight budget.
You won't get the benefit of Rocket.net's Cloudflare Enterprise approach, but you can find high-performing hosts for less money. Here are some good budget options to consider:
Another reason could be if you prefer to go with a more established host. Again, Rocket.net has not had any issues so we don't think this is something to worry about. However, we still feel obligated to point out that Rocket.net has been around for less than two years at the time that we're writing our review.
If you'd prefer a more established player, you might want to go with a name like WP Engine (our review and coupon) or Kinsta (our review).
To see all of your options, you can check out our full collection of the best WordPress hosting providers, which includes real test data for all of the hosts that we looked at.
Do you still have any questions about Rocket.net or our Rocket.net WordPress hosting review? Let us know in the comments!