If you're thinking about upgrading your hosting, we have a great deal for you. With our exclusive Cloudways coupon, you can get 30% off the first 3 months of any of their managed cloud hosting packages.
Ready to get your 30% discount? Click here to go to Cloudways and enter the coupon code DESIGNBOMBS at checkout.
Want to know more about Cloudways hosting packages? Keep reading to get the full details on Cloudways and how their managed hosting services can help to save you time and money running your website.
What is Cloudways?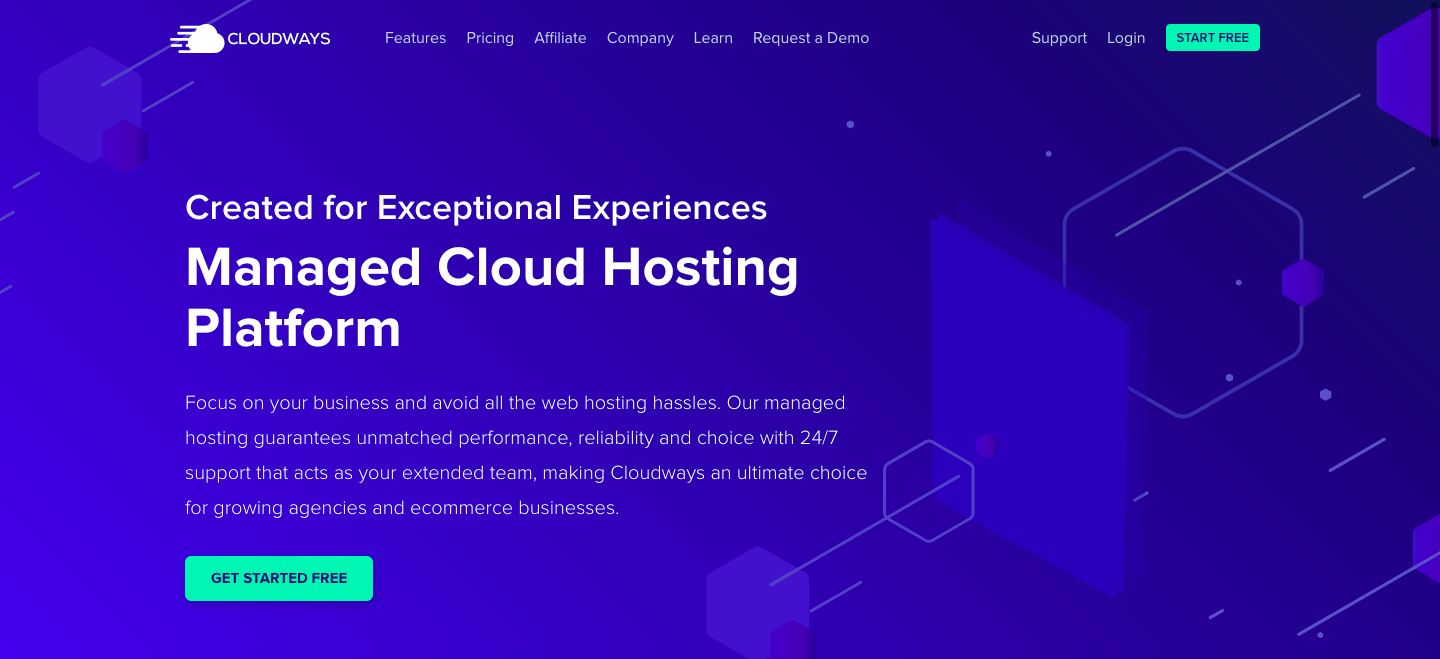 Cloudways is a cloud-based managed hosting platform that offers a range of scalable hosting packages with managed security, automated backups, and 24/7 real-time monitoring and support.
This web hosting company offers affordable, yet powerful hosting packages that are suitable for individuals, developers, agencies, teams, businesses, and eCommerce sites.
All hosting plans also include an in-built CDN, which enables you to speed up your website and deliver top performance to users all over the world.
Cloudways Hosting Features
Cloudways often appears in best WordPress hosting lists because of its excellent support, good value plans, and powerful hosting features. Here are some of the features that are included when you sign up for a hosting plan with Cloudways:
High-Speed Performance
Cloudways cloud servers are built using the latest technology for speed and performance including:
Dedicated resources for each virtual server
SSD-based hosting for 3x the speed
Built-in advanced caches
PHP 7 ready servers
Cloudways CDN
Auto-healing managed servers
Free WordPress cache plugin
Free Magento Full Page cache
HTTP/2 supported servers
24/7 Expert Support
Cloudways offers expert support for all customers that's available whenever you need it including:
Live chat support
Online ticketing support system
Enhanced SLAs to cut response times from 3 hours to 30 minutes
Free server customization and configuration
Talk to a senior support engineer via phone with the Premium Support add-on
Pro-active application monitoring
Private slack channel
Managed Security
Security should be one of your most important considerations when choosing a hosting provider. Cloudways offers robust security to keep your site safe in the form of:
Dedicated firewalls
1-click free SSL installation
IP whitelisting
Regular security patching
Two-factor authentication
Bot protection
24/7 real-time monitoring
Cloudways Plans and Pricing
Cloudways managed hosting plans start from just $10 a month. You can choose data centers hosted by DigitalOcean, Linode, VULTR, AWS, or Google Cloud.
You can scale your plan up or down at any time as your website grows or your needs change.
The following prices are for standard plans hosted with DigitalOcean:
| | | | | |
| --- | --- | --- | --- | --- |
| Price/month | $10 | $22 | $42 | $80 |
| RAM | 1GB | 2GB | 4GB | 8GB |
| Processor | 1 Core | 1 Core | 2 Core | 4 Core |
| Storage | 25GB | 50GB | 80GB | 160GB |
| Bandwidth | 1TB | 2TB | 4TB | 5TB |
All plans include:
24/7 support
Free website migration service
Free SSL certificates
Unlimited applications
Staging environment
Dedicated firewalls
Automated backups
See more details and choose your plan here. Remember, you get 30% off the first 3 months of any plan by using our Cloudways coupon code, DESIGNBOMBS.
Cloudways Coupon FAQs
Which plans is the coupon valid for?
The DESIGNBOMBS Cloudways coupon code is valid for any of the Standard or Premium hosting plans and will give you 30% off hosting for the first 3 months.
How long is the coupon valid for?
There's no expiry date on the DESIGNBOMBS coupon but the offer could be withdrawn at any time. So we advise you to sign up as soon as possible if you want to make sure you get the 30% discount.
What's the difference between the cloud providers?
When you sign up for hosting with Cloudways, you can choose from five data center hosts. The price of these different providers varies for plans starting at $10/month for DigitalOcean to $36.51 for the cheapest plan with AWS. Each plan offers a different level of server resources and different server center locations.
What's the difference between the Standard and Premium plans?
You can choose between standard and premium servers if you choose DigitalOcean or VULTR data centers (the VULTR premium option is called "High Frequency"). Essentially, the premium options are using newer and faster technology.
Why should I host with Cloudways instead of directly with one of the cloud providers? 
Most hosting providers maintain and manage their own servers. Cloudways works differently. It uses large-scale industry cloud providers for infrastructure and provides managed hosting services using this infrastructure. This means you can take advantage of powerful hardware while benefiting from managed hosting services to deal with the technical side.
Is there a free trial?
Yes, all Cloudways plans include a 3-day free trial so you can try out the service before you buy. You don't have to enter your credit card, and you can cancel at any time.
How to Use the Cloudways Coupon
To claim your 30% discount on hosting for the first 3 months, go to cloudways.com and click on "Pricing" in the menu.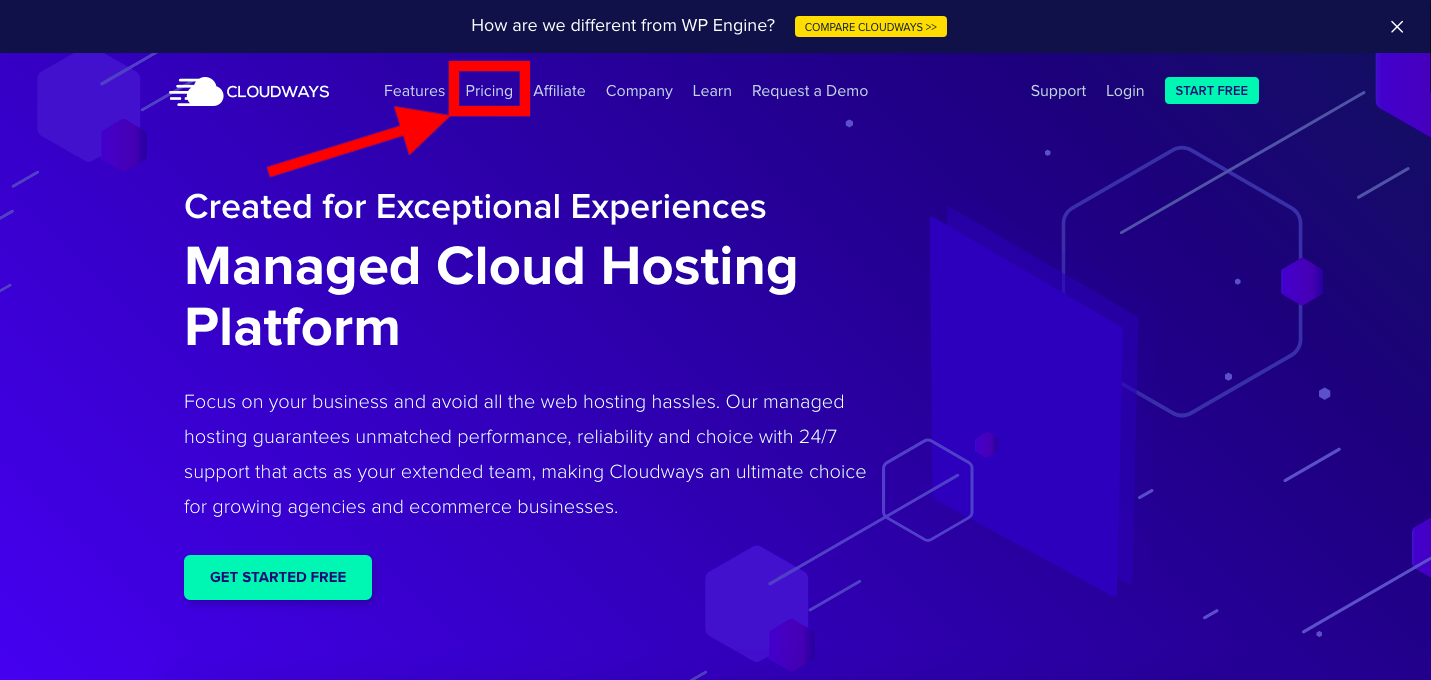 Scroll down to choose your hosting package and click the "Start Free" button.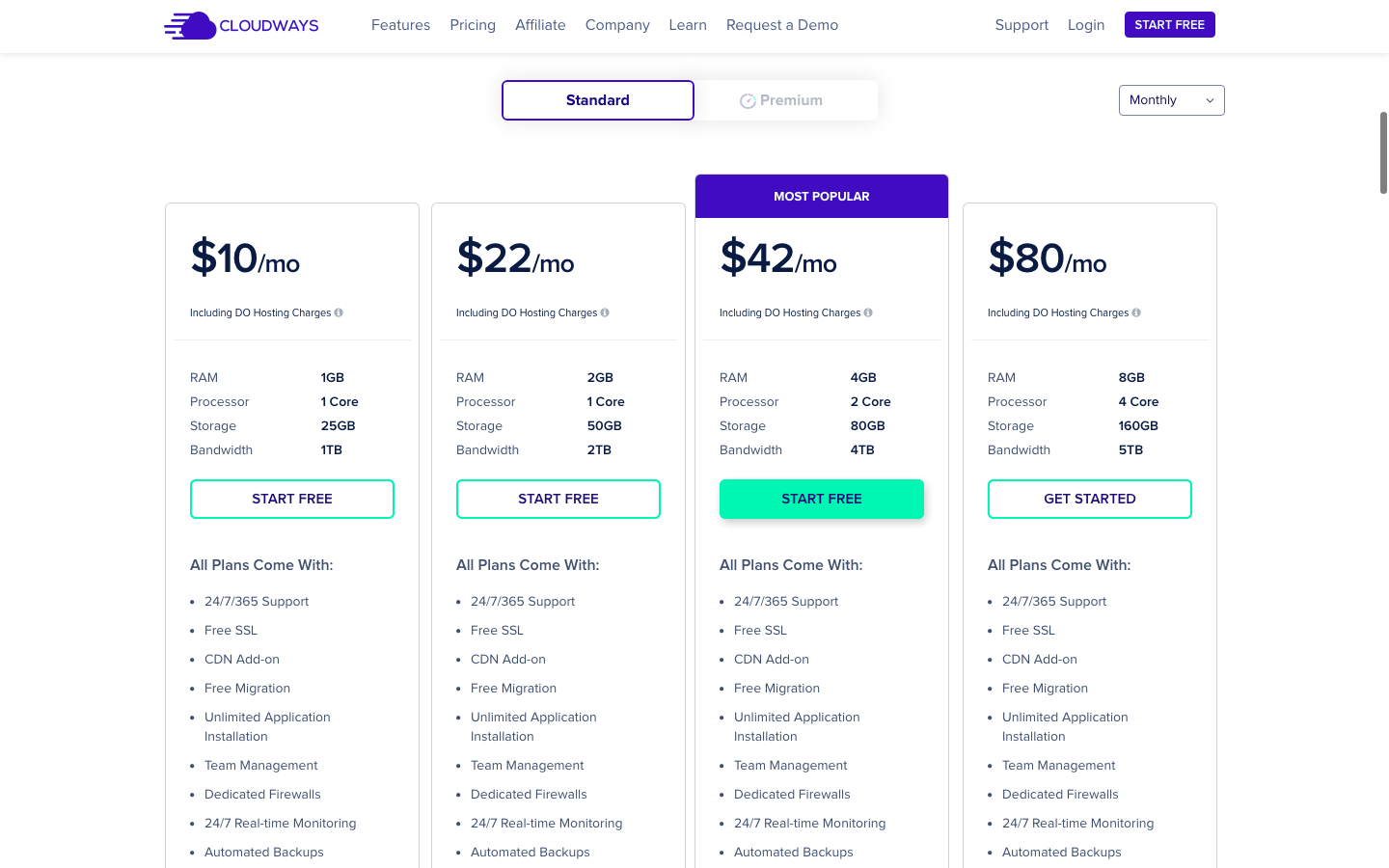 On the signup form, click the link that says "Got a promo code?"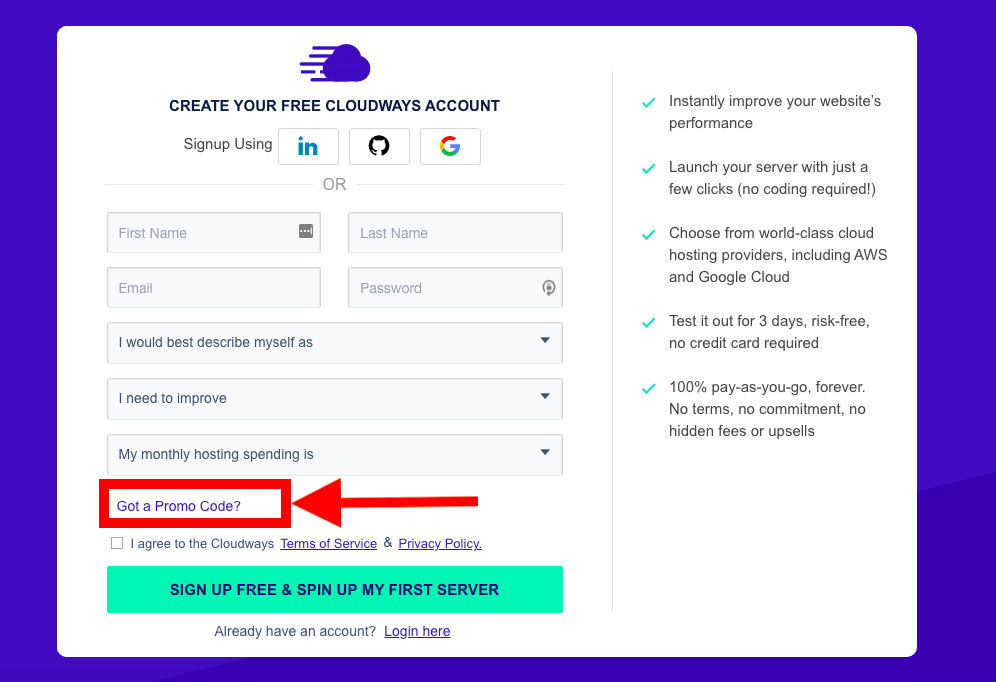 Enter the Cloudways coupon code DESIGNBOMBS. You should see a green tick appearing, indicating the code is valid. Fill out the rest of the form with your details. Click the button that says "Sign up free & spin up my first server".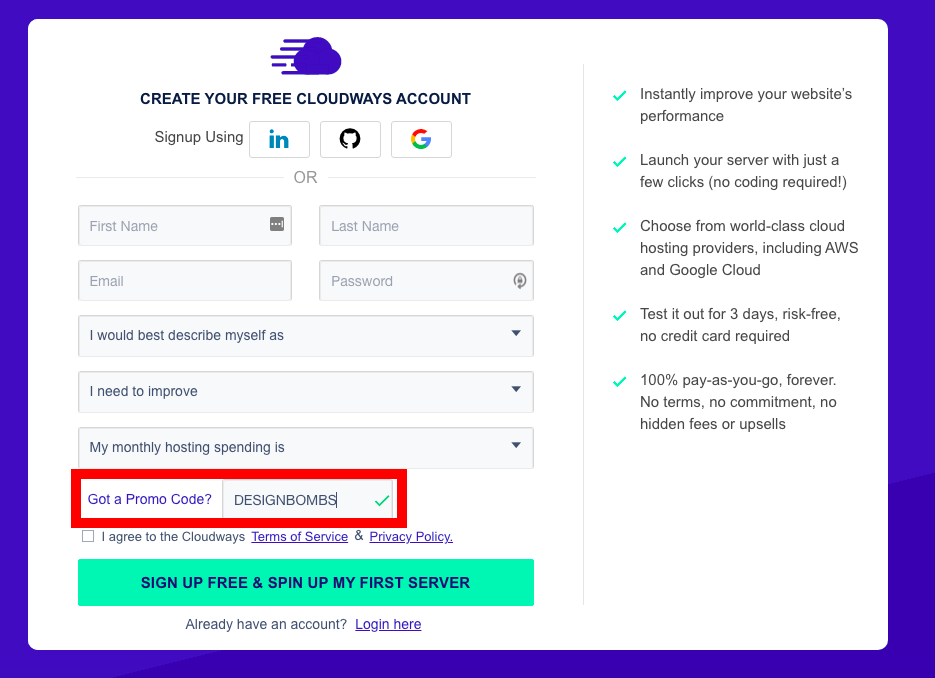 You should get a message that your registration has been accepted. You'll need to email the activation team to activate and start using your account.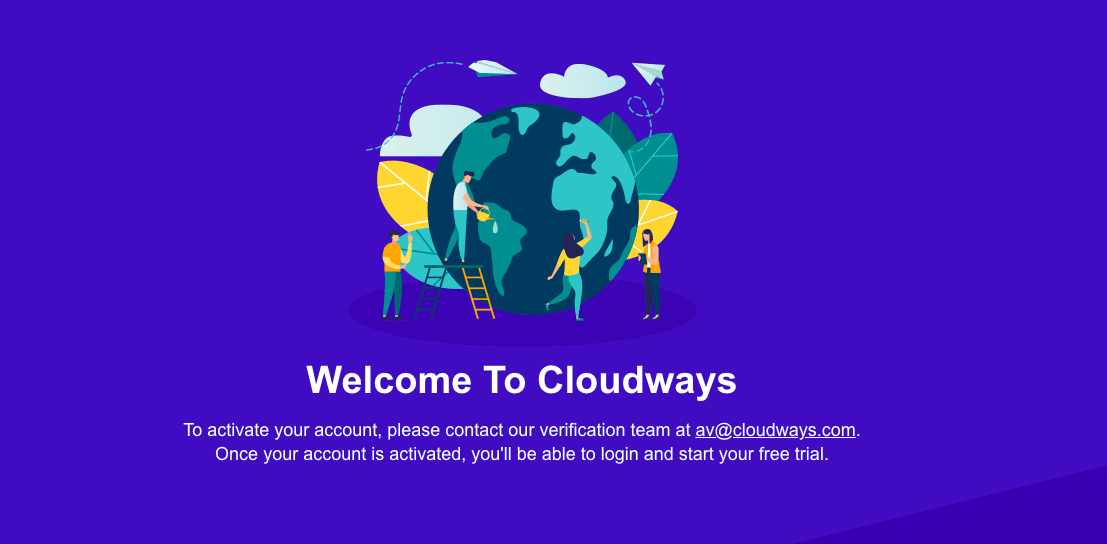 After the 3-day free trial, you can input your payment information to continue with a paid account and get 30% discount for the first three months.