8 Best Contact Form Plugins for WordPress
Contact forms play an important role in just about every website and having one set up on your site is a must. They provide a neat, clean, and easy to use interface that enables your site's viewership to contact you.
There are many different ways of getting a contact form up and running on your WordPress site. You could use the one that comes built-in with your theme, you could use a handy dandy plugin, or if you're really technically minded, perhaps you'd rather create one yourself from scratch.
In this article, I will run the rule over some of the best contact form plugins for WordPress and highlight their standout features along the way. By the end of the article, you'll hopefully be able to decide which contact form plugin solution is best for you.
Let's get started!

WPForms is a powerful, feature-rich form building plugin. You can easily add beautiful forms to your site, including contact forms, subscription forms, payment forms, and any other type of form you can think of.
WPForms comes with pre-built templates that will have you up and running in no time at all. You aren't locked into the design of the template either, you can easily move elements around to your liking. And if you prefer to create your form yourself, the intuitive drag and drop online form builder has you covered.
With the WPForms plugin, you won't have to worry about spam. The plugin uses both smart CAPTCHA and the Honeypot method to make sure spam submissions don't get through. It's also one of the fastest form plugins available and is fully mobile responsive.
If you want a reliable plugin full of advanced features for your WordPress site, WPForms is a great option.

Contact Form 7 is one of the most popular (and free) contact forms available for WordPress sites. This powerful plugin can handle multiple contact forms allowing your site's viewership to contact you directly.
If you're technically minded, you can tinker with its open-source code to customize it to your site's brand. Contact Form 7 features AJAX-based forms which make the submission process faster by eliminating one page load time. The plugin also enables users to add CAPTCHA to filter out any messages generated by spam bots.

If you are looking for a very easy way to build forms for your WordPress site, you may want to go for Ninja Forms. Ninja Forms' underlying powerful framework enables users to leverage the drag and drop interface for generating forms with ease.
It features a vast library of add-ons to choose from which are designed to help you with your forms. Using the help of the many add-ons, you can also build your email list easily using the famous mailing list tools like MailChimp or MailPoet etc.
Collecting payments or donations couldn't be any easier with Ninja Forms' extensions as it enables you to collect payments through Stripe, PayPal Express, or Elavon.

The developers behind Gravity Forms have declared them to be the best contact form plugin for WordPress sites – and for good reason; it has over a million downloads as of this writing! Gravity Forms features the Form Builder which enables users to quickly build and design their WordPress forms.
Gravity Forms offer an extensive notification system which allows you to easily configure your notification emails which are sent upon form submission.
It is a very powerful plugin in terms of performance and customization and especially suitable for users who like to think outside the box. Gravity Forms is highly customizable; you can change the themes if you don't like the default one. Plus it's really easy to customize the look and feel of your form within minutes.
Best of all, Gravity Forms is a WordPress-specific plugin which guarantees uniqueness in form designs.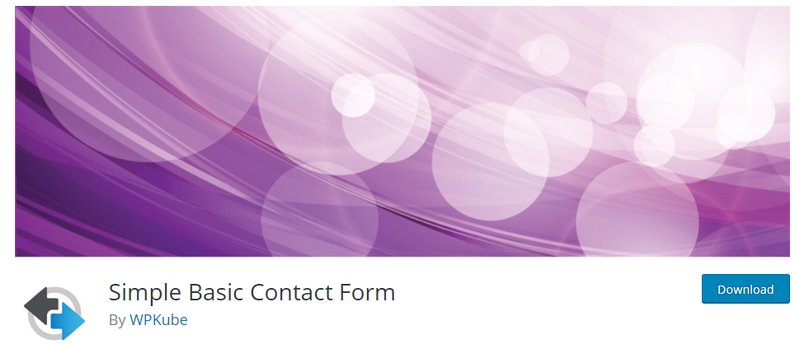 Simple Basic Contact Form is a completely free WordPress plugin you can use to create and embed a simple contact form anywhere on your website. It features a minimal form design and includes a simple process for setting up the contact form, making it a great choice for beginners.
The plugin also comes with plenty of other useful features such as the ability to block bots and spam emails with its built-in captcha challenge questions option. It also utilizes clean code making it a very lightweight plugin.
Simple Basic Contact Form plugin does its job perfectly by sending simple and formatted text emails via your contact form as well.

Visual Form Builder is a plugin that gives you the blessing of managing and building all kinds of forms for your WordPress site in one place. You don't have to worry about writing long HTML, CSS, or PHP codes anymore as Visual Form Builder allows you to build amazing, fully working contact forms effortlessly.
It lets you add fields with just one click along with multiple field layout options which let you arrange your fields in a combination of columns.
Visual Form Builder automatically stores all of your form entries directly into your WordPress database which can, later on, be managed in the WordPress dashboard. As an added bonus, you can always export the entries to a CSV file.

Contact Form is one of the most simplest and easiest to use contact form plugin there is. It's really easy to use even for rookies. Fully functional contact form which really looks amazing on all screen sizes and even on mobile phones. Contact Form lets you easily translate all of your forms into any language by using a simple language customizer.
You'll never miss an important email from the visitors with Contact Form abroad as it lets you specify your default or additional email addresses resulting in email notifications.
Spam attacks won't be a problem here as the Contact Form plugin provides Captcha which gives high-quality protection.

One form plugin we can't forget about is the Jetpack Contact Form. This add-on will help you in simplifying all of the managerial work of your WordPress site.
The Jetpack Contact form ensures simplicity by giving visitors stats, speeding up images, maybe helping you get more traffic, and most importantly, providing top-notch security services. It helps your WordPress site get more traffic using various tools plus it shows you how many visitors you get.
Jetpack Contact Form also provides great security by protecting your site against spam attacks or unauthorized logins. And one of the best things about using a Jetpack extension is that it keeps the plugins updated. Another powerful feature is that it optimizes images on its own by using the global www.WordPress.com content delivery network, which results in reducing bandwidth thus lower hosting costs.
How to Pick the Right Contact Form?
Those of you who are serious about the addition of contact form plugins and the impact they can have on your WordPress site should definitely go for one of the premium options listed above.
1WPForms is ideal for WordPress site owners who want premium features. WPForms is a premium WordPress plugin that enables users to create all kinds of advanced contact forms for their site and features custom fields along with the ability to drag and drop them.
2Ninja Forms is perfect for those of you who want to try out the free version before paying for the premium version. With over one million downloads, Ninja Forms gives users the flexibility to create custom contact forms. Its premium version comes with 40 add-ons you can leverage to maximize the plugin's functionality.
3Contact Form 7 is a lightweight contact forms solution. Those of you who don't want to reach out for their wallets for a contact form plugin can go for the free Contact Form 7 plugin for WordPress that has just the right amount of functionality to get your contact form up and running.
Wrapping It Up
Contact forms are a must-have for anyone who has a website – whether it's an e-store or a personal portfolio – you need to set up a platform through which your viewership can contact you. We covered some of the best contact form solutions available for WordPress users and offered some insight for narrowing down your options.
We hope this article helped you find the best contact form plugin for your site. You may also want to see our comparison of 5 best landing page WordPress plugins.
Which contact form plugins have you tried out and which features are most important to you in a contact form? Is there any contact form plugin on our list that you'd recommend to webmasters? We'd love to hear from you so let us know in the comments section below!