If you're looking for a WordPress LMS plugin to create an online course, we're currently offering Design Bombs readers a massive 40% off all packages.
Ready to get the discount? Click here to get the best price on LearnDash. Your 40%-off coupon code will be automatically applied on the pricing page.
Want to know more about LearnDash? Read on to find out more!
What is LearnDash?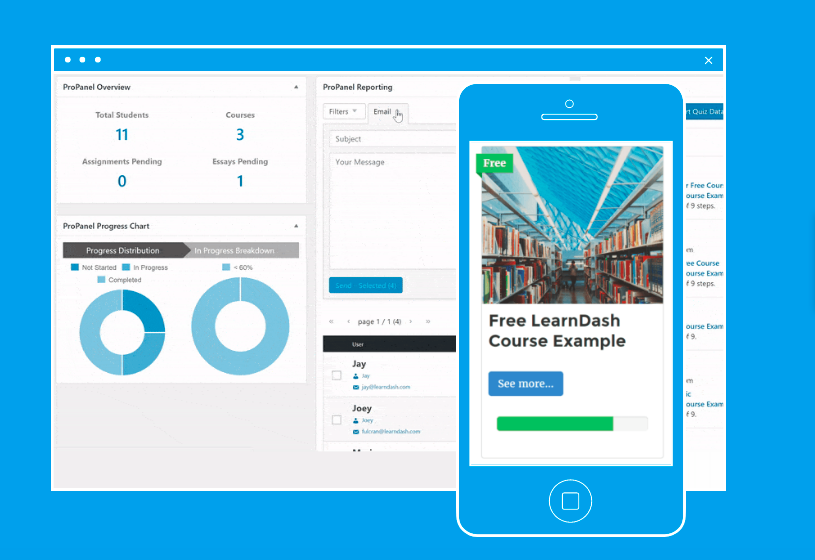 LearnDash is a WordPress LMS or courseware plugin that is used by universities, major companies, training organizations, and entrepreneurs all over the world to power their online courses.
With LearnDash you can easily create and sell online courses, drip-feed content on a set schedule, reward learners with certificates, points, and badges, and engage with learners during their course.
Some organizations using LearnDash to power their online courses include Infusionsoft, Problogger, OptinMonster, University of Florida, University of Michigan, and University of Washington. Click here to see some examples of how these companies are using LearnDash.
LearnDash also comes with a suite of tools to help you to market and sell your course including support for different pricing levels and payment gateways, renewal reminders, and refund protection.
To get a better idea of how LearnDash works, you can visit the demo site.
LearnDash Features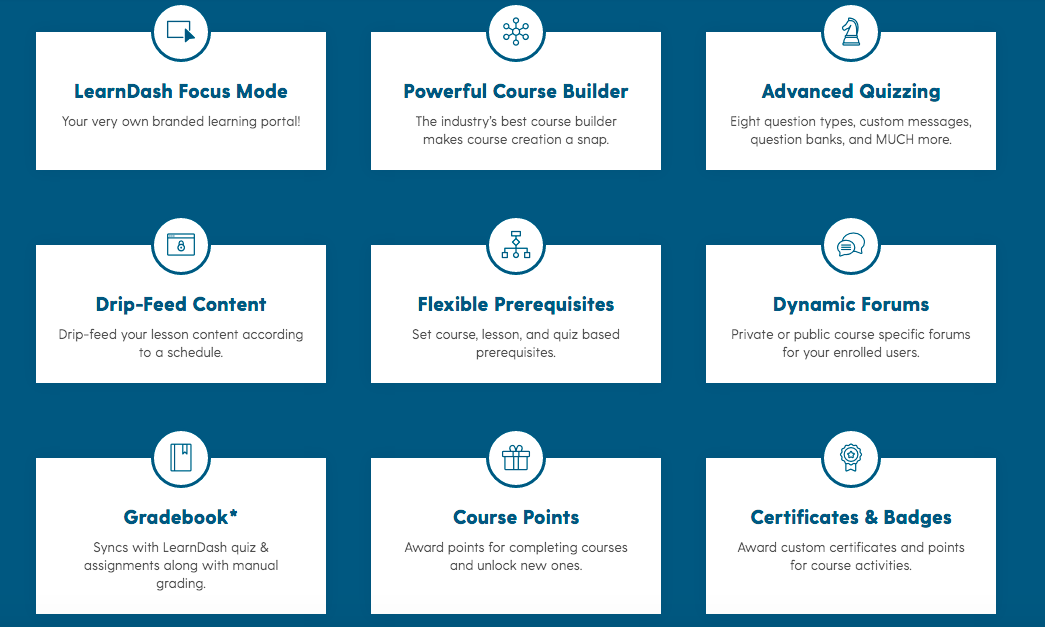 LearnDash is one of the most fully-featured LMS plugins available for WordPress. Here's what you get when you sign up:
A powerful drag & drop course builder, which enables you to build your first online course in minutes.
Advanced quizzes with question banks and 8 different question types.
LearnDash Focus Mode – a branded virtual learning environment that helps your students to block out distractions and improve retention and completion rate.
Drip-feed content on your own lesson schedule.
Public or private course forums for your students.
Course, lesson, and quiz-based prerequisites.
Syncs with LearnDash Gradebook and quiz to automatically grade classes, or you can assign grades manually.
Award points, certificates, and badges for completing courses and other activities.
Set up one-off, subscription, or traditional membership payments with a shopping cart and payment gateway.
Sell course bundles.
Create a course marketplace like Udemy.
User profiles and user group management.
Automatic email notifications to increase learner engagement.
Detailed reporting on enrollment and user progress
Automatic access expiration.
Works with any WordPress theme
Multisite enabled.
Works on mobile devices.
Insert any media including videos, images, Google Docs, and more.
Supports Tin Can API, SCORM, iSpring, Articulate Storyline, Adobe Captivate, H5P, and more.
ProPanel enhanced reporting (with Plus and Pro plans) allows you to see real-time user activity, manage assignments and essays, download user progress, get an overview of course enrollment and completion data, and more.
Click here to see full details of all features.
LearnDash Plans
Your LearnDash discount code is valid for all 3 LearnDash plans. You can compare the features of each plan in the table below.
| | | | |
| --- | --- | --- | --- |
| Plan | Basic | Plus | Pro |
| Price | $199 (+ extra 40% off with our discount code) | $229 (+ extra 40% off with our discount code) | $369 (+ extra 40% off with our discount code) |
| Number of site licenses | 1 | 10 | 25 |
| ProPanel | ✗ | ✓ | ✓ |
| Unlimited courses | ✓ | ✓ | ✓ |
| Unlimited users | ✓ | ✓ | ✓ |
| Course content protection | ✓ | ✓ | ✓ |
| Drip-feed lessons | ✓ | ✓ | ✓ |
| Advanced quizzing | ✓ | ✓ | ✓ |
| Certificates & badges | ✓ | ✓ | ✓ |
| Course forums | ✓ | ✓ | ✓ |
| Email notifications | ✓ | ✓ | ✓ |
| Free integrations | ✓ | ✓ | ✓ |
| Support & upgrades | ✓ | ✓ | ✓ |
| Bonuses | Demo site template | Demo site template | Demo site template |
Documentation and Support
Don't worry if you don't have any web development skills or you're new to WordPress: LearnDash is easy to set up and comes with full documentation and support to help you get up and running.
Once you activate your account, you'll have full access to:
Getting started guides and tutorials
Video tutorials
Step-by-step documentation
Community forums
A responsive help desk
Support from and guidance from professionals with experience in the e-learning industry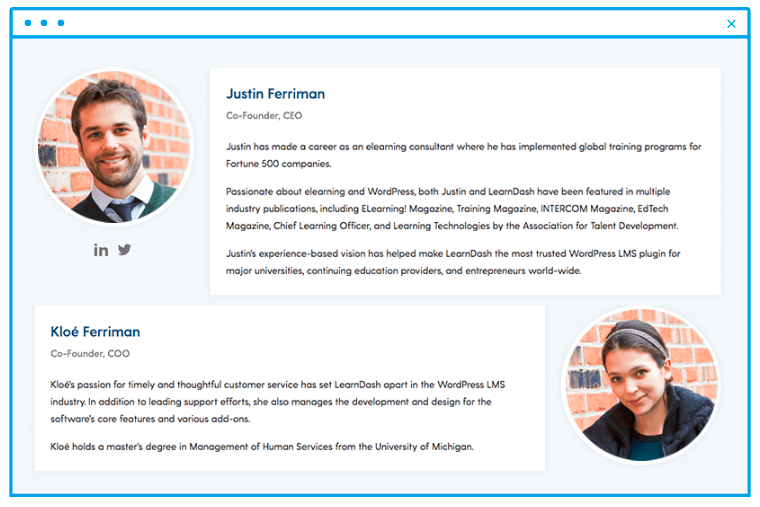 LearnDash Coupon FAQs
Q: Who is LearnDash for?
A: LearnDash is designed for anyone who wants to create an online course or turn a WordPress site into a learning management system. This includes educational organizations, individuals offering free and paid courses, private organizations wanting to organize training for their staff, and WordPress designers who have been asked to set up an LMS by a client.
Q: Which plan should I choose?
A: LearnDash is available as 3 plans: Basic, Plus, and Pro. The plan most suitable for you depends on how many sites you want to use the plugin on and which features you need. You can compare the features of each plan in the table above.
Q: Can I get a free trial?
A: LearnDash does not currently offer free trials. However, the 30-day money-back guarantee means that if you find it's not suitable for your project, you can apply for a full refund within 30 days of purchase.
Q: Is LearnDash compatible with my WordPress theme?
A: LearnDash is built to be compatible with most modern WordPress themes. You can see a list of recommended themes for using with LearnDash here.
Q: Can I upgrade to a different plan later?
A: Yes, you can upgrade to another plan at any time by using the LearnDash support site.
Q: Can I pay monthly?
A: All LearnDash plans are currently billed annually
Q: What is ProPanel?
A: ProPanel is a premium add-on for LearnDash that is included with the PLUS and PRO packages. ProPanel gives you additional analytics data about your courses, including completion metrics and learner activity.
Q: Do I need a membership plugin to use with LearnDash?
A: No, LearnDash is a complete online course solution and does not require any third-party membership plugins to work correctly.
Q: Does LearnDash work with WordPress Multisite?
A: Yes, LearnDash is compatible with WordPress Multisite
Q: Is LearnDash translation-ready?
A: Yes, you can create courses in multiple languages with LearnDash and there are full instructions for how to do this. Translations are currently available for Arabic, Chinese, Danish, Dutch, French, German, Hebrew, Italian, Polish, Portuguese, Russian, Spanish, and Swedish, or you can add your own language.
How to Use the LearnDash 40% Off Coupon
If you've been on the fence about investing in a premium LMS WordPress plugin, there's no better time than now to take advantage of our 40% discount code for LearnDash.
Click the button below to be taken to the LearnDash site, click the "Get Started!" button.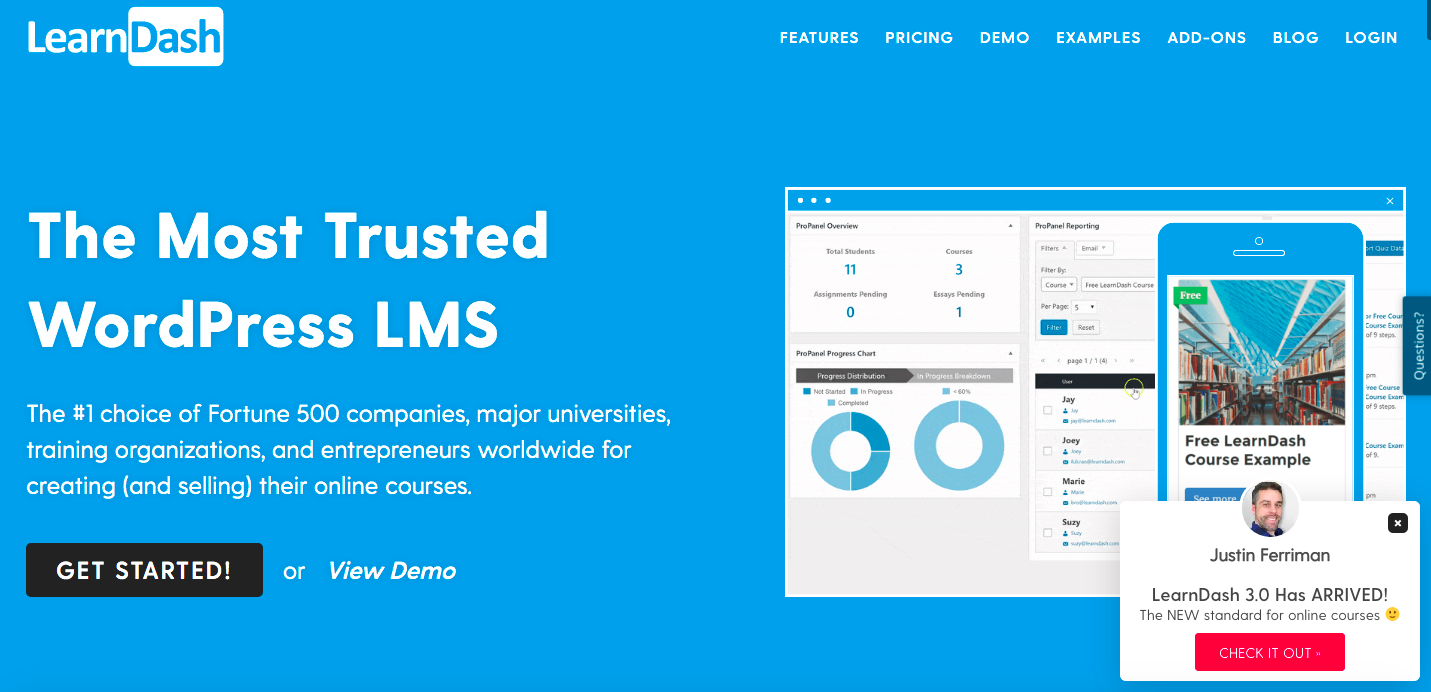 Choose your plan, and click the "Add to Cart" button. Your 40% discount code will be automatically applied.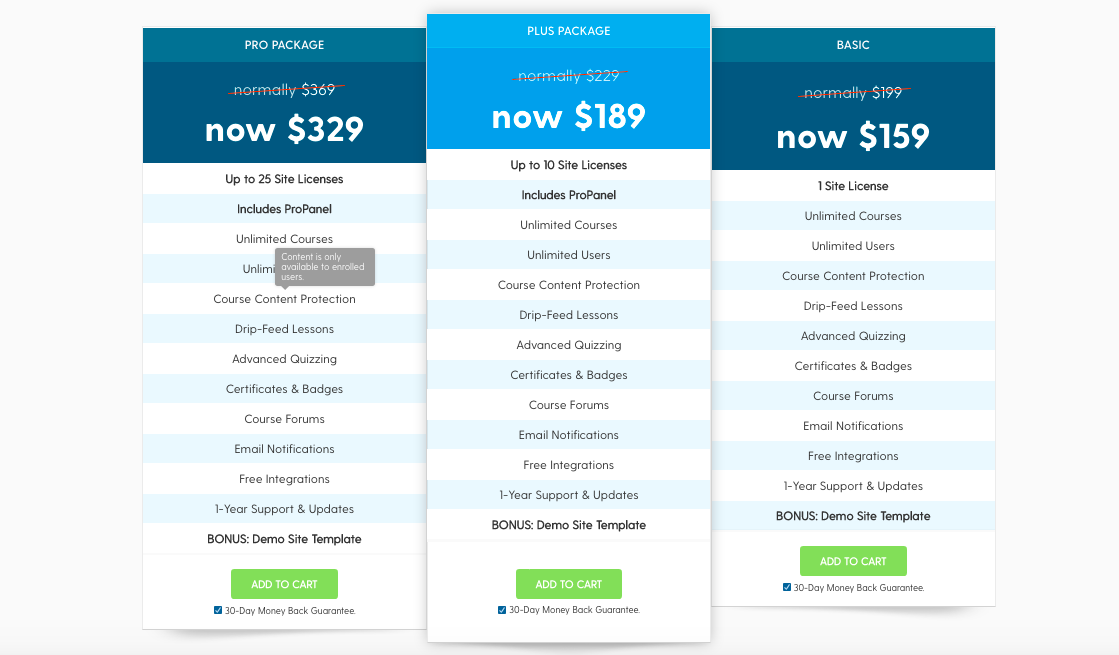 Fill out your account and payment information and click the "Submit Order" button to get this great deal before it's gone.