InMotion Hosting Review: A First Impression
With their primary focus on providing unparalleled hosting, InMotion Hosting is a web hosting company that stands by you.
Finding a reliable hosting provider that is seemingly tailored to fit your site's needs can be a daunting task – especially if you're on a budget. InMotion Hosting markets itself as the #1 in Transfers, #1 Support Team, #1 Industry Guarantee.
In this post, we'll delve right into the hosting providers' features and test out the service's speed on a live site and test for page load times. We'll finish off with a review of InMotion Hosting's customer support, usability, and pricing structure.
Let's start out with a brief overview of the hosting company.
InMotion Hosting Review
InMotion Hosting prides itself on its web hosting team of experts who have an average of 4 years of professional hosting experience. The independent web hosting company started out back in 2001 and has made quite a name for itself since then.
Our goal is to thrill every customer with our expertise, professionalism, availability and honest desire to see them succeed.
InMotion Hosting's differentiating feature is their dedicated team of trained associates that provide the company's customers with top-notch customer service and support. Each member of their support staff undergoes over 150 hours of training before they deal with the company's valuable customers. Talk about premium service!
Features
InMotion Hosting comes with a range of advanced features that'll do justice to your site's content and give you a premium-quality service that you can rely on. Though this hosting provider isn't a WordPress-focused hosting service, it's still one of the most reputable and trusted hosting solutions for WordPress sites. The company owes its popularity to its award-winning technical support staff that's available around the clock and are known to be one of the friendliest support staffs around.
The web hosting provider includes SSD drives free of charge with their hosting plans. Most other hosting providers charge for this feature but it's included right out of the box with InMotion Hosting. Customers get unlimited disk space and monthly transfers on the hosting plans.
Free Data Backups
Another awesome feature on offer here is the free data backups. With this service, you can completely forget about manually backing up your WordPress site or installing a third party plugin to do it for you. The hosting provider's shared hosting plan includes this feature as well which makes it stand out from the competition. You'll find that with other hosting solutions, the company only offers free backups with their managed hosting plan but InMotion Hosting also offers it on the shared hosting plan.
One-click Installer
InMotion Hosting's hosting plans ship with a one-click installer that enables webmasters to install over 300 applications and come with secure IMAP email that can be accessed from any device. One of the best features about InMotion Hosting is that it integrates seamlessly with Google Apps enabling webmasters to feel right at home with their day to day tasks.
90-day Money Back Guarantee
InMotion Hosting lets customers try out their service with a 90-day money back guarantee. If you're not pleased with their service or the quality of customer support, you can take them up on the offer and have your money refunded.
Let's quickly sum up the features on offer with InMotion Hosting before we move on to the next section:
Free SSD drives.
Free data backups.
Free one-click installer for applications.
SSH access.
Free domain – new or existing transfer.
Google Apps integration.
Max Speed Zone.
90-day money back guarantee.
With these premium-quality features in store, you're bound to expect the hosting service to come with a hefty price tag attached. In fact, it's quite the opposite with InMotion Hosting. The leading web hosting provider's hosting plans start from as little as a few bucks every month and come with all of the features we listed above!
Regardless of the size of your online business, InMotion Hosting has a package tailored to your site's needs that'll give you the absolute best value money can buy.
Now that we've gotten the company's brief history out of the way and discussed the features they offer, let's draw out an evaluation criterion based on which we'll analyze InMotion Hosting from a webmaster's perspective. In the following section, we'll take a look at:
Speed
Usability
Customer Service
Plans and Pricing
Evaluation of InMotion Hosting
By now we've established that InMotion Hosting does pretty well in the features department and provides its customers with top-quality support from a team of dedicated, professional web hosting experts. But how does the service actually scale up with real world tests and usability factors? Let's start with the most important factor…
Speed
One thing's for sure – you can't be satisfied with a hosting provider until you've put it to through the speed test. To provide you with real data, we've signed up for InMotion Hosting's shared hosting package with our test site and we'll conduct a real-world experiment to test it for page load times.
Keeping that in mind, I monitored the site DesignBloq.com on Pingdom and GTMetrix to see how fast the page loads. Check out the results for yourself!
Pingdom Test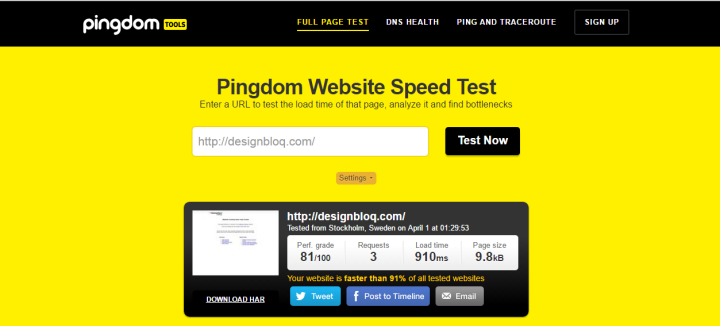 GTMetrix Test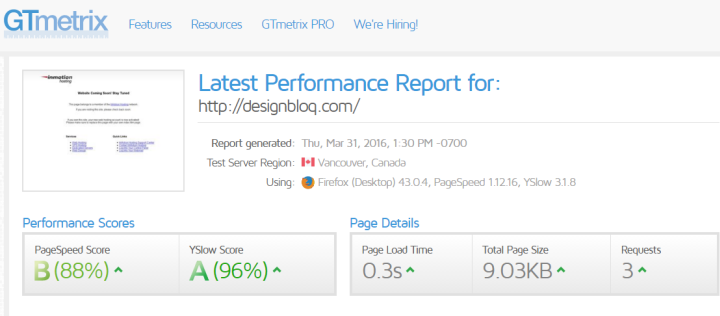 InMotion Hosting gave excellent page load times on both Pingdom and GTMetrix with the test site loading in under a second both times!
Usability
InMotion Hosting has an intuitive and user-friendly back end that gives users full control over their websites. Depending upon your level of expertise, your budget, and the size of your website, you can pick from one of six hosting services on offer at InMotion Hosting.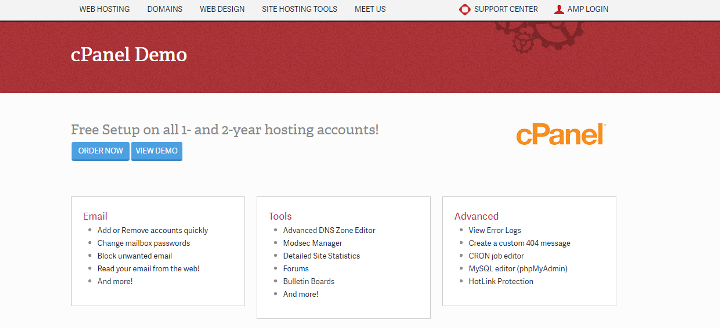 With the shared hosting plan, you'll have to manage your WordPress site from the cPanel on your own but if you choose to go with the managed hosting service, the support team will take care of everything for you from site maintenance to security. The cPanel interface itself is easy to navigate through and empowers users to create email addresses, manage SSH logins, and setup multiple FTP users. Hosting management has never been easier!
Customer Service
InMotion Hosting's customer service representatives are some of the best around. If you ever come across any problems, you can contact the support staff and rest assured that you'll get expert advice and guidance. Instead of following a pre-determined script they are actually knowledgeable in troubleshooting and can help you identify and resolve the issue you're having in no time.
That said, if you're the kind of person who likes to figure things out for themselves, you can access InMotion Hosting's knowledge base to figure out how to remedy your problem or acquire the information you need to proceed with a particular task.
Plans and Pricing
InMotion Hosting is all all-out, independent hosting provider that has something in store for everyone. It has various different kinds of hosting service that it offers its customers. This includes:
Business Hosting.
VPS Hosting.
Enterprise Hosting.
Reseller Hosting.
WordPress Hosting.
Managed Hosting.
Whether you're in search for a hosting plan to power your personal travel blog or one to run your large-scale e-commerce site on, you'll find a plan with InMotion Hosting that's seemingly tailored just for you. If we're talking about WordPress hosting, InMotion Hosting offers this service to users of varying levels of expertise and skills. The WordPress hosting service comes in three different flavors:
The Launch plan starts at $3.49 per month and can be used on 2 websites, 6 parked domains, and 25 sub domains.
Priced at $4.49 per month, InMotion Hosting's Power plan is the most popular choice for small businesses. It can be used to power 6 websites and it comes with 26 parked domains and 100 subdomains.
The Pro plan comes with a price tag of $11.99 per month. This plan is used mostly by developers and growing businesses that need to power unlimited websites. Another major plus point of the Pro plan is that it gives customers access to the pro level support offered by InMotion Hosting.
Forking out a few buck each month for premium-quality features and expert support seems quite reasonable. Best of all, if you're not satisfied with the service, you can take the company up on their 90-day money back guarantee. It's a no brainer!
In addition to this WordPress-optimized hosting plan, customers can also go for any other hosting plan and request for it to have WordPress pre-installed on checkout. Pretty neat, right?
Wrapping Up the Review
InMotion Hosting is truly an incredible hosting solution for WordPress users who are looking for a dedicated support team to help them out along the way. The company has some of the friendliest people behind the scenes helping customers.
If you're looking for a hosting provider to power a few sites or for your small business then InMotion Hosting is definitely a good alternative. It offers great value for money and comes with an extensive list of top-notch features that are sure to keep your site well-maintained and secure. Use the link below to get 47% exclusive InMotion Hosting discount on all plans.
Still not sure, take a look at our in-depth guide on choosing the right WordPress Hosting provider.
Have you ever used InMotion Hosting to power your WordPress sites? How was your experience with their service? We'd love to hear from you so let us know in the comments section below!