Divi Theme Review 2023 – Still the Ultimate WordPress Theme!
In this Divi review, I will show you what you can do with the Divi WordPress theme. Check out our Divi inspiration article to see what you can do with Divi 🙂
Divi is an all-in-one WordPress theme that can be used to build any type of website.
Hundreds of high-quality responsive pre-made Website designs are included with Divi and there are many different customization tools available to help you tweak things further. This includes their famous drag and drop page builder Divi Builder, their Theme Builder system and the Divi Library. The WordPress theme customizer is supported too.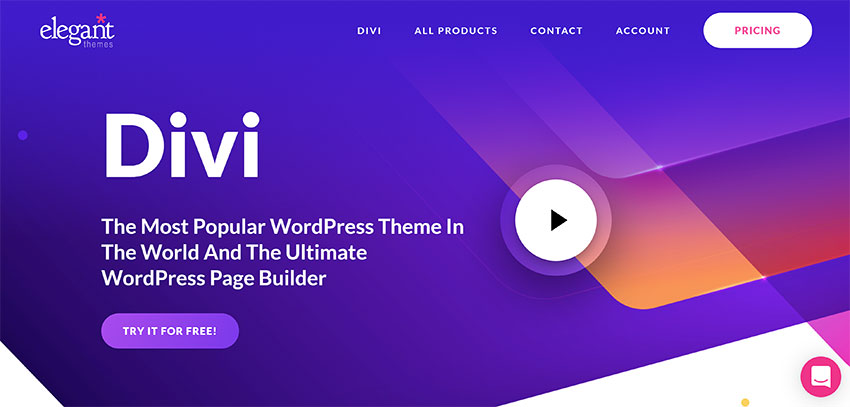 Since its launch at the end of 2013, Elegant Themes have continually refined Divi to ensure it remains the best all-in-one WordPress theme on the market.
It integrates beautifully with popular WordPress plugins such as WooCommerce and supports 32 languages natively (including right-to-left languages).
In this article, I would like to show you why Divi is still on top of the WordPress world in 2020.
📚 Article Sections:
Divi Theme vs Divi Builder: What's the Difference?
Divi was not the first all-in-one WordPress theme or the first WordPress theme to help you style your posts and pages, but Elegant Themes surprised many people when they launched Divi as it was such a great package.
In the first version of Divi, users could create beautiful posts and pages using "The Advanced Page Builder". This page builder was integrated directly into Divi and could not be used with other WordPress themes.
After thousands of requests, Elegant Themes rebranded the advanced page builder as Divi Builder. This standalone WordPress plugin allowed you to use Divi's page builder on any WordPress theme.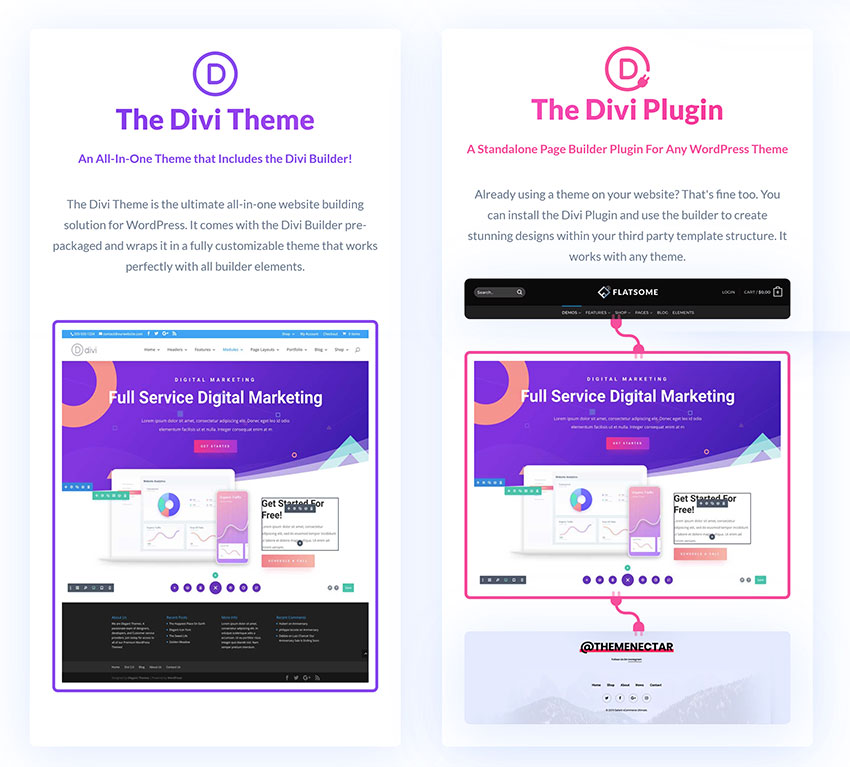 In short:
The benefit of this setup is that if you build many pages using Divi Builder, you can switch away from Divi theme to a different WordPress theme at a later date and your posts and pages will look the same.
Building Beautiful Websites with Divi Builder
Once you have activated Divi, you will see a "Use The Divi Builder" button in the WordPress editor.

Divi launched with a backend editor, however the latest version of Divi Builder is a frontend drag and drop page builder that lets you make changes on the frontend of your website.
In the editor page, however, you will see options to modify some page settings such as your preferred sidebar.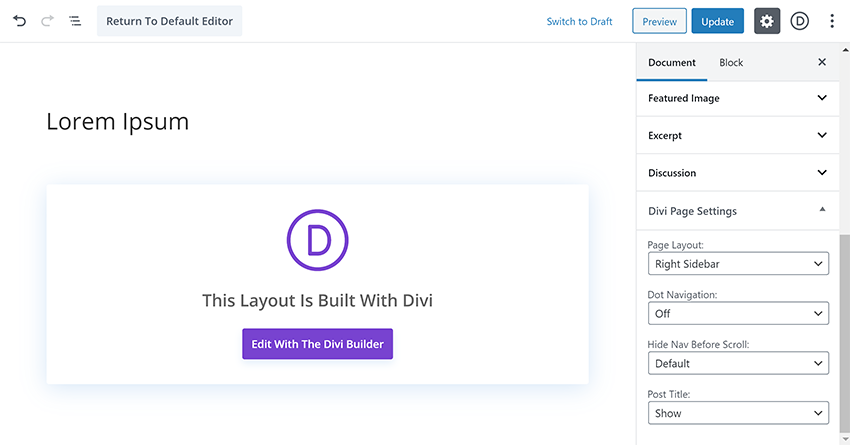 When you click to use Divi Builder, you will be asked to select one of three options.
You can choose to either use your existing content, choose a pre-made layout or clone an existing page you have created.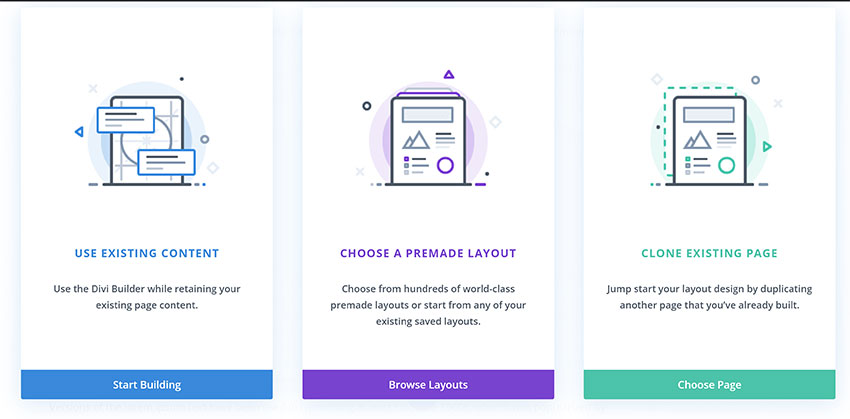 A pre-made layout is a fantastic way to get started with Divi.
Over a thousand high-quality pre-made layouts are available together with around 150 website packs that contain multiple page designs. There are layouts for over a dozen categories including art and design, business, health and fitness, online store and technology.
Whether you use a blank canvas, or a pre-made layout as a starting point, you can save any modifications using the Divi Library system. Layouts can be exported in JSON format and imported back into Divi at any time.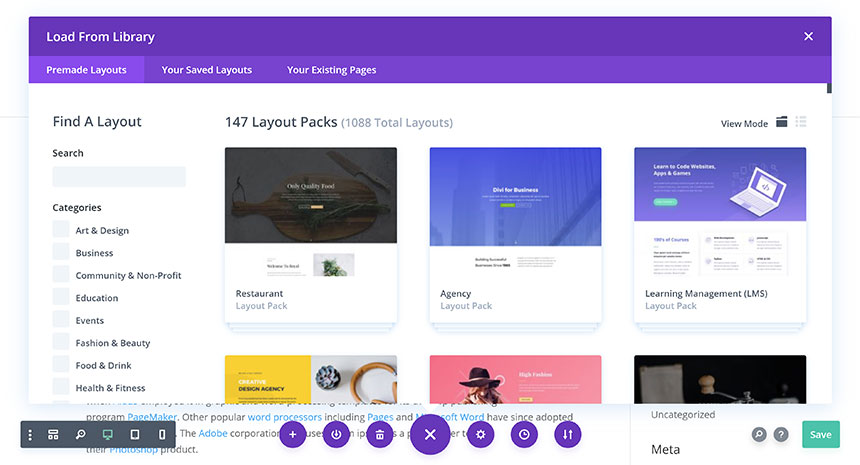 Divi Builder is simple to use, but like any WordPress page builder, you should spend some time messing around with designs to become accustomed to the user-interface.
The navigation menu at the bottom of the page acts as a central hub for accessing all options. From here you can load a layout from library, save your layout and clear your layout. You can also access page settings and view your edit history.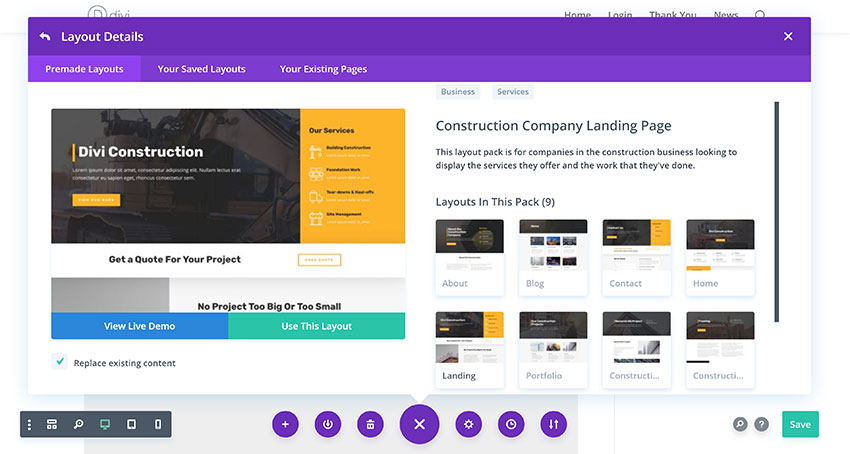 At the bottom-left of the page, there is a menu that allows you to access Divi Builder settings, change to wireframe view, zoom in and out of your layout and view your layout in desktop, tablet and mobile mode.
At the bottom-right, there are options to search, access help and save your page.
Don't worry if this sounds overwhelming as all of these options make sense once you have spent some time using the Divi Builder.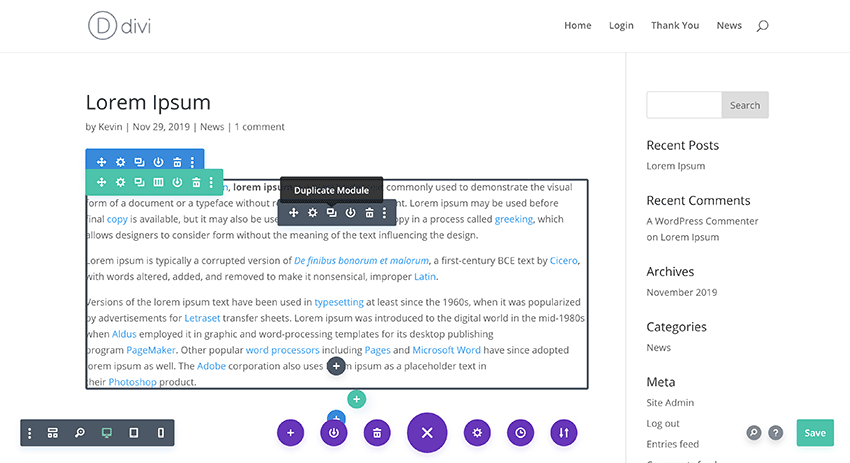 The wireframe view mode is particularly useful as it allows you to see the structure of your layout.
It's the perfect way of organizing sections, rows, columns, and more.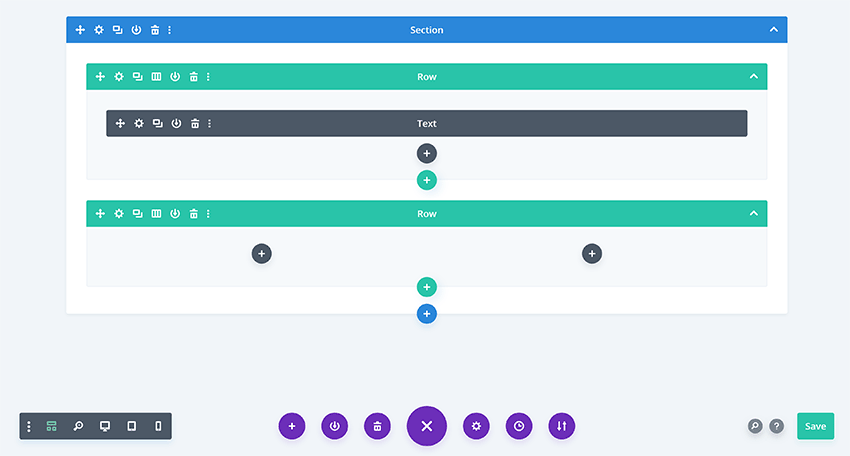 Dozens of content modules are available in Divi to help you shape and style your page.
You will find modules for comments, countdown timers, images, maps, posts, portfolios, video sliders and more. Any modifications you make to modules can be saved to your Divi library to be reused at any time.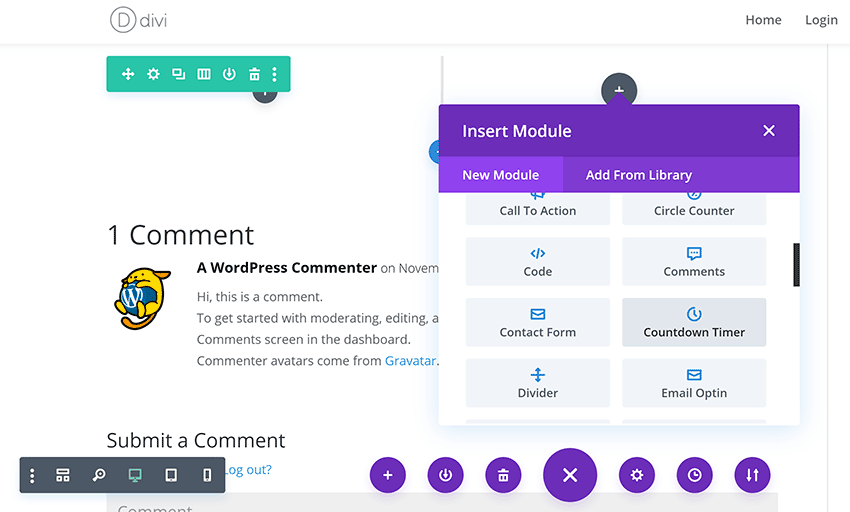 Elegant Themes have managed to strike a fine balance with Divi Builder. They have made it easy for beginners to pick up and create unique layouts, but there are many advanced features throughout the page builder that allow additional changes and tweaks.
Customising Your Website Design
Divi gives you many different ways to customize your website design.
In the main content area, which is controlled by Divi Builder, you can adjust every module, column, row, and section.
Spacing, structure, borders, colors, animations, position, visibility, CSS and more, can all be modified. The level of customization for each element of your page is impressive and if you make any mistakes, you can click to undo and redo your modifications.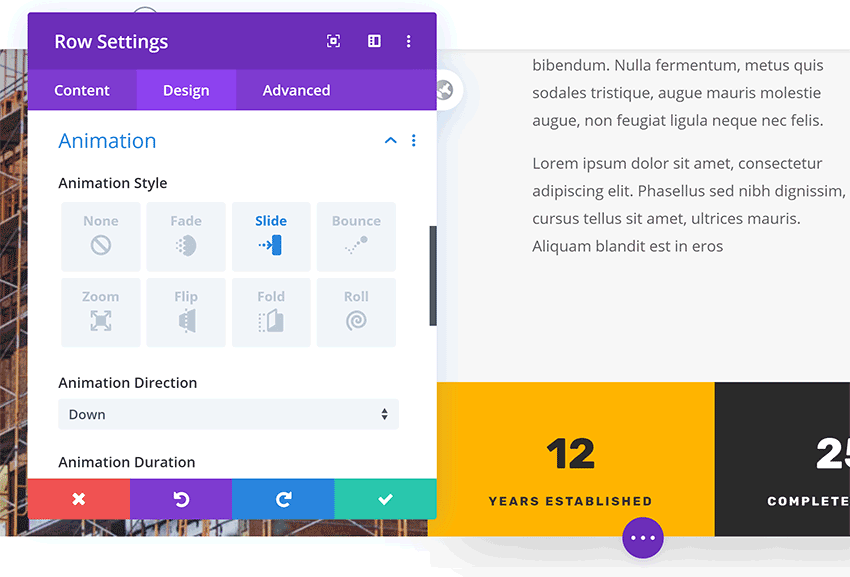 Another feature I love is the Divi Theme Builder.
This can be used to apply a global header, body and footer, across multiple areas of your website. It is a fantastic way of duplicating a layout you have created to all of your website or parts of it.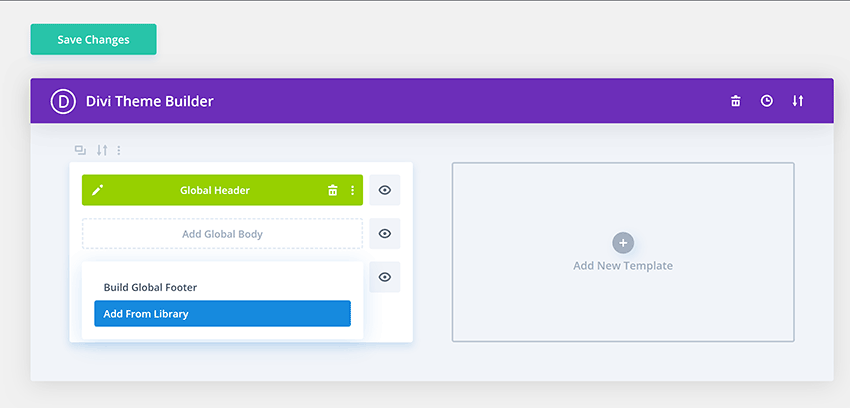 Divi Theme Builder allows you to create as many templates as you want and you can apply them to different areas of your website.
For example, I could apply one header and footer to pages, another to my blog and another to specific posts and pages.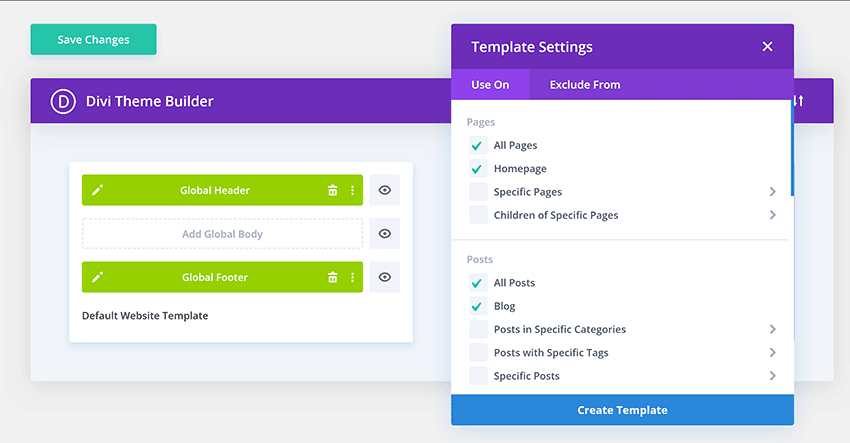 The WordPress theme customizer is also supported by Divi.
You can use this to make changes to your header, footer, navigation menus and more. Many different settings can be found here, such as colors, borders, and spacing.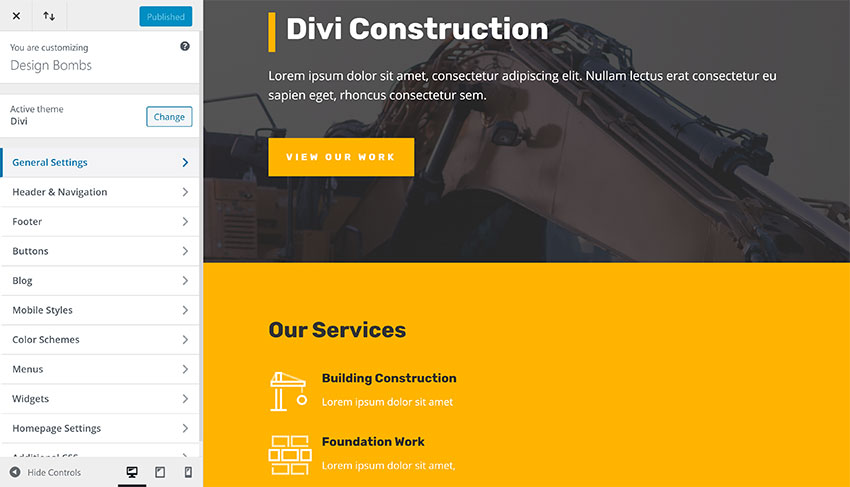 How much you can change your website design using the WordPress theme customizer depends on how you have constructed your page. Most content elements within the main content area (i.e. the body of the page) have to be amended through Divi Builder instead.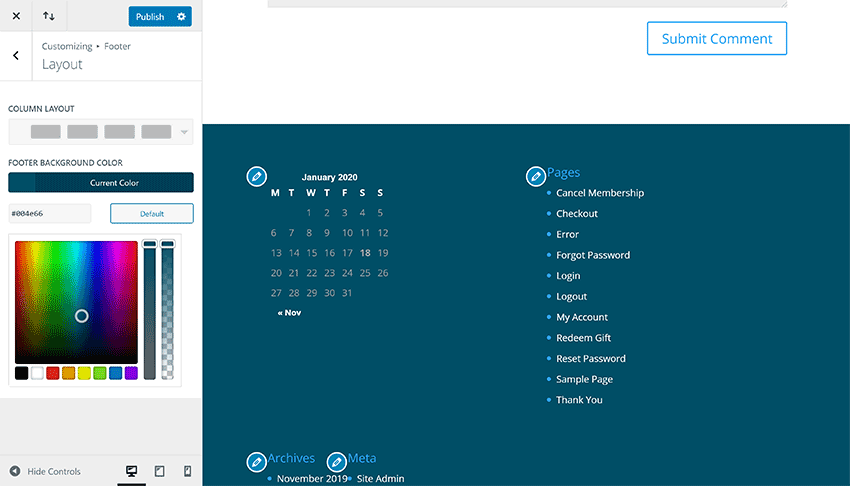 To get a better idea of how you can create unique layouts and customize your designs, check out the Elegant Themes Demo page.
Configuring Divi
The Divi admin menu links important configuration pages such as theme options, theme builder and theme customizer.
Please note that Divi Builder is not listed in this menu. To access Divi Builder, you need to use the "Edit with Divi Builder" button in the WordPress editor or the "Enable Visual Builder" link that is displayed at the top of your live website in the WordPress Toolbar.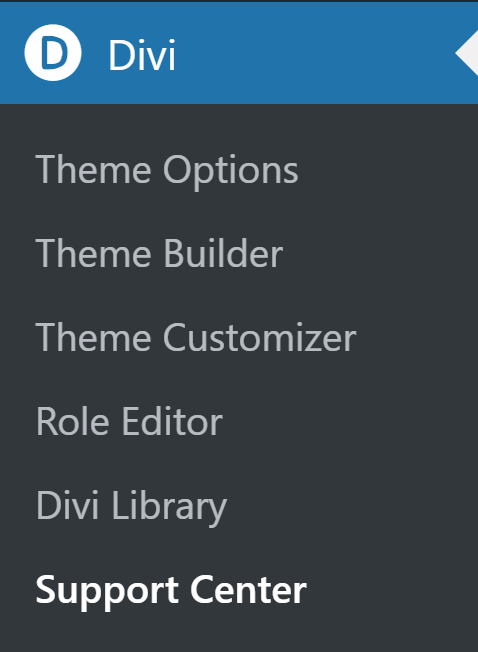 The main Divi options page is divided into eight sections: General, Navigation, Builder, Layout, Ads, SEO, Integration, and updates.
In the general settings section, you can enable and disable many design elements such as the Divi gallery and blog style mode. Social media profile URLs can be defined here too and you adjust how many posts are displayed.
In the next sections, you can modify your website navigation menus and specify which post types Divi Builder is active on.
Other options you will find in the theme options page include post and page layouts, a 468×60 banner advertisement, SEO for different areas of your website, and text boxes for inserting code into your website for scripts such as Google Analytics.
Be sure to add your Elegant Themes username and API key in the updates section too so that you can get automatic updates and priority support for Divi.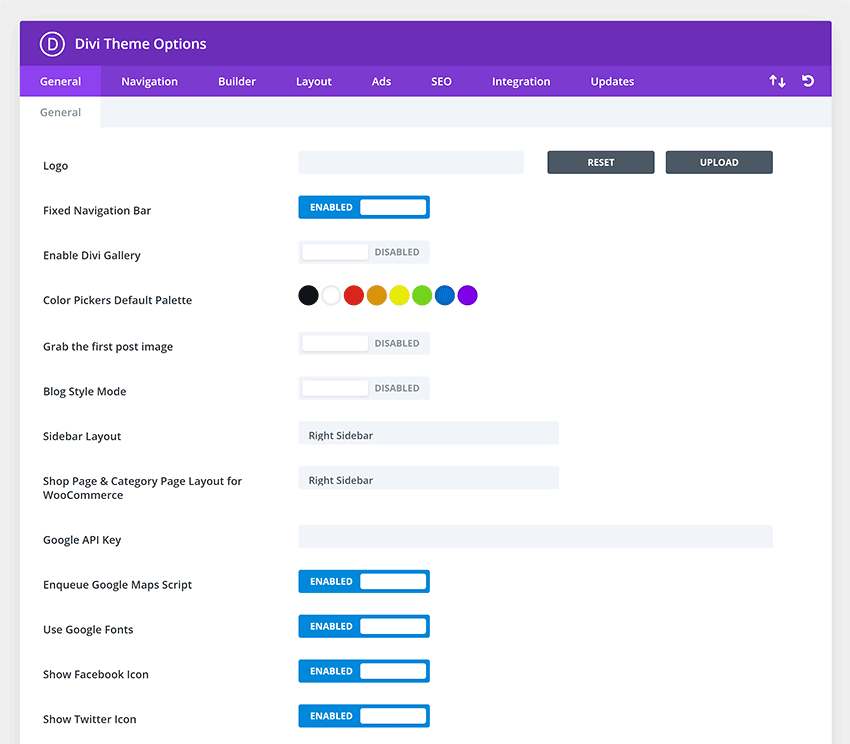 Divi's built-in role editor gives you full control over what each WordPress user group on your website can and cannot do.
You can specify whether a particular user group can use Divi Builder, whether they can adjust layouts, whether they can access support, and more.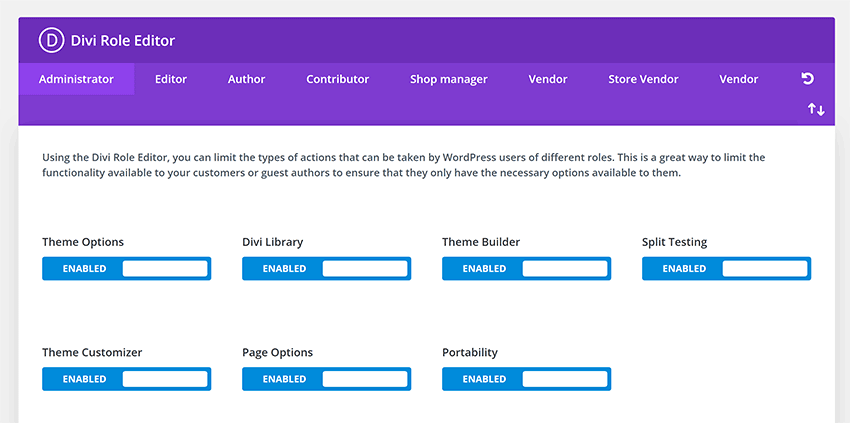 A number of third-party shops and marketplaces have launched over the last few years that offer Divi themes, layouts and plugins. This includes Divi Plugins, Divi Cake, Divi People, and Divi Life.
These products can expand the functionality of Divi even further.
The Divi Support Center
One of the latest additions to Divi is the Divi Support Center.
Nestled inside the Divi admin menu, the support center was designed to help Elegant Themes staff interact with customers better.
At the top of the Support Center page is a system status report that helps you see if your host has been correctly configured for Divi. As you can see, my test WordPress installation requires a few adjustments to host Divi efficiently.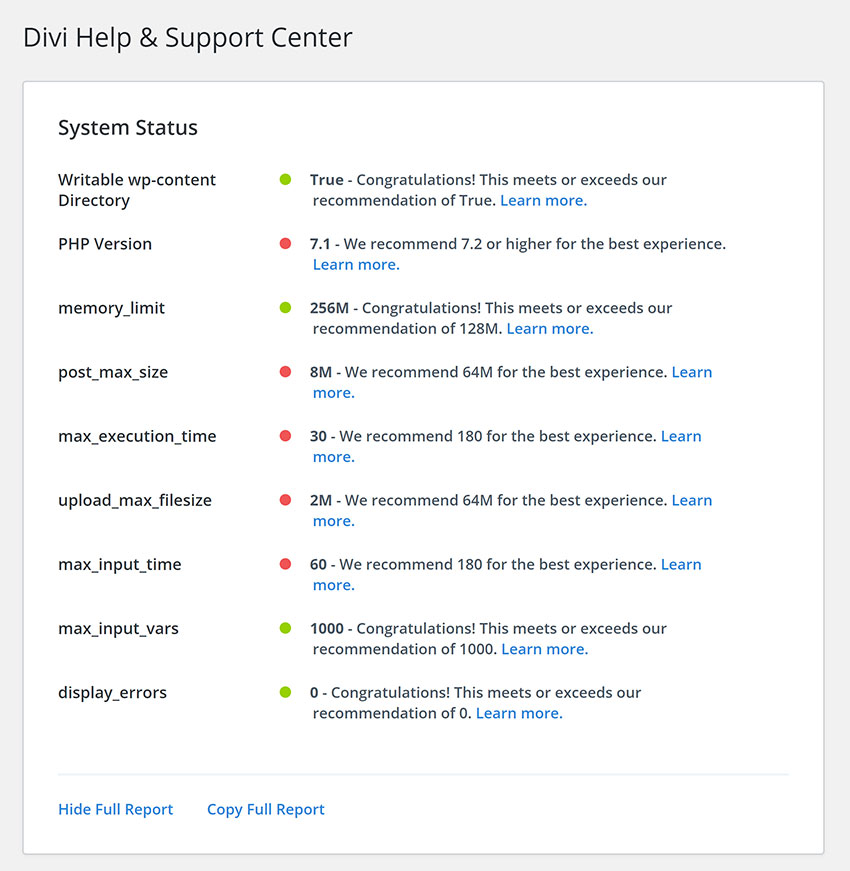 Remote access is available too. This will provide limited access to the Divi support team so that they can troubleshoot any issues you are having.
Helpful tutorials are also linked on this page.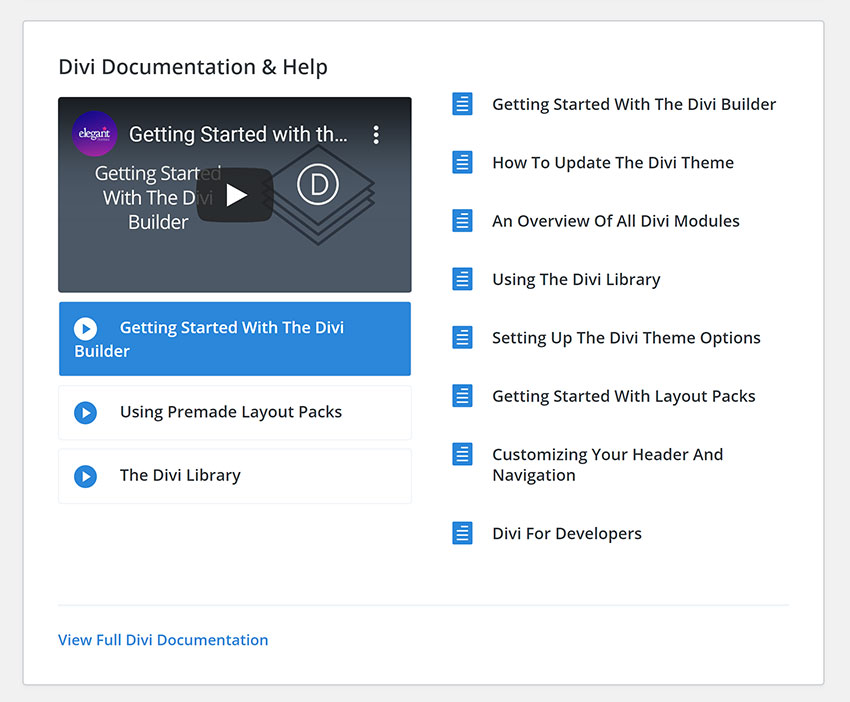 Divi have also included a safe mode option that will disable features and plugins that could cause compability issues.
Errors can also be added to a debug log for reference.

You do not always have to contact support directly.
If you are unsure about any feature, I recommend searching through the documentation area of Divi. You will find a host of written tutorials and video tutorials there.
You may also find help through the Divi Meetup Network and the Divi Theme Users Facebook group.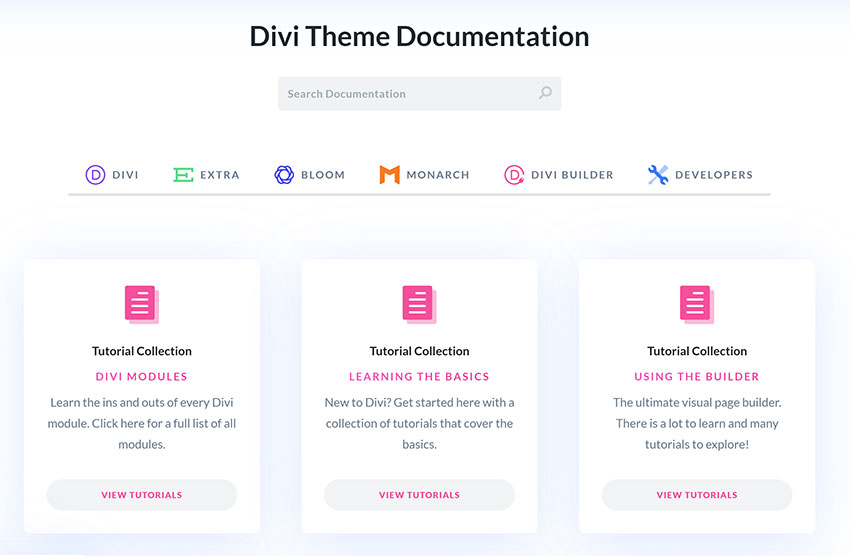 Elegant Themes do not restrict access to support either. They provide support to an unlimited number of websites you maintain.
How Much Does Divi Cost?
Elegant Themes have one of the simplest and fairest pricing policies in the WordPress world.
One license gives you complete access to all Elegant Themes products and you can use them on an unlimited number of websites.
You can choose to either pay $89 per year or pay a one-off fee of $249.
If you use our Elegant Themes discount code, you will get a further 20% off your purchase.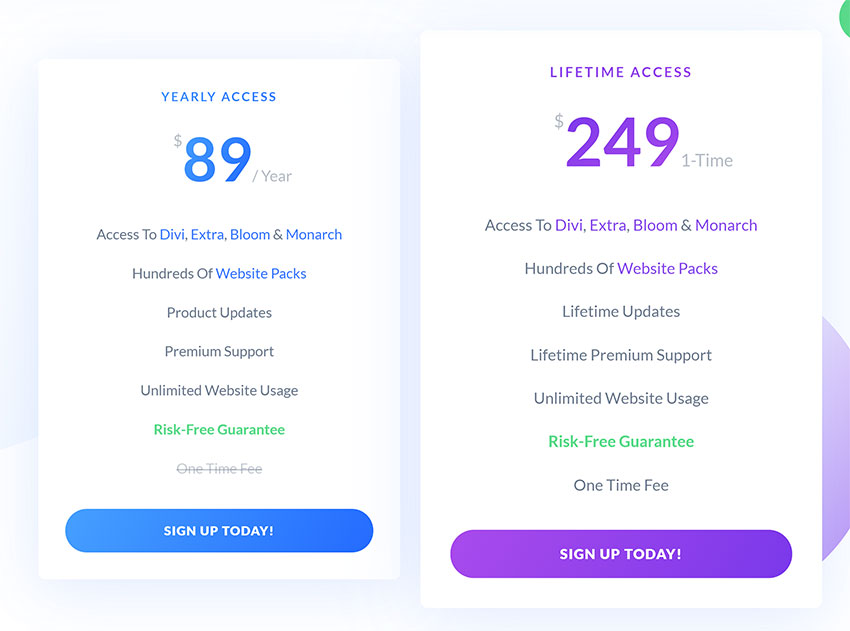 In addition to Divi, an Elegant Themes membership allows you to download the magazine WordPress theme – Extra, the email opt-in WordPress plugin – Bloom, and the social media sharing WordPress plugin – Monarch.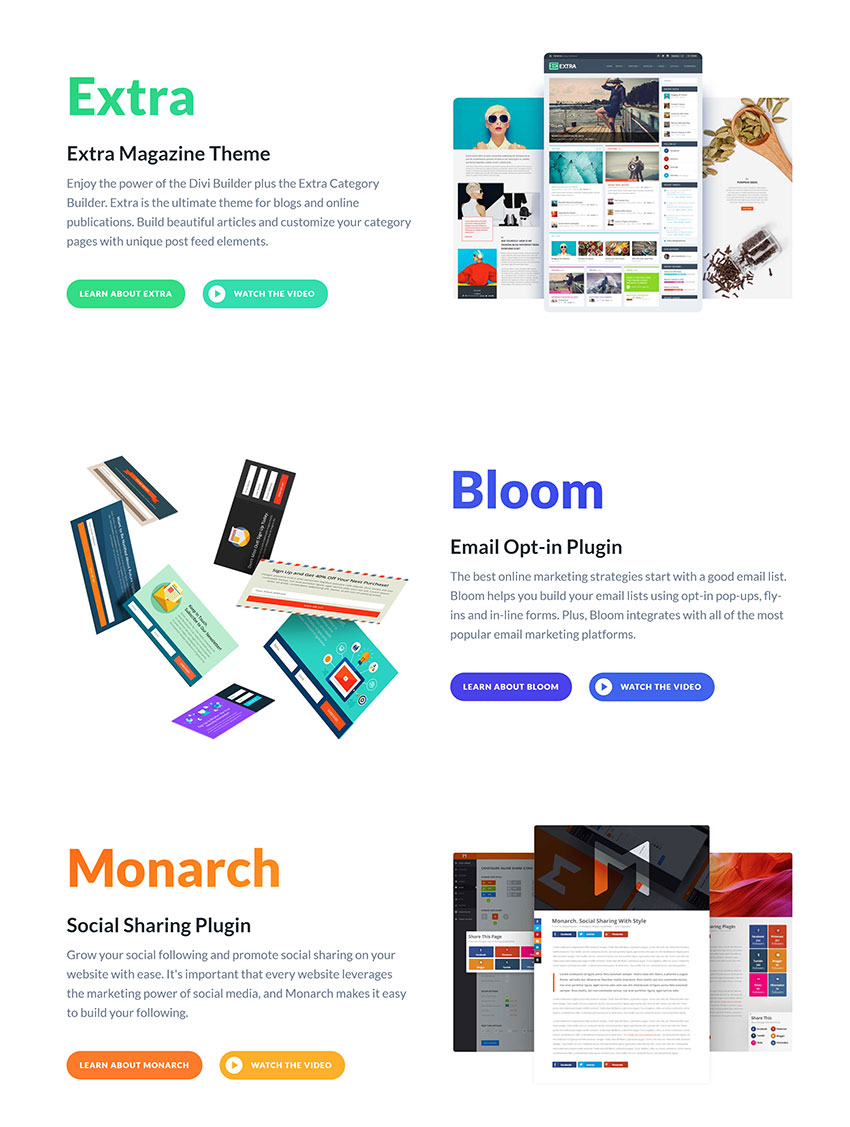 An Elegant Themes membership comes with a 30 day money-back guarantee. You are therefore free to cancel your membership after signing up or upgrade from the yearly plan to the one-off plan.
Final Thoughts
I hope you have enjoyed this look at the Divi WordPress theme.
As you can see, Divi is a versatile solution that lives up to its name as an "All in One" WordPress theme. It's a flexible solution that is easy to use, but has many advanced customization features for agencies such as third-party extensions, child themes, CSS code and more.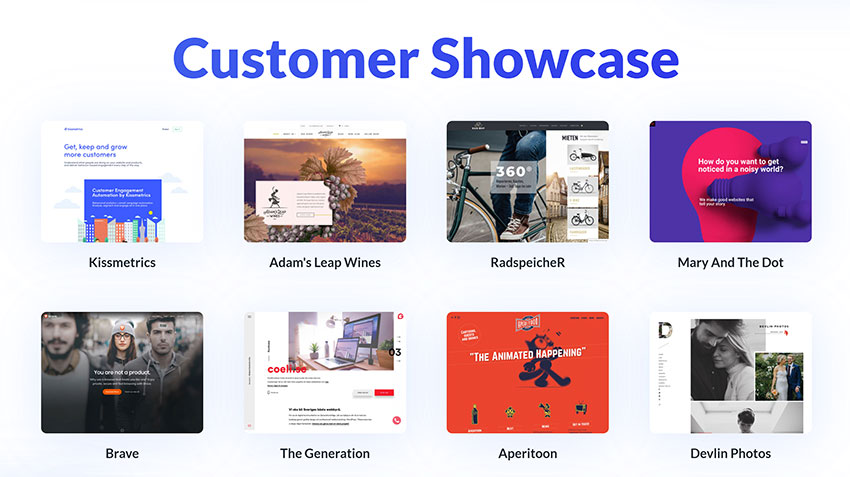 It is important to remember that no WordPress page builder is perfect. They all have their strengths and weaknesses and you may end up favoring one solution for one project, but not others.
Of course, Divi compares very well against other WordPress page builders on the market such as Beaver Builder (our review) and Elementor (our review). They all offer a wide variety of content modules to help you shape your website posts and pages and a modern template system for saving custom designs.
The default WordPress editor (Gutenberg) lacks the advanced customization features you will find in Divi. I do appreciate the simplicity of the default editor, but in many situations I find it highly restrictive. In contrast, Divi allows you to style any element on your page.
In the recent re-design of Divi Builder, content modules have taken a back seat and are not as prominent as they once were. This important functionality is still there, but I believe that Beaver Builder and Elementor's user-interface is much simpler.
In Beaver Builder, clicking on the + symbol will load modules, rows and templates on the right hand side of the page. In Elementor, content modules are shown on the left side of the page for easy access.
Divi does it differently. You can click on any part of your website design in Divi to add a new content module and a pop-up box showing all available modules will then be displayed.
Whilst I do believe Divi Builder's user-interface takes more time to learn, Divi's templating system is second to none. There are over a thousand layouts to choose from and you can save changes to your library and re-use use them later with ease. The whole system works great and the quality of designs on offer are fantastic.
Divi is such a feature-rich WordPress theme that it is impossible to cover all features in one review. I have only touched upon what is possible with Divi.
To find out more about the WordPress theme, check out the official sales page of Divi.