20+ Must-Have WordPress Plugins (Our Top Picks for 2021)
The question of how many WordPress plugins you should have on a site comes up quite often. It's also not uncommon to hear questions about the best WordPress plugins to include with every new WordPress installation.
Are you going to slow down a site by having too many? Are there some must-have WordPress plugins that you should never skip out on?
I wouldn't say there's such thing as a must-have plugin. After all, WordPress works just fine on its own. However, security, marketing, social media and other things like SEO come into the picture, and most companies would like to improve in all of those areas.
Therefore, we do have a list of the best WordPress plugins. It's recommended you utilize this list as a starting point for all WordPress sites. After that you can look into more niche plugins that are more focused on your particular industry.
Keep reading to learn about the best WordPress plugins for brand new sites.
For Email Marketing
Collecting email addresses from your site visitors and adding them to a mailing list can be a really effective way to engage with your audience, market your products and services (and affiliate products) and keep them coming back to your site.
To get people to sign up to your mailing list you'll need an opt-in form that integrates with your email marketing service.
While there are dozens of plugins you could choose that add email marketing functionality to your site, Thrive Leads does a lot more than adding a simple sign up form.
Thrive Leads is a full lead generation plugin that allows you to create any kind of opt-in form you can imagine, target offers to different website users, and optimize your opt-ins for higher conversions.
Why This WordPress Plugin is Essential for a New Site
It gives you an easy-to-use drag and drop editor for designing visually appealing opt-in forms within seconds.
You can create multiple types of opt-in forms including pop-up, "sticky" ribbons, inline forms, slide-ins, screen filler overlay, content lock, and more.
You can build segmented lists and show offers to users based on posts, categories, tags, and more.
The plugin includes an A/B testing feature that you can use to increase your conversion rate.
Advanced reporting and analytics are included so you can see how your opt-in forms are performing.
Choose from dozens of pre-designed templates to create beautiful opt-ins with no design skills required.
Thrive Leads is most definitely one of the best WordPress list building plugins around but it's a premium option. If you're not yet generating enough income from your email list to justify the monthly fee for Thrive Leads, Optin Forms is a great budget option
Optin Forms is a free plugin from the team at Fancy Themes that's simple and easy to use but very effective.
You can add an opt-in form to your WordPress site with a single click, or use a shortcode to add it to specific posts and pages.
Why This WordPress Plugin is Essential for a New Site
The plugin comes with 5 form designs so you can choose one to match the styling of your site.
You can easily customize all text, fonts, font sizes, and colors as well as using custom CSS if you wish.
There are multiple placement options and you can easily exclude the form from particular posts and pages.
It's a really simple plugin that's easy to set up and adds opt-in form functionality to your site without unnecessary features to bloat or slow down your site.
Optin Forms integrates with the most popular email marketing services including MailChimp, AWeber, iContact, GetResponse, MadMimi, ConvertKit, MailerLite, and Interspire Email Marketer.
For SEO
WordPress is pretty well optimized for SEO but there are always improvements you can make. Plus, as soon as you start publishing posts, you'll want to make sure your content is optimized for search engines so you can get more traffic to your site.
An SEO plugin can take you through some simple steps to improve the SEO of your site and make sure all new content you publish is optimized too.
Quite a few SEO plugins are sold and given away for free online. The best one is Yoast SEO. The plugin boosts your search engine rankings by giving suggestions, offering tools for tweaking your meta data and exploring the world of keywords.
Why This WordPress Plugin is Essential for a New Site
You receive reports on each of your pages and posts. So if you need more keywords or if a page isn't easy to read, it lets you know.
You have the opportunity to boost search engine rankings with simple, user-friendly tools. I like this plugin for beginners and designers who need to pass off the responsibility to clients.
XML sitemaps are submitted to the search engines. This speeds up the process of search engines crawling your site.
For Performance
Although it may seem intuitive to get as many performance plugins as possible, the opposite is often true. Basically, you don't want two caching plugins conflicting with each other, and multiple CDNs can cause problems as well.
You can find tons of caching plugins online, but WP Rocket is an old reliable one with rather basic tools and default settings filled in once you install it. This means that you typically don't have to go through and adjust anything besides turning the plugin on.
Why This WordPress Plugin is Essential for a New Site
Caching minimizes the number of requests made by your website. Therefore, the speed of the site generally improves and you're not using up as many resources.
Users who come to the site often notice significant improvements in the user experience.
It also has other tools for minifying and using CDNs.
CloudFlare is a free content delivery network, meaning that it uses an entire network of servers around the world to deliver your website to the end users. For example, if you have a customer in China, but your server is located in Chicago, it will most likely take the site longer to load for that user. However, a network like this chooses the server that's closest to the customer, speeding things up quite a bit.
Why This WordPress Plugin is Essential for a New Site
It makes your site perform better, regardless of where your users are located.
The plugin has a free version that works pretty well for the average user.
This can help boost the effectiveness of your hosting account, especially if you decided to go with a cheaper shared hosting plan.
The core version of Jetpack is free but you'll need to sign up for a premium plan if you want to get backup, advanced security, and other additional features.
It's tough to cover all of the aspects of Jetpack, but the shorter version includes image tools, SEO, security, spam filtering, site performance, backup, and content creation. If you were to choose only one plugin for your WordPress site, this would most likely be the one. Why? Because it has so many features packed in that you can eliminate the need for multiple plugins.
Why This WordPress Plugin is Essential for a New Site
It has a tool for speeding up images and videos, which are generally the hardest loads on your website.
You get other tools for social media, security and SEO.
The stats provided through Jetpack are some of the best in the business. They're simple and on the dashboard, making them wonderful for web design clients.
Jetpack now includes Vaultpress, a backup solution which will backup and restre all your content in a single click.
We've talked a little about how images and other types of media can slow down your site. Well, optimizing your images is a pain in the butt, especially if you're doing it manually. The Smush plugin takes the hassle out of image optimization by doing it all automatically.
Why This WordPress Plugin is Essential for a New Site
Smush compresses image file size without reducing the quality
You can opt to delay the loading of off-screen images (lazy load) to reduce page load time and provide a better user experience.
The pro version of the plugin automatically serves WebP format images for even faster loading time.
Smush is compatible with Gutenberg and you can view Smush stats directly in image blocks.
For Social Media
While SEO is one way of getting more visitors to your site, social media can also be a really effective way to grow your traffic. There are some really useful social media plugins out there that can automate your social media activity and encourage readers to share your content.
Any small business owner knows that social media can quickly become a full-time job. Buffer strives to expedite the process with scheduling, cool buttons and multimedia engagement.
Why This WordPress Plugin is Essential for a New Site
Webmasters can schedule posts instead of having to jump from social media site to social media site, scheduling a post on each one individually.
You can view analytics about your social posting and talk to customers without going to each social network.
#9 Sumo Share (A Full Suite of Other Plugins) SumoMe
SumoMe has all sorts of tools, making it a full suite of options. I recommend it as a free plugin for email marketing, site performance, social media and more.
Why This WordPress Plugin is Essential for a New Site
You get a sleek social sharing button to place on all of your webpages.
SumoMe has various other products, so you might even be able to make this one of the only plugins you use on your site.
The social sharing bar is mobile friendly, which is not always the case with these types of sharing tools.
For Memberships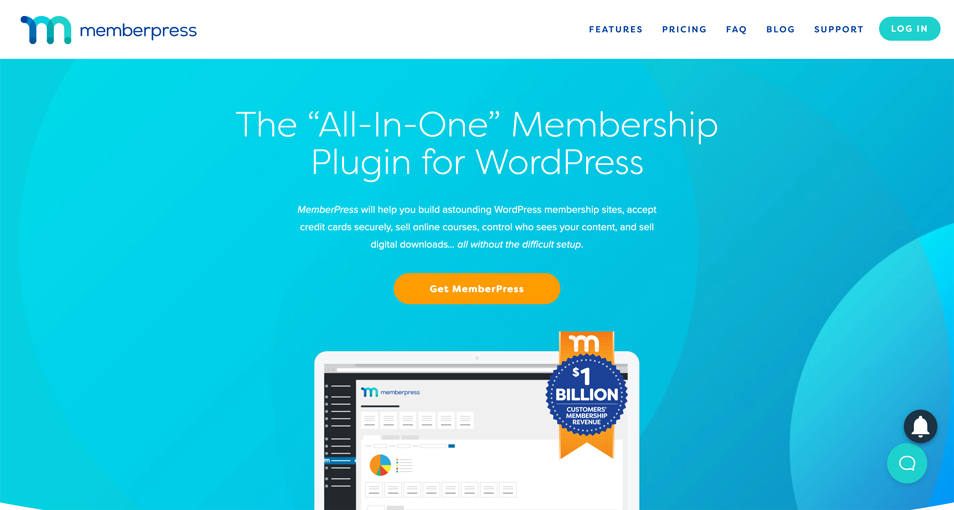 Okay, so a membership plugin isn't going to be included on all sites, but I figure this is going to be the bedrock of any membership site, and you might end up using it if trying to find a new way to make money for your website. Memberships can be sold in a wide variety of ways, from yearly to monthly subscriptions, and for anything from online magazine content to videos.
Why This WordPress Plugin is Essential for a New Site
It's only essential if you're trying to setup a membership site. However, this plugin gives you everything you need if that's your plan.
For Security and Backups
Security and backup plugins are similar to performance plugins since you don't want to have multiple ones conflicting with each other. Besides Akismet, one security plugin will do the trick.
Akismet is all about anti-spam. The plugin is recommended for every WordPress site unless you like seeing thousands of spam comments coming through.
Why This WordPress Plugin is Essential for a New Site
It virtually eliminates spam in your comments section. This is helpful for keeping your site performance at an optimal level and showing your users that you're moderating your comments.
The plugin stills shows the blocked spam messages in your dashboard, so you can go back and see if any shouldn't have been blocked.
WordFence offers several security solutions, and it can be used together with the backup and security features of Jetpack. Overall, the plugin works to prevent the site from getting hacked, while providing information on what attacks have been made.
Why This WordPress Plugin is Essential for a New Site
You don't have to worry about hackers as much.
The chances of your site being slowed down or crashed decrease.
You can check out the live traffic feed to see if a hacker is trying to break into your site. They also have reports.
For Design
Traditionally the design of your WordPress site was controlled solely by the theme, but this is no longer the case.
The WordPress core has evolved to give you more control over the design and layout of your pages and posts via Gutenberg blocks.
There are also now several plugins available that will transform your WordPress site into a drag and drop website builder, giving you full control over the design and essentially making it possible to create your own theme without code.
There are now dozens of drag and drop visual page builders available for WordPress. The introduction of the Gutenberg blocks editor also means that there's a much higher level of customization of posts and pages in WordPress itself.
So what's so special about the Thrive Theme Builder?
The Thrive Theme Builder is more than a page builder. It's an entire WordPress theme builder that enables you to create your own marketing-focused WordPress sites.
The theme builder gives you the flexibility to create or customize your own unique site designs with branding and conversions in mind. Pre-built templates are included as well as hundreds of elements to build your list and optimize conversions.
Why This WordPress Plugin is Essential for a New Site
You can create your own professional WordPress themes without the need for any design or coding skills.
The theme comes with hundreds of pre-designed responsive theme templates and site elements.
Integrated lead generation elements are included to build your email list.
Thrive Theme Builder is easy to use, with drag and drop elements and a walkthrough wizard. You can get your first site online within 15 minutes.
This is the only visual page builder for WordPress that was designed with marketing and conversions in mind.
Premium page builders aren't for everyone. If you don't have the budget for expensive design tools right now, you always have the option of using a free WordPress theme and the Gutenberg block editor that comes with WordPress.
The introduction of Gutenberg to the WordPress editor has revolutionized the way WordPress users build pages and publish content.
Gutenberg allows you to build posts and pages with "blocks" of content that are coded to be styled in a particular way. For example, there are Gutenberg blocks for images, lists, tables, and pullquotes.
The core WordPress installation comes with all the basic blocks you need for most type of content and some plugins add their own blocks.
However, you can improve the presentation of your content by using the Ultimate Addons for Gutenberg plugin to extend the blocks available to you and create more visually appealing layouts without spending any time editing code.
Why This WordPress Plugin is Essential for a New Site
Includes dozens of pre-designed blocks for post layouts, buttons, headings, call to action, table of contents, and more.
Comes with free starter templates that work with the Astra theme to create a beautiful WordPress site within minutes.
Create more visually appealing page and post layouts without slowing down your site.
Integrates with WooCommerce, LearnDash, and other major plugins.
For eCommerce
Not every site will need eCommerce features but if you want to take payments on your WordPress site, you'll need a plugin.
If you're looking to sell physical items on your WordPress site, WooCommerce is the industry leader.
Why This WordPress Plugin is Essential for a New Site
It's free.
WooCommerce integrates with any WordPress theme, turning your site into an instant online shop.
EDD runs as smoothly as WooCommerce. The only difference is that it only focuses on digital goods.
Why This WordPress Plugin is Essential for a New Site
It allows you to sell digital items such as eBooks, music and computer files.
It integrates with any WordPress theme.
For Workflow
Here's a plugin that's not going to be used for every site. However, it's a must-have for an online magazine or blog with multiple writers.
Why This WordPress Plugin is Essential for a New Site
It lets you plan out your editorial calendar and schedule the posts far in advance.
Customer Service
WordPress creates sites that are pretty user friendly but that doesn't mean that you can't make further improvements. Adding a couple of simple plugins to your site can make for a much better user experience.
Publishing your email address on your website leaves you open to scrapers and spammers. The easiest way to prevent this and still make it easy for people to get in touch with you is by putting a contact form on your website.
Simple Basic Contact Form is a lightweight plugin that is easy to set up and can put a contact form anywhere on your site using a shortcut or template tag.
Why This WordPress Plugin is Essential for a New Site
Easiest way to add a basic contact to your site without code or using bloated plugins.
The plugin blocks spam and malicious content and optionally displays a captcha
You can easily style the form with custom CSS
All form text and confirmation messages can be edited in the plugin settings.
Miscellaneous
Broken links are bad news for your website. Not only do they mean a poor experience for your users, but fixing broken links also makes sure your site is crawled and indexed properly by search engines and can improve your SEO.
Finding broken links manually can be very time-consuming, and that's where the Broken Link Checker plugin comes in.
This plugin monitors all internal and external links across your WordPress site and also detects broken images.
Why This WordPress Plugin is Essential for a New Site
Get instantly notified if any broken links or images are detected in your posts, pages, blogroll, or comments.
Fix links or remove the broken link directly from the plugin page.
Improve the user experience for site visitors.
Improve your SEO and rank higher in search engine results.
It's important for any site that represents a business, collects data from users, or generates income via certain affiliate or ad networks to display certain information to ensure legal compliance.
Depending on the type of site and legal jurisdiction, this may include displaying a privacy policy, terms & conditions, notification that the site uses cookies, and other legal information.
You can create this information from scratch and publish it as a standard page but this plugin helps you to create standard versions of the most common legal pages by simply supplying information about your site and business.
Why This WordPress Plugin is Essential for a New Site
Ensures your site isn't breaking the law by generating standard notices and disclosures.
Inform users if your site is using cookies
Comply with GDPR and CCPA law and Amazon Associates requirements
Easily create your own legal pages from a standard template.
Are You Using the Best WordPress Plugins on Your Site?
If not, it might help out if you explore some of the options we've discussed above. Many of the options talked about are completely free, so that's useful for companies on budgets. I also tried to stick with premium plugins that keep their costs low. If you stumble upon a premium plugin but you don't want to pay for it, you can typically locate one that's similar but free.
There you have it. That's all we have for the best WordPress plugins, so if you can think of any questions, drop them in the comments section below.