MemberMouse is a premium membership plugin for WordPress that has all the features you need to run a profitable membership site. Make sure to use our MemberMouse coupon to get 25% off all plans. 
Just enter the coupon code DESIGNBOMBS_MM25 at checkout to get your 25% discount.
What is MemberMouse?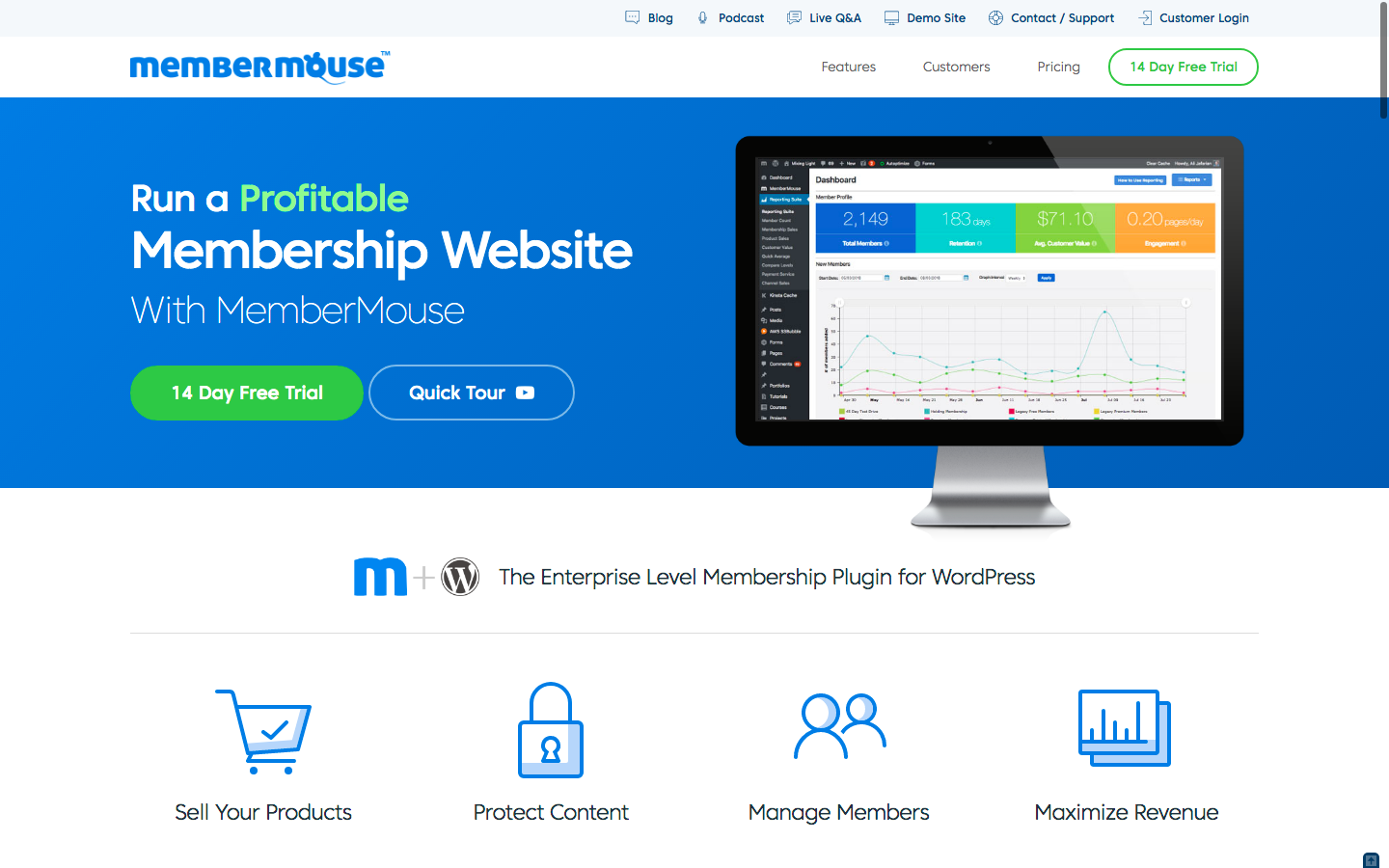 MemberMouse is an easy way to sell memberships, products, and subscriptions on your WordPress site with built-in tools to drip-feed and protect your content, manage members, and maximize profits.
You can install and set up MemberMouse and have a fully functioning membership site within minutes.
There are tools for creating multiple membership types, recurring subscriptions, and flexible pricing options. Set up your own custom checkout with multiple payment options and billing integrations. Coupon codes and free trials are supported too.
Protect your member-only content with a variety of tools to password-protect areas of your site and defend against fraudulent logins.
With MemberMouse you also get a full CRM system to manage your members including managing subscriptions, upgrading or downgrading accounts, issuing refunds, and monitoring engagement.
Built-in automation means you can run your site in a hands-off way with automatic emails, self-service account management, and integration with Zapier and 3rd-party apps.
MemberMouse also includes a full reporting dashboard with advanced analytics so you can monitor the performance of your site and view member activity at a glance.
Read our full review of MemberMouse to find out more about this WordPress membership plugin, and make sure to use our MemberMouse coupon to get 25% off.
MemberMouse Features

The core features of MemberMouse are available in every plan. These include:
Built-in checkout and upsells
Memberships and products
1-click purchasing
Member management
Content protection
Short-codes and SmartTags
Payment integrations
Email integrations
Zapier integrations
Basic reporting
Developer tools
Custom notifications
Affiliate tracking and integration
Gifting functionality
Coupon codes
See the full list of MemberMouse features to understand exactly what's possible with this plugin.
MemberMouse Plans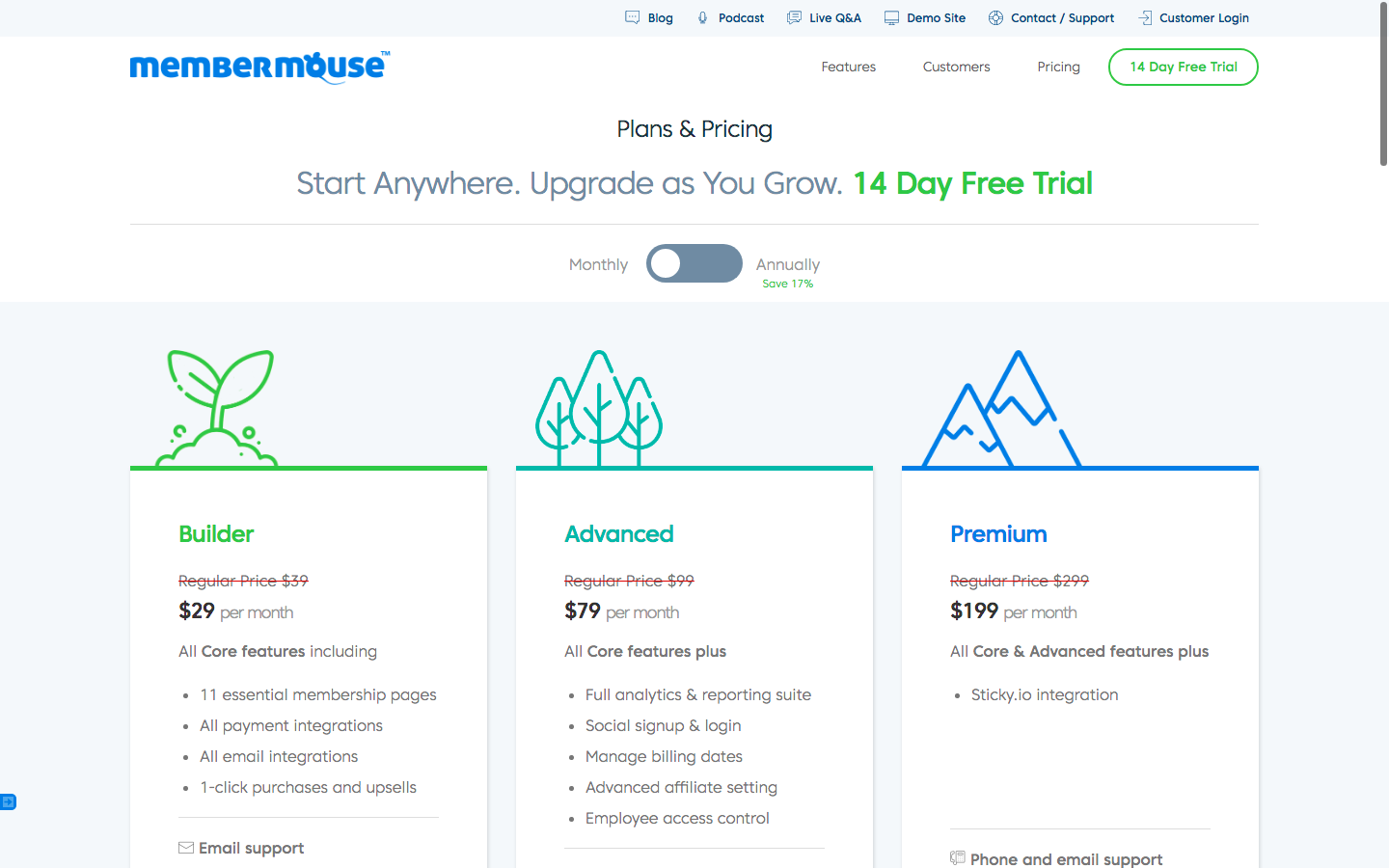 MemberMouse is available at 3 pricing levels and plans so you can choose the version that suits your needs
Builder
Price: $29 per month
The Builder plan includes all core features plus:
11 essential membership pages
All payment integrations
All email integrations
1-click purchases and upsells
Email support
Staging license
Advanced
Price: $79 per month
The Advanced plan includes all core features plus:
Analytics and reporting suite
Social signup & login
Manage billing dates
Advanced affiliate settings
Employee access control
Priority email support
Premium
Price: $199 per month
The Premium plan includes all core and advanced features plus:
io integration
Phone and email support
All plans come with a 14-day free trial and can be upgraded at any time.
You'll get a 17% discount on all plans if you pay annually rather than monthly.
Remember to use our MemberMouse coupon to get a 25% discount on any plan or payment schedule.
MemberMouse FAQ
Which MemberMouse plans is the Design Bombs 25% coupon code valid for?
The DESIGNBOMBS_MM25 coupon code is valid for all MemberMouse plans, whether you pay monthly or annually.
How long is the MemberMouse Coupon valid for? 
There's no expiry date on the coupon code but the offer could be withdrawn at any time. If you want to take advantage of the 25% discount, we advise you to sign up now while it's still active.
Does MemberMouse integrate with Zapier?
Yes, MemberMouse has built-in integrations for all the major payment gateways and email marketing platforms. Plus you can use Zapier integration to connect MemberMouse to over 2,000 apps.
MemberMouse Vs. MemberPress – which is the best?
MemberMouse and MemberPress are both popular membership plugins. You can get an overview of how they compare by reading our comparison of top WordPress membership plugins.
Does MemberMouse work with WooCommerce?
Yes, you can use MemberMouse to create a members-only store for your site. You can see full instructions here.
How to Use the MemberMouse Coupon
1. Go to membermouse.com and click the "14 Day Free Trial" button.

2. This will take you directly to checkout. Choose your plan and billing frequency from the drop-down box.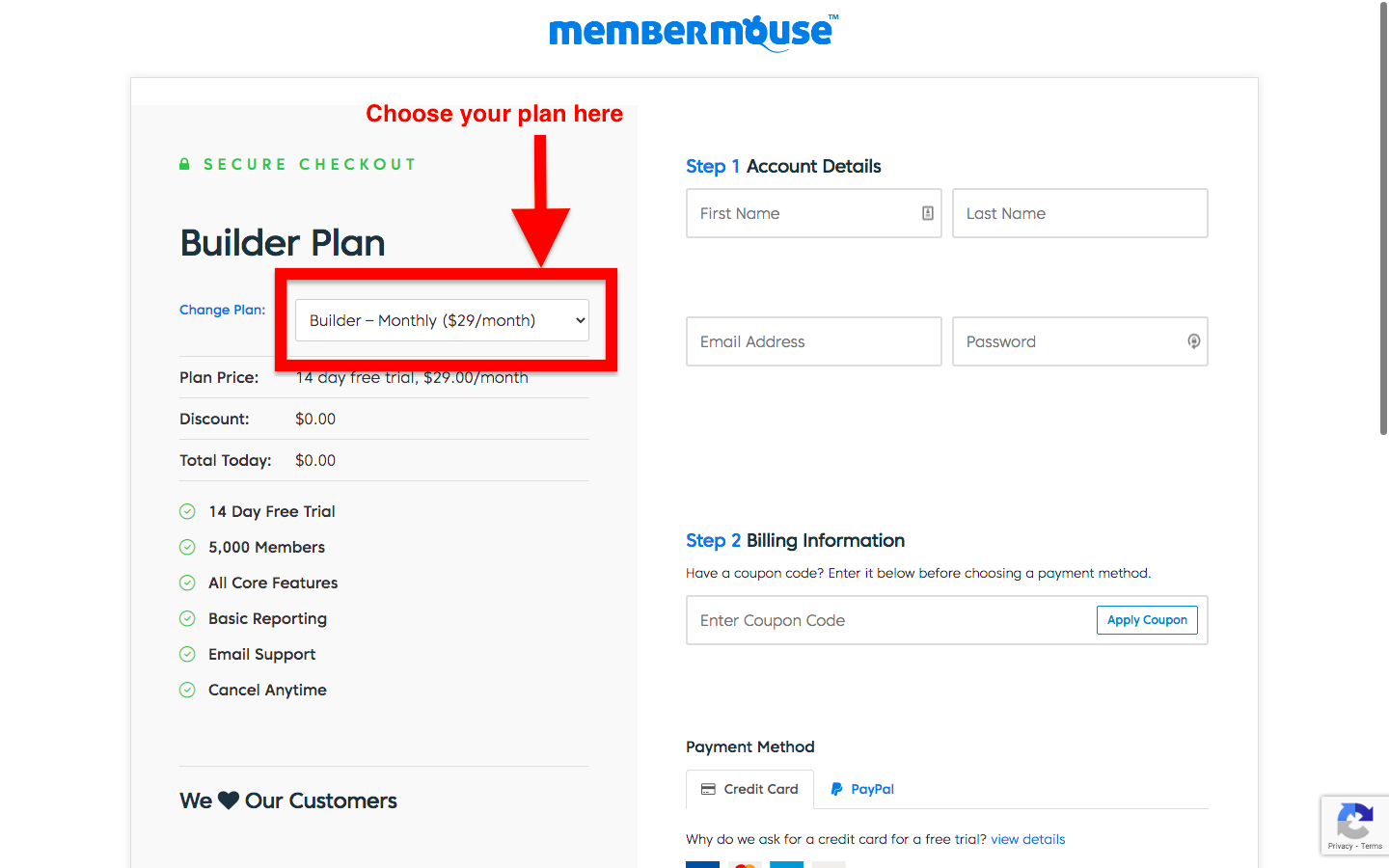 3. Enter your account details and enter the coupon code DESIGNBOMBS_MM25 under billing information. You should get a message that the coupon has been applied successfully when you click the Apply Coupon button.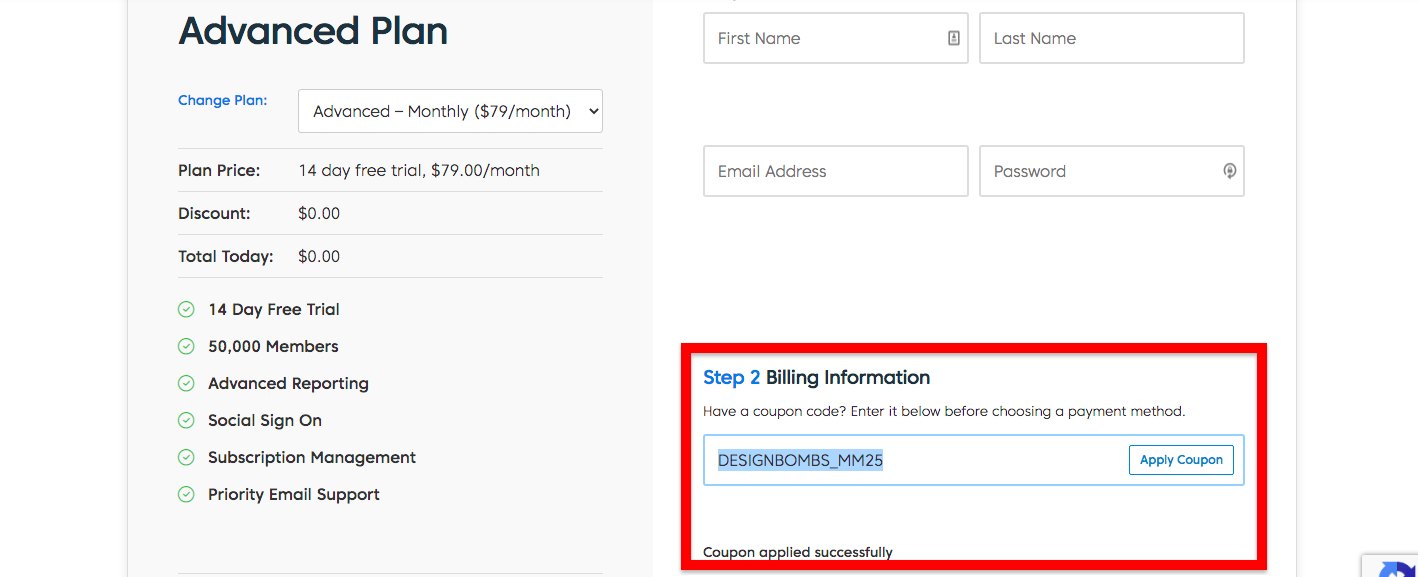 4. As you'll be starting off on the free trial, your price should show as $0.00. MemberMouse won't take any payment until after the first 14 days but you'll see that the discount code has been applied on the confirmation page after completing your order. Enter your payment information and click the "Start Free Trial" button to complete your order.