15 Ready-to-Start Online Business Ideas (For Beginners and Beyond!)
Online business ideas are a dime a dozen.
While you might feel clueless as to how to into business for yourself, there are actually many ways to earn money on the Internet. The web is full of great opportunities – if you know where to look.
If you have been toying with the idea of starting your own online venture, you have come to the right place.
In the following, we will list a number of excellent ways to earn money online. We will describe each in detail, explain their pros and cons and what you need to get started.
In the end, we want you to have a good idea of what kind of online business you could start and feel inspired to do so.
Online Business Ideas You Can Start Right Now
What follows is a list of proven ideas for online ventures you can use to find your own.
1. Start a Blog
Blogging has been around for a long time. It also had a resurgence a few years back when everyone and your mom started doing content marketing. Even though some industries are quite saturated by now, starting your own blog is still among the most popular online business ideas.
That's also because it has never been easier, with tools like WordPress widely available. All you need is a hosting account and domain and you can get started. Yet, it also takes a bunch of work to be successful. You need to regularly create content, promote it, learn about SEO, do marketing like social media, and a whole lot more.
Plus, there is the part about monetization. A blog itself is not a business, only when it brings in money. Here, you have have different ways of monetizing your website including:
This can be really profitable once it's up and running, however, getting there is a different story. If you are interested in starting your own blog, check this post.
2. Do eCommerce
One of the oldest ways to make money is to sell something others want to buy. That's also why creating an online shop is one of the classic ways to earn money on the web.
Just like blogging, there has never been a better time in history to do so, thanks to WooCommerce and other WordPress e-commerce plugins. Plus, there are other solutions like Shopify.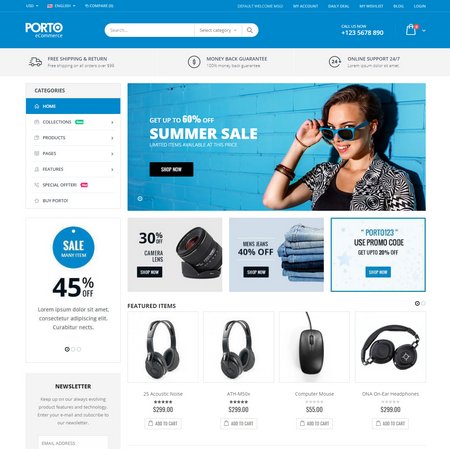 However, to start your own online store, one thing is essential: products. These can be physical or digital, sent via dropshipping or affiliate vendor. Alternatively, you may also design products that others can order on demand from places like Cafepress, Zazzle, or Teespring.
What's certain is that, without products, there is no online shop, so sourcing things to sell is your first step. Yet, after that, you still need to figure out how to position yourself, market your shop, and get customers. It's hard work but can be worth it.
3. Sell Products on eBay or Amazon
If want to sell products online, you don't have to do it on your own site. Other places exist that let you do so, and even have an audience built in.
The most popular here are eBay and Amazon. You can simply buy some merchandise, add your margin on top and put it up for sale on the platforms. If you are successful, use the profits to buy more, rinse and repeat.
While you need to take care of shipping on eBay, Amazon can even do fulfillment for you. There are lots of people make a living with this and you can learn how to do it here:
Plus, there are similar opportunities such as selling on Instagram, Facebook (they even recently started their own currency), Snapchat, and other places.
4. Publish an Ebook (Or Several!)
Did you always want to be a published author? On the Internet you can, even without a book deal.
Self-publishing is a growing industry. There is an increasing number of ways out there for authors to get their books in the front readers, the most famous being Amazon.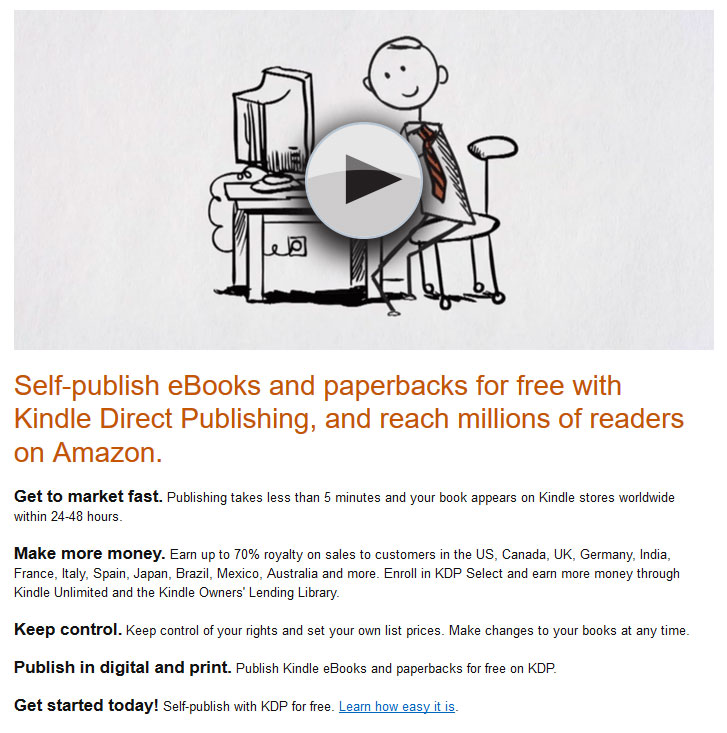 The problem: writing a book is not everyone's cup of tea. Not only do you need an idea, you also need write, edit, and format it as well as design a cover. However, once its out there, a successful book is a business asset that can provide income for years to come.
For those interested in that kind of venture, here are some tools and resources:
5. Create a Digital Product or Online Course
A step up from writing a book is to create an online course. Here, too, you are selling knowledge to others in digital form. Only, in this case, you have different choices. Online courses can be in written form (such as an email course) or in the shape of videos, audio, and other media.
Online courses are often the choice of people who already have an audience such as from a blog or newsletter. This also helps with validating your idea or coming up with things your audience needs or wants. Plus, you can get feedback during the creation by giving a preview and asking your readers to give their opinion.
Instead of your own site, you can create also courses on platforms like Skillshare, Lynda, Teachable, or TabletWise. Here, authors usually get paid royalties according to usage.
Either way, to develop your own course, check these articles:
6. Do Software Development
With the ascent of mobile devices, apps have become a huge market. While it might seem a bit saturated at this point, it's only predicted to keep growing.
The cool thing is, you don't even have to be a developer yourself. You can simply provide the idea and pay someone else to implement it.
Plus, it doesn't have to be mobile app. There is also plenty of space for useful web applications. Here, going the SaaS (Software as a Service) route is a good option. It means people pay a monthly fee as long as they are using the app. This allows you to generate recurring income.
Software development can also mean something like WordPress themes or plugins. Should that be something you are considering, you can learn how to promote your work here.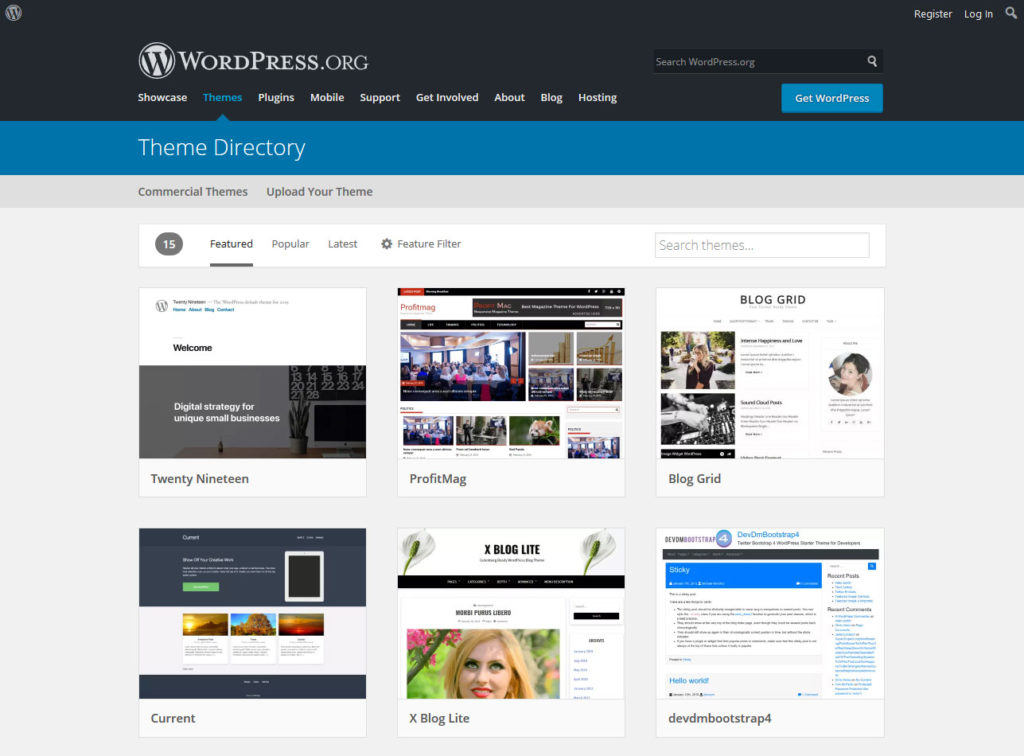 Aside from that, if software development sounds like the right gig for you, this post will help you get started. However, you really have to decide on the type of software you want to build. This will heavily influence the material you are going to learn. If you'd rather hire someone else to do it for you, you can find a guide for mobile apps here.
7. Try Your Hand at Freelancing
If you are not into creating or selling products another classic in the world of online business ideas is freelancing. The web provides plenty of services you can offer to clients:
Copywriting/content creation — Content is king and many businesses need help to fill their blogs, email newsletters, and other marketing materials. If you can do that, there might be a living wage in it for you.
Search engine optimization — Websites need to perform well in search engines to be visible. This includes keyword research, on-page optimization, and other SEO tasks.
Social media marketing — Likewise, most businesses these days are present on at least one social network. However, they don't always know how to do well there. If you do, you can sell that knowledge to them and be paid by the hour.
PPC ad management — PPC ads are no longer limited to Google, you can also find them on Facebook, Twitter, and other social platforms. If you can run successful PPC campaigns, that's your online business idea right there.
Web design and development — These are classic examples of freelance work. Basically all companies need a web presence these days. If you can design and implement them, there is plenty of work out there for you.
Virtual assistant — Do you have a good hand at organizing things and running day-to-day administrative tasks? Then being someone's virtual assistant might be right for you.
You can find more freelancing ideas here. To get started as a freelancer, use the resources below:
8. Become a Consultant
Strictly speaking, consulting is also part of freelancing. However, it's a little different because instead of fulfilling tasks for other people, you simply advise them how to do so themselves.
You can consult on anything from weight loss over dating to business development or pet care. If there is a need and people are willing to pay money for advice, you can create a business out of it.
In addition, the threshold for hanging out your shingle as a consultant is really low. You can create a website for very little money and deliver your services via free technology like Skype and email. In addition, you may able to combine this with other online business ideas like running a blog, writing a book, and/or creating digital products.
If tat sounds like something you would be interested in, here is a post to get you started.
9. Offer Tech Support
If know your way around technical things, you can build a business helping those who don't. For example, in the WordPress sphere you have more and more people who offer site management such as WP Buffs. That means, they take care of website upkeep and are there for you in a pickle.
You can offer similar services in the same or other areas. Opportunities like this exist in bigger companies (e.g. Automattic) but you can also do it on your own. If you work on a retainer basis, you get a monthly stipend to be on call.
10. Create and Run a Podcast
Podcasts had a real renaissance in recent years. They are one of the most popular types of online content there is. People love listening to them on the way to work, at the gym, and everywhere else.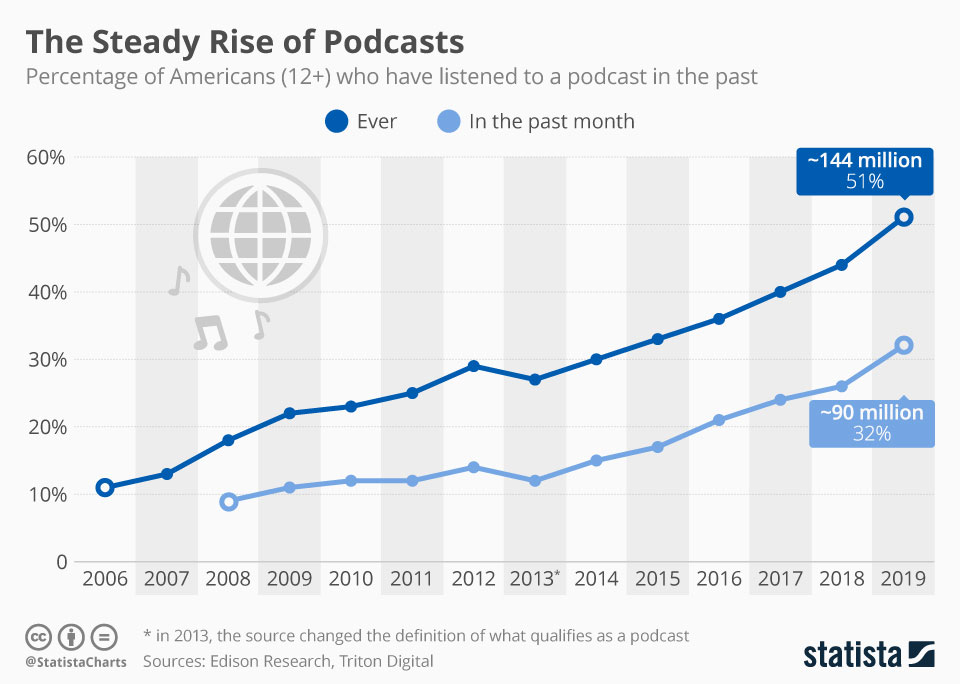 Starting a podcast is not that hard. You only need some audio equipment, a computer, and that's it. There are also many places where can upload and promote your podcast.
What's more difficult part is finding a topic and talking about it in a way that others will want to listen. Once you have gathered an audience of a certain size, you can sell advertising space and make money that way. Podcasting is also another one of those online business ideas that you can combine with other entries like blogging.
Get started with your own podcast via this post.
11. Start Vlogging
Video has become one of the most popular types of content on the web. YouTube is by now the second-largest search engine in the world. There are many people who make a full-time income using the platform.
How do they do it?
Well, if you bring in a certain number of views, you can monetize your videos. That means, YouTube will play advertisement at the beginning of the video (or, increasingly, in the middle and end as well) and give you a cut of the ad revenue. Plus, having a successful channel often leads to other opportunities like speaking engagements, collaborations and more.
Note, however, that YouTube is currently going through changes that might make it less attractive for smaller publishers. If want to give it a try anyway, read about how to do it here. For alternative platforms, check this post.
12. Become an Influencer
Speaking of Instagram, if someone had told my grandfather that you will be able to make money taking pictures of yourself and showing them off, he would not have believed it. Yet, that's what many people are doing, as Internet influencers.
If you want to do the same, step one is to gain a following. From there, you can make money by promoting products and companies. These will either pay you directly or give you a sales commission.
For some pointers on how to launch an influencer career, check this post.
13. Start a Paid Community
Creating a space where like-minded people can connect, exchange ideas, ask for advice, and hang out together can be a lucrative idea. It's what Reddit, which is among the world's top-20 most popular websites is based on. Just like people will pay a membership fee for a business network or club in real life, they will also do the same online.
You have several ways of creating such a thing, such as:
Paid Facebook groups
Private forums
If your community becomes popular and can attract a large number of members, that means recurring income. Of course, it's easier to start if you already have an audience (e.g. in the form of an email list). Plus, again, it works in combination with other online business ideas on this list. More information here.
14. Flip Domains
You might be familiar with flipping from the real estate market. It means people buy property and sell it for more money later, usually after making some renovations/improvements.
Flipping domains works the same way. Acquire a domain and sell it for a profit. If done right, this can generate a healthy income.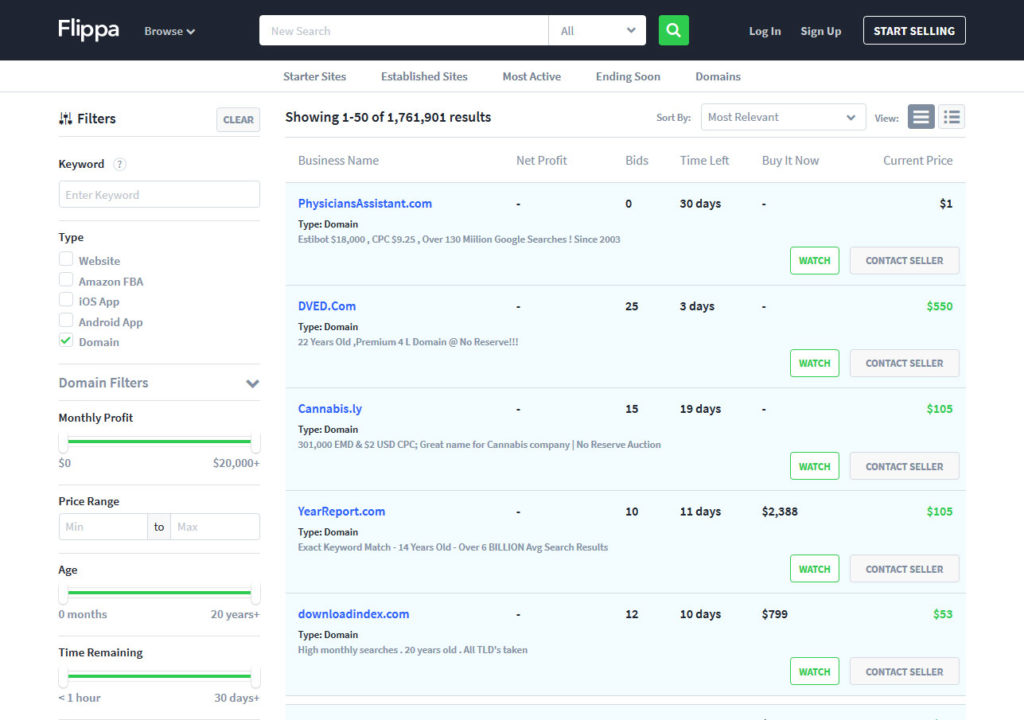 These days you usually deal with existing domains as most high-value domains have already been registered. It's only when new TLDs (meaning domain endings like .com) come out that can you try and register new domains to sell them later.
More information on domain flipping here.
15. Build a Niche Site
Niche sites used to be all the rage when SEO was in its infancy. However, they can still be a worthy endeavor even today.
The idea is to build a site around a fairly limited topic to attract a highly engaged audience, then monetize the traffic. This can be through advertising, affiliate links, or your own product.
A niche site has a lot of overhead in terms of work but, once established, can run mostly on autopilot.
If you are interested in this kind of thing, this is where you can get started.
Online Business Ideas in a Nutshell
The Internet offers many ways to earn money, while enabling you to work flexibly from anywhere. It's a life that many aspire to but don't always know how to achieve. The list of online business ideas above can hopefully remedy that problem.
However, the idea is just the first part. What really counts is the execution. Pick what seems right for you, do the research, and go for it. The tools are readily available, you just need to organize them. While you probably won't get there overnight, the end result is worth it.
What's keeping you from executing on your online business ideas? Let us know in the comments section below.