12 Best Podcast Hosting Platforms of 2023 (Expert Pick)
Podcasts may have been created in the early 2000s, however it feels like the podcasting revolution is still in full force today.
Every day we see new podcasts being launched on topics such as sports, comedy, lifestyle, cooking, travel, and more. I am a huge fan of podcasts myself and regularly listen to podcasts in the kitchen and in the car.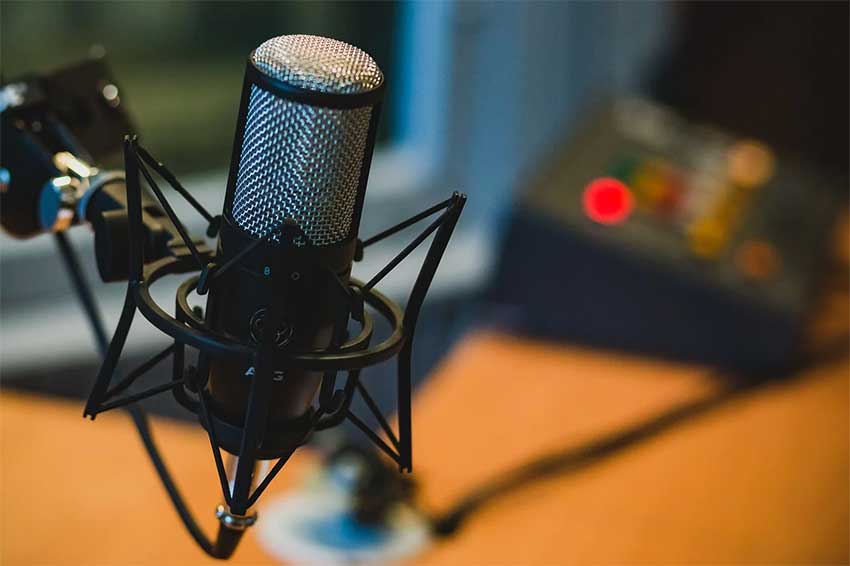 One of the coolest thing about podcasting is that anyone can do it.
If you wish, you can spend thousands of dollars on top of the range microphones and audio interfaces and mixers, though many popular podcasts are recorded with simple audio recorders and affordable microphones that cost less than $100. Others just record podcasts through their smartphone.
Once you have recorded your podcast, you just need to upload your audio files to a podcast hosting service.
In this article, we would like to share with you what we are Design Bombs consider to be the best podcast hosting companies on the internet.
Enjoy!
Why You Need a Host for Your Podcast?
One of the first decisions you need to make as a podcaster is select which audio format you want to record in.
MP3 remains the most common and most widely accepted audio format, but there are alternative recording file formats such as AAC (M4A), WAV, OGG and FLAC. For a general understanding of available audio file formats and their strengths and weaknesses, I recommend reading the Podcast.co article "Audio Formats for Podcasts: Which One is Best?".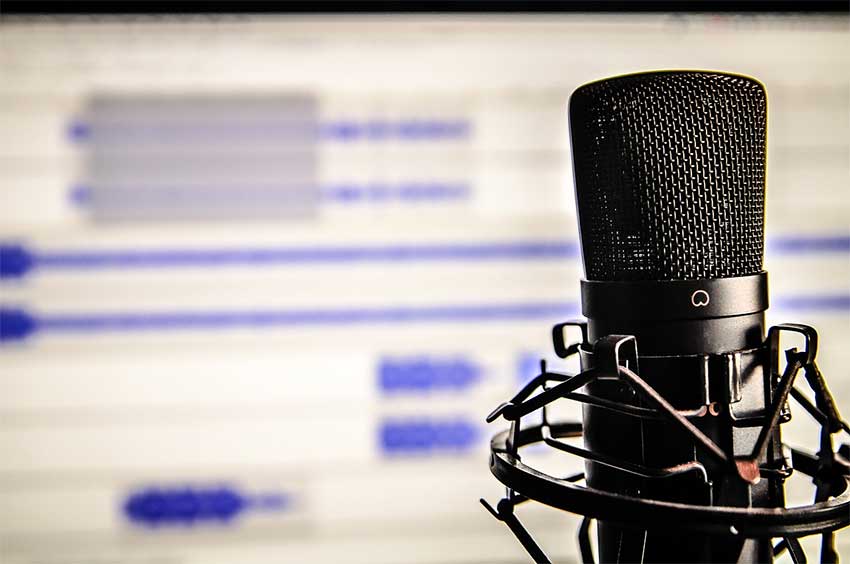 Once you have recorded your podcast, you need to host the files online. In other words, you need to store your audio files somewhere online so that they can be downloaded 24 hours per day.
Host Yourself – Theoretically, you could host audio files on a computer in your own home using an old laptop or Raspberry Pi. In practice, this is completely impractical as there is a high chance of your computer going offline.
Cheap Website Host – Audio files can always be hosted on cheap website hosting services such as BlueHost, but they are not any cheaper that podcast hosting services and if you experience many downloads, you could find yourself with an expensive bill.
Cloud Storage – For new podcasts, cloud storage services such as Amazon S3 can be used, but bandwidth costs can quickly rack up if your podcast becomes popular.
In short, none of the above options are practical long-term solutions to hosting a podcast.
Best Podcast Hosting Services
The best way to host your podcast is to use a podcast hosting service. These companies are more affordable in the long run as they offer unlimited bandwidth. They also provide many tools and features for podcasters to grow their audience.
Blubrry is the company behind the number 1 podcasting WordPress plugin PowerPress.
PowerPress features an integrated HTML5 player for playing audio and video and it can automatically publish your podcasts to Apple Podcasts and Google Podcasts. The plugin was developed with search engines in mind too and it allows you to import podcasts from other platforms and services.
Multiple languages and multiple podcasts are supported by the plugin and you can see statistics about your podcast directly from your WordPress dashboard.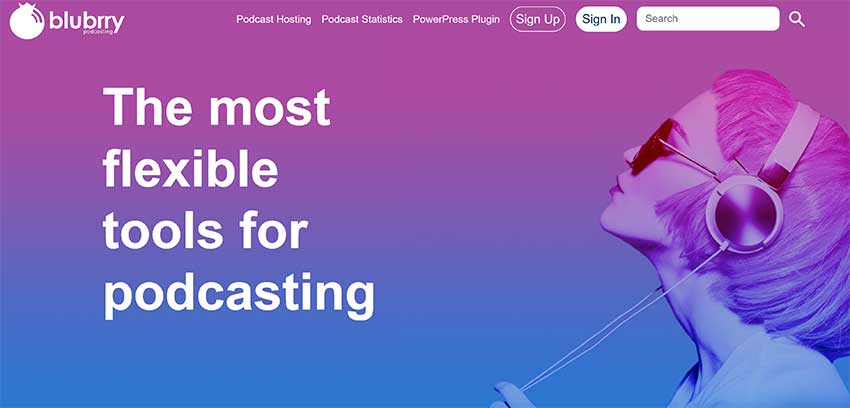 The PowerPress WordPress plugin allows you to host your audio files on any podcast hosting service, but Blubrry offer affordable hosting themselves from only $12 per month.
Their service has been optimised for iTunes and Google Play and supports professional statistics and ID3 tagging so that you can embed titles and artwork to files.
35 data centres around the world are used to reliably host your audio files, video files, eBooks and more.

Blubrry's hosting plans are based on the amount of storage you need.
Their $12 per month plan allows 100MB of uploads every month. The $20 per month increases uploads to 250MB every month and allows video uploads. The higher tiered plans offer 250MB of additional upload storage for $20 per month.
Each package also comes with a free WordPress website that has been designed to help you promote your podcast.
Be sure to look further into what Blubrry offers 🙂
Castos are a professional podcast hosting service that provides detailed analytics about your podcast and your listeners.
They have one of the fairest pricing policies online, with all of their plans offering unlimited storage and bandwidth via a global content delivery network.
The company also offers an automated podcast transcript service. Charged on a pay as you go basis, the service gives you a downloadble PDF file that transcribes your whole podcast. This is great for SEO and significantly improves accessibility.
Castos also provide all customers with their own unique domain and a mobile-friendly website that displays all podcast episodes.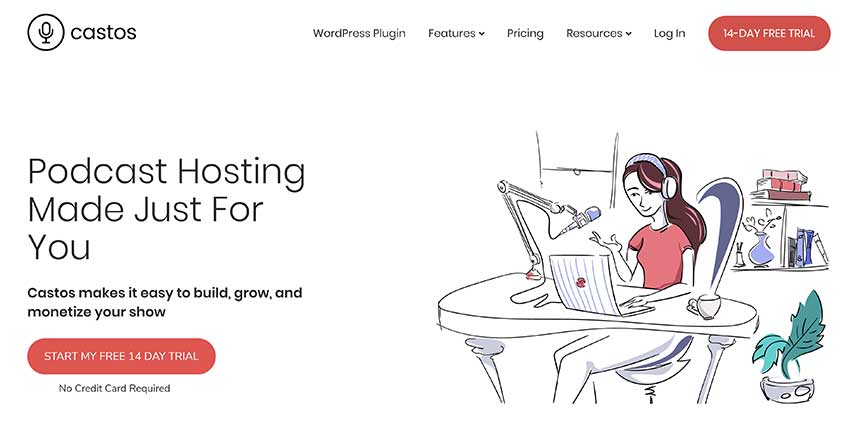 All podcasts can be displayed using a customisable media player that has subscription links to itunes, spotify and more.
If you have a WordPress website, you may also want to consider using the Seriously Simple Podcasting WordPress plugin from Castos.
The plugin allows you to integrate your podcast into your WordPress website and collect stats from your audience.
It's the perfect companion for Castos, but if you wish, you can choose to use the WordPress plugin and host your podcast files using another service.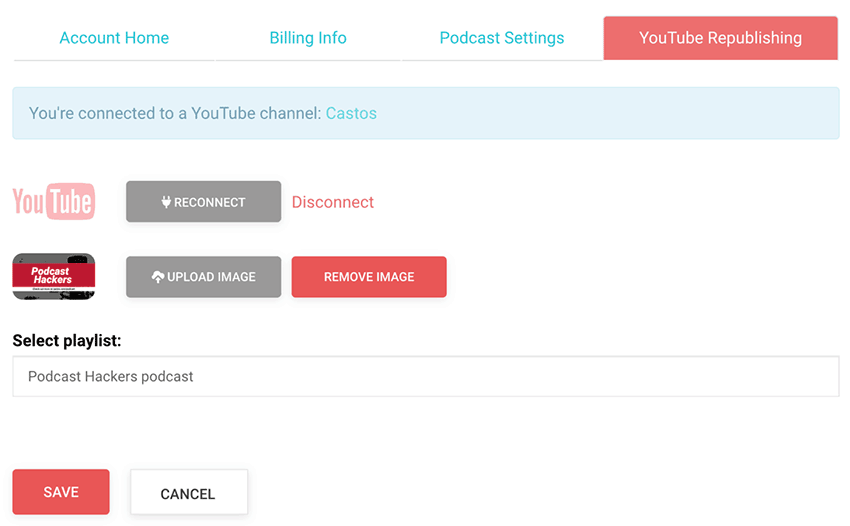 Castos have a 14 day free trial that lets you test their service. No credit card is required to take advantage of this.
Three hosting plans are available: Starter, Growth and Pro. All plans offer unlimited podcasts and episodes and you can get two months free if you pay annually.
The starter plan that costs $19 per month is perfect for audio podcasts.
If you upgrade to the $34 per month growth plan, YouTube video replenishing is added. This is a one-click setup that automatically uploads your audio podcasts to YouTube using your podcast artwork as the video background.
The most expensive option is the $49 pro plan. This package supports video podcast hosting.
With unlimited storage and bandwidth from only $19 per month, Castos is an attractive option.
PodBean is an affordable podcast hosting solution that offers unlimited storage and bandwidth with their premium plans.
Every customer receives a specially designed website for hosting and marketing their podcasts. A large number of themes are available for selection and you can customise these designs to suit your podcast.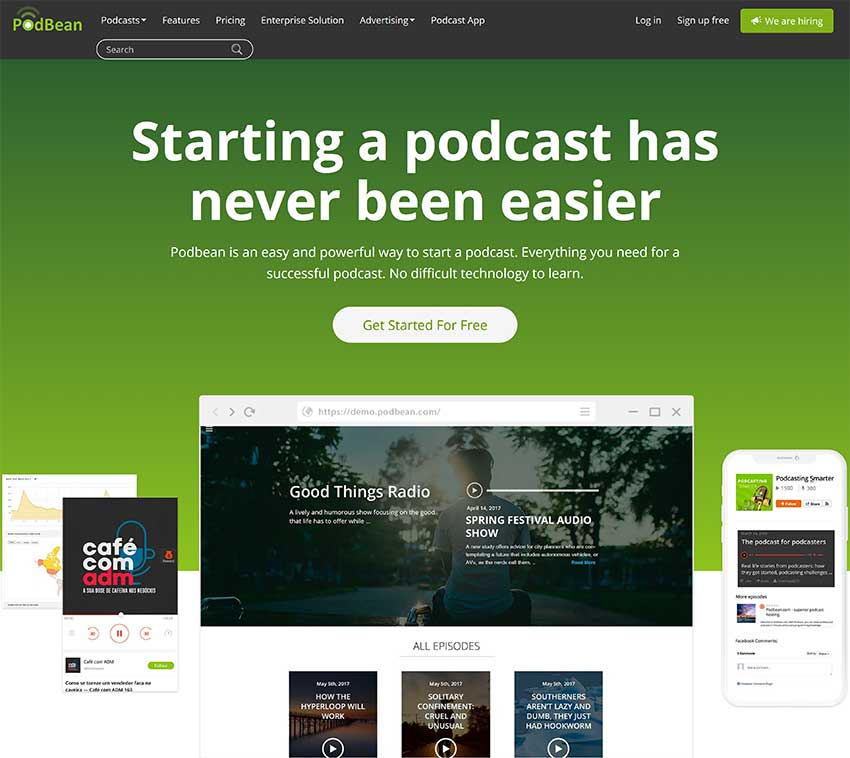 PodBean's marketing features are second to none.
The service allows you to distribute your podcasts to Apple Podcasts, Spotify, Google Podcasts, the Podbean Podcast App and more. Podcasts can also be uploaded directly from your phone and once online, they can be automatically shared to social media platforms.
A podbean app is available for iOS and Android too. It can help you do live streaming and receive calls live on your show. MailChimp integration is also available to help you collect email addresses.
PodBean provides customers with detailed analytics about downloads and listeners, but what really sets the service apart are the many options it gives you to monetise your podcast.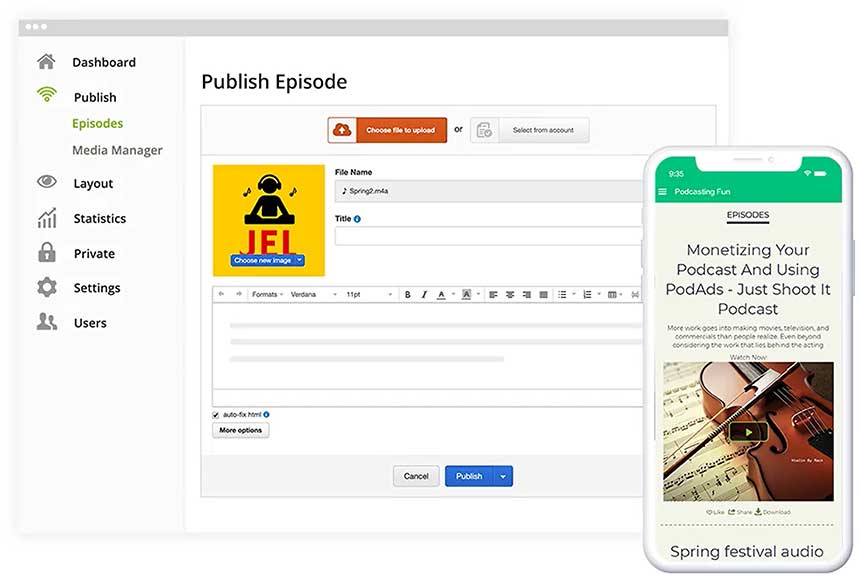 PodBean's basic plan is free to use. It allows a total of five hours of audio to be stored, which should be sufficient for your first few podcast episodes.
Their premium plans offer an unlimited amount of storage and bandwidth. Their unlimited audio plan costs $14 per month or an effective monthly price of $9 if paid yearly. It unlocks pro themes and custom theme design, use of your own domain name and monetisation through premium sales and the PodBean ads marketplace.
The unlimited pro plan costs $39 per month or an effective rate of $29 per month if paid yearly. This plan opens up the patron program and lets you insert your own advertisements dynamically into your podcasts.
Their most expensive plan is the business plan. Retailing at $129 per month, or $99 per month if paid yearly, the business plan allows multiple podcasts, multiple administrators and private podcasting. You can also remove PodBean branding and get access to chat support.
With a ton of marketing and monetisation tools, PodBean is a service all podcasters should check out.
Simplecast boasts a modern podcast hosting platform that features one-click publishing to Apple Podcasts, Spotify, Google Podcasts, Stitcher and many more.
It offers detailed analytics that allow you to examine every aspect of your audience. Another cool feature is Recast. This allows listeners to select specific parts of your podcast and share it on social media. Your analytics area will then highlight which parts of your podcast were shared the most.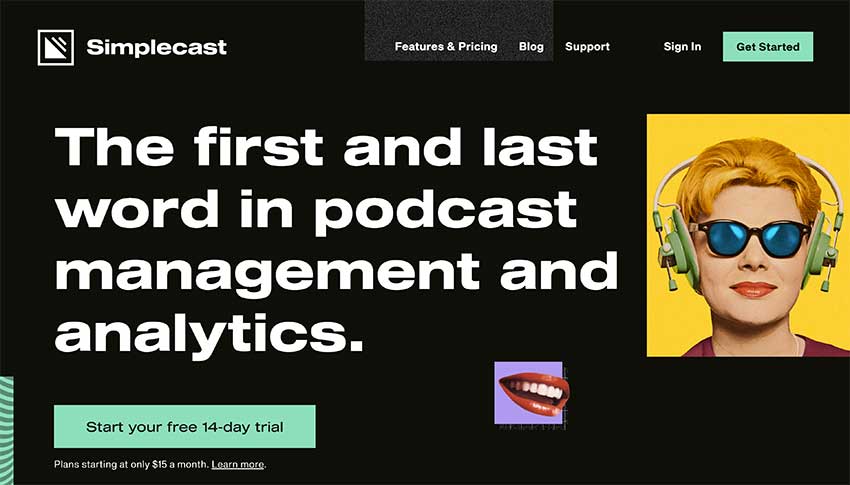 A user-friendly website builder helps you create a website to host and market your podcasts. It allows you to tweak colours, add new pages, change the structure of pages and more. As you would expect, it looks great on mobile devices too.
You can also use your own domain name and, if you wish, you can manage multiple shows from one account.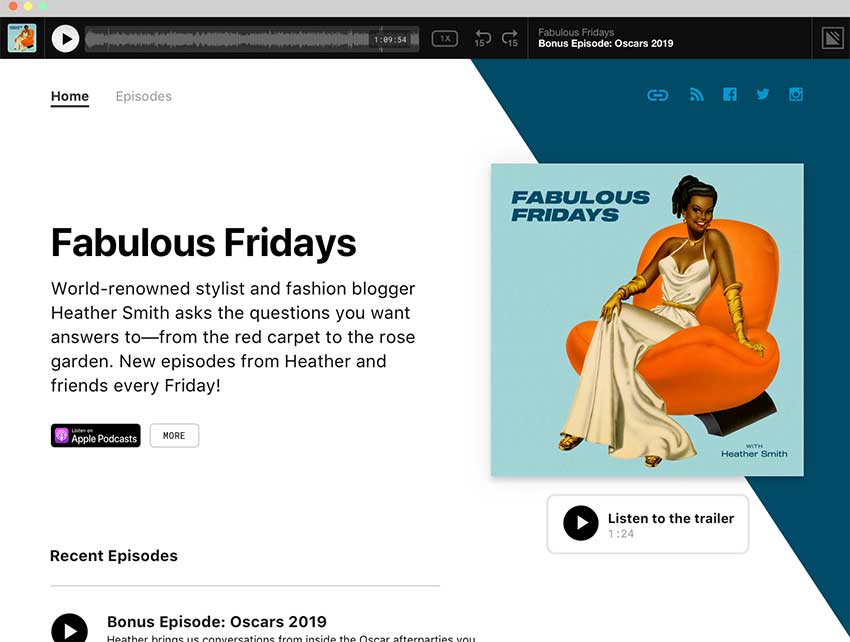 Simplecast's premium plans allow unlimited storage and uploads, however pricing is based upon the number of listeners you have.
Their basic plan costs $15 per month or an effective rate of $13.50 per month if paid annually. It allows two team members and 20,000 downloads per month.
The $35 per month essential plan drops to $31.50 per month if you pay annually. This increases team members to four and downloads to 50,000 per month. This plan also adds additional media players and expands analytics significantly to track locations, technology, listeners and more.
The most expensive plan is the growth plan, which retails at $85 per month or an effective rate of $76.50 per month if paid annually. This plan expands analytics even further and increases team members to nine and monthly downloads to 120,000.
Simplecast has taken a modern approach to podcasting. The company offers a 14 day free trial to test their service. No credit card is required to sign up for this so I encourage you to try them out.
Buzzsprout is a popular podcast hosting solution that distributes your podcast to Apple Podcasts, Spotify, Google Podcasts, Stitcher, iHeart Radio, TuneIn, Alexa, Overcast, PocketCasts, Castro, Castbox, Podchaser, and more.
Their podcast media player is beautiful and be customised to suit your own style. It has controls that allow playback speed to be adjusted and listeners can easily share your episodes.
Buzzsprout also provide a professional website for you to list your podcast episodes, however you can use your own domain for this if you wish.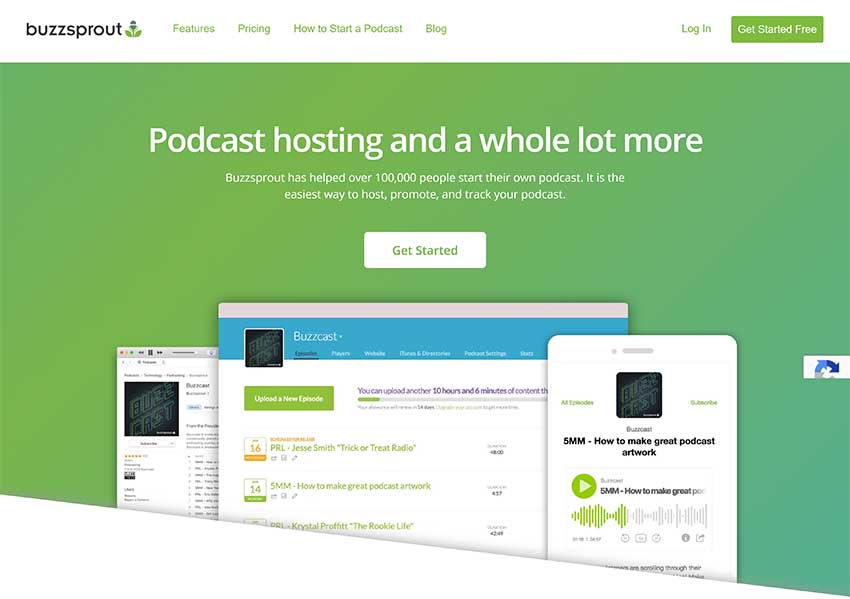 Detailed statistics are provided for your podcast to help you see total playtime, which apps are being used to listen to your episodes, where listeners are based and more.
The service automatically optimises audio and track information for each episode. There is also an affiliate marketplace where you can select products to promote on your podcast for commissions.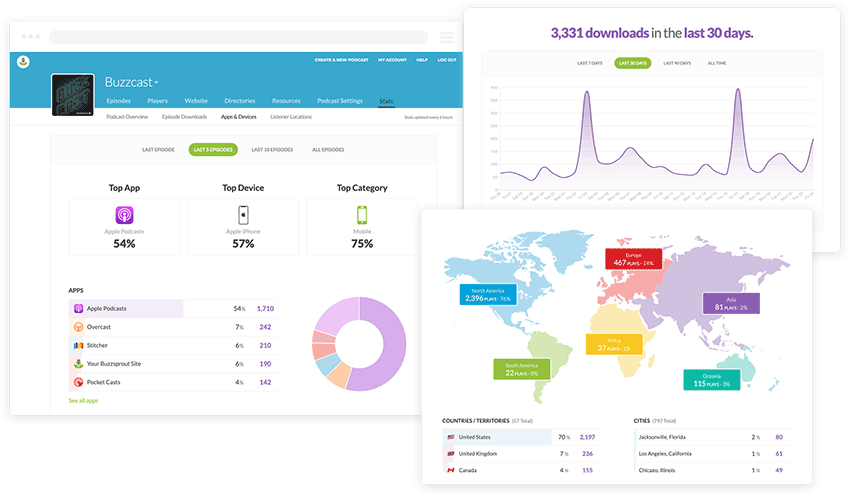 Buzzsprout have a free plan that allows two hours of uploads every month. Your podcasts will have advertisements inserted into them and episodes are only stored for 90 days, but this should be sufficient to test out their service.
If you like what you see, you can upgrade to a Buzzsprout premium plan. All plans offer unlimited storage and unlimited team members. Multiple podcasts can be hosted in each plan too.
The $12 per month plan allows three hours of uploads every month and charges $4 per hour for additional hours. The $18 per month allows six hours of uploads every month and charges $3 per hour for additional hours. The most expensive plan costs $24 plan and allows 12 hours of uploads every month with additional hours being charged at $2 per hour.
192k stereo optimisation is available as an addon for $6 per month and for $0.10 per minute, Buzzsprout will transcribe your episodes.
Without doubt, Buzzsprout has everything you need to host and promote your podcast.
Captivate is an interesting podcast hosting solution that provides a gorgeous podcast player. The player is customisable and brandable and lets you display call to actions to build up your email list.
Their plans allow multiple podcasts to be hosted and you can import your podcast from other services such as Libsyn, Blubrr, and Simplecast. Multiple team members can help administrate your podcast too.
Captivate's mobile friendly dashboard helps you analyse traffic and get a better understanding of your audience.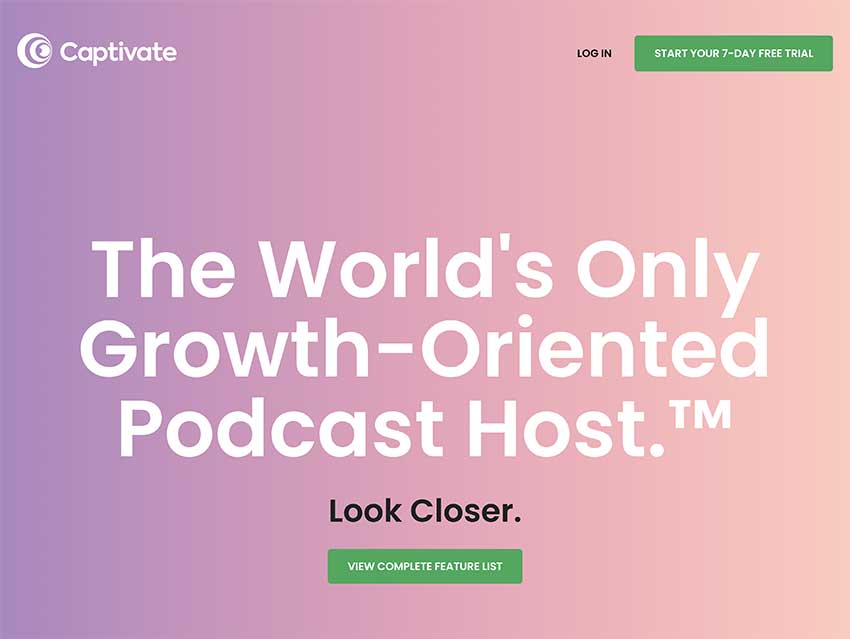 Captivate provide customers with a a multi-device podcast website (referred to as Captivate Sites). You can customise the website as you see fit and even allow listeners to make donations.
If you prefer, you can use their Captivate Sync WordPress plugin, which was designed specifically for Captivate customers to integrate podcast episodes into their WordPress website.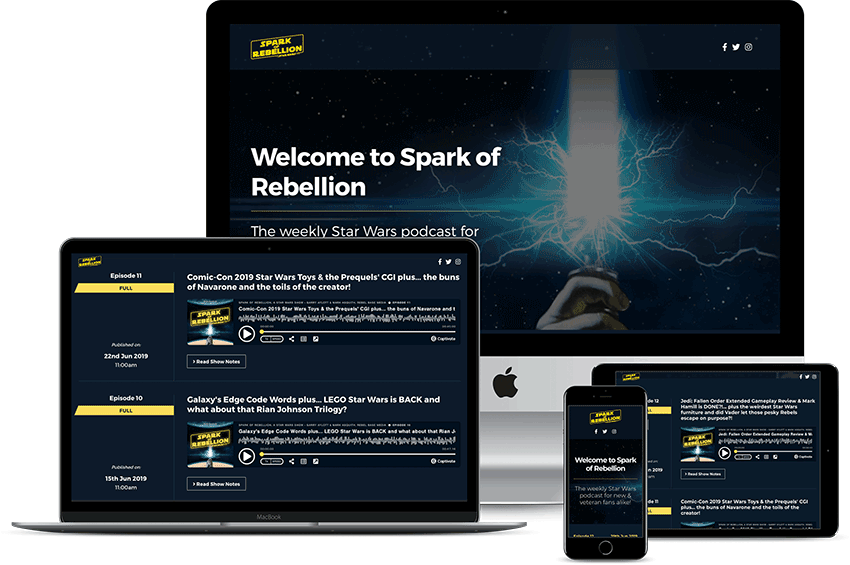 Captivate have a simple pricing policy that is based on the number of downloads per month.
The $19 per month podcaster plan allows up to 12,000 downloads per month, the $49 per month audio influencer plan allows 60,000 downloads per month and the $99 per month podcast brand plan allows 150,000 downloads per month.
A seven day free trial is available for Captivate too, but you will need to enter your credit card details and select one of the plans to use it.
I recommend checking them out.
Transistor is a professional podcast hosting solution that supports multiple podcasts. The company hosts all audio files on a global content delivery network to ensure fast downloads for all listeners.
The service helps you distribute your podcast to Apple Podcasts, Spotify, Google Podcasts, Overcast, Pocket Casts and more.
Podcasts can be embedded on websites using a customisable podcast player that features controls for playback speed and links for listeners to subscribe and share your podcast.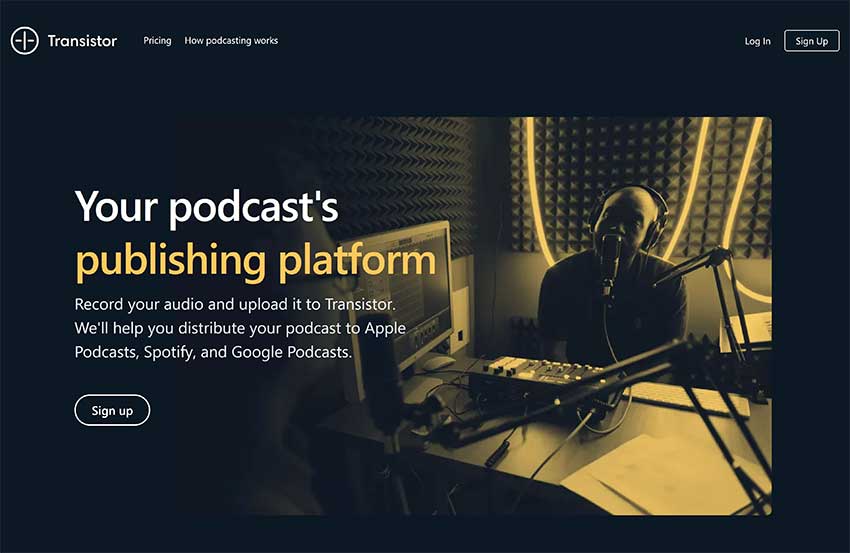 Transistor offers all customers a website to host and promote their podcasts. Email marketing services such as MailChimp, ConvertKit and Drip, can be integrated into your website to help you build a following.
You are free to monetise your website as you see fit. For example, you can display advertisements or donation buttons on your Transistor website.
As you would expect, Transistor provides podcasters with a wide variety of statistics about their podcasts and listeners. This will help you analyse the performance of your podcasts by showing you which apps subscribers are listening to, what is trending, how many downloads per episode and more.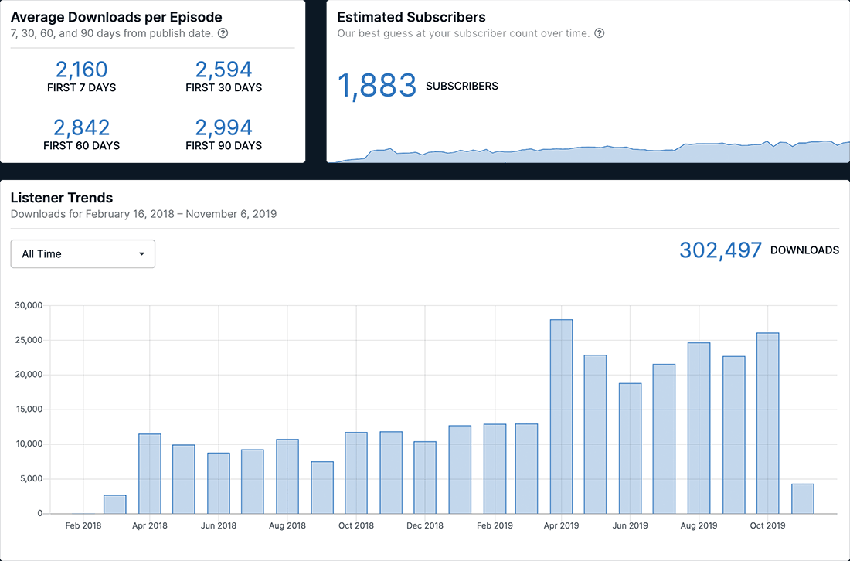 Transistor's premium plans allow an unlimited number of uploads, but pricing is based on the number of downloads your podcast receives every month.
There are three plans: Starter, Professional and Business. If you choose to pay annually, you will receive two months free.
The $19 per month starter plan allows 10,000 monthly downloads and two additional users per podcast. The $49 per month professional plan increases this to 50,000 monthly downloads and five additional users. This plan also allows one private podcast and 500 private podcast subscribers.
The higher priced $99 per month business plan increases monthly downloads to 150,000, additional users to ten, private podcasts to three and private podcast subscribers to 1,000.
A 14 day free trial is available for Transistor, however you will need to enter your credit card details and select one of the monthly plans to take advantage of it.
Be sure to check them out.
Anchor take a drastically different approach to podcast hosting and offer all podcasters unlimited free hosting.
Whilst you can record podcasts and view statistics and access all tools and features on their desktop website, many Anchor users choose to use the Anchor mobile app instead, which is available for iOS and Android devices.
The app can be used to manage everything. It lets you record podcasts directly through your phone and allows other Anchor app users to dial in and join the conversation as guests. If you prefer, you can upload audio you have already recorded.
Anchor offers many editing tools to help you curate audio and build episodes such as transitions, sound effects and background music.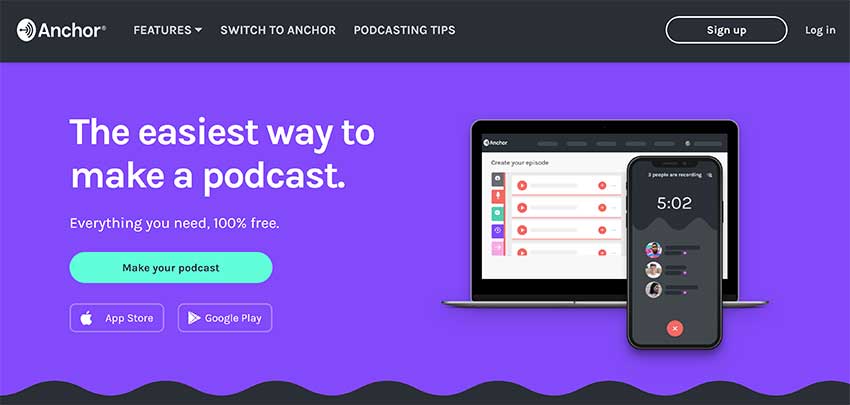 Anchor automatically distributes your podcasts to podcast platforms such as Apple Podcasts, Google Podcasts and Spotify. Their service also creates short one minute videos of your podcasts which are transcribed. This is perfect for promoting your podcast on social media.
A host of analytics can also be viewed to help you understand how well your podcast is doing.

Anchor has taken a lot of podcasters by surprise by keeping their whole service 100% free to use. In addition to being free to use, the company also attempts to match podcasters with sponsors to help them earn money. Donations are also supported.
The Anchor import tool can be utilised to transfer your podcasts into Anchor, so you may want to still consider using the service if you are currently using an alternative podcast hosting solution.
One of the first podcast hosting services online, Libsyn remains as popular as ever.
It is a versatile solution that supports audio, video, text and other file types. Files can be uploaded via FTP and you can manage everything via a file manager.
Libsyn's OnPublish feature allows you to distribute your podcast to dozens of platforms such as iTunes, Google Play, SoundCloud, Spotify, YouTube, and more.
You are provided with your own podcasting website, however if you prefer, you can use your own custom domain for $2 per month. There's an official WordPress plugin too.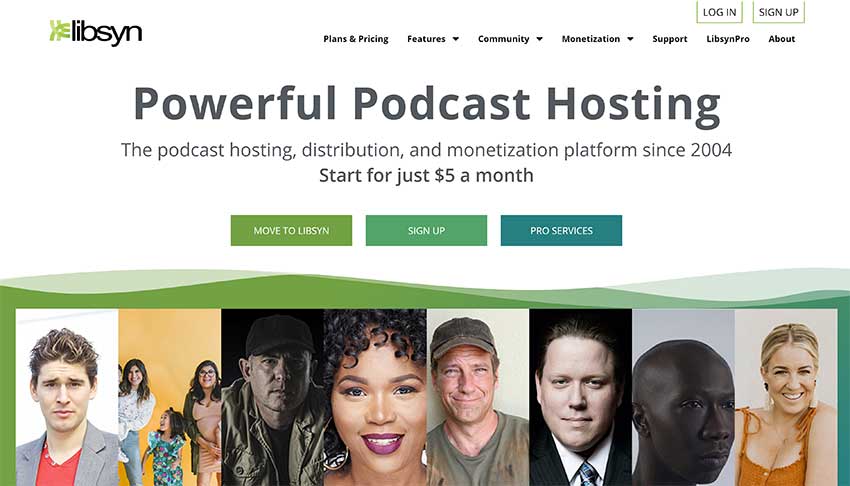 Their media player supports audio and video, however you also have the option to create your own custom mobile app for iOS and Android. This is a fantastic way of promoting your podcast.
Podcasters are provided with a ton of statistics too such as a heat map of your audience, social media stats, episode stats and more.
Monetisation options are also available. This includes selling premium subscriptions to your audience and offering them private episodes, PDFs, videos and other exclusive content.

You can sign up to Libsyn from only $5 per month.
The cost of using the service is based how many megabytes you need to upload every month. There is no limit to how many downloads you generate or how much bandwidth you use.
The $5 per month Classic 50 plan allows 50MB of uploads, the $15 per month Classic 250 plan allows 250MB, the $20 per month Advanced 400 plan allows 400MB and the $40 per month Advanced 800 plan allows 800MB. Higher storage plans are also available.
All Libysn's premium plans give you access to the majority of features and functionality. The only difference is that the lower priced Classic 50 and Classic 250 plans do not include some advanced statistics.
Without doubt, Libsyn are one of the most reliable podcast hosting solutions available online.
Audioboom are an affordable podcast hosting solution that helps you distribute your podcast to Apple Podcasts, CastBox, Deezer, Google Podcasts, iHeart, RadioPublic, Spotify, Stitcher, and TuneIn.
A simple podcast page is provided to podcasters to help them market their podcast. Audioboom also have an embeddable podcast player that can be displayed on websites and on social media.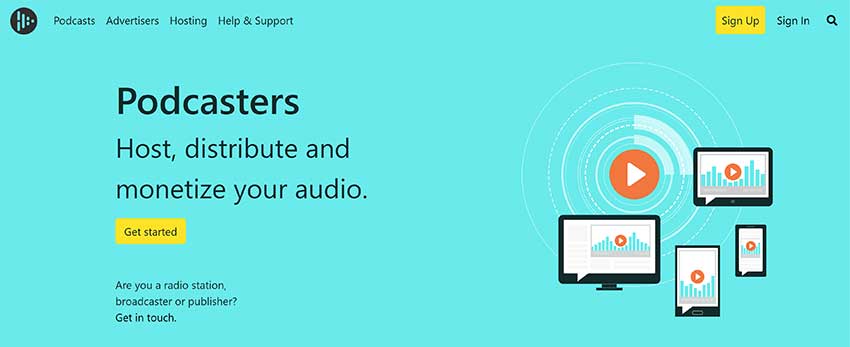 Audioboom helps you invite others into your episodes for collaborations and analytics helps show what apps and devices listeners are using and where they are from
If your podcast generates more than 10,000 players per episode, a host of monetisation options are made available to you.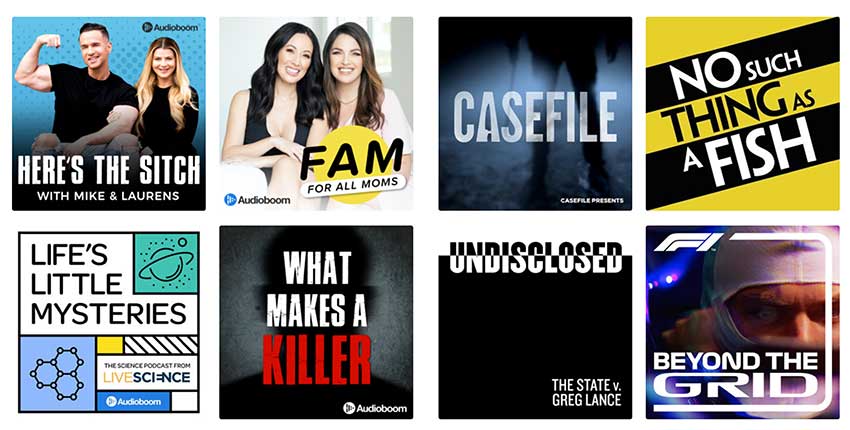 Audioboom have a simple pricing policy. For $9.99 per month, or $99.99 per year, you are given an unlimited amount of storage and up to 10,000 downloads every month.
The more expensive Podcast Pro plan is for established podcasts with large audiences. This is the plan you need to opt for to gain access to Audioboom's targeted ad-network, host endorsements and more.
Audioboom may not be as established as other services in the market, but it's an attractive option at $9.99 per month for 10,000 downloads.
Podcast.co is a modern podcast hosting solution that offers unlimited storage and bandwidth.
They provide podcasters with branded audio players for their podcasts and a customisable podcast page. Episodes can be automatically delivered to platforms such as Apple, Spotify, Google Podcasts, Breaker and more.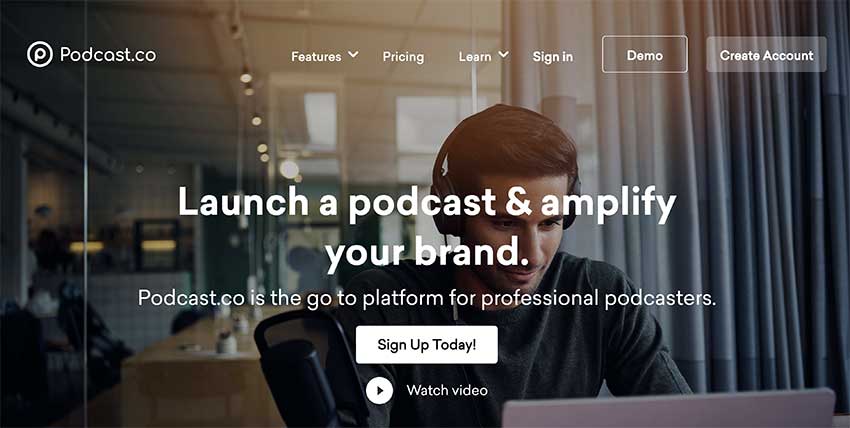 There are many features that make Podcast.co stand out from the crowd.
This includes their highlights tool that uses an audiogram tool to show speech and captions in a shareable video. Each episode can also be automatically transcribed and added into blog posts to draw visitors in from search engines.
Patreon and Paypal donation buttons can be added to your main podcast page and you can encourage listeners to donate by offering them exclusive content.
Podcast.co also have an interesting matchmaking service that matches guests with podcasters.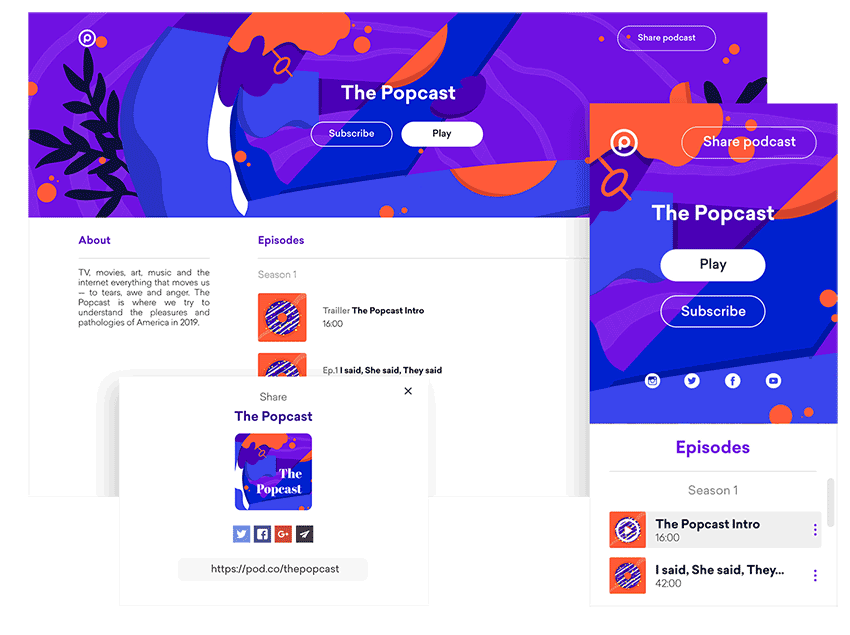 Every Podcast.co plans includes all features and functionality and have no restriction on uploads, storage or bandwidth.
The $29 per month power plan is suitable for one user and one podcast. If you upgrade to the $49 per month little network plan, two additional users are permitted. The $99 per month Big Network plan allows three podcast shows and five users.
Additional podcast shows are charged at $15 per month and additional users cost $20 per month.
All in all, Podcast.co is an attractive podcast hosting service that ticks a lot of boxes.
Last but not least is Spreaker, a company that provides desktop and mobile apps to help you produce podcasts.
You can upload audio to Spreaker, record audio directly and even go live. Everything is managed from a user-friendly content management system.

Once you have recorded your podcast, you can distribute it to Apple Podcasts, Google Podcasts, iHeartMedia, Spotify and more.
Real-time statistics are provided to help you see location, what devices people are using to listen to your podcasts, demographics and more.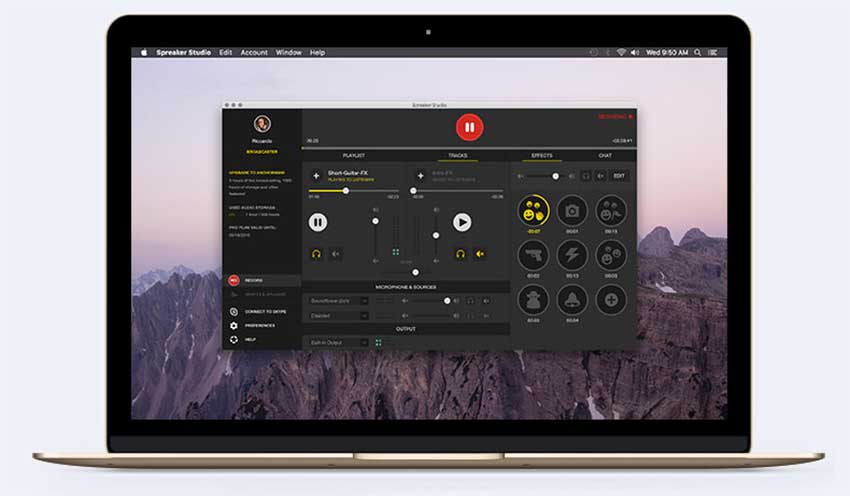 Spreaker's podcasting plans are defined by how long your podcasts are and how much storage you need.
Their free plan allows 15 minutes per podcast and stores up to five hours of audio.
The on-air talent plan costs $7 per month or an effective rate of $6 per month if paid yearly. This plan allows 45 minutes of audio to be recorded per podcast and up to 100 hours of audio storage. Monetisation options are unlocked in this plan too.
The broadcaster plan costs $20 per month or an effective rate of $18 per month if paid yearly. This increases podcast length to three hours and audio storage up to 500 hours. It also adds advanced statistics and lets you create private podcasts.
The anchorman plan costs $50 per month or an effective rate of $45 per month if paid yearly. Podcasts can be up to five hours under this plan and the audio storage limit is a whopping 1,500 hours. It also provides a customisable media player and additional statistics.
If you want unlimited audio storage, you need to upgrade to their $120 per month station plan.
Spreaker's pricing policy might be a little different to alternative solutions, but you should definitely check them out as their desktop and mobile applications are excellent.
The Most Affordble Podcast Host
PodBean gives five hours of storage free, Buzzsprout allows two hours of uploads every month free of charge and Spreaker gives you 15 minutes free per podcast.
Whilst it is generous of companies to offer free plans, the limitations placed on free accounts mean that in practical terms, they are better viewed as a way of testing the service.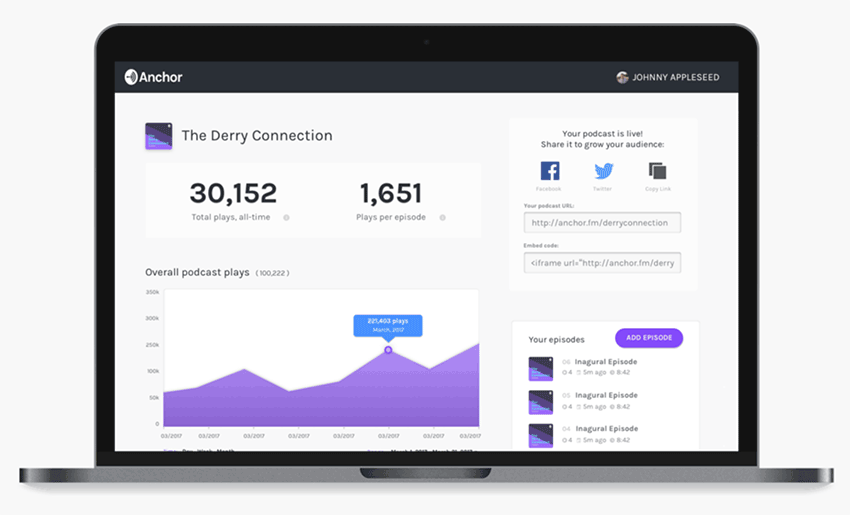 In contrast, Anchor is 100% free to use. There are no storage limits and no bandwidth limits. The company also provides tools for monetising your podcasts.
Of course, this does not mean that Anchor is the best podcast hosting solution for everyone, however if you are on a budget, their service should be top of your list.
The Most Feature-Rich Podcast Host
Determining the podcast host with the most features and functionality can be difficult, particularly as the majority of podcast services offer similar features such as a customisable podcast player, automatic website creation, detailed analytics and distribution to major podcast services and directories.

I do feel, however, that the features on offer from Podcast.co are outstanding.
For just $29 per month you receive unlimited storage and bandwidth and advanced features such as podcast highlights and podcast transcriptions. It is a fantastic package.
Final Thoughts
Podcast hosting services are the most practical way of reliably hosting your podcast. Using a podcast hosting service will ensure that your listeners can download and listen to your podcasts at any time of the day.
Take your time to research each company to see what they do and do not offer. This will help you find a service which matches your budget and offers the functionality you need.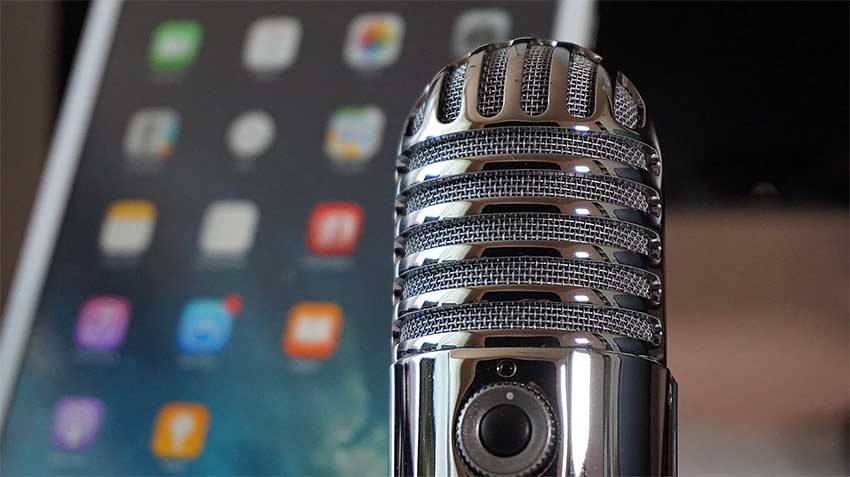 I hope you have enjoyed our list of the best podcast hosting services on the internet.
If so, I encourage you to subscribe to the Design Bombs blog. You can also keep up to date with our latest articles on Facebook and Twitter.
Thanks for reading.
Kevin