11 Best Transcription Software Tools for 2023
Transcribing audio files manually is a tedious and time-consuming process. It can also be expensive if you're outsourcing the task to a freelancer or transcription agency.
Technology to the rescue! As AI technology and transcription software has become more advanced, there are now many tools that can convert audio files into text for you as if by magic.
There are several reasons why you might want to transcribe audio into text. Some of the tasks these transcription services can be used for include:
Generating transcripts for podcasts and videos.
Improving the accessibility of your content and reaching a wider audience.
Converting an audio interview into text for easy reference.
Writing an article faster than typing. This is also useful for people who have trouble writing and can better express their thoughts and ideas through speech.
In this article, we will take a look at 11 of the best options for transcription software in 2023. We've chosen these products based on their features, usability, cost, and customer reviews.
1. Rev
Rev is a transcription company that provides a human transcription service as well as automatic AI-powered transcription at a low cost.
The transcription software is easy to use with an interface that allows you to both view and edit the transcription of the audio file in real-time. You can also work on multiple files simultaneously and share or export the transcript in multiple formats.
Turnaround time is just five minutes and the average accuracy should be 80% or higher, depending on the quality of the audio file.
The technology that Rev uses is so accurate because it's continually improved with data from its team of over 50,000 skilled transcribers. Many major companies use Rev including Amazon, Microsoft, and CBS.
Rev recommends their automated transcription service for clear, high-quality English audio with minimal background noise. For better results with multiple speakers, strong accents, or lower quality audio, they recommend using the human transcription service.
Price: Rev automated transcription costs $0.25 per minute. You can try out the service and get your first 45 minutes for free.
2. Otter.ai
Otter is AI transcription software that allows you to convert audio files into text with just a few clicks. The tool is intended mainly for transcribing conversations and voice notes.
The transcription accuracy ranges between 80% – 95%. Otter can transcript files from Zoom recordings, audio, or video format, and output the transcription in a variety of formats such as Microsoft Word, PowerPoint presentations, or PDFs.
Several major organizations rely on Otter to transcribe their meetings and conversations including IBM, Dropbox, Zoom, and UCLA.
What really makes Otter stand out from other transcription software is its extra productivity features. Otter not only transcribes, but also produces "smart notes" including images, speaker ID, summary keywords, and highlighting key phrases.
Otter is available via a web interface or an app for iOS and Android.
Price: Otter has a free plan, which gives you 600 free minutes of live transcription each month. Paid plans start from $8.33/month for 6,000 minutes of transcription, the option to upload pre-recorded files, and other advanced features.
3. Dragon
Dragon is the grandfather of modern transcription software and has been around for decades. There's no doubt that this company wins in terms of audio-to-text technology experience but it's not the most flexible option and it's not the best solution for everyone.
The company offers a confusing number of products aimed at different user groups. Most individual users will find that Dragon Home or Dragon Anywhere meets their needs.
Dragon Home is a traditional software product for PC with a one-off cost. You can also use it together with Dragon Anywhere, the mobile app version for Android and iOS but this has an additional monthly fee. Unfortunately, Dragon is no longer supported for Mac… Mac users can skip to the next tool in the list!
The transcription accuracy with Dragon is up to 99%, and the transcription speed ranges from 60 to 180 words per minute. Dragon automatically adjusts to your voice using its smart learning technology so it becomes more accurate the more you use it.
As well as using Dragon to transcribe speech to text, you can use it to operate your computer and browse via voice commands.
Dragon also has a useful "playback" feature, which allows you to listen to a block of text for easy proofreading and editing.
Price: Dragon Home costs $200. Dragon Anywhere is $15/month with a one-week free trial.
4. Trint
Trint is AI transcription software that uses machine learning to improve the transcription quality with each use. It will also convert any audio or video file in up to 31 languages.
You can use Trint via the web interface or with the iOS app. As well as basic transcription, there are also tools for collaborative editing including comments and highlighting, and adding captions to videos.
Price: From $48/month for up to 84 files per year or from $60/month for unlimited transcription. There's a 7-day free trial for all new users.
5. Descript
Descript is an advanced AI and human-powered transcription tool for highly accurate transcription, podcasting, and video editing. The transcription engine is powered by artificial intelligence, machine learning, and human editors, which means it gets better the more you use it with accuracy rates up to 99%.
The cloud-based platform is secure for the transcription of confidential or sensitive information, and cloud sync and backup means that you or your team members can instantly access your transcripts from anywhere.
Automatically add speaker labels and export your transcript in multiple formats with timestamps and other handy features.
Descript is a particularly powerful tool for podcasters and video content producers, as it includes some unique features for working with audio. You can edit the transcript and Descript will automatically edit your audio to match.
Filler word removal takes all the "umms" and "ahhs" out of your audio at the click of a button. You can also add a voiceover to videos with the text-to-speech feature.
Price: You can try out Descript with 3 hours of free transcription. Paid plans start from $12 a month, which includes 10 hours of transcription each month.
6. Sonix
Sonix is an automatic in-browser transcription app that can also translate into over 30 languages.
It comes with a powerful word processor including spell checking and grammar tools as well as lots of handy shortcuts for transcription tasks such as timestamps, speaker labels, highlighting sections, and adding comments to the text.
Sonix automatically labels speakers, timestamps words, and separates exchanges into paragraphs. You can add notes or comments directly in the transcript and export your transcription as a PDF or Word document.
Price: Pay-as-you-go plan costs $10 an hour or you can get a subscription from $22/month, which reduces the hourly rate to $5. New accounts come with a free trial, which includes 30 minutes of transcription.
7. SpeedScriber
SpeedScriber is MacOS-only transcription software that works up to 4.8x faster than manual transcription.
It can transcribe a 60-minute audio file in just 10 minutes and supports multiple accents and different speakers. It's easy to add punctuation or edit the transcript and timestamps are added automatically. You can assign a name and color to each speaker for easy viewing.
Price: Transcription is charged hourly from $0.37 to $0.50 per minute (longer transcripts are charged at a cheaper rate). You get 15 minutes free when you create a new account.
8. Temi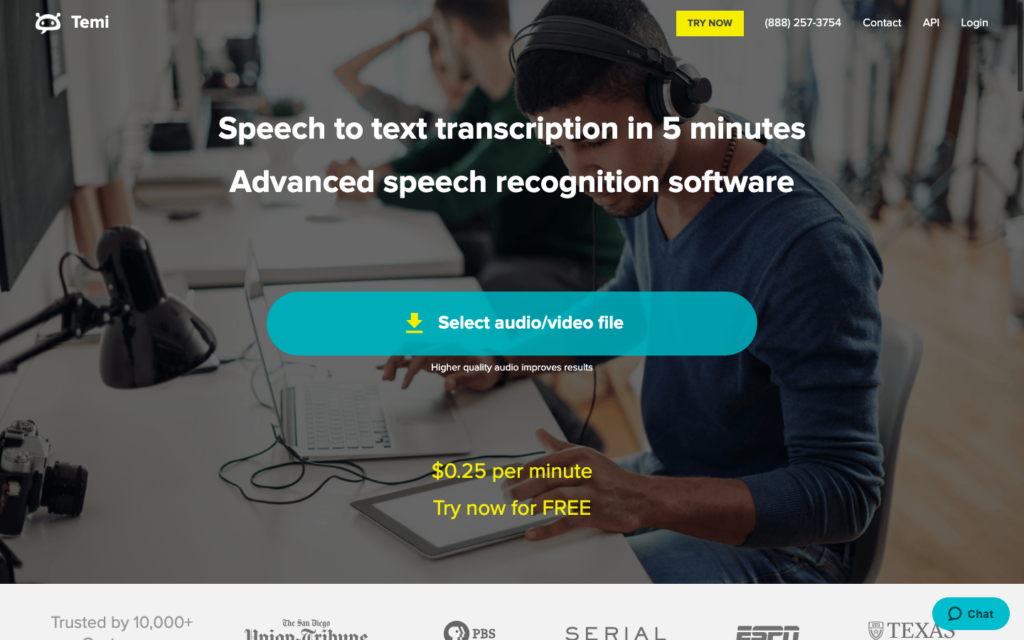 Temi is transcription software that accepts any type of audio or video file and automatically transcribes the content. It's ideal for transcribing presentations, interviews, meetings, podcasts, and lectures with up to 95% accuracy for good quality audio.
Temi also comes with a transcription editor where you can add timestamps and clean up the transcript as well as synchronizing transcripts with slides. Temi will automatically add speaker labels,
Price: $0.25 per hour. There's a free trial that includes one transcription of up to 45 minutes.
9. Happyscribe
Happyscribe is a transcription and subtitling platform that accepts files in multiple languages. It works well with podcasts and interviews and offers an interactive editor to work on the transcript, add timestamps, clean up mistakes or mark sections for translation.
You can upload files of any size or length, import them from other platforms such as YouTube and Vimeo, and export your transcript in pretty much any format you could ever want. Transcripts are 85% accurate on average, and the turnaround time is just 5 minutes.
Price: €0.20/minute. There's a free trial of 10 minutes available.
10. Transcribe by Wreally
Transcribe by Wreally is a tool designed for professional transcriptionists that includes foot pedal integration and automatic text expander commands to speed up your workflow.
You can use the automated speech-to-text software to transcribe any kind of audio including interviews, meetings, videos, audio notes, lectures, speeches, and podcasts.
Choose between automatic machine transcription, voice typing with dictation, or self-transcription with tools including slowed-down audio, auto-loop, and foot pedal operation.
The tool is web-based but also works offline as long as you're logged in. It accepts multiple audio and video formats and you can export as a Word document, PDF, or other transcription formats. Most automatic transcriptions take 5-10 minutes for every half-hour of audio.
Price: $20/year plus $6/hour for automatic transcription
11. oTranscribe
oTranscribe is not automatic transcription software but it's a free tool that can help you to speed up your workflow when manually transcribing a video or audio file.
The open-source web app is completely free to use, you don't have to register, and it accepts multiple audio and video files as well as YouTube links.
There are handy keyboard shortcuts for navigating through your video and adding interactive timestamps. An integrated video player means there's no more switching between your video player and text document.
Obviously, this tool is not as convenient as the powerful automatic AI transcription tools on this list but if you don't want to spend any money, it can help to make the task of transcribing your videos manually a little less painful.
Price: free
Which Transcription Software is Right for You?
This transcription software roundup gives you an overview of the best and most accurate transcription tools available in 2021. There's no need to waste your time on manual transcription or pay freelance transcribers to convert your audio and video content into text any longer.
Here are some factors you should consider when choosing transcription software:
Budget – Are you looking for a free tool or are you happy to pay more for a better result and extra features?
Purpose – Transcription software tools vary in terms of features and are better suited to different types of transcription tasks. Make sure the tool you're considering is designed with your main purpose in mind, whether that is transcribing a meeting or podcast, or subtitling a video.
Speakers, accents, and languages – You might need transcription software that supports multiple speakers with various accents so try out a few to see how they cope. Some transcription programs also support translation.
Accuracy – The average accuracy of these different services varies. The most accurate tools combine AI-powered automatic transcription with human editors for the best results.
Turnaround times – Human transcription is the most accurate option but turnaround times will usually be longer. Some tools can work up to five times faster than human transcribers.
Have you tried out any of these transcription tools? Or are there any others you would like to recommend? Make sure to share your experiences in the comments!