16+ Best AdSense Optimized WordPress Themes (2019)
One of the easiest ways to make money from your blog or website is through advertising. You can start earning from your blog by simply applying for Google AdSense (or another advertising program) and then pasting your ad codes into your site where you want to display the ads. Whenever a website visitor clicks on an ad, you get paid.
But, where should you put your ads to increase conversions and make more money? That's where an AdSense optimized WordPress theme comes in. These themes are designed to improve your conversion rates and make ad placement easy.
If you're still in the early stages of building your website, have a look at our how to start a blog guide learn the basics. First, you must least which WordPress hosting to use. You could either go with shared or managed WordPress hosting. If you're on a tight budget, we recommend using a high-quality shared host like SiteGround. You can read our SiteGround Review here to learn more.
Once you're done with that first step, you're ready to choose your theme.
We've compiled a list of sixteen great WordPress themes designed to increase your revenue through strategic ad placements.
What are you waiting for? Check them out now!
1

Heart & Style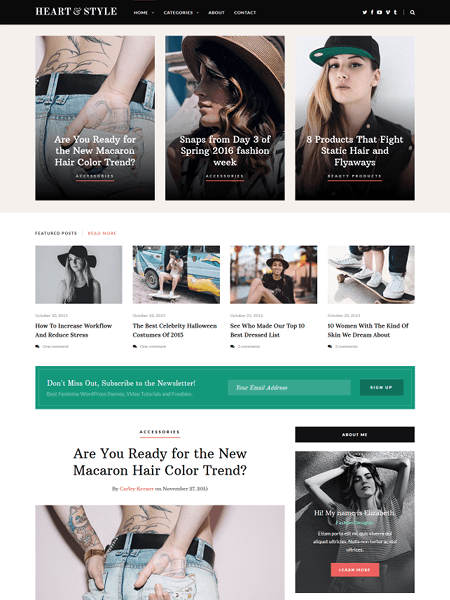 Heart & Style is a feminine magazine-style WordPress theme which you can easily customize for optimal AdSense revenue.
This theme has multiple layout options with enough space for your ads to stand out and get better attention. Heart & Style also includes social media sharing integration so your visitors can easily share your content with their followers.
This theme boasts seamlessly integrated custom widgets for About Me and Social Sharing that makes your site look professional and attractive.
Heart & Style is a visually impressive magazine theme with large featured images. You'll be able to easily integrate your ads with your own content to increase your AdSense revenue.
Wrapping It Up
If you're looking to monetize your site using ads, choosing a WordPress theme that supports you is important. Integrated space for ads placed in visitor hotspots helps you make more money, by capitalizing on the traffic you're already receiving.
Over to you – are you running ads on your site? What theme do you use and why?