SiteGround Review – Is It the Right Host for Your WordPress Site?
Please Note: We're no longer recommend SiteGround, a lot has changed since we wrote about them the first time. See our WordPress Hosting guide, if you are looking for a new hosting provider.
SiteGround has recently become one of few web hosts listed on WordPress' hosting page. The company was founded in 2004 by a group of university students and has steadily earned a reputation for being one of the most reliable hosts in the space of WordPress. However, WordPress isn't the only CMS this host supports.
SiteGround also offers hosting options for Joomla, Magento, Drupal, and PrestaShop. These are available in shared, cloud, dedicated and reseller hosting packages. Email hosting is also available.
Let's see how SiteGround holds up as a WordPress host.
Advantages of Hosting with SiteGround
Performance and customer service, including the individual services a company offers, are two major components you need to consider when deciding on a web host. Performance is just one facet of your business' success. After all, your customers can't see what amazing products, services and content you offer if they can't access your site.
Let's go over what things you have to look forward to as a customer of SiteGround.
1. 100% Uptime Reliability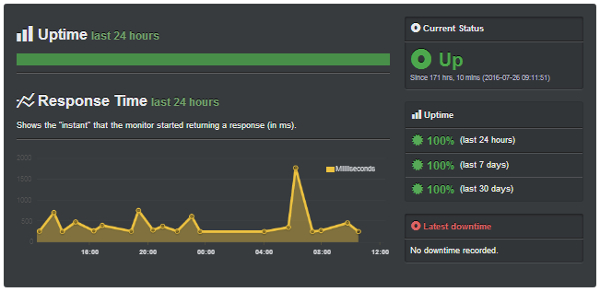 Uptime is an important thing to consider when choosing a host, and we're happy to report how reliable SiteGround's servers are in terms of keeping your site live and active on a consistent basis. Our SiteGround server experienced no downtime in the duration of our test, as you can see from the 100% uptime scores in the image above.
2. Impressive Page Load Times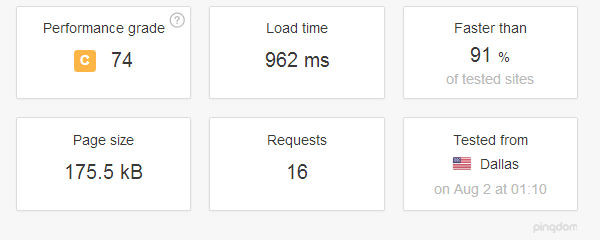 Whether or not your server loads is important, but slow-loading servers are just as bad. Luckily, our server at SiteGround loaded in under 1 second when tested with Pingdom, and the response time results from Uptime Robot prove how consistent site speed is over time.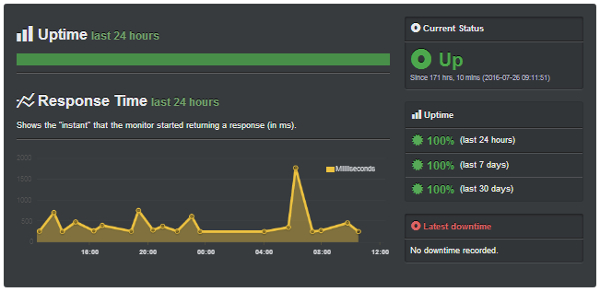 3. Quality Support, Especially for WordPress Users
Excellent customer service is a major highlight of being a SiteGround customer. This host offers 24/7 ticket, live chat, and phone support.
WordPress users will be delighted to hear that this host offers top-tier WordPress-related support. However, it should be noted that this support is mainly geared toward WordPress novices who need help with common WordPress-related issues and popular WordPress plugins and themes. This also includes free WordPress installations.
While SiteGround does everything it can to reduce the number of support requests its staff receives, it also does everything it can to make sure its staff can handle those support requests. This includes overstaffing all shifts and integrating in-house tracking and load-balancing systems to optimize the way its staff handles requests.
When you submit a support request and receive a reply, you'll have access to a personal profile of the customer service representative you're speaking with. This profile will list that representative's years of experience, technical background and other relevant information.
SiteGround also has a large knowledge base filled with hundreds of articles. These articles are designed to help you navigate your way through common issues you may experience, issues that often occur through no fault of the web host.
There are also dozens upon dozens of articles related to WordPress as well as a special section dedicated to WordPress tutorials. These tutorials include a number of different topics for WordPress novices, from How to Install WordPress to How to Improve WordPress Security.
4. Services Designed for WordPress Users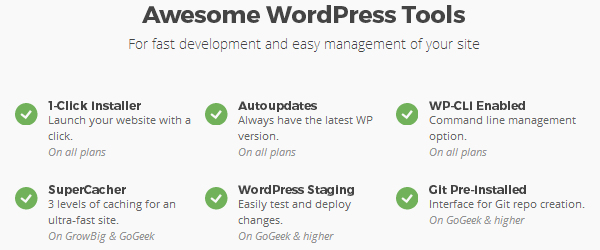 We've already explained how this host offers WordPress-specific support for WordPress users, but this isn't the only service it offers exclusively for WordPress users.
The first service is SiteGround SuperCacher, an in-house WordPress plugin that takes care of your site's caching needs so you don't need to rely on a third-party plugin. Every plan supports static caching, but this tool, which SiteGround manages for you, kicks it up a few notches.
SiteGround also has a few security practices it uses to protect your site against attacks. It starts with a powerful firewall that blocks access to your site and continues with close monitoring of any vulnerabilities that exist in WordPress files. That includes WordPress core files and popular plugins.
When the host discovers vulnerabilities, it implements server-level fixes to protect your site while the developers of the files in question work on updates.
Auto updates are also available on all WordPress hosting plans. This feature updates WordPress core files automatically, and you can even have it update plugins. You can also turn it off if you prefer to perform updates manually.
A staging area is also available with GoGeek shared hosting plans and higher. This staging area lets you design your site in a controlled, offline environment. It also lets you test new changes and code without affecting the way your site operates for front-end users. All it takes is one click to go live once you're ready.
Advanced features are also available for experienced developers. This includes WP-CLI, a feature that lets you perform installations and updates from the command line, among other things.
It also includes SG-Git integration to make creating WordPress repos easier. This feature lets you create a Git repository of your WordPress installation for easy access later on. You'll also be able to use multiple versions of PHP, from 7.0 to 5.3 and unlimited MySQL and PostgreSQL databases that can be accessed through phpMyAdmin and phpPgAdmin.
Lastly, this host has released dozens of well-designed, well-developed and well-secured free themes. Anyone can download these themes, but SiteGround customers can have them installed on their WordPress accounts for free.
5. Free CDN Service
Every plan comes with a free CloudFlare account that lets you enable a CDN for your site. A CDN essentially increases site speed by distributing access to your site across servers all around the world so your users can connect to a server that's closest to them.
It also uses four data centers located in the United States, Europe and Asia-Pacific to help out even further.
6. Daily Backups
SiteGround performs daily backups for every hosting plan. If you purchase a premium shared hosting plan or higher, you'll have access to 30 copies of your backups as well as simple restoration features, such as a Backup Tool installed in cPanel.
7. Affordable Hosting & a 30-Day, Money-Back Guarantee
SiteGround's hosting fees, especially for their shared hosting plans, are quite affordable in comparison to similar hosts. You'll even receive a free domain when you purchase your plan.
Keep in mind SiteGround's hosting fees are even cheaper with our coupon, which gives you access to discounts as high as 60%.
Trying this host out is also risk free with SiteGround's 30-day, money-back guarantee.
8. Free Website Transfers
If you aren't an experienced developer and feel intimidated by having to transfer your site from one web hosting server to another, you can take advantage of SiteGround's free website transfer service. This service is available for single websites and complete cPanel account migrations.
9. Ecommerce Features Included
This host also supports ecommerce sites. For example, SSL certificates are available free of charge through SiteGround's partnership with Let's Encrypt. This is available on all hosting plans.
It even offers hosting plans specifically for ecommerce sites, which feature cPanel and Softaculous to make it easy for you to one-click install 18 different ecommerce applications. This includes Magento, PrestaShop and OpenCart.
10. Email Hosting
Email hosting is available for a low, monthly fee. Every email account you create is free. Your email accounts are protected by SpamAssassin and SpamExperts to decrease the amount of outgoing and incoming spam your accounts give and receive.
The Main Disadvantage of Hosting with SiteGround
SiteGround is a wonderful host, but no host is perfect. Let's talk about its main disadvantage in compared to other hosts.
Low & Limited Web Storage for Websites
SiteGround offers a low and very limited amount of web storage for websites, especially on its shared hosting plans. The most space you have access to on its shared hosting plans is 30GB, which is only available on its most expensive plan. This is in comparison to other shared hosting providers that offer unlimited amounts of storage space on their shared hosting plans.
If you need more than 30GB, you'll need to purchase a cloud or dedicated hosting plan, which can be quite expensive.
Hosting Plans Available at SiteGround
SiteGround offers a number of different hosting plans for WordPress. The cheapest, as expected, are shared hosting plans.
Shared Hosting Plans from SiteGround
A brief overview of SiteGround's shared hosting plans:
Startup
GrowBig
GoGeek
Visits (per month)
10,000
25,000
100,000
Bandwidth (per month
10GB
20GB
30GB
Sites
one site
Unlimited sites
Unlimited sites
Cost per month
$3.95
$7.95
$14.95
Visit:
SiteGround
All of these plans come with cPanel and Softaculous, and although they're powered by shared hosting environments, their accounts are separate to ensure vulnerabilities that exist in one account cannot affect the security of another.
Cloud Hosting Plans from SiteGround
SiteGround offers four cloud hosting plans, all of which have different specs and resources. However, every plan is powered by a Linux-based system running on a solid state drive.
These servers are fully managed, and you can add additional resources whenever you need to. You can also take advantage of SiteGround's auto-scale feature that uses more resources automatically to protect your site from traffic spikes.
Here's a full list of features these plans offer:

Dedicated Hosting Plans from SiteGround
SiteGround's dedicated hosting plans have additional resources and specs, which often include multiple CPUs and hard drives. The company offers full management services for your server, which has the same features as SiteGround's cloud servers. However, this type of server has support for five dedicated IPs rather than one.
Who is This Host for?
SiteGround is a web host for everyone, from small-time bloggers and big-time businesses to professional web developers. It offers enough hosting plans and services to suit every type of user.
WordPress Novices
This host is a great option for WordPress novices. Its knowledge base and tutorial sections are filled with articles on how to perform basic tasks. You'll be able to learn how to install the CMS through cPanel, how to install your first theme, how to install plugins, how to secure your site, how to backup your site manually and more.
You'll also receive heaps of help from SiteGround's support staff, which includes being able to ask them to install WordPress files, theme files and everything else you need.
New and Small Bloggers
WordPress.com and Blogger are wonderful places to host a free blog, but self-hosted WordPress is built for professional blogs. SiteGround is a wonderful host to choose if you're just starting out.
It has cost-effective shared hosting plans that have enough power and resources to keep your small-time blog afloat, and you can even upgrade smoothly as you grow.
Larger Businesses and Ecommerce Shops
If you have a larger business or ecommerce shop, you'll find plenty of plans and services capable of taking care of your site as it gets hit with traffic and security threats. There are a number of different premium plans for you to choose from if shared hosting servers can't meet your needs.
There are also security features built into every plan as well as a firewall and free SSL certificates, which provide a wonderful way for you to ensure your customers personal and billing information remains safe.
SiteGround also lets you register, host and manage domains and domain email addresses from your account. Having all of this under one roof can help streamline the way you run your business.
Experienced WordPress Users & Professional Web Developers
This is also a great host for professional web developers. The staging area is a great way for you to test new sites, plugins, themes and custom code without affecting the live version of a site. This host also provides freedom in the way they allow you to use FTP servers, different versions of PHP and other programming languages.
It's also a great option for developers who maintain their clients' websites on a long-term basis, as stated earlier. The reseller hosting plans are truly great ways for your business to include hosting as a service so your clients never need to worry about anything that's too technical.
60% off Web Hosting at SiteGround
SiteGround is a wonderful host with plenty of services for you to choose from, and we're impressed by the amount of services it offers for WordPress users. If you're interested in purchasing a plan with this host, use our coupon to receive a discount of up to 60% on your purchase.