Pressable Review (WordPress Hosting): Honest Pros and Cons
Considering using Pressable to host your WordPress site(s)? Our hands-on Pressable review will give you a detailed look at the pros, cons, and performance of this managed WordPress host to help you make the right decision.
In general, Pressable offers quality managed WordPress hosting at a price that's lower than most of the competition, which can make it an especially good option for people who want the managed WordPress hosting experience but are still on a budget.
It also comes from Automattic, one of the most established WordPress companies, and has some unique advantages such as automatic hourly database backups.
Of course, it's not all perfect. For example, Pressable only offers datacenters in North America and Europe, so it might not be a good option for websites targeting Asia or Australia.
To see more details and get a real look at Pressable's performance and user experience, keep reading our full hands-on Pressable WordPress hosting review.
We Tested Using Our Own Pressable Account
To make our Pressable review as accurate as possible, we wrote our review based on our own experiences with our own Pressable hosting account.
All of the performance data that you see came from us running our own tests on our own WordPress site, and all of the interface screenshots that you see also came from our own usage of the Pressable hosting dashboard.
Basically, we want you to be confident that we are basing our review on firsthand experience.
⚙️ Pressable Key Features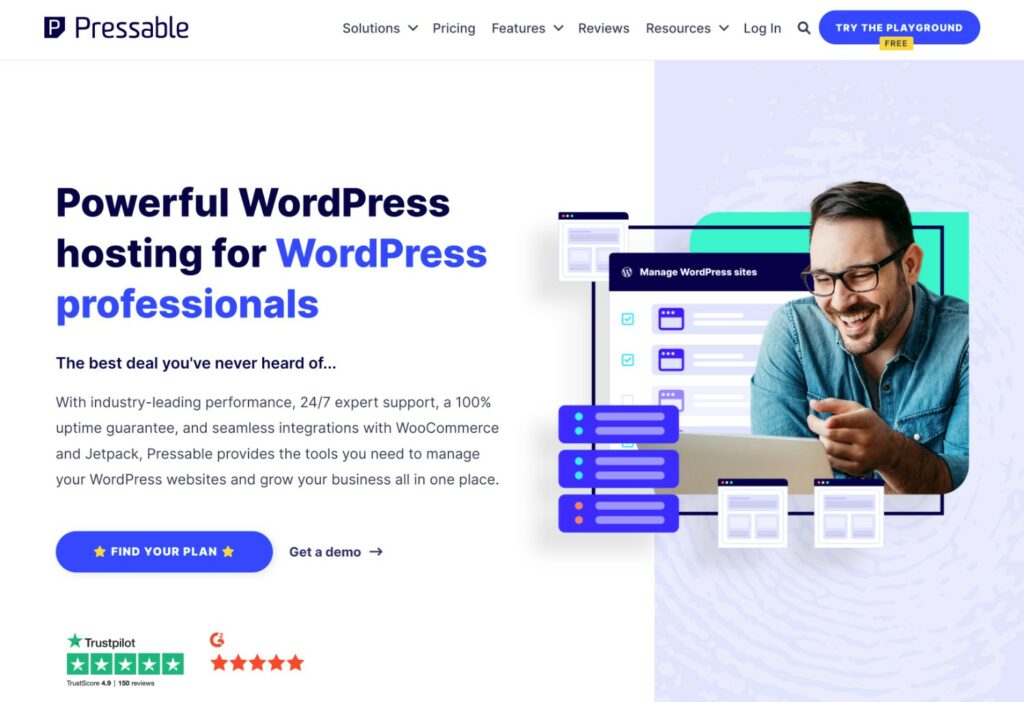 To kick off our Pressable hosting review, let's look at some of the key features that Pressable offers.
We won't go too in-depth here because you can find all of this on Pressable's website. However, we do think it's useful to quickly summarize this information just so that you have a clear picture of what Pressable offers.
Performance Features
Self-owned hosting infrastructure powered by Automattic's global network – the same infrastructure used for WordPress.com, WordPress VIP, and WooCommerce.
Built-in caching system – page caching, database query caching, OPCache, and static asset caching (CDN)
Built-in content delivery network (CDN) powered by Automattic's own global network.
Automatic failover so that if one server goes down your site will still be available to visitors.
Automatic scaling so that your site won't slow down if you go viral or hit a traffic spike.
NVMe storage for improved performance.
Automatic uptime and performance monitoring to quickly catch any issues and fix them.
Four datacenter options – three USA options (Los Angeles, Washington DC, or Dallas) and one European option in Amsterdam.
Edge caching (beta) – while the feature is still in beta at the time of our Pressable review, Pressable is working on adding an edge caching option for even faster global performance.
Convenience/Management Features
Custom hosting dashboard to manage your hosting and websites.
Automatic daily backups with 30-day backup retention. Pressable actually backs up your database every hour (and the files every day), which is a really nice feature.
On-demand backups whenever needed.
Easy backup restores, including choosing whether to restore the whole site or just the files or database.
24/7/365 support via live chat or ticket (higher-tier plans get a dedicated Slack channel).
Titan email integration to create a custom email address (extra fee after free trial).
Staging environments to safely test changes to your site.
Free managed migrations to help you easily switch to Pressable.
OnePress login to automatically log into a site's WordPress dashboard with a single click (great if you're an agency managing lots of client websites).
For more advanced users, you also might appreciate the following:
Git integration to easily manage/deploy sites from GitHub.
phpMyAdmin access to manage databases.
PHP and webserver logs with easy access from the dashboard.
Cron event details that you can see in the Pressable dashboard.
Custom Pressable API that lets you interact with hosting using API commands. For example, you can initiate an on-demand backup via the API.
Security Features
Free Jetpack Security Daily to protect your sites (excluding cheapest tier).
Web application firewall (WAF) to proactively block threats.
Free SSL certificates for all the sites on your plan.
Malware scanning to detect malicious software on your site.
Hack recovery assistance to help restore your site to working order if it does get hacked somehow.
🚀 Pressable Performance Tests
When you're choosing a host, performance should always be one of the biggest considerations. So, as we move into the more hands-on portion of our Pressable review, let's start with looking at hosting performance.
To test the performance at Pressable, we set up our own realistic WordPress test site. We used the popular Astra theme and one of its full importable demo sites (we use the native editor version of this demo site).
We use this same demo site for all of our hosting reviews, which allows us to compare performance between different hosts on a one-to-one basis.
To collect comprehensive performance data, we used two different tools:
WebPageTest – we ran nine tests and took the median value. We also used a throttled FIOS connection for more realistic performance numbers.
LoadFocus – we used LoadFocus to test a slightly higher traffic situation, with 10 visitors hitting the site in the same 30-second window.
Overall, Pressable performed quite well in both tests – let's take a look at the data and then we'll put it all together and share numbers for some other similar hosts to give you more context.
Pressable Performance in WebPageTest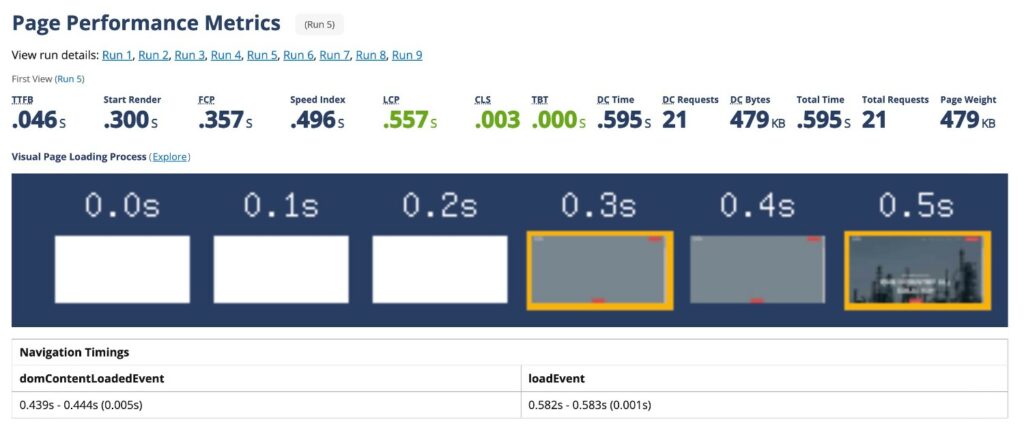 Pressable performed very well in our WebPageTest run, with one of the fastest time to first byte numbers of any host that we tested. The Largest Contentful Paint time was also quite good and competitive with other managed WordPress hosts.
LoadFocus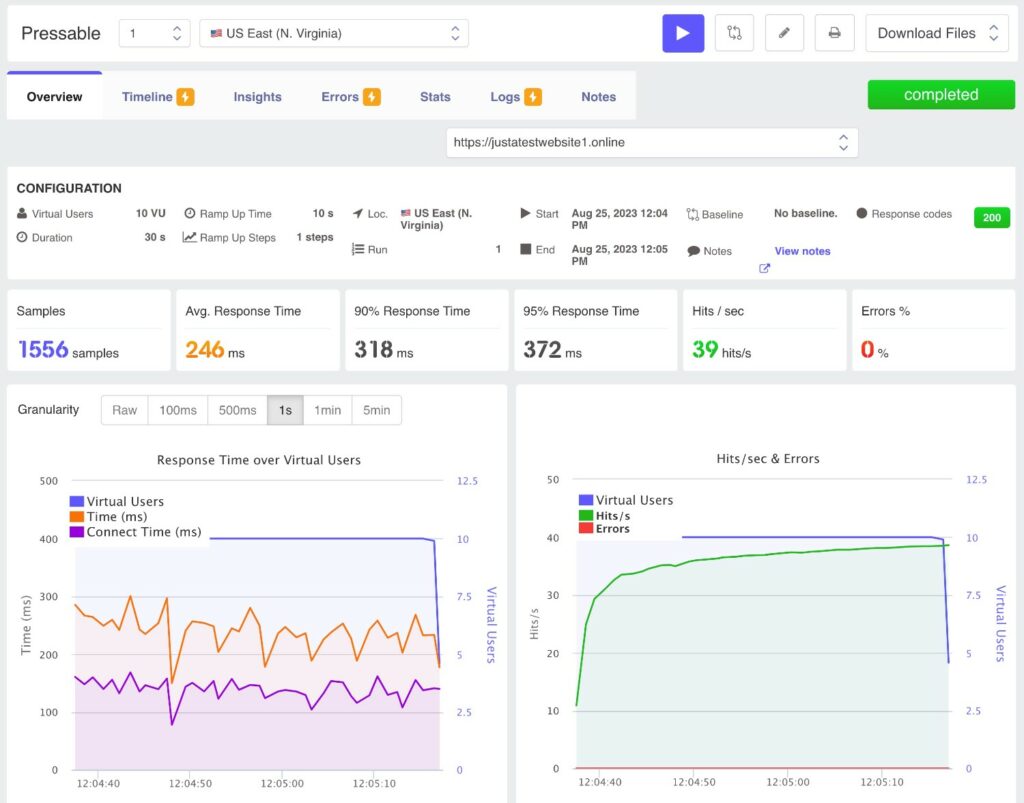 In our small LoadFocus run, Pressable had no issues with the increase in visitors. There were no spikes and response times stayed pretty much flat across the board.
Overall Thoughts on Pressable Performance
Overall, Pressable performed quite well in our analysis, with fast load times in both tests.
To provide some additional context for how Pressable performed, here's how other popular WordPress hosts performed in the same tests (and with an identical test website).
As you can see, Pressable had one of the fastest time to first byte numbers of any host, along with a Largest Contentful Paint time that was competitive with the other managed WordPress hosts.
🤗 Pressable User Experience
Next, let's take a look at what it's like to use Pressable's hosting and manage everything via Pressable's hosting dashboard.
Like most other managed WordPress hosts, Pressable has opted to create its own custom hosting dashboard rather than using an off-the-rack tool like cPanel or Plesk.
While we can't show you every single area and tool in the dashboard, we do want to give you a look at the high points.
Pressable WordPress Installer
To help you get up and running, Pressable offers a simple WordPress installer, including an option to pre-install WooCommerce.
You can also customize the datacenter and PHP version for each site.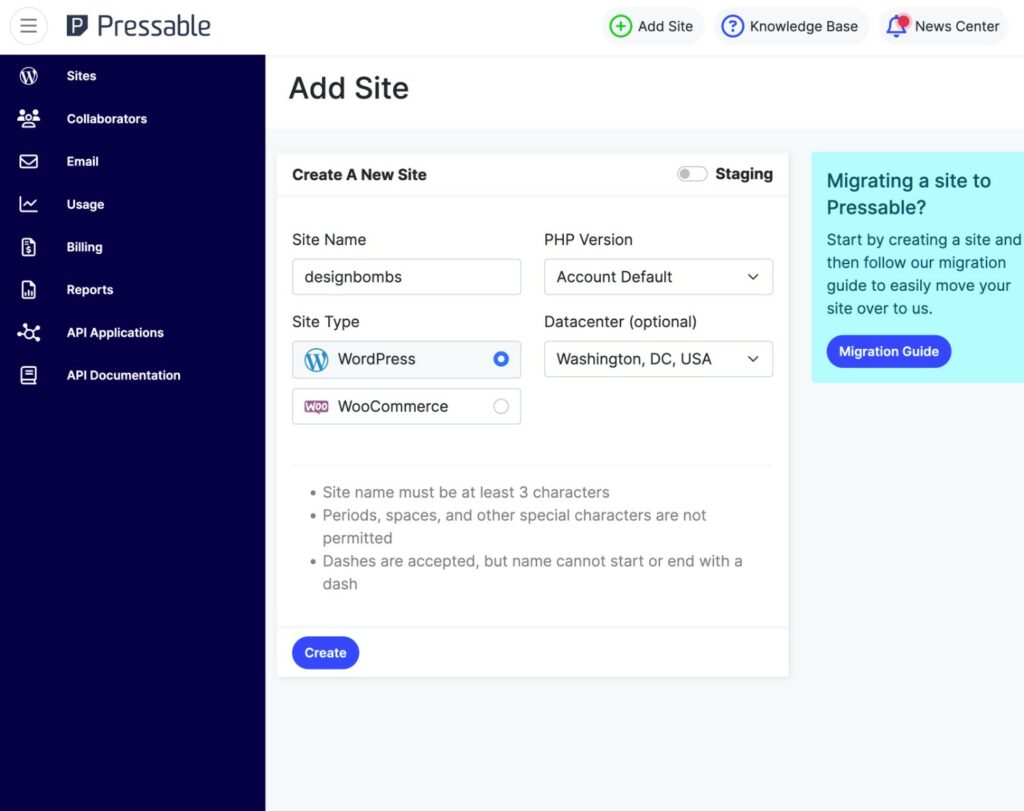 By default, Pressable will create your site on a temporary staging URL. However, it's easy to add your real domain name and go live whenever you're ready.
Main Pressable Hosting Dashboard
The main Pressable dashboard page gives you an overview of all the sites in your account.
If you have a lot of sites (e.g. client websites), you also get helpful tools to find specific sites like keyword search, environment filter, tags, and PHP version filter. You can also sort by the date the site was created, your account role, and more.
There's also a OnePress Login link that lets you easily log into a site's WordPress dashboard with a single click (no need to enter the username and password). If you're working on client sites, this can be a super useful feature.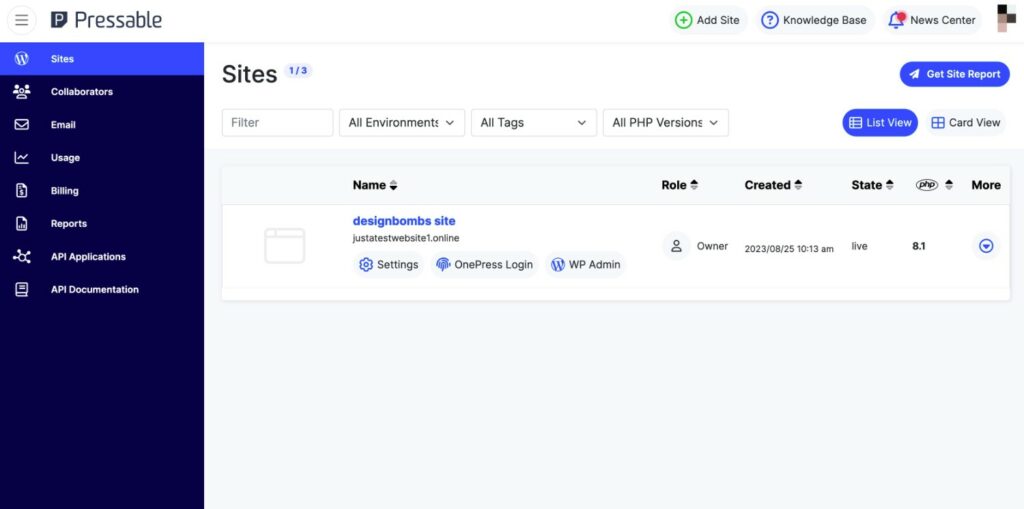 Beyond the site list, you can also use the options in the sidebar to access other areas of your account.
Individual Site Dashboard
To access the tools for an individual site, you can select it in the site list.
The main individual site dashboard gives you a basic summary of your site.
You can see/switch environment information at the top (e.g. production vs staging) and then there's another menu that lets you access different types of tools.
Across the horizontal menu, you can access tools to manage domains, performance, collaborator access, Git integration, logs, and more.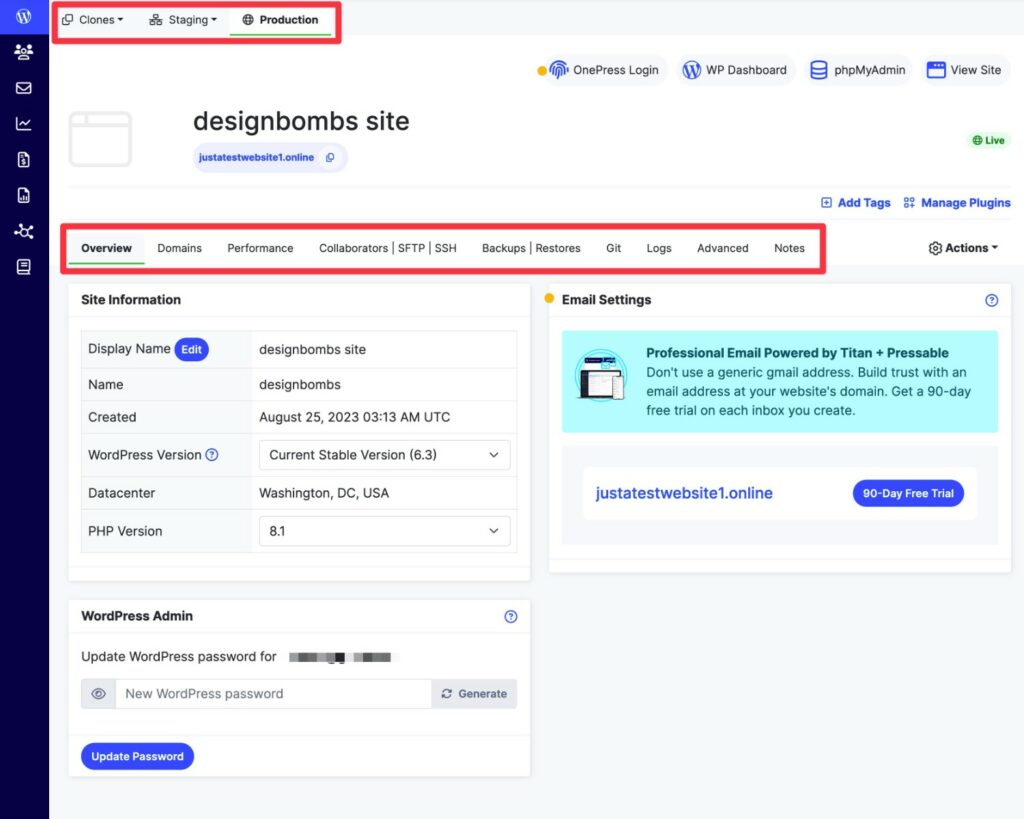 Backup Tool
If you go to the Backups | Restores tab, you can view all of the automatic backups, create an on-demand backup, and restore a site if needed.
Pressable backs up your site every day and stores those copies for 30 days, which is pretty standard for the managed WordPress hosting space.
However, Pressable does have one big advantage when it comes to automatic backups.
While it only backs up your site's files once per day, it actually backs up your site's database every hour.
Because your site's database is what houses all of your content (blog posts, users, comments, orders, etc.), this means you'll always have a recent copy of your site's data. If you have a busy site that's always changing, we think that this approach to backups offers a lot of value.
You can also easily take an on-demand back when needed.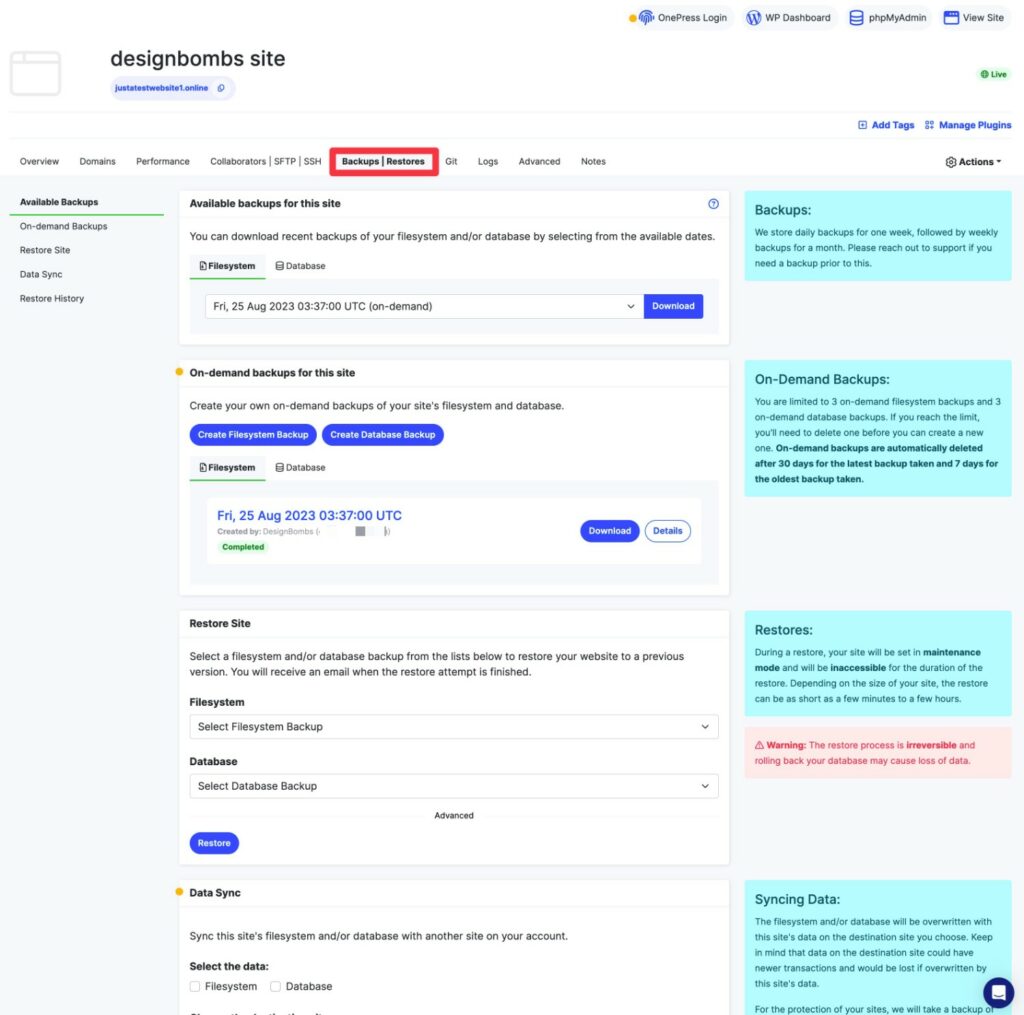 Staging Tool
A staging site is a copy of your site in a safe sandbox that's not publicly available. You can use it to test changes to your site, work on a redesign, and so on.
Pressable does offer staging sites on all plans. It's not quite as straightforward as the staging tools from hosts like WP Engine and Kinsta, but it's still very easy to use so this isn't really a negative.
To create a staging site, you can clone your live site as a staging site.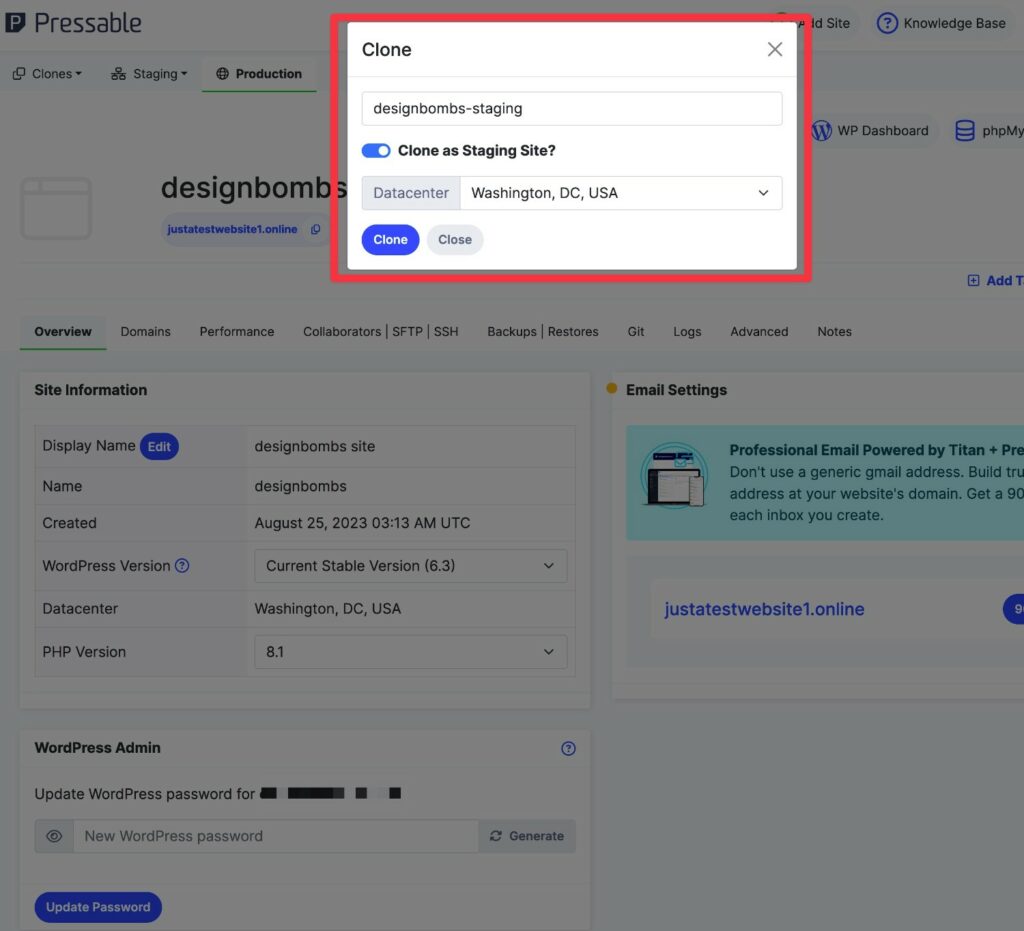 This will create an identical copy of your site, marked as a staging version in the main site list.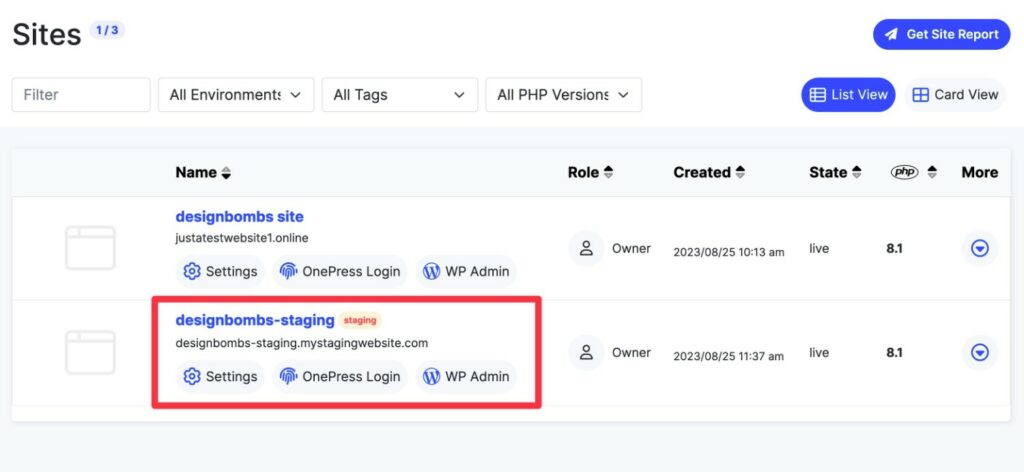 The one area where Pressable's staging tool is a little bit less straightforward than other hosts is when it comes to pushing your site's data live.
Rather than offering a straightforward "Push changes live" button, you need to go through the Data Sync tool in the Backups | Restores dashboard.
This tool lets you sync the database and/or filesystem between any sites in your Pressable account, which lets you push/pull data between different versions of your sites.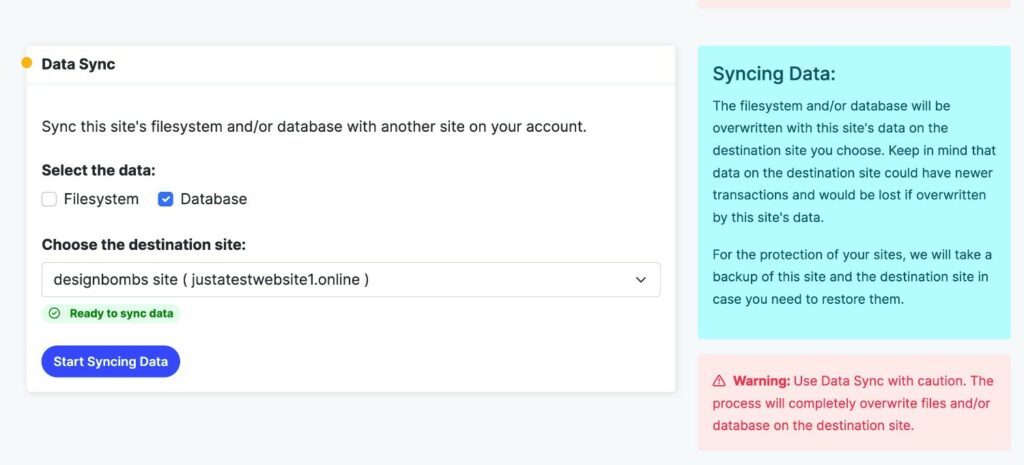 📞 Pressable Support Review
Pressable offers 24/7 support on all of its hosting plans.
One of the unique things about support at Pressable is that, because it's owned by Automattic, you're getting access to support from the same team that works on WordPress.com and WordPress VIP.
In terms of support channels, you can interact with support via live chat or ticket.
Pressable does not offer phone support on any of its plans – only live chat and ticket.
Pressable uses Intercom for chat support, which offers a very nice experience that you can access from anywhere in the dashboard. You also won't lose your chat session if you accidentally close the window.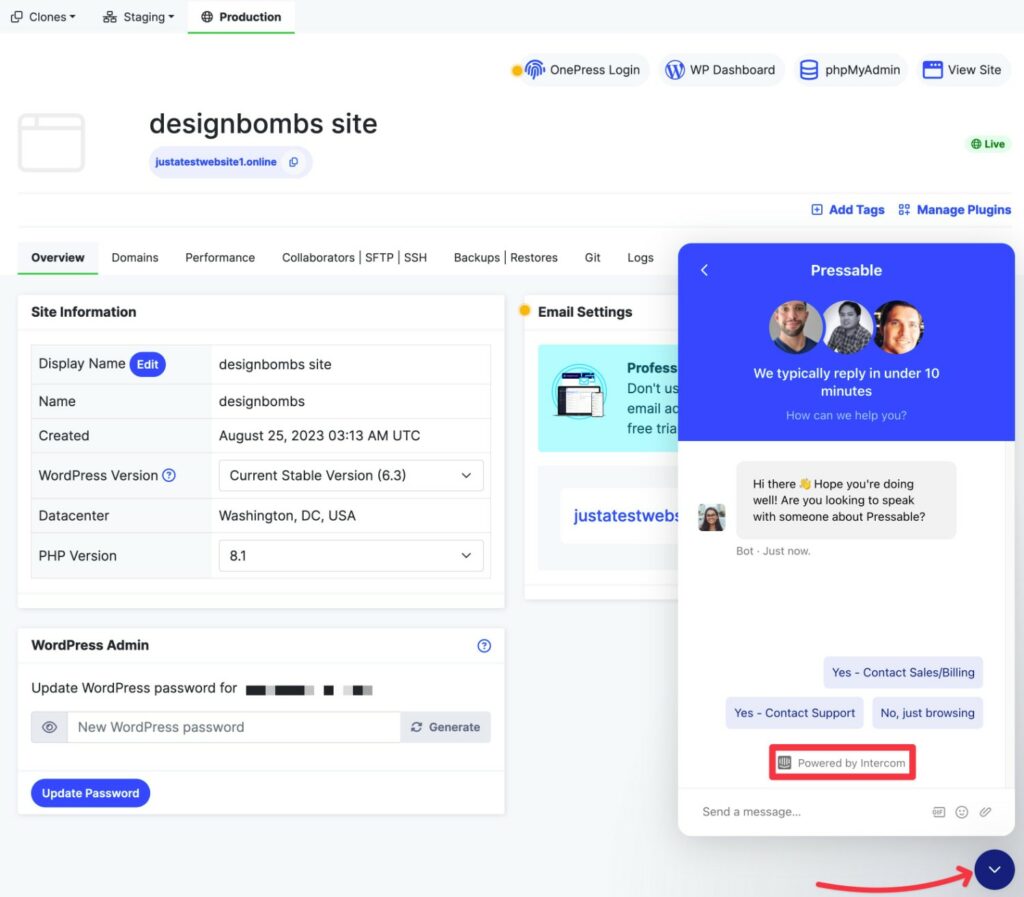 Higher-tier plans (Pro and above) also get access to a dedicated Slack support channel in addition to the regular live chat support interface.
We generally prefer to interact via live chat, so we don't see this as a con. Additionally, not offering phone support is fairly common in the managed WordPress hosting space – many other popular hosts have the same policy, including Kinsta (our review) and Rocket.net (our review).
However, if you are the type of person who likes to be able to receive support over the phone, you might want to consider choosing a managed WordPress host that does offer support, such as Flywheel (our review) or WP Engine (our review) – both offer phone support on all their plans excluding the cheapest tier.
💰 Pressable Pricing Review
For the managed WordPress hosting space, Pressable's pricing plans generally offer excellent value and are a little bit more affordable than the prices at other popular hosts such as Kinsta, WP Engine, and Flywheel.
Not only are the prices a little lower, but Pressable's plans also have slightly higher resource and visit limits than other hosts.
So, if you definitely want managed WordPress hosting but you're still on a somewhat tight budget, that might be an advantage for Pressable.
Pressable offers nine pricing plans, as well as a custom plan option if you have more unique needs.
Like most other managed hosts, Pressable uses the number of monthly visits that your site(s) receives as a primary billing metric, along with the number of WordPress sites that you're hosting and the storage that you use.
All plans come with unmetered bandwidth.
If you exceed your plan's monthly visit limits, Pressable will not shut off your site. However, you will be charged an overage fee of $1.20 per 1,000 visits over your plan's limits. You can also pre-pay for visitor overages at a rate of $8 per 10,000 visits, which can save you some money.
Here's a screenshot of the monthly and annual prices for all the preset plans – remember that there's also a custom plan option if needed: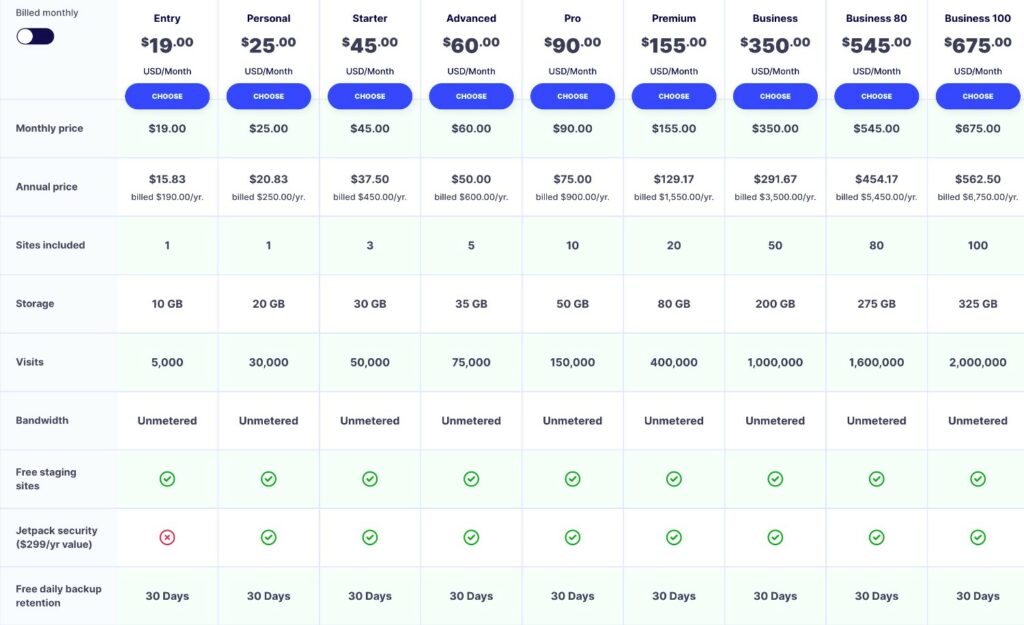 Pressable Pricing vs Other Popular Hosts
To give you an idea of how Pressable's pricing compares to other hosts, here's a comparison table that shows Pressable's Personal plan vs similar plans at other well-known hosts.
| | | | | |
| --- | --- | --- | --- | --- |
| Host | Pressable | Kinsta | WP Engine/Flywheel | Rocket.net |
| Plan name | Personal | Starter | Startup/Starter | Starter |
| Price per month | $25 | $35 | $30 | $30 |
| Price annually | $250 | $350 | $300 | $300 |
| Websites | 1 | 1 | 1 | 1 |
| Monthly visits | 30,000 | 25,000 | 25,000 | 250,000 |
| Storage | 20 GB | 10 GB | 10 GB | 10 GB |
| Bandwidth | Unmetered | 100 GB CDN | 50 GB | 50 GB |
| Visitor overage per 1k visits | $1.20 | $1 | $2/$1 | $1 |
Here are some notable conclusions:
Pressable's price is slightly cheaper, coming in at $25 vs $30-$35 for other similar hosts.
Pressable has slightly higher visit limits than Kinsta and WP Engine/Flywheel. However, Rocket.net is still the clear winner when it comes to visit limits.
Pressable has double the storage of all the other hosts.
Pressable offers unmetered bandwidth, whereas all of the other hosts have bandwidth limits.
Which Pressable Plan Should You Use?
While Pressable's cheapest plan is the Entry plan at $19 per month, we recommend most people go with at least the Personal plan.
For just $11 more, you get 6X the monthly visit limits, double the storage, free access to Jetpack Security Daily, and some other perks.
Even if your site is still under the 5,000 visit limit on the Entry plan, that's still worth the money (and it will give you room to grow).
👍👎 Pressable Pros and Cons
As we near the end of our Pressable hosting review, let's recap what we've covered so far by summarizing the pros and cons of Pressable.
👍 Pros
Lower-than-average prices – Pressable's pricing offers excellent value and, for the resources that it offers, it's more affordable than most other managed WordPress hosts. This can make it a good option if you're on a budget.
Above-average resource limits – beyond lower prices, Pressable offers higher monthly visit and storage limits than most other similar hosts.
Fast load times – despite being cheaper than many other managed WordPress hosts, Pressable still offers fast load times that are just as fast, if not faster, than the competition.
Excellent backup tool – Pressable backs up your site's database every hour (and the files every day), which makes your data more safe than other hosts that only back up the database once per day (especially if your site's content changes a lot).
Owned by Automattic – the hosting comes from one of the largest and most experienced companies in the WordPress space (and the same team behind WordPress.com/WordPress VIP).
Developer API – if you're a developer, you might like that you can interact with Pressable hosting using the API.
👎 Cons
No phone support – while you do get 24/7 live chat support on all plans, Pressable doesn't offer phone support on any of its plans. If you like being able to get someone on the phone, you might prefer a host like WP Engine that does offer phone support (on its higher-tier plans).
No Asia-Pacific datacenters – Pressable doesn't have any datacenters in Asia or Australia, so you might prefer a different host if you're targeting those areas (though the CDN can do a lot to improve global performance).
Some hosts offer more dashboard tools – if you compare Pressable to a slightly pricier host like Kinsta, Kinsta's MyKinsta dashboard offers more tools, such as a redirect manager.
❓ Pressable Review 2023 FAQ
To finish out our Pressable review, let's run over a few common questions you might have.
Who owns Pressable?
Pressable is owned by Automattic, which is the same company behind WordPress.com, Tumblr, WooCommerce, Jetpack, and other well-known tools. It's one of the largest WordPress companies out there so you should feel confident that you're in good hands.
Will Pressable shut off your site if you exceed your visit limits?
No, Pressable will not turn off your site if you exceed your plan's visit limits. However, they will charge you an overage fee of $1.20 per 1,000 visits over your plan's limit (or you can prepay at a rate of $8 per 10,000 extra visits).
Does Pressable offer email hosting?
Pressable does not offer its own email hosting service but it does have an integration with the Titan email service to help you easily create a custom email address using Titan.
Does Pressable offer phone support?
Pressable does not offer customer support over the phone, but all plans do have 24/7 support via live chat or ticket (and higher-tier plans also get a Slack channel).
How do backups work at Pressable?
Pressable automatically backs up your site's database every hour and the files every day. This is more frequent than most other managed WordPress hosts, which only back up the database once per day.
🤔 Should You Use Pressable WordPress Hosting in 2023 and Beyond?
As is always the case, there's no one-size-fits-all answer when it comes to whether or not you should use Pressable for your websites.
Therefore, to try to make this post as useful as possible, we're going to recommend situations when you should use Pressable, as well as some situations where you should not use Pressable (and what a better host might be).
Use Pressable If…
Overall, Pressable is a great option if you want the performance and convenience of managed WordPress hosting without breaking the bank.
In terms of the core managed WordPress hosting product and performance, Pressable was just as good as most of the other big-name managed WordPress hosts that we've tested.
But at the same time, Pressable manages to offer lower prices and higher resource limits than those other hosts.
For a lot of people, that's a very attractive proposition.
Use Another Host If…
There are two main reasons you might want to consider a different host.
The first would be cost. While Pressable is affordable for the managed WordPress hosting space, it's still a lot more expensive than cheap shared hosting.
So, if you're on a really tight budget, you might want to use shared hosting like GreenGeeks or DreamHost instead. Just be aware that, in exchange for lower prices, the performance and experience will not be as nice as Pressable.
👉 Here are some more cheap WordPress hosts.
The second reason is a little less clear-cut. But if you're a total beginner, there are other managed WordPress hosts that might be a little easier to use. It's not that Pressable is only for developers; it's just that Pressable's dashboard is not always as beginner-friendly as some other managed WordPress hosts that we've used.
If you really value having a beginner-friendly experience, you might be happier with a host like Rocket.net, which offers a bit more of a streamlined experience in the hosting dashboard – learn more in our Rocket.net review.
That wraps up our thoughts on Pressable!
Do you still have any questions about Pressable or our Pressable review? Let us know in the comments!