10 Plugins to Step Up WordPress Security
Where there is code, there is always a possibility for a security vulnerability. After all, malware and virus is also code, designed to attack installed software and applications.
WordPress, by and far is a safe environment for websites. But any code is always susceptible to attack by malware or spam or even brute force, and it would be in our best interests to safeguard against them. It is not possible to completely eliminate security threats, but we can reduce our vulnerability to them by following a few good practices and taking precautions and preventive measures.
Some things that you can do are:
Ensure hosting on a secure server.
Reduce entry points for unauthorized users.
Keep regular backups to minimize loss, just in case your website is the target of an attack by hackers.
Purchasing and downloading themes and plugins from trusted sources.
Keep your WordPress updated.
Strong passwords, secure FTP connection with you server, lock file permissions and keeping multiple blogs in separate databases, can help to reduce vulnerability and mitigate any harm.
Top Security Plugins
There are many plugins that help to step up the security of your website. Some popular plugins are showcased here:
01.

Sucuri Security

This free plugin comes from a leading global authority in internet security and audit of security. Sucuri Security monitors the integrity of your WordPress site, detects malware and hardens security.

The moment the plugin is installed, it creates a known good version of your WordPress install, including the theme, plugins and core files. Any change occurring in the WordPress install is categorized as a security event, recorded and stored in the Sucuri cloud, so that forensic data is available, in case a website succumbs to hackers.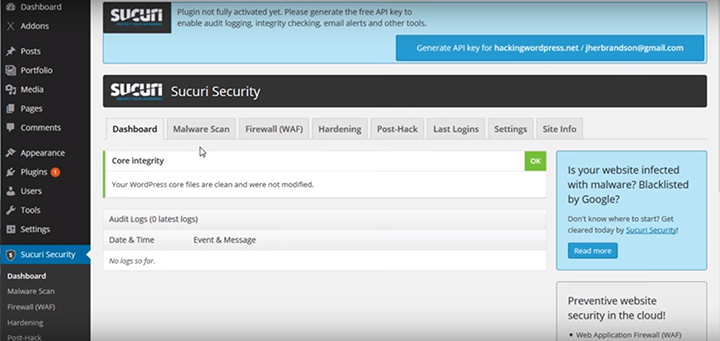 If you are on the blacklist of any of the search engines, Sucuri will let you know that you have been flagged and help you get off the blacklist. The website can be scanned by Sucuri SiteCheck, which will access your website like any ordinary user or search engine. It checks only what is visible on your browser, not hidden content. So it may miss phishing pages or hidden links.
You can also hide your current version of WordPress and this is called security by obscurity. The plugin will protect your upload folder and verify security keys.
For a server side scan, you will have to be a paying client. This scan will crawl all files in your directory and generate an audit trail, so you can see the exact method and exact time that the website was compromised.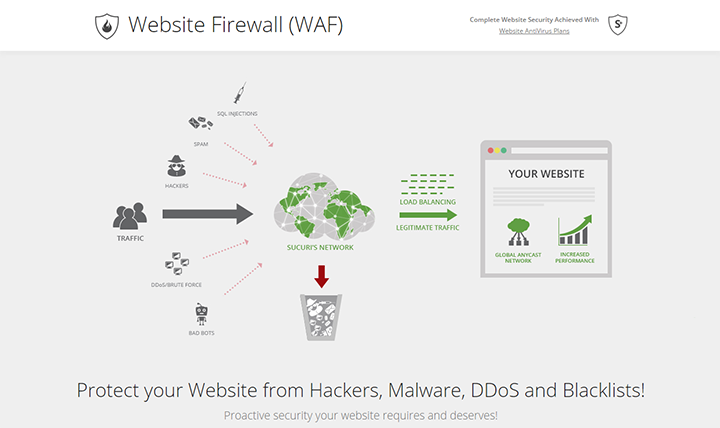 Sucuri CloudProxy Website Firewall is an add-on premium service that can be activated on payment. It would cost you $16.66 per month paid annually for a Basic package. The Pro package will cost you $24.99 per month paid annually and the Business package $41.66 billed annually.
02.

WP Security Audit Log

WP Security Audit Log is a simple tracking solution for WordPress. Once installed, it will monitor in real time and keep track of all content changes or any activity on your WordPress site. So you always know how various users are logging into and using your WordPress site. The plugin is integrated with WhatisMyIPAddress.com, so you know immediately the source of any suspicious activity.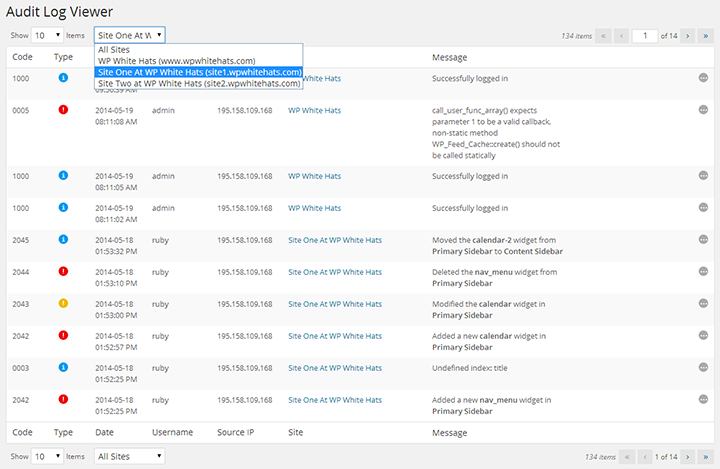 The Troubleshooting feature can identify and set right problems before much harm is done. User level changes, password changes, malicious plugins and other typical issues can be detected early and any damage contained. Audit logs are helpful in tackling changes in client WordPress sites, to check out what changes they have made.
With the help of premium add-ons, you can be notified by email, apply specific search and filters, generate reports and keep records externally to comply with regulations. These add-ons come to you as a bundle that starts at $99.
03.

iTheme Security

iTheme Security will fix most common security issues like common security holes, and stop automated attacks. It can strengthen user credentials and its one click activation makes it easy to use on your website.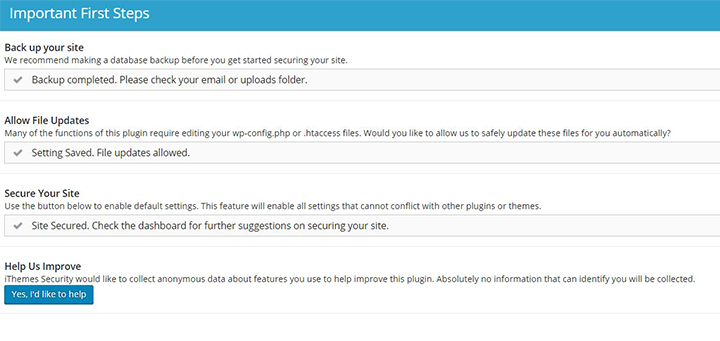 Once you activate the plugin, you will be asked to backup your site. On clicking a database, backup will be created and sent to your email. The plugin gains write access to .htaccess files and wp-config-php files and monitors them closely, as these files are more prone to attacks. You can then load all the default options for protecting your site.
Known attackers are blocked out by the Brute Force Protection Network. iThemes regularly scans your site and finds and fixes vulnerabilities, bans troublesome users and bots. It enforces strong passwords for all users and SSL for admin pages, other pages and posts on servers which are supported.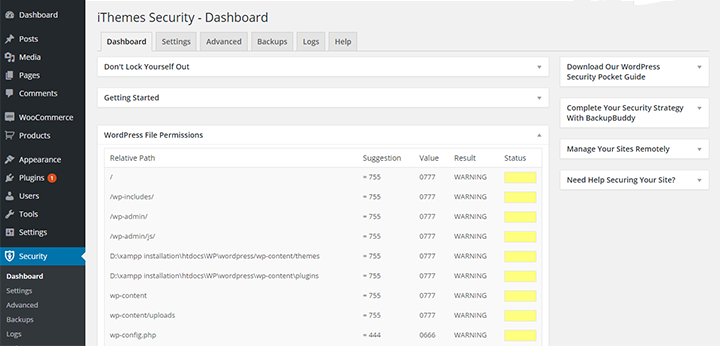 Editing of files can be disabled in the WordPress admin area. Core files are regularly monitored for any changes and login and admin pages can be hidden. Number of password attempts can be limited. Your website can also be regularly backed up by the plugin. Hidden 404 errors can affect your SEO and this plugin will help to detect them.
The Premium version will track user action, permit 2 factor authentication using mobile sign-in, manage settings across multiple WordPress sites, schedule scan for malware, notify by emails of anything abnormal, set expiry dates for password, help you pick a strong password and enable Google reCAPTCHA to protect against spammers.
For the Blogger License, you will have to pay $80 per year and be entitled for use on 2 sites. A Freelancer License for use on 10 sites will cost $100 per year, a Developer License for use on unlimited sites will cost $150. A Plugin Suite at $247 per year will entitle you to a Developer's License for all the plugins from iThemes.
04.

All In One WP Security & Firewall

If you want to put a number to the level of security your WordPress site enjoys, All In One WP Security & Firewall will help you with it. This plugin will tell you the points your WordPress site has scored depending on how many security features you have installed.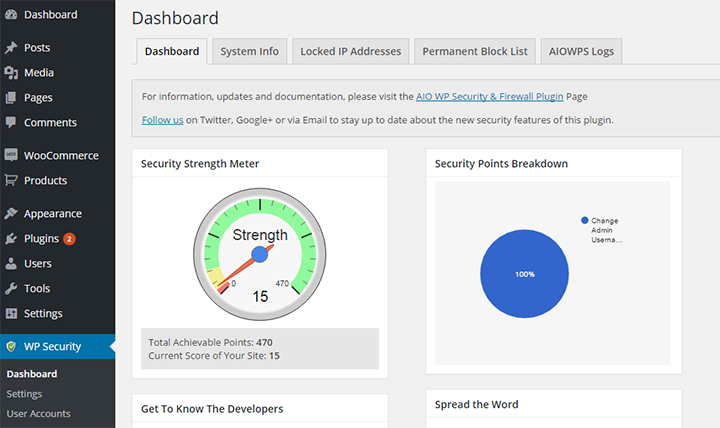 It is free, but you must take care in installing it. The installation can be done in 3 stages – basic, intermediate and advanced and you are advised to install each level with care and after backing up your site, as the features can break functionality.
The features include limiting the number of login attempts and locking down if the number of attempts is exceeded and also forcing out viewers who have spent too much time on the site. CAPTCHA can be added to login form and forgot password form. All user activity can be monitored.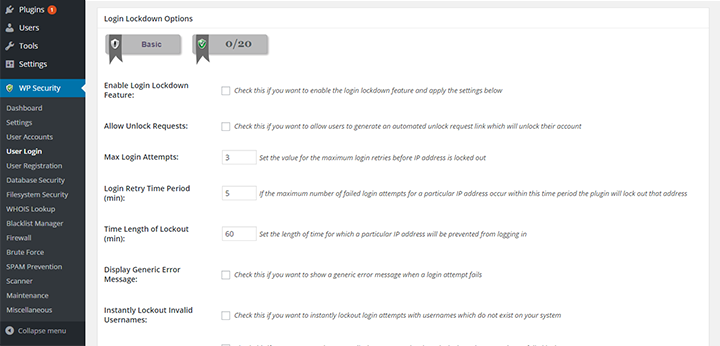 The PHP code is protected by disabling editing and you can set access levels for files and folders. A whitelist of users having access to your login page can be created. Brute force login attacks can be prevented.
A firewall is added via .htaccess file. This is the file that is first processed by your web server before any code can be accessed on your website. So you can stop malicious attacks at entry point.
It is a comprehensive plugin, that offers database and spam protection, but the interface is not so easy to use as iThemes.
05.

WordFence

A near perfect 5 star rating and over a million downloads speak for the credentials of WordFence. This plugin first conducts a server side scan of your source code and checks it for any infections. It then secures your site, making it many times faster.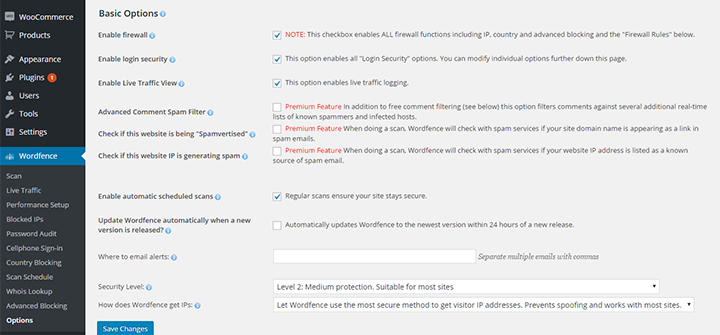 The free and open source plugin can work with multiple sites and implements the two step authentication using mobile sign-in. This is the highest level of security authentication and is used by banks, militaries and governments.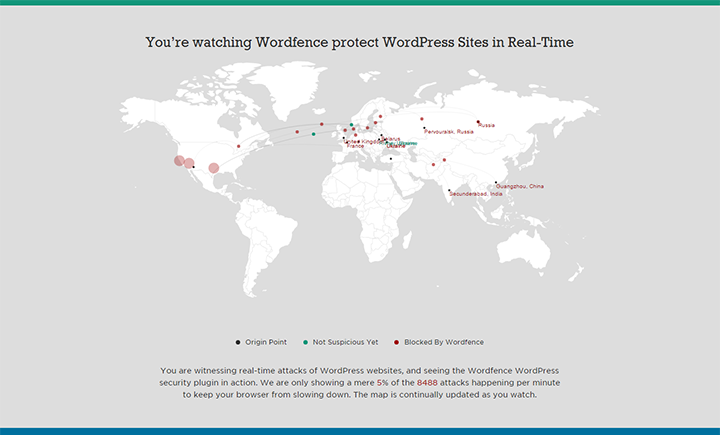 All known attackers are blocked in real time. WordFence regularly scans the website for 44000 malware variants, backdoor entrants who create security holes, phishing URLs, trojans and for any change in WordPress files. WordPress integrity is monitored and email notification is sent for any issues. The live traffic feature is useful and you can know the IP of the users who are accessing your website at any given time.
You can ban IPs or a range of IPs from the options panel. Entire malicious networks can be blocked using firewall.
WordFence comes to you in a premium version also and using this you can block out entire countries or regions. You would have to buy License keys (API keys) for this and buying in bulk entitles you to discounts.
06.

BulletProof Security

BulletProof Security plugin is a quality plugin that comes with a One Click Wizard. It monitors login activity and a user is automatically blocked out if idle for too long on the website.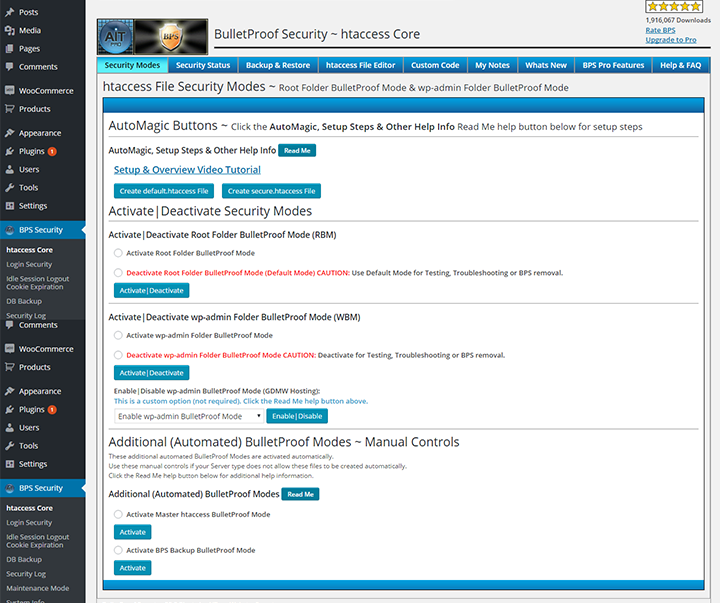 Firewall security at .htaccess level is included, and full or partial, manual or scheduled backups can be done.
A premium version is also available which will add real time file monitoring, automated whitelisting and IP address updation in real time. Read only file lock is available. Backups are done regularly and autorestore will help to get you back on your feet in case of an attack. The premium version of the plugin will cost you $59.95.
BulletProof runs all these functions without compromising the speed of your website, as it is website performance optimized.
07.

Anti Virus for WordPress

Anti Virus for WordPress is a plugin that beefs up your WordPress security against malware and spam. You can set it up so it performs a daily scan of your theme files and database. If it finds anything suspicious, you will receive an email alert.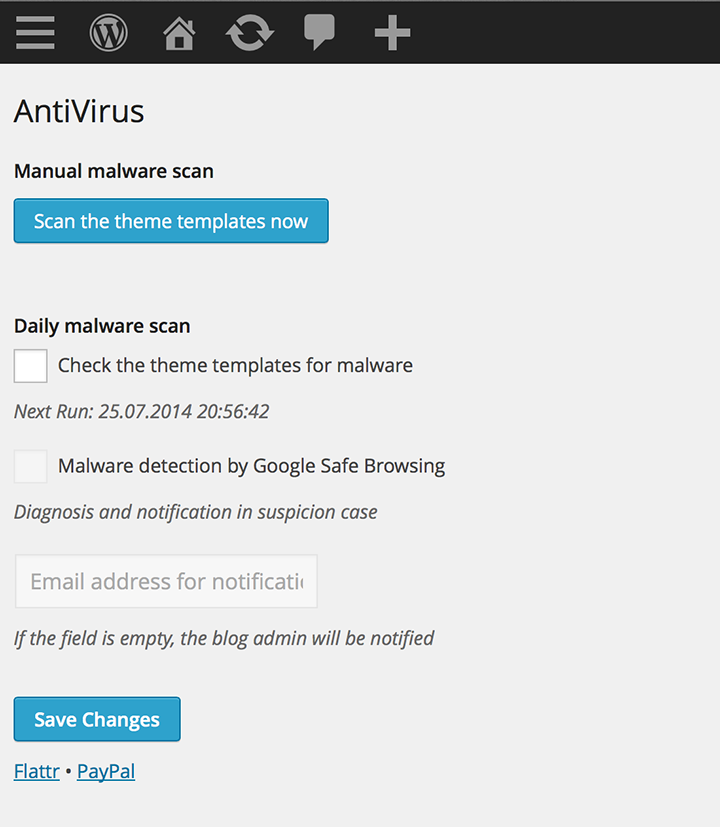 You can set up an alert in the admin bar and if a suspect is thrown up, you can run a normal check on it. After a plugin has been removed, you can cleanup to eliminate any crumbs left behind.
This is a free plugin that can be downloaded from the WordPress plugin directory.
08.

Security Ninja

Security Ninja is the number one top selling security plugin on CodeCanyon. It performs 37 tests to check and keep your site from security vulnerabilities. With this plugin, you can also protect your site from brute force attacks and 0-day exploit attacks.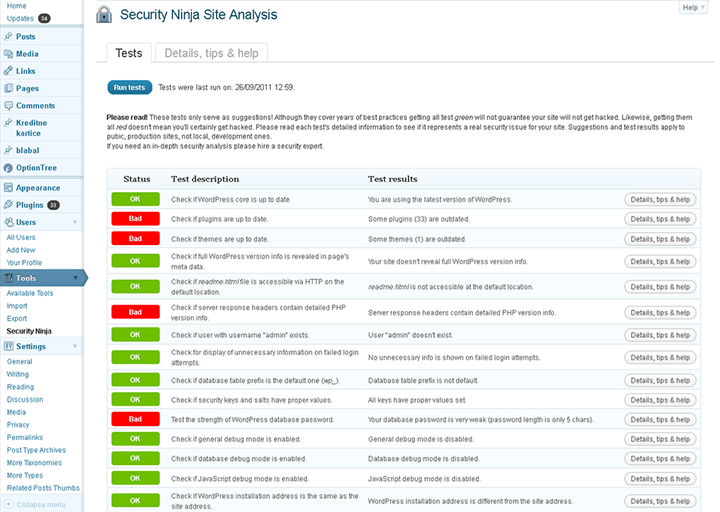 After initial installation, the plugin will run a test to analyse your site. If any security problems are noticed, you will need to add code snippets to your edit files and functions.php files or make changes via FTP. You get to pick and choose which security features to apply.
The plugin can be purchased for $12. Three add-ons  – Core Scanner, Scheduled Scans and Event Logger – can also be purchased at additional cost.
09.

WP Simple Firewall

WP Simple Firewall uses common sense security design to offer security that is totally compatible with WordPress. It is a completely free plugin, with all the features available with every download. It is self protective and has an easy to set up interface.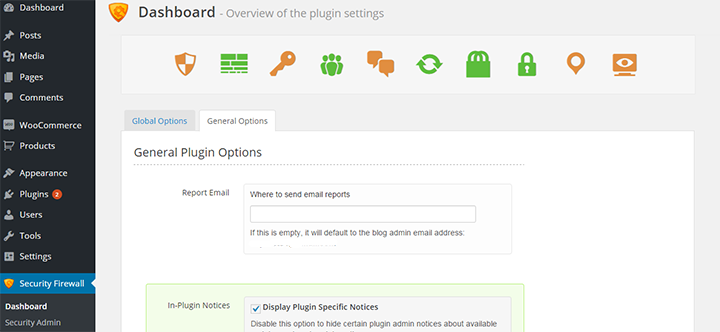 The plugin will block malicious URLs and all automated spambot comments. The login protection features will prevent brute force attacks. It does not use IP ban lists, but forces users to identify themselves while logging in. This is done by using IP address for email based two factor login authentication and forcing a cooldown interval between two login intervals.
7 firewall options are offered and you can pick from among them. You can create whitelists and blacklists, allowing or blocking out users. You can turn the firewall on and off without turning off the plugin. As the firewall has to be real quick, the plugin is written to cache settings.
The audit trail will help to keep track of all user activity. It offers protection against spambots and obscurity protection for your admin pages.
10.

5sec Google Authenticator

5sec Google Authenticator imposes a 2 step login protection. You may have seen this when you are trying to do banking transactions online. With this protection, no one will be able to enter your website, even if they know your password.

When you try to login, the system will generate a one time password which you can retrieve on your mobile. This password is valid only for a specified time and after this time, you will have to generate a fresh one time password. Unless a user has both the login details and the OTP from the mobile, he will not be able to login. And the user will be auto logged out after a set period of time. Near foolproof security for $18.
To conclude
With so many sound plugins – free and premium – available to secure your site, there is no reason that you should not get down to it immediately. Secure your website and feel more safe about it.
Do you have any experience with these or other security plugins that you'd like to share ? Leave a reply below !