6 Top-Notch Two-Factor Authentication Plugins for WordPress for 2020
It's easy to overlook the importance of using strong and secure passwords for your websites and applications. In an age of major data breaches, where checking if you've been pwned has become a necessity, nobody can profess that they're exempt from potentially far-reaching security risks.
Most recently, one of the largest social platforms, Quota, was compromised by malicious hackers. The result? More than 100 million users had their personal information exposed. Names, emails, passwords (encrypted), and other sensitive information was accessed by a party outside of Quora.
This kind of an attack might seem like it has nothing to do with you personally, but if you've ever signed up with Quora, you're exposed to the risks of having your other accounts compromised, too.
Other major breaches in recent times include Adobe, LinkedIn, and most recently, hackers found a way to exploit one of the most popular WordPress GDPR plugins.
This is where 2FA (Two-Factor Authentication) comes into play for WordPress. Unlike traditional password-protected pages, 2FA introduces a second layer of identity verification that can protect WordPress websites. In this post, we showcase the best choices for adding 2FA to your website.
What is Two-Factor Authentication (2FA)
Have you ever forgotten your password before on a site like Google or Amazon? When you tried to reset it, you were asked to double-verify your identity using a memorable phrase, or by having a pin code sent to your mobile phone. This is the basic implementation of two-factor verification.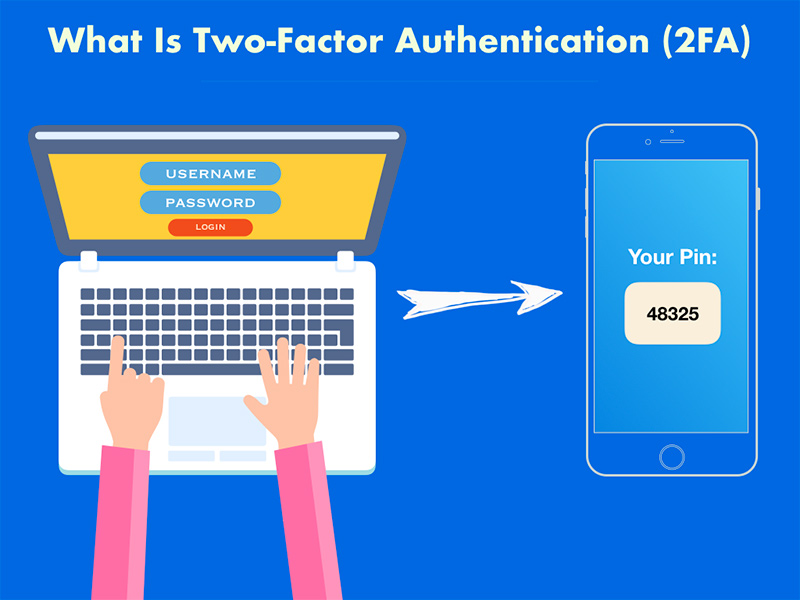 Basic in the sense that you're only required to verify your identity twofold after you've lost access to your account.
A more robust and secure approach is to ensure that every login attempt is protected by two-factor verification.
The most popular methods employed for two-factor authentication include external email addresses, using a mobile phone to access a security code, hardware-based tokens, and memorable phrases in addition to the password.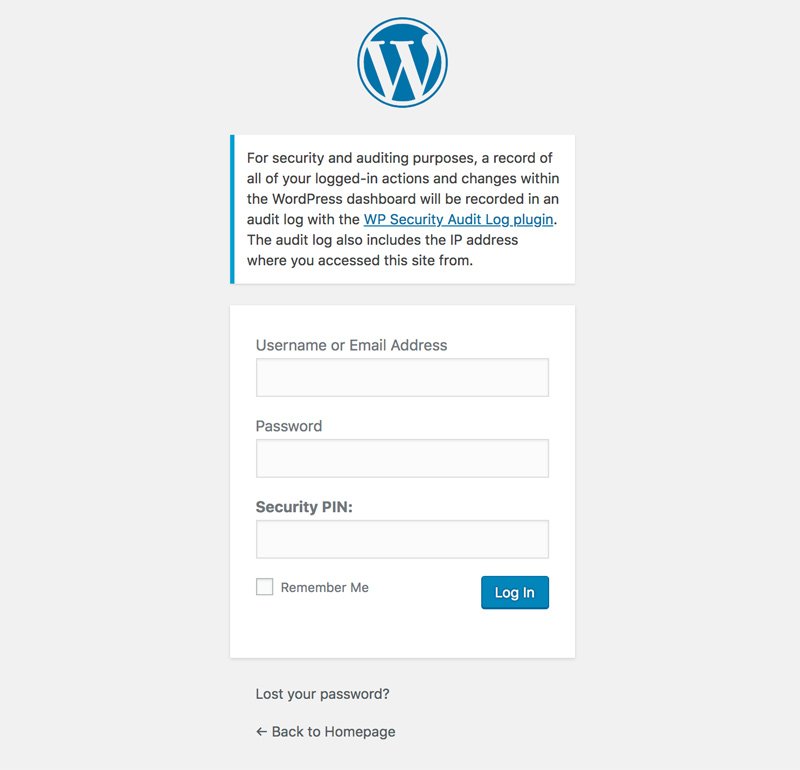 Fortunately, there is an ample number of WordPress plugins available that provide two-factor authentication solutions. Some plugins user services like Google Authentication or Authy, while others implement completely different methods, such as email verification and custom push notifications.
We'll get to the plugins shortly, but before we do, let's understand why 2FA plays an important role in WordPress security.
Why 2FA is Important for WordPress Security
At the time of writing this post, WordPress is used by more than 32% of all websites on the web. That's a staggering 60% market share amongst all known content management systems. It's an impressive statistic, but has one major downside: it makes WordPress is a prime target for hackers and security experts with malicious intent.
The most common uses for hacked WordPress sites include SEO spam (which can affect your long-term rankings), sending malicious emails, stealing user data, and performing malicious redirects.
And there's only one thing protecting your site against this kind of malicious activity: your password.
Unless, of course, you're actively pursuing security solutions like two-factor authentication. With 2FA, you can ensure that you're always notified of unusual activity, such as too many login attempts or, in the worst-case scenario, a notification that someone has logged inside your account while you're not actively working on your site.
Ready to explore your options for a more secure WordPress experience?
Here's a rundown of the best WordPress plugins for adding 2FA to your site, each listed with their respective pros and cons.

miniOrange seamless authentication solutions to protect the exposure of sensitive data. The company's WordPress plugin is built to provide easy integration with the Google Authenticator service. Nevertheless, you can use additional authentication methods such as scannable QR codes, push notifications, soft tokens, and security questions.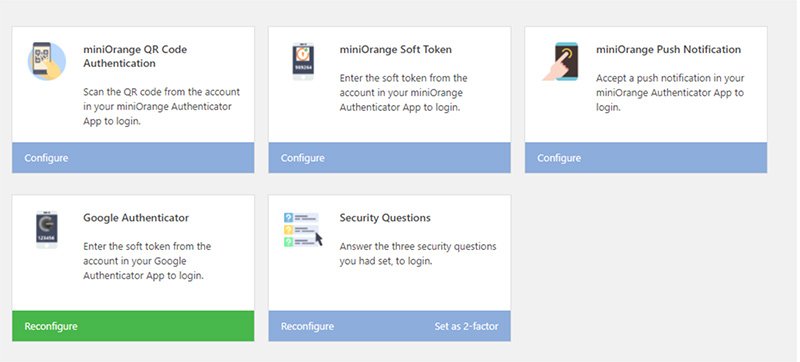 Upon activating the plugin, you can head over to the miniOrange Dashboard and begin configuring your preferred method of authentication verification. The intuitive interface design makes it easy to quickly select a solution that feels right for you.
It's important to note that miniOrange requires you to install their mobile application if you wish to use more robust verification techniques like push notifications and QR codes.
The free version limits 2FA to one single user per site. Should you wish to enable 2FA for more than one user, you'll have to consider a paid option. The advantage of using the premium version is that you can enable additional authentication methods. Specifically, SMS and Email verification.
If you operate a smaller blog and you're the only active administrator, then the free version should be more than enough to provide adequate protection of your site's security.

UNLOQ has been developed to provide quick integration with your WordPress site, while adding numerous unique features for customizing the login experience.
It takes less than a minute to set everything up, and you can choose from multiple login options. The design appearance is fully customizable, and UNLOQ allows for personalizing the WP Login experience.
Further, using the personalization feature, you can change the default Login URL, and utilize shortcodes to protect certain parts of your content.
Once you configure the authentication method that you would like to use, you can start using the UNLOQ mobile application to verify your identity.
This can be done in the form of a unique pin code, or simply a popup (on your phone) that is asking you to verify that it is indeed you trying to log in.
Should your phone be stolen or you lose access to it, you can visit the UNLOQ dashboard to disable your active devices.

Duo is a sturdy "2FA as a Service" plugin to help safeguard your WordPress account security. The straightforward onboarding process takes only a few minutes to configure.
After you have finished configuring the plugin, another layer of security is added to your WordPress site.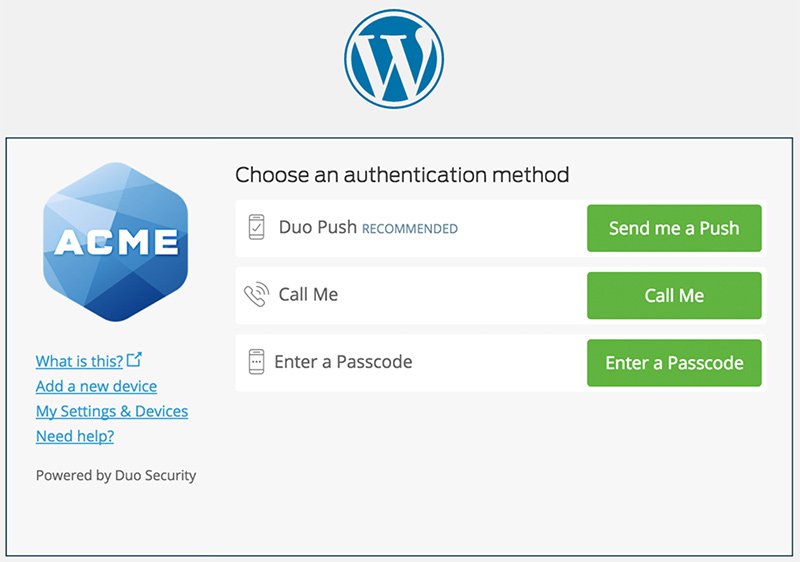 As you can see above, after users log in using their default WordPress credentials, they will be asked to double-verify their identity using any of your chosen Duo authentication methods.
The full list of authentication methods provided by Duo includes:
Single-tap login access using the Duo app, making it quick and easy way to prove your identity.
Custom passcode generated from the application. Works in offline mode as well.
A custom passcode sent to your phone number using SMS. Again, great for when you have no internet access.
Simple callback to both landline and mobile phone numbers.
If you want to have peace of mind when it comes to your WordPress site's security (in addition to having a backup), then Duo is one of the most user-friendly choices out there.

It's a well-known fact that hackers are always trying new methods and techniques for breaking into sites. And if you manage sensitive information, there's no excuse to avoid going the extra mile in order to ensure industry-level protection.
This is the premise of Rublon, an advanced and sophisticated two-factor authentication solution. You can configure numerous verification methods like getting a link sent to your email for confirmation. Rublon will save your device information and allow you to log in using only a password thereon.
Additionally, you can use the Rublon App to carry your site security with you wherever you go. Sign in using your default username/password, and verify your identity by scanning the QR code using your phone.

The best part is that you can install this plugin and forget about it. No strenuous learning curves or complex features, just simple 2FA security for WordPress sites.
2FAS is a WordPress plugin based on two-factor verification using Time-based One-time Password (TOTP) codes.
The 2FAS plugin is compatible with popular 2FA services like Authy and Google, but will work with other operators, too.
A feature unique to this plugin is that you can generate one-off pin codes.  These codes will come in handy whenever you have lost access to your phone. On top of that, it's possible to add credit card verification, as well as verification through SMS.
Lastly, 2FAS's algorithm can intuitively detect the device that's accessing the admin dashboard, and judge the need for verification. In other words, you can store your browser token so that you don't have to verify your personal identity every time you try to log in.

SecSign provides a universal mobile-based 2FA authentication experience for WordPress sites. The plugin uses state of the art encryption methods to ensure brute-force protection.
Further, private keys generated by SecSign are never connected to an external server. Instead, keys are created directly by the mobile app and you are the only person to see them.
The core difference between this and other plugins in this roundup is that SecSign uses its personal ID platform: SecSign ID. This means that you won't be using your WordPress credentials at all. Rather, you can use the SecSign Portal to generate unique ID names for each of your users.
As a result, you can take advantage of verification methods like fingerprint (for Apple users), and less intricate techniques like custom image selection.
Wrapping Up
You can't put a price on data safety. Exposure to attacks can damage your brand identity, lessen the trust that users have in your product or services, and cause headaches and lost time when your site is hacked. While 100% security can't be guaranteed, two-factor authentication is one of the best techniques out there for preventing unauthorized site access.
The plugins we have explored in this post are incredibly quick to install, and painlessly simple to configure. Even if you don't like the idea of using a mobile application, using your phone to verify access to your site, or having a unique code stored somewhere safe, is better than relying on a single password alone.
For more on security best practices, don't miss 14 Ways to Secure Your WordPress Site – Step by Step and 10 Plugins to Step Up WordPress Security.