Hostinger Review 2023: The Good & Bad (Honest Thoughts)
Considering using Hostinger to host your websites? Our honest, hands-on Hostinger review will highlight the good and bad to help you make the right choice.
In general, Hostinger offers rock-bottom prices and a very beginner-friendly interface and site setup experience, which can make it attractive to people who are just getting started with their first sites.
Hostinger also uses LiteSpeed Web Server on all of its plans, which allows you to use LiteSpeed Cache and can offer good performance for the money.
While it's not the fastest host that we've tested, the performance-to-price ratio is solid enough.
However, it's not all perfect…
While Hostinger's first-term promotional prices are very low, there's a big jump at renewal, which might catch people by surprise. While this strategy is common with cheap web hosts and Hostinger's regular prices are still competitive, it's important to understand how this affects your decision.
Additionally, while Hostinger advertises that you can "generate unlimited traffic to your website", the underlying resource limits on your plan mean that you won't actually be able to generate unlimited traffic in practice.
Basically, there are good and bad things about Hostinger, so we encourage you to read through our full Hostinger review to decide whether Hostinger's pros outweigh its cons for your specific situation.
📚 To help you decide, here's everything that we'll cover in our Hostinger review:
How We Tested Hostinger – We Used Our Own Account
Hostinger has a bit of a shoddy reputation when it comes to reviews because, back in 2018, Hostinger was alleged to be having its employees leave reviews on Trustpilot and in popular WordPress hosting groups without disclosing their relationship with the company (which got Hostinger banned from the most popular WordPress hosting group).
While this type of behavior is, sadly, not that uncommon in the budget shared hosting space, that's still not a great look and has rightfully hurt the company's reputation with some advanced WordPress users.
With that being said, we tried to go in with an open mind and test everything using our own account. Basically, we want to base our recommendations on our actual experience and testing with Hostinger, rather than preconceived notions in either direction.
Overall, while you might want to take the Trustpilot reviews with a grain of salt, those actions don't necessarily mean that there's an issue with the hosting itself.
With that out of the way, let's dig into what Hostinger offers…
⚙️ Hostinger Key Features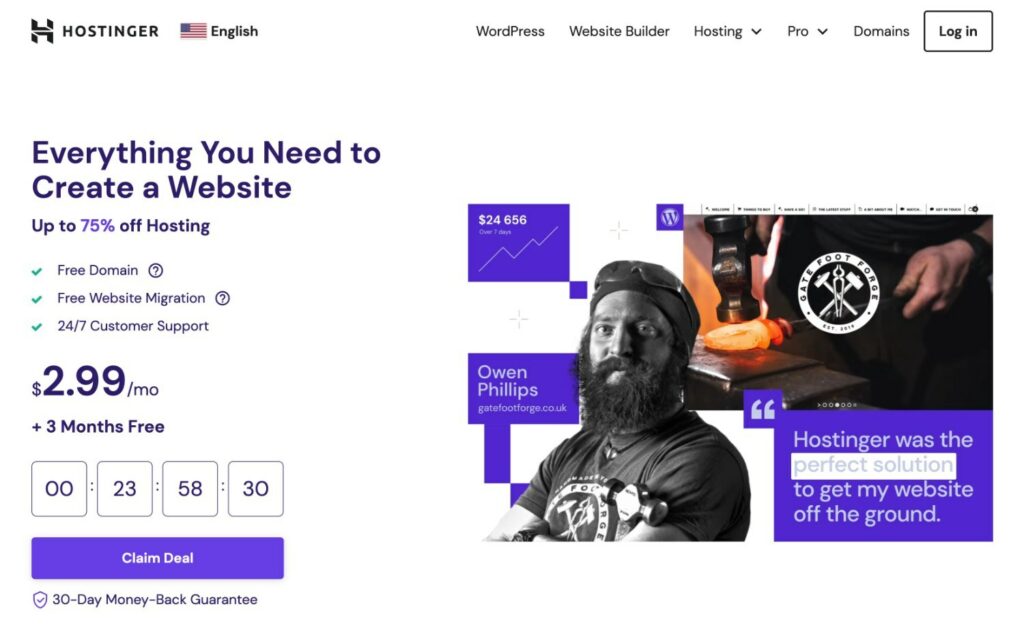 To kick off our Hostinger review, let's quickly go through some of the key features that you get with Hostinger hosting.
We won't spend too long here because you can find all of this in the Hostinger marketing copy, but we do think it's important to cover these just so that you know what's on offer at Hostinger.
Performance features:
LiteSpeed Web Server on all plans, which offers excellent performance when compared to the Apache web server that many other shared hosts use.
Pre-installed LiteSpeed Cache plugin – one of the best WordPress performance plugins.
"Unlimited" bandwidth (note – this does not mean "unlimited traffic" because there are still limits on CPU, RAM, etc.).
Fast NVMe storage (all plans except the cheapest tier).
Free content delivery network/CDN (all plans except the cheapest tier).
Object caching (all plans except the cheapest tier).
Nine different data centers on four different continents – North America, South America, Europe, and Asia.
Convenience features:
Custom hPanel hosting dashboard on most plans, but there are also dedicated cPanel hosting plans if you want to use cPanel.
Automatic daily backups (on the cheapest tier, you get weekly backups instead of daily).
WordPress staging tool (all plans except the cheapest tier).
On-demand backups (all plans except the cheapest tier).
Secure features:
DDoS protection – "Standard" protection on the cheapest tier and "Enhanced" protection on higher tiers.
Malware scanning.
Web application firewall (WAF).
Free SSL certificates.
🚀 Hostinger Performance Tests
Whenever you're choosing a web host, performance should be one of your most important considerations.
Hostinger uses LiteSpeed Web Server on all of its plans, as well as fast NVME storage on all plans excluding its cheapest tier. Theoretically, this should lead to good performance.
To test the performance at Hostinger and compare it to other hosts, we set up our own test site using the popular Astra theme and one of its importable demo sites. This not only lets us create a realistic test scenario, but it also lets us compare performance with other hosts that we've tested (because we always use the same test site configuration).
To collect performance data, we ran our Hostinger site through two different performance analysis tools:
WebPageTest – this lets us test key metrics like TTFB, Largest Contentful Paint, and more. We configured it to run nine separate tests and use the median value. To create a more realistic scenario, we also throttled the connection speed to "FIOS".
LoadFocus – this lets us understand how Hostinger performs in a slightly higher-traffic situation by hitting the site with 10 active visitors in the same 30-second period. While very high-traffic sites will have much higher traffic levels, this is a good starting point for what the "average" WordPress site might experience.
In terms of performance optimizations, we used the default configuration set up by the Hostinger WordPress installer, which pre-installed and enabled LiteSpeed Cache.
Hostinger Performance in WebPageTest
In the median WebPageTest run, our Hostinger site had a 0.101 s time to first byte (TTFB) and a 0.792 Largest Contentful Paint (LCP):

To give you some context on whether that's good or bad, here's how that exact same test site performed at some other hosts that we've tested:
Hostinger Performance in LoadFocus
Hostinger had zero issues with our small LoadFocus testing, having an average response time of 419 ms and zero error rates.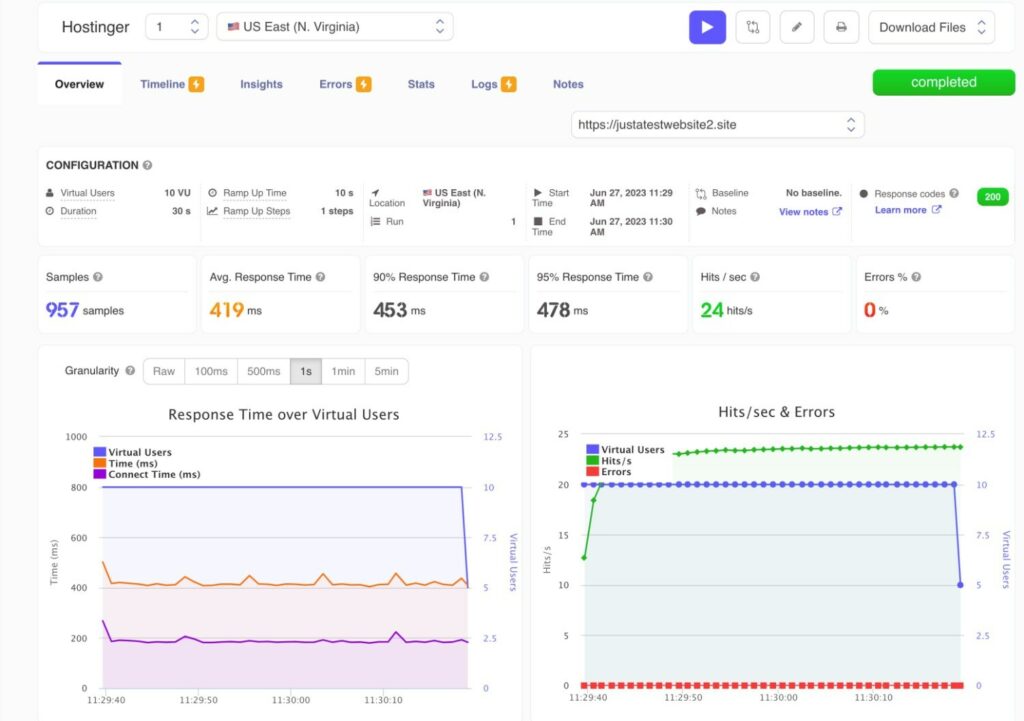 To ramp things up a little further, we used Loader.io to hit the site with 250 visits in a 60-second period, which Hostinger was also able to handle without any spikes.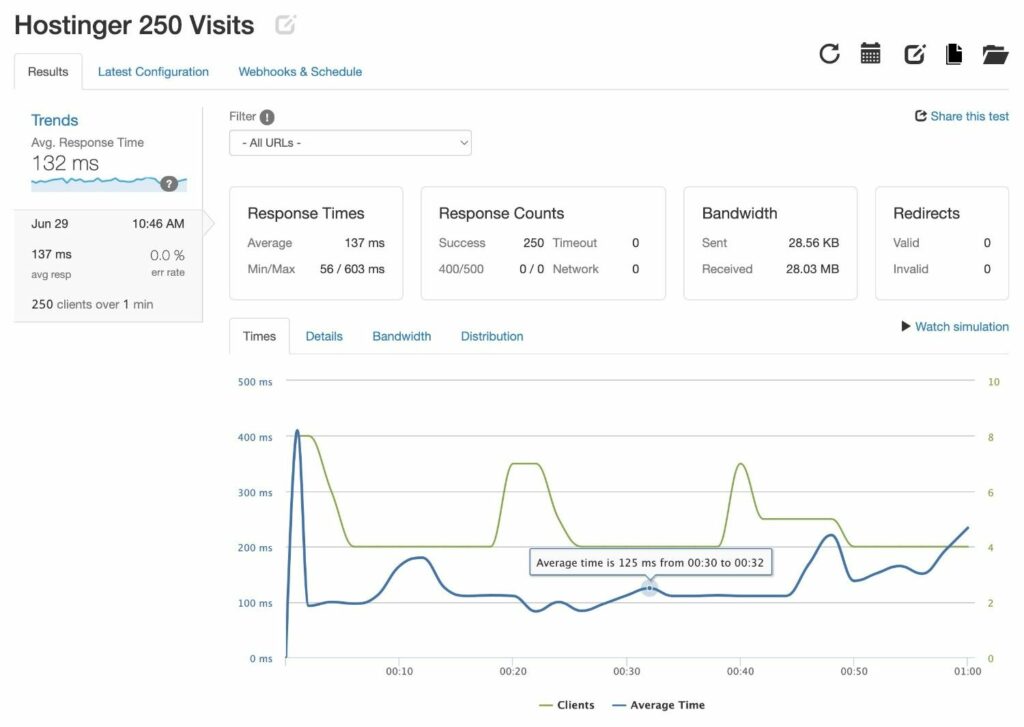 Overall Thoughts
Overall, Hostinger offers solid performance for the money, at least in these lower-traffic tests. While it's not the fastest host that we've tested, the load times are solid for the price that you're paying, especially for static sites that can be cached with LiteSpeed Cache (portfolios, blogs, etc.).
For example, when we compared the WebPageTest results above, you can see that many of those other hosts did have slightly better performance than Hostinger.
However, most of those hosts also cost more than Hostinger, so you're not getting that extra performance for free.
🤗 Hostinger User Experience
To help you manage your websites and hosting, Hostinger offers its own custom dashboard solution on most plans – hPanel.
While Hostinger's hPanel does use the same naming convention as the popular cPanel tool, hPanel is its own separate thing and completely unique to Hostinger.
Hostinger's hPanel solution is very well done and user-friendly, so we don't think most users will be missing cPanel.
With that being said – if having cPanel access is important to you, Hostinger does offer special cPanel hosting plans. However, you'll need to specifically choose these plans to access cPanel, as the regular WordPress hosting plans use hPanel.
Let's take a look at some of the key areas in hPanel that you'll use to manage your site(s)…
Site Setup Wizard/WordPress Installer
To help you set up your site, Hostinger offers one of the more advanced site setup wizards, which lets you both install WordPress or use Hostinger's website builder.
As part of the wizard, it can even help you generate some text content for your site using ChatGPT, which is pretty unique in the hosting space.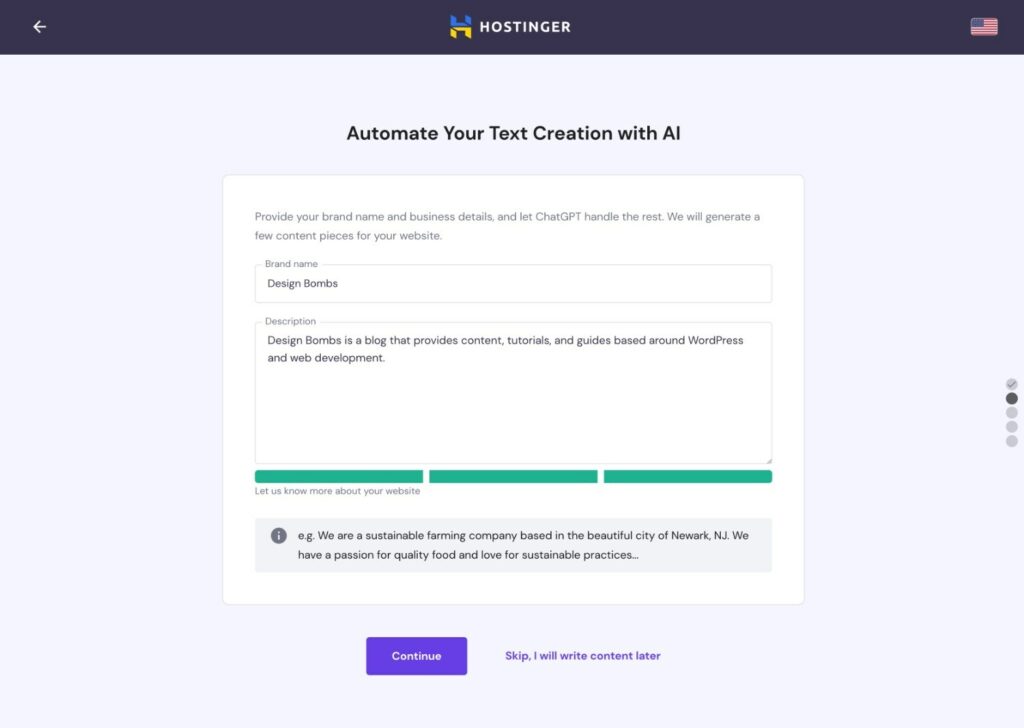 As part of the site setup process, you can also choose from Hostinger's nine different datacenter locations.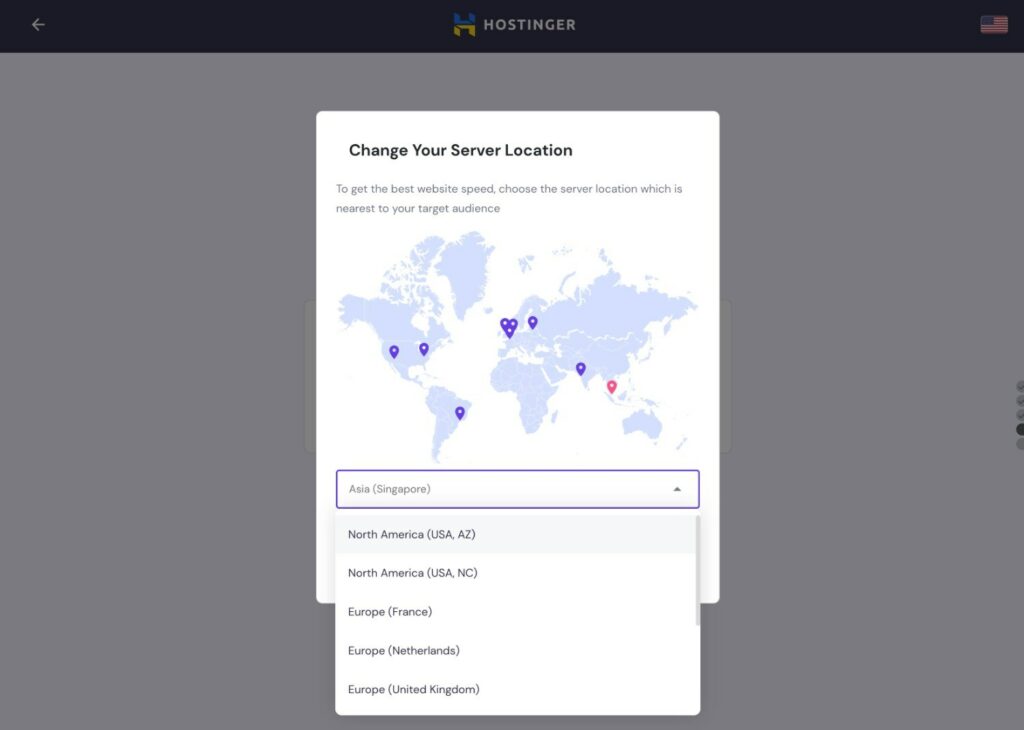 Overall, the site setup wizard is very well done and beginner-friendly. For example, if you want to connect an existing domain name to your website, Hostinger will automatically detect where your domain name is registered and tailor its instructions to your specific situation.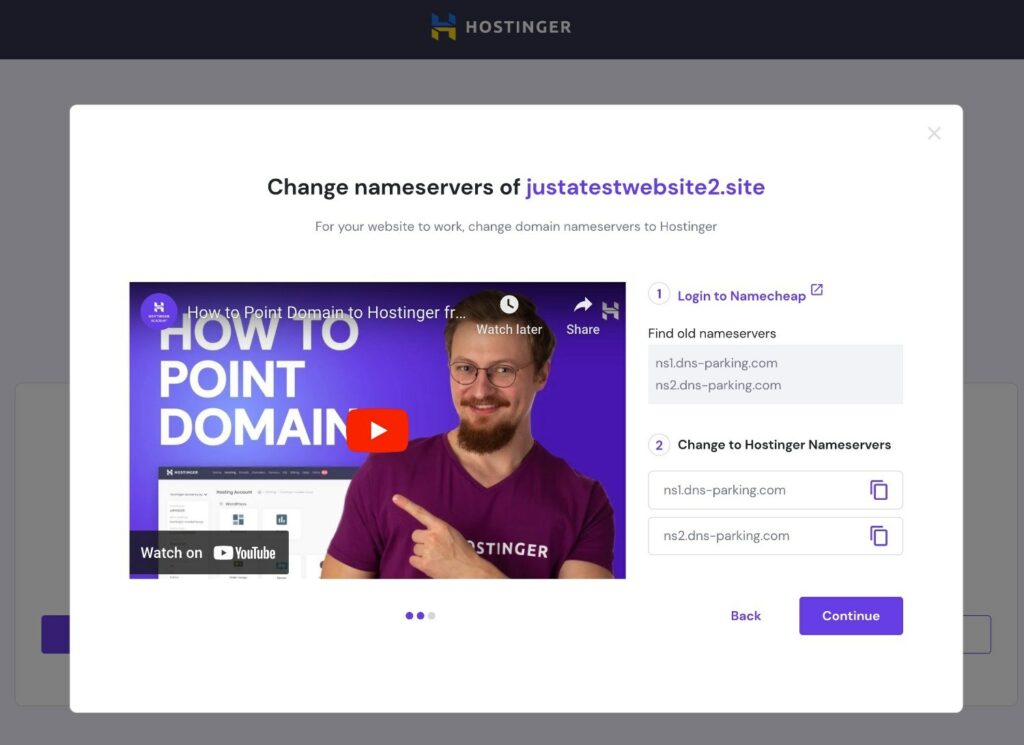 If you're looking for a really beginner-friendly host, these extra touches could make Hostinger a good option.
Main Dashboard
The main Hostinger dashboard gives you a general overview of all of the services that you have with Hostinger.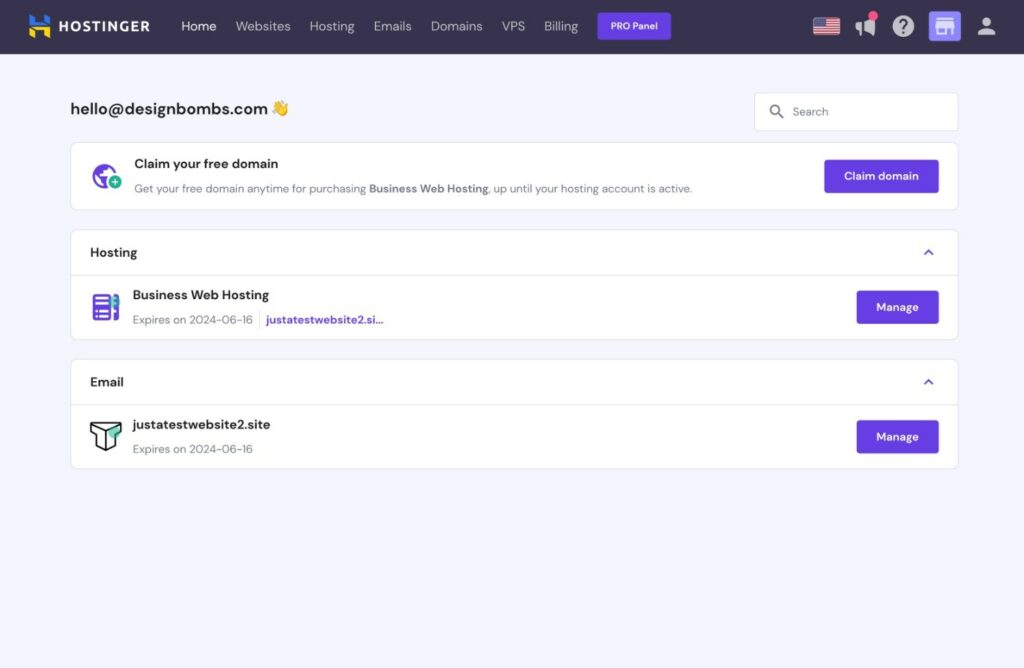 There's also a separate hosting dashboard that gives you an overview of all of your plan's usage – more on this later.
Site Dashboard
If you go to the Websites tab, you'll see a list of all of the websites in your Hostinger account. If you have a lot of different websites, you can also search for websites by name to find the right one.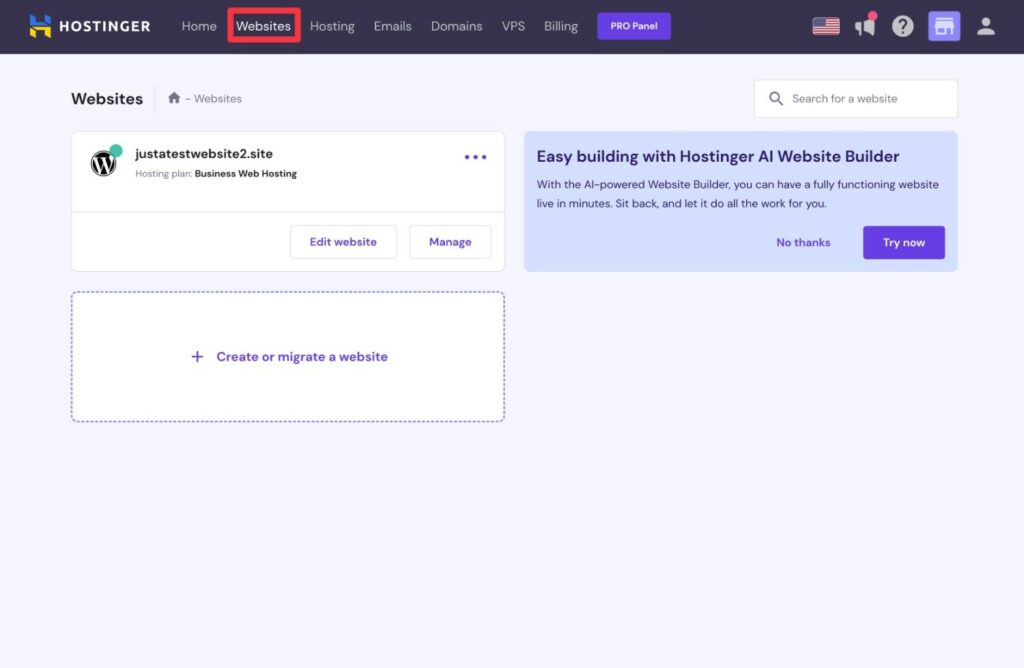 Clicking the Manage option will open up the full dashboard for that site, which gives you access to a lot of different tools and settings.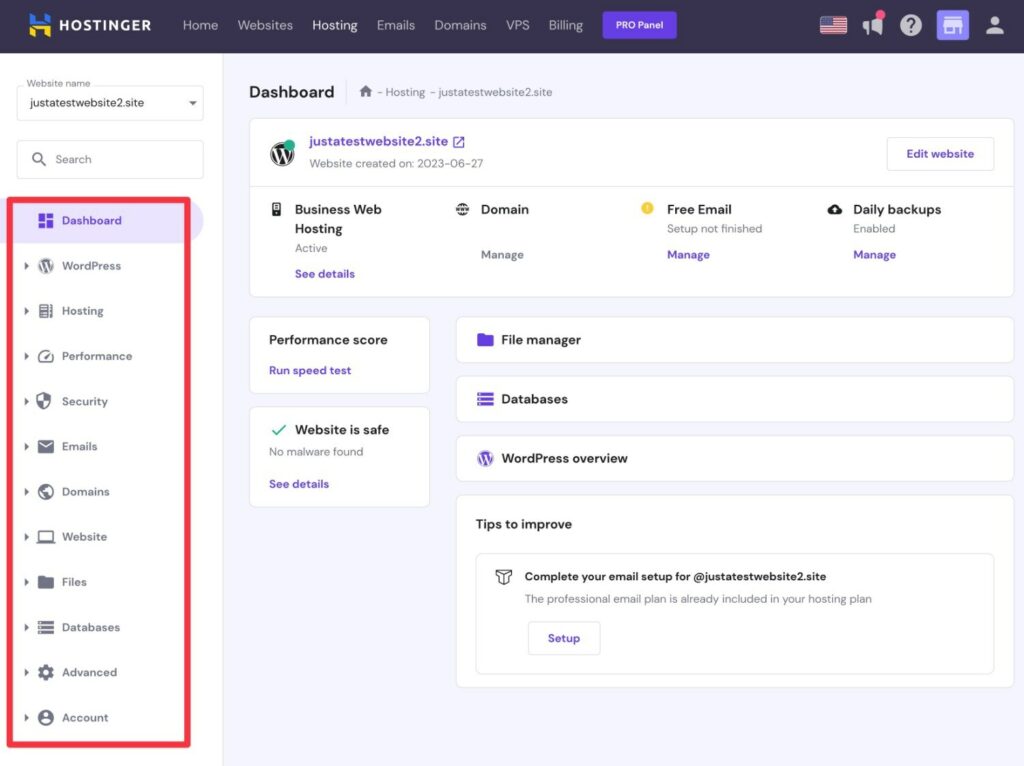 I can't show you every single tool because there are a lot of different options. But here are some looks at some of the most useful tools to give you an idea of what it's like…
WordPress Settings
The main WordPress overview page lets you manage key details for your site including the following:
Caching behavior
HTTPS usage
PHP version
Automatic WordPress updates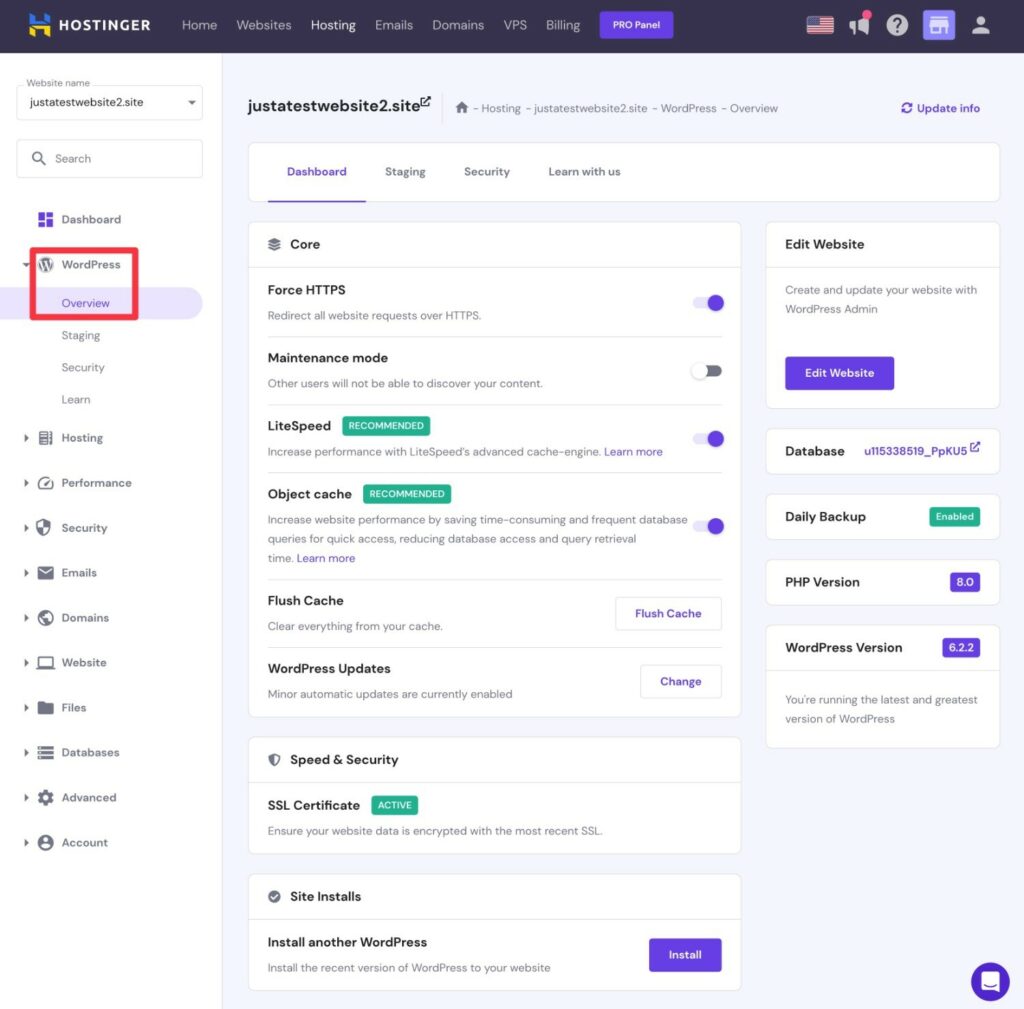 Backups
You can access daily backups of your site's files and/or database, as well as manually generate a backup if needed.
The backups area also includes a tool to restore a backup.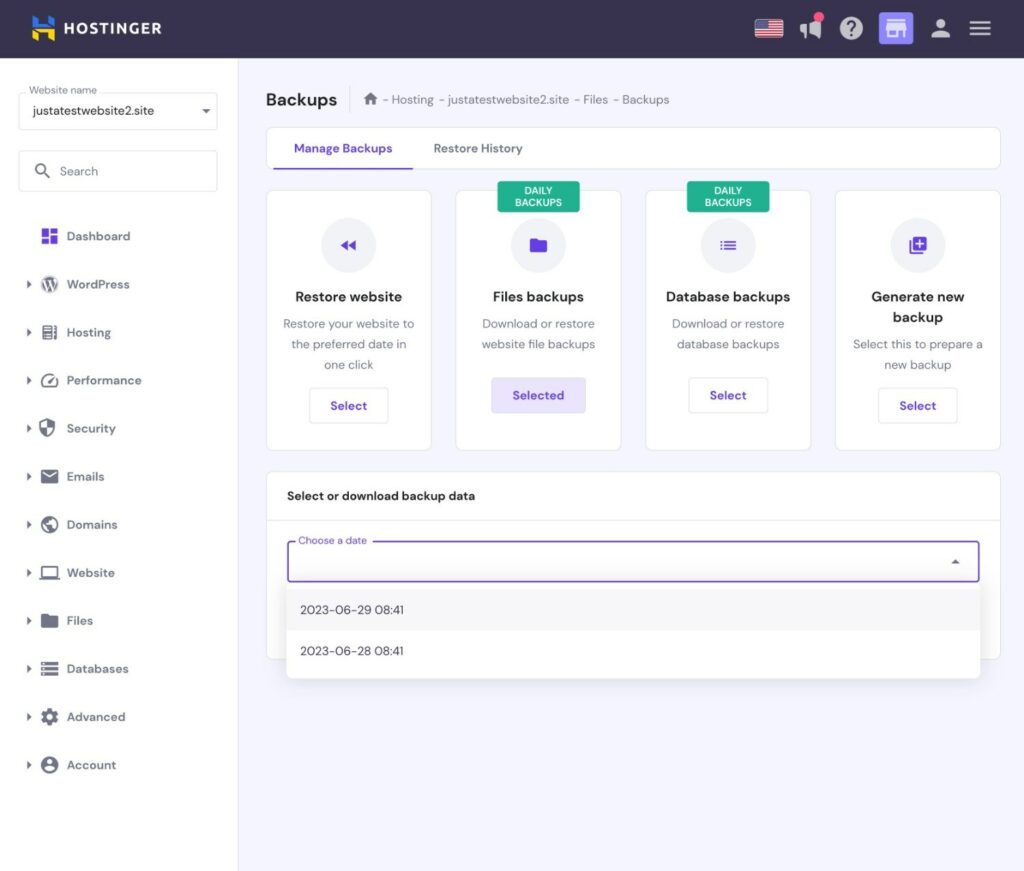 WordPress Staging Sites
The staging tool lets you create a staging copy of your site on a subdomain – e.g. staging.yoursite.com.
You can easily spin up a new staging site with a single click, including the option to create multiple staging sites.
There's also an option to publish a staging site, which will overwrite your live site with the staging version.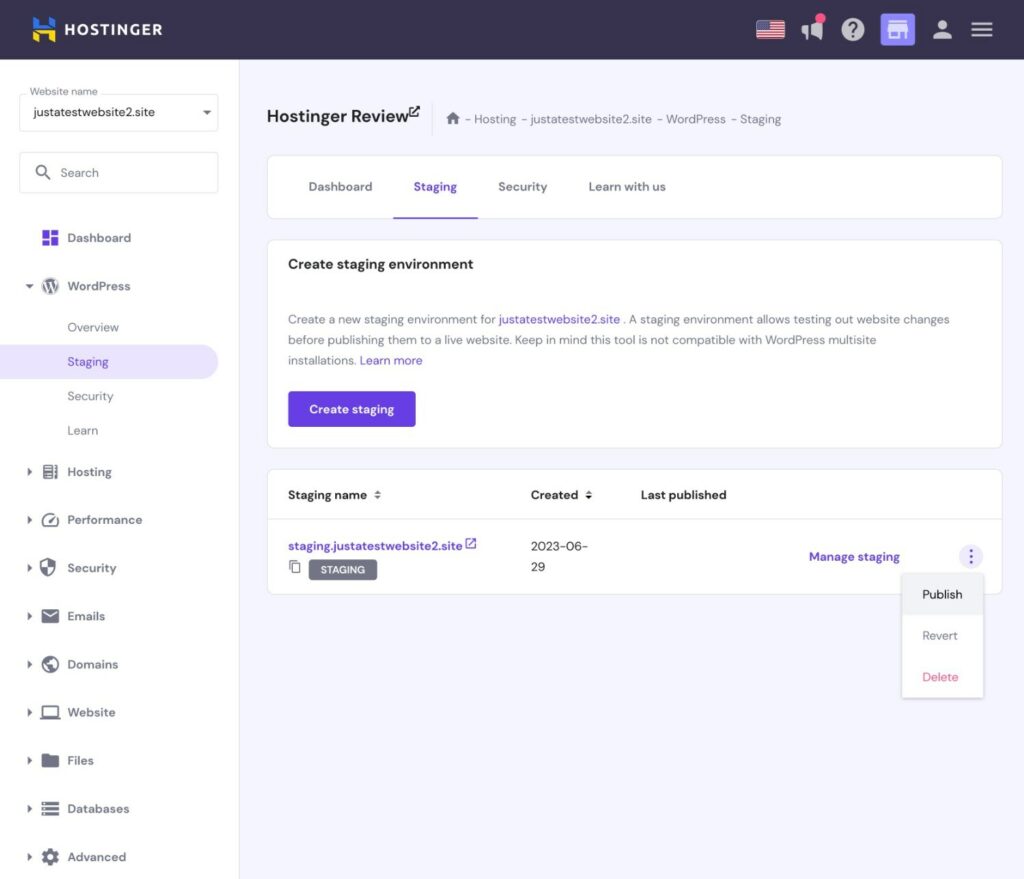 WordPress Plugins and Themes
If you have a WordPress site, Hostinger lets you view your site's plugins and themes from your dashboard, including letting you update or delete extensions right from hPanel.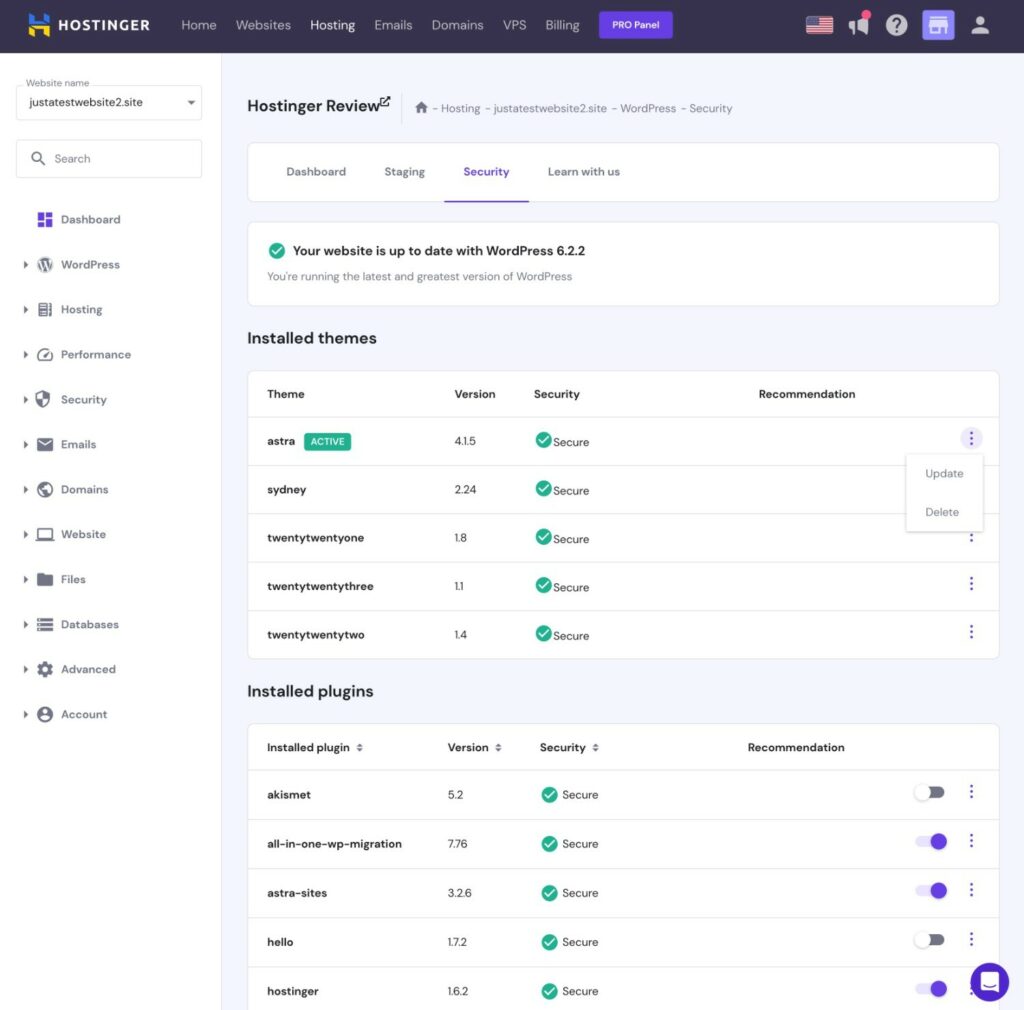 File Manager and Database Access
In addition to FTP access, Hostinger offers its own in-browser file manager tool that lets you add, edit, and/or delete files directly from your web browser (similar to cPanel File Manager).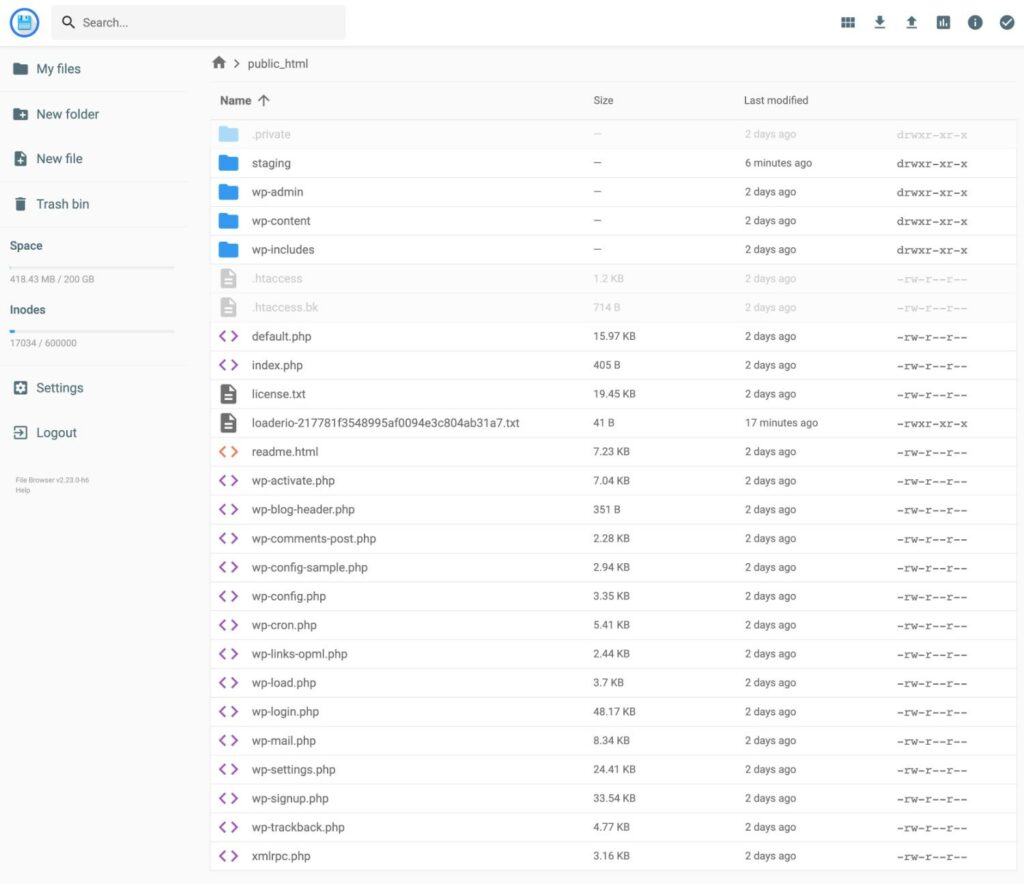 You also get access to phpMyAdmin to manage your databases.
📞 Hostinger Support Options
Hostinger offers 24/7 support on all of its plans.
You can access support via live chat only. Hostinger does not offer phone support on its plans.
That's not necessarily a bad thing, as a lot of people will prefer live chat support anyway. But if you are the type of person who wants to be able to get someone on the phone, there are other similarly priced hosts that do offer phone support such as GreenGeeks and Bluehost.
In addition to the 24/7 live chat support, Hostinger also offers an above-average amount of self-serve content, spread across its knowledgebase and blog.
Having access to this content is a plus, especially if you're the type of person who would rather try to solve your own problems before contacting support.
💰 Hostinger Pricing Review
In general, Hostinger is one of the cheapest hosting providers that you'll find, which is one of its biggest advantages when compared to other alternatives.
If you're willing to pay for four years upfront, you can pay just $2.99 per month to host up to 100 websites (though with only 100 GB of storage).
Before we look at the prices, though, we first need to explain two important variables that will affect what you pay:
Billing term
Promotional pricing
Promotional vs Regular Pricing + Billing Term Pricing
When looking at the Hostinger pricing plans, it's essential to understand that Hostinger uses an aggressive promotional pricing strategy, which is very common among shared hosts such as Bluehost, GreenGeeks, SiteGround, etc.
This means that the "main" price you see on the pricing page only applies to your first billing cycle, which can be anywhere from one month to four years depending on the billing term that you choose.
Once you need to renew your plan, you'll need to pay the regular price.
In addition to the difference between promotional prices and regular prices, the price that you pay will also depend on the billing term.
For example, if you choose to pay for four years upfront (48 months), the monthly rate will be a lot lower than if you paid monthly.
Hostinger does a pretty good job of letting you see how these different prices work out – better than most other shared hosts to be honest.
Hostinger shows you both what the renewal price will be as well as when you'll start paying it.
Once you add a pricing plan to your cart, you'll see all of the available "periods". You can also see the regular renewal rate at the bottom of the box for each duration.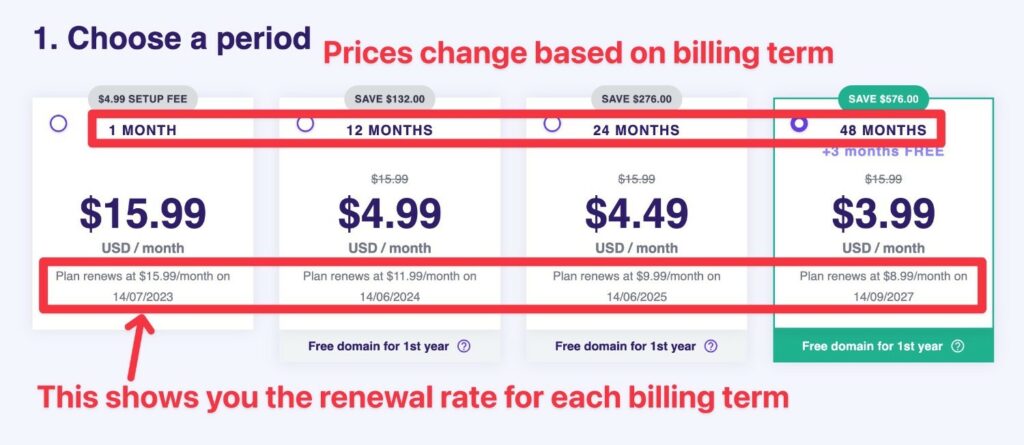 Make sure you factor these renewal prices into your planning.
Hostinger Pricing Plans
Now that you know how the billing terms and promotional prices can affect what you pay both now and in the future, let's take a look at the actual Hostinger pricing plans for WordPress sites.
Here are the three Hostinger WordPress hosting plans, along with the features on each. The prices that you see are the promo rate for the 48-month billing term, but we'll break down all of the pricing details in a table below.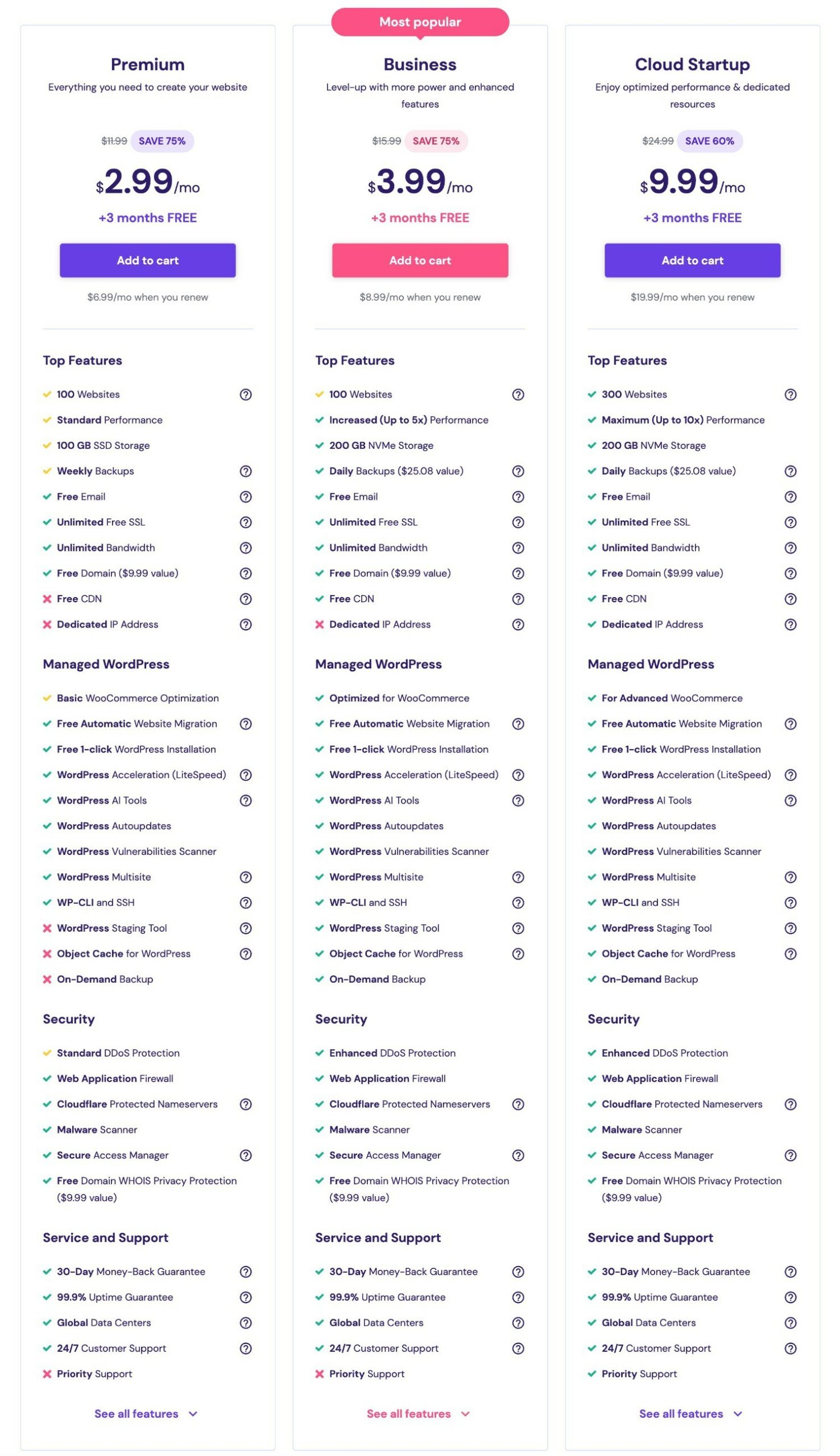 While Hostinger's website limits are very generous, it's important to note that you do not get unlimited storage like many other shared hosts offer. Depending on the size of your sites, you'll likely find yourself bumping into the storage limit before you hit the website limit.
Full Hostinger WordPress pricing table (monthly price):
| | | | | |
| --- | --- | --- | --- | --- |
| Plan / Rate | 48 months | 24 months | 12 months | Month-to-month |
| Premium – Promo rate | $2.99 | $2.99 | $2.99 | – |
| Premium – Regular rate | $6.99 | $7.99 | $9.99 | $11.99 |
| Business – Promo rate | $3.99 | $4.49 | $4.99 | – |
| Business – Regular rate | $8.99 | $9.99 | $11.99 | $15.99 |
| Cloud Startup – Promo rate | $9.99 | $9.99 | $9.99 | – |
| Cloud Startup – Regular rate | $19.99 | $22.99 | $24.99 | $24.99 |
Hostinger Resource Limits
While Hostinger does not always make this clear on its pricing page, there are other resource limits that apply to the different plans (which is true of most "unlimited" hosts):
CPU
Input/Output (I/O(
RAM
Processes
So while Hostinger says that you can "generate unlimited traffic to your site", that statement is slightly misleading.
While this statement is somewhat true in that Hostinger does not put limits on traffic directly, you will not actually be able to have unlimited traffic because you'll run into limits on CPU, I/O, RAM, etc.
If you bump up against these limits, you have two options:
You can "Boost" your site's performance for free. This will temporarily increase your plan's limits for 24 hours. However, you can only do this one time per month.
You can upgrade to a higher tier plan to permanently increase the limits.
You can check your account's resource usage in hPanel, including boosting the resources if needed.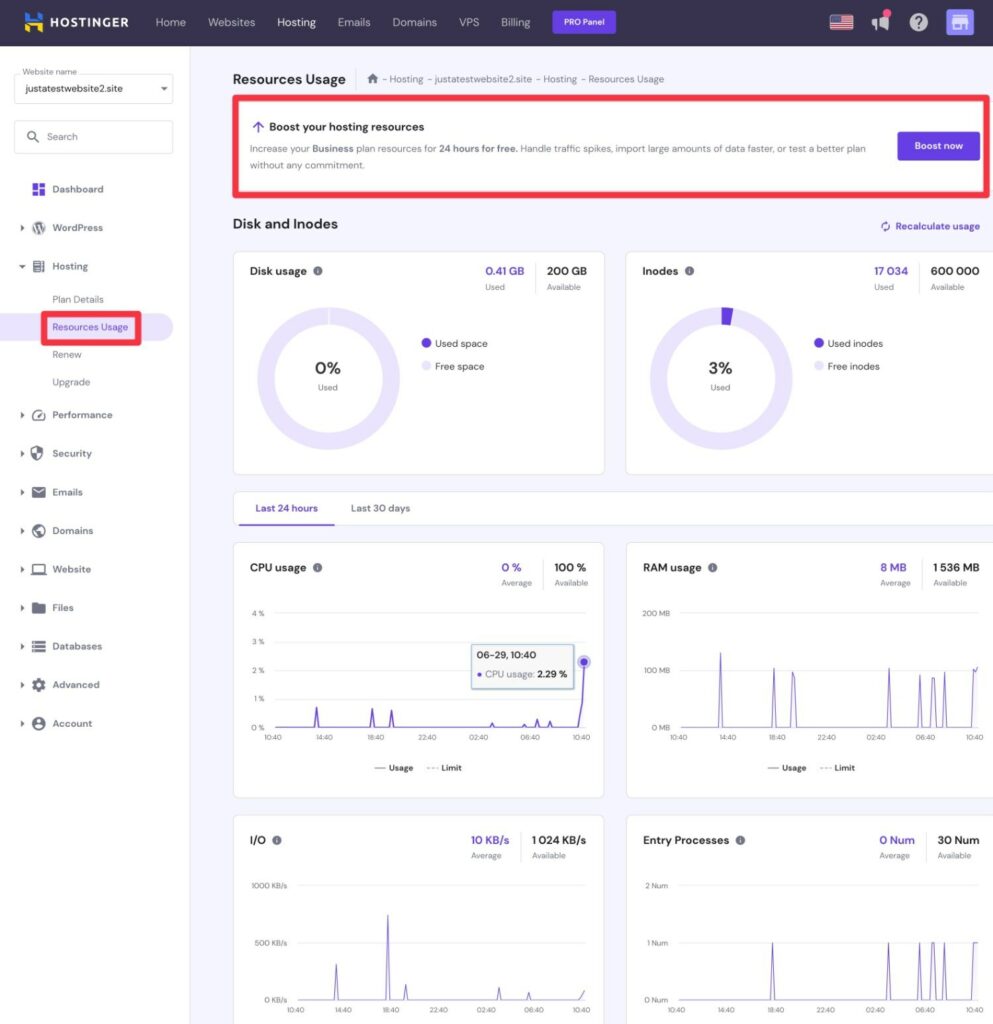 👍👎 Hostinger Pros and Cons
To recap some of the things that we've covered above, let's go over the pros and cons of Hostinger hosting.
👍 Pros
The Hostinger user experience, dashboard, and site setup process are all very well-designed. This can be especially helpful for beginners.
Hostinger offers incredibly cheap prices, especially if you're willing to pay for four years upfront to lock in the promotional price for all four years.
Hostinger uses LiteSpeed Web Server on all of its plans, which offers good performance for the money and lets you benefit from all of the flexibility in the LiteSpeed Cache plugin.
While most of Hostinger's plans use its custom hPanel solution, there are also options to let you use cPanel if having cPanel is important to you.
Hostinger offers an above-average number of payment options, letting you pay in cryptocurrency as well as some local payment gateways (e.g. UPI Payments in India).
Hostinger has localized its websites into far more markets than most hosts, which can be great for international audiences. For example, within Asia alone, Hostinger has localized sites for India, Indonesia, Thailand, Vietnam, Malaysia, South Korea, Japan, and lots more.
👎 Cons
While Hostinger uses terms like "generate unlimited traffic to your website" when it comes to unlimited bandwidth, the other associated resource limits on CPU, I/O, RAM, etc. mean your sites won't literally be able to have "unlimited traffic". This can make it tough to understand which plan can handle your site's traffic and might mean you need to upgrade plans as your site's traffic grows.
While Hostinger offers 24/7 live chat support on all plans, there's no option for phone support. If you value being able to talk to people on the phone when you need help, this might be something to consider.
❓ Hostinger Review 2023 FAQ
To finish out our Hostinger review, let's go over a few common questions that you might have.
Does Hostinger have phone support?
Hostinger does not offer phone support, but Hostinger does offer 24/7 support via live chat on all its plans.
Does Hostinger have cPanel?
Hostinger does offer cPanel hosting, but you'll need to choose one of the special cPanel hosting plans. The regular WordPress hosting plans use Hostinger's custom hPanel solution and not cPanel.
Does Hostinger offer a free domain?
If you choose one of the yearly billing options, Hostinger offers a free domain name for the first year. You don't get a free domain name if you sign up for the pay-monthly plan, though.
Does Hostinger have a CDN?
Hostinger offers free use of its custom CDN solution on all of its plans except for the cheapest tier.
Does Hostinger offer email hosting?
Hostinger offers free email hosting on all of its plans. For the WordPress plans, you can create up to 100 unique mailboxes on all plans and each mailbox can have up to 1 GB of storage (but you're still limited by your plan's overall storage limits).
How many data centers does Hostinger offer?
Hostinger offers nine different data centers on four different continents, including the United States, Brazil, the UK, France, the Netherlands, India, and Singapore.
Does Hostinger have a website builder?
Hostinger has its own proprietary website builder named Zyro that's marketed via a dedicated Zyro website, as well as a Hostinger Website Builder offering that's marketed from the Hostinger website.
Does Hostinger support Node.js?
Hostinger does not support Node.js on its basic shared hosting, WordPress hosting, and cloud hosting plans, but you can use Node.js on Hostinger's VPS plans and Hostinger offers a pre-made template to help you do that.
🤔 Should You Use Hostinger in 2023 and Beyond?
Now for the most important question of our Hostinger review – should you use it for your sites?
As is always the case with any hosting decision, there's no one-size-fits-all answer. Instead, it really depends on your unique situation, such as your goals, budget, type of website, knowledge level, traffic, etc.
So – to make this more useful, we're going to explain where Hostinger can make sense as a host, as well as where a different option might make a better choice.
Use Hostinger If…
In general, Hostinger has two major advantages over a lot of other hosts:
Affordability.
Beginner-friendliness
Simply put, you will struggle to find other hosting providers that let you host multiple websites for as low of a price as what Hostinger offers.
But despite offering low prices, Hostinger still offers one of the better, more beginner-friendly user experiences that you'll find, as well as adequate performance.
This can make it a solid option for beginner webmasters who are looking for an easy way to make a website without breaking the bank.
If you are going to use Hostinger, we recommend using at least the Business plan. While the website limits are similar to the entry-level Premium plan, the Business plan has a ton of upgrades that make it a much better option:
Faster NVMe storage (plus 200 GB of storage vs 100 GB on the Premium plan)
Free content delivery network (CDN)
Object caching
Automatic daily backups instead of weekly backups, plus on-demand backups
WordPress staging tool
We recommend locking in the promotional prices for as long as you feel comfortable.
Use Another Host If…
While Hostinger can be a solid budget option for beginners launching a website, you'll likely be better off spending a little more money on more high-powered hosting if you have a serious website that you're planning to make money from.
In this case, Rocket.net is a great option. It offers excellent performance and reliability. Plus, it has more clear resource limits/allocations, which means you won't need to worry about running into limits on CPU, IO, etc. and "boosting" your site.
Rocket.net is a bit more expensive than Hostinger, but we think that extra cost is worth it for serious websites. You can learn more in our Rocket.net review.
Other high-quality hosts for serious WordPress sites include WPX Hosting, WP Engine, and Kinsta. Or, for a host that's closer in price to Hostinger, you can consider InMotion Hosting.
If you want to discover some other quality hosting options, you can check out our data-backed roundup of the best WordPress hosting.
Or, we also have collections of the best cheap web hosting providers and the best managed WordPress hosting providers.
Still have any questions about Hostinger or our Hostinger review? Let us know in the comments!