Google Domains Review – What is it? How to Register a Google Domain and Alternatives
You're going to need to purchase a domain name.
This unique identifier is how people navigate to your website, and buying one is required to go live online. No one can find you without it.
However, when it's time to start shopping for a name, you'll soon find that there are dozens of domain registrars out there. One of them is Google Domains, which has emerged as a top registry due to its utter simplicity and how easy it makes getting a domain. But you have a lot of options here – how can you know it's the best one?
To help you figure that out, in this Google Domains review we've broken down all its features so you can decide if it's the right service for you.
We'll even give you a step-by-step tutorial on how register a domain with them and list some alternative domain registrars to test out. But first, let's settle some basics.
What is a Domain Name?
Almost every website on the internet has a domain name. Just look at what is currently displayed in the address bar of your browser:
designbombs.com is our domain.
It's a totally unique identifier that allows you to navigate to this website. It's also something that you create yourself, and it can't be shared with any other website.
The way domains work is that when you type them into a browser, it connects to the DNS server, figures out which website you're connecting to, and sends a request to load the page. Then your browser begins rendering the website.
It can be difficult or impossible to visit a site that doesn't use a domain name. While you can also connect to a website using its unique IP address (a string of numbers that functions similarly to a domain), nobody is going to remember random numbers. In addition, people will be wary of visiting a site without a name.
So if you want to get your site online, you're going to need a domain.
How Do Domain Names Work?
A domain is made up of several different parts. Here's what a typical one looks like:
www.designbombs.com
WWW stands for World Wide Web, and for the most part, is purely cosmetic. You're usually redirected to a website whether you type it in or not. You can register a domain with or without WWW depending on your preferences.
Next is the name: what makes your domain really yours. Names can be made up of letters or numbers. They're always lowercase, and can never use symbols except hyphens. It also needs to be unique. If another person already has your domain and extension, you need to choose another one. Besides those restrictions, this part is entirely up to your imagination.
Last is the domain extension, or the Top Level Domain (TLD). These include .com, .net, .biz, .us – you get the idea. Domain extensions have diversified and you can now choose colorful new ones like .pizza or .party, but you still can only pick from a set list of approved extensions. You can't create your own TLD.
There are also different kinds of domain extensions. Generic TLDs like .com and .org usually have no restrictions on registration, while country code TLDs like .au for Australia are often (but not always) restricted to residents of that region.
All these parts come together to make a domain name.
What is Web Hosting?
Besides a domain, every website needs a web host. While the former is the address of your website, the host is where it lives.
Web hosts provide servers that store your website contents and files, then transfer them across the internet to display them to your visitors. While domains are all but necessary to navigate to your website, without a host, your site won't be live at all.
While many web hosts offer domain registration, and you need both to get online, these are two separate services. The host keeps your site running, and the domain lets people connect to it. You can purchase bundled domain and hosting from many hosts, but it's also possible to buy them both from separate vendors.
What is Google Domains?
If you're looking for a domain, but are having trouble navigating the complex environment of website creation, Google Domains is as simple as it gets. That's its big pitch: straightforward, no-frills domain registration. No hassle and no surprises. Let's see what else it has going for it.
👍 Benefits of Using Google Domains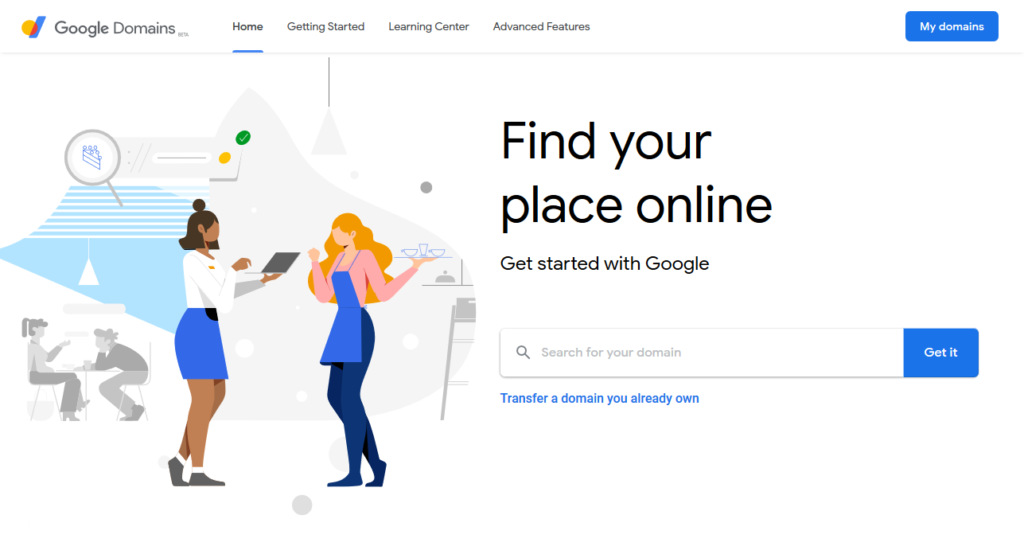 It's easy to get overwhelmed the first time you go to buy a domain. Many registrars have a cluttered, confusing interface, upsells littered everywhere, and a long checkout process.
The big pro of Google Domains is that it cuts all this down to absolutely nothing. If you've been frustrated just browsing registrars before, go with Google Domains. Its site interface and dashboard are easy to navigate and completely free of clutter.
Google essentially represents the Internet as a whole, being one of the top revenue-earners and arguably the most well known online brand (because of solutions like Google Analytics). With their huge investments in technology, you know that you're using some of the most powerful and reliable tech to host your DNS servers.
Google Domains also offers a fair few addons that are completely free. No expensive upsells; you get WHOIS privacy protection, advanced DNS configuration tools, domain sharing, and one-click DNSSEC security at no extra cost.
As for support, it's pretty good. You can live chat, call, or email 24/7, and there's also a helpful Learning Center and Help page. All the content is well-formatted and easy for a beginner to understand.
Finally, Google Domains has several time-saving integrations. It connects easily to Shopify, Squarespace, Wix, Bluehost, and Weebly, and verifies instantly when using other Google tools like Google Search Console and Google App Engine.
👎 Drawbacks of the Service
That said, there are a few drawbacks. The big one is pricing. Unlike other registrars, there's absolutely no discounts — that means no super-cheap first year, or markdowns for multi-year purchases. And domains here are a little more expensive.
This is offset by the fact that many other registrars will charge you extra for features Google Domains provides for free. The value you get is baked into the price, so there's no surprise upsells when you get to checkout, or sudden price hikes when it's time to renew. But you may be able to find domains cheaper elsewhere. You best bet is to compare the domain you want across other services and see which ends up being more expensive.
The other big downside is that, currently, Google Domains is only available in 15 countries. So for many people, it isn't an option at all.
Last, there's the issue of Google Domains remaining in beta though it launched in 2015, and still is only available to a few countries. Google is a reliable company, but there's always the chance they could abandon ship and shut down the service, leaving you in the hands of another company. It's definitely something to keep in mind.
Google Domains has a few cons, but overall it's a great service with a lot of features.
🤔 Do Google Domains Include Hosting?
Unlike many domains that come with hosting (or vice versa), Google Domains is a standalone service. It only offers domain names. You'll need to use third-party hosting services and connect the domain you registered to them.
That said, Google does offer integrations with its free website builders, Google Sites and Blogger, along with Google App Engine. This is the closest you can get to web hosting with Google, so if you want to create a website with something like WordPress, you'll need to purchase separate hosting.
How to Register a Google Domain
No Google Domains review would be complete without showing you how to use the service. This process is easily condensable into three simple steps, so you could very well have a domain ready in less than five minutes!
Step 1: Create a Google account
To purchase a domain, you'll need to create an account to manage it with. If you already have one, you don't need to do anything. Otherwise, if you don't create an account, Google Domains will ask you to do so during checkout.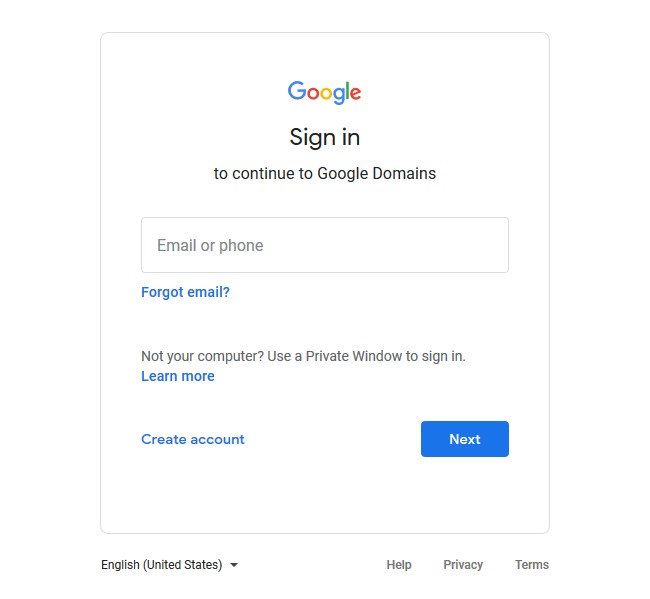 Step 2: Choose a domain and Add It to Your Cart
Head over to Google Domains and start searching for the domain you want via the search form.

This will give you a list of available domains matching your query, including different domain endings.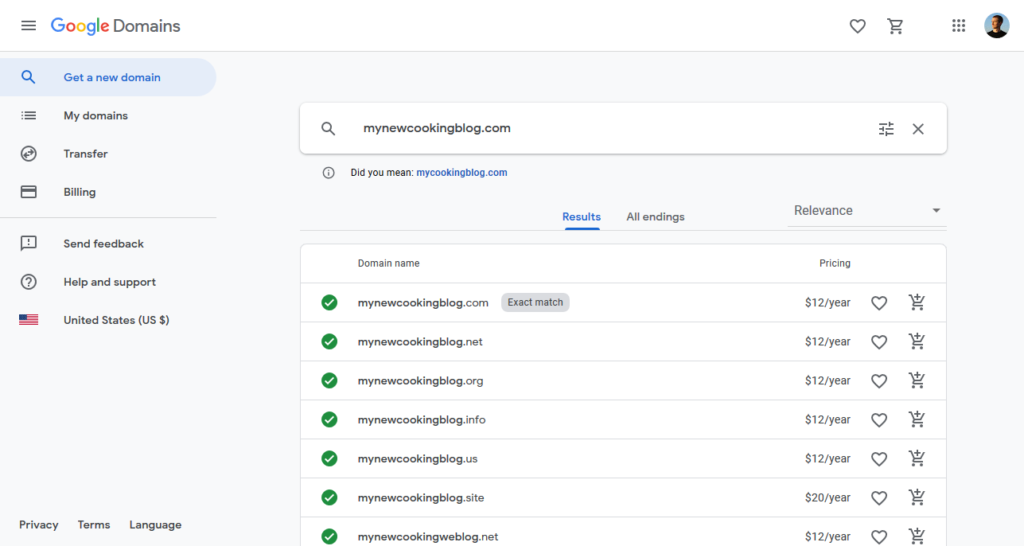 Some domains will require an SSL certificate to launch (marked with More secure), or are "premium" domains that are expensive but may include cheaper renewal fees.
Once you find what you want, click the cart button to add it to your shopping cart. You can also favorite a domain (via the heart icon) to keep an eye on it.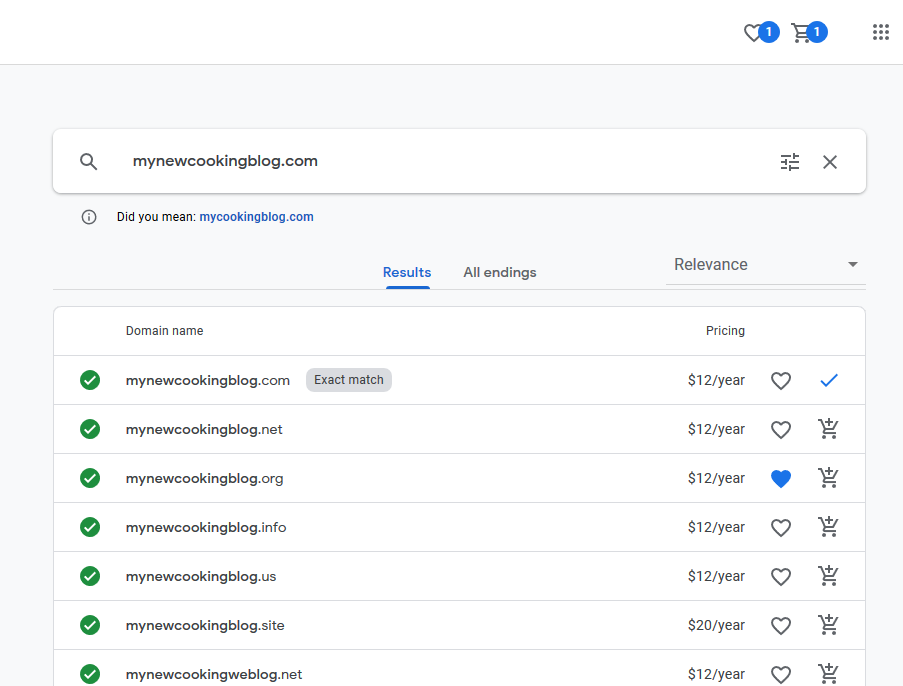 Step 3: Finish Checkout
Click the cart button in the top right corner to go to checkout. Here you only have two options: Toggle the free privacy protection, and auto-renew. If you turn this off and forget to renew your domain, it will go up for sale again.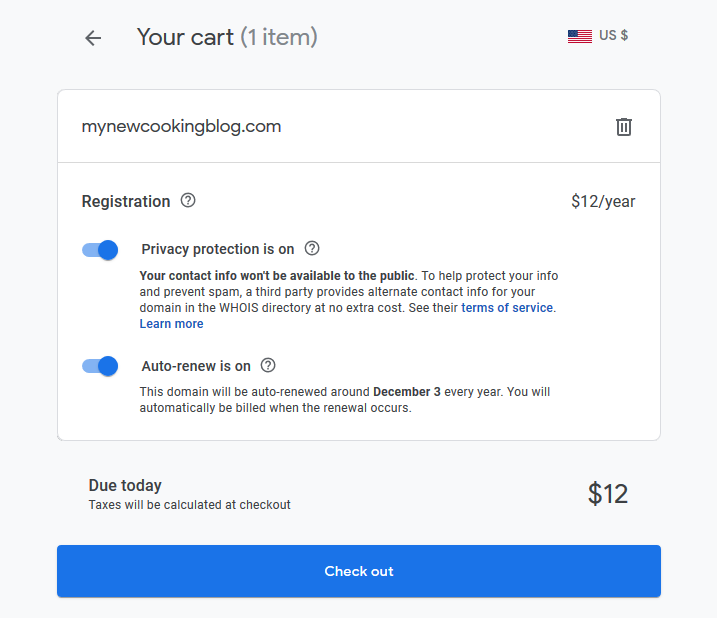 Click "Check out" and put in your contact and payment info.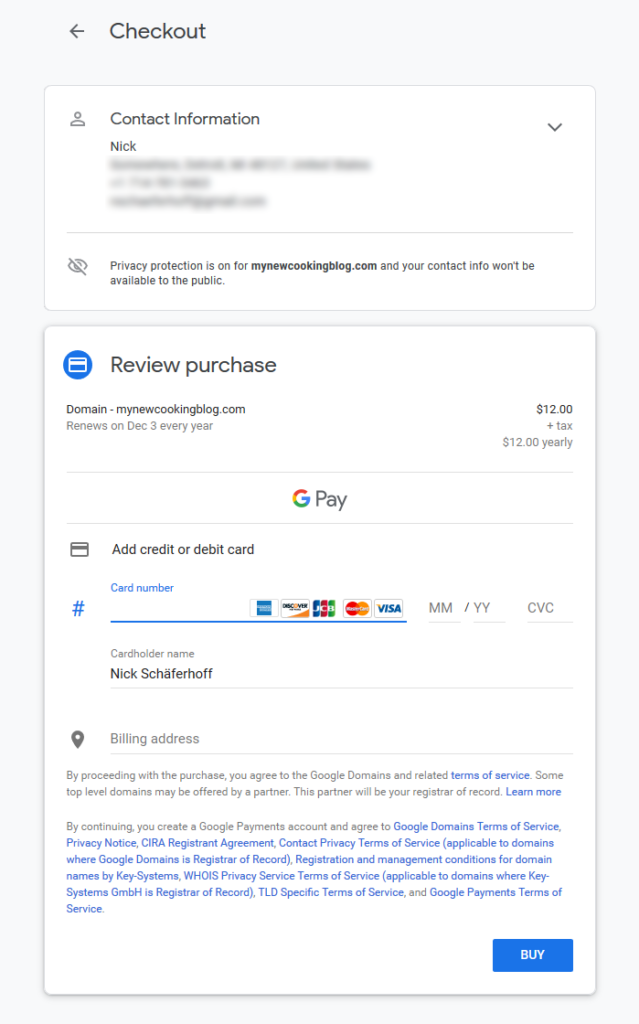 You'll then be charged and the domain is now yours. That's it! After that, you can head over to your Google Domains dashboard to see your new domain and set up G Suite, create email aliases, or change DNS settings. You'll also want to go to your web host and connect your new domain, or click "Website" and start building one now.
But besides a little configuration, you're now the proud owner of your very own domain! And as you can see, the process was totally painless.
Google Domains Alternatives – Other Domain Name Providers
With all those other domain registrars out there, we should mention a few of the popular ones, and see what they have to offer over Google Domains.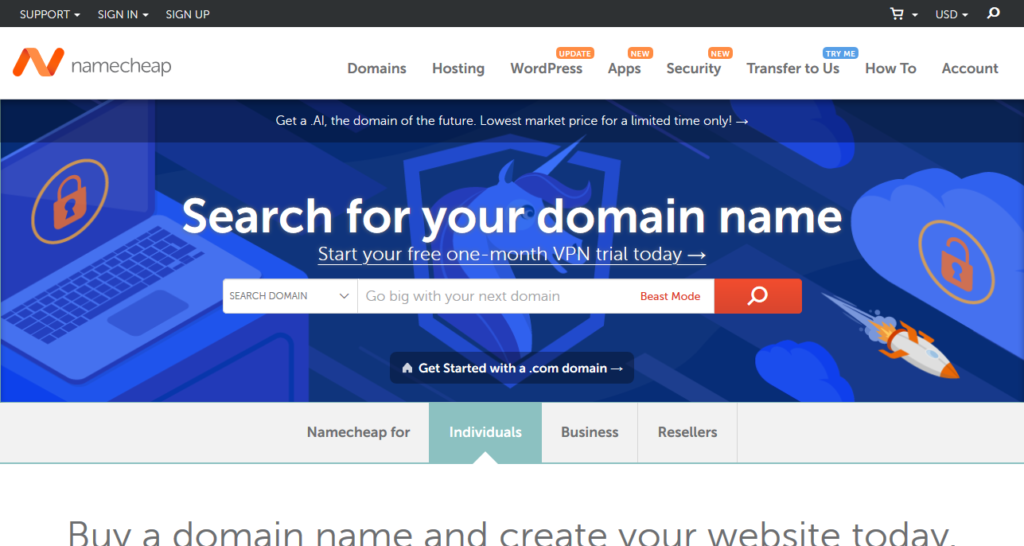 Great prices, decent discounts.
Advanced search or "beast mode" helps you quickly find your ideal domain.
Free WHOIS privacy protection.
Paid email hosting, DNS security, hosting, and SSL certificates.
Marketplace and reselling.
Namecheap web hosting isn't considered amazing, so you may want to find a different host.
Somewhat confusing website with an overwhelming amount of unnecessary apps and features.
Overall: A decent choice, especially if you're just sticking with the domain registration services.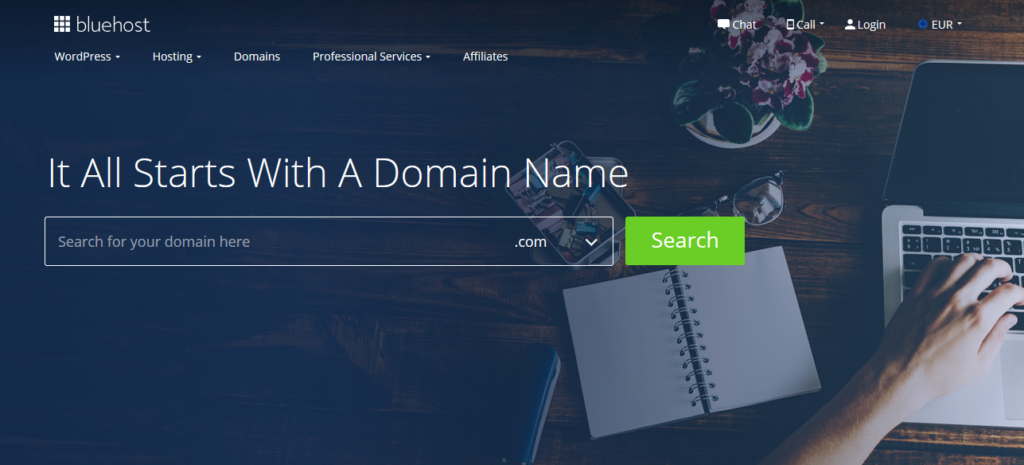 Primarily a web host, but with expanded domain registration services.
Very simple and clean interface, easy to navigate.
Similarly easy-to-use management panel.
Decent prices.
Paid privacy protection and email services.
Overall: A fair choice, but you get the best value by purchasing their hosting as well, since your domain comes free for a year.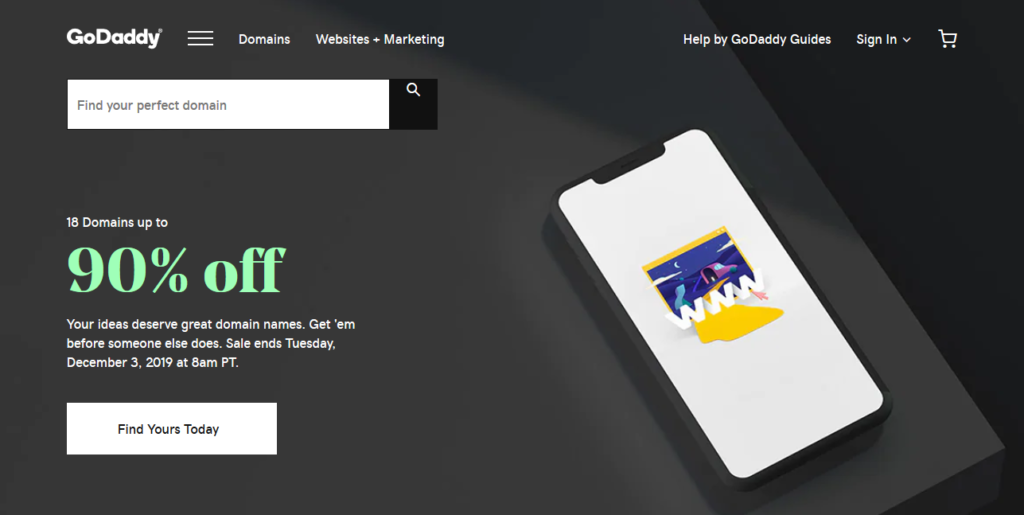 Highly popular and well known for its dirt-cheap pricing.
The caveat: The low price tag only applies to the first year. After that, it renews at normal cost.
Website builder free trial, and simple connection to GoDaddy web hosting.
Paid addons and upsells. Privacy protection and professional business emails come at a price.
Overall: Google Domains is probably the better choice, but GoDaddy is better for short-term domain purchases due to the low price.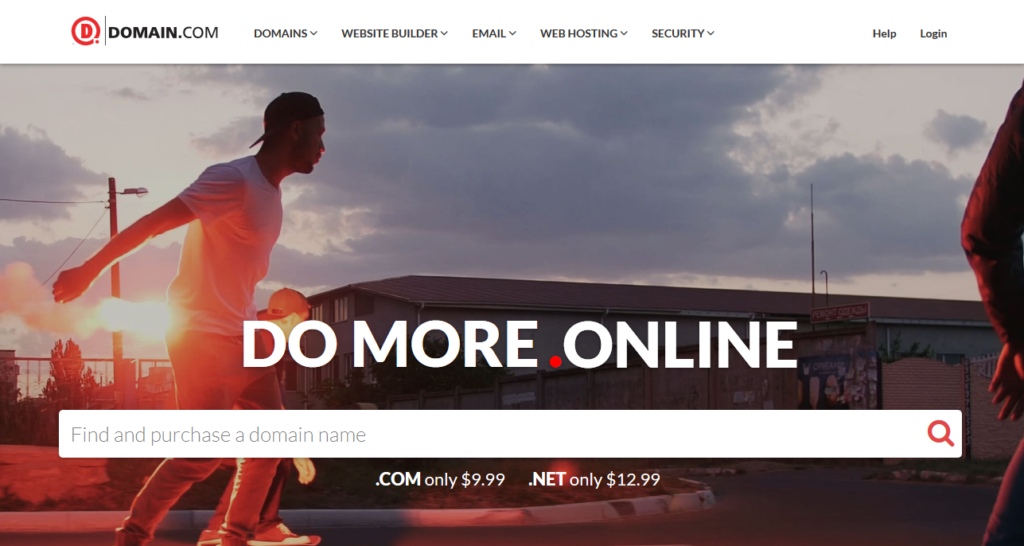 Cheap, straightforward, easy to navigate.
Paid addons like WHOIS and G Suite, plus some features Google Domains doesn't have like SSL, web hosting starting at $2 a month for the first year, and SiteLock security.
Overall: If you like Domain.com's features and super cheap hosting, you might want to go with them.
There are also several more popular registrars like Name.com, Register.com, HostGator, and InMotion Hosting. You should check all of these and see which is cheapest and has the best services — just remember to watch out for higher renewal rates.
Google Domains review: Wrapping Up
Every domain registrar has its pros and cons, but Google Domains is a solid choice thanks to its ultra simple registry process. If you're struggling with the difficulty of creating a website and buying a domain, it's sure to make your life a lot easier.
With your domain name secured, now you just need to set up hosting and your website will finally be live. You're this close to getting your site online!
Who did you end up registering your domain with? Were you happy with the process, or was there anything you wished was different? Let us know your favorite domain registry in the comments, and share your experiences, good or bad!