Divi vs Astra vs Avada – A Comparison of 3 High-Quality WordPress Themes (2023)
What is the best WordPress theme on the market?
This is a question that is asked every day and one which is difficult to answer as there are tens of thousands of free and premium WordPress themes available online.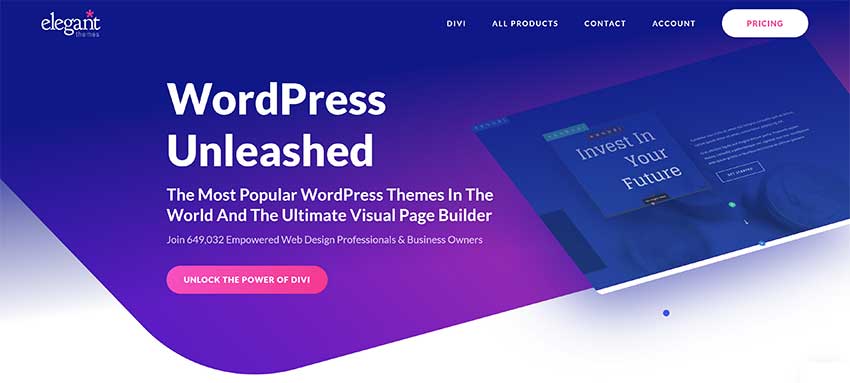 Whilst there is no "Perfect WordPress Theme", three WordPress themes that are regarded as the best on the market are Divi, Astra, and Avada.
These designs are known as "All in One" or multipurpose WordPress themes because you can use them to build any type of website. This includes business websites, blogs, galleries, online shops, courses, and more.
They are all available at a similar price point, have many advanced features, and come with a large selection of professional pre-made website designs.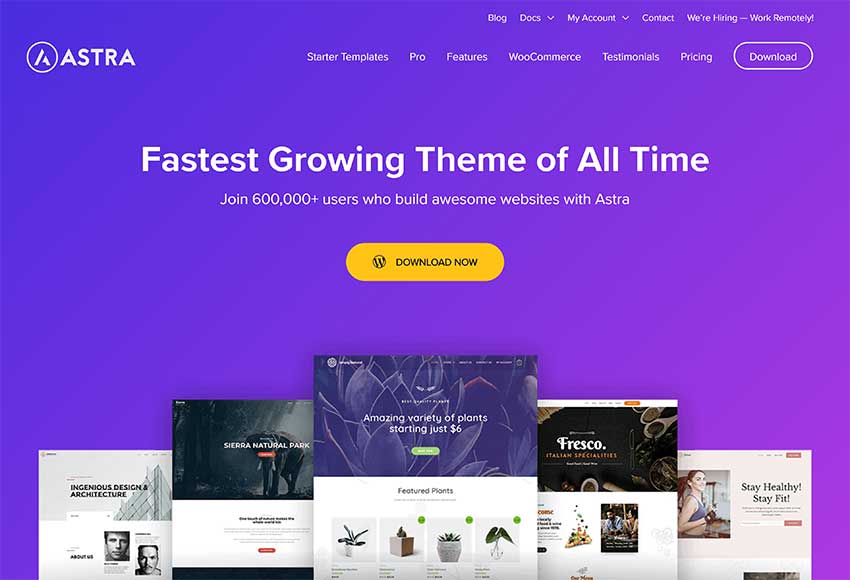 In this article, I would like to compare Divi, Astra, and Avada, to help you decide which WordPress theme is right for you.
Please note that the core version of Astra is free to download from WordPress.org. This allows you to see how the theme works, but to ensure a fair comparison with Divi and Avada, this article will focus primarily on Astra Pro as the free version lacks the advanced features found in Astra Pro.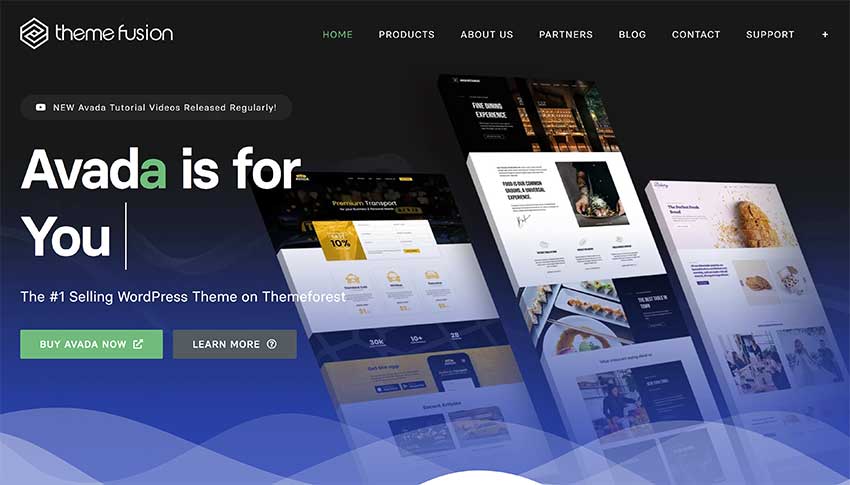 Beautiful Pre-Made Website Designs
Divi, Astra, and Avada, all come packaged with a large selection of pre-made website designs.
Divi calls their pre-made website designs "Layout Packs", Astra calls them "Starter Templates" and Avada calls them "Demos". The standard of designs in all three WordPress themes is fantastic, although I recommend browsing through all available designs to see if any are particularly special to you.
Divi Website Templates
Divi offers over 1,510 layouts, with even more options available through third-party marketplaces. A "layout" is an individual page template.
These layouts are then divided into 206+ layout packs. A "layout pack" is a set of cohesive templates that help you build an entire website. For example, for a portfolio website layout pack, you might have one template for the homepage, another for the portfolio, another for your contact page, etc. So in terms of full-site demos, you have 206+ options.
When you launch Divi's visual builder, you are asked whether you want to create a new layout from scratch, select a pre-made layout or clone an existing page.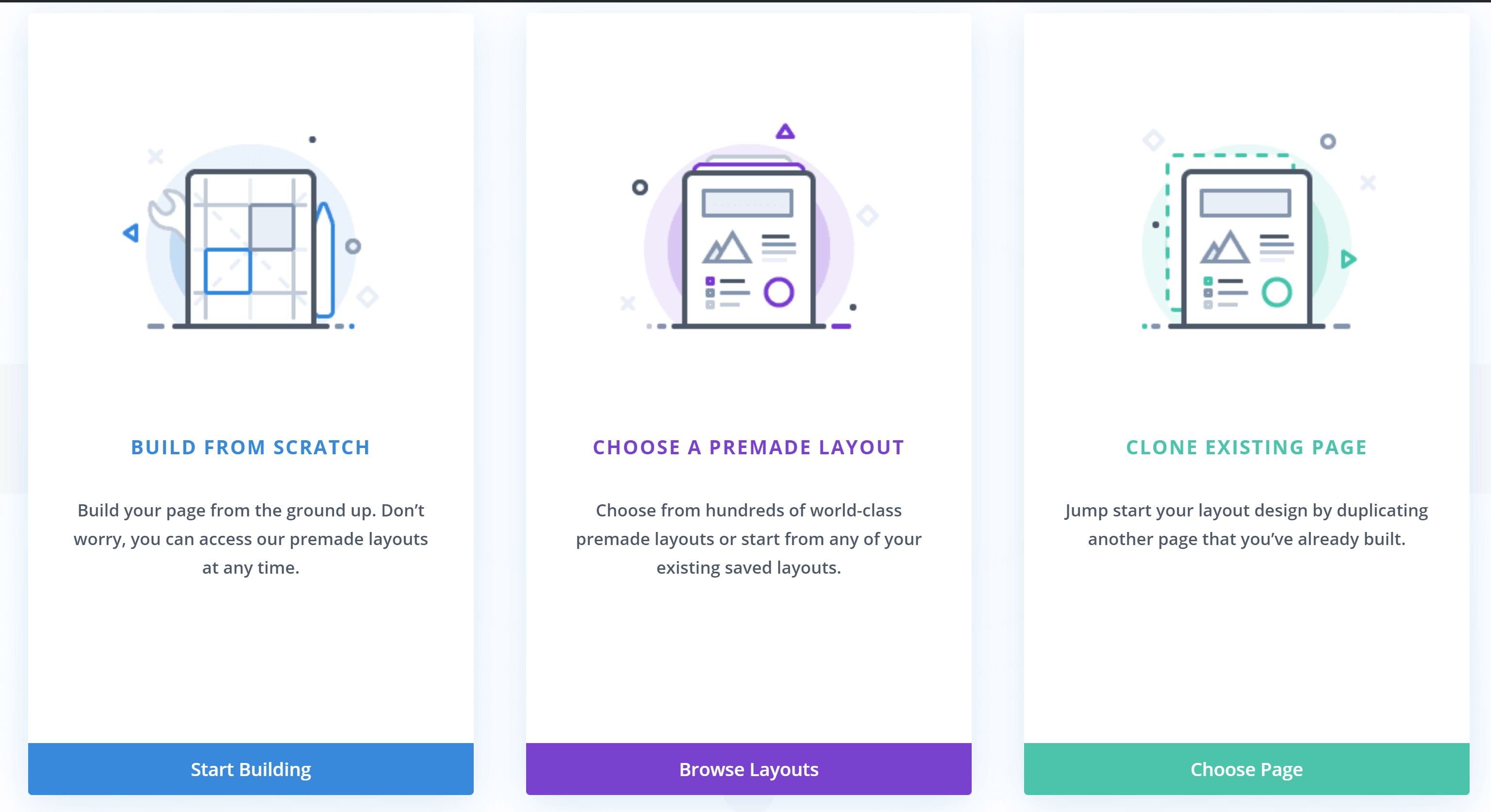 Divi divides its layouts into 13+ different categories such as art and design, food and drink, online store and technology. You can also search for designs using a search box.
Divi's layout packs include several unique layouts to help you build a complete website. Layout packs typically include layouts for your home page, blog index, about page, contact page, gallery page, online store and more.
Before applying a layout to your website, you should check out the full demo to see if it fits your requirements.
Depending on the resources you have available in your website hosting setup, it can then take up to 60 seconds to install all layouts on your website.
Demo content such as posts and pages do not have to be imported as Divi keeps everything inside their Divi Library template system.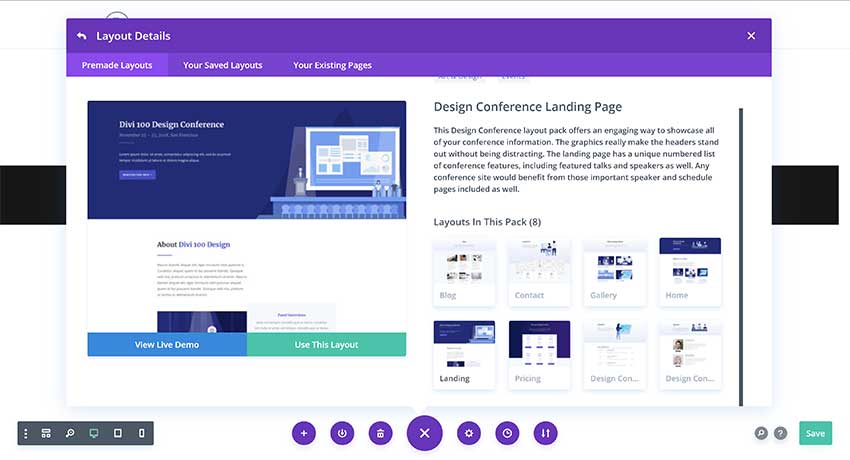 Astra Website Templates
Astra's pre-made website designs are configured differently to Divi.
Since Astra has been released under a freemium business model, all users need to download and install the core version of Astra from the WordPress.org themes directory.
Starter theme functionality is not built directly into the core Astra theme. Therefore, in order to use an Astra Starter Template, you need to activate the Starter Templates WordPress plugin (this WordPress plugin was formerly called Astra Sites).

Astra offers starter template designs for four different WordPress builders: Elementor (our review), Beaver Builder (our review), Brizy, and the default WordPress editor (Gutenberg).
The number of starter sites is different for each builder and there is some overlap. That is, you might see the same starter site built with both Elementor and Beaver Builder.
In total, you get well over a hundred demo sites:
Elementor – 60+ free demo sites and 73+ premium demo sites.
Beaver Builder – 38+ free demo sites and 68+ premium demo sites.
Block editor (Gutenberg) – 52+ free demo sites.
Brizy – 17+ free demo sites and 23+ premium demo sites.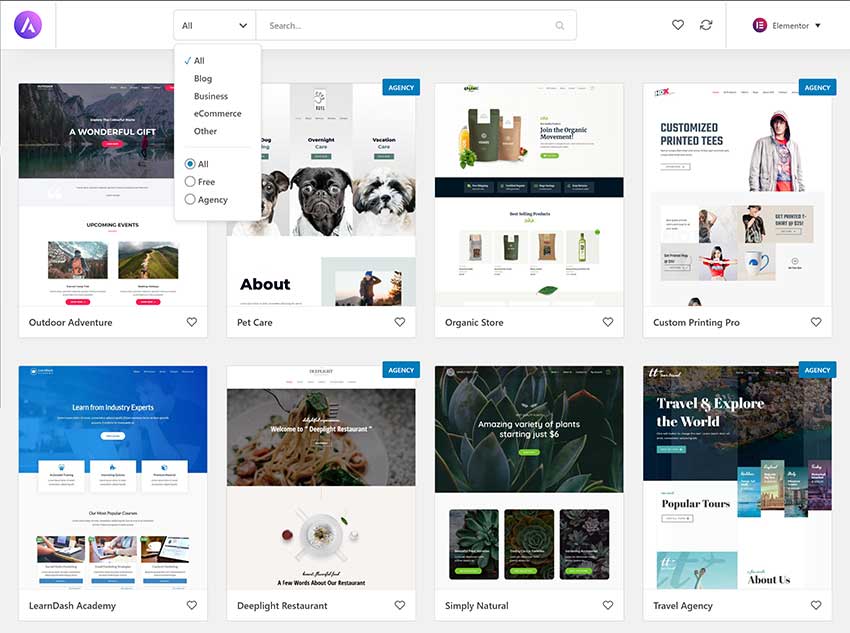 There are a good variety of designs on offer including layouts for restaurants, shops, businesses, blogs and more.
When you click on a starter template, you will see an option to preview the layout in full.
All page templates that are included with the layout are displayed and you can choose to import the complete website or just one specific page template.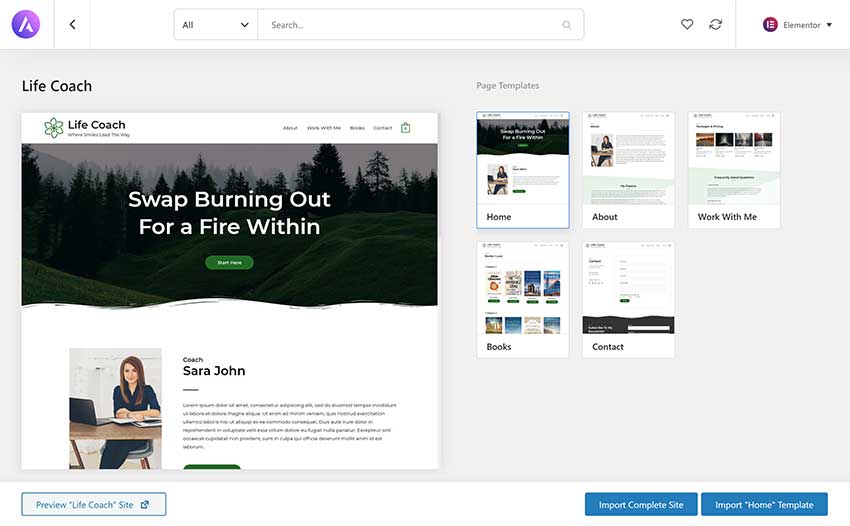 When you click to import a starter template, you will be asked whether you want to delete the previously imported website and whether you want to import the demo content. If you select the demo content, the plugin will import dummy pages, posts, and images to your website.
The importer also asks if you want to import WordPress customiser settings, import widgets and activate the required WordPress plugins that help build the layout.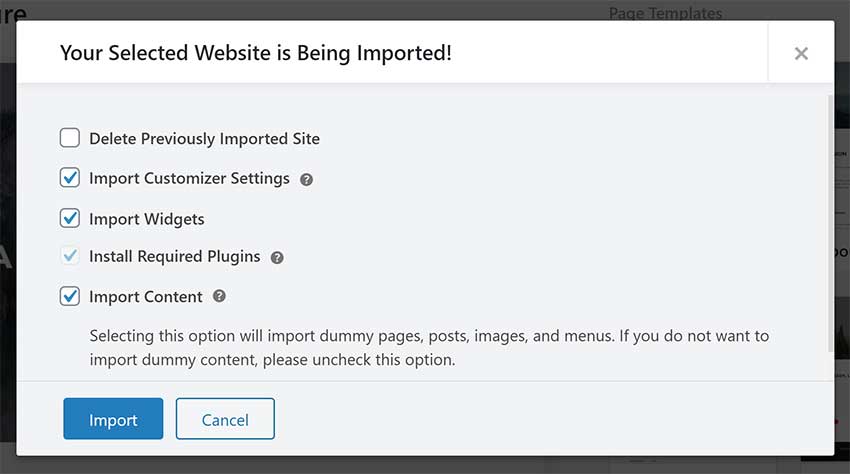 Avada Website Templates
Let's now look at Avada's theme demos.
Avada gives you access to 80+ pre-built demo sites, divided into a range of categories. There are unique designs for esports, cryptocurrency, podcasts, SEO, charities, product landing pages and more.
In my opinion, Avada has a better variety of pre-made website designs than Divi and Astra.
When you click on a theme demo, you will see an option to preview the design and a list of WordPress plugins that need to be installed for imported content to work correctly.
Avada lets you decide exactly which type of demo content is imported into your website and there is an option to remove previously installed demo content.
Pre-made website designs are a big selling point of all-in-one WordPress themes such as Divi, Astra, and Avada.
The developers have integrated pre-made layouts into their themes in slightly different ways, however each WordPress theme allows you to easily browse layouts and quickly install them on your website.
All three WordPress themes have a good variety of designs on offer and I believe that there is little to separate them.
Creating Stylish Content With Page Builders
Whether you are an experienced website developer or creating a website for the first time, drag and drop page builders will help you create high-quality content and stylish layouts.
The beautiful pre-made website designs that are included in Divi, Astra and Avada, were all created using page builders. Therefore, if you want to use a particular pre-made website design, you will need activate the page building WordPress plugin that was used to create it.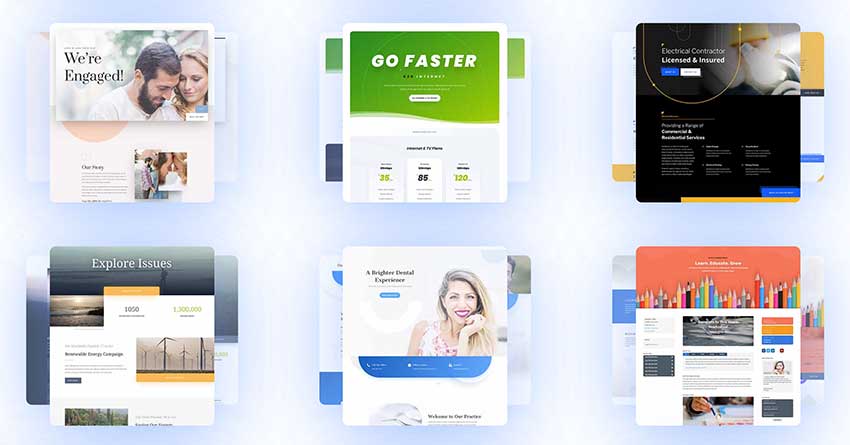 Divi Builder
The page builder within Divi is called Divi Builder. It is integrated directly into Divi Theme, but is also available as a standalone WordPress plugin for those that want to use it with other WordPress themes.
Divi Builder's main editor is the frontend Visual Builder. It has a colourful user-interface and displays its main menu at the bottom of each page.
Over 40 content modules are available in Divi Builder to help you create layouts. There are modules for maps, portfolios, videos, pricing tables and more.
What really makes Divi Builder stand out is the level of customisation that is available. There are hundreds of customisation settings and styling options for modules, columns, rows and sections, which allows you to completely change how every element on your page looks.
You can save all your layouts to the Divi Library and re-use them at any time.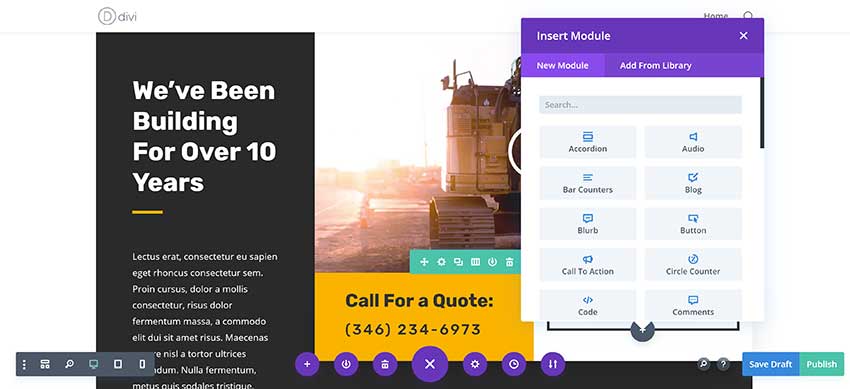 The main Divi Builder menu lets you zoom in and out to see your layout. You can also view your layout in desktop, tablet and mobile mode, and view a history of revisions and changes you have made.
You get access to multiple editing modes, too.
My favorite is the wireframe view mode as it strips away all visual elements to reveal how the layout is structured, which simplifies the task of moving things around.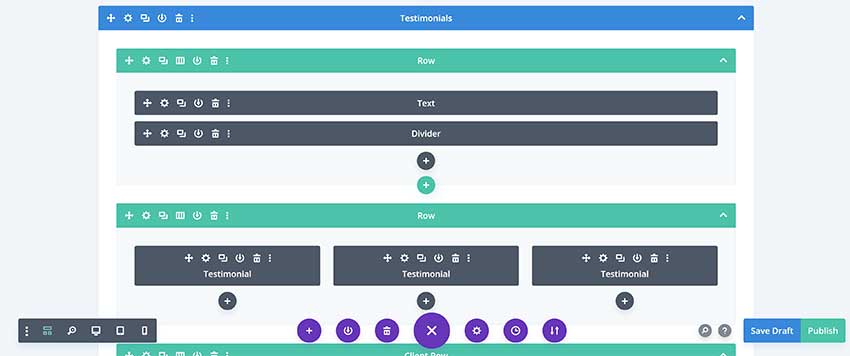 The old backend editor, now called Legacy Builder, is still available in Divi. It can be activated from the main Divi options area.
Unlike the Visual Builder, the Divi Legacy Builder does not allow you to see your layout in real-time, therefore you need to preview changes on a separate page.
There are, however, many benefits to using this editor.
Editing feels less crowded because visual elements have been removed and the whole editing experience feels quicker.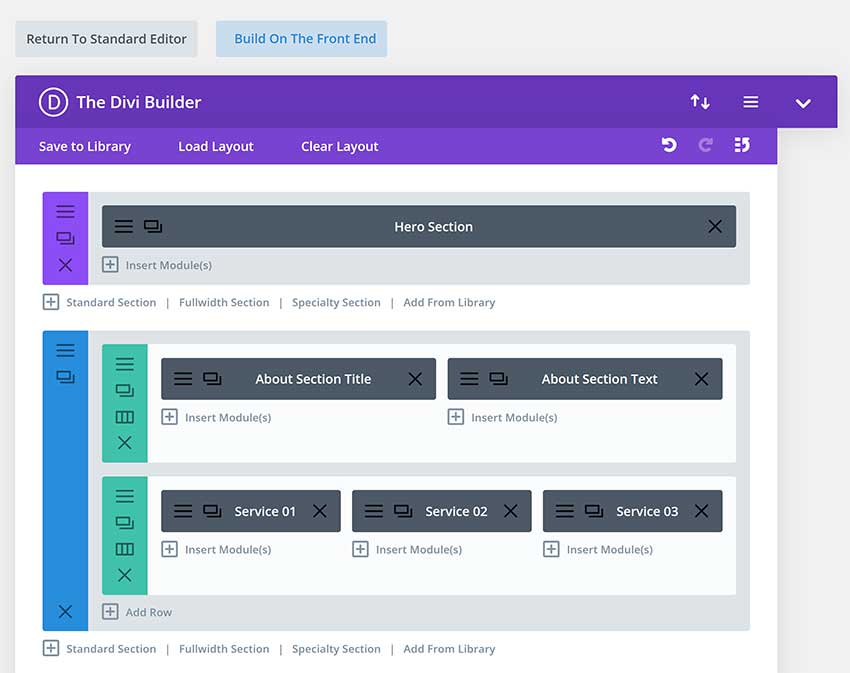 Astra
The developers of Astra have taken a unique approach to their WordPress theme by supporting four different page builders.
While most all-in-one WordPress themes can support other page builders, website owners are normally tied to one solution since a theme's pre-made designs and other features were created specifically for one page builder.
Before you select a starter template in Astra, you need to select whether you want to use Elementor, Beaver Builder, Brizy, or the WordPress block editor (Gutenberg) that is built into every version of WordPress.
You can change the page builder you are using at any time, however, any changes you made to your layout will be lost when you switch.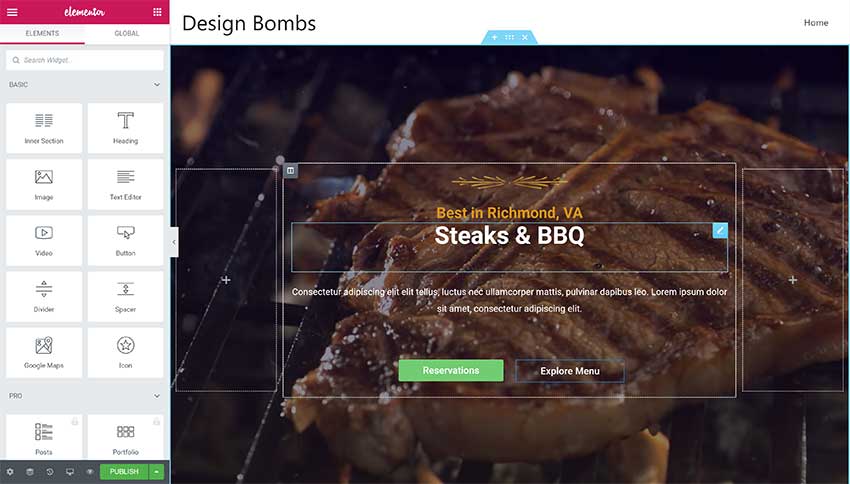 All supported page builders are free to use, with additional features being available for Elementor, Beaver Builder, and Brizy, should you decide to upgrade.
I do like the WordPress block editor, however, it is quite limited compared to other page builders on the market.
Alongside Divi Builder, Elementor and Beaver Builder are widely regarded as being the best WordPress page building solutions available online. You should definitely check out Brizy too as it boasts many advanced features.
Please remember, however, that in order to unlock all features of these WordPress page builders, you will need to upgrade to the pro version at an additional cost.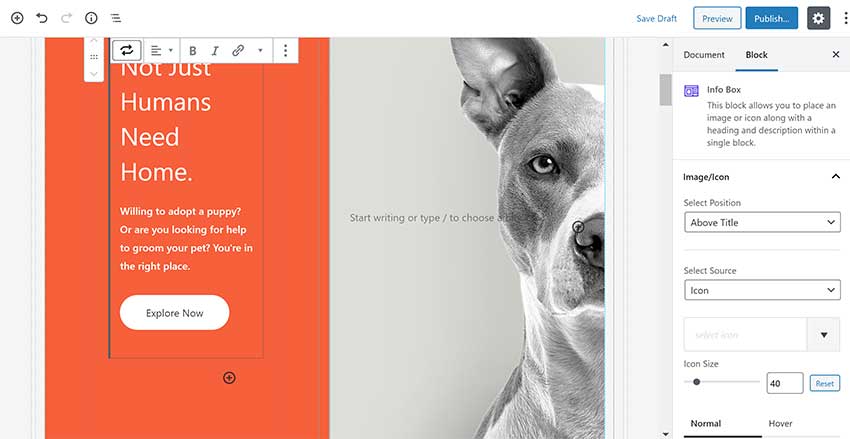 Avada
Like Divi, Avada has its own custom builder called the Avada builder (previously, it was called Fusion Builder). When you set up the Avada theme, it will prompt you to install the companion Avada Builder plugin, which is what lets you access the visual, drag-and-drop builder.
It is unfortunately not available for sale separately, which is puzzling as it is a fantastic solution that deserves to stand besides page building products such as Divi Builder, Elementor and Beaver Builder.
Like Divi Builder, Avada Builder has a built-in library system that allows you to save templates, columns, containers and content modules. Also like Divi, it lets you work from either a backend wireframe-like interface or a front-end visual, drag-and-drop interface.
The Avada Builder backend editor looks dated, but the frontend Avada Builder Live editor is fantastic.
From the top of the page you can access your layout library, view a history of changes, enable wireframe view mode, view your layout in smaller devices and more.
Instead of supporting the WordPress theme customiser, the developers have built a theme customiser directly into Avada Builder Live. It works very well in practice and means that you can modify the contents of a post or page and also change layout elements such as your header or footer, all from the same editor.
Avada Builder has one of the largest collection of content modules on the market, boasting over 65 content modules such as maps, sliders, galleries, videos and more.
There are over 300 customisation options and styling tweaks on offer too. All you have to do is click on a part of your page to bring up a host of options.
Conclusions
When it comes to drag and drop page builders, Astra is arguably the most flexible WordPress theme, but whether it is the best solution for you depends on whether you want to use one of its four supported WordPress page builders.
Divi Builder and Avada Builder have a lot in common. Both offer backend and frontend editors, a built-in templating system and hundreds of customisation options.
Whilst I do admire how flexible Astra is, I believe that Divi and Avada are better WordPress themes because so many features have been optimised for one particular page builder.
All three WordPress themes support advanced WordPress page builders so you will be able to create professional website designs whatever WordPress theme you use.
Customising Your Website
The structure of WordPress themes has evolved over the last few years, with many features now being migrated to page builders instead. This includes features such as layouts, pre-made designs and customisations for headers, footers and more.
Divi
Divi Theme is a good example of this.
Elegant Themes market Divi Theme as an all-in-one WordPress theme, but most functionality is actually contained within Divi Builder.
Divi Theme was instead designed to be a blank canvas for Divi Builder.
Take the Divi Theme Builder feature, for example, which is part of Divi Builder. It allows you to assign a global header, body and footer, to specific areas of your website. Divi Theme's minimal design helps this feature function correctly.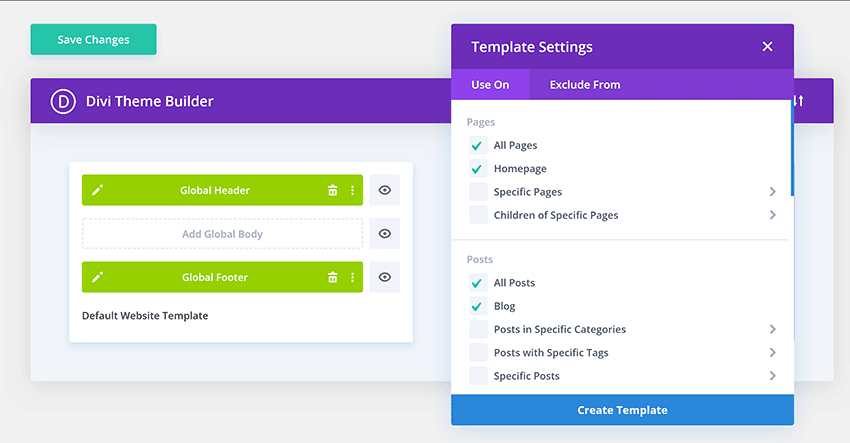 Divi has great support for the WordPress theme customiser. It allows you to adjust your header, navigation menus, typography, styling, buttons and more.
Most design settings are still handled through Divi Builder, Divi Library and the Divi Theme Builder.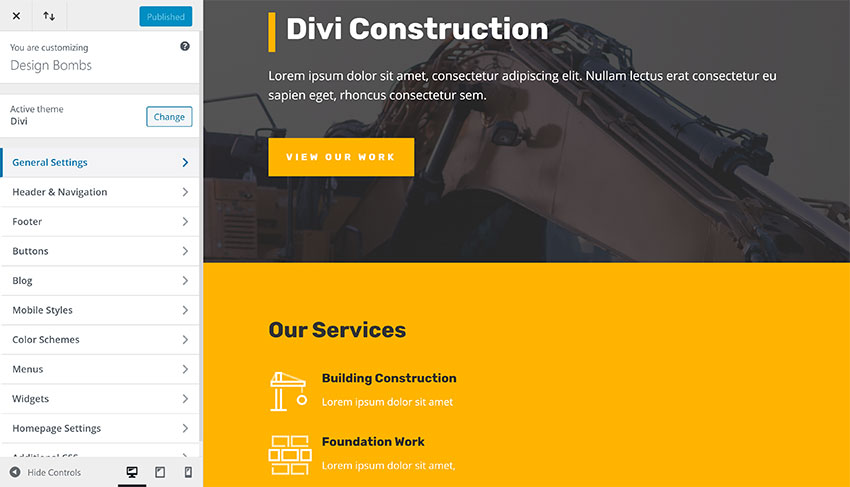 Dozens of settings are available within the main Divi options area.
From this area you can enable and disable Divi Builder for specific post types, change navigation settings, modify single post and single page layout settings and more.
Divi also has an advanced role editor. This can be used to define exactly what Divi features WordPress user groups have access to.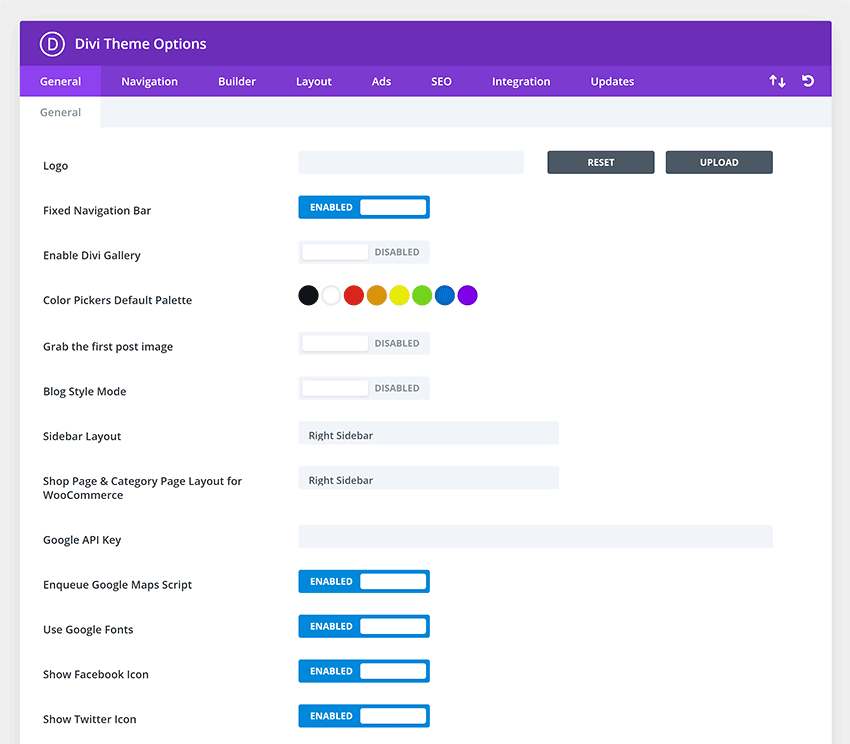 Astra
In contrast to Divi, Astra places all settings and customisation options inside the WordPress theme customiser. This is a good choice as it allows you to see changes in real-time, but the initial setup needs improved.
There is an Astra options page that links to key areas of the WordPress theme customiser and displays links to support pages.
The options page is also where you activate recommended plugins and enable Astra Pro modules.
The developers of Astra have kept the core theme limited, which means that important settings have to be enabled through plugins such as Astra Bulk Edit, Astra Widgets, Astra Customizer Reset, and Import / Export Customizer Settings.
In order to import pre-made website designs, you need to activate the Starter Templates WordPress plugin.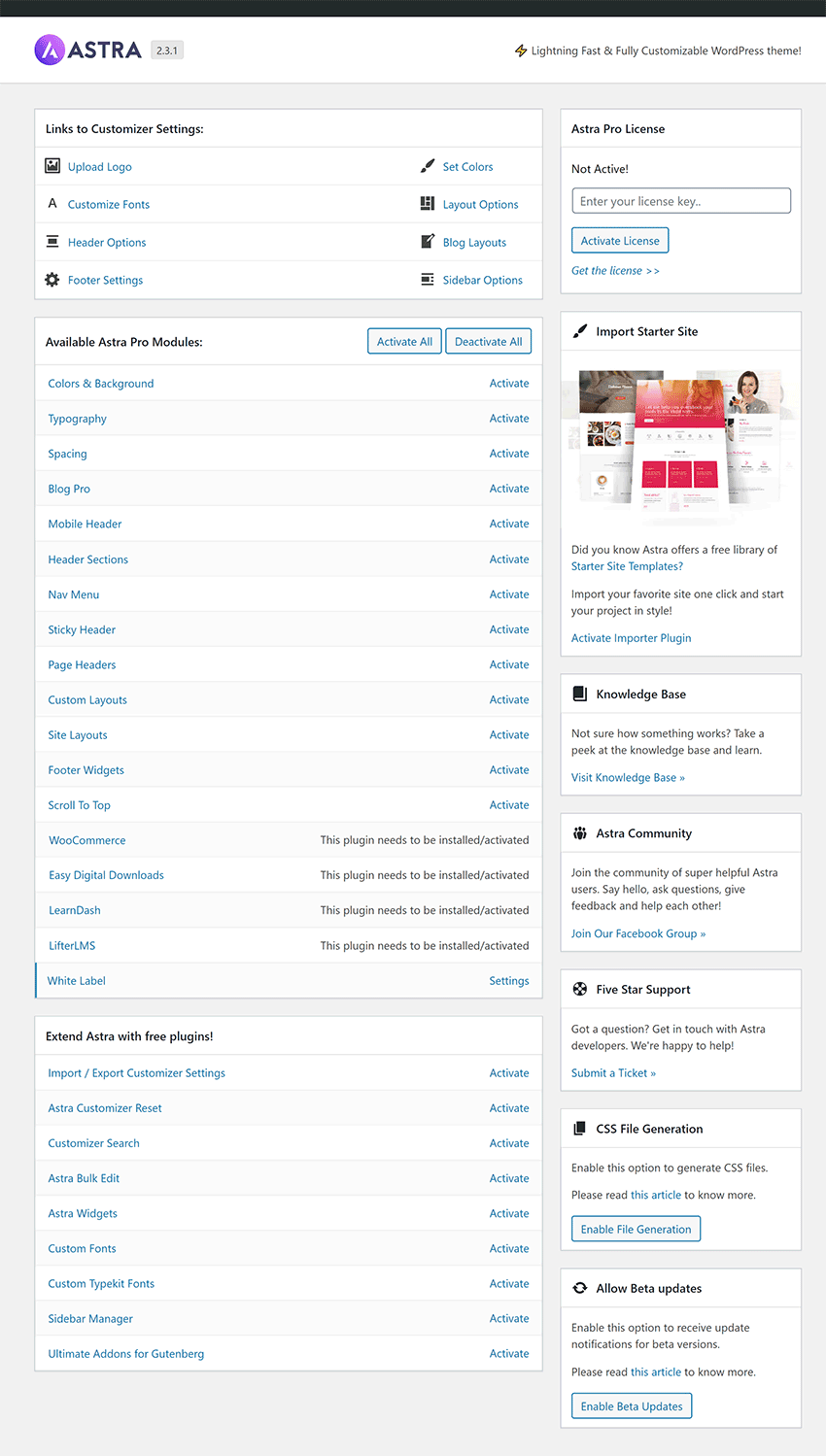 In order to unlock the additional features in Astra Pro, you need to activate the Astra Pro WordPress plugin and then enable the functionality you need from the main Astra Pro options page.
Astra Pro introduces various website layouts and blog layouts, a custom layout system, expanded WooCommerce integration, mega menus, page headers and more.
In comparison to Divi and Avada, Astra undoubtedly has the best support for the WordPress theme customiser since all styling options, and most website settings, can be accessed there.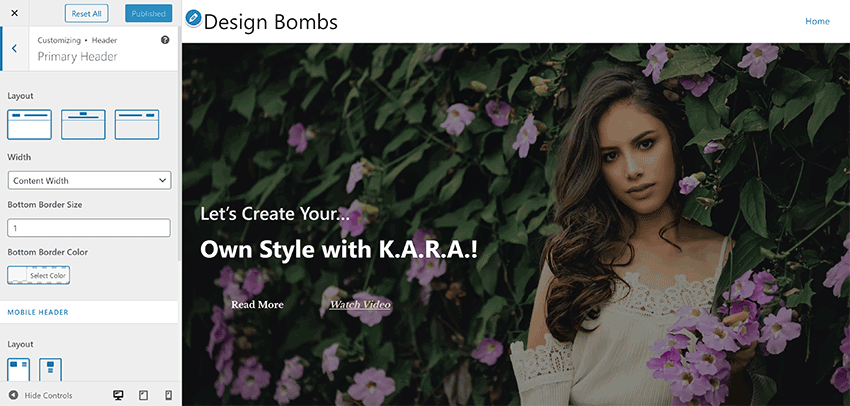 Avada
Now let's look at Avada.
The main settings area of Avada has a welcome page, registration page for validating your purchase, a support page, a theme demos page, a plugins page and a system status page.
In order to use Avada, you must activate the Avada Core and Avada Builder WordPress plugins.
Other WordPress plugins can be activated from this page too including a white labelling plugin and premium plugins such as Convert Plus, Advanced Custom Fields Pro, LayerSlider WP, and Slider Revolution.
Avada Builder Live is not just a page builder and a theme customiser. The frontend editor also allows you to access website settings for layouts, headers, sliders, custom CSS and import and export functionality.
All of these website settings and more are available via the general Avada settings page. The page lists hundreds of settings for colours, headers, menus, typography, slideshows, performance and more.
You can switch back to Avada Builder Live in this area by clicking on the "Avada Live" button.
When you activate the Avada Core and Avada Builder WordPress plugins, two new admin menus will appear for Avada Builder and Elastic Slider.
You will find many useful settings via the Avada Builder settings areas.
For example, you can enable and disable content modules and define what post types Avada Builder works with. You can also import and export Avada Builder content from this page.
The Avada Builder Library is available here too. It lists all of your saved Page templates, containers, columns and elements.
Custom icons can be added here too and there is a theme builder that lets you assign layouts to your page title bar, content and footer.
When it comes to customising your website, Divi and Avada are ahead of the majority of WordPress themes on the market.
Elegant Themes have taken a minimal approach to Divi Theme by moving most settings into Divi Builder. Avada takes it one step further by integrating a theme customiser into the editor and allowing you to change general website settings without leaving the editor.
Astra does work really well with the WordPress theme customiser, however the developer's fragmented approach to enabling and disabling features makes setting up your website a little more difficult than it needs to be.
The Cost of Divi, Astra, & Avada
When you are deciding which WordPress theme to use, you need to review which features and functionality are important to you, however you also have to consider cost.
Divi Pricing
Elegant Themes have adopted one of the simplest pricing models in the WordPress world.
For $89 per year, you gain access to Divi Theme and the standalone Divi Builder WordPress plugin.
Your membership also includes the magazine WordPress theme – Extra, the email opt-in and lead generation WordPress plugin – Bloom, and the social media WordPress plugin – Monarch.
If you prefer, you can gain lifetime access to all products for a one-time fee of $249.
Both plans offer unlimited website usage, updates, support and a 30-day money-back guarantee.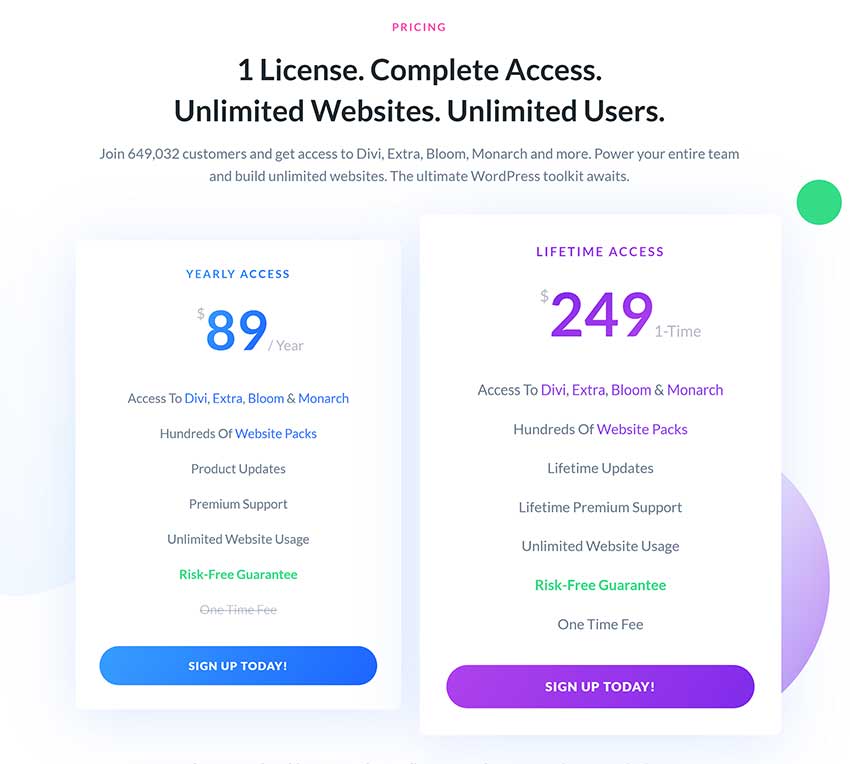 Astra Pricing
Reviewing the cost of using Astra is a little more difficult as you need to consider which features are important to you.
As you are aware, the core version of Astra is free to download from WordPress.org. This design may be sufficient for many WordPress users as dozens of pre-made website designs can be installed via the Starter Templates WordPress plugin.
In order to unlock pro features, you need to upgrade to one of the premium Astra plans. All plans offer unlimited website usage, support, updates and a 14 day money back guarantee.
The Astra Pro plan retails at $59 per year or $249 for a lifetime access.
Upgrading to the Mini Agency Bundle plan will cost you $169 per year or $499 for lifetime access. This gives you access to the additional agency starter templates and the WP Portfolio WordPress plugin that sells from $49 on its own.
The Mini Agency Bundle plan also includes either Ultimate Addons for Elementor or Ultimate Addons for Beaver Builder; both of which retail from $69 when bought separately.
The full Agency Bundle costs $249 per year or $699 for lifetime access. It addition to the three WordPress plugins noted above, it includes the email opt-in and lead generation WordPress plugin Convert Pro ($99+), the schema markup plugin Schema Pro ($79+) and access to the SkillJet Academy and any future WordPress WordPress plugins released by the developer.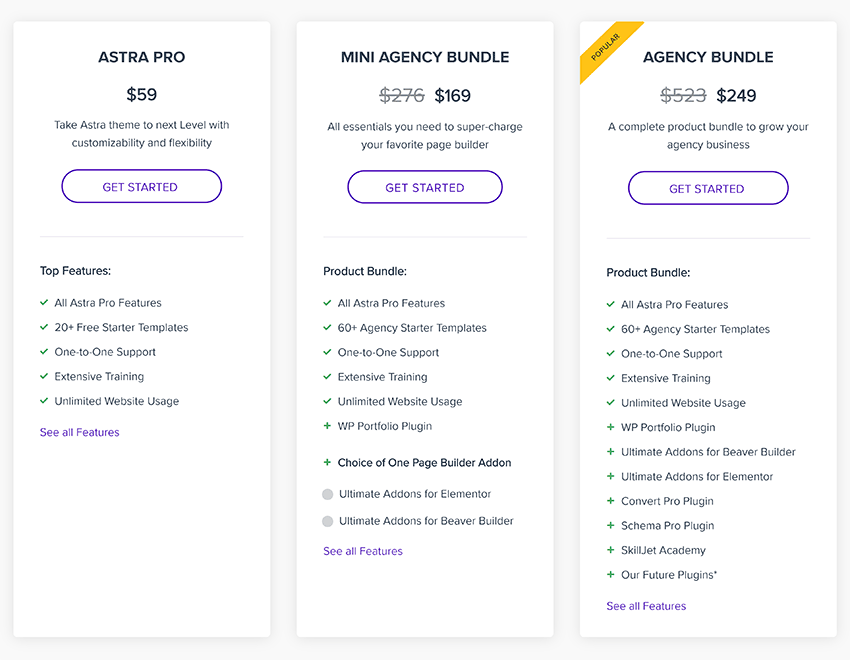 Avada Pricing
Avada is the top-selling WordPress theme on ThemeForest.
It retails at $60 and comes with lifetime updates and six months of support. A further six months of support can be added for $18 more, bringing the total cost to $78 for the first year.
Avada also includes over $100 of premium WordPress plugins. This includes Convert Plus ($24), Advanced Custom Fields Pro ($49+), LayerSlider WP ($25), and Slider Revolution ($29).
Unlike Divi and Astra, an Avada license does not include unlimited usage and request that you buy one license per website.
Conclusions
As you can see, Divi and Avada are sold at a similar price point and both come packaged with additional premium WordPress plugins.
An Avada license only grants usage on one website so it could be significantly more expensive to use Avada if you are planning on using the design on multiple websites, however as each license grants unlimited updates, some users may find Avada cheaper than signing up for an annual Elegant Themes membership.
Astra is sold under the freemium pricing model.
Depending on what features you need, Astra could either be the cheapest WordPress theme to use or the most expensive. This will come down to whether you want to use one of the Agency starter template designs and whether the additional premium plugins in the agency plans are valuable to you.
If you are thinking of using Astra, you also have to consider the additional cost of upgrading Elementor, Beaver Builder, and Brizy, in order to unlock all features of the page builder you adopt. Brizy Pro and Elementor Pro retail from $49 per year, however, the full version of Beaver Builder retails from $99.
Final Thoughts
I hope you have enjoyed this look at Divi, Astra, and Avada.
Selecting a WordPress theme can be time-consuming and a stumbling block for launching a new project, so I hope you now have a better idea of what these WordPress themes can do.
If you are on a budget, I recommend looking at the core version of Astra as it is free to download, works with free WordPress page builders and gives you access to dozens of pre-made website designs via the Starter Templates WordPress plugin.
If you want the best solution, I recommend Divi and Avada. They are well-established WordPress themes that come with hundreds of advanced features and functionality. For most people, I believe these WordPress themes provide better value for money over Astra Pro, with Divi being cheaper to use if you have many websites and Avada working out cheaper for others due to lifetime updates.
See our full review of Divi Theme and Elegant Themes to get a better appreciation for what it can do.
To get updates of the latest Design Bomb articles, please subscribe via RSS or follow us on Facebook or Twitter.
Thanks for reading.
Kevin