Default WordPress Themes: Down The Years
As the world's most popular content management system that powers more than 30% of the websites on the internet, WordPress has a rich and fascinating history. Its collection of default WordPress themes is a big part of that history. In this post, we take a closer look at all the default themes released on WordPress.
WordPress is a continuously evolving CMS. It keeps getting more powerful and useful with new features and tools as well as the retirement of many default features. Amidst all of this, the default WordPress themes kept changing with a new theme being offered following almost every major release of WordPress. Let's take a trip down the theme design memory lane.
Classic
WordPress Classic, or simply Classic, was the first ever default WordPress theme to be released, as opposed to the common misconception that Kubric was the first default theme.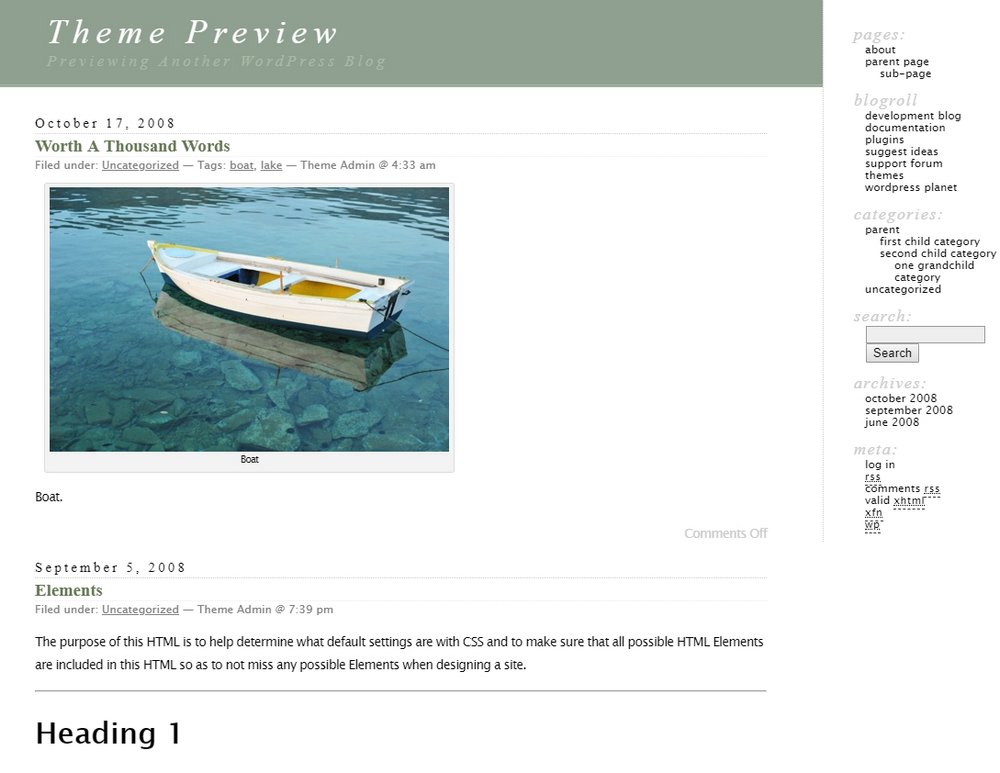 Classic was the default theme for WordPress versions 1.2 and earlier. Of course, mobile browsing wasn't so important back then so Classic wasn't responsive in design but it got the job done by offering a simple and effective layout design.
Classic was the epitome of simplicity and ease of use. This was a theme that would go well with your blog, no matter what your target audience or niche topic was! The theme was translation ready and offered support for right to left (RTL) languages.
However, the theme is now long forgotten even by Automattic, the developers of WordPress as Classic hasn't been updated since 2010.
Default
More commonly known as "Kubric" after the name of the theme that it was initially based on, the WordPress Default theme first came with the release of WordPress 1.5 and it continued to reign supreme until WordPress 2.9.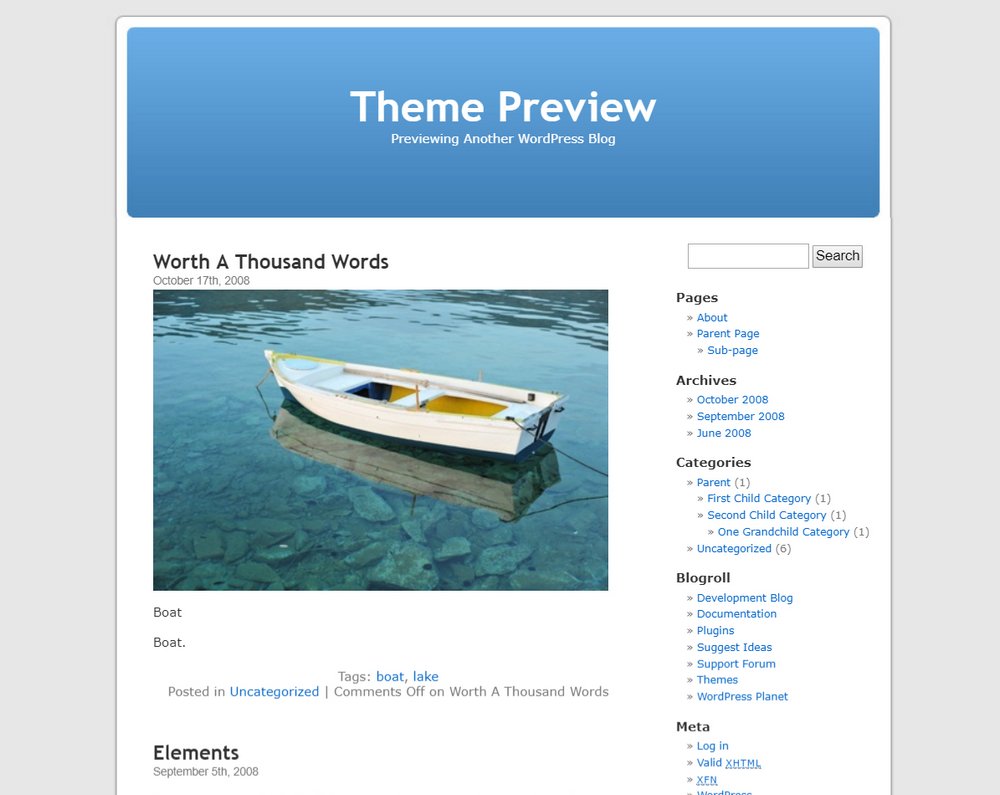 WP Default theme, once again, focused more on simplicity. This was the era when WordPress introduced many new customization tweaks, and the theme incorporated them well, including a large header, sans serif typography, clearly laid-out sidebar, and more.
This theme too was translation ready, though obviously not responsive as smartphones were yet to be released. WP Default (or Kubric) has not been updated since 2010, but surprisingly it's still being used by over 20,000 sites even today.
Twenty Ten
With the release of WordPress 3.0 came another new default WordPress theme: Twenty Ten.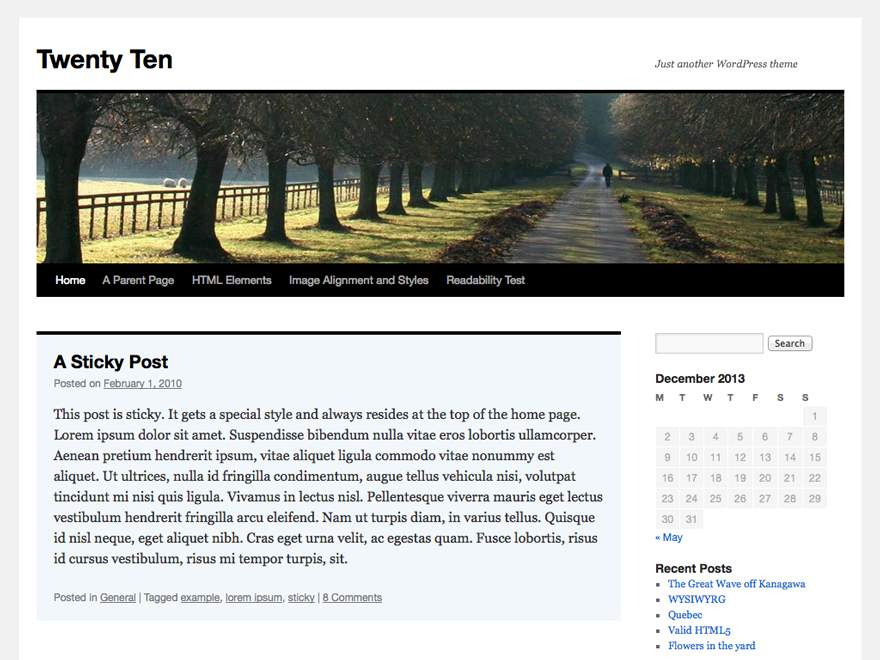 This new theme would later serve as the model for not just WordPress themes but virtually any type of blog templates. The theme featured a header image that was prominently displayed, as well as clean and minimal design and focus on content.
This was the phase when WordPress had many new features added to the core: header images, drag and drop widgets, change background colors, and so on.
Twenty Ten became immensely popular. It was translation ready, though not responsive. It continues to be in active development and still being updated by the developers.
Twenty Eleven
Carrying on with the trends set by Twenty Ten, Twenty Eleven too insisted on the prominent header images layout as well as a clean design with a focus on content. However, it also offered many performance improvements as well as stylistic features.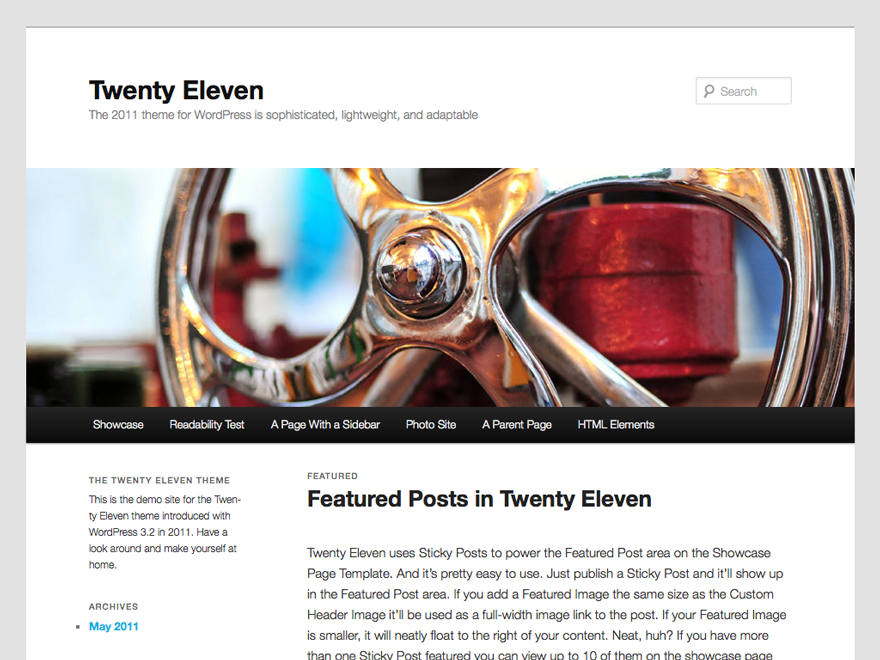 To begin with, Twenty Eleven was HTML5 compliant, had a darker color scheme in addition to the default one, included a widget of its own, and handled custom page layouts even better.
Apart from being translation ready, Twenty Eleven happens to be responsive as well. It continues to be actively developed and currently also supports all post formats.
Twenty Twelve
Twenty Twelve, among all other default WordPress themes, was one of the most significant ones in terms of innovation.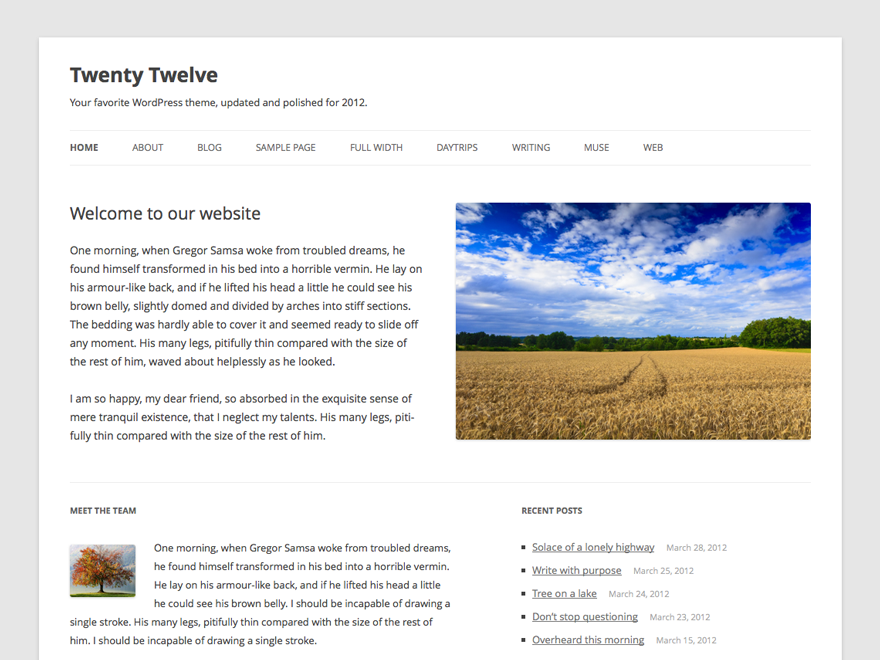 Even though the theme brought nothing new to the backend, and there was hardly anything worth talking about in terms of customization. However, this was the phase when WordPress was establishing its dominance as not just a blogging tool but a proper CMS and Twenty Twelve made it possible. The theme gave up the default blog layout and offered a more corporate layout with a custom homepage design.
Furthermore, it also came with a fully responsive design to cater to the arrival of smartphones and mobile users.
This theme too is in active development and ready for translation.
Twenty Thirteen
If there is one default WordPress theme that has earned absolutely mixed reaction from the community, it is Twenty Thirteen.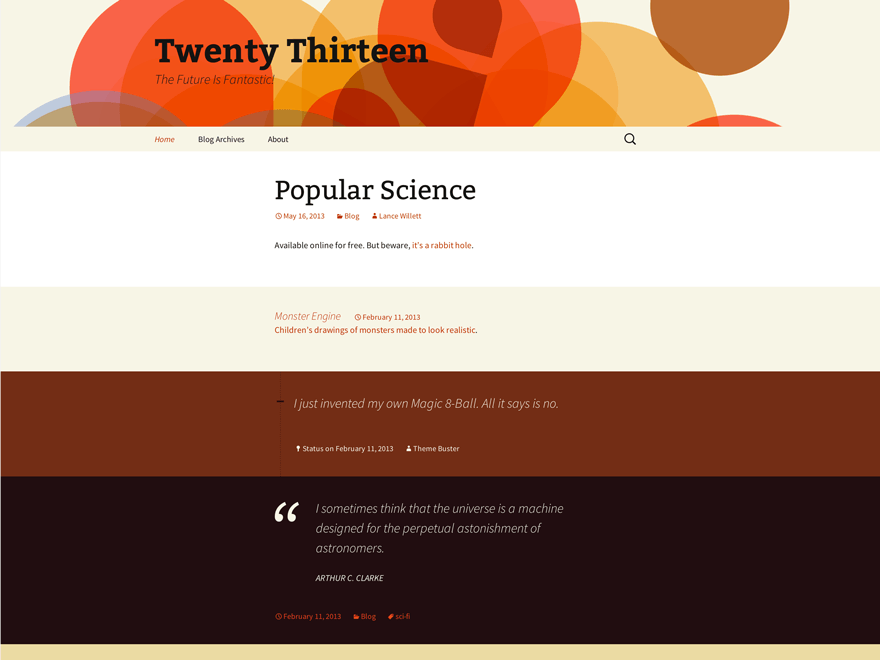 It was the first time when a default theme had a personality of its own. The theme featured bright colors, a focus on blogging, and a widgetized footer. Twenty Thirteen is a theme that can fit the needs of any blog. It basically redefined the theme designs for bloggers.
Twenty Thirteen is responsive, translation ready, and is currently under active maintenance. It still remains quite popular, but is less popular than Twenty Twelve, probably on account of the fact that it is a mainstream blogging theme and cannot suit the needs of every genre of website.
Twenty Fourteen
Following Twenty Thirteen which was a blogging theme, Twenty Fourteen was the first default theme to feature magazine theme design.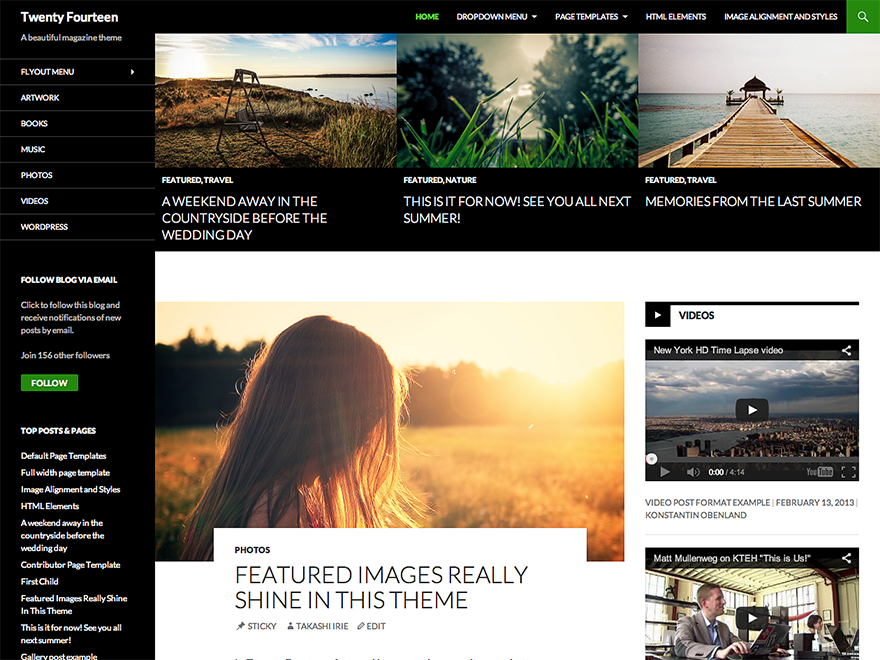 Twenty Fourteen brought many design-related considerations and innovations to the fore. First up, it further enhanced the role of fixed content grids and a slightly darker default design with sliders. However, Twenty Fourteen was also probably the first default theme that relied heavily on large featured images for content presentation.
Twenty Fourteen also provided ample room for adding widgets and served the needs of multi-author blogs very well. Once again, this theme too is responsive, translation ready, and under active development. It also happens to be in use by over 200,000+ websites.
Twenty Fifteen
Being preceded by two rather "loud" themes, Twenty Fifteen took us back to basics and relied on purely minimal design. If you are looking for a theme with ample whitespace and legible typography, this is the theme for you.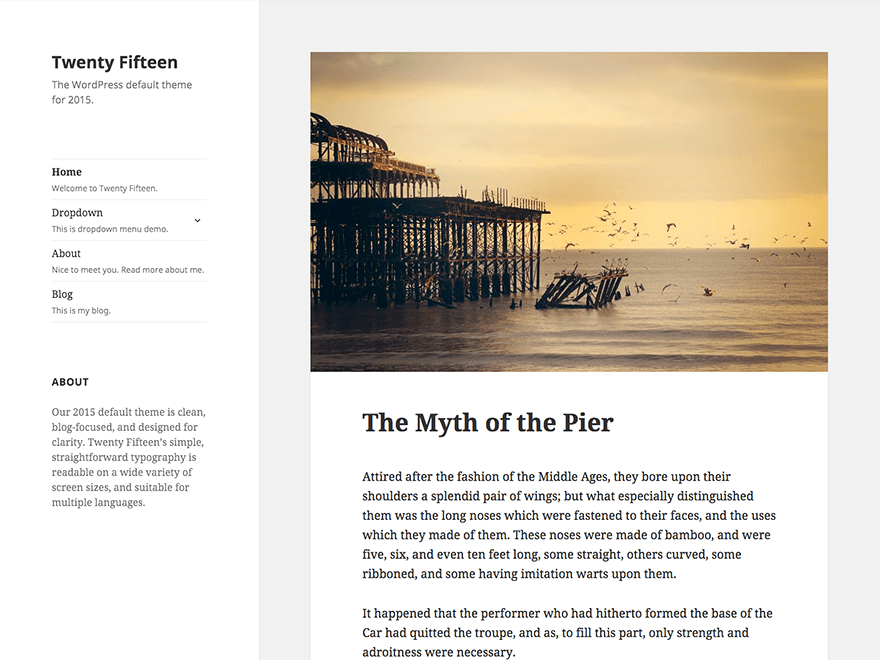 Twenty Fifteen is simple and had a basic layout designed for bloggers. It offers one simple sidebar, one menu for navigation, and that's all. The design effectively highlights the content and makes it the perfect choice for building personal and minimal blogs.
This theme is responsive, supports post formats, translation ready and is still being updated by the developer team.
Twenty Sixteen
Twenty Sixteen featured a minimal theme design similar to the one from the previous year. This theme also included a content-focused design.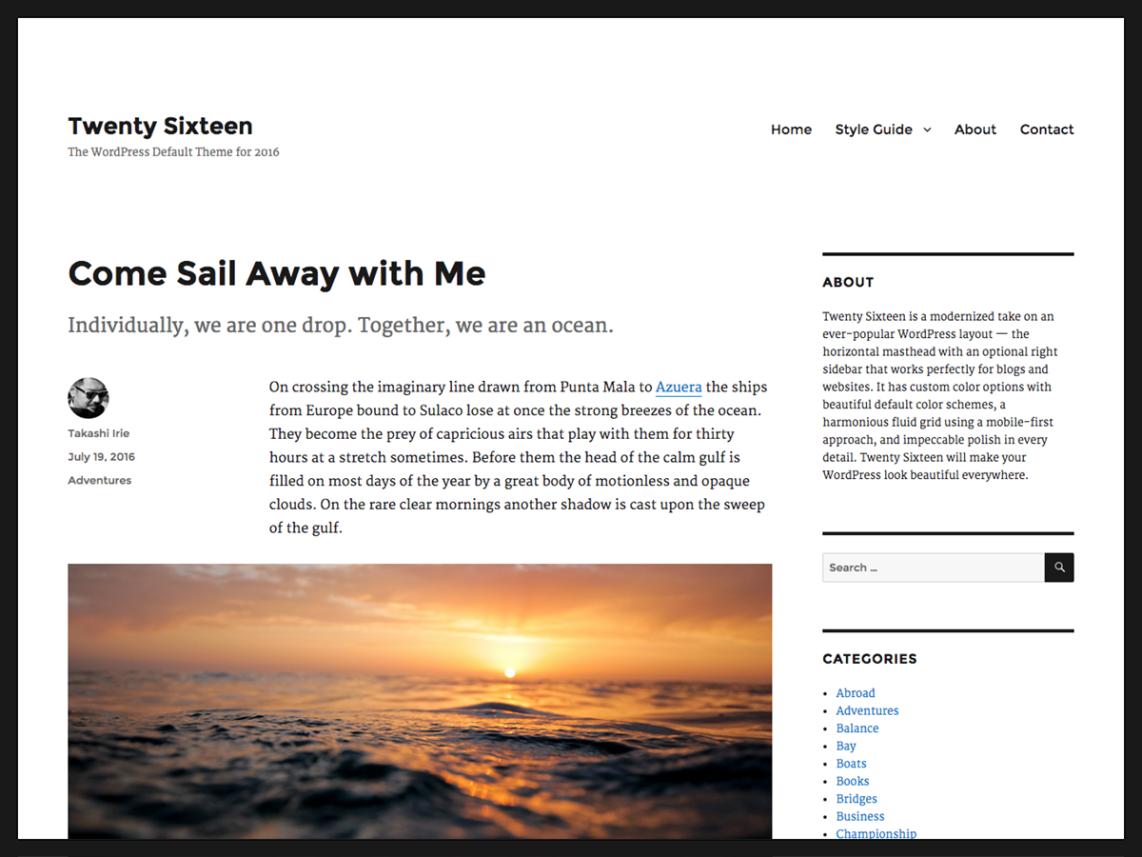 Once again, it follows the traditional layout with a sidebar for your widgets and the content taking the main spot. However, it is when you dig deeper and actually start using the theme, that you realize how exactly WordPress default themes have evolved.
The design is not a lot to talk about but when you setup your blog you will notice how flexible it is, especially with third-party plugins and blogging features like the addition of related posts at the end of blog posts.
Twenty Sixteen is still being used by over half a million websites and gets updated by developers regularly as well.
Twenty Seventeen
Twenty Seventeen is one of the most popular default themes of WordPress that's still being used by more than 1 million WordPress websites.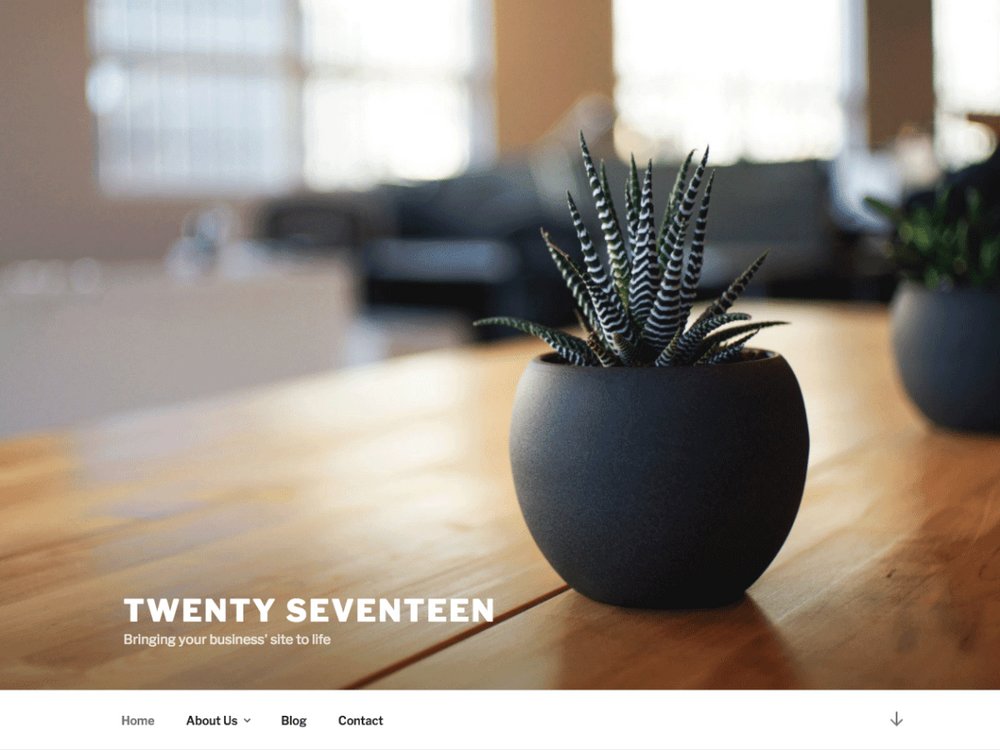 One of the reasons that made this theme so popular was its header design. Twenty Seventeen was the first default WordPress theme to introduce a built-in video header. This allowed users to build unique websites using the free theme.
In addition, Twenty Seventeen also features a modern fullscreen design that made it a more suitable option for business and professional websites.
Twenty Nineteen
What happened to Twenty Eighteen? Well, 2018 was a busy year for Automattic as they were hard at work developing one of the biggest releases of WordPress yet, WordPress 5.0.
Due to the busy schedule, the developers couldn't release a new default theme for 2018. Instead, they decided to wait and release a new theme along with the WordPress 5.0 update.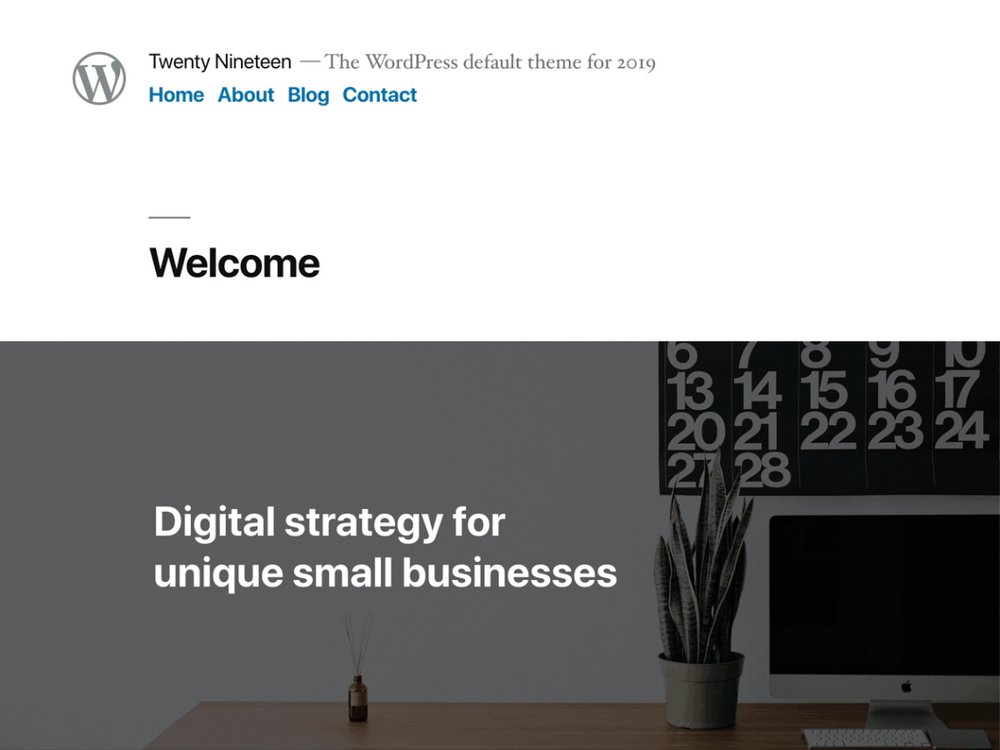 In December 2018, WordPress 5.0 was released and with it came a brand new block editor codenamed Gutenberg. Twenty Nineteen is the first theme to support the new Gutenberg block editor.
This is one of the most flexible themes available on WordPress that can be easily customized to your preference using content blocks to create your own unique page layouts and designs. You can build everything from personal blogs to portfolio websites and business websites using this theme.
Twenty Twenty
The Twenty Twenty theme was released in November 2019 with version 5.3 of WordPress. This new version of WordPress came with a refined and expanded block editor, and Twenty Twenty was designed to show off the flexibility of the editor.
The theme uses group, column, and media blocks for a flexible layout that works well with traditional blogs.
Twenty Twenty is a full-width style theme without a sidebar and it has two widget areas in the footer. Uniquely, in this theme WordPress will automatically set the text color for optimal contrast and readability based on the background colors you choose. As you would expect for any new theme these days, the theme is fully responsive and looks good at any size.
While Twenty Twenty is a fairly basic and minimal theme, the flexibility of the block editor means that it can be adjusted to suit pretty much any kind of website. It's simplicity means it's a great starter theme on which to build child themes. Check out these Twenty Twenty theme examples to get an idea of the wide variety of designs that are possible with a bit of creativity.
Over To You
Looking through the default WordPress themes that have been released down the years, we can see how theme design in particular and content presentation has evolved and continues to evolve through theme designs.
If you're building a new website you may feel tempted to use a free theme, but consider using a modern premium theme to make sure your website look more professional. Also, check out our best web hosting comparison to find the right hosting provider for your website.