Default WordPress Themes: Down The Years
Today, WordPress is the world's most popular Content Management System. However, it was not always this widely accepted. While present-day WordPress stands tall and way ahead of the competition, it once had humble and modest beginnings.
A lot has changed as WordPress continues to evolve, including new features and tools, as well as the retirement of many default features. Amidst all of this, the default WordPress themes too have kept changing, with a new theme being offered following every major release of WordPress nowadays.
In this article, I will be taking a look at the default WordPress themes down the years.
Default WordPress Themes: Down The Years
Classic
WordPress Classic, or simply Classic, was the first ever default WordPress theme — as opposed to the common misconception that Kubric was the first default theme.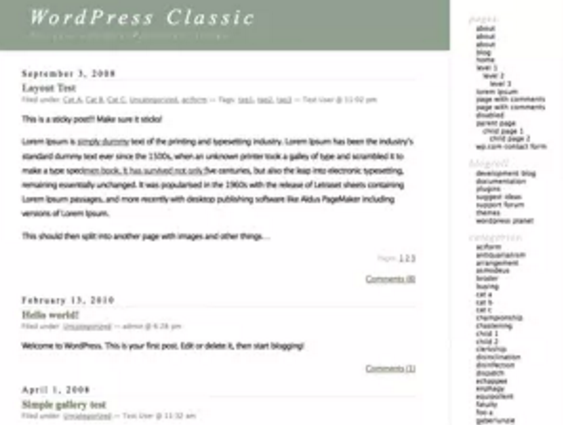 Classic was used on WordPress versions 1.2 and earlier. Of course, those were not the days of the mobile, and Classic was not responsive, nor was it an elegant masterpiece in terms of design.
However, Classic was the epitome of simplicity and ease of use. This was one theme that would go well with your blog, no matter what your target audience or niche topic was! The theme was translation ready (yes!), and offered support for right to left languages.
WordPress Classic has not been updated since 2010.
Default
More commonly known as "Kubric" after the name of the theme that it was initially based on, the WordPress Default theme first came alive with the release of WordPress 1.5 and it continued to reign supreme until WordPress 2.9 — that is obviously a very long period of dominance.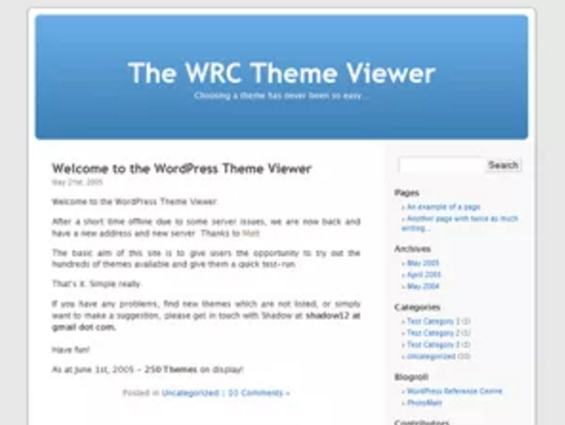 WP Default theme, once again, focused more on simplicity. This was the era when WordPress introduced many new customization tweaks, and the theme incorporated them well: large header, sans serif typography, clearly laid-out sidebar, and so on.
This theme too was translation ready, though obviously not responsive, because we still had not received our smartphones back then. WP Default (or Kubric) has not been updated since 2010, but it apparently seems to be active on 50,000+ sites even today.
Twenty Ten
With the advent of WordPress 3.0, we also got a new default WordPress theme: Twenty Ten.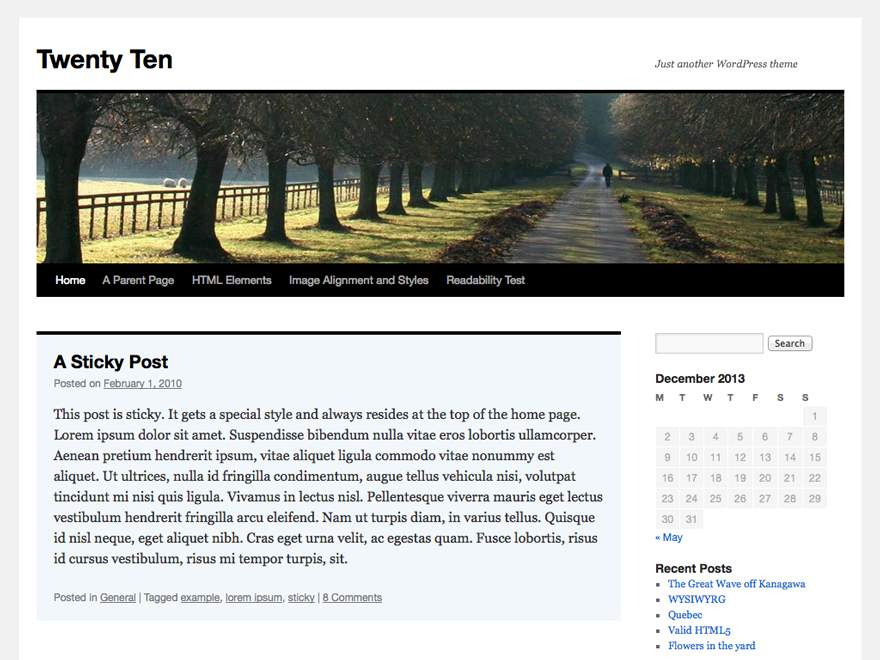 This new theme would later serve as the model for not just WordPress themes but virtually any type of blogging templates: a header image that was prominently displayed, as well as clean and minimal design and focus on content.
This was the phase when WordPress had a lot many new features added to the core: header images notwithstanding, you also had the ability to now add widgets without playing with code, change background colors, and so on.
All said and done, Twenty Ten became immensely popular. It was translation ready, though not responsive. It continues to be in active development, and was updated last year in December.
Twenty Eleven
Carrying on with the trends set by Twenty Ten, Twenty Eleven too insisted on the prominent header images' layout, as well as a clean design with focus on content. However, it also offered a lot many performance improvements, as well as stylistic considerations.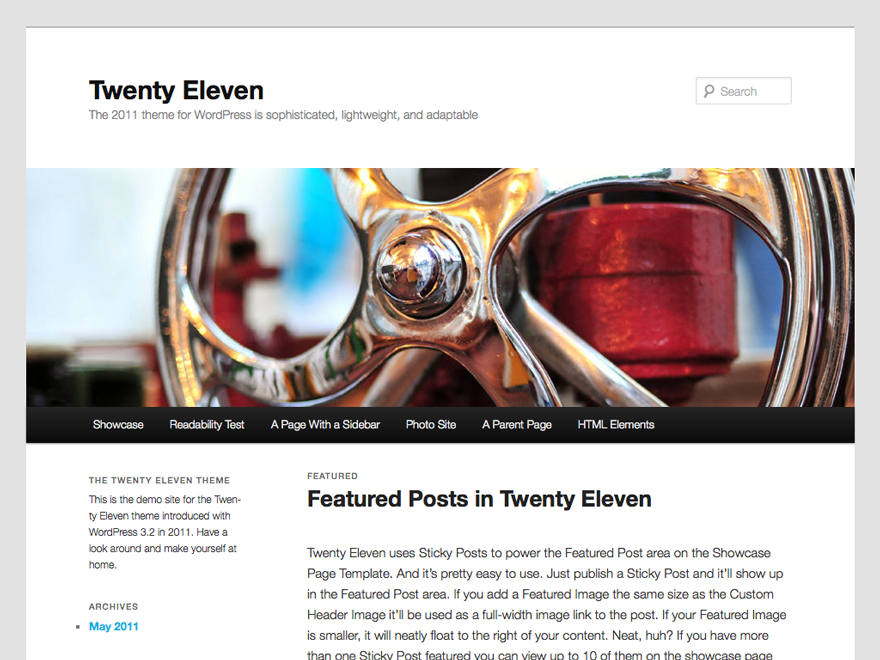 To begin with, Twenty Eleven was HTML5 compliant, had a darker color scheme in addition to the default one, included a widget of its own, and handled custom page layouts even better.
Plus, apart from being translation ready, Twenty Eleven happens to be responsive as well. It continues to be actively developed, and currently also supports post formats.
Twenty Twelve
Twenty Twelve, among all other default WordPress themes, was one of the most significant ones in terms of innovation.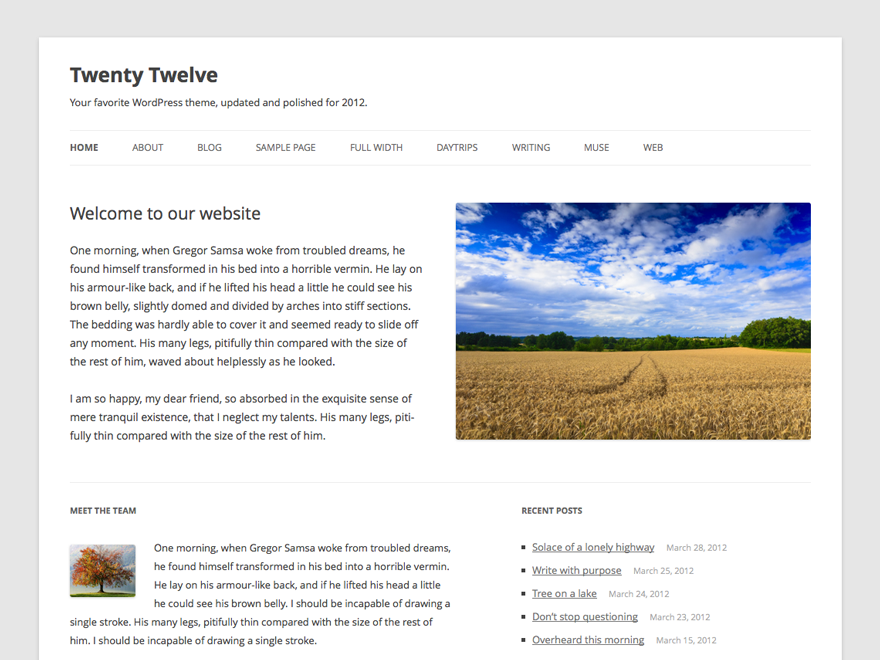 To be frank, the theme brought nothing new to the backend, and there was hardly anything worth talking about in terms of customization. However, this was the phase when WordPress was establishing its dominance as not just a blogging tool but a proper CMS, and Twenty Twelve signified that. The theme gave up the default blog layout, and offered a more corporate layout with a custom homepage design.
Furthermore, it was also fully responsive — this was when mobile internet was ever on the rise, and Twenty Twelve did not miss the memo about the rise of mobile devices.
This theme too is in active development and ready for translation.
Twenty Thirteen
If there is one default WordPress theme that has earned absolutely mixed reaction from the community, it is Twenty Thirteen.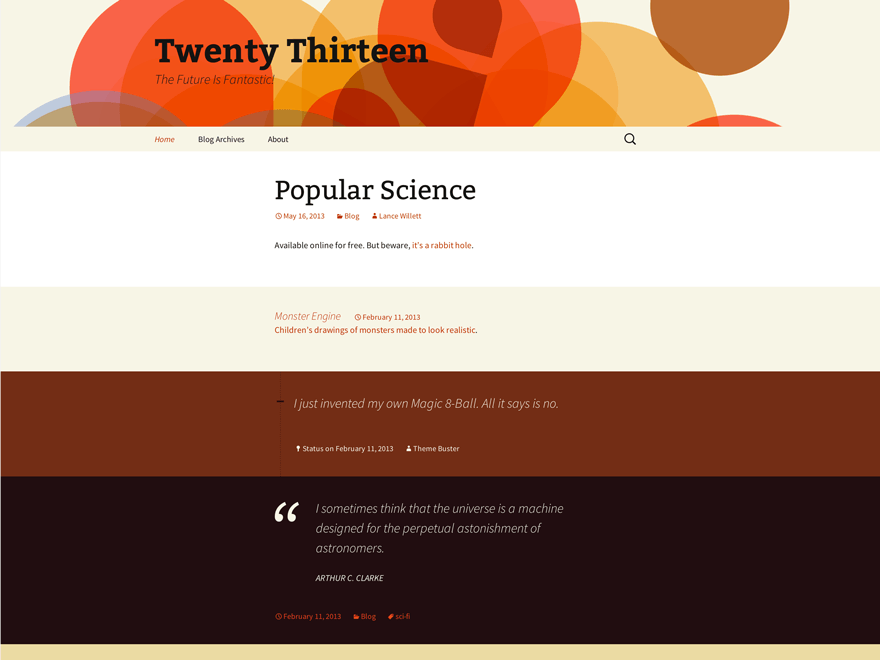 It was the first time when a default theme had a personality of its own: bright colors, focus on blogging and nothing else, as well as the widgetized footer. Twenty Thirteen is a theme that can fit the needs of any blog, and that's all — it is a purely bloggers' theme.
Twenty Thirteen is responsive, translation ready and is currently under active maintenance. It still remains quite popular, but is less popular than Twenty Twelve, probably on account of the fact that it is a mainstream blogging theme and cannot suit the needs of every genre of website.
Twenty Fourteen
Following Twenty Thirteen which was a blogging theme, Twenty Fourteen, its successor, was a magazine theme.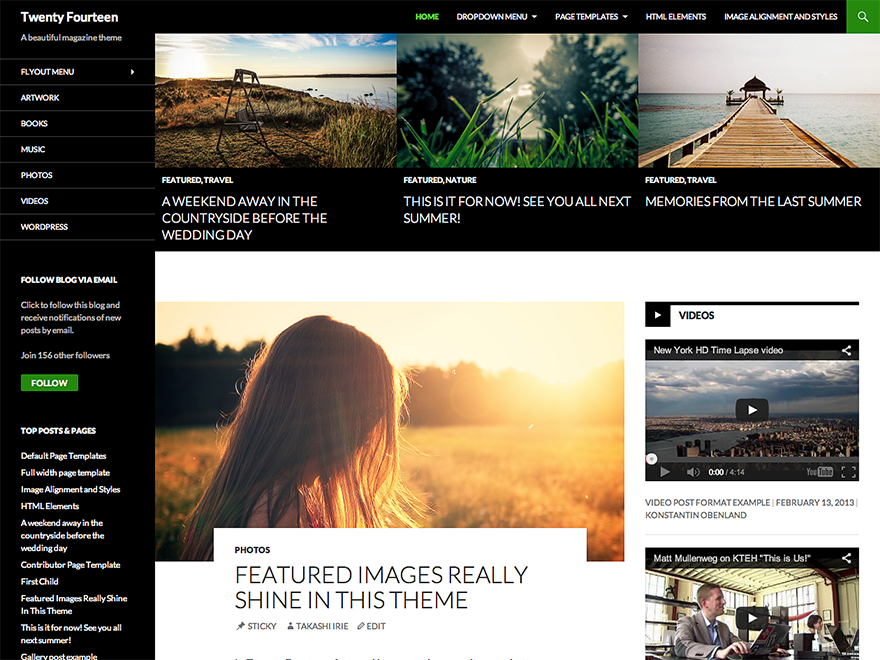 Twenty Fourteen brought many design-related considerations and innovations to the fore. First up, it further enhanced the role of fixed content grids, and a slightly darker default design with sliders. However, Twenty Fourteen was also probably the first default theme that relied heavily on large featured images for content presentation. This trend of focusing more and more on featured images continues to be alive even today, and nearly all of Automattic's themes rely entirely on featured images to look good.
Perhaps the USP of Twenty Fourteen lies in the fact that it provided ample room for widgets, and served the needs of multi-author blogs very well. Once again, this theme too is responsive, translation ready and under active development. It also happens to be in use on over 700,000+ websites.
Twenty Fifteen
Being preceded by two rather "loud" themes, Twenty Fifteen took us back to basics and relied on a purely minimal design. If you are looking for a theme with ample whitespace and legible typography, this is the theme you should be looking at!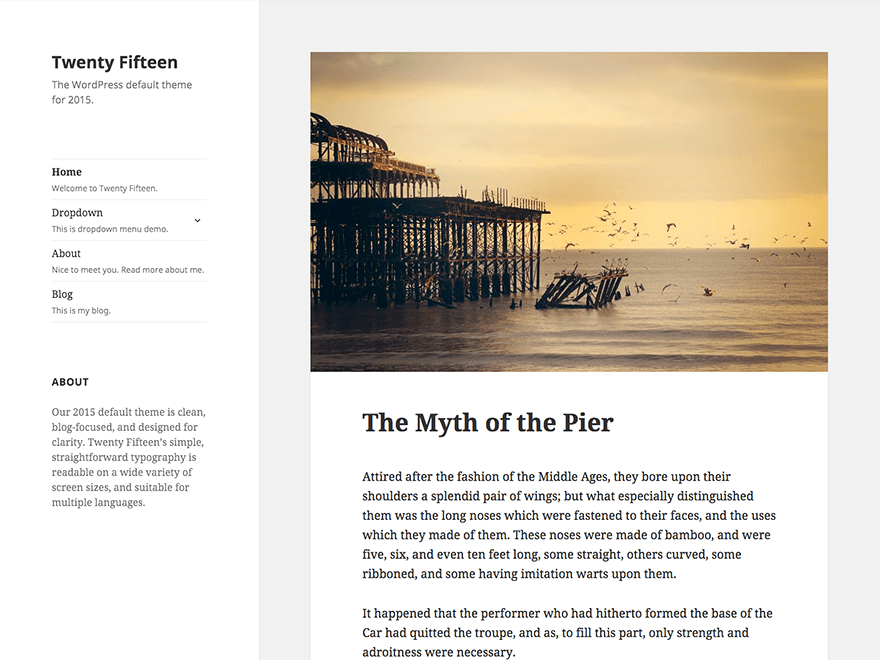 Twenty Fifteen is not really a lot to talk about. It offers one simple sidebar, one menu for navigation, and that's all. The content is given the driver's seat, and if a minimal WordPress theme is your craving, Twenty Fifteen will easily make its way in your list of favorites.
This theme is responsive, supports post formats, translation ready and is currently active on over a million websites and blogs.
Twenty Sixteen
The current default theme for WordPress, released last year, Twenty Sixteen is another minimal theme with a focus on your content and legible typography.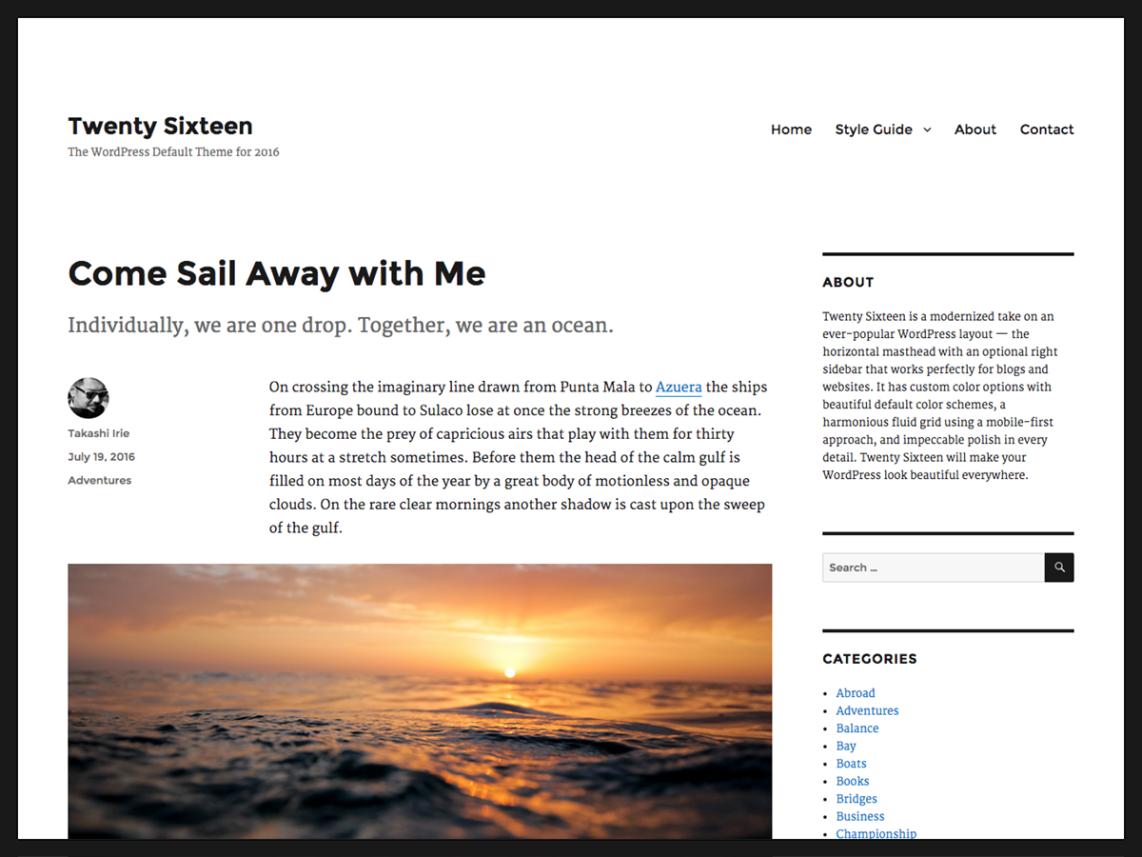 Once again, it follows the traditional layout with a sidebar for your widgets and the content taking the main spot. However, it is when you dig deeper and actually start using the theme, that you realize how exactly WordPress default themes have evolved.
The design is not a lot to talk about; but when you setup your blog, you will notice how easily it blends with everything that the present day internet is about. Need related posts at the end of your single posts?
Use Jetpack or a similar plugin, and start showing related posts — Twenty Sixteen's design is such that no matter what layout you choose for it, the related posts' widgets just blend within your theme's design and do not look out of place. Similarly, employ social sharing buttons, and no matter where you place them — be it on the side, at the end or at the top — the theme's design just goes along with it!
Twenty Sixteen is obviously still actively maintained, is responsive and translation ready, and is currently powering over 800,000+ websites.
Over To You
Looking through the default WordPress themes that have been released down the years, we can see how theme design in particular and content presentation in general has evolved, and continues to evolve.
Which WP default theme has been your favorite and why? Share your views and thoughts in the comments below!