10 Best cPanel Alternatives for Managing Websites in 2023
Are you on the hunt for cPanel alternatives?
cPanel is the web server control panel of choice for many shared hosts, but it's not the only option out there nor is it the best.
Related: Beginner's Guide to cPanel: Everything You Need To Know
In this post, we've rounded up the best cPanel alternatives for managing web servers.
The Best cPanel Alternatives for Web Hosting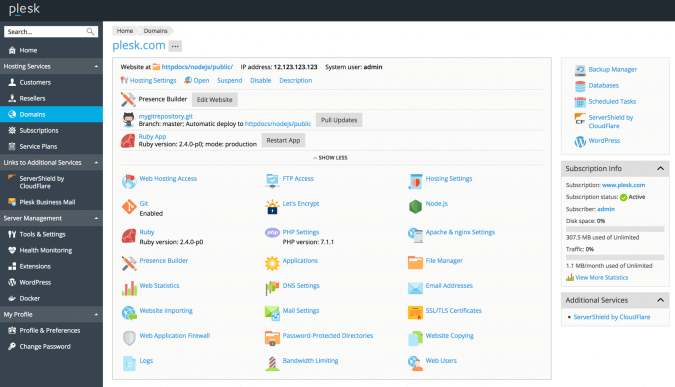 Plesk is a centralized control panel software used as a cPanel alternative by many hosts and server providers, including Liquid Web, Vultr, DigitalOcean, Google Cloud and A2 Hosting.
You can accomplish much of the same tasks as you can in cPanel with this control panel, except it uses a much cleaner and more modern user interface (UI).
Developers can also use the command line interface (CLI) if they prefer.
Third-party applications and extensions are available to install directly from the interface, including WordPress, security software, development software and more.
Plesk supports servers running Windows Server and Linux-based operating systems, Apache, Nginx, the latest versions of PHP, Git, MariaDB, MySQL and phpMyAdmin.
You can manage user accounts, databases, domains, backups and more.
Pricing starts at $12/month for 10 domains.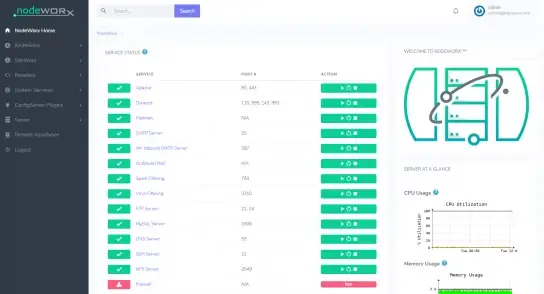 InterWorx is part of Liquid Web's family of brands. As such, it's used by Liquid Web and their managed hosting subsidiary Nexcess as an alternative to cPanel.
Users can access the control panel's functionalities via CLI as well as a graphic user interface (GUI).
The GUI is divided into the two systems that make up InterWorx: NodeWorx and SiteWorx. NodeWorx is for server management while SiteWorx is for website management.
If you're a web host or you develop websites for clients, you can manage hosting accounts and server usage with InterWorx.
Your users will use SiteWorx to manage their own websites, backups, domains and email accounts.
InterWorx are partners with Softaculous, an auto installer application used by cPanel.
This means you can install WordPress on your server along with every other application you're used to installing in cPanel.
Unfortunately, InterWorx only works with the Linux-based RedHat and CentOS operating systems.
They also don't integrate with as many third-party apps, and they mainly support Apache and MySQL.
A single VPS server license costs $7.50/month while a regular server license costs $20/month. A 2-week trial is also available.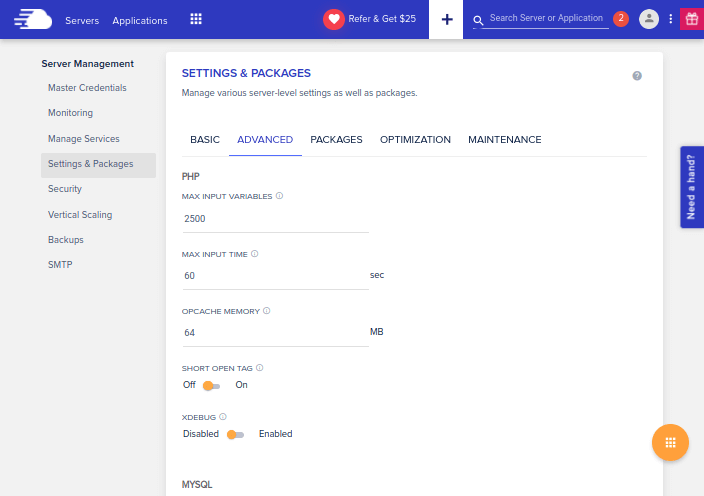 Cloudways is a cloud hosting provider that can also be thought of as a web-based control panel platform.
While it doesn't offer hosting servers of its own, it does allow you to deploy custom servers from a number of different cloud hosting providers.
Some of its partners include DigitalOcean, Vultr, Google Cloud Platform (GCP), Amazon Web Services (AWS) and Linode.
It works with WordPress, WooCommerce, Magento, Laravel and custom PHP-based applications, making it a great alternative to web hosts who use cPanel.
The servers are managed by Cloudways themselves. You can customize PHP, database and SFTP settings, manage backups, and more on your own.
Pricing is based on usage but starts at $10/month for a DigitalOcean server with 1GB of RAM.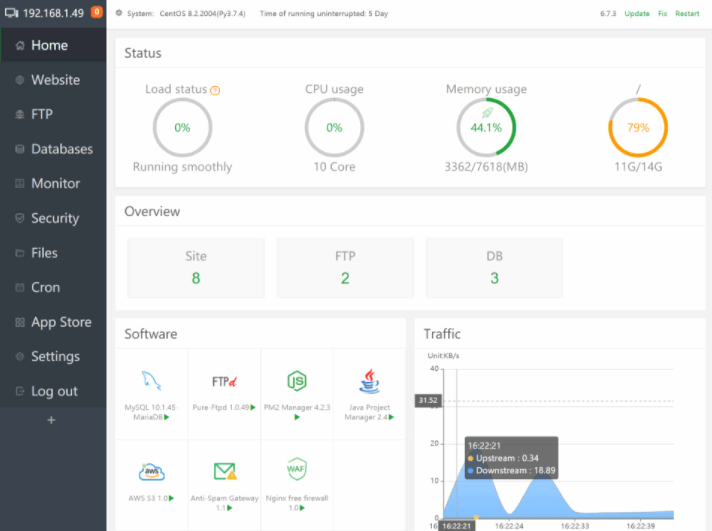 aaPanel is a great cPanel alternative for PHP websites and applications. You can use it to deploy either or in Apache and Nginx environments.
The UI is user friendly and makes it easy to manage databases as well as your projects' file systems via FTP.
Cron jobs, SSH and a web-access firewall (WAF) are available as well.
Plus, you can install a number of different content management systems (CMSs) and other common applications in one click.
The base plan is free forever for unlimited domains.
Premium plans start at $14.50/month or $118.32/year. These plans include plugins for a WAF, mobile app, system hardening and web analytics.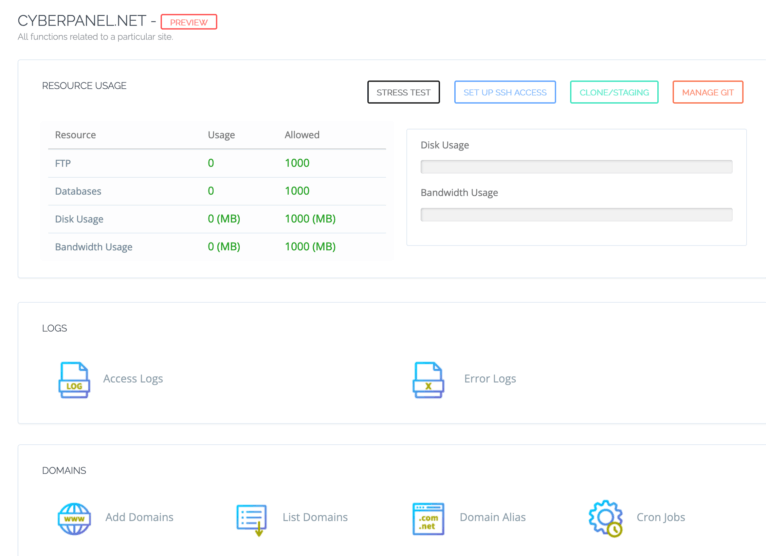 CyberPanel is a simple and fast control panel for web hosting. Hostinger, a shared host, uses it as a cPanel alternative in their VPS hosting service.
It's available for Linux web servers.
It's an open-source control panel that supports OpenLiteSpeed and LiteSpeed Enterprise depending on whether you use CyberPanel Free or CyberPanel Enterprise.
The UI isn't the most intuitive, but you can install WordPress and other CMSs in one click.
The LiteSpeed cache plugin is available for page and server-side caching. You can also install SSL certificates from Let's Encrypt.
CyberPanel Free is free forever.
The base plan for CyberPanel Enterprise is free as well. Premium plans start at $11/month. This plan supports 5 domains, 8GB of RAM and 1 PHP worker.
CyberPanel also offers CyberHosting, a managed VPS hosting solution that costs at least $9.99/month.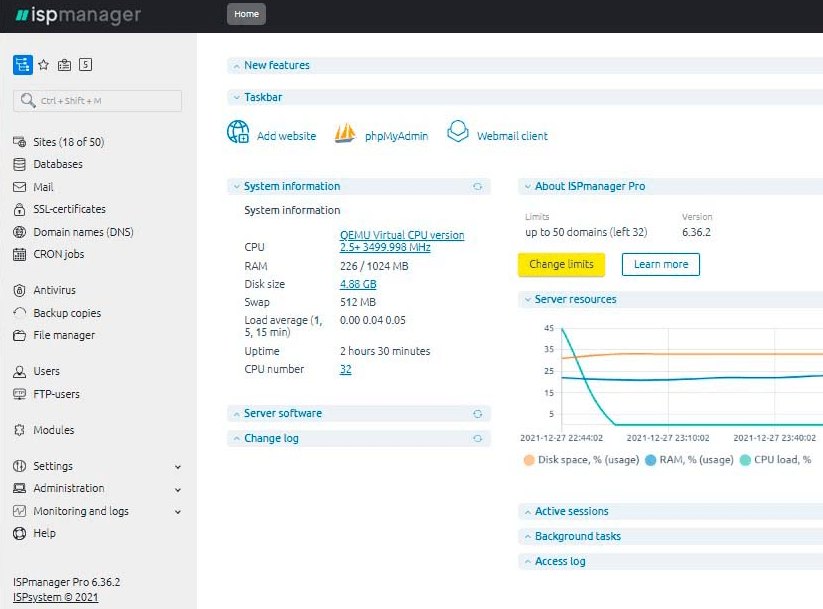 ISPmanager works great as a cPanel alternative as it offers many of the same features.
This means you can use it to configure PHP websites built on Apache and Nginx web servers.
WordPress, Drupal, Joomla and Bitrix are also available for installation via a Softaculous integration, just like cPanel.
You can manage multiple aspects of your website from ISPmanager's control panel through manual and cron job commands.
This includes domains, backups, file management, DDoS protection, SSL certificates and more.
This control panel's only drawback is that it doesn't have a UI design that's as friendly as some of the other cPanel alternatives on this list.
Pricing starts at €5/month for 10 domains.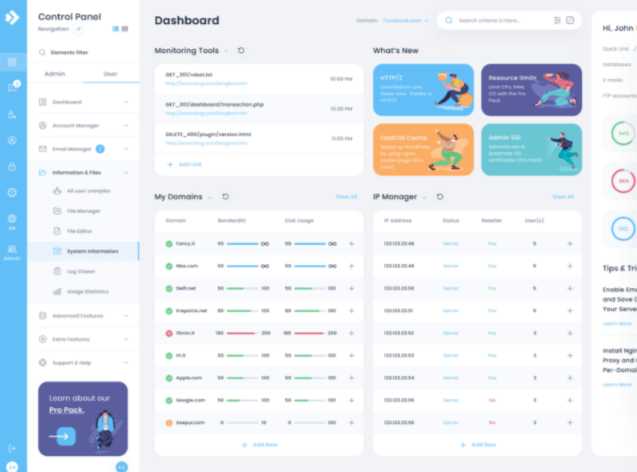 DirectAdmin is a feature-packed control panel with three access levels that determine which features you or your client can use.
They are Admin, Reseller and User.
As an admin, you can create additional admin and reseller accounts, reseller packages, manage DNS records, configure your server's IP address, view complete usage statistics, and more.
Resellers can create user accounts and packages, message all users, view usage statistics per user account, apply new skins, and more.
The bulk of this control panel's web server management happens at the User access level.
This includes email, FTP and file management, selecting PHP versions, personal usage statistics, subdomains, managing databases, creating backups, and more.
DirectAdmin supports Linux operating systems, Apache, Nginx, MySQL and MariaDB.
A 60-day trial license is available. Premium plans start at $24/year for 1 account, 10 domains, self-installation and community-based support.
For $15/month, you get 10 accounts, 50 domains, free installation and unlimited technical support.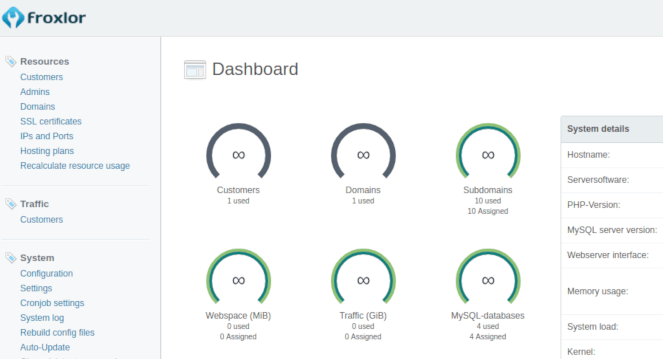 Froxlor is an open-source control panel for Apache and Nginx web servers.
It has a simple UI design, but it was made to be a lightweight addition to your server.
You can use it to manage multiple domains and choose different ports, IPv4/IPv6 addresses, and PHP configurations for each.
Database management is available, and you can install free SSL certificates from Let's Encrypt.
The tool also stores HTTP, FTP and mail traffic and displays it in interactive graphs.
Reselling features are also available for web hosts and developers. This includes a "themeable interface" you can apply custom CSS to in order to match your branding.
Froxlor is free.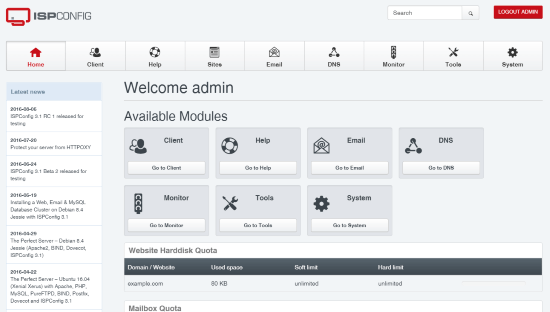 ISPConfig is one of the simplest cPanel alternatives on this list yet an effective option nonetheless.
It supports Linux-based operating systems and Apache and Nginx web servers.
The control panel has four access levels for admins, resellers, users and email logins.
Mail, FTP and DNS management are included as is database management via MySQL or MariaDB.
You can also complete tasks via cron jobs.
You can use PHP on Apache and Nginx servers, but Ruby and Python are only available for Apache.
Security features include firewalls, SSL certificates, SFTP/shell users and filters for email.
ISPConfig is free.
Add-ons enable you to add billing software, a migration toolkit and a malware scanner for WordPress, Joomla and Drupal.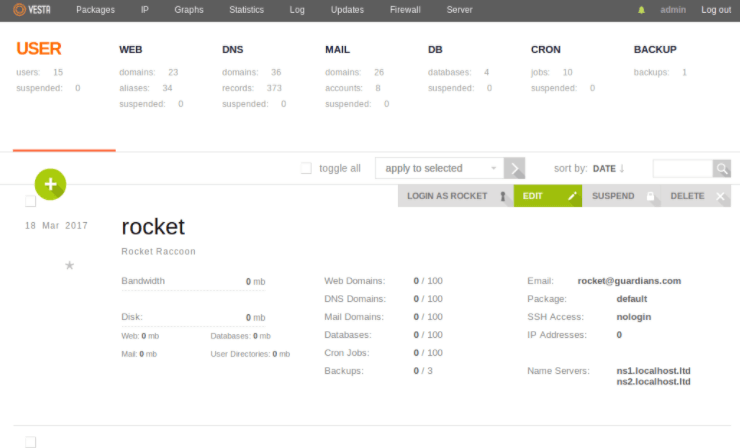 Vesta is a simple control panel that makes a great, lightweight cPanel alternative.
It doesn't have a friendly UI design for end users, but it's still a decent control panel for developers.
It supports multiple versions of Linux as well as Apache and Nginx. MySQL and PostgreSQL are available for database management.
It mainly supports PHP-based projects. You'll need to install other script types manually.
DNS management, FTP, cron jobs, CLI interface and backups are available as well.
Vesta is free, though premium plugins are available for small fees.
Final Thoughts On cPanel Alternatives
There are a lot of decent cPanel alternatives out there. It can be difficult to narrow your options down to just one, especially when they all offer much of the same features.
Fortunately, there are a few specific features and scenarios that can make this decision easier.
First, consider what you need a web server control panel for.
If you're a developer, you'll do just fine with any option on this list and will need to use additional deciding factors.
If you're going to offer hosting to clients who expect to be able to manage their websites in the same way they do with cPanel, choose an option that offers reselling features and a user-friendly UI.
Support is another issue. Free, open-source control panels have a lot of community support and flexibility, but they may not have the resources to offer support in a timely manner.
Choose a control panel application that offers technical support if you feel you'll need it.
Lastly, consider how much flexibility you'll need. If you prefer to tinker or do things your own way, choose an open-source control panel.