Looking to upgrade your hosting? We're offering Design Bombs readers an amazing 33% off VPS hosting with our Liquid Web coupon!
An offer like this doesn't last for long so if you're ready to go ahead and get the discount, click here to visit Liquid Web and enter the code VPS33OFF at checkout after you've chosen your hosting package.
Want to know more about Liquid Web and its VPS web hosting plans? Keep reading for a full breakdown of exactly what you get with this superior hosting solution.
What is Liquid Web?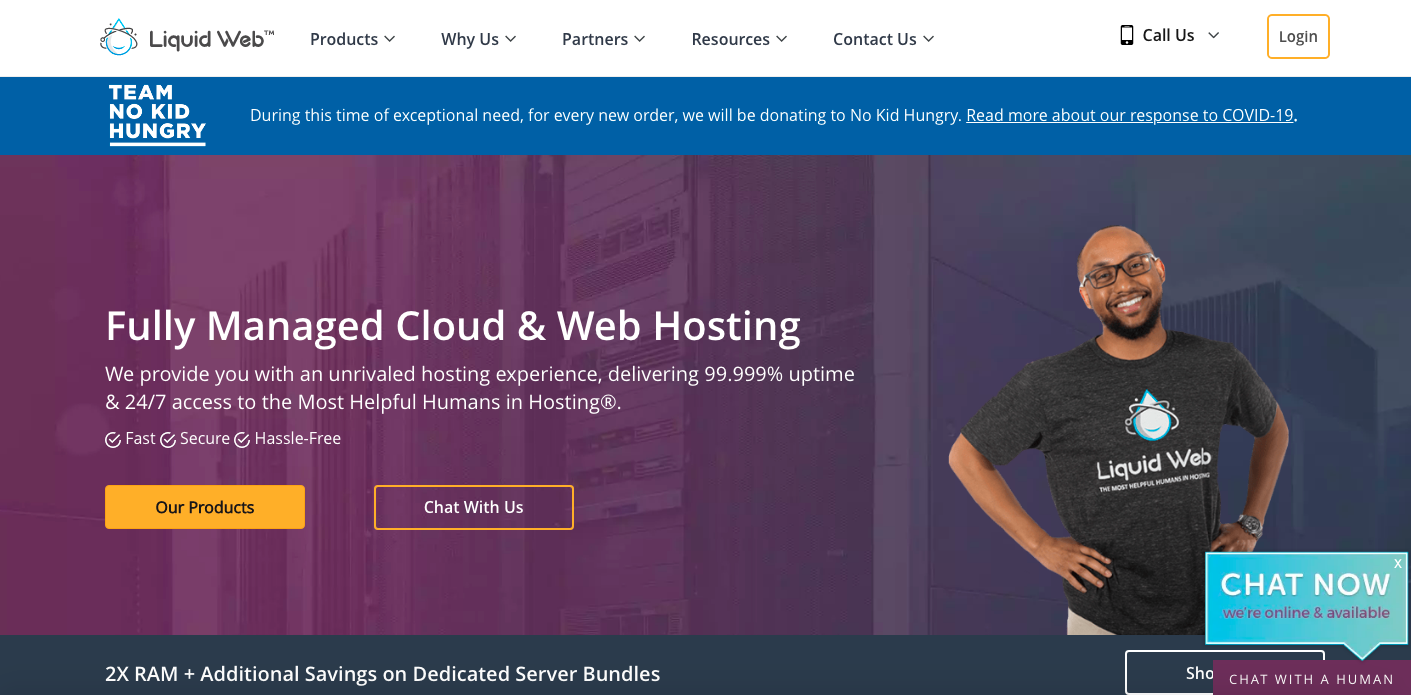 Liquid Web is a fully managed web hosting service that delivers an enterprise-level hosting experience simplified for the needs of small and medium businesses.
Liquid Web offers a number of hosting solutions including cloud, VPS, dedicated hosting, and specialist hosting for eCommerce sites.
Designed to meet the needs of startups, designers, developers, agencies, and online stores, Liquid Web was founded with the mission of fully managing your hosting for you and providing the best possible support so you can get on with running your business.
The company has been in business for over 22 years and currently manages over 500,000 sites for 45,000 customers. Liquid Web gets high marks for customer satisfaction and loyalty and is currently the #1 ranked host for dedicated server hosting.
Liquid Web managed VPS hosting plans start from $15 a month and you can scale up as your business grows by increasing the vCPUs, RAM, disk space, and other resources in your hosting package.
Liquid Web Features
Why choose Liquid web over another web host? Liquid Web is committed to its customers and promises to deliver 24/7 support on any day of the year from skilled and experienced technicians, a seamless migration service, round the clock security and monitoring, and a 99.999% uptime guarantee.
Other features you can take advantage of when you sign up as a Liquid Web customer include:
Help to choose the perfect hosting plan for you
Help with migrating your site, store, or application
Proactive management of hosting including network, security, and availability
Managed updates of server and operating system
Full management of complex hosting environments
24/7 support by phone, chat, or helpdesk, with a 59-second initial response guarantee for phone and chat and a 59-minute helpdesk response guarantee
Wide range of hosting products including managed WordPress, managed WooCommerce, cloud hosting, cloud dedicated, VPS hosting, dedicated servers, and more
Add-ons available for additional storage and backups, security compliance, performance, software, and email hosting
To find out more about what you get as a Liquid Web customer, read more about the managed hosting experience.
Liquid Web Hosting Plans
Liquid Web offers an extensive range of hosting plans that can be customized for the needs of each individual business. You can see the full range of plans on offer on the Liquid Web Products page.
Whatever type of website you run, it's reassuring to know that Liquid Web hosting plans are fully customizable and scalable as you grow.
Liquid Web Managed VPS Hosting
Liquid Web managed hosting plans are designed to take the hard work out of running your website with fully-managed cloud-based virtual private server hosting that's faster than AWS and Rackspace.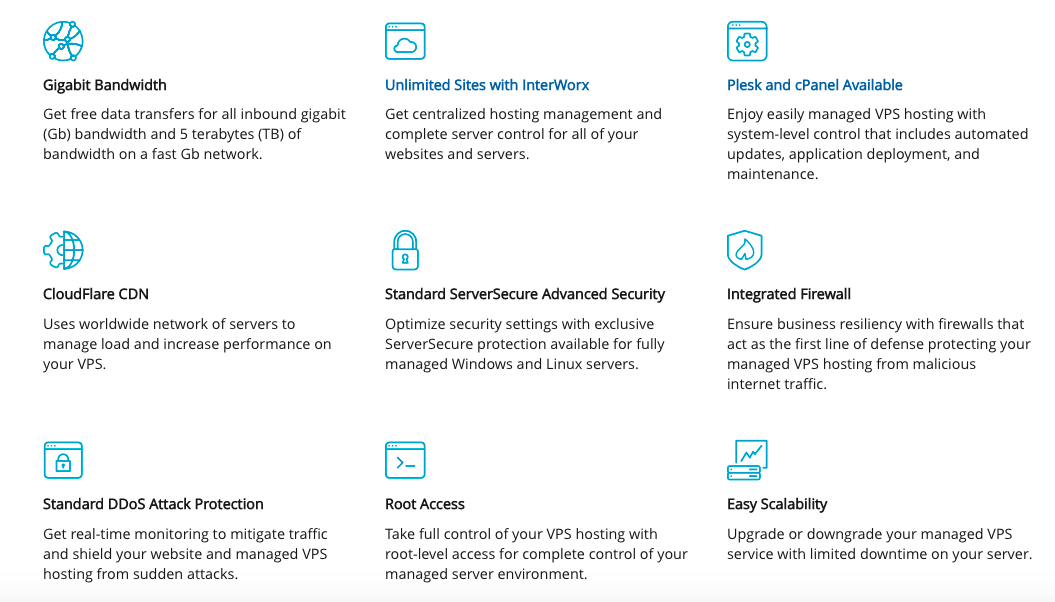 Features of Liquid Web Managed VPS Hosting include:
Proactive monitoring
Off-server backups
Unlimited sites with Plesk, cPanel, or InterWorx admin
CloudFlare CDN
Integrated firewall
DDoS attack protection
Root access
Dedicated IP address
Automatic SSL
100% uptime SLA
There are also several optional add-ons to improve your VPS hosting experience including premium email, cloud load balancer, web application protection, and more
There are 4 standard Linux VPS hosting plans available, starting from $15 a month.
The cheapest option includes 2GB of RAM, 2 vCPUs, 40GB SSD disk space, and 10TB bandwidth
Documentation and Support
Liquid Web offers some of the best support in the web hosting industry with 24/7/365 proactive monitoring and support provided by a team of over 250 industry-certified technicians.
Liquid Web gets some of the highest scores in the hosting industry with a Net Promoter Score (NPS) of 67.
The tech support team receives over 300 hours of training in their first 12 months and there are specialist technicians to provide the support needs of different software server setups including Red Hat Linux, Windows, Cisco, Interworx, Plesk, and cPanel.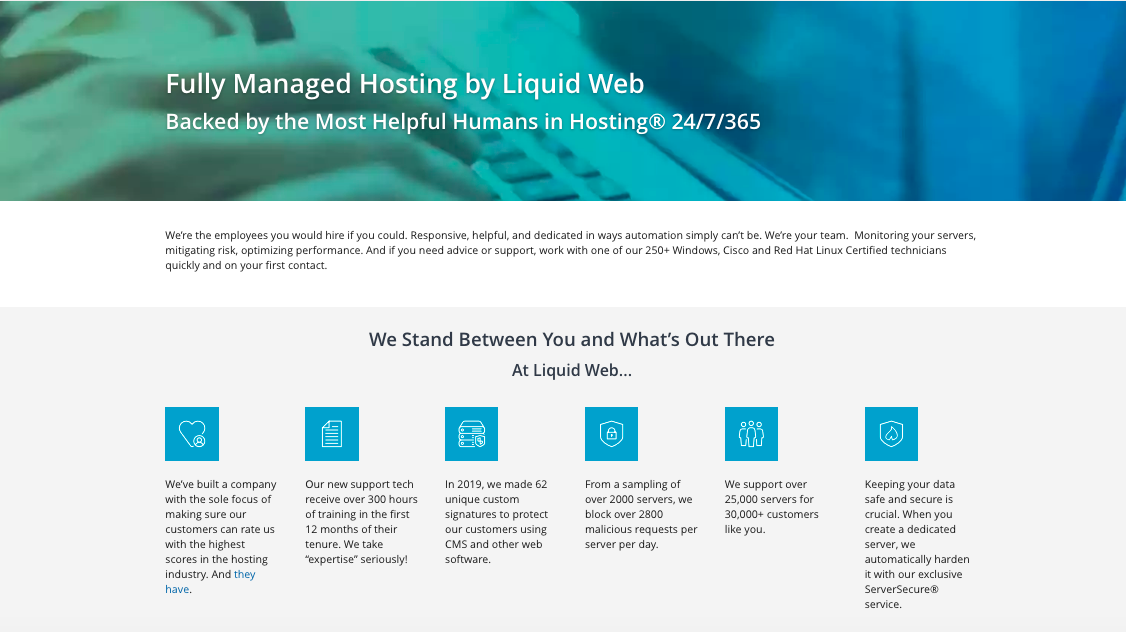 Support is available via phone, live chat, email, or ticket with an average response time of under one minute for phone and chat support and under an hour for helpdesk.
You can choose your level of hosting management from fully managed servers with expert techs to manage your hardware and web server to self-managed for expert users who want to take full control of their server and hosting requirements.
Liquid Web hosts a comprehensive knowledge base with a range of tutorials, articles, and other resources written by experts to help you out with everything from getting started with hosting to recovering a compromised website and improving MySQL performance.
Liquid Web Coupon FAQs
How long does the liquid web coupon last?
The exclusive Design Bombs Liquid Web discount code currently doesn't have an end date. However, we can't guarantee that it will always be available so recommend using the code as soon as possible if you want to take advantage of the 33% discount deal. The discount is valid for your first 3 months of VPS hosting when you choose the pay monthly option.
What is managed VPS hosting?
VPS hosting is like having your own dedicated server to host your website, rather than it being shared with other users. However, unlike a traditional dedicated server, you are allocated resources from a pool of virtual servers. The server is administered in the same way as a standard physical server but it's more cost-effective and easier to scale up as resources can be allocated on demand (unlike a physical server which would need to have hardware upgraded).
Why upgrade to VPS hosting?
With VPS hosting you can install an unlimited number of instances of WordPress and run as many sites off your virtual server as your resources allow. This is often more cost-effective than buying separate hosting packages. You also have exclusive access to your dedicated server resources as you're not sharing with other users and websites. This means your site is unlikely to run slow or go down. VPS plans are also highly scalable so you can increase resources as your site grows and pay only for what you need.
Are all VPS hosting plans managed?
No, you have the choice of fully-managed, core-managed, or unmanaged. The right option for you depends on how much control you want over your hosting and your level of experience with server administration.
Should I choose VPS hosting or managed WordPress hosting for my WordPress site?
One of the main advantages of VPS hosting is that you have direct root-level access to the virtual server. This means you can install your own software and set up the server in any way you wish. It's also easy to upgrade your hosting by adding more resources to your VPS as your site grows in size and traffic.
However, you do need some technical know-how to run your own server. Standard VPS hosting is not optimized for WordPress by default. If you'd rather leave the technicalities to an expert and have a hands-off hosting experience, managed WordPress hosting would be a better option for you.
How to Use the Liquid Web 33% Off Coupon
Click here to access the Liquid Web VPS Hosting product page.
Scroll down and choose your plan depending on your hosting needs. The coupon is only valid for monthly hosting plans, so if you want to use it make sure you select "Monthly" for the duration. Click the yellow "Order Now" button for your choice of plan.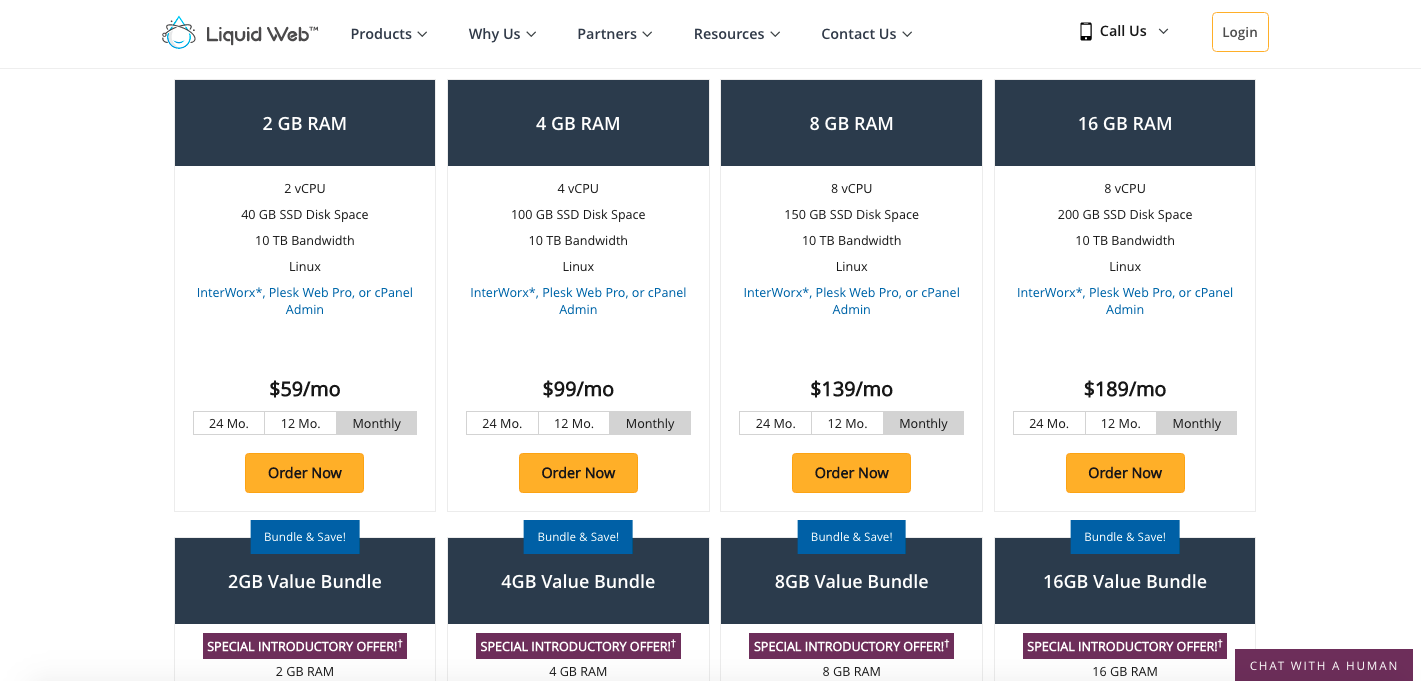 You'll be taken to the shopping cart where you can choose your server storage, operating system, bandwidth, network storage, backup options, and add additional IP addresses if required. When you're happy with your server setup options, click the purple "Add to Cart" button to continue.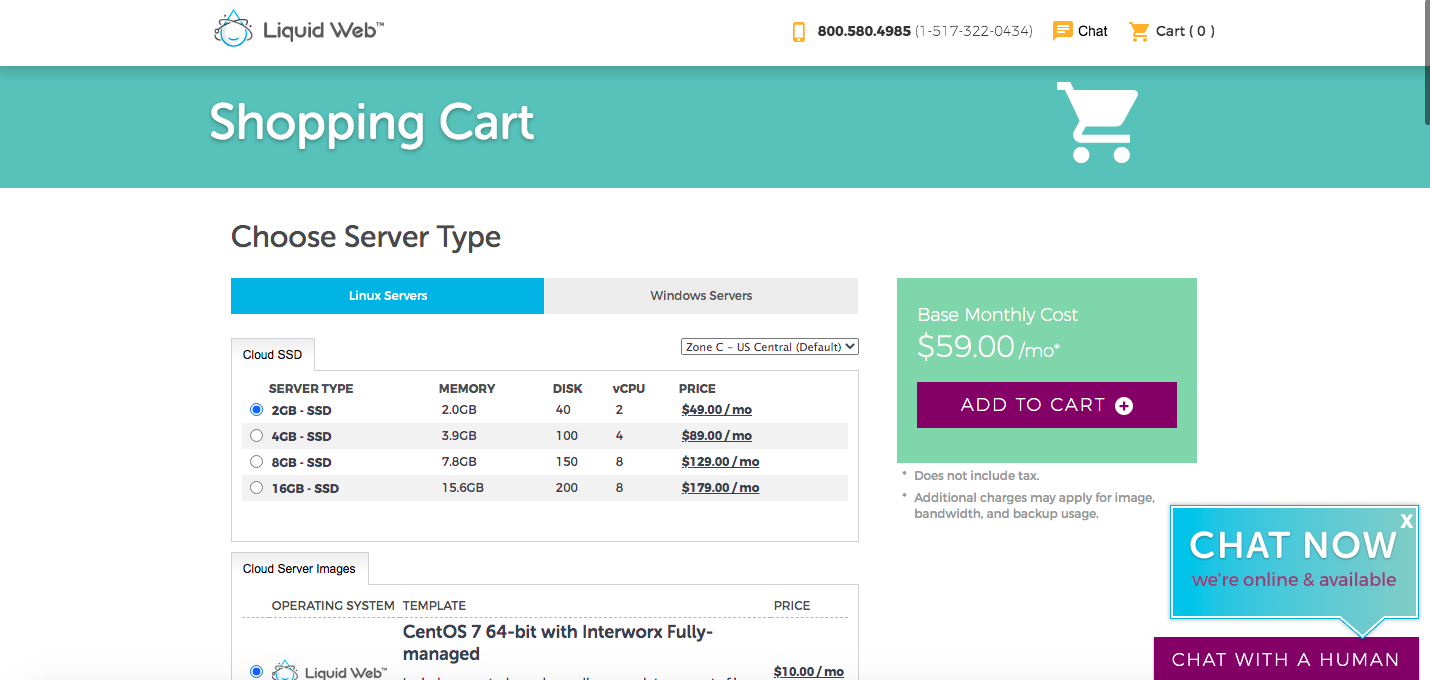 Next you'll be taken to a screen where you can choose optional add-ons for your hosting including vulnerability scanning, firewall, and business email. You can click the relevant buttons to add these services If you want them or scroll to the bottom to continue without adding any extras.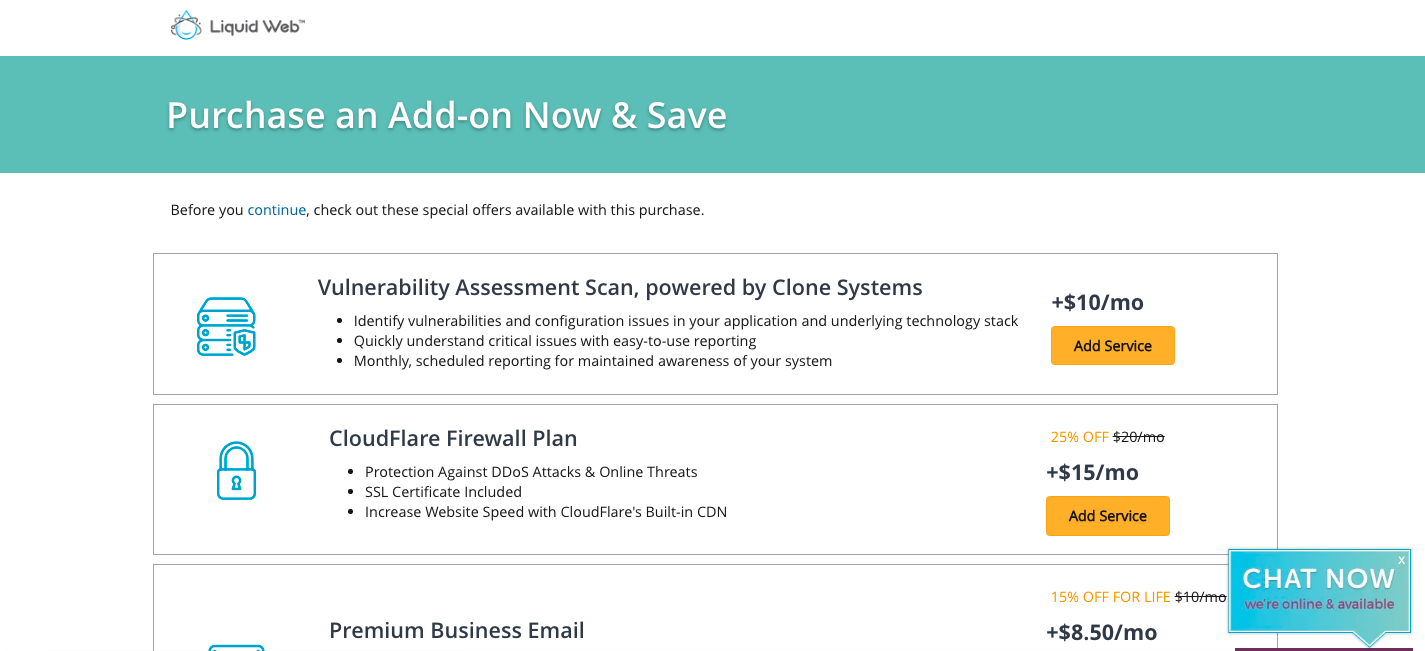 As you continue to checkout, click on the blue "have a coupon?" link under the total price to enter the discount code.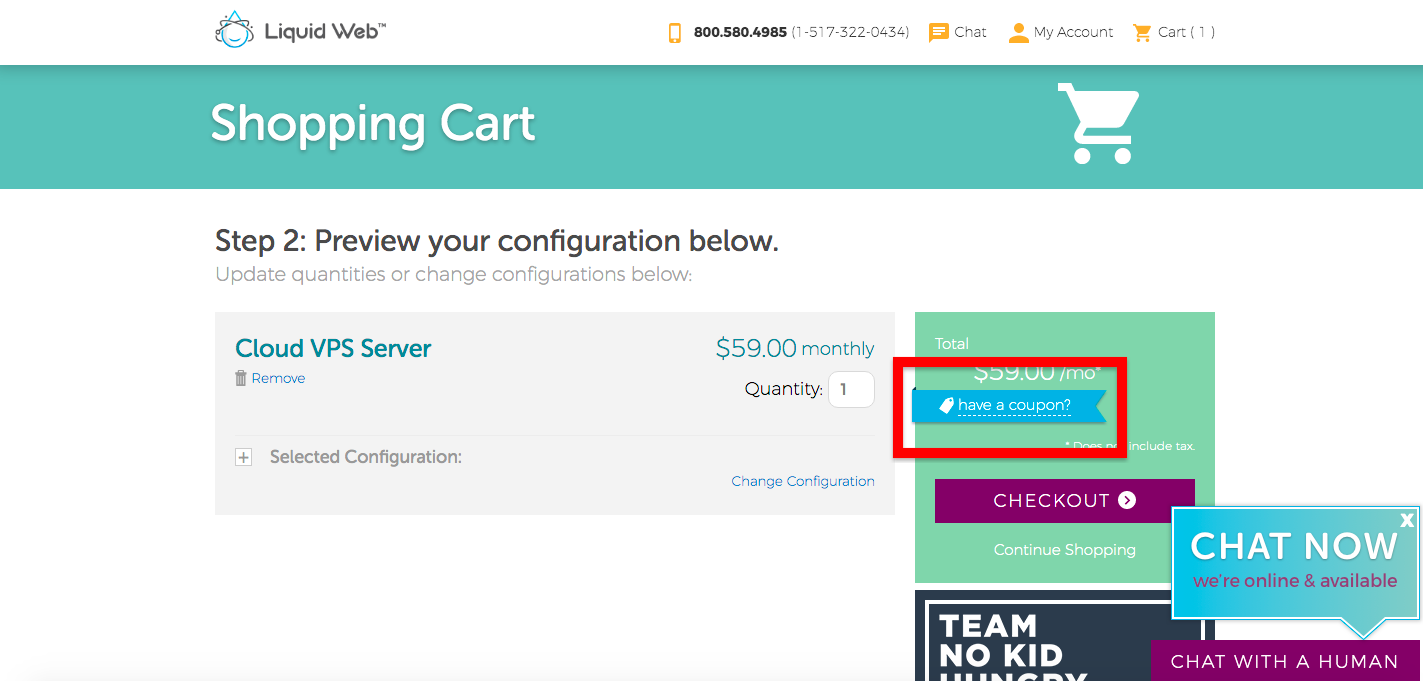 Enter the code VPS33OFF and click the apply button.
You should see the discount reflected in the price immediately. Click the checkout button to enter your payment details and complete your order.