10 Best WordPress Donation Plugins For Non-Profits in 2023
Setting up a donation system on your website is the best way to raise funds for not just for non-profits but for all kinds of good causes, projects, and organisations.
In fact, in 2020 people in the US donated over $471 Billion to charities. And 47% of Millennials use websites when donating to non-profit organisations.
Even if you have a blog or a podcast, you can install a WordPress donation plugin to start accepting donations instead of filling your site with ads. That's exactly what BrainPickings blog does.
We handpicked some of the best donation plugins you can use to start gathering funds from your website. Have a look.
Why Use A Donation Plugin?
If you have a website for a non-profit organisation, you must have a donation system in place. Otherwise, you're losing out on a great opportunity to take advantage of your online audience.
If you have a WordPress website, you can easily setup a donation system by installing a simple plugin. Most of the donation plugins are free to use and easily integrates with payment processors like PayPal and Stripe.
Using such a plugin, you can also create funding campaigns to crowdfund for special charities and projects as well. This will allow you to reach audiences on social networking platforms and gather donations from generous people from all around the world.
Who Should Use Donation Plugins?
Donations are most useful to non-profits but aren't limited to charities. Here are many different types of organisations that already utilise donation systems on their websites.
Charities
Schools, colleges and universities
Ad-free blogs and magazines
Politicians
Health and medical organisations
If you don't have a website for your organisation, you can make one in just a few minutes without any experience in web development. Simply follow our step by step website setup guide. And pick a website design from our list of WordPress charity themes.
Here are the plugins you can use to setup the donation systems on your WordPress website.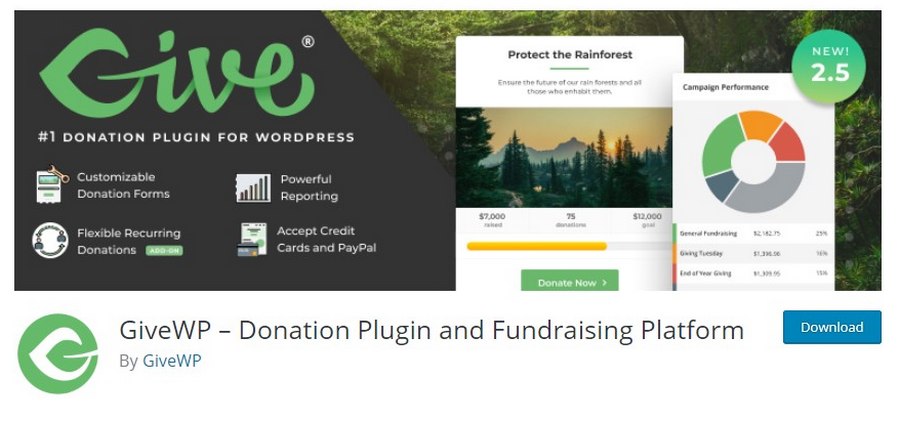 GiveWP is one of the most popular donation plugins available on WordPress. It not only integrates smoothly with most WordPress themes but also supports various payment methods for making donations.
Give also has a very beginner-friendly and easy to use dashboard and a setup process. This allows almost anyone to easily setup a donations system on their website.
Main Features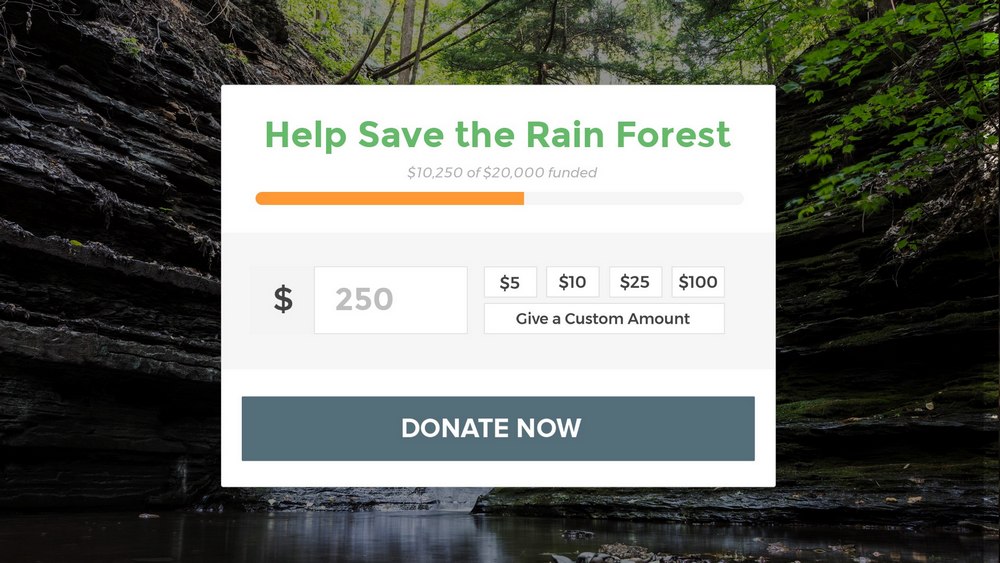 Easily create donation forms with custom designs
Integrates with the theme design
Create donation campaigns with goals
Get detailed reports on donations
Supported Payment Methods
Give is compatible with both PayPal and Stripe. It also has an option to accept offline donations like checks.
Pricing
GiveWP is completely free to use. However, it does offer a premium plan that gives you access to premium add-ons like recurring donations and currency switcher. Prices start at $20 per month.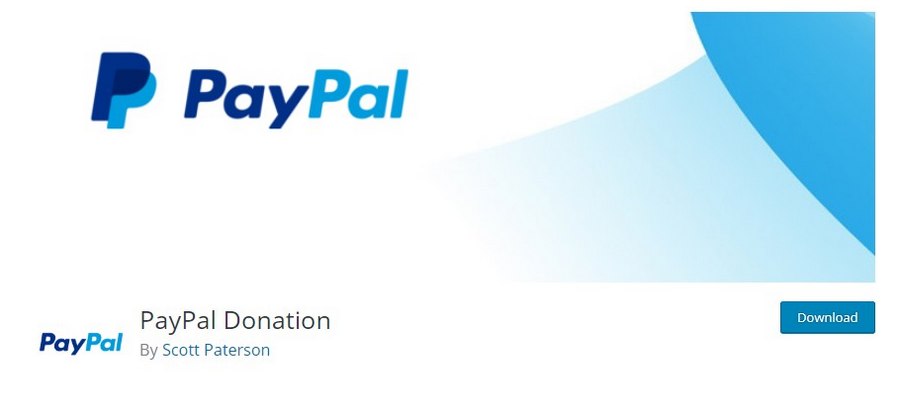 PayPal Donation is another popular and simple donation plugin that does exactly what its name suggests. It allows you to add a donation button to your website to accept donations through PayPal.
Using this plugin, you can add accept donations in multiple ways. You can either insert a donate button in your posts and pages using Shortcodes. Or add a button to your sidebar using a widget.
Main Features

Comes with donation widget and shortcode support
Supports 18 languages and 25 currencies
Choose from multiple donation button designs
Ability to accept recurring donations
Supported Payment Methods
Obviously, the plugin only supports PayPal.
Pricing
PayPal Donations is free to use. It also has a premium version for bigger businesses with prices starting at $60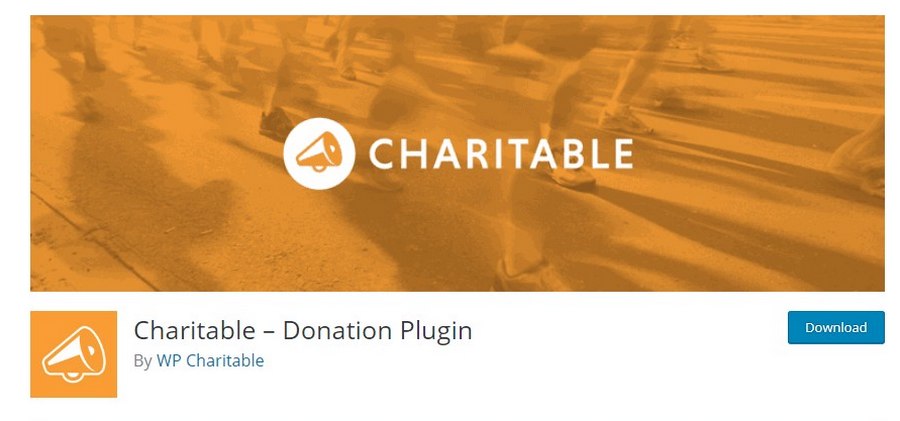 Charitable is another great free donation plugin that comes with multiple payment options and features for accepting donations and especially for creating fundraising campaigns.
This plugin is ideal for running fundraising campaigns on your website to gather donations for special causes, events, and projects.
Main Features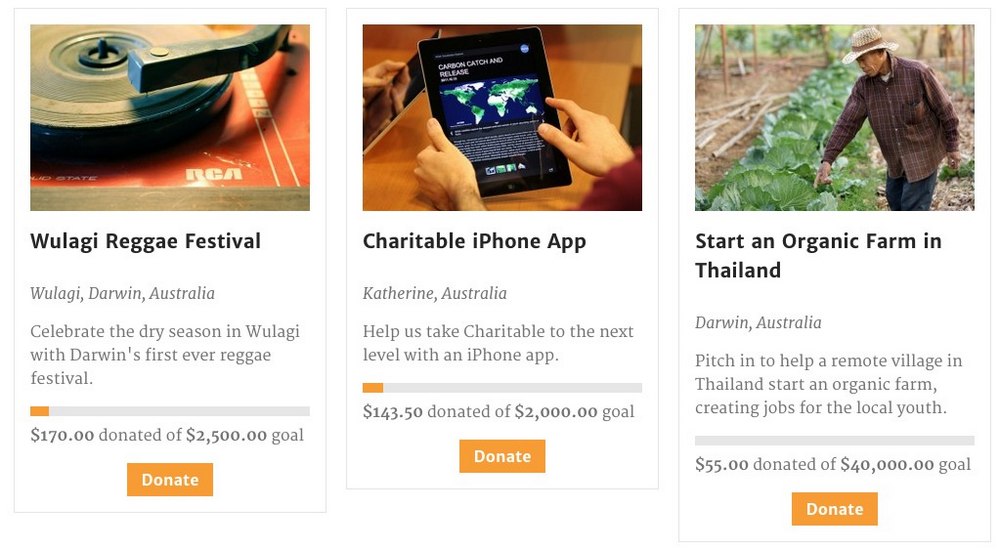 Create fundraising campaigns with goals
Integrates and adopts theme design
Embed donation forms anywhere on your website
Customize forms to your preference
Supported Payment Methods
Charitable plugin supports multiple payment methods including PayPal and the ability to accept donations via checks and bank transfer. With premium add-ons, you can add more payment gateways as well.
Pricing
Charitable is free to use. It also has a premium version with more advanced features starting at $129 per year.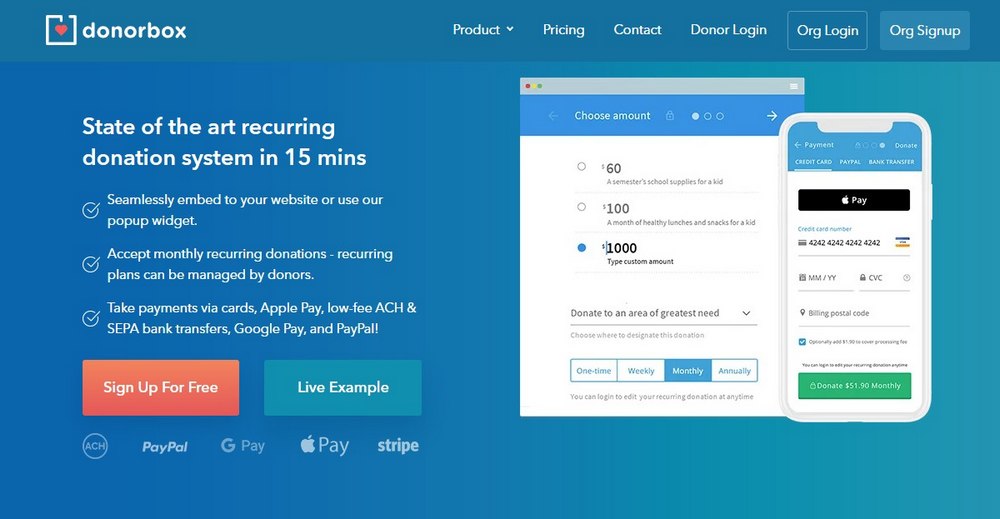 Donorbox is a powerful donations system that can be easily integrated into any type of website to accept donations, launch fundraising campaigns, and more.
The plugin also features many unique features that make it quite useful, like pop-up forms for accepting donations, monthly recurring donations, and multiple payment methods.
Main Features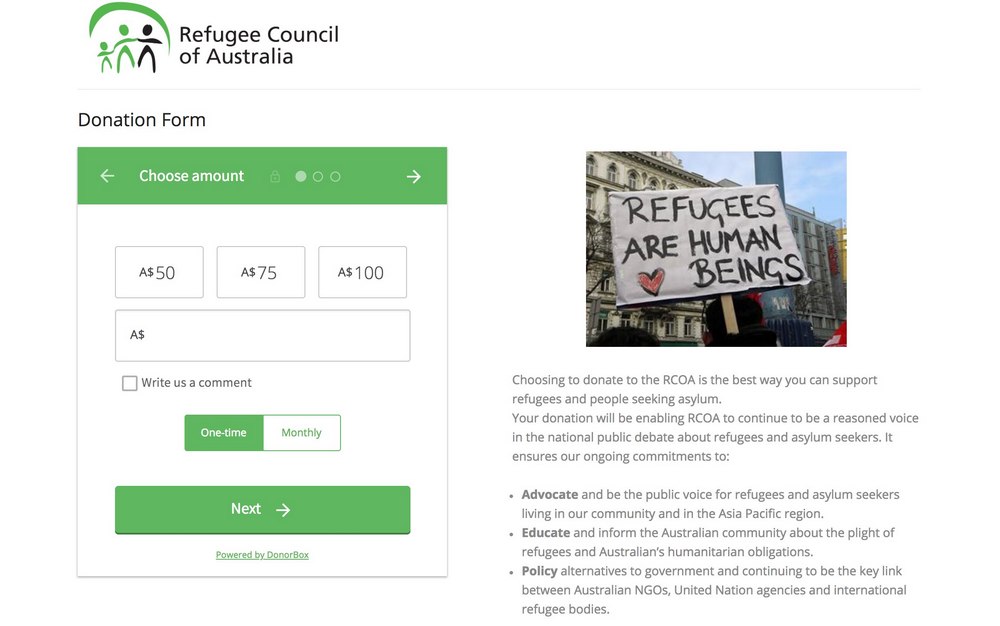 Easy to setup and customize
Supports 20 different currencies
Create popup donations forms
Create fundraising campaigns with pre-defined goals
Supported Payment Methods
Donorbox is compatible with PayPal, Apple Pay, Google Play, Stripe, and ACH bank transfers.
Pricing
If your website only generates less than $1000 in donations per month, you can use the plugin for free. If it's higher than $1k, you'll have to pay 1.5% platform fee. In addition, the plugin also charges a processing fee of 2.2% + 30¢ for PayPal and 2.9% + 30¢ for Stripe.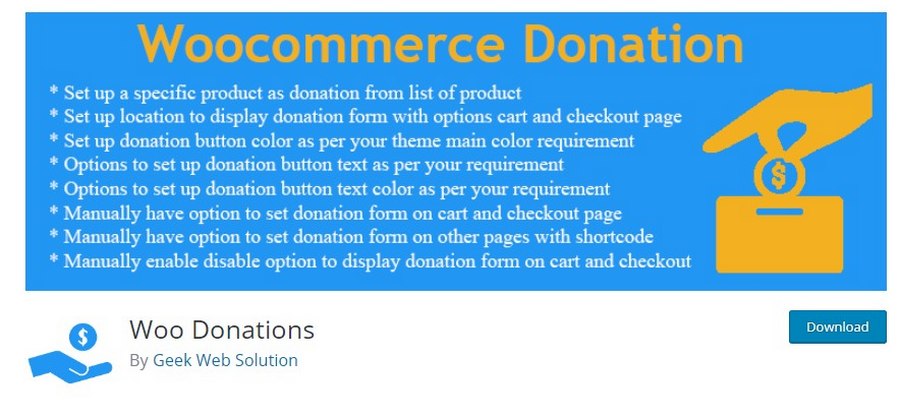 Woo Donations is a different type of donation plugin. This plugin allows you to add a donate option to your WooCommerce store checkout page to ask customers for an additional donation to help keep your store up and running.
The plugin can be used in many ways. Like to raise funds for a charity through your online store or to help people in need. A donations option will also help if you have a niche or handmade products store.
Main Features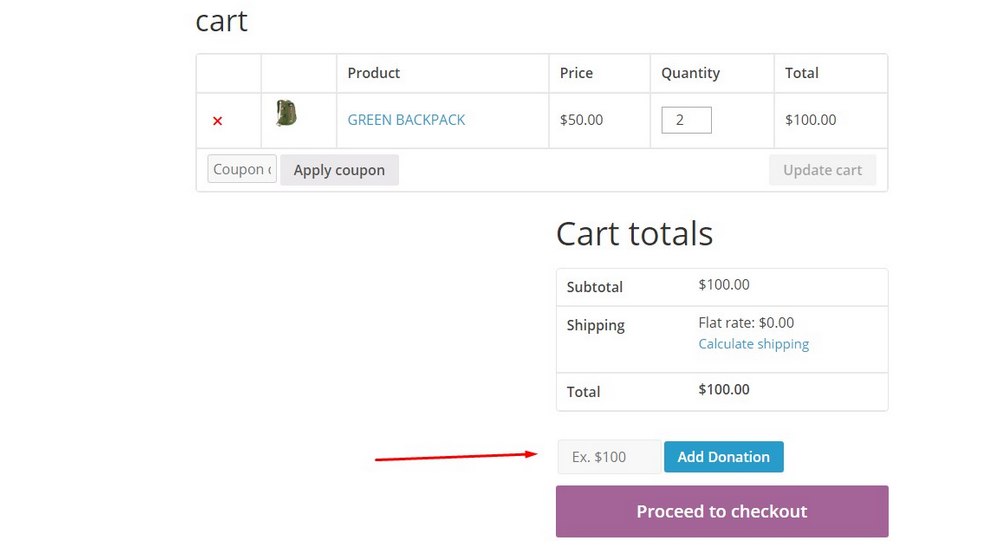 Add a donate button to WooCommerce checkout page
Choose specific products for donations
Customize the donate button
Embed the donate form on other pages using shortcode
Supported Payment Methods
Since this plugin integrates with WooCommerce, it's compatible with any payment processor you use with WooCommerce. Including PayPal.
Pricing
Woo Donations is completely free to use.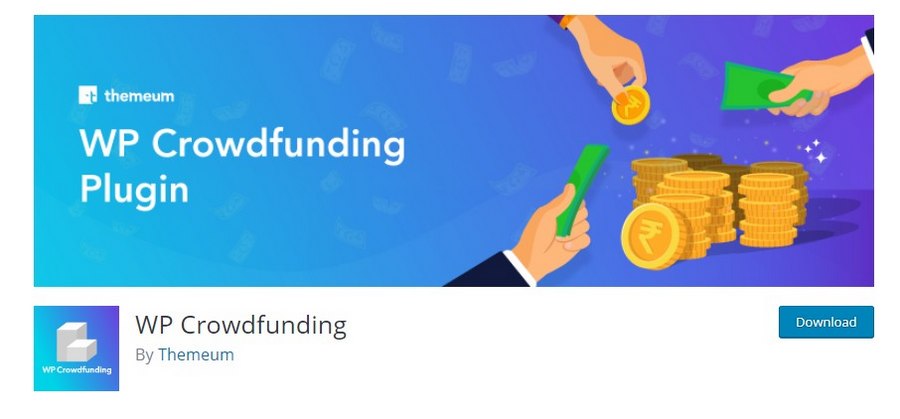 WP Crowdfunding is a great free WordPress plugin you can use to create effective crowdfunding campaigns to raise donations for various causes.
Using this plugin you can easily create crowdfunding campaigns for charities as well as for crowdfunding for other projects. The campaign forms can be easily embedded on your pages as well as the sidebar.
Main Features

Easily create and customize crowdfunding campaigns
Add start and end dates with goals
Beginner-friendly dashboard
Customize the design of campaigns
Supported Payment Methods
WP Crowdfunding payments gets powered by WooCommerce. You'll have access to PayPal payment processing via WooCommerce.
Pricing
In addition to the basic free version of the plugin, WP Crowdfunding is also available in premium plans starting at $149. The premium version includes advanced features like Stripe integration and a native wallet system.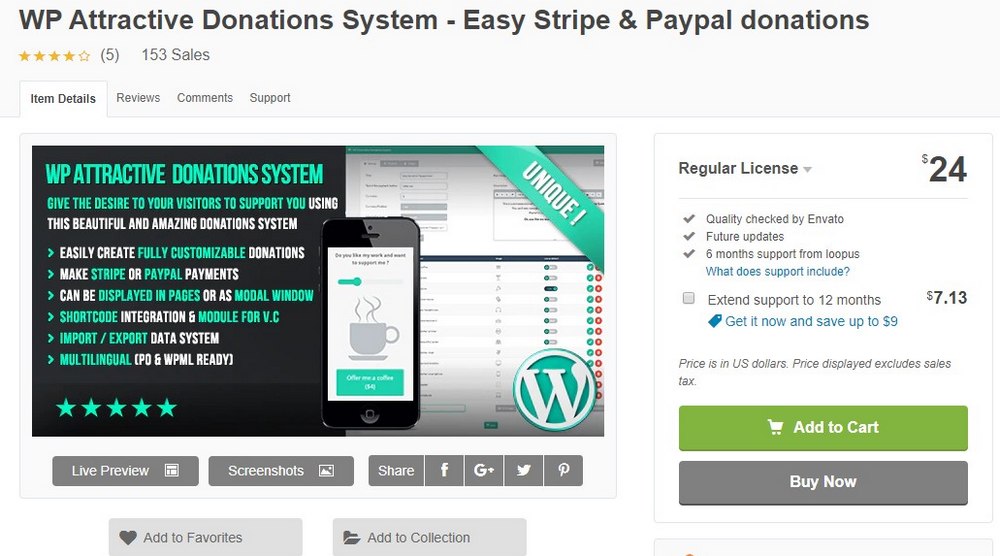 WP Attractive Donations is a premium plugin that allows you to accept donations more easily through your website. This plugin comes with all the tools you need to create more beautiful donation widgets.
When using this plugin, you also don't have to worry about yearly subscriptions or platform fees. You just pay a one-time price and receive all future updates for free.
Main Features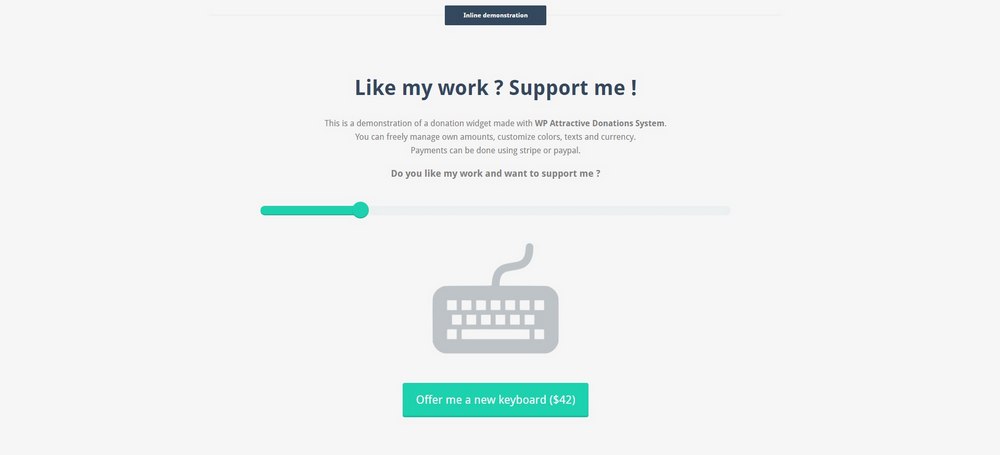 Beautiful and customizable donations forms
Ability to embed forms or use a modal window
Supports WPML for adding translations
Free updates and customer support
Supported Payment Methods
WP Attractive Donations plugin includes both PayPal and Stripe payment methods.
Pricing
The plugin costs a one-time price of $24. All future updates are free.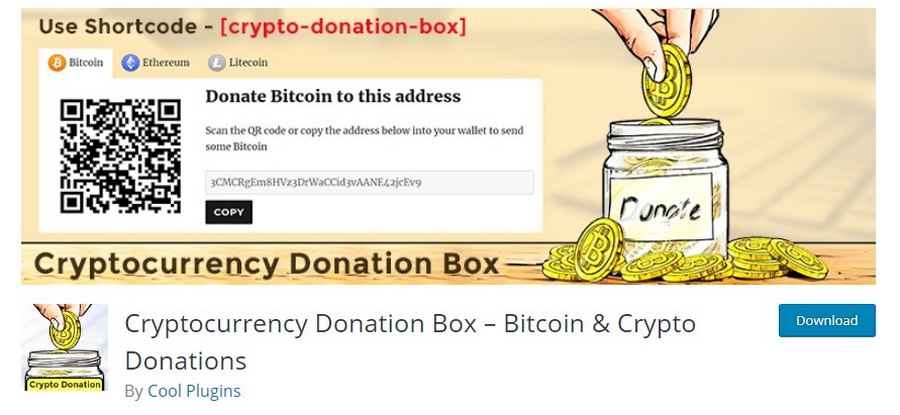 This plugin lets you accept donations of Bitcoin and other cryptocurrencies. It's perfect for allowing your donors to make anonymous donations without and for protecting their privacy.
Main Features

Easily setup donations with cryptocurrencies
Embed donation form inside posts or on the sidebar
Fully responsive and mobile-friendly design
Supports multiple cryptocurrencies
Supported Payment Methods
The plugin is compatible with 20 different cryptocurrencies including BitCoin, LiteCoin, Ethereum, and more.
Pricing
The plugin is free to use but has paid add-ons for adding advanced features.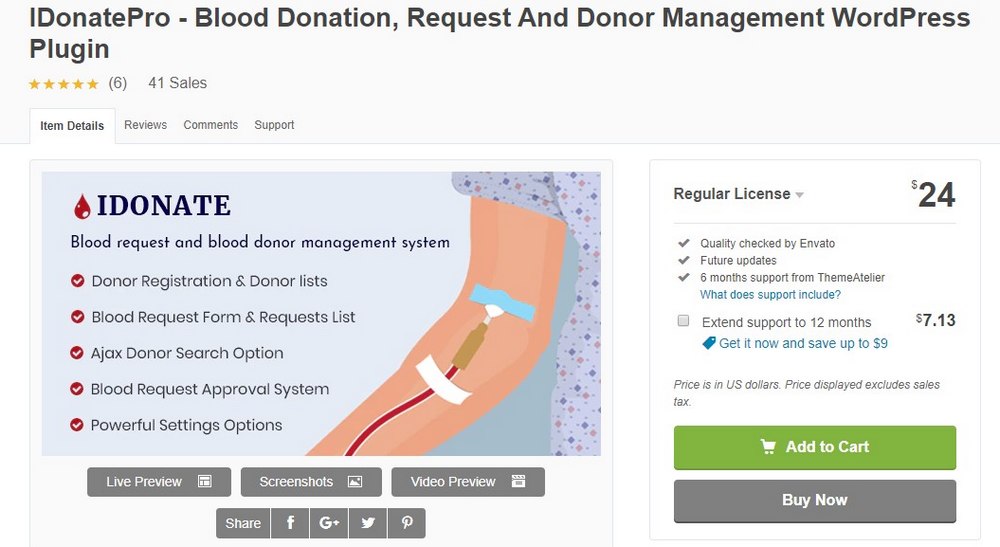 IDonatePro is a different type of donation plugin. Instead of accepting monetary donations, this plugin allows you to accept and manage blood donors. Making it a great option for setting up blood donation systems on hospital and other medical websites.
Main Features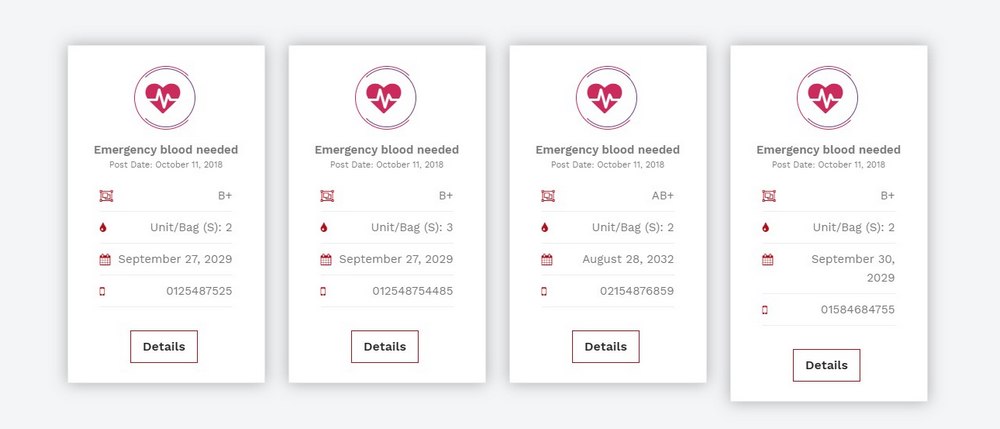 Accept and manage blood donor registrations
Easily design and embed donation forms
Manage donor requests with approval system
Customize forms and add translations
Supported Payment Methods
This plugin does not support any monetary payment methods.
Pricing
The plugin costs a one-time price of $24.
Which Donation Plugin Should You Use?
With so many choices, you may feel the need to try all these plugins. We recommend that you start with GiveWP plugin. It's the best free plugin with a great set of features. It integrates with any WordPress website quite smoothly. And has the best overall functionality.
In addition, PayPal Donation plugin is great for adding a donation system to a simple blog, magazine, and other websites for creatives and professionals.
Be sure to check out our list of the best event WordPress themes if you plan on making a special website for a charitable event.