9 Best Photo Editing Apps for Mac in 2023 (Free & Paid)
Whether you're a professional photographer or just need to occasionally crop or add some text to an image, it's important to choose the best photo editing apps for your mac.
Good image editing software will make it quick and easy for you to adjust the look of your photos and create simple graphics for your website and social media.
For simple photo editing, there are plenty of free apps to choose from. If you're really into your photography or graphic design, you might want to pay for more professional software to access premium features.
Either way, we've rounded up some of the best photo editing apps for Mac in 2023 to help you choose.
1. Apple Photos & Preview (Best Free Apps for Quick Edits and Photo Management)
We'll start with the easiest and most obvious tool, as it's free and comes pre-installed with MacOS.
Photos is more of an image management tool, but you can use it to make simple edits to your photos (including RAW files) such as resizing, cropping, rotating, adjusting colors and contrast, and applying pre-set filters.
You can also use the one-click enhancer to automatically adjust and improve your photos.
All users get access to 5GB of free cloud storage and you can upgrade for more for a small monthly fee. The app will also sync across multiple devices. This makes Photos a useful tool for backup as well as editing.
Apart from the Photos app, another useful free app that comes pre-installed on Macs is Preview.
The editing function of Preview isn't too obvious so many users don't know it's there. But it's a very handy way to make quick changes to your photos such as resizing, adjusting colors, and adding text and simple shapes.
Price: Free
More info:
2. Adobe Photoshop & Lightroom (Best Pro Image Editing Tools for Photographers)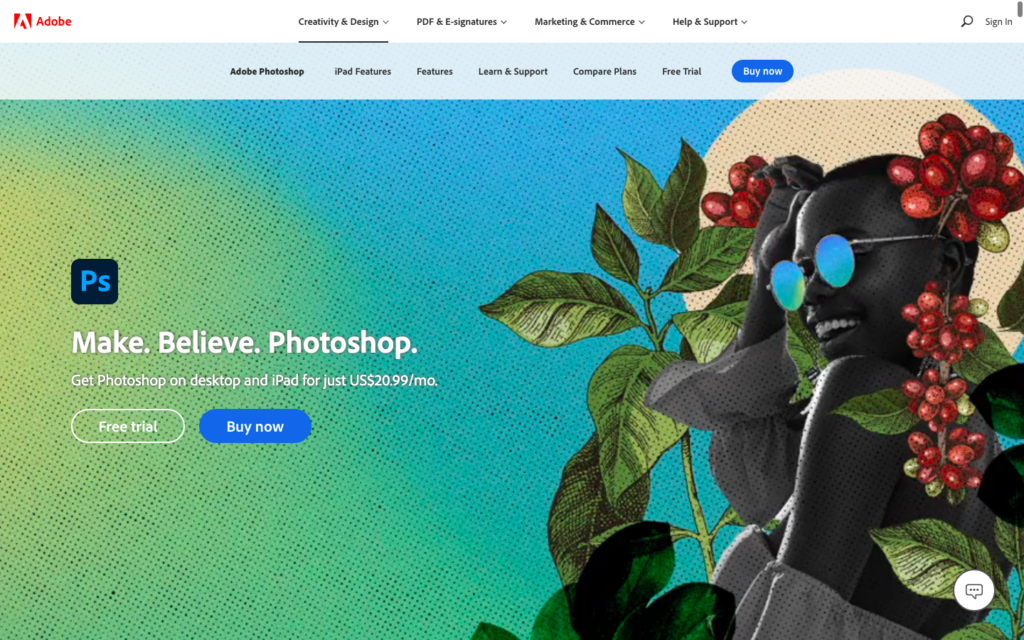 We've bundled these tools together because they're now available together under a monthly subscription plan. Although you can pay for them separately, it's not any cheaper.
Photoshop has been the undisputed king of photo editing apps since the '90s, and no professional digital artist or designer would be without it.
Whatever you want to do with your images or whatever kind of graphic you want to create, you can do it with Photoshop.
In fact, this app is so powerful and well known that "Photoshop" has become a verb. We no longer talk about "editing" photos to remove a blemish from a selfie or replace a dull background with a more appealing one. Instead we "Photoshop" them.
However, the tool is not without its downsides. The software is resource-intensive and can run slowly on older macs or those that don't have a lot of memory. Opening up Photoshop is overkill if you just want to make a quick edit.
It's also not exactly the cheapest option but for many people who are serious about image manipulation, it's the only choice.
While Photoshop is the ultimate app for image manipulation, most photographers prefer working in Lightroom for more subtle edits. It's not the tool for advanced photo retouching down to the pixel, but it's perfect for adjusting the overall color balance, tone, and contrast of your images.
In Lightroom, you can record a series of edits, called a preset, and batch-apply this preset to several images to speed up your workflow.
This app is also one of the best choices for organizing your photos, and if you're using the Cloud based version it's a useful tool for backup too.
Pricing
Adobe moved from a traditional software model a few years back and Photoshop is now only available as a "Creative Cloud" subscription. You can still use Lightroom as the "Classic" non-cloud version but need to pay a monthly subscription to access it regardless.
A Creative Cloud subscription starts from $9.99 a month, which includes Photoshop for desktop and iPad, the cloud and Classic versions of Lightroom, and 20GB of cloud storage.
For Lightroom only, you can opt for a plan that includes 1TB of cloud storage for $9.99 a month.
There's also a Photoshop-only subscription for $20.99 a month, which includes 100GB of cloud storage and a drawing and painting app called Adobe Fresco.
For those who like Photoshop but don't need the full suite of editing tools, Photoshop Elements is an alternative to consider. This software costs $99.99 as a one-off payment with no monthly subscription needed.
More info and download:
3. Affinity Photo (Best Budget Alternative to Photoshop)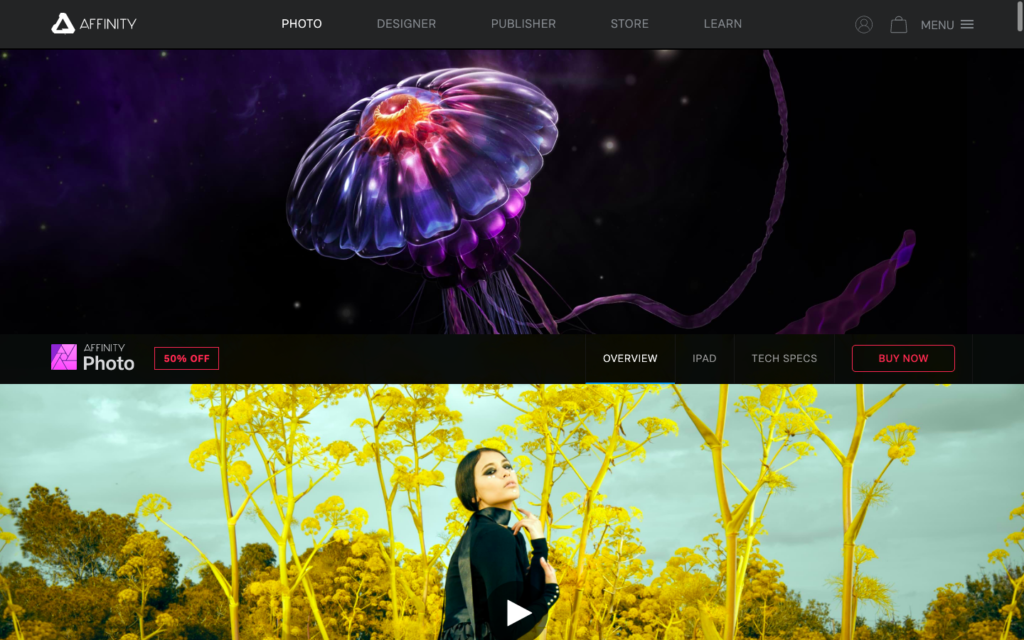 Affinity Photo is a great budget alternative to Photoshop and has become more popular since Adobe changed to a subscription-only pricing model.
As well as all the editing features you'd expect, Affinity includes professional tools such as HDR merge, panorama stitch, and 360-degree image editing. You can also edit PSD files with full layer integrity, plugin support, and smart object import.
Affinity Photo is a cross-platform application that has full file format compatibility so you can work across multiple devices including Mac, Windows, and iPad.
Like Photoshop, there's a learning curve to making full use of the app and it may be too advanced for those just wanting to do basic edits. But for anyone looking for a cheaper alternative for working with existing PSD files, it's an excellent choice.
Pricing: $24.99 for the Mac version. The iPad app is an additional $9.99.
4. GIMP (Free Alternative to Photoshop)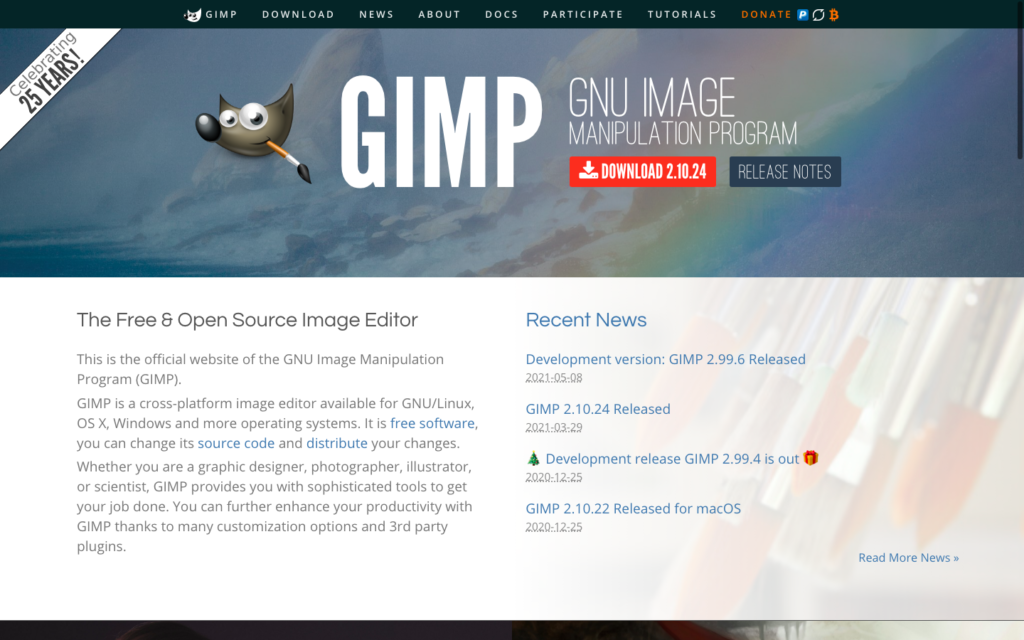 GIMP is often described as the open-source version of Photoshop, and its suite of advanced editing tools is certainly more than what you'd expect from free software.
As it's open-source, there are also a lot of third-party plugins available to extend its functionality and provide filters and tools for speeding up your workflow.
However, while GIMP may be powerful, it's not the most user-friendly app on this list. There are also very few tutorials (official and user-created) compared to other software.
This app also has its own scripting language that you can use to automatically run a series of edits on a batch of photos, much like Lightroom actions. But the process of setting this up is pretty intimidating if you don't have any coding experience.
GIMP is definitely a tool for the technically inclined. If you don't mind spending the time to learn and the unappealing user interface, you can do a lot with it. But it's not as advanced as Photoshop and lacks a mobile version for on-the-go edits.
Pricing: Free
5. Pixelmator (Good Budget All-Rounder)
Pixelmator is a very popular and easy-to-use image editing app for Mac that's also very affordable.
This app comes in two versions: Classic and Pro. Classic is still available and includes all the tools you'd expect from an image editor including making selections, adjusting colors, retouching, adding effects, and adding your own text, vector shapes, and freehand painting. This version is no longer being actively developed.
The Pixelmator team is now concentrating on the Pro tool, which includes additional and enhanced features such as non-destructive workflow, a new painting engine with dual-texture brushes and advanced blending, and enhancements for fast performance.
Pricing: Pixelmator Classic is currently available for $4.99, while Pixelmator Pro is normally $39.99 but is on sale for $19.99 at the time of writing
6. Luminar (Best AI Tool for One-click Image Enhancement)
Luminar is an AI-powered editing tool that can help to improve your photography by making automatic tweaks guided by its internal algorithms. This means that it's very easy for beginners to use to improve their photos without needing to learn how to make advanced photo edits.
You can also use Luminar to carry out more sophisticated changes such as replacing the sky in landscapes and adding effects like sunrays and digital fog, and perfecting skin and features in portrait photography.
Luminar is a great choice for anyone who wants to make their photos look more impressive at the click of a button. But while it has all the basic editing options, it's probably not the best choice if you dislike auto-edits and filters and prefer to have more fine control over edits.
Side note: The popular free AI-powered photo-editing app Photolemur is no longer available and is now part of Luminar AI.
Pricing: From $73.70 for a single computer license for Luminar 4. Luminar AI costs an additional $108.90, which includes a license for two computers.
7. Fotor (Free Basic Editor with Upgrade Option)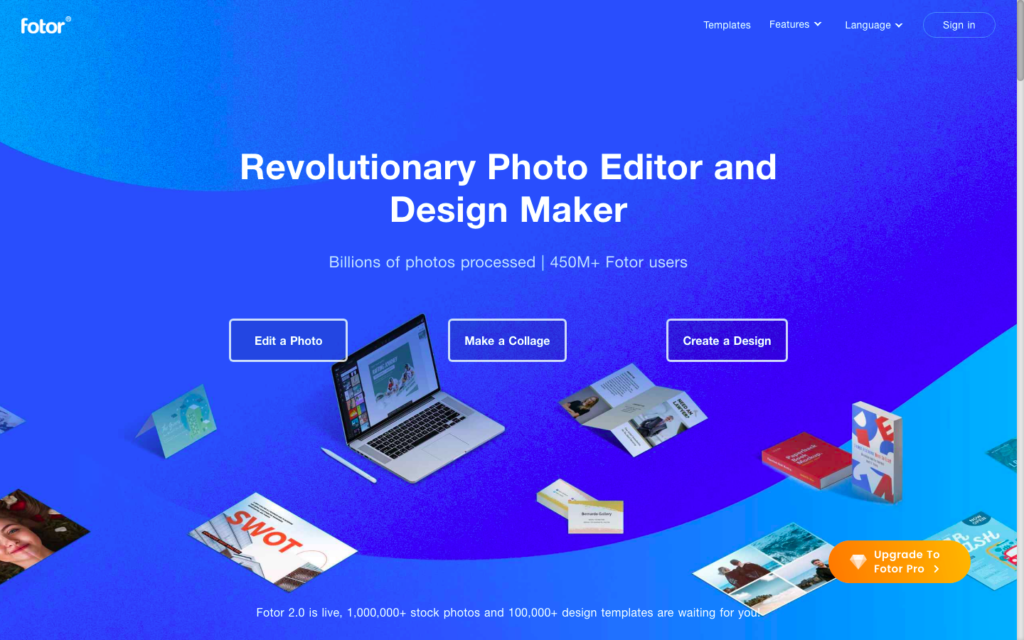 If you're looking for a free photo-editing app with basic functionality, you might want to give Fotor a try. This app is the perfect antidote to complicated software with dozens of options. You can also install it on multiple devices.
Fotor includes all the basic photo editing tools you need to adjust the color, contrast, sharpness, and saturation of your images. You can also apply photo effect filters in a single click and use the portrait retouching tools to enhance your pictures of people.
There's also a suite of design tools so you can easily add borders, stickers, and text to create photo collages, graphics, posters, flyers, and more. The app includes thousands of pre-designed templates that you can edit as needed.
Pricing: Fotor Basic is free to download and use. Fotor Pro is also available from $8.99 a month. This version includes advanced editing tools and more photo effects, layouts, and templates.
8. PhotoScape X (Simple Free Image Editor & GIF Creator)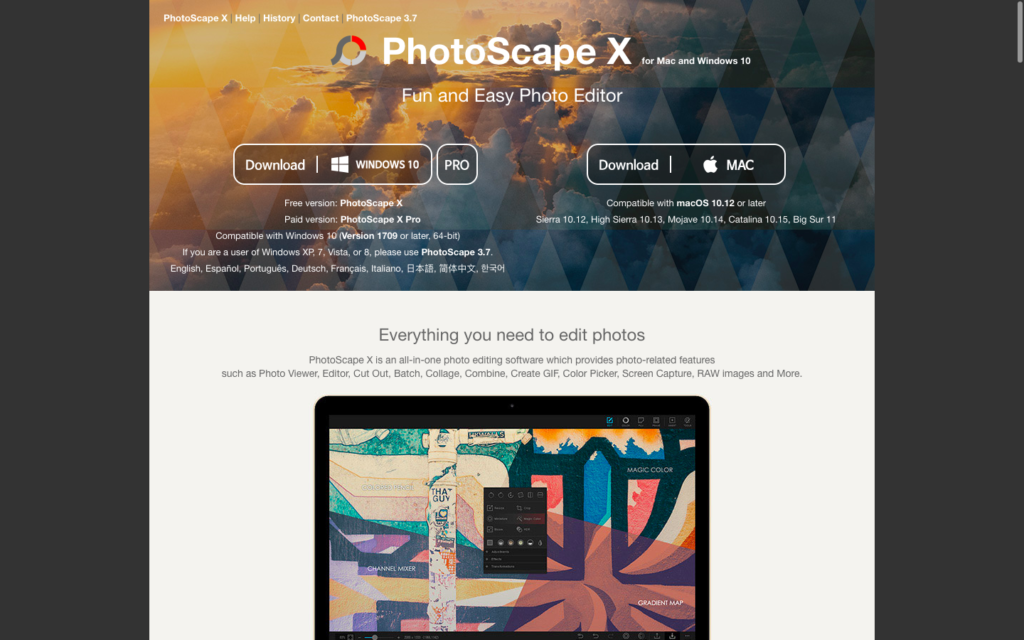 PhotoScape X is another free image editing tool that makes it easy for you to adjust and enhance your photos.
The software comes with a number of filters and photo effects to create artistic looks with your photography. There are also hundreds of frames and patterns to create graphics, and a collage and cut out tool.
You can edit your RAW images with this app, and it also includes a handy GIF creator.
Price: Free
9. Movavi Picverse (Best for Photo Restoration)
Movavi Picverse Photo Editor is an easy-to-use image editing app. It's designed to meet the needs of beginners and professional photographers alike.
Its AI-powered tools make it quick and easy to enhance your photos, remove or replace image backgrounds, remove objects from images, and restore scratches, stains, and noise from scans of old photos.
You can apply one of hundreds of filters to change the look and effect of your photos instantly.
There's also a suite of advanced photo retouching tools for improving portraits including removing blemishes, applying makeup, and enhancing smiles.
Pricing: $59.95
What is the Best Photo Editing App for Mac?
So, how to decide on the best photo editing software for you? You must first consider how much you're willing to pay for it.
The free Photos tool that comes pre-installed on your Mac will do just fine for basic edits, or you can use a free app like PhotoScapeX or Fotor for more filters and options.
When you want to get into serious photo manipulations, you'll need a tool that has a more advanced suite of editing tools.
If you have a spare $10 a month, check out the Photoshop/Lightroom combo. There's no doubt this will help your images look amazing. If you're making money from your photography, it's worth the investment.
For those on a more modest budget, try Affinity Photo or Pixelmator Pro. They're both impressively powerful for a very low one-off cost.
Artificial intelligence technology has made it possible to instantly improve your photos in a single click. You can also achieve tasks such as removing unwanted objects or people from your photos in a fraction of the time it would take you to do manually. If you want an AI-powered image editing app, take a look at Luminar or Movavi Picverse.
Do you take a lot of photos on your phone and post them directly to social media? Or prefer working on the go from your iPad? If so, it makes sense to choose an app that has cross-platform support. Photoshop, Affinity Photos, and Pixelmator all include cloud syncing tools. This means you can access your images and edit on mobile devices.
You might also want to take a look at our list of web-based photo editing tools. You can use these services to make quick edits on most devices.