8 Best Web-Based Photo Editors For Online Marketers
Social media takes a big role in marketing campaigns. If you take a closer look at some of the most successful brands on social networks, like Airbnb, LEGO, and Starbucks, you'll notice that they all publish unique posts according to a precise schedule, instead of randomly re-sharing memes and Reddit posts.
All these brands have their own unique content marketing strategies for creating original content to help keep their followers entertained and growing.
Of course, the big brands have big marketing budgets and they can easily afford people to constantly create original content just for their Facebook pages. It's entirely a different story when you have to manage your blog or brand's social media pages all by yourself.
Creating original and branded images, graphics, charts, and quotes to publish on your social media channels every day can be a time consuming and an exhausting task.
This is why we wanted to introduce you to some of the lesser known tools you can use to easily craft amazing quote pictures for your Facebook page, create infographics for your Pinterest page, create charts for your Twitter page, and do a whole lot more.
The best part is you don't even have to buy, download, or install any of these tools. They work right on your browser. Have a look.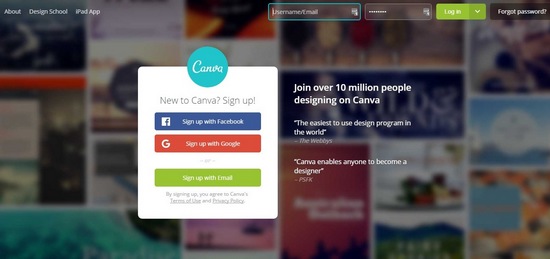 Price: Free.
Best For: Creating social media and blog graphics.
Templates: Available.
Canva is a powerful web-based image editing tool used by over 10 million people around the world. You can use this tool to crop, resize your photos, add text, and do a lot more, but Canva is mostly popular among online marketers for its ability to create modern social media graphics.
Canva comes with dozens of unique templates that allows you to instantly create stunning graphics in different sizes for different social media pages, like for Facebook, Twitter, Instagram, and more. Then it lets you directly share your image to your social media channel or download the image for sharing later.
Canva also has many other templates for creating blog post headers, book covers, presentations, infographics, and much more.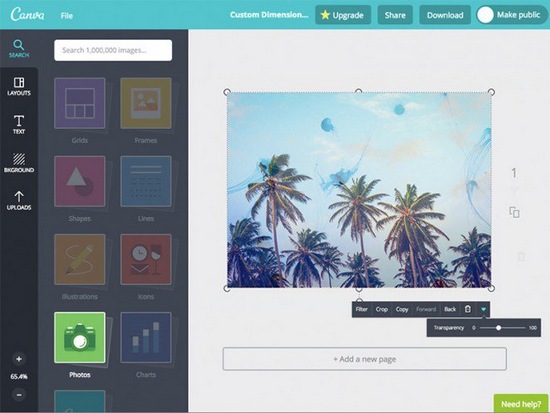 The sleek editor on Canva also makes it so much easier to edit your graphics instantly with just a few clicks. Then you can change the font of your text, add effects, change transparency, and change colors.
Canva also lets you access a library full of free stock photos, which means you don't have to go to a separate site to download photos and upload them again to Canva to create beautiful images. Everything's available right inside Canva.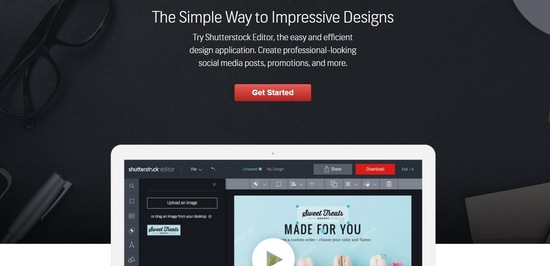 Price: Free.
Best For: Creating social media graphics.
Templates: Available.
Shutterstock is best known for its massive database of premium stock images. They are also known for the expensive price tag they put on their membership plans. So, it's a bit of a surprise that they give their free users a chance to access this high-quality image editing tool.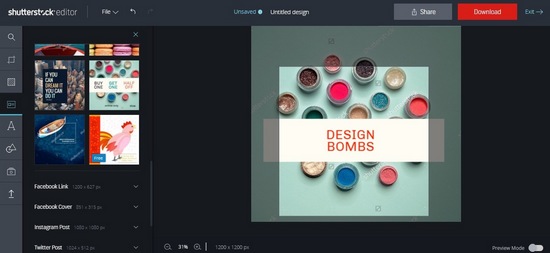 Shutterstock Editor is a web-based image editing tool you can use to create graphics and images for your social media pages as well as create banners and profile covers. The editor is fairly easy to use and lets you use a number of beautiful templates for creating social media graphics. Shutterstock Editor allows you to download images in different formats and in high-resolution without watermarks.
You can create a free Shutterstock account to access and use the Shutterstock Editor. However, you won't be able to use any of the images or backgrounds in the Shutterstock database without a premium plan. You'll have to upload your own images instead. Given the tool's useful features, it'll be worth the effort.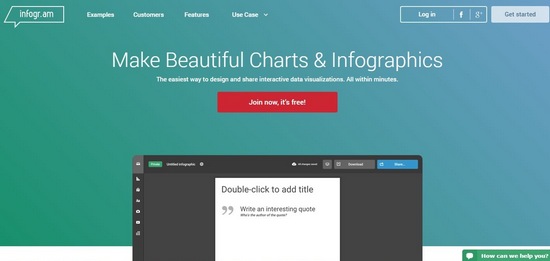 Price: Free.
Best For: Creating infographics and charts.
Templates: Available.
Infographics are great for boosting not only your social media engagement rates but also for getting free backlinks and traffic for your website. According to HubSpot, "Infographics are "liked" and shared on social media 3X more than other any other type of content."
You don't need to spend hundreds of dollars on designers to create an effective infographic, there are free tools to get that job done. Infogram is a popular tool used by marketers for designing beautiful infographics, charts, and maps.
The platform provides you with 20 ready-made designs for infographics, 35 chart designs, and 500 map designs for customizing and creating your own graphics.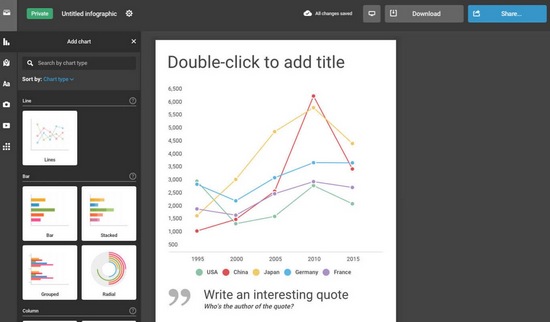 The incredibly versatile editor included in Infogram lets you easily customize your infographics and even import data from .xls, CSV files and from Dropbox and Google Analytics for designing statistics charts and graphics.
It costs around $500 at a minimum to hire a designer to create a basic infographic. With Infogram, you can create one yourself, for free.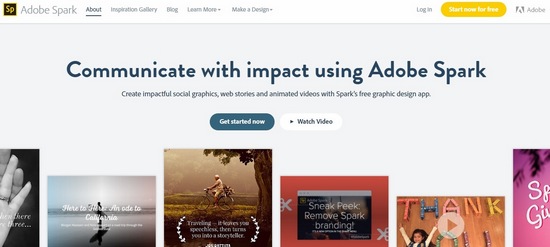 Price: Free.
Best For: Creating social media graphics.
Templates: Available.
Created by the team that brought you Photoshop, Adobe Spark is a platform for creating social media graphics for your Facebook, Twitter, and Instagram pages.
What separate Spark from other web based photo editors is that this tool also lets you create animated videos using a set of photos, a soundtrack, and even including your voice. And it also has a feature that lets you create magazine-style web stories for delighting your followers.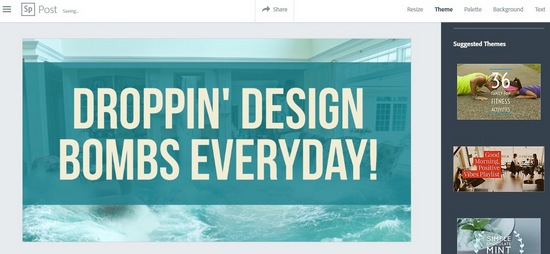 Spark also feature a number of stunning and modern templates for crafting different types of social media graphics. After customizing those templates and designing your graphics, you can share them directly to your social media channels. However, Spark will leave a watermark on your designed graphics when downloading the images.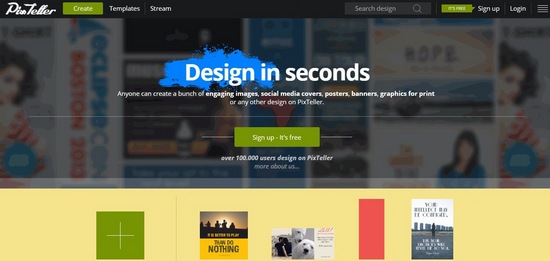 Price: Free.
Best For: Creating social media graphics.
Templates: Available.
PixTeller is yet another online image editing tool with over 100,000 users. According to the website, PixTeller can "design in seconds". That may be true if you're not putting any thought into your designs. Let's face it, it takes more than a few seconds to design a great looking graphic.
All kidding aside, PixTeller is a great tool for creating original content for your social media channels. Similar to Canva, this tool also includes lots of templates with different designs, which you can use to instantly create great-looking graphics to get more likes and followers.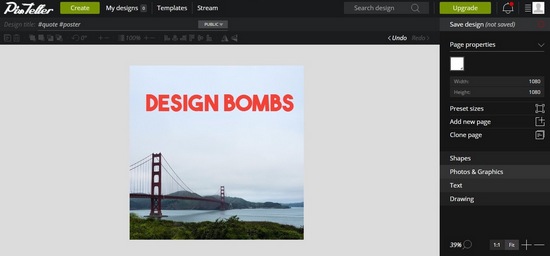 Using PixTeller, you can create everything from social media posts to profile headers, covers, printable images, and more. The only downside is that PixTeller leaves a small watermark on your images when using its free plan. You'll have to upgrade to a pro plan to get rid of that watermark and get full access to the exclusive templates.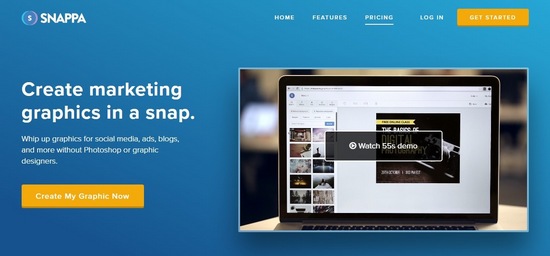 Price: Free.
Best For: Creating social media and blog graphics.
Templates: Available.
Snappa is quite similar to Canva, but comes with limited features. Snappa has its own database full of free stock images. Which means, as a bonus, you'll get access to over 30,000 stock photos for free when using Snappa.
You can use Snappa to create social media graphics, banners, ads and lots more using its collection of beautiful templates. Once you're done designing your posts, you can then schedule your posts to be published later by connecting Snappa with your Buffer account.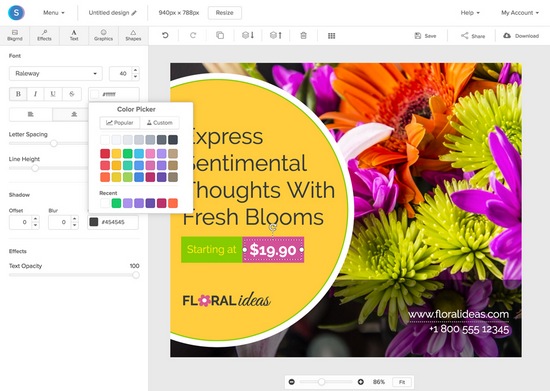 The Snappa image editor is fairly easy to use, but it's limited in customizable options. Another major downside to using this platform is that the free account only gives you 5 downloads per month. The Pro plan, which costs $15 a month, offers unlimited downloads and full access to all of its templates.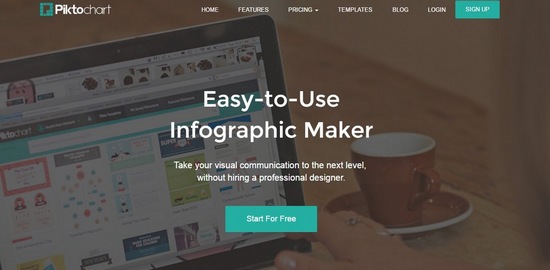 Price: Free.
Best For: Creating infographics and charts.
Templates: Available.
Picktochart is a tool made for creating infographics. Just like Infogram, Picktochart also lets you easily create infographics and charts using over 600 different templates available on the platform. Not only that, Picktochart even allows you to download your infographics in original size for free. But, with Picktochart watermark.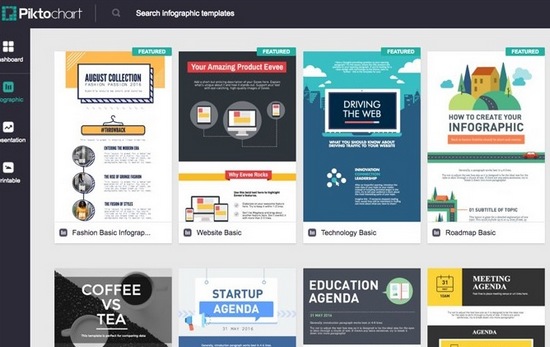 Picktochart has a powerful editor, which can be used to create infographics, presentations, tables, charts, reports, and much more. You can also easily access a library of stock photos, graphics, and icons directly from the Picktochart editor.
In order to remove the Picktochart watermark and download your infographics in print or standard quality sizes, you'll have to go Pro and pay $29 per month.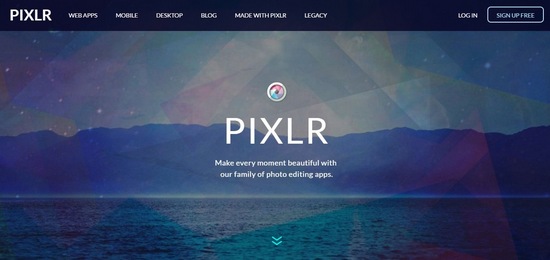 Price: Free.
Best For: Editing images.
Templates: Not Available.
Some consider Pixlr to be a Photoshop alternative. This tool is actually just as powerful as Photoshop. Pixlr has everything you need for editing and doing basic adjustments to your photos. The app was developed by Autodesk, the same folks who brought you software such as AutoCAD and Maya.
When you're using a public computer or doing a quick retouch before uploading your photos to Facebook or Twitter, Pixlr can be a great tool to get those easy jobs done without having to download any apps.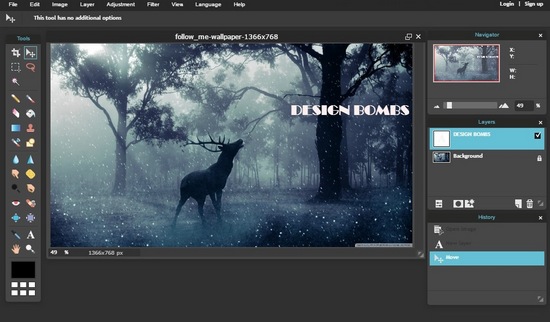 Pixlr works entirely on your browser and performs smoother than any other web-based photo editing tool. You can add filters, edit photos, change backgrounds, resize, and even save your photos as layered files for editing later.
However, don't expect this to be a Photoshop replacement. You can do a lot of great work with Pixlr, but the tool has its limits. It's best for doing basic photo editing work, not for advanced graphic designing.
Pixlr has a desktop app for Mac and PC if you need to access the photo editor offline. And also has Android and iOS apps as well.
Conclusion
To use Photoshop, you have to buy an Adobe Creative Cloud subscription and pay $9.99 per month. Why spend that much money when you can easily edit your photos online for free?
You don't need a massive marketing budget to beat your competitors on Facebook or Twitter, you just need the right tools. Now that you have them, go make a name for yourself out there.
Let us know if you know of any other great tools for editing photos online.