5 Best eCommerce Platforms Compared (2022) – Shopify vs WooCommerce vs Magento vs OpenCart vs BigCommerce 
Thinking about launching an online store? Choosing the right eCommerce platform from the get-go can set your store up for success, so you've got a big decision to make!
In this guide, we want to make that decision an easy one. By the time you finish reading this comparison of the 5 best eCommerce platforms, you should have a clear idea of which platform will best suit your particular needs.
Each of the platforms we'll look at below offers a different range of features, options for store designs, and price points. Read on to learn about the leading eCommerce platforms available along with an in-depth analysis of their:
Features,
Ease of use,
Store designs,
Customer support, and
Pricing.
📚 Table of Contents
TL;DR: And the winner is… 🏆
Shopify is the clear winner amongst the eCommerce platforms covered in this comparison guide.
It offers all the features you need out of the box to get started running an online shop—ease of use, stunning themes, 25,500+ apps—making it ideal for small-to-medium sized eCommerce businesses.
Shopify is suitable for any type of eCommerce shop, and with reasonable pricing starting at $29 per month, you don't have much to lose if you give Shopify a try!
Scroll down to read our full Shopify review below.
For recommendations on the best eCommerce platforms for different types of online businesses, check out our detailed round-up at the end.
How We Determined the Top 5 eCommerce Platforms
Choosing an eCommerce platform can be a minefield because there are so many available (and everyone seems to have an opinion on which one to use). One eCommerce review site spent several weeks scouring the web and counted 120+ platforms!
Maybe you've asked friends and colleagues what platforms they use, or you've posted on Facebook asking for advice. Whatever the case, in this guide we're going to focus on the top 5 eCommerce platforms, which we've determined are:
So how did we come with this list? We used BuiltWith.com, W3Techs and Google Trends to investigate the popularity, number of users, and longevity of the best platforms right now in the eCommerce space, using these metrics as indicators of reputation, quality, and community/developer backing.
If you work with WordPress, WooCommerce might seem like the obvious choice, and rightly so — WordPress is used by 34.6% of all websites. When you look at the most recent W3Techs data, WordPress has 61.4% CMS market share, which is way ahead of BigCommerce with just 0.4%.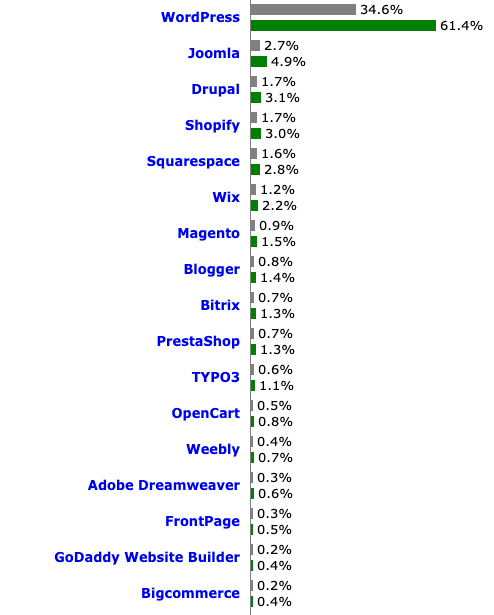 The problem here is that it's impossible to separate WordPress the CMS from WooCommerce the eCommerce platform, so the data is skewed.
Fortunately, BuiltWith.com data does show WooCommerce as a standalone eCommerce solution: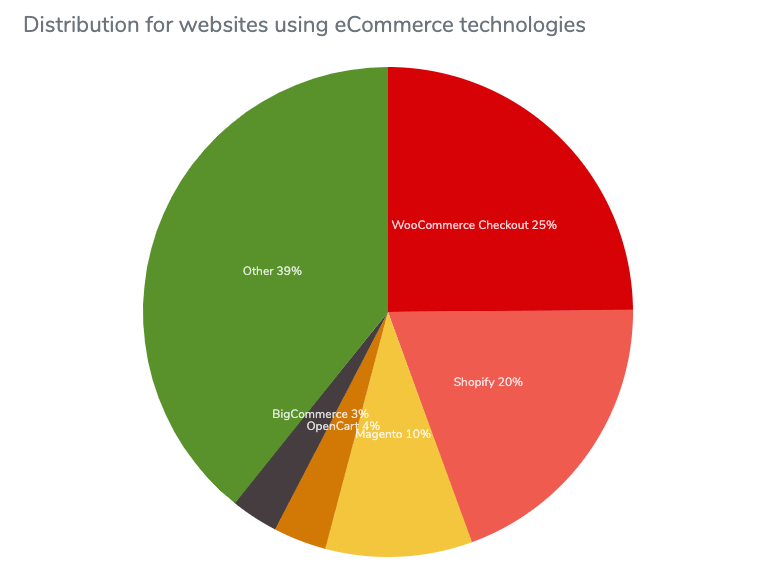 As you can see, WooCommerce is the most popular ecommerce platform but not by much — Shopify is close on 20%. Interestingly, while Squarespace and Wix are the fifth and sixth most popular CMS solutions, respectively, they don't crack the top 5 ecommerce platforms.
Looking purely at popularity, Shopify has gained enormous traction in recent years as Google Trends shows:

While Magento was the most popular eCommerce platform from 2007 to 2016, interest in Shopify has skyrocketed in recent years. WooCommerce is maintaining a stable interest, however, searches for OpenCart have dropped off and there's little interest in BigCommerce despite its status as the fifth most used eCommerce solution.
Going back to the BuiltWith data, here are the top 5 eCommerce platforms:

Comparing the Top 5 Ecommerce Platforms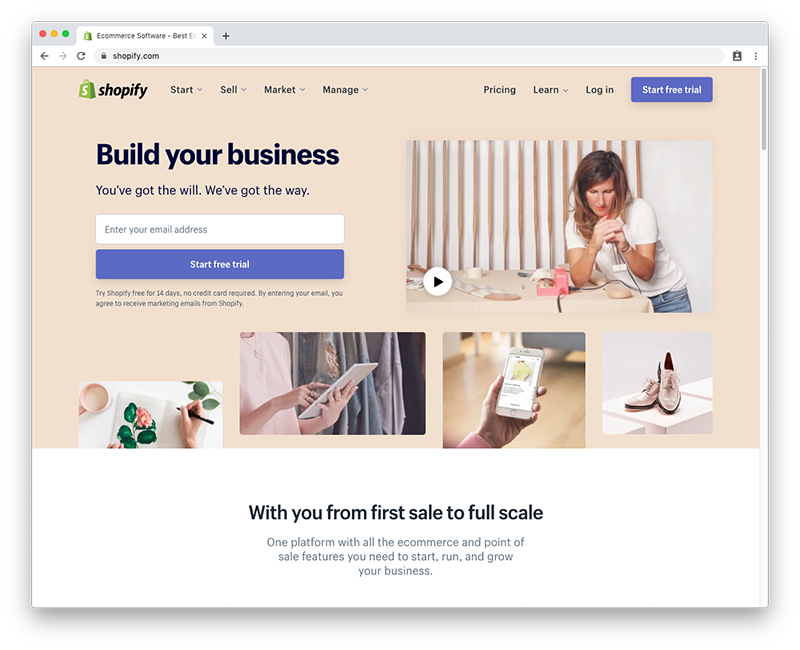 Shopify is a well-known name in eCommerce. The Canadian-based company started out as a project for three friends who wanted to launch an online store for snowboarding equipment. It now hosts more than 800,000 eCommerce businesses in approximately 175 countries, with total gross merchandise exceeding $41.1 billion in 2018.
Features
Shopify is marketed as a solution that's "with you from first sale to full scale," giving you all the eCommerce and point of sale features you need to start, run, and grow your business.
It provides all the features you would expect of a top-notch eCommerce platform:
User friendly interface for managing your store
Mobile commerce ready + mobile app for store/inventory management
Store management features, including dropshipping, refunds, email templates, and fulfillment centers
Inventory management
Unlimited products
Web hosting, including free SSL certificate and unlimited bandwidth
100 payment gateways
Marketing and SEO features, including social media integration, Google Adwords credits, product reviews, and gift cards
Analytics and Google Analytics integration
24/7 customer support
Abandoned checkout recovery
Noteworthy eCommerce features of Shopify include:
70+ professional free and premium themes you can customize to match your brand
Many of the eCommerce templates found in the Shopify Theme Store have been created by world-renowned designers including Pixel Union and Clean Themes.
Shopify App Store with 2,500+ apps
If you want to add more specialized features to Shopify, the App Store offers a collection of free and premium plugins that extend the functionality of your online shop.
Point of sale software for brick and mortar businesses
Shopify's POS system provides all the software and hardware you need to sell products online, in-person, or both.
Access to Shopify Experts
If you want a completely custom design for your online store, Shopify experts have experience designing beautiful, functional sites with Shopify. Shopify Experts is an online directory of eCommerce designers, developers, marketers, and other professionals.
Ease of Use
Shopify is really easy to use. Creating a new account only takes a few minutes and once you're logged into your account, the dashboard is clean, user friendly, and easy to navigate.
On the left, you'll see a menu listing the various parts of your store, including Orders (where you'll manage customer orders), Products (where you'll manage your store's products), Customers (where you'll manage customer profiles) among other features.
The wizard in the main area of the dashboard guides you through the three things you need to do to get your online shop up and running: add products, customize your theme, and add a domain.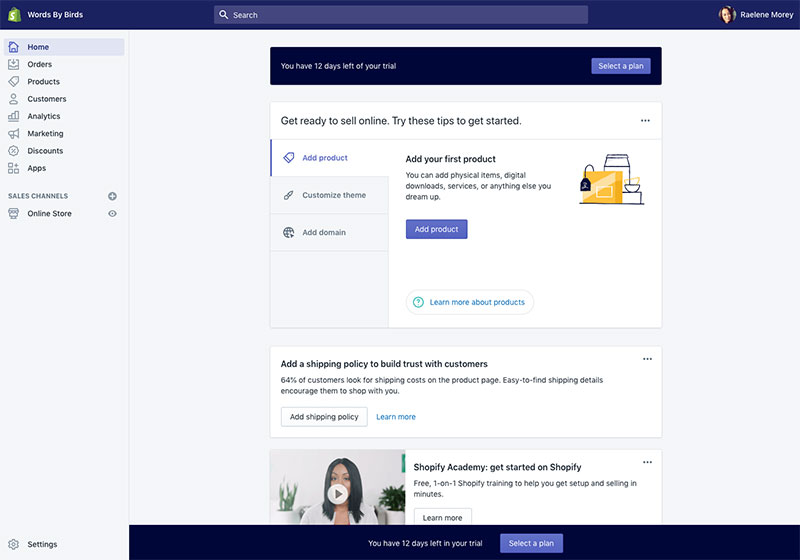 If you're migrating your store from another ecommerce solution, you'll be pleased to know that during setup you can import products from an existing shop.
What I like about the Shopify dashboard is that everything is clearly labeled, leaving no room for confusion.
Adding a product to your store is easy. Go to Products > Add Product where you can enter information about your product, including a title and description, images, pricing, and inventory and shipping rates and information. You can also enter SEO information so you can control how your item appears in search. A really important feature if you want to leverage organic search.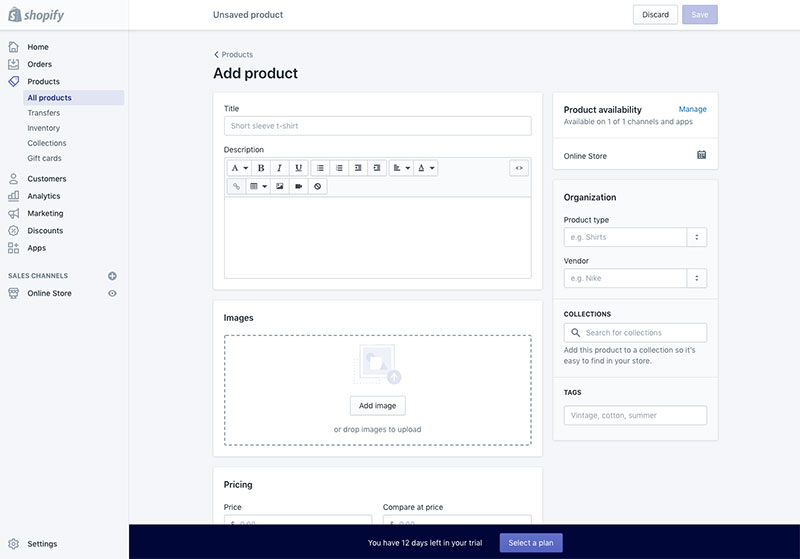 The interface for adding and editing customer data is similarly intuitive, with clearly labeled fields.
Shopify provides detailed analytics that let you track:
Total sales
Online store sessions
Returning customer rate
Online store conversion rate
Average order value
Total orders
While these types of metrics are fairly typical of eCommerce platforms, what's really useful is the stats for monitoring sales channels, including:
Sales by traffic source
Sales by social source
Sales attributed to marketing
Top landing/product pages by sessions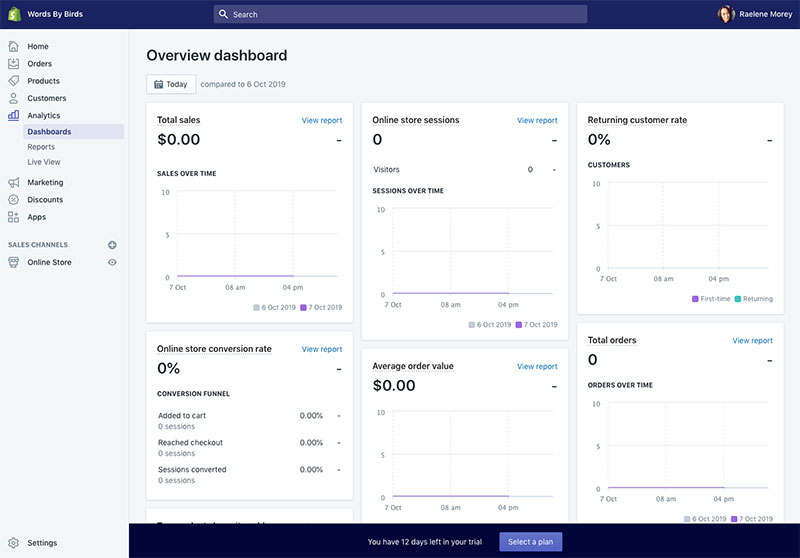 Overall, Shopify is easy to use, flexible, and powerful eCommerce platform that gives you everything you need to run an eCommerce store, whether you're a beginner or already running a large eCommerce website.
Store Designs
Shopify is hands down the best eCommerce platform out of the box for professional-looking online shop designs. It offers over 70 free and premium templates for all kinds of eCommerce sites, including clothing and fashion, jewelry, electronics, art and photography, and more.
What's more, many of the themes found in the Shopify Theme Store have been created by world-renowned designers.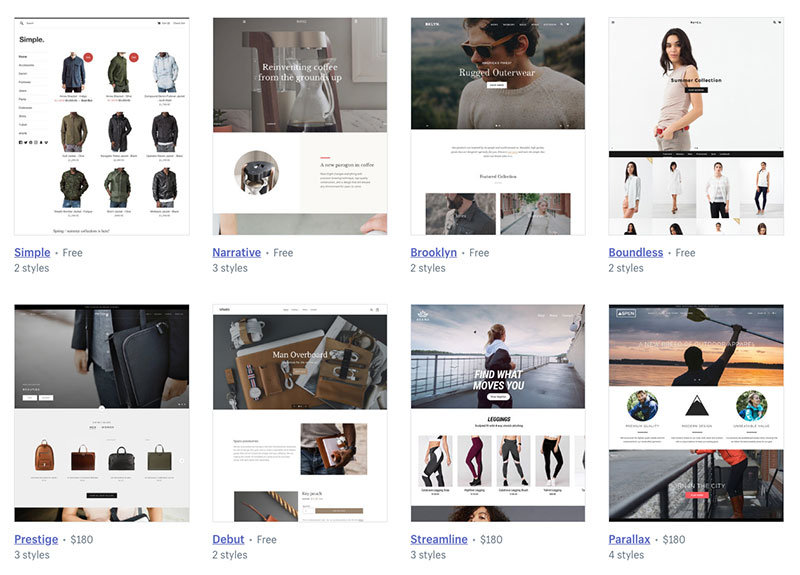 There is a variety of designs and styles, no matter what kind of store you run, from grid-style layouts to minimalist, fun and lively, big imagery, and small inventory themes.
For those wanting to create a custom design, there's a theme editor for creating designs from scratch and customizing existing themes. There are also drag-and-drop website builder extensions available in the Shopify App Store.
Customer Support
Shopify provides 24/7 support via email, live chat, and phone.
If you'd prefer to find answers yourself, the Shopify Help Center provides a knowledge base where you can search commonly asked questions, user guides, and tutorials.
There are discussion forums if that's your cup of tea. There used to be an eCommerce University with ebooks, videos, webinars, but it seems it's been shut down in favour of the Shopify Community forums.
Pricing
Shopify is a subscription-based eCommerce platform that charges monthly fees. There are three pricing tiers with varying levels of eCommerce functionality:

On top of the monthly fees, Shopify charges between 0.5%-2.0% per transaction if you use an external gateway such as PayPal instead of Shopify Payments. (Don't forget that PayPal also charges it's own transaction fees…)
There's also Shopify Plus, an enterprise-grade solution for high volume merchants and large eCommerce businesses. While Shopify Lite allows you to sell on social media and add products to any site or blog for $9 per month.
If you want to give Shopify a go, there's a free 14-day trial with no credit card required.
Keep in mind that there'll be additional costs if you decide to purchase a premium theme or add-on, or hire a Shopify Expert.
Best Suited to…
Shopify is a tough all-rounder to beat. It delivers everything you need to launch your online store out of the box. Once you're up and running, it provides a powerful set of eCommerce features that scale, all for affordable pricing.
Shopify is best suited to beginners, small-to-medium sized businesses, and brick and mortar shops. Shopify Plus is ideal for large eCommerce websites that need an enterprise-grade solution.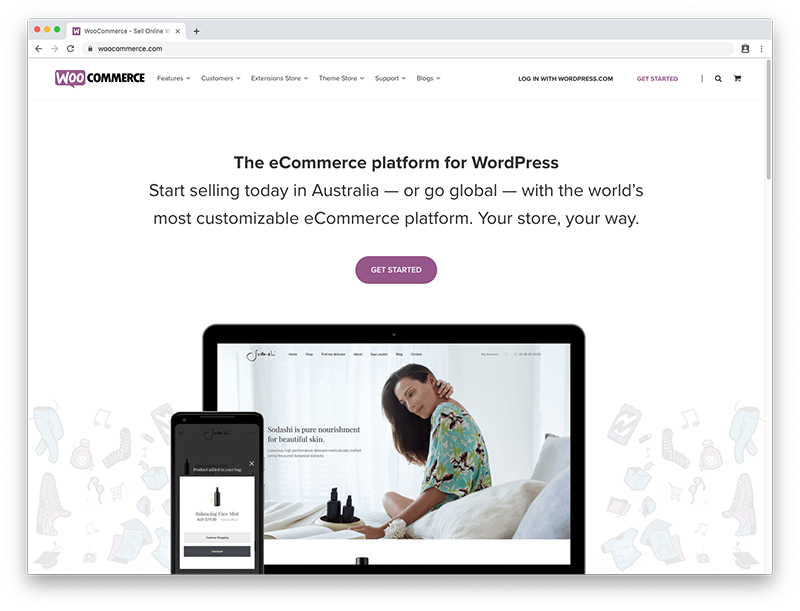 With 4+ million active installs, WooCommerce is the most popular, flexible, and customizable eCommerce solution online.
Originally launched in 2011 as a fork of Jigoshop and acquired by Automattic (owner of WordPress.com) in 2015, WooCommerce has grown to become the world's most popular eCommerce technology. It now powers 25% of the world's top 1 million websites.
With WooCommerce, you can sell anything, including physical and digital goods. It's hugely scalable—you can sell one product or thousands of products—and there's a plugin that can let you extend WordPress to do just about anything else you want.
Features
WooCommerce is a flexible and completely customizable ecommerce platform. There are no limits—since it's open source you're only limited by your imagination.
You can modify and customize anything and everything, giving you complete control to add an unlimited number of products and customers, and take unlimited orders.
WooCommerce provides all the eCommerce features store owners need, and more for web developers:
It's free, open-source software (needs to be installed on a web server)
Countless free and premium themes available from WordPress.org, the official WooCommerce Theme Store, and independent theme developers
Unlimited products, customers, and orders
Store management features, including customer accounts and guest checkout, one-click refunds, and email templates
Inventory management
Built-in blogging via WordPress let you publish create content and build a strong brand
Multiple payment options let you take payment via Stripe and PayPal, and you can accept credit cards, direct bank transfers, check, and cash on delivery
SEO features
Mobile friendly and mobile app for managing your store
Noteworthy features of WooCommerce include:
Open source, developer friendly, and provides REST API
WooCommerce is built on WordPress and enjoys the same open source community. More than 350 volunteers have contributed to WooCommerce's development. The WooCommerce REST API allows developers to manage everything from products to orders. There's also extensive documentation for every hook, filter, API endpoint, major release and extension.
WooCommerce Extension Store with 400+ official extensions
Customize your WooCommerce store your way with 400+ official extensions. There are extensions for everything from shop management and marketing to payment, shipping, subscriptions, and viewing real-time analytics.
Ease of Use
If you're familiar with self-hosted WordPress, WooCommerce will feel like a natural extension of the CMS—it's like using any other plugin. But if you're not familiar with WordPress, there'll be a steep learning curve. To give you an idea, here's what the WordPress dashboard looks like after installing WooCommerce: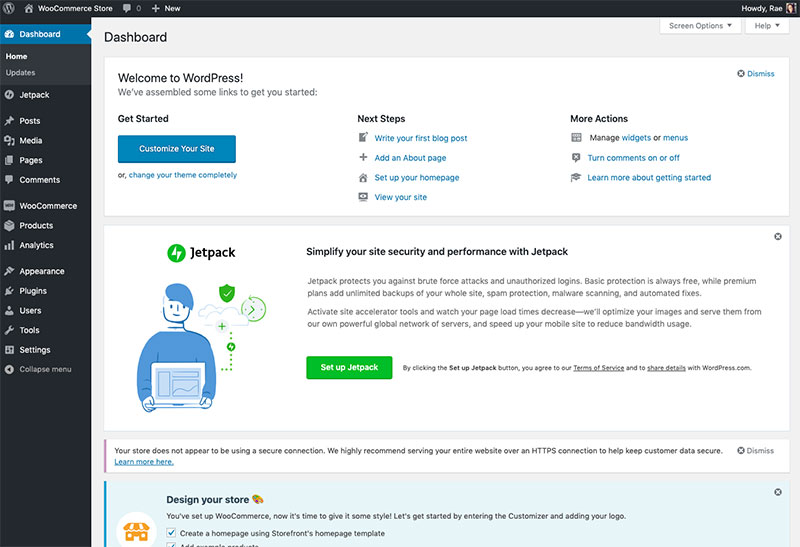 Not exactly beginner-friendly.
Installing WooCommerce is like any other plugin. Once activated, a setup wizard helps you set the foundations for your store, including currency, payment methods, shipping rates, and installing WordPress plugins for additional store functionality. You can also choose to import products from an existing store or get started creating your first product.
But back to the dashboard. If you scroll down to the blue "Design your store 🎨" notice, you'll see there's a prompt to customize your store and add a logo, with some options already pre-checked.
When you click through, you'll be taken to the WordPress Customizer where you can customize the look and feel of your store using the default Store Front theme (or other WooCommerce WordPress themes). A handy wizard will walk you through all the steps for adding a logo and the basics of site customization.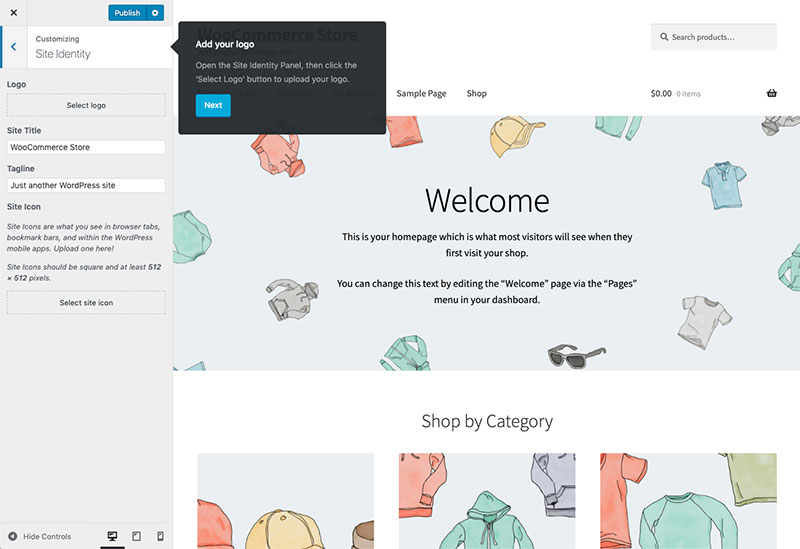 WooCommerce has its own dashboard, just go to WooCommerce > Dashboard.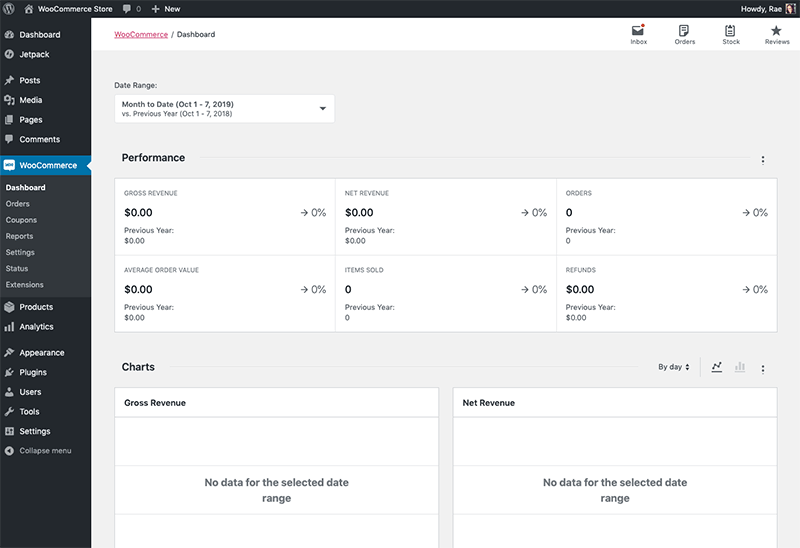 As you can see, my dashboard is empty but would start auto-populating with data if my store was up and running.
To add new products, go to Products > Add New. Add a new product is just like adding a new blog post in WordPress and uses the same familiar post editor. Below the editor, you'll find additional meta fields for product data, including price, shipping, and other information.
From the WordPress dashboard, you can search the WooCommerce Extensions store (WooCommerce > Extensions). There, you can quickly add new extensions to your store.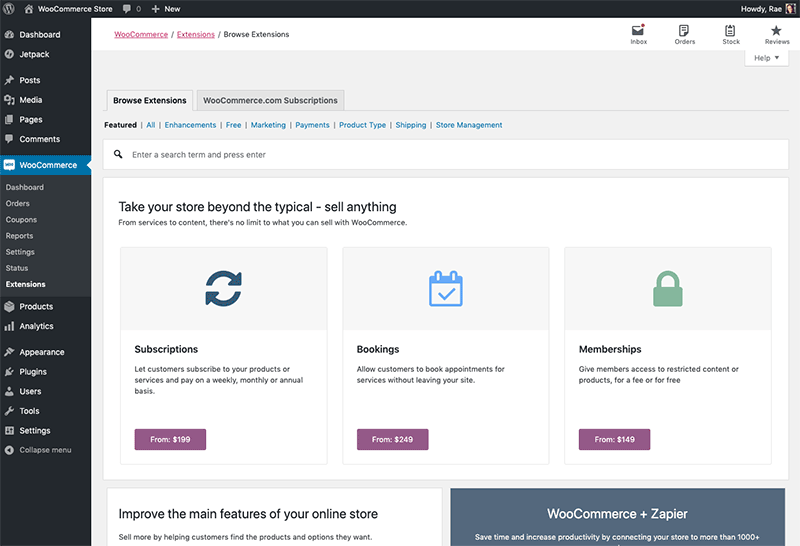 Overall, getting started with WooCommerce is somewhat clunky compared to Shopify. However, the setup process is always getting better. Once you're used to how WooCommerce works you'll get quicker and managing and customizing your store.
Store Designs
WooCommerce has the most extensive collection of themes of any eCommerce platform. No matter what kind of online shop you have, there's a theme for it.
The official WooCommerce Theme Store contains themes for everything from arts and crafts to digital and audio, fashion, flowers, home and furniture, pets, and more.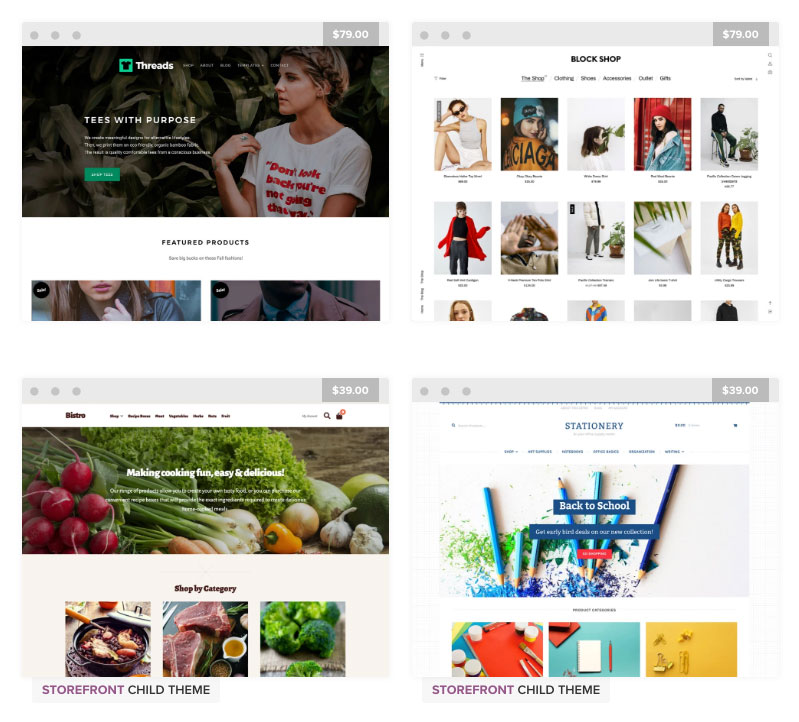 With the WordPress Customizer, you can customize your themes to suit your store, including colors, layout, menus, footer, and more. If you're proficient in CSS, you can add your own CSS too.
You'll also find 1,300+ more themes at ThemeForest and independent theme sellers.
For custom WooCommerce sites and advanced customizations, WooExperts are verified developers you can hire to work on your store.
Customer Support
Even though WooCommerce is owned by Automattic, it's open source software and supported by the WordPress community. That means you're basically on your own if you run into any problems.
If that bothers you, you might want to work with a WooCommerce developer to help launch and maintain your store. Otherwise, get ready to learn a ton about using WooCommerce.
There are various ways you can access help with WooCommerce:
Documentation. There's how-to documentation and video tutorials for WooCommerce and all extensions sold at WooCommerce docs.
WordPress.org Forums. Find answers in the public WordPress forums.
WooExperts. Work with vetted experts who are ready to offer in-depth consultations and custom design and development.
WooCommerce is supposed by a worldwide community of developers, and there are many other unofficial sites where you can find help:
Pricing
WooCommerce is free to download and install on your own server. You'll need to have WordPress already installed.
While the software may be free, using the software isn't. Keep in mind you'll need to pay for hosting and any premium plugins or extensions you purchase, which can cost as much as $299 a year. If you decide to hire a WooExpert, there'll be additional costs for that too.
Best Suited to…
WooCommerce is the most popular eCommerce platform for a reason. It's basically free if you already have a website up and running, and if you don't there's a low barrier to entry. While it may be a little clunky to use at first, it provides a powerful foundation for launching an eCommerce store. The core eCommerce features are enough to run a basic store, and with the right extensions, you can sell anything, including subscriptions, bookings, and memberships.
WooCommerce is best suited to developers, small-to-medium sized businesses that need a platform that will scale, and eCommerce sites that need control and customization.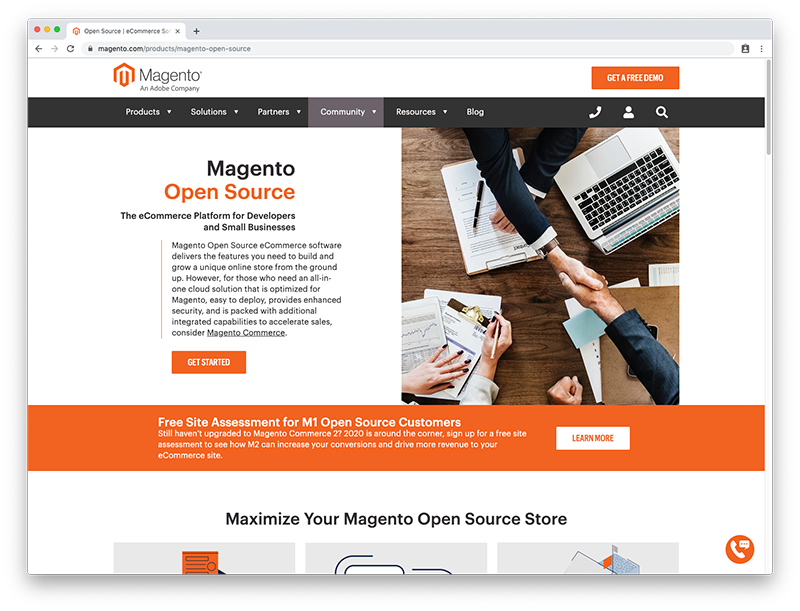 For many years, Magento was the world's most popular eCommerce solution. However, its glory days appear to be over. Two years ago, Magento held 30% market share. Today, just 10% of eCommerce sites use Magento as WooCommerce and Shopify increase their market dominance.
First released in 2008, Magento is an open source eCommerce platform. Like WordPress, it's available to download for free (Magento Open Source) and install on your own server, or use as a hosted platform-as-a-service (Magento Commerce).
The platform has changed hands a few times. In February 2011, eBay acquired 49% ownership of Magento before buying all of it just four months later. In May 2018, Adobe bought Magento for $1.68 billion.
Features
Magento is marketed as an enterprise-grade eCommerce solution and has the features to match. It's flexible, powerful, scalable, and offers developers an unlimited ability to customize and control multiple Magento stores.
Magento has all the features large eCommerce store owners and developers need:
Standalone or subscription-based service. Choose between Magento Open Source (free) or Magento Commerce (hosted).
Marketing, promotions, and conversion tools, including related products, upsells and cross-sells, coupons, product bundles, newsletter management, and much more.
Search engine optimization.
Manage multiple Magento stores from one dashboard.
Support for multiple languages and currencies.
Product management tools, including virtual products, digital products, and unlimited product attributes.
Check, payment, and shipping tools, including one-page checkout, account and guest checkout, SSL security support for orders on both front-end and backend, and multiple payment gateways.
Order management tools.
Customer management and customer service tools.
International support for localization.
Analytics and reporting, including abandoned shopping cart stats and integration with Google Analytics.
Noteworthy features include:
5000+ themes and extensions available in the Magento Marketplace
From marketing and customer support to payments and security, accounting and finance, shipping and fulfillment, and site optimization, there's an extension that available that can extend the capabilities of your Magento store.
Magento Partners
If you need help setting up or customizing your online shop, there's a large community of developers available for hire to help you with whatever you need.
Magento U courses
Want to take your Magento skills to the next level? Magento U courses and online resources are available for developers.
Ease of Use
As mentioned, there are two versions of Magento: Magento Open Source and Magento Commerce. For this guide, we'll take a look at Magento Open Source since using Magento Commerce involves requesting a demo (and then paying expensive license fees, as we'll discuss in the Pricing section below).
Getting started with Magento Open Source can feel intimidating since it's marketed as more of an enterprise solution. And rightly so—it's not easy to set up manually. I started and ran out of time, though to be honest, I've been using WordPress for 10+ years and have very little experience with Magento.
The easiest way to get started with Magento Open Source is to install it via your server's cPanel using Installatron or another similar tool.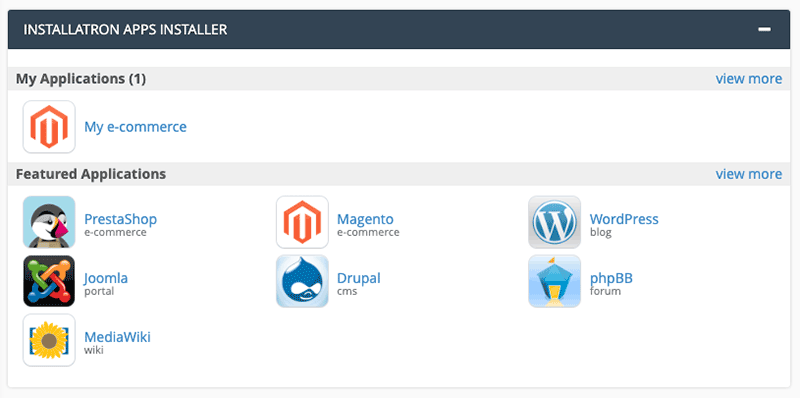 Once installed, go to "yourdomain.com/index.php/admin" to access your dashboard (replacing "yourdomain.com" with your domain name. The dashboard is fairly basic and uncluttered, offering basic insights into your store's revenue.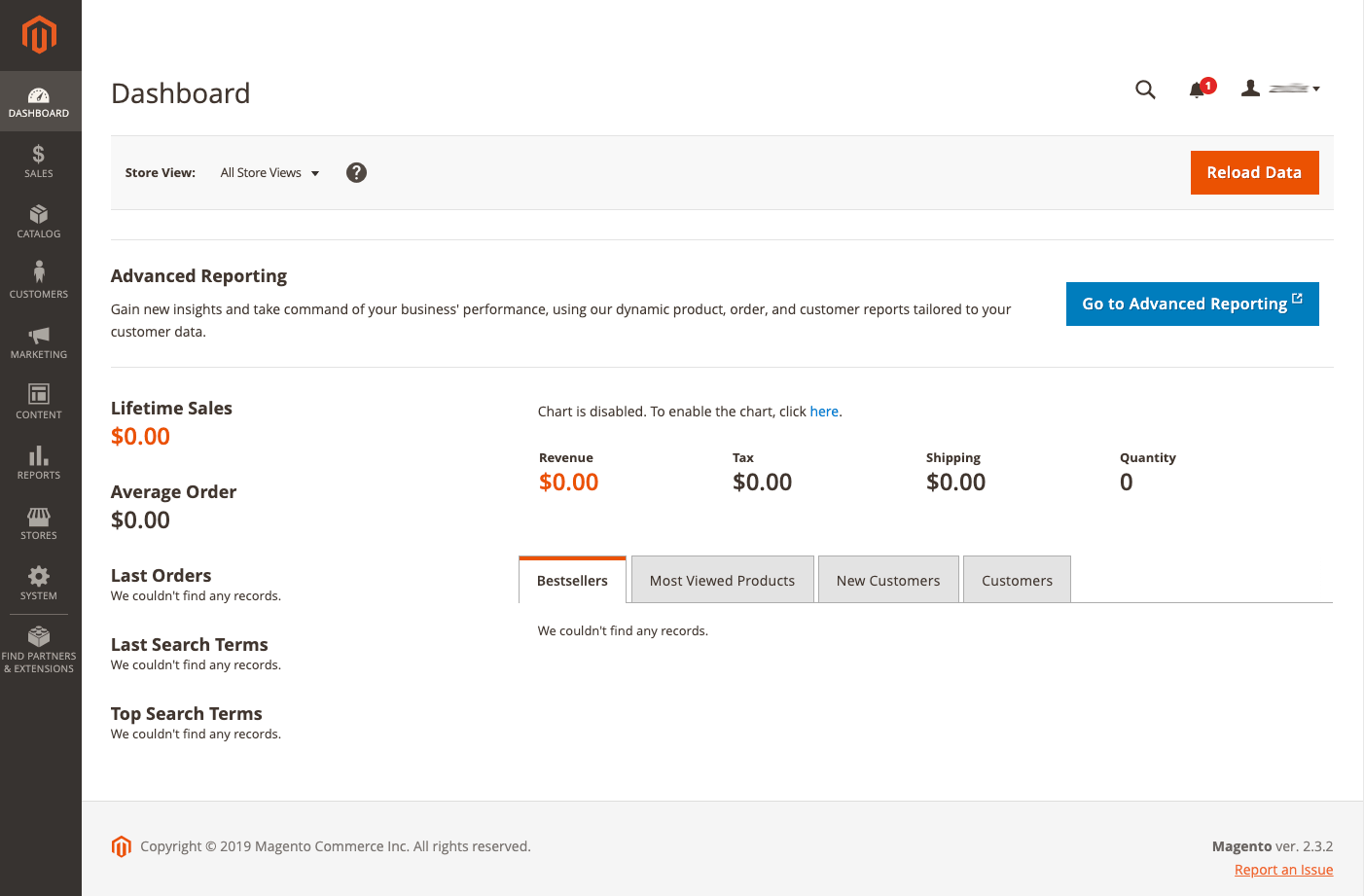 To add a product, go to Catalog > Products and click "Add Product." Adding a new product is fairly straightforward, simply fill out the form and expand each section to add more information about the product.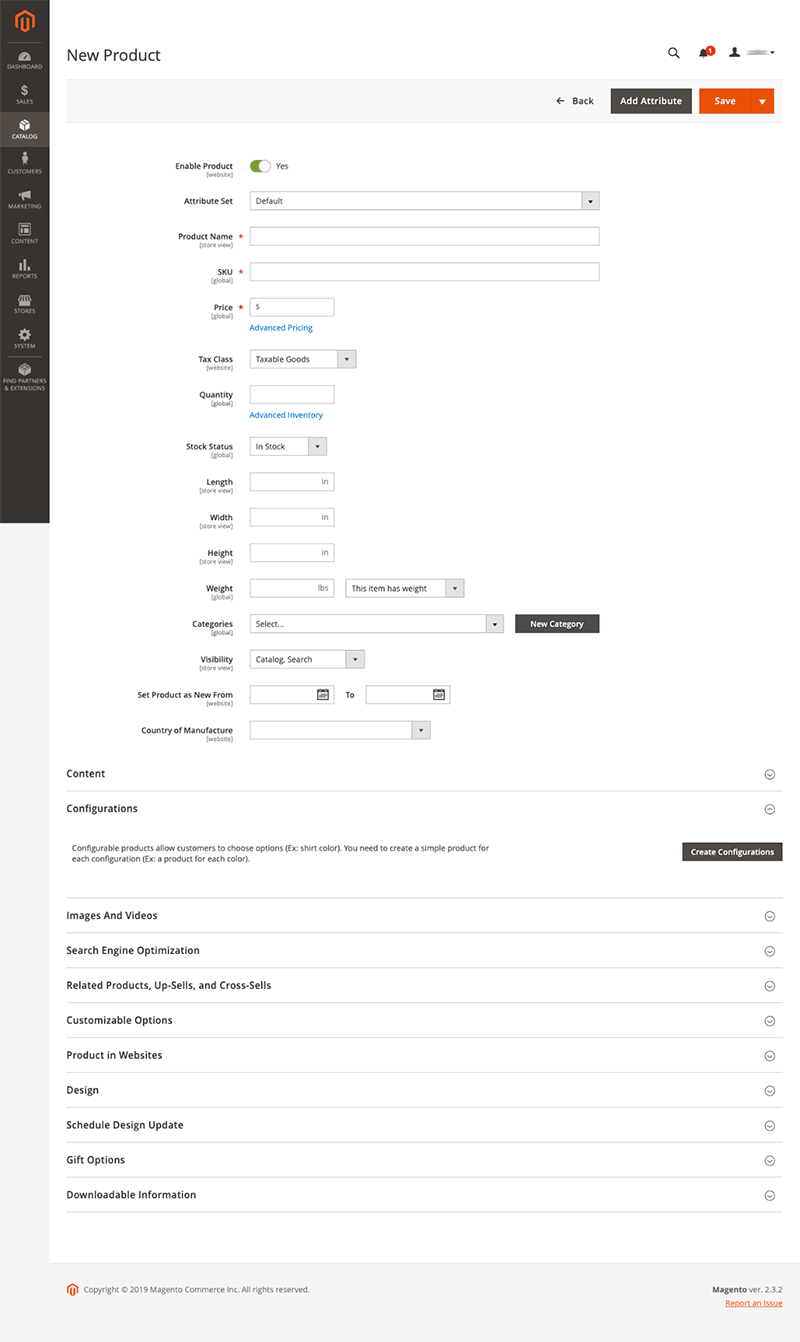 From the Magento dashboard, you can also access marketing and reporting features, as well as find partners and extensions for your store.
Overall, Magento Open Source is functional, to say the least. I wouldn't describe it as enjoyable to use, but it does get the job done. Compared to Shopify, Magento Open Source is not designed to make setting up a store easy for beginners or small business owners.
Store Designs
Where Magento excels in powerful features for enterprise-grade eCommerce sites, it lacks in easy to set up, out-of-the-box designs. When you install Magento, it comes with two basic themes so if you want to customize your store you'll need to purchase and install a premium theme.
The Magento Marketplace has just 15 themes, ranging in price from free to $499. There's a bigger selection at ThemeForest —  600+, in fact — that feature nicer designs.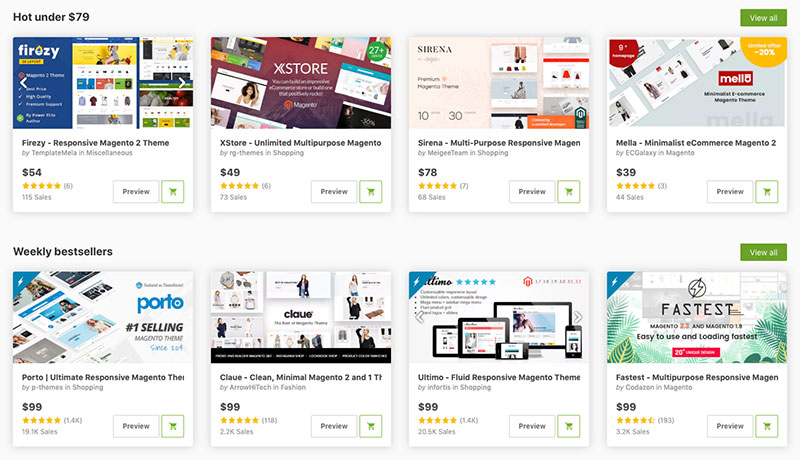 ThemeForest's modern-looking themes are a breath of fresh air compared to the Magento Marketplace's designs, which makes ThemeForest a no-brainer as far as finding themes goes.
If you're inexperienced with Magento and don't want to—or can't—do customizations yourself, you may want to hire a developer or Magento Partner to help you set up your theme.
Customer Support
Since Magento Open Source is free, you're on your own if you run into a problem. While there's no dedicated support, there are plenty of resources you can access, including the Magento Help Center knowledge base.
The Magento 2.3 Developer Documentation page provides a searchable knowledge base of everything you need to build and manage a customized Magento Store. There's also a Community Resources page with links to blog posts, podcasts, presentations, and books created by members of the Magento community and core developers.
Magento U provides training courses and Magento certification for developers, designers, and marketers.
Magento Commerce customers get dedicated support via phone and email.
Pricing
Magento Open Source is free to download and install on your server. Similar to other self-hosted solutions (e.g. WooCommerce) you'll need to pay for hosting, extensions (which can cost anywhere from $0 to $28,700.00, though most range in price from $0 to $299) and themes (ranging from $0 to $499).
If you hire a developer or Magento Partner to make customizations to your site, there'll be extra costs for that too.
If you choose the hosted version of Magento, Magento Commerce, there'll be fees for yearly licensing. Pricing isn't listed on the website (you'll need to request a demo to find out), though some googling reveals licenses cost $22,000-$125,000 depending on your gross sales revenue.
Best Suited to…
Magento continues to dominate as an enterprise-grade solution for big brands. Nike, HP Inc., Canon, BVLGARI, and Christian Louboutin are just some of its big-name customers. The community edition, Magento Open Source, is free, though setting up isn't straightforward, which raises the barrier to entry. This isn't a solution I'd recommended for bloggers or small eCommerce business owners.
However, if you run a medium-to-large-sized business, or you're looking for a solution for an enterprise-level eCommerce site, you can't go wrong with Magento. It's built to scale and offers all the powerful features you need to run an eCommerce site that turns over big revenue.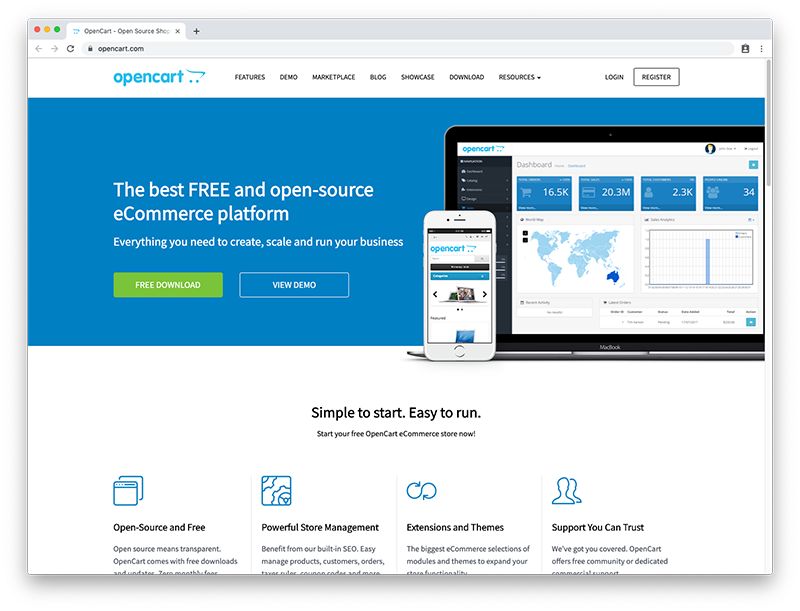 OpenCart is open source eCommerce software that is freely available under the GNU General Public License (aka the GPL). First built in Perl in 1998, UK-based developer Daniel Kerr took over the domain in 2005 for his own eCommerce software, written in PHP. In 2006, OpenCart v0.3 was released on sourceforge.net.
Kerr continues to run OpenCart with a small team. There's also a community of OpenCart Partners (i.e. developers and agencies) that sell themes and extensions in the OpenCart Marketplace.
Features
Like other eCommerce platforms in this comparison guide, OpenCart is designed as a modular system. The core software provides basic features out of the box and you can choose to add additional functionality with any one of the 13,000+ add-ons from the OpenCart Marketplace.
Key features of OpenCart include:
It's free, open-source software (needs to be installed on a web server)
Admin dashboard provides a full overview of important stats, including total orders, sales, customers, people online, sales analytics and more with widgets
User management tools lets you set advanced user privileges and separate access for groups and users
Manage multiple stores from one dashboard
Product management tools, including product variables, options, and attributes
Unlimited number of products and categories
Product reviews and ratings
Affiliate system, allowing affiliates to promote specific products and get paid for it
Automated backup and restore
Reward program designed to increase customer lifetime value and return purchases
Support for 40+ languages and currencies
36 payment methods
Integrations with shipping methods around the world
Analytics and reporting
Marketing tools
Noteworthy features in OpenCart include:
OpenCart extensions
Easily extend the functionality of your OpenCart store with more than 13,000 extensions available for free and purchase in the OpenCart Marketplace. There's an extension for just about anything, from payment options and shipping methods to product feeds and reports.
OpenCart Experts
Dozens of vetted OpenCart developers are ready to help customize your OpenCart store.
Ease of Use
OpenCart is easy to install in three steps:
Upload the OpenCart files to your server
Run the automatic installer.
Alternatively, if you're using cPanel you can use Installatron or Softaculous to automatically install OpenCart for you.
Once installed, you'll find OpenCart's dashboard is easy to understand. It provides an overview of your online shop's important metrics. To the left, you'll see all the main features of OpenCart listed in the sidebar.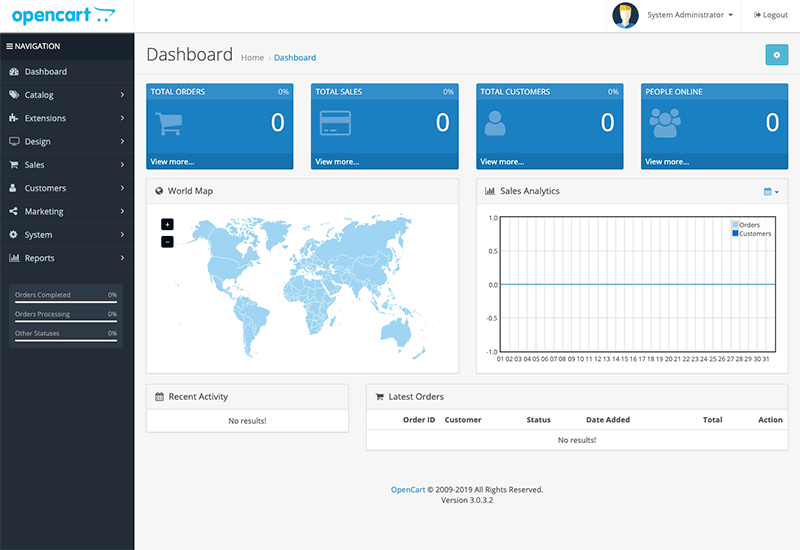 To view your store's products, to go Catalog > Products. You'll see your store has been auto-populated with demo products to get you started. To add a new product, click the blue "+" button in the top-right.
Adding a new product is simple, just fill in all the necessary fields. Click through the tabs to enter information and upload images. When you're done, click the blue "Save" icon in the top-right.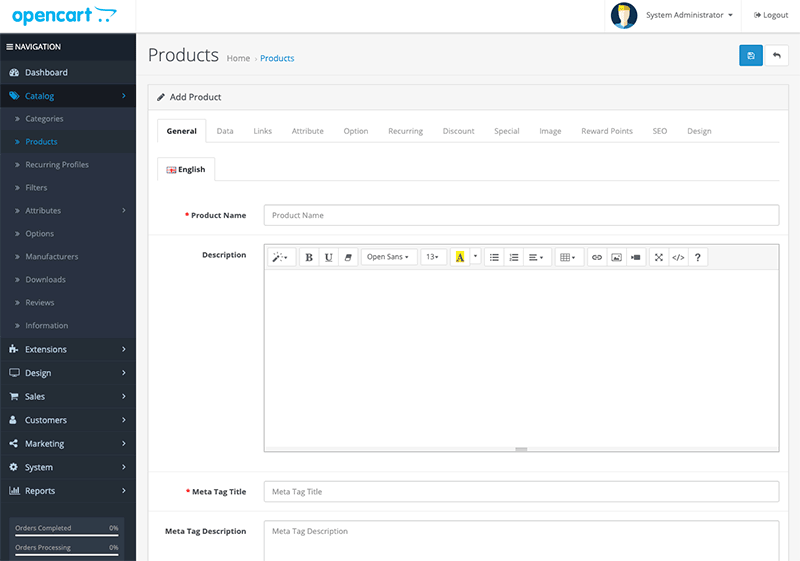 In the Design section of OpenCart, you can access the layouts for each of the pages in your store as well as the themes for your site. Making customizations isn't for beginners—you'll need experience with OpenCart and knowledge of PHP to make changes to how your store looks.
Overall, it's a straightforward process getting set up with OpenCart. The installer files provide you with a demo site that you can update with your own products and content. However, customizing themes isn't an easy process and probably best left to developers.
Store Designs
Out of the box, OpenCart comes bundled with a basic theme that's auto-populated to look like an online store selling tech products. Fortunately, there's a lot of choice when it comes to changing themes.
The OpenCart Marketplace has 540+ themes designed for various types of stores, from fashion and toys to Chinese tea and furniture. For more themes, there are 600+ themes available for purchase from ThemeForest.
Non-developers will probably struggle to set up and customize OpenCart themes, so you'll want to hire a developer or OpenCart Partner.
Customer Support
OpenCart provides support via support tickets every day from 9.30am-5pm (GMT+8).
There's also detailed OpenCart documentation, and a community forum.
The OpenCart team provides dedicated technical support, as part of monthly and one-time fix packages. There's also dedicated migration support available from $69.
Aside from all that, OpenCart experts can help with designing and developing OpenCart stores.
Pricing
OpenCart is free to download and install on your server. Like other self-hosted solutions (e.g. WooCommerce and Magento) you'll need to pay for hosting, extensions (which can cost up to $199.99) and themes (costing up to $59).
If you hire a developer or OpenCart Partner to make customizations to your site, you'll be up for additional costs.
If you choose the hosted version of Magento, Magento Commerce, there'll be fees for yearly licensing. Pricing isn't listed on the website (you'll need to request a demo to find out), though some googling reveals licenses cost $22,000-$125,000 depending on your gross sales revenue.
OpenCart Cloud (which isn't pushed that hard on the website) takes care of hosting and starts at £25 a month for one store.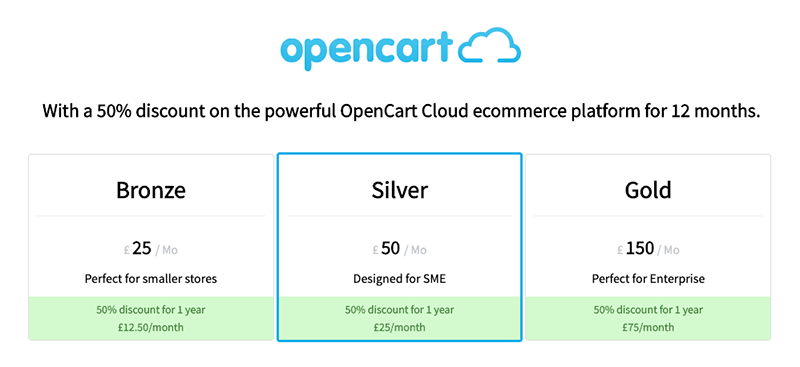 Best Suited to:
OpenCart is a great option if you've got technical knowledge and need a solution for your small business. It's easier and less clunky to get started using than WooCommerce, but not as easy to use as Shopify. The core features provide all you need to run an online store, but if you need to scale up to run a large eCommerce site, you might want to check out other eCommerce platforms.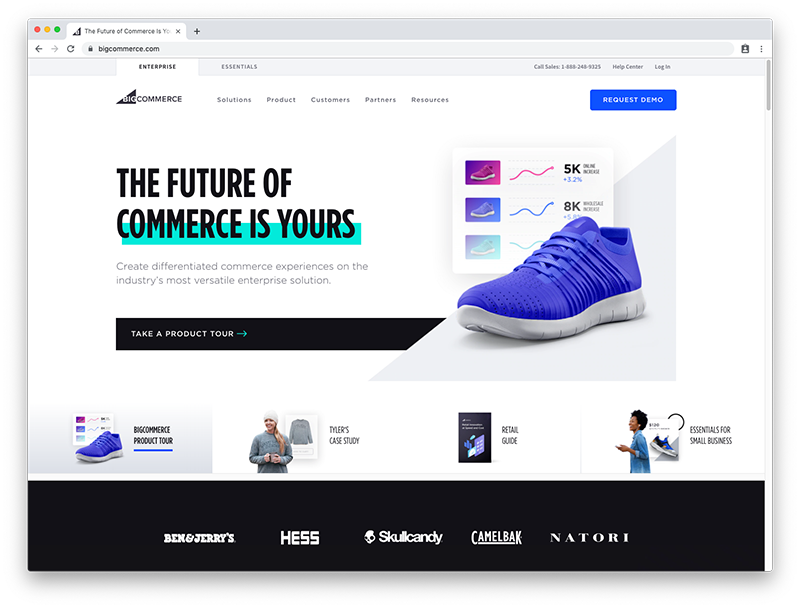 BigCommerce is a subscription-based SaaS ecommerce platform, much like Shopify. The United States-based company was founded in 2009 by Australians Eddie Machaalani and Mitchell Harper following a chance meeting in an online chatroom in 2003. BigCommerce was 100% bootstrapped until July 2011 when it closed $15 million in Series A funding from General Catalyst Partners. To date, BigCommerce has processed $17 billion in merchant sales in 120+ countries.
Features
BigCommerce is available in two sizes: BigCommerce Essentials and BigCommerce Enterprise.
80 professionally designed themes
Storefront editor lets you customize your store, no code required
Google Shopping integration
Email marketing tools
Search engine optimization
Conversion rate optimization tools, including abandoned cart saver feature, coupons and discounts, streamlined checkout, and product reviews
Special credit and debit card processing rates with PayPal
Payment features, including multiple payment gateways, customer financing options, and recurring payments for subscriptions
Shipping tools, including ability to print shipping labels, free shipping, and fast shipping setup.
Analytics and reporting features, including actionable insights
Multiple languages and currencies
There are some noteworthy features worth highlighting:
BigCommerce Marketplace
BigCommerce offers a large collection of eCommerce integrations with third-party apps. Whether you want to extend your store's marketing capabilities, improve shipping, or integrate with your accounting software of choice, there's an app to help you do it.
The marketplace also contains loads of themes available for free and purchase for all kinds of online stores, from fashion and pets to furniture and toys.
BigCommerce for WordPress
Connect your WordPress site to BigCommerce with a pre-built plugin for brands with an editorial or content focus.
Scale with APIs
BigCommerce offers a set of APIs that allow developers to create apps, automate store processes, and build headless eCommerce solutions.
Ease of Use
Getting started with BigCommerce is easy. All you need to do is click "Get Started" on the homepage, fill out your personal details, answer some basic questions about what you're planning to sell and whether you would like to migrate an existing store, and you're done.
The dashboard provides an overview of next steps for setting up your store, and if you scroll down you'll see stats for how your store is performing.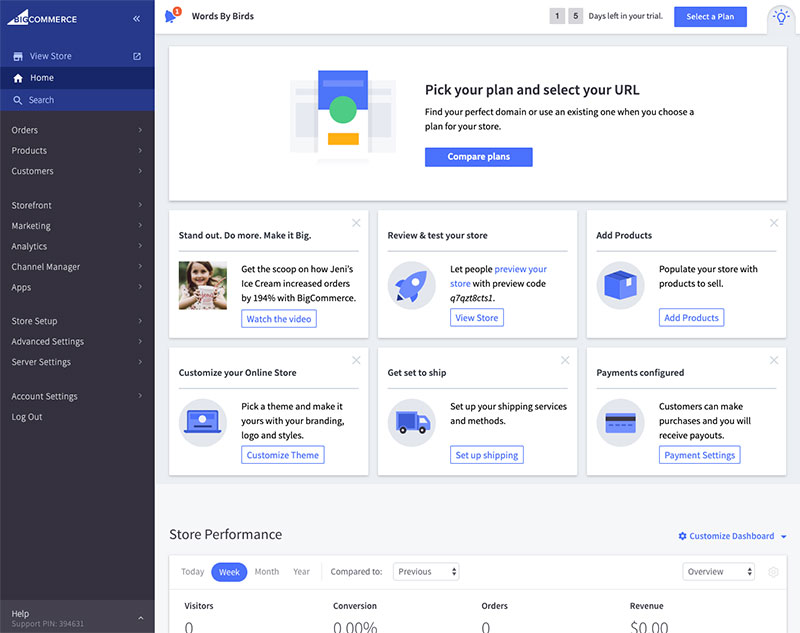 New users will see demo products when you go to Products > View. You can easily delete these products or click through to see how the basic product information is filled out.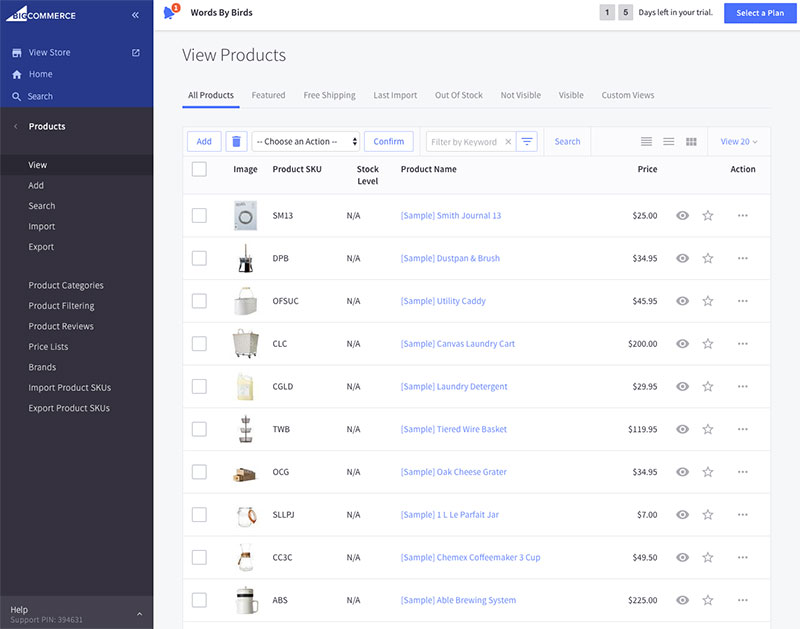 To add a product to your store, go to Products > Add. Starting at the top, fill out all the information. As you scroll down the page, you'll see the sections on the left will highlight.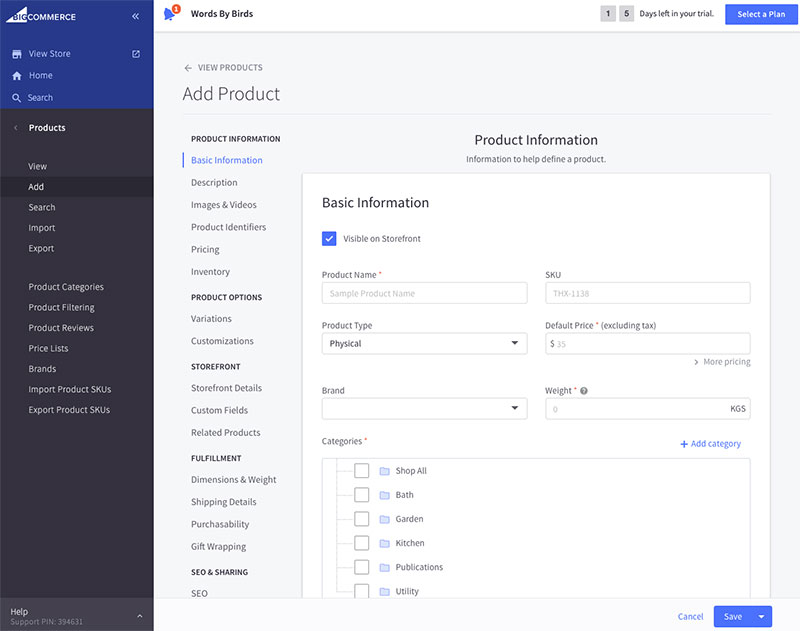 A cool feature of BigCommerce is Product Reviews (Products > Products Reviews). You'll see two demo reviews have already been added to your store, with options for approving, disapproving, and deleting reviews.

BigCommerce also offers built-in abandoned cart notifications, with a default series of three emails set to 1 hour, 1 day, and 2 days (which I also recommend as best practice).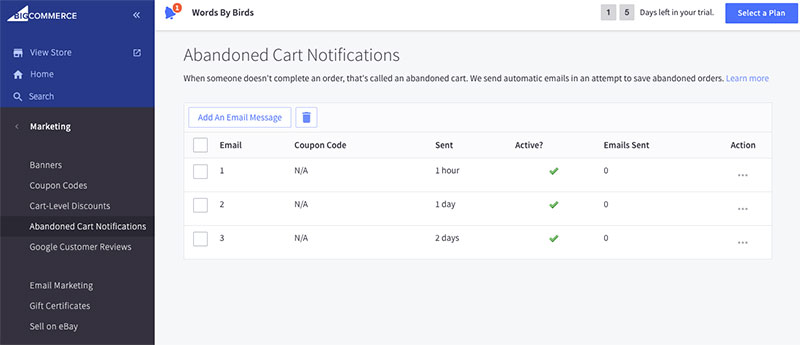 Overall, it's easy to get started with BigCommerce, especially for beginners. The platform offers a nice set of features for small-to-medium-sized ecommerce businesses. I also really like the built-in marketing features and analytics.
Store Designs
BigCommerce offers a stunning collection of 80 professionally designed themes for all kinds of online stores, including animals and pets, fashion and jewelry, food and beverage, health and beauty, and more.
There are 12 free themes available to get started with, with premium pricing ranging up to $299.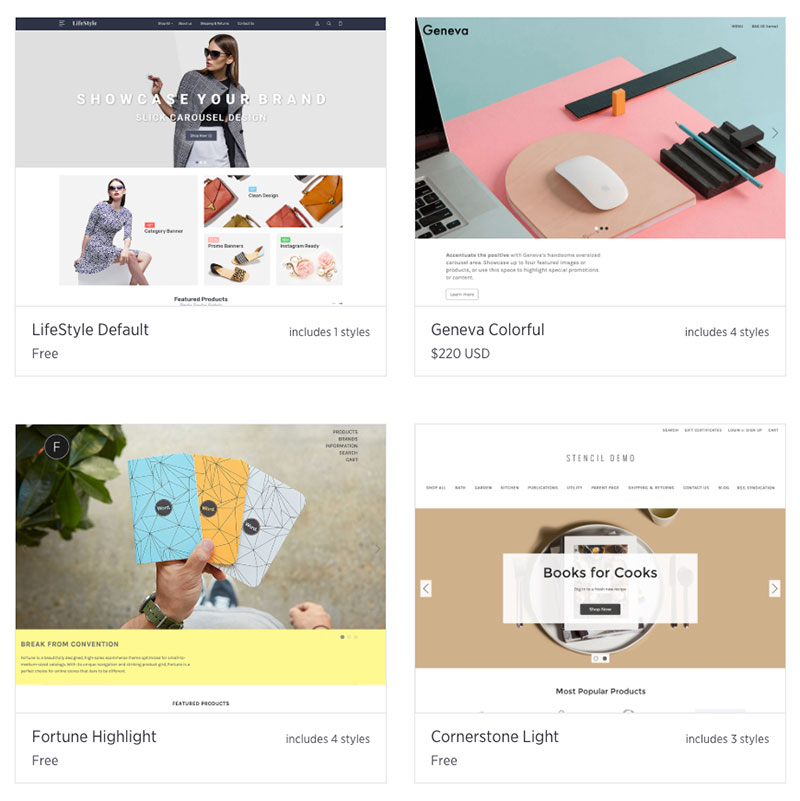 You can add any number of themes to your store and switch between the ones you like. A storefront theme editor lets you make customizations to styles, logos, buttons, the checkout page, payment buttons, and more.
Customer Support
BigCommerce provides 24/7 support via phone, emails and chat.
There's a comprehensive and searchable knowledge base with user docs, guides, videos, and developers docs. There's also a community forum with 20,000+ active BigCommerce merchants, partners, and developers.
For professional help, BigCommerce has a directory of certified experts covering design, development, marketing, and more.
Pricing
BigCommerce is a subscription-based ecommerce platform so you'll need to pay monthly fees. There are three pricing tiers:

You can try BigCommerce free for 15 days before you need to pick a plan. Enterprise users will need to call sales to organize a demo.
If you choose to purchase any themes or eCommerce apps, there'll be additional costs ranging from free up to $299 per month.
Best Suited to:
BigCommerce has made big strides in recent years to keep up with Shopify. New themes provide choice for online sellers who want a modern-looking storefront. The marketing features are great for reducing lost sales due to abandoned carts. BigCommerce is a great option for small-to-medium-sized businesses that need a solid foundation for their online store. However, Shopify and WooCommerce offer more integrations and themes, while WooCommerce provides more control and customizations.
Final Thoughts and Recommendations
So which eCommerce platform is the best solution for your online store? Having investigated the best 5 eCommerce platforms on the market, here's what we recommend:
Are you a beginner setting up an online store for the first time? Shopify is the best eCommerce platform for you.
Do you run a brick and mortar business? You might be interested in Shopify's Point of Sale system.
Do you run a small business? WooCommerce, Shopify, and BigCommerce are worth checking out.
Are you running a medium-sized business? WooCommerce and Shopify have the features and flexibility you need.
Do you need marketing features to help grow your business? Check out Shopify and WooCommerce, along with their extensions.
Do you need control and flexibility over the design and functionality of your store? WooCommerce and Magento are ideal choices.
Are you looking for an eCommerce platform for a large enterprise-level business? We recommend Magento.
For more on building an eCommerce site, check out How To Create An eCommerce Store In An Afternoon's Work.