Do You Use Dribbble for Good or Evil?
How much time do you spend on Dribbble? It's one of those tools – and even addictions – that can be a great source of inspiration for projects.
But here's the thing about Dribbble: You need to make sure you use the tool for good, and not evil. While new spins on designs are fun to create, there's a distinct border between making suggestions for someone else and adopting a design as your own.
Here, we're going to look at ways to use Dribbble for design inspiration without falling into any of those traps.
Use Dribbble for Design Inspiration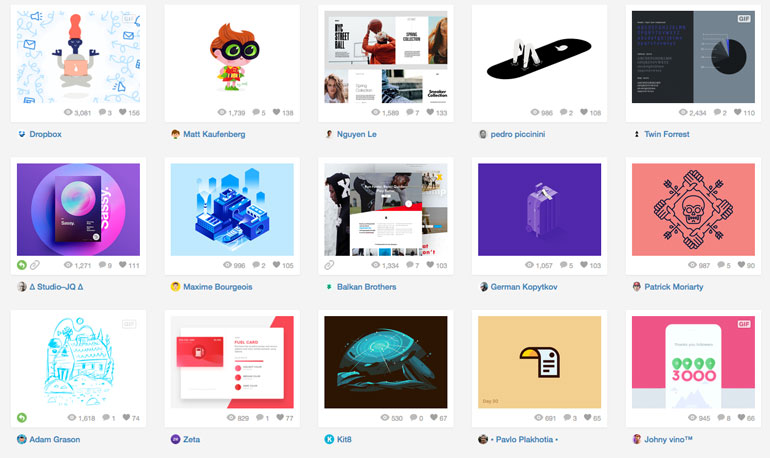 Start with Dribbble as a place to find inspiration for your next design project. From new takes on familiar interfaces to fun gifs, this is the place where creativity is allowed to go wild.
The best way to find inspiration is to look at the work of creatives you admire. What are they working on? How does their style influence yours?
You'll find that you peruse many of the same circles because of the type of designs or techniques used by those designers. But make a point to break out of that comfort level as well. Make sure to look through the most popular design or shots so that you can expand your thinking.  Look at the most recently uploaded items as well. (This is where some of the best community interaction happens.)
Use Dribbble to Connect with Other Designers
It's easy to find a favorites designer on Dribbble and get a little star struck. (It happens to the best of us.)
Why not strike up an actual conversation and see what you and that favorite designer have in common. It can start with something as simple as a comment on a design, but Dribbble has been the springboard for some designer partnership and collaborations. Many designers also list other information, such as social media profiles or websites, so you can connect in other forums.
It might not be something you do with everyone you meet, but there is potential to work with others thanks to this platform.
Don't just lurk in the shadows. Converse freely and join the community. You never know when you might find – or become – a design mentor.
Use Dribbble for Critiques
There's a lot you can learn from actively uploading projects, engaging with the Dribbble community and even encouraging shots from your designs. The informal process is a critique of sorts, allowing you to see different ideas and ways of thinking about your work.
Seeing offshoots of projects is valuable as well. That part of the design that wasn't working for you? Someone else might create a shot that solves the problem.
While Dribbble isn't a critiquing platform per se, there's plenty of potential for those experiences. And it never hurts to ask for honest opinions about your work.
Just remember to play fair and don't get defensive when you see comments that you might not agree with. Take in the information and learn from it. That's how you use Dribbble for good.
Use Dribbble for a Portfolio or Promotion
Dribbble provides a clean, organized place to keep small design projects, making it an excellent choice for a portfolio or self-promotion avenue.
The simple grid format and ability to showcase still and animated images make Dribbble an easy to use alternative to creating a portfolio website from scratch. You can also add relevant skills, a bio and links to other places on your Dribbble page. Each element also has room for descriptive text that can make it easy to search and find within the Dribbble community or through search networks.
When it comes to self-promotion, the more exposure and interaction you have the better. That's more chances to make connections with future employers or clients.
Use Dribbble to Evaluate Trends
One of the most fun ways to use Dribbble can be to look at emerging trends. By taking inventory of new shots, you can also see some trends as they develop.
From color choices that are gaining popularity to techniques that fall out of fashion, some of the first wave of trends starts here. As Google's Material Design started to take off, Dribbble was the Launchpad for many of these ideas. Designers were posting projects packed with tactile layers, bright colors and interfaces that weren't quite as flat as those we had been seeing.
Now, you don't want to get stuck browsing for hours just to spot the next big thing. (You could drive yourself crazy.) But you can spot similarities pretty quickly. Color is often one of the easiest trends to spot because your eye goes right to it. But other things emerge as well. Just look at the user icons, for example, to get a feel for what's trending in icon or logo styles.
Look for changes in typography or animation as well. There are plenty of small changes that can be indicators of bigger trends that you can see by browsing portfolio sites for a few minutes at a time.
How Not to Use Dribble
And then there's the evil that happens on Dribbble. To be a good user, you need to play fair in the community. Don't do any of these things:
Pass off a shot as your own work. (The original idea wasn't yours.)
Use Dribbble as a place to copy designs. (That's downright plagiarism.)
Troll or negatively comment on shots all the time. (Criticism should be constructive.)
Get hung up on likes. (It's an unhealthy habit; a lack of likes doesn't mean your design is bad.)
Fall short on your end of being a good user. (Make sure to post only quality work, not every single project you have cooking.)
Conclusion
The Dribbble community is unlike anything else out there for designers. The format and fluidity of information and ideas makes it a great place for designers to engage and interact.
Just remember to use Dribbble for good. The design community thanks you.