Top 9 Coming Soon Themes and Plugins for WordPress
To become a successful online entrepreneur, creating hype about your next big project can prove to be an effective way to attract interested visitors and improve brand recognition.
No matter how incredible your site may be or how hard you have worked on it, even the best of us need a kick start. Coming soon themes play an important role in the successful launch of a site, a product or an e-store. Whether you're looking for an eye-catching coming soon page or a simpler design to put up while you work on your site, we've got something in store for you.
In this article, we'll run the rule over some of the best coming soon themes and plugins you'll come across to create some much-needed buzz.
Let's get started!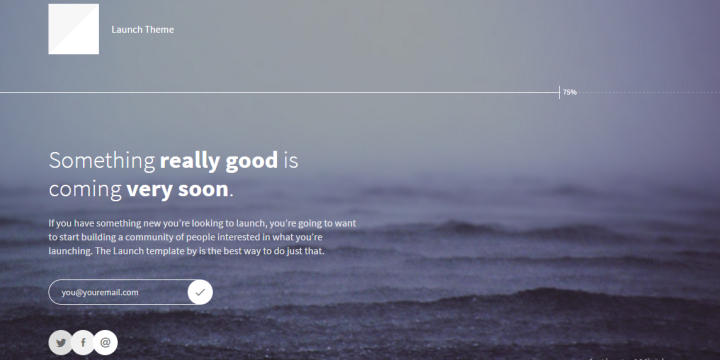 Creating hype is one thing, but doing so with elegance and flair is better. Launch is a brand new coming soon theme that boasts a simple yet modern design. Its key features are it being perfectly responsive, customizable, and compatible across all browsers. The interface and design of the Launch theme are simple and its settings are even easier to configure.
The WordPress customizer gives users full control over the design elements enabling them to personalize the logo, headings, sub-headings, and any other elements you'd like to add – a subscription box or social share buttons, perhaps?
Pros
Launch is fully responsive and users don't have to deal with complicated code or settings during the whole setup.
Cons
Might not have all the setting you're looking for as compared to other coming soon themes or plugins.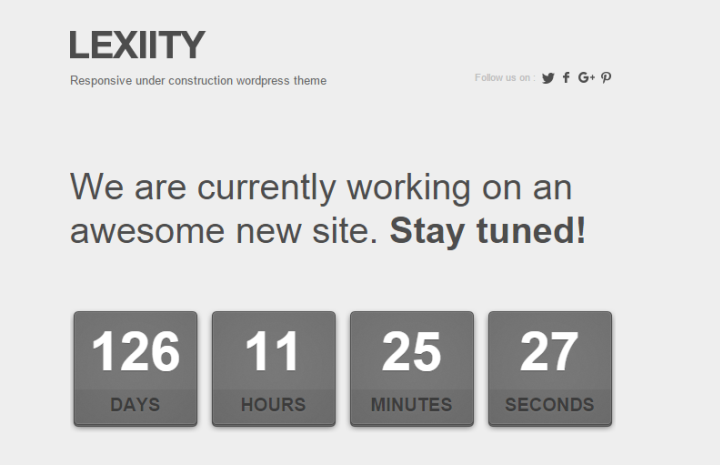 Lexiity is a great coming soon theme to attract interested visitors to your upcoming site or product. It shows countdown in days, hours, minutes, and even seconds that gives off a rather classy look.
The Lexiity theme looks amazing on devices of all sizes. Users can leverage its translation feature to cater for a multilingual audience. One of the standout features of this theme is its ease of use. Shortcode integration makes editing hassle free. If you get stuck with the configuration, you can use shortcodes to remedy the issue without having to get into complex code.
Pros
The branding from the theme has been removed to that can prove to be helpful for your clients' projects.
Cons
This theme is black and white, so if a colorful and exciting theme is what you wanted then this particular theme might not be perfect.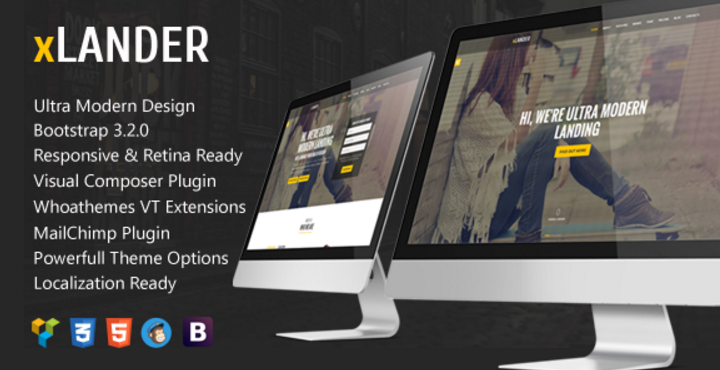 This particular WordPress theme is a powerful, unique, and professional theme most likely to be used for blogs, business websites, or professional online entrepreneurs who want to showcase their work. This Bootstrap responsive landing WordPress theme is incredibly flexible when it comes to features and configuration options that you can use to launch your site quickly and with style.
xLander comes with Visual Composer Page Builder right out of the box which helps users create pages with a diverse set of layout options. The plugin supports HTML5 and CSS3 making it a lightweight plugin. xLander is also compatible with popular mail services including MailChimp.
Pros
The flexibility and advanced features of this theme make it quite easy to setup and ensure the results come out exactly the way you want them to.
Cons
If you're a beginner, you might have trouble getting through the settings due to all the complex features of this theme. Even though this particular theme can get your work done as quickly as possible, figuring out the options can take up a lot of time.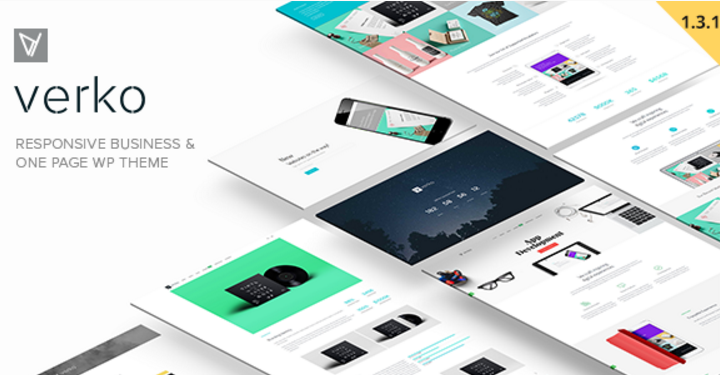 Marketing and advertising your work can be done a whole lot better with Verko. Its powerful range of features brings vertical navigation, parallax header, off-canvas sidebar and menu, custom footer, a video header, transparent navigation bar light, transparent navigation bar dark, drop and drag Visual Composer, master slider, and flexible customizer to the table.
Online marketers and business owners will find this theme to be most useful with its built-in portfolio functionality that enables users to present their work in a multitude of ways.
Pros
It is highly responsive so no matter where your work is being previewed from, it will adjust to the screen size instantly. Verko enables users to preview the layout and the front end before publishing it.
Cons
Does not support HTML.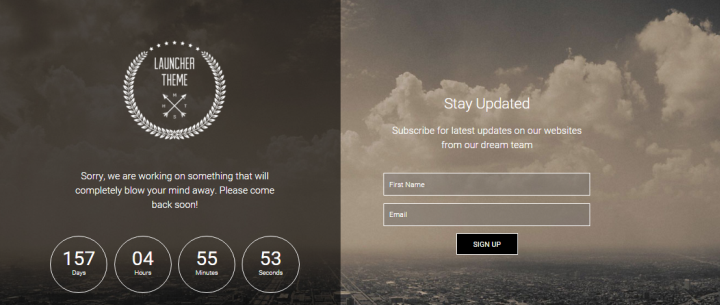 If you are looking for a plugin with all of the basic features required for a coming soon or a maintenance mode situation for your site or product, Launcher is the one for you. It's a lightweight plugin that comes with three different templates, front end editor, an advanced counter, social media icons, in-built contact and subscription form.
Launcher's standout feature is its modern, minimalist design that is not only visually appealing but fits right in with all sorts of WordPress sites. Visitors can view your site on any device due to its fully responsive design. Launcher also supports popular plugins like Feedburder, Mailchimp, Aweber, Get Response, Campaign Monitor, and Mad Mimi.
Pros
It comes with its own built-in templates but you can still create your own for a unique page.
Cons
It might be lightweight but it is lightweight for a reason. You might not find every option in the settings area that you are looking for if you have used other plugins with advanced features before.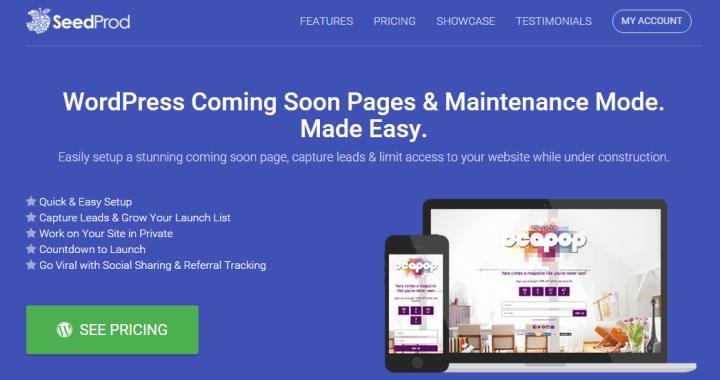 If you are looking for a coming soon theme that is not only feature-rich and reliable but also has an easy setup and makes your work easy then SeedProd is the right theme to get. SeedProd has a countdown being displayed at the front that lets your potential visitors know exactly when your work will be published.
The designs you create with background colors and fonts making your creative side come out are bound to make your work look great and be enjoyable. SeedProd works with all major email service providers and supports popular services like MailChimp and Aweber. Those of you who are tired of wasting money on themes with zero support, then this plugin would be best for you as the support system for its customers is incredible.
Pros
A bypass link for clients wanting instant access to the site can be created with SeedProd. It is easy for beginners but also has advanced options for professional web developers.
Cons
It is not a lightweight theme.

Every successful, popular website has a successful launch behind it. And to implement your successful launch you need to create an email list full of potential clients that are interested in the product that is yet to be launched.
Launchpad helps you drive in traffic as soon as your site launches because of its features that are put to work soon as you install the plugin – before the launch. With its lovely templates, responsive design, the site logo according to your own choice, fonts and backgrounds of variety and much more, it makes it pleasing to the eye of the viewers.
Pros
Launchpad is easy to setup and use. It is highly responsive so you do not have to worry about your viewership visiting your site from any device.
Cons
The templates, background colors, and designs are quite limited.

As you might have already guessed by the name, Easy Coming Soon plugin has an easy to configure coming soon page on offer that enables users to invest their energy and time on the actual site itself. All you have to do is activate this plugin, add in the page title and description and you are set.
The Easy Coming Soon plugin is compatible with all WordPress themes and is responsive – even its Option Panel is responsive! This plugin also provides social connectivity, and as you might already know, social sharing is an important part of an online business. The settings and customization of the page are also incredibly easy. It's almost like you have been doing it all your life.
Pros
Easy to use and fully responsive.
Cons
It may be easy and quick but if you're looking for options that you can't find, you might have to download the pro version to get those features.

WordPress users will find Coming Soon and Maintenance Mode plugin easy to use and loaded with all the right features. It works perfectly with any WordPress version. The plugin comes with a fully responsive design, ability to disable the page for some IP addresses, background image and color control, custom logo setup, usage of CSS3, user-friendly back-end, social media ready, SEO friendly, meta keywords and easy setup right out of the box.
One of the best things about this plugin is that the free version is enough to test it out and when you're ready for an even more exciting launch, you can upgrade to the premium version. Coming Soon pages are a necessity for a new website launch, but sometimes you have to work on your website after it has been launched, hence requiring a Maintenance Mode and this plugin gives you the best of both worlds.
Pros
Coming soon and maintenance mode in one plugin that not too many plugins offer.
Cons
For advanced features that might be necessary for some web developers, they have to upgrade it to the premium version.

WP Maintenance Mode creates a customizable maintenance page with countdown timer, subscription form, and contact form. The plugin comes with several clean, modern design templates and social media icons. All the designs are fully responsive.
The look of the coming soon page is controlled by the settings in the WordPress dashboard, which are extensive and yet simple to edit. Each module such as countdown, subscribe, and social networks can be turned on or off and customized as required. The plugin works with any theme and is compatible with multisite.
Pros
The coming soon pages produced by the plugin are simple and attractive, and everything is very easy to set up and customize.
Cons
Customization of design is limited (for example you can't change the fault). This may not be the plugin for you if you want a completely bespoke design for your coming soon page.
How to Pick the Right Theme/Plugin?
Those of you who want to make a lasting impression with your latest project should start well before the launch and creating hype with a coming soon theme/plugin is just the way to do it.
Launch is a minimalist, feature-packed theme. Those of you who want a lightweight design with a subscription box and social share buttons integrated into their coming soon page should definitely give the Launch theme a shot.
Have a multilingual audience? Try Lexiity. The Lexiity theme comes with translation functionality right out of the box. This theme is perfect for those of you who are catering to a global, multilingual audience with their site or product.
Coming Soon and Maintenance Mode is an easy to setup plugin. Those of you who want to publish a coming soon page quickly and divert their focus to their site's maintenance should install the Coming Soon and Maintenance Mode plugin.
Wrapping It Up
Some web developers need a quick and easy setup when creating a coming soon page and they feel no need to go into complex coding and settings in order to create a simple page, meanwhile, others want to stun their potential visitors or clients with their coming soon page to really create some hype.
We covered some of the best coming soon themes and plugins in this post and helped you decide how to select one for your WordPress site.
Have you tried out any of the themes or plugins on our list? Are there any coming soon themes or plugins that you'd like to recommend? Let us know in the comments section below!