Strikingly Review: Is It the Best Website Builder for You? (2023)
Considering using Strikingly to build your website? In our hands-on Strikingly review, we'll help you decide whether or not it's the best option for your situation.
In general, Strikingly offers an easy way to get started with a simple website. It can also be more affordable than other website builder tools like Wix and Squarespace.
With that being said, the visual editor is not as powerful as those other tools, and people who value flexibility might still prefer using a solution like self-hosted WordPress.
Basically, there are both pros and cons of Strikingly, which is what I'll try to highlight below.
📚 Here's everything that I'll cover in our Strikingly review:
Note – I'm using the Strikingly Pro plan for this review. You might have access to slightly different features if you're using the free plan or the more expensive VIP plan.
Strikingly Review: A Very Quick Look at the Features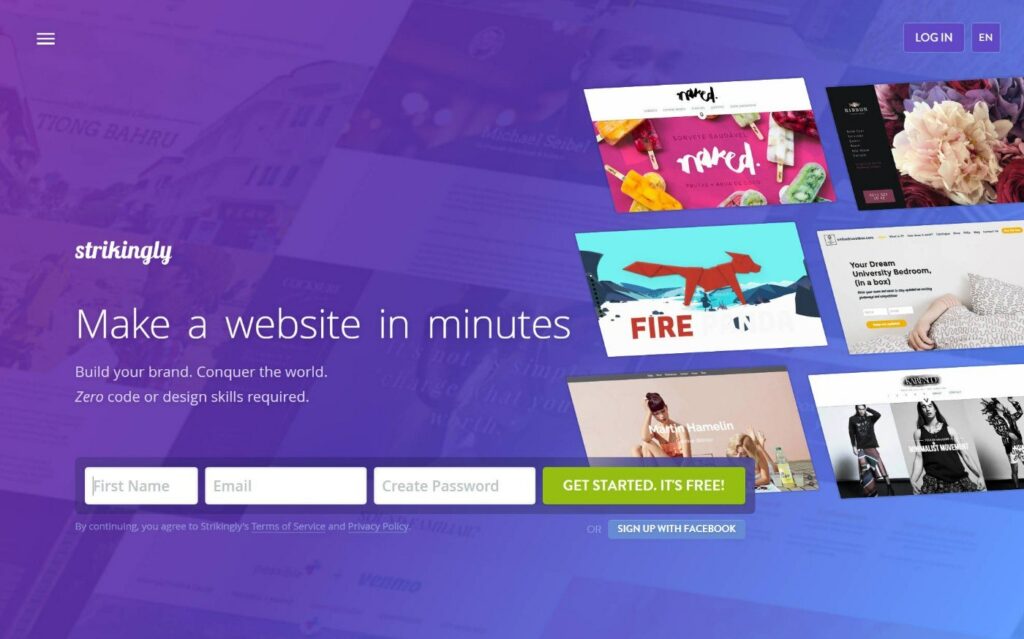 I won't spend too much of our Strikingly review just listing features because you can find all of these details on the Strikingly website.
But if you haven't spent much time browsing the site yet, here's a quick rundown of what Strikingly offers…
First off, Strikingly puts more of a focus on using its visual editor to create simple, one-page sites, whereas most other website builders are initially focused on multi-page sites.
For example, you need to activate the ability to even create multiple pages, and Strikingly will warn you that you should only do this if you have a lot of content.
Overall, I think this is where Strikingly is strongest – creating simple sites. Especially simple one-page sites.
With that being said, Strikingly does support more advanced features for people who need it, including the following:
Blogging
eCommerce for physical products, digital products, and services
Membership sites and content restriction
Email marketing and automation
Popups
Live chat
You'll see these features in more detail in the hands-on section, which is why I'm intentionally keeping this section very short.
How to Create a Site With Strikingly
Building a site with Strikingly is super easy.
To begin, you'll register for a free account.
Then, Strikingly will prompt you to choose from one of the premade templates or a blank slate:
The templates look ok but are a bit limited in terms of numbers versus what you get from other popular website builders.
Once you choose your starting point, Strikingly will launch you straight into the editor and you can start building your site.
Since the editor is one of the most important parts of Strikingly, let's take a deep dive into that next…
Exploring the Strikingly Editor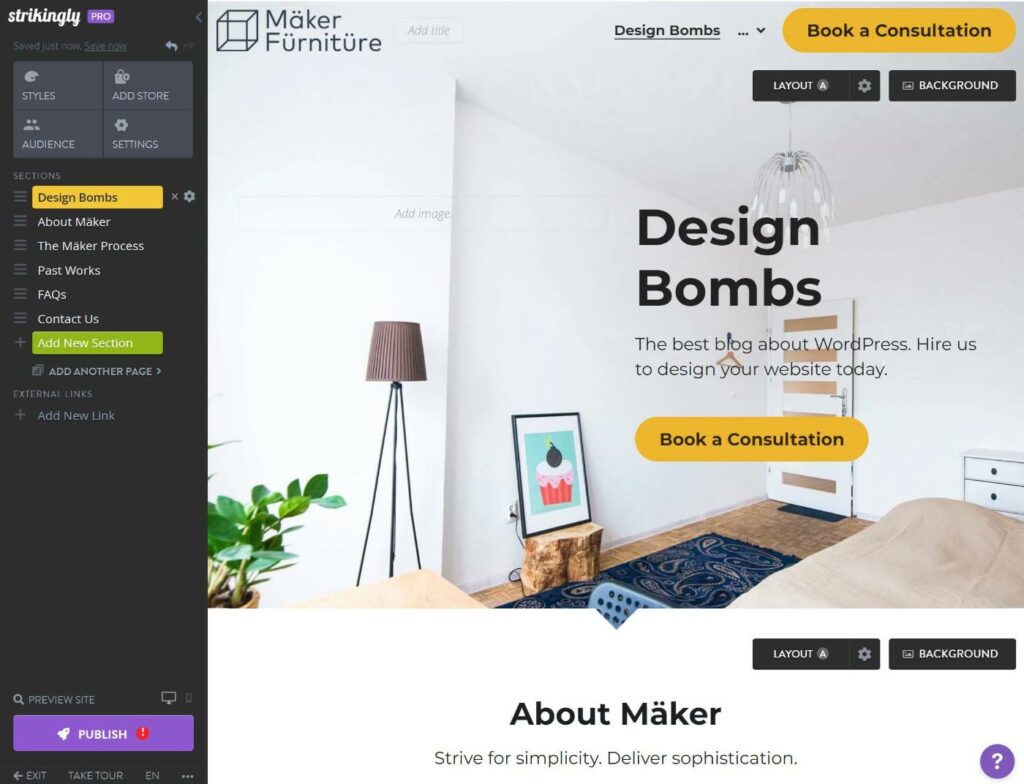 Strikingly does not offer a free-form visual, drag-and-drop builder where you can drag any element anywhere on the page. Instead, it uses a section-based approach with drag-and-drop elements.
To put together the design of a page, you'll add multiple sections like you're assembling lego blocks. Then, you can customize each section in two ways:
You can choose from premade layout options, such as changing the button placement.
You can enable drag-and-drop to move elements around within that section. So you do still get some type of drag-and-drop editing experience, it's just not totally freeform.
The main advantage of this section-based approach is that it's simpler, especially if you're not a designer.
Creating a design from scratch is tough and time-consuming. It's much easier to just choose from Strikingly's pre-built sections and put them together like Lego blocks.
Of course, the downside is that you lack the flexibility of a true free-form editor. While you can use drag-and-drop inside a section, you can't move elements between sections and you still don't get the total flexibility of a free-form editor.
Basically – non-technical people will be fine with Strikingly's approach, but designers who want total flexibility might not like it.
Let's take a look at how it works…
Adding Sections
If you started from a template, it will have already added some sections for you based on the template. You can see these in the sidebar: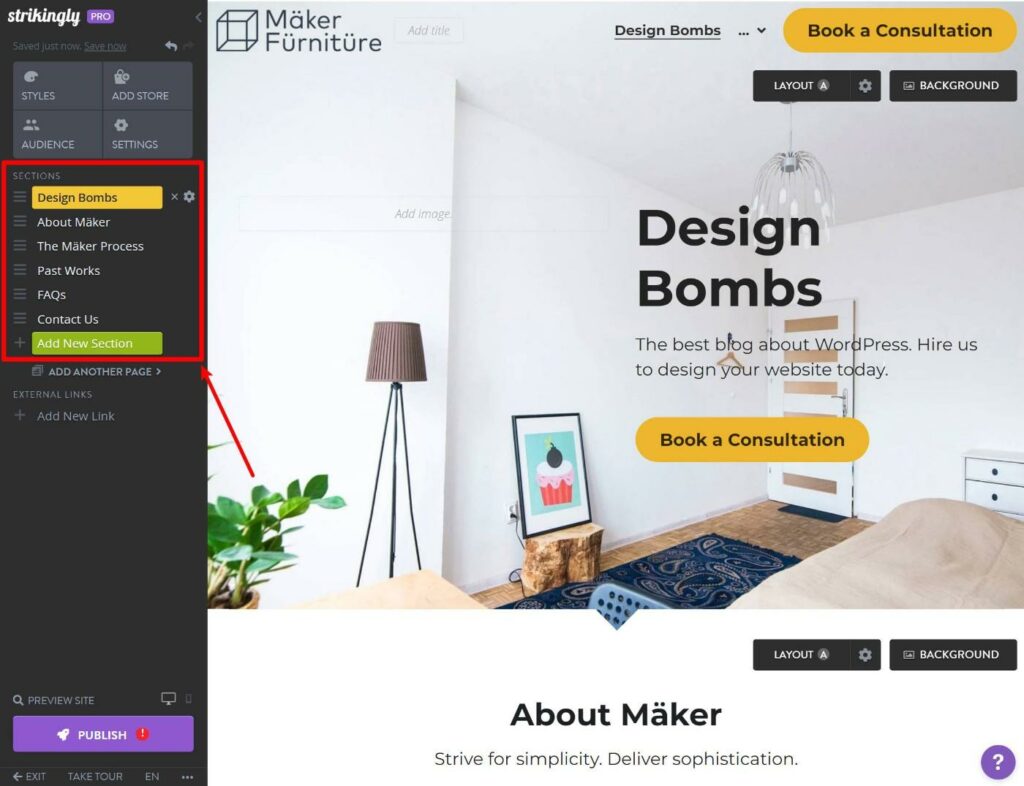 If you click the button to Add New Section, it will open a slide-out where you can browse all of the premade sections, which are divided into different categories: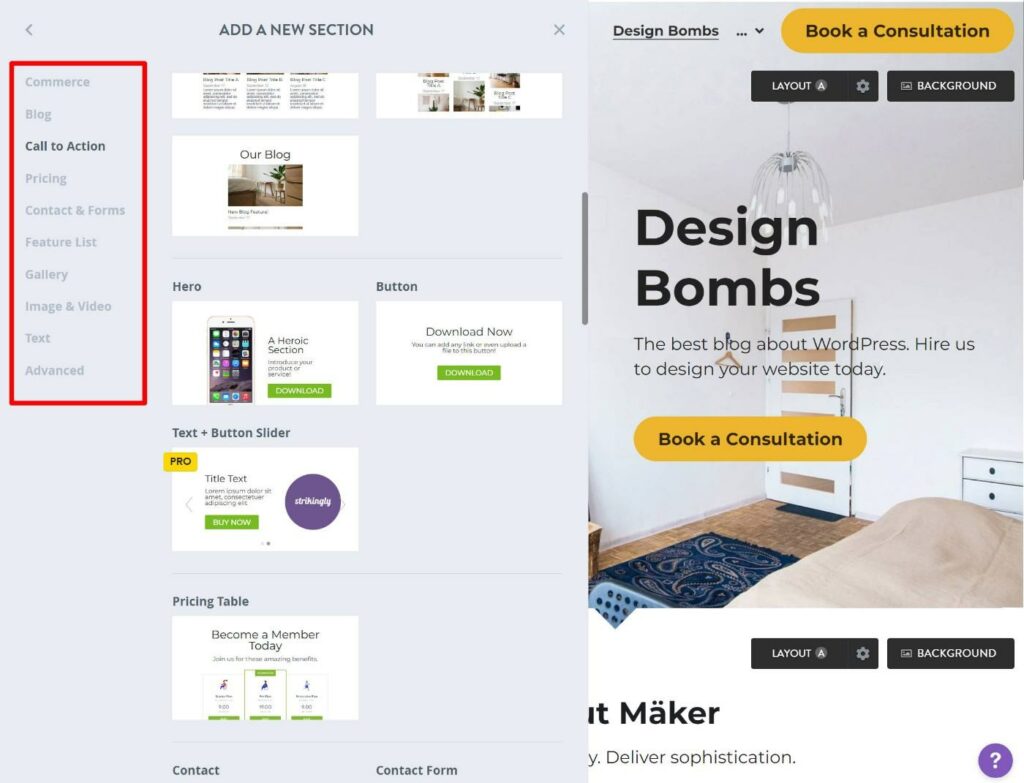 If you want to rearrange the order of sections on your page, you can use drag-and-drop to move sections in the sidebar.
Editing a Section
To edit a section, you have a few options.
First, to customize any text content, you can just click and type on the page – it's pretty much like editing a Word document. You'll also get a formatting toolbar to customize the text if needed, such as bolding it or changing the color: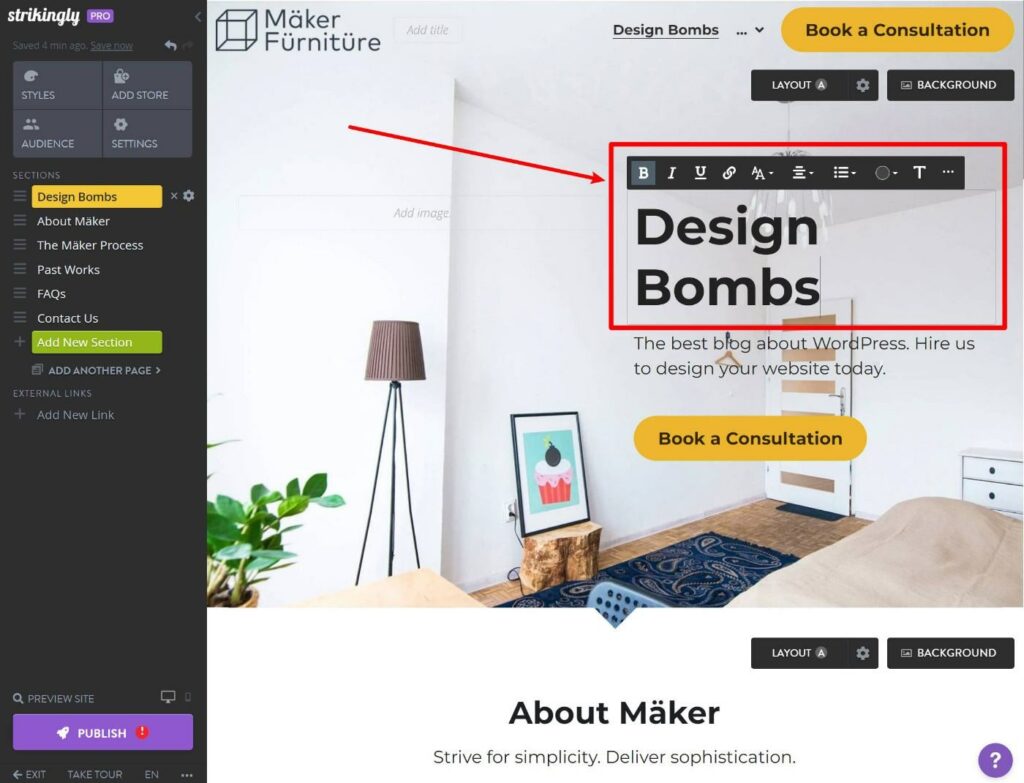 If you click on other elements, you'll get settings specific to that element. For example, if you click on the button, you can add a link and change the design: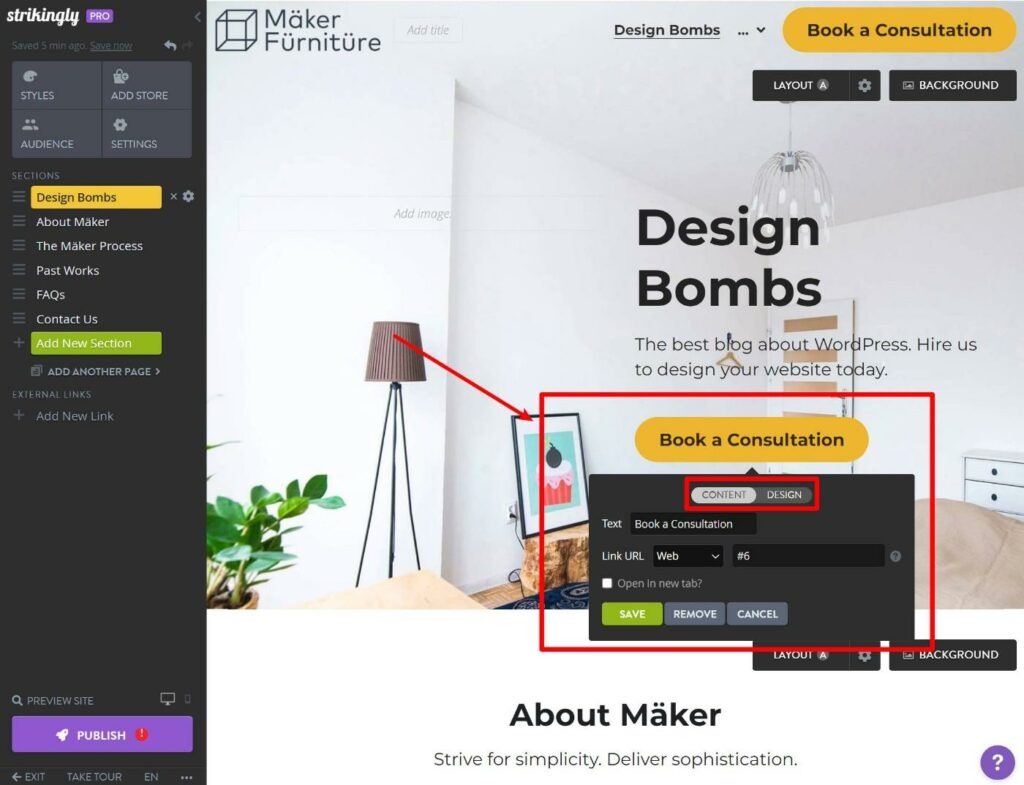 To change the layout of a section, you have two options.
You can use the section's built-in settings to make some customizations or you can activate drag-and-drop to move elements around within that section.
For example, for this section, you can change which side the image is on (or disable the image):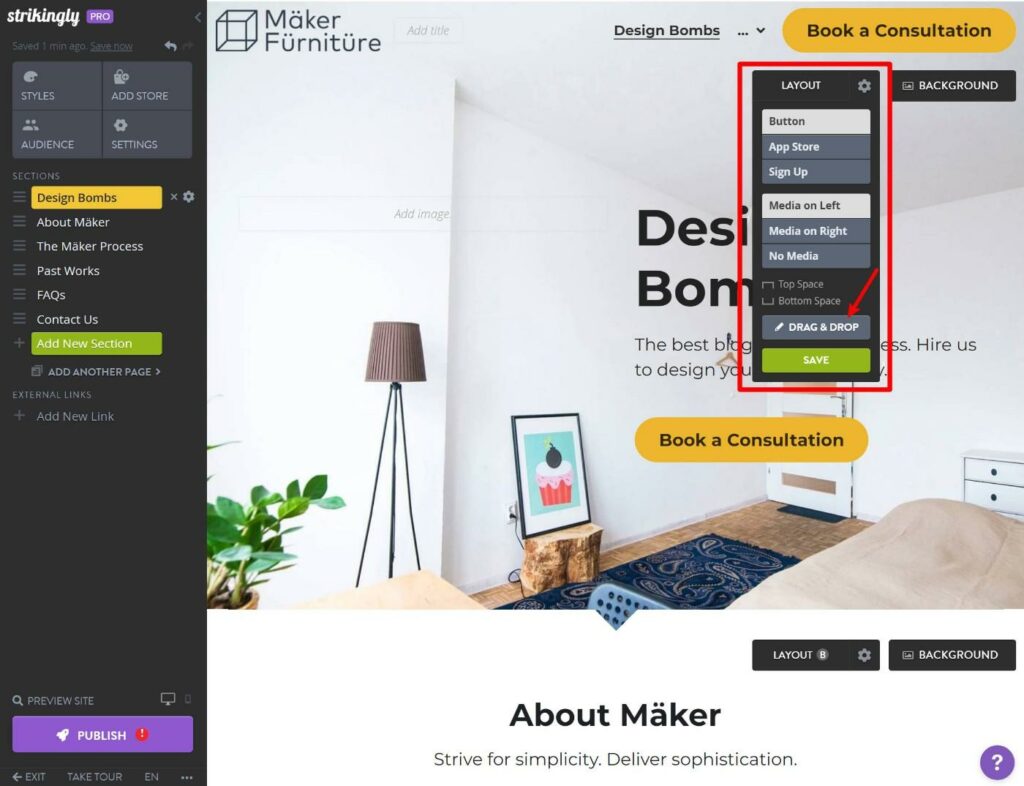 If you enable drag-and-drop, you'll get a new handle next to an element that lets you drag it to a different position. However, you can still only move it around within the section's existing layout: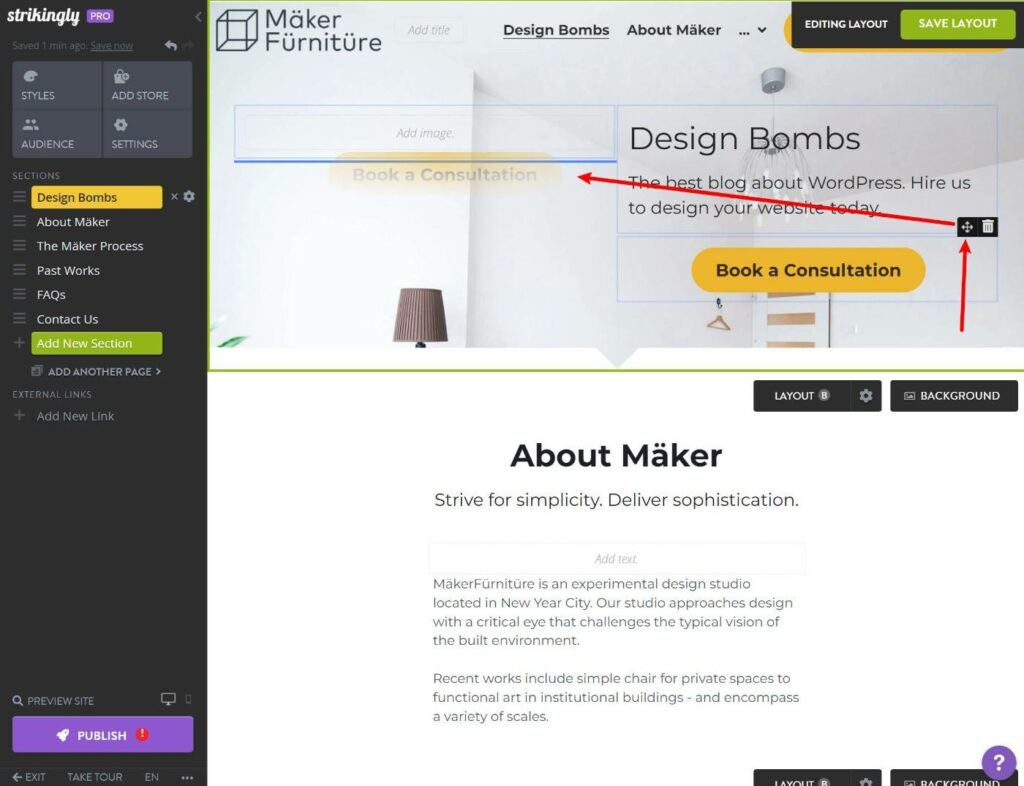 When you're done, you can save your changes.
Editing Mobile Design
All of your Strikingly designs are responsive by default, which means that they'll work on any device.
You can enable a mobile editing mode by clicking a toggle in the editor: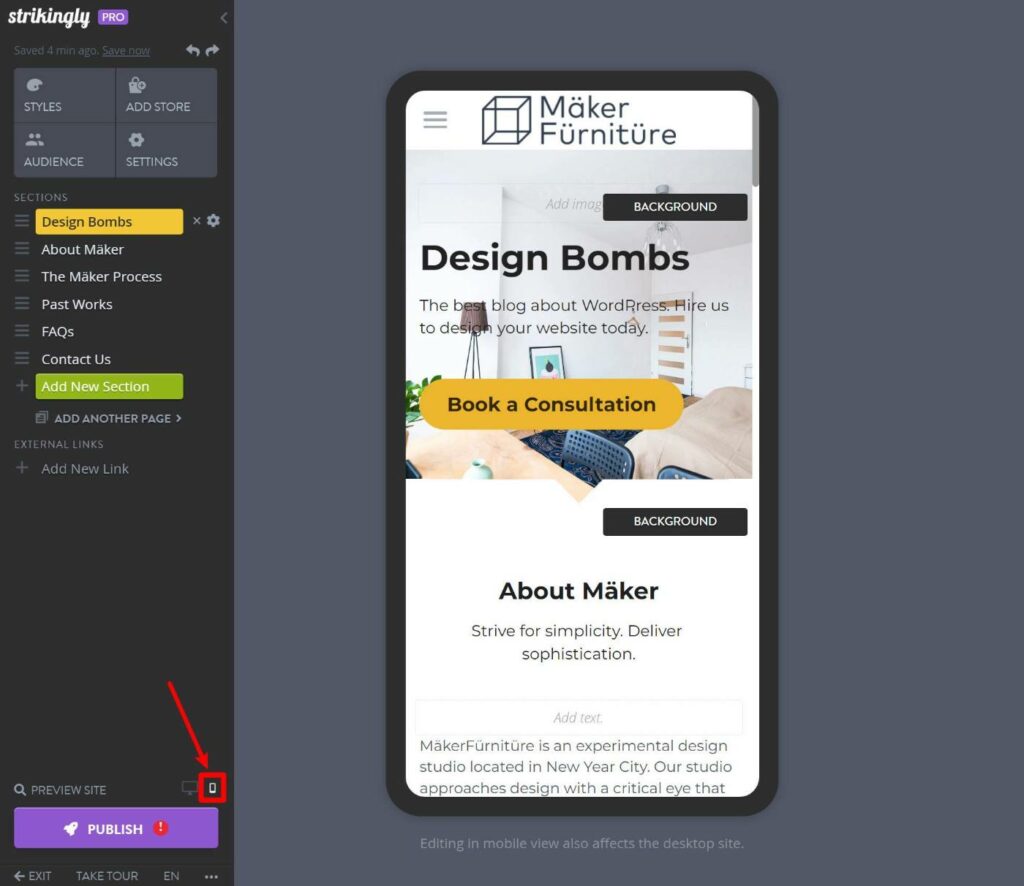 However, you should note that any edits you make in mobile mode will still affect the desktop site.
I think this is a bit of a weak spot as sometimes it's nice to be able to adjust things specifically for mobile visitors (and this is a feature that a lot of other builders do support).
Six Other Notable Features in Strikingly
Now that you know how the editor works, let's take a look at some other important features in Strikingly.
1. Blogging
If you want to include a blog on your site, Strikingly includes a dedicated blogging tool, though it's not especially powerful.
To begin, you'll need to add a blog section to the page where you want to list your blog posts.
Once you've done that, you'll be able to access a new interface to add your blog posts. To write text, you can just click and type.
You can also click the plus icon to add the following elements:
Image
Video
Button
Separator
HTML embed.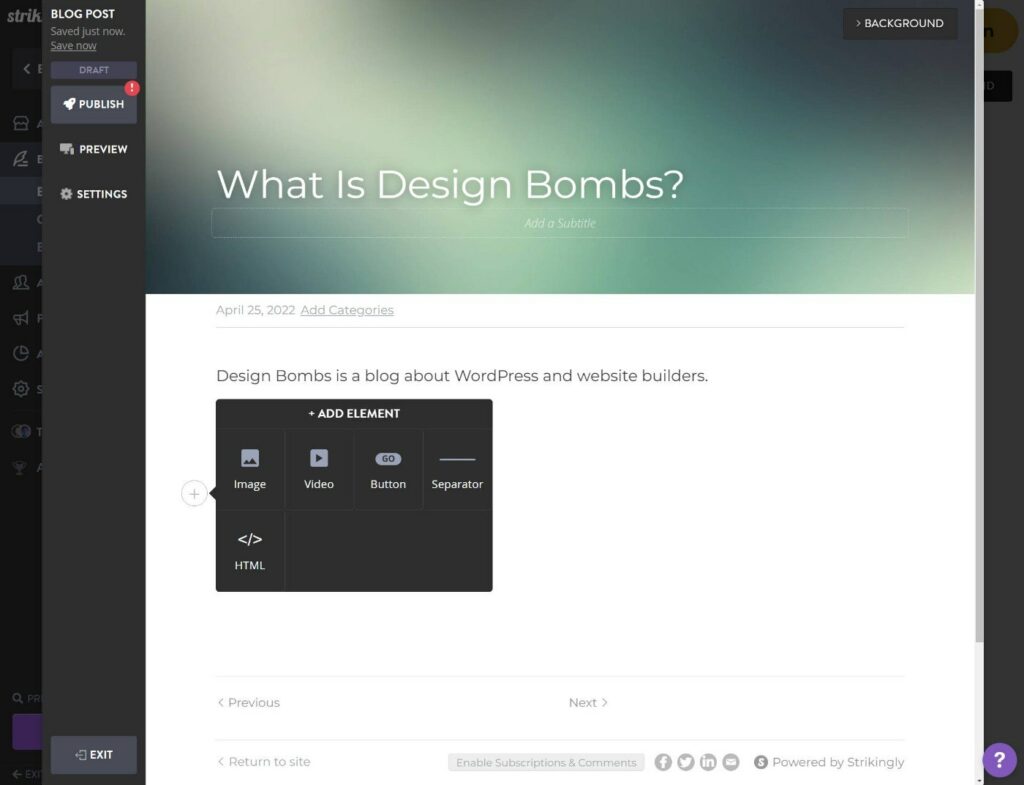 2. SEO Features
To help optimize for search engines, Strikingly lets you add a custom SEO title and meta description for each page: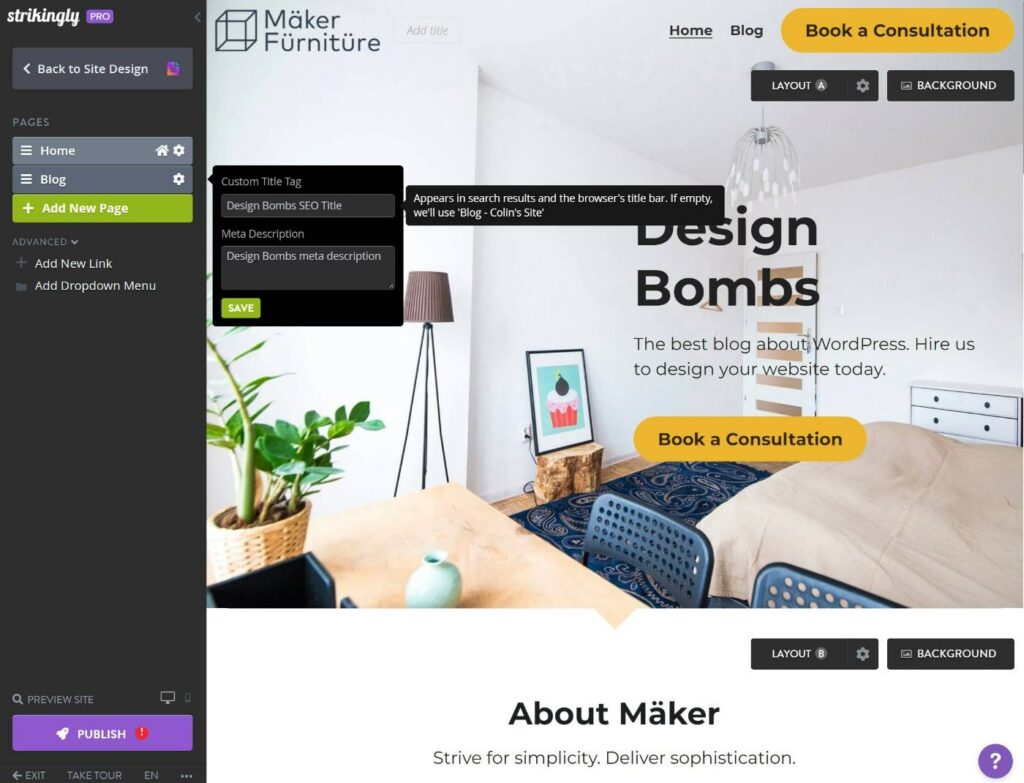 You can add a custom social share image, but only at the site level which is a bit disappointing if you plan to rely on social media traffic.
3. eCommerce Support
While I don't think that eCommerce is a strong point in Strikingly, Strikingly does let you sell products via your site if needed.
As with a blog, you can set this up by adding a store section to your site. Then, you'll get a new interface to add products.
You can sell physical products, services, and/or digital downloads. Strikingly also supports both simple and variable products: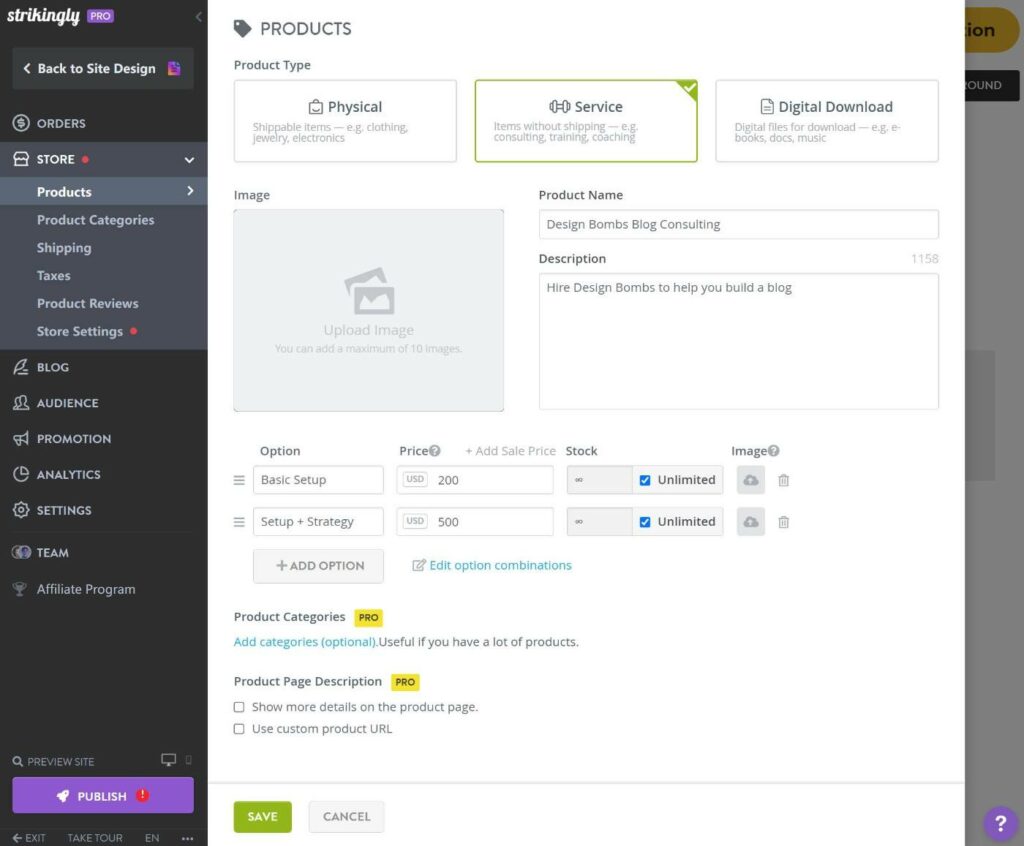 4. Membership Sites and Content Restriction
If needed, Strikingly can also help you create a restricted content membership site. Again, I don't think this is a strong point of Strikingly per se, but this functionality is there if you want it and it can work well for simple membership sites.
To set this up, you'll first need to enable membership using one of the options: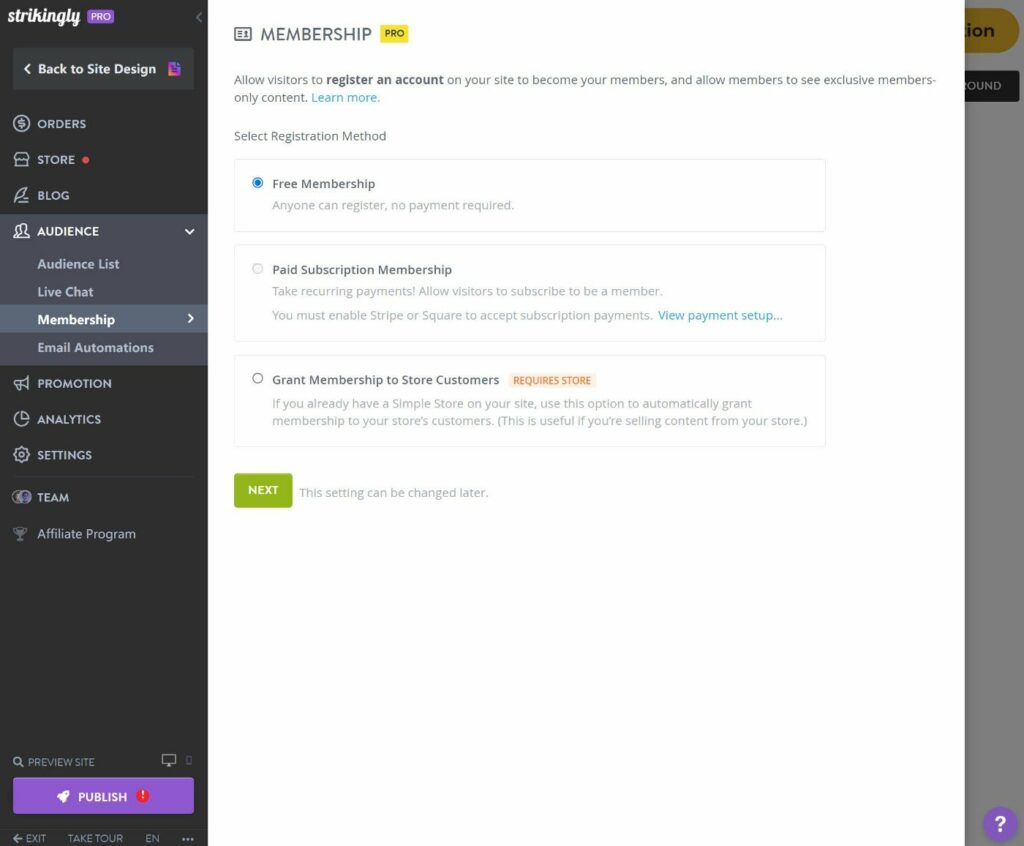 You can add multiple tiers if needed, including free and paid options.
Once you've done that, you can create members-only pages that are only visible to logged-in members.
5. Marketing Tools (Email, Live Chat, and Popups)
If you want to connect with your site's visitors and/or members, Strikingly supports both emails and live chat.
You can also create popups to grow your email list and promote deals.
Here's an example of what it looks like to send an email newsletter from Strikingly: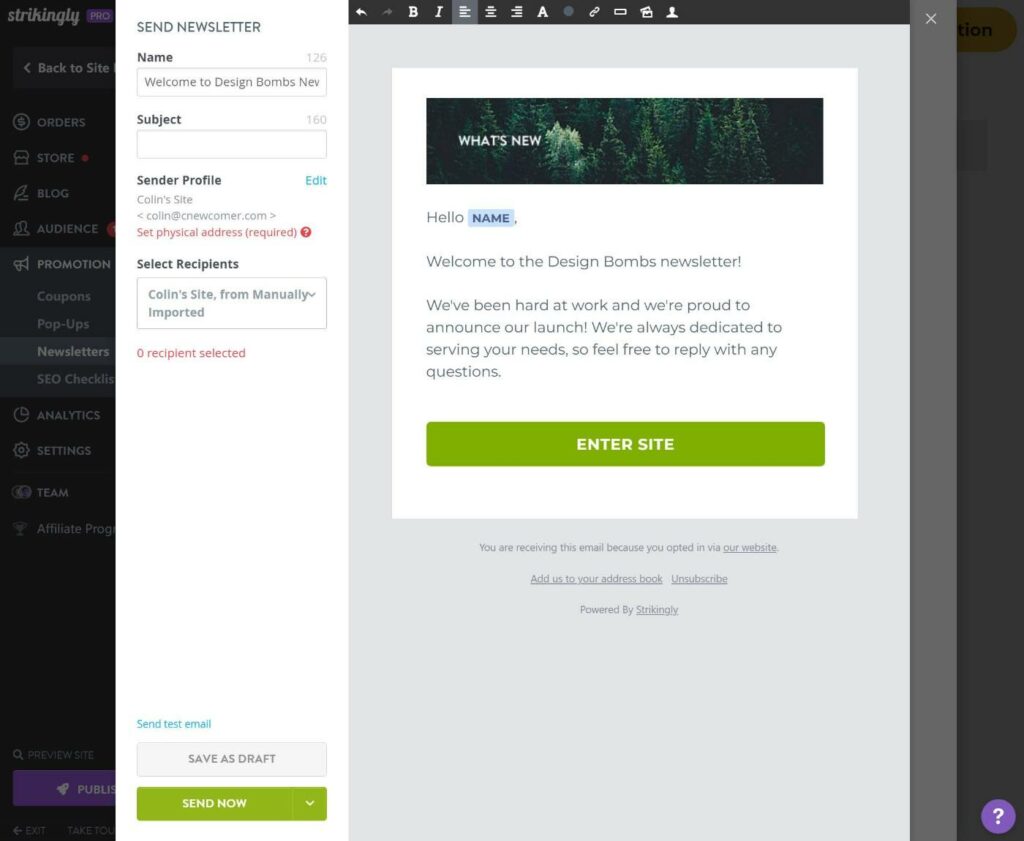 6. Custom HTML and CSS
If you need to add some custom HTML, scripts, or CSS, Strikingly does let you do that.
You have a few different options.
First, you can add an HTML section to add custom HTML to an individual page.
For sitewide code snippets (e.g. Google Analytics or custom CSS), Strikingly also lets you add custom embeds in the header or footer section.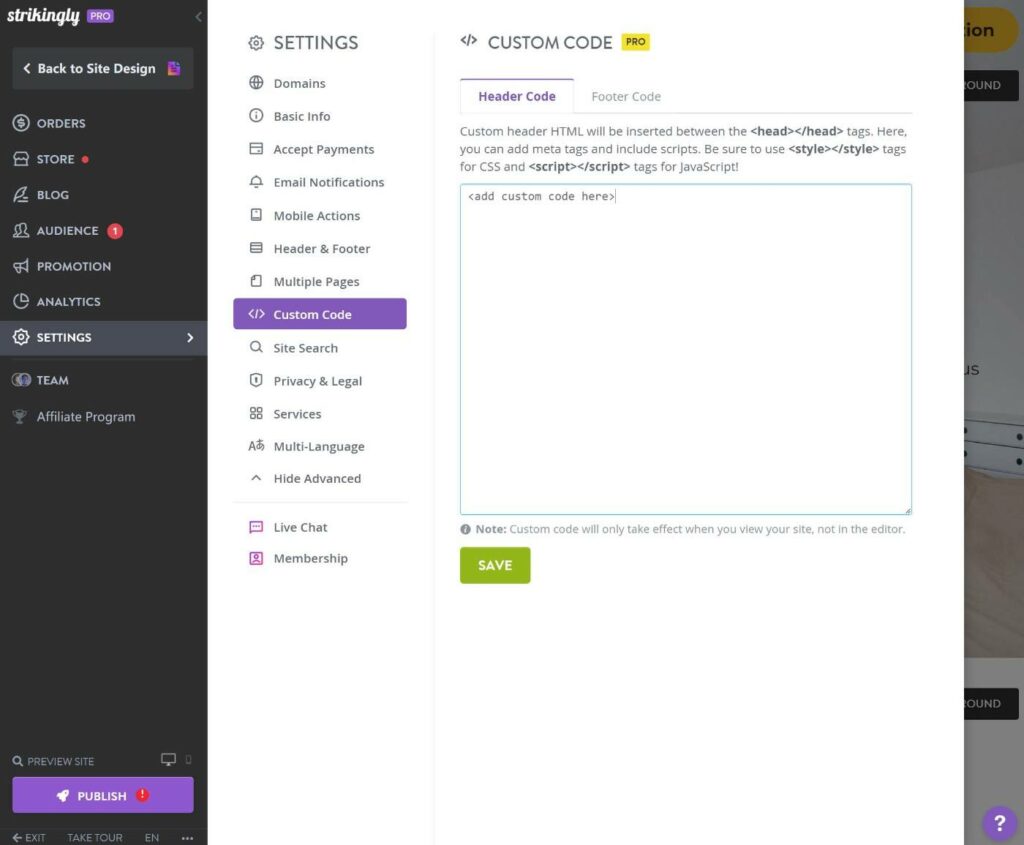 Strikingly Pricing
As I mentioned in the introduction, one advantage that Strikingly has over other tools like Squarespace and Wix is that it can be a little cheaper for certain use cases, though there are some important caveats to consider.
Strikingly has a forever free plan as well as three premium tiers.
The forever free plan lets you create a simple website and sell a single product if needed. However, beyond not getting access to all of the features, there's one important caveat – you must use a Strikingly.com subdomain and your site will have other Strikingly branding.
In terms of the paid plans, Strikingly is one of the more affordable website builder options that you'll find.
For the best value, I recommend looking at the Pro plan: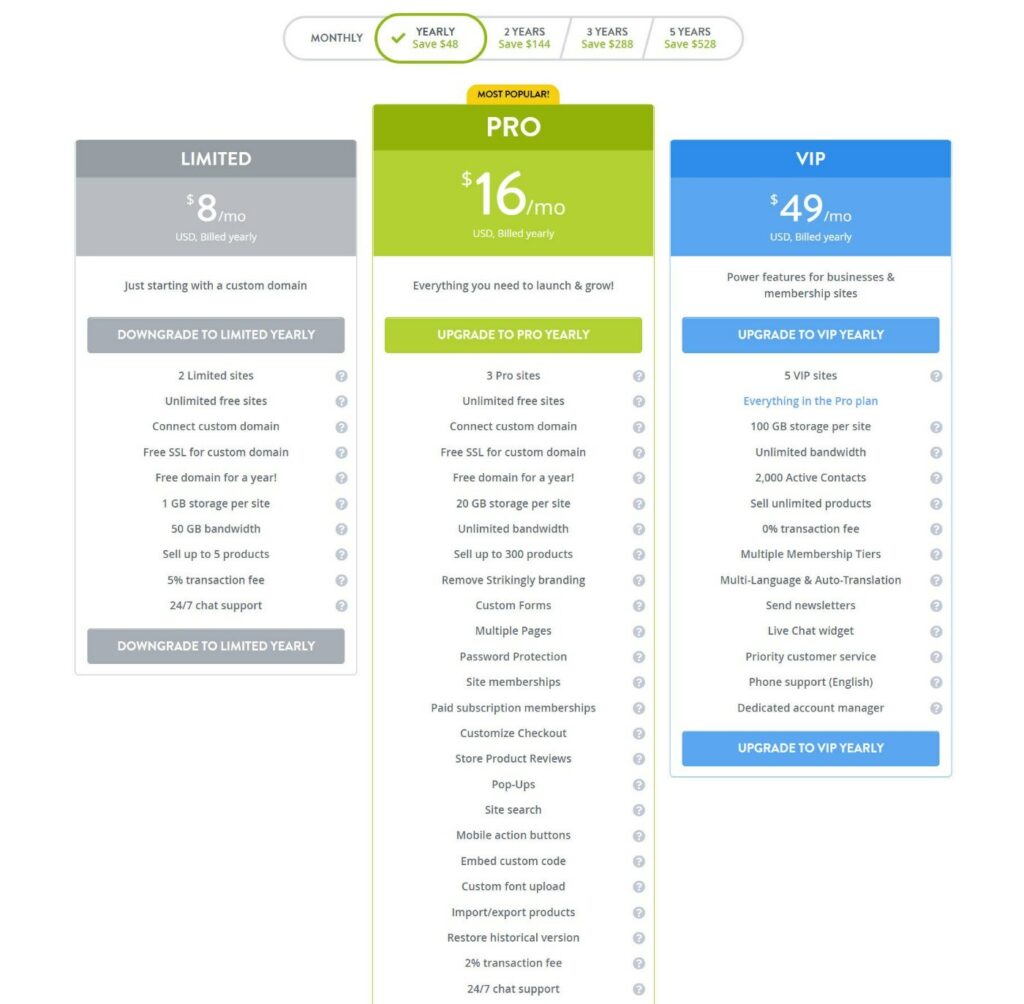 Not only does the Pro plan add lots of useful features, but the cheaper plans will only let you create a single-page site.
Another notable detail is that you can pay for multiple years upfront to save money (on a monthly basis). Of course, you'll need to be confident that you want to use Strikingly for a long time if you do that.
If you're not sure yet, you can pay on a monthly basis.
Strikingly also offers a 14-day free trial for all paid plans. You do need to enter your payment information to get it, but you won't be charged anything until after those 14 days and it's easy to cancel.
Strikingly Pros and Cons
As we near the end of our Strikingly review, let's go over the pros and cons of building your website with Strikingly.
Pros:
Free plan. Strikingly's free plan can help you create a functional website, as long as you're ok with using Strikingly branding.
Good value on paid plans. For the features that you get on the Pro plan, Strikingly is very affordable vs other website builders.
Easy to use. Strikingly is pretty easy to use, especially for simple sites.
Solid feature list. While Strikingly isn't super strong in any area, it does boast a lot of functionality including blogging, eCommerce, membership, email marketing, popups, live chat, and so on.
Cons:
No free-form editing. Strikingly doesn't offer true free-form editing because of its section-based approach. If you want total flexibility, you might prefer something like Webflow or WordPress + a theme builder.
Limited template selection. Strikingly doesn't offer as many templates as other builders. Additionally, the templates are usually only for single-page designs, so you'll need to build other pages yourself using sections.
Weak responsive editing. While all of Strikingly's designs are responsive by default, you can't create targeted tweaks just for mobile visitors because changes you make in mobile editing mode will still affect the desktop site.
Strikingly Review FAQs
To finish out our Strikingly review, let's run over a few FAQs.
Is Strikingly a legit site?
Yes, Strikingly is legit. It's been around since 2012 and has raised millions in investment, including graduating from the Y Combinator accelerator.
Do I need web hosting if I use Strikingly?
No – one of the advantages of Strikingly is that it already includes hosting and does all of the maintenance for you. You can just focus on building your site.
Is Strikingly really free?
The Strikingly free plan is free forever, but it does have limited features and includes Strikingly branding.
Is Strikingly good for blogging?
While you certainly can create a blog with Strikingly, I think you would be better off with WordPress (self-hosted or WordPress.com Pro plan) if you're specifically looking to create a blog.
Is Strikingly good for SEO?
Strikingly is fine for SEO in that it lets you control the important details, such as SEO titles and descriptions. I wouldn't say it's the best for SEO, as I prefer the flexibility and automation of WordPress. But you can certainly build SEO-optimized sites with Strikingly.
Final Thoughts on Strikingly
Now for the most important question of our Strikingly review – should you use it to build your website?
Let's break it down by when you should use Strikingly and when you should not.
When to Use Strikingly
Overall, I think the main reason to choose Strikingly is its price.
If you're ok with Strikingly branding, it has a pretty generous free plan. The free plan will even let you sell a single product, which you won't find in most other website builders.
Strikingly's premium plans are also more affordable than most other website builders in terms of the features that you get. For example, Strikingly's $16 per month Pro plan lets you sell recurring membership subscriptions, which you'd need to pay $65 per month for if you used Squarespace and at least $25 per month at Wix.
So if you're willing to accept some limitations in terms of the editor and templates, Strikingly can offer good value for those on a budget.
Additionally, while Strikingly is a bit more limited in terms of design options, some people might actually prefer that because it makes the editor simpler to use.
For this reason, I think Strikingly can be a great option for people who want a really simple tool that can still build a website that looks good.
When to Use a Different Tool
In terms of pure functionality and flexibility (i.e. ignoring price), I think that there are better ways to build a website.
For more DIY-type users, you can use WordPress, either by self-hosting your WordPress site or paying for the WordPress.com Pro plan (which offers a simpler way of creating a WordPress site that still lets you install plugins). Here's how to make a WordPress site.
If you specifically want a website builder, Wix and Squarespace offer superior products in my opinion. They do cost a bit more to access the same features, but you get a nicer editing experience, way more templates, etc.
If you're a web designer, you also might prefer Webflow, though I don't recommend Webflow to casual users.
To see more options, check out our full collection of the best website builders.
And if you're specifically building an eCommerce store, then I recommend skipping Strikingly and using Shopify or WordPress + WooCommerce. You can see more options in our full collection of the best eCommerce platforms.
Do you still have any questions about Strikingly or our Strikingly review? Let us know in the comments.