Shopify vs. WordPress (2020): Which One Is Best For Your eCommerce Store?
Choosing a platform to launch your new website is quite a challenge. I'd know – I've been in your shoes more than once.
With so many options available, it can be hard to decide which platform is the best one for what you're trying to do. But if you're considering building an online store where you'll sell either physical or digital products, then there are two great options on the market:
WordPress, and Shopify.
Each one has features that make selling online and sharing content pretty straightforward with little to no coding needed to get your online store off the ground and running.
Depending on what you're planning to build, one platform may be better for you than the other. In this post, we'll give you an overview of each one to help you decide which one is the better option.
WordPress vs. Shopify: A Side-by-side Comparison
Real quick, I want to give you an overview comparing the two platforms because I always find charts helpful and that's what we want to be to you – helpful. 
Below the chart, we'll go more in-depth into each platform, the pros and cons of each, and the pricing for both. 
| | | |
| --- | --- | --- |
| Features | Shopify | WordPress |
| SEO Blog optimization | Yes, but very minimal | Yes, the best around |
| Built-in blogging capabilities | Yes, but very basic and not the best experience to use | Yes |
| Abandoned Cart recovery | Yes | No |
| Theme and platform customization | No | Yes |
| eCommerce ready, right out of the box | Yes | No. Must use a plugin to get eCommerce functionality |
| Built-in business tools for eCommerce  | Yes | No |
| 24/7 Customer Support | Yes | No |
| Fast, and Mobile ready | Yes | Yes, with the right theme |
| One-click refunds | No | Yes, with WooCommerce Plugin |
| Automatically calculate taxes | Yes | Yes, with WooCommerce Plugin |
| Unlimited store products | Yes | Yes, with WooCommerce Plugin |
| Product reviews | Yes | Yes, with WooCommerce Plugin |
Let's dive into each platform a little more. 
WordPress: What you need to know 
There are two versions of WordPress that you can use to build a site:
WordPress.com
WordPress.org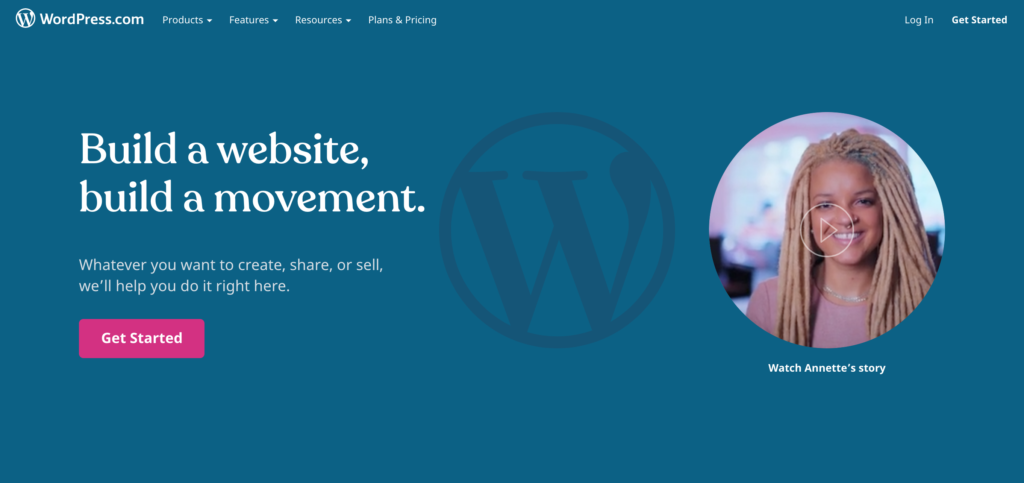 WordPress.com is a hosted website builder making it similar to other website building tools like Squarespace, Wix, and Shopify. However, the majority of popular WordPress websites and blogs do not use this version of WordPress. 
WordPress.org is the self-hosted version and by far the most popular option for creating a website. As that is the case, the self-hosted WordPress.org version is the one we are focusing on for this article.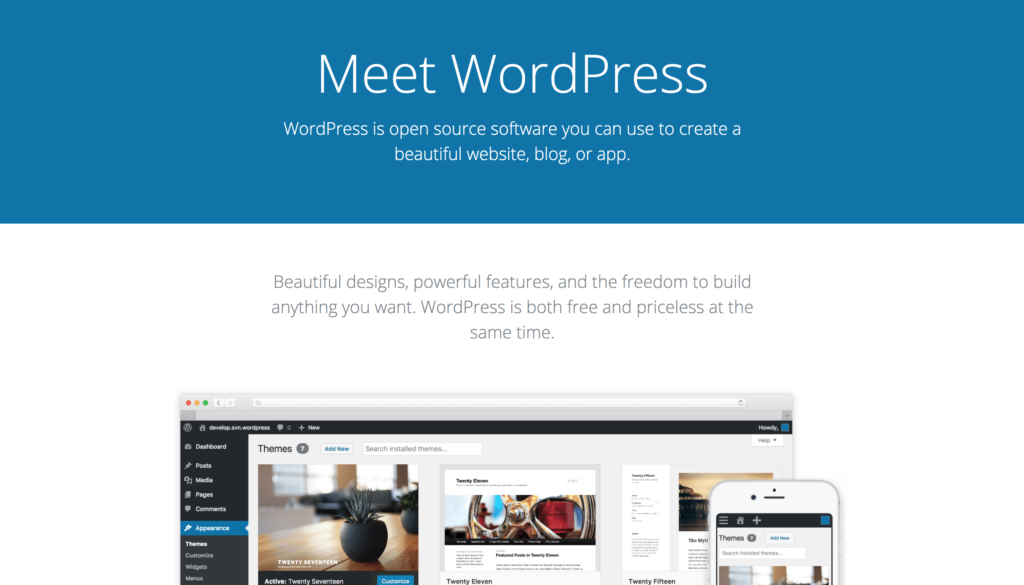 Overall, this version of WordPress gives you more flexibility and control of how much you can grow your site. The foundation of WordPress was built as a content management system (CMS), which is why so many bloggers and content creators flock to it.
While it works best as a blogging platform, there are now various tools and plugins such as WooCommerce or Easy Digital Downloads which let you set up, launch, and manage an online store or sell digital products. 
WordPress' Standout Features
By far, the best thing about WordPress is its blogging capabilities. The entire platform is designed to make it as easy as possible to write, edit, and publish written content. 
More than that, though,  WordPress is an inbound marketing and SEO dream come true. 
You get a lot of control of your URL structure to make it easier for Google to categorize and rank your pages and blog content. You can add categories and tags to your blog content, and you can optimize images for SEO too. 
Features like this are why so many brands such as TechCrunch, The New Yorker, The Walt Disney Company, and many more choose WordPress for their website platform. 
You can't underestimate the power of inbound marketing for your website. Shopify doesn't have this type of SEO optimization for their platform because blogging isn't their main focus. 
But WordPress has a lot of other pros and cons that you should be aware of.
The Benefits
Theme options and design control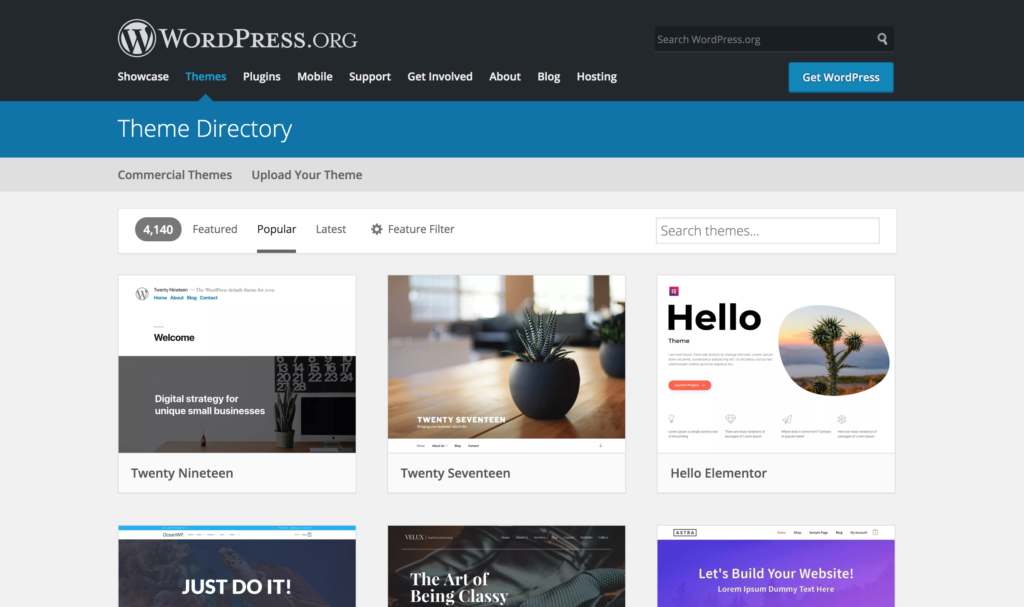 There are thousands of WordPress themes.
The WordPress.org theme directory alone has more than 4,000 free themes.
More than that, there are hundreds of developers who have created fantastic premium themes that can give you a unique look for your brand. And depending on the theme that you choose, the ability to design your site to look exactly how you want it could be much easier.
For instance, drag-and-drop page builder themes allow you to design page layouts with little or no coding needed. Themes such as the Divi Theme or Beaver Builder are a couple of great options for this. 
Get eCommerce features and other functionality with plugins
Out of the box, WordPress is best used for content publishing and management. However, with the help of WordPress plugins, you can add a lot of additional functionality to customize your site to suit your needs.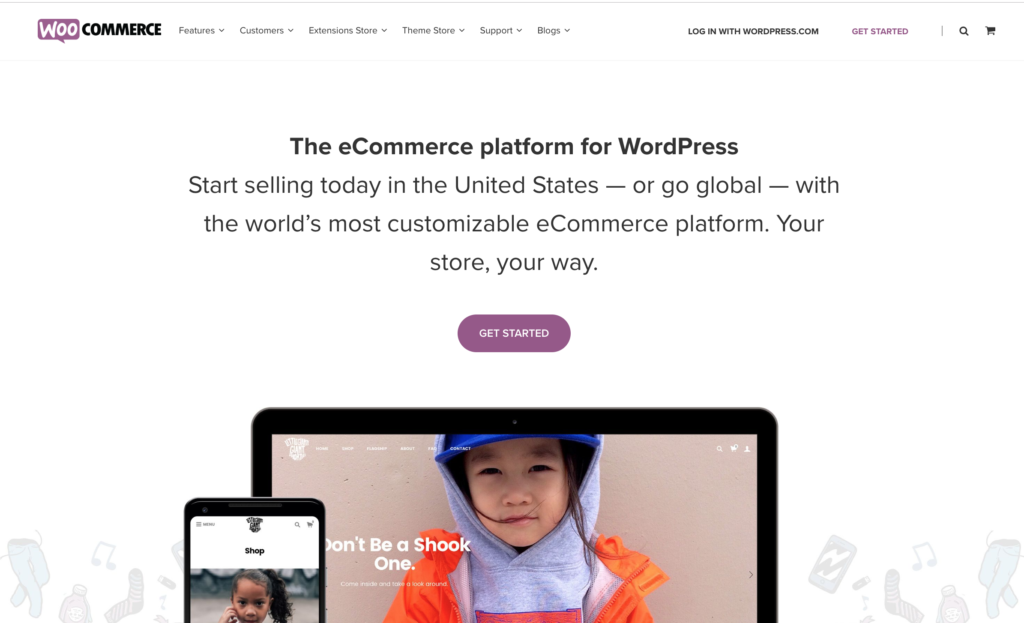 WooCommerce is the most popular plugin choice for turning their WordPress site into an eCommerce powered store.
The WooCommerce plugin is free to download but instantly adds a lot of eCommerce features you can be happy with. Features like: 
Automatic taxes added based on user location

Shipping calculations

Product review features

Embed products into any page or blog post

Categorize, tags and attributes can be added to products to make items easier to find

Unlimited products
So instead of taking months of coding, you can get everything you need to start an online store in a couple of clicks.
And that's just an example for one plugin.
Some plugins can add contact forms, email opt-in forms, social sharing buttons, and the list goes on.
The Drawbacks
Not eCommerce ready, right out of the box
If you want all the features and business tools you need to get your online store up and running, WordPress is going to take a bit of work to get to that point.
The WooCommerce plugin is a simple install to give you an online commerce solution for your site, but it's going to take time to learn and setup. That is different from Shopify, which is a platform designed solely as a commerce-based website building platform.
Lack of support 
Since WordPress is self-hosted, that means most of the support you'll need to handle hiccups on your site is left up to you to deal with. If you have a question about your theme or plugin, you can try reaching out the developer for support, but responses are not always as speedy as you'd like.
And if you run into an issue with WordPress itself, you're usually left to figuring that out on your own. However, one way to get more support and help when you need it is to go with a hosting provider that offers Managed WordPress hosting. 

Siteground has a great Managed WordPress hosting option for a fair price and offers some of the best support I've ever experienced with hosting providers. This option is a bit more expensive than a super basic package you might find on Bluehost or Dreamhost, but it's worth getting the help when you need it.
And you'll need help at some point, trust me. 
Lack of top-notch security
In 2018, WordPress accounted for 90% of all CMS site hacked. While WordPress is popular with people for starting a website, it's also a popular target. Even if you keep your site's WP Core install, theme and plugins up-to-date, that doesn't guarantee your site can't be hacked.
However, there are precautions in this area to beef up WordPress security. You could use a tool like Sucuri, or make sure that you have a robust password for all users. Also using a managed WordPress host provider helps here too because some of them can help in the event your site is hacked.
The Cost of WordPress
Coming up with a cost for a WordPress site can be tricky. Hosting can be as little as $50 per year or go up to over $500. 
The cost of themes vary from free to $200+, and if you need third-party tools (security, SSL certificates, email marketing providers, etc.) to run your site, then there are some fees to consider there as well. 
eCommerceBooth estimates a fair average for running a WordPress eCommerce site to be roughly $200.
Take that with a grain of salt though. Your site could cost more or less depending on what you need.
Even though a WordPress.org install is free, there are a lot of other costs that add up along the way.
Shopify: What you need to know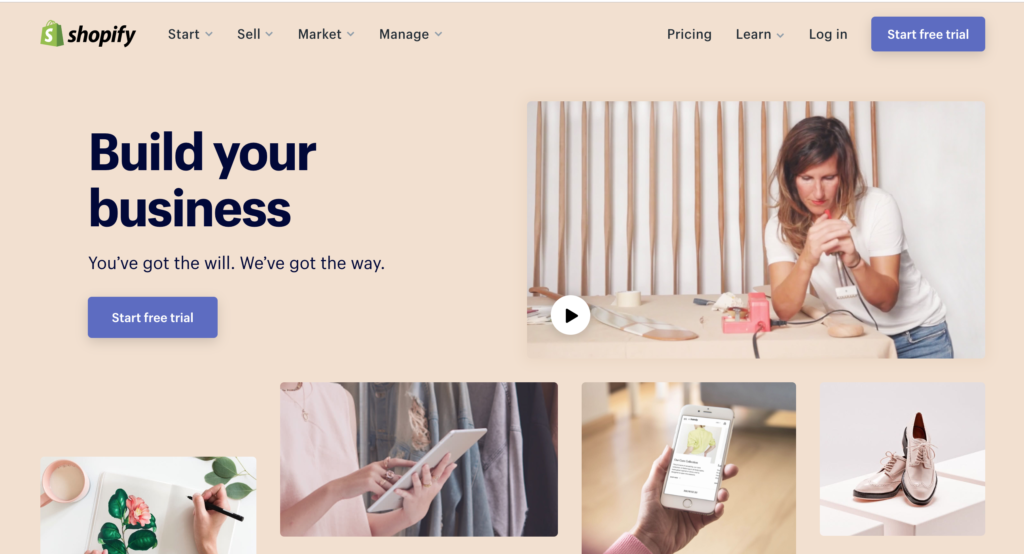 Unlike WordPress, Shopify is a fully loaded online commerce platform So right out of the box, you will have everything you need to launch an online store and sell products.
It is also a hosted platform. This means that when you pay for a Shopify site, you are paying for hosting, support, and site security. (I'll touch on those more in a little bit.)
This platform also has pros and cons that may help you in deciding which one to build your shiny new site on.
Shopify's Standout Features
More than just helping you display products you want to sell, Shopify has built-in forward-thinking business features that add quite a bit of value. 
One of the most impressive features is their automatic abandoned cart emails.
The global average abandoned cart rate is 74%, which means your site could lose A LOT of revenue if you're not making an effort to recover those abandoned carts.
While there are email service providers that take time to set up and can help you do this, Shopify has this impressive feature built right into its platform. A couple clicks of your mouse and your site will automatically send emails to remind customers when they've left things in their cart before checking out.
Some of the other features that come with every single Shopify plan includes:
Unlimited products

Unlimited bandwidth, meaning you won't have to pay more if you go from 500 visitors a month to 5 million or beyond. That is a unique offer since most host providers will charge you more as your site traffic grows.

Product coupons or discount codes

Offers customer support is in 14+ different languages

Automatically collect sales tax

Calculated shipping rates
Below are a few other benefits as well as some downsides for you to consider.
The Benefits
Easy-to-use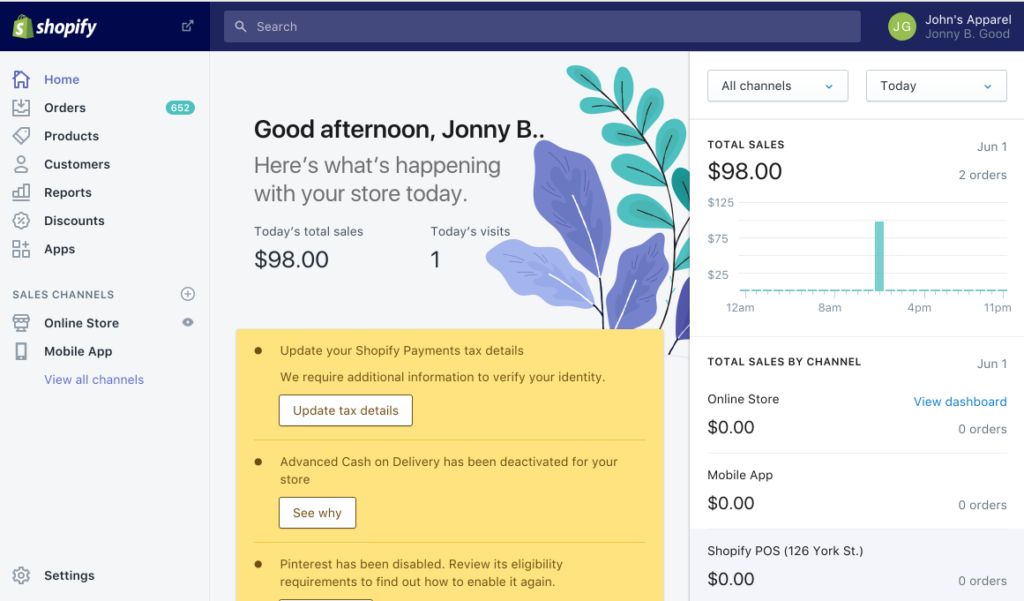 When compared to the WordPress Dashboard, Shopify's dashboard area really shines. The user interface is pleasantly designed, but more than that, it's easy to get around. 
The layout is clean and quick to navigate. Setting up your store with products, calculating shipping, and fulfilling orders are much easier than with WordPress. 
Everything is designed to streamline the process of going from an idea to launching an online store as quickly and efficiently as possible. You can sign up for a free trial to get a feel for just how easy it is. 
Support whenever you need it
When you sign up for Shopify, you're getting more than just a website builder. You're also getting managed hosted, security and support at every turn.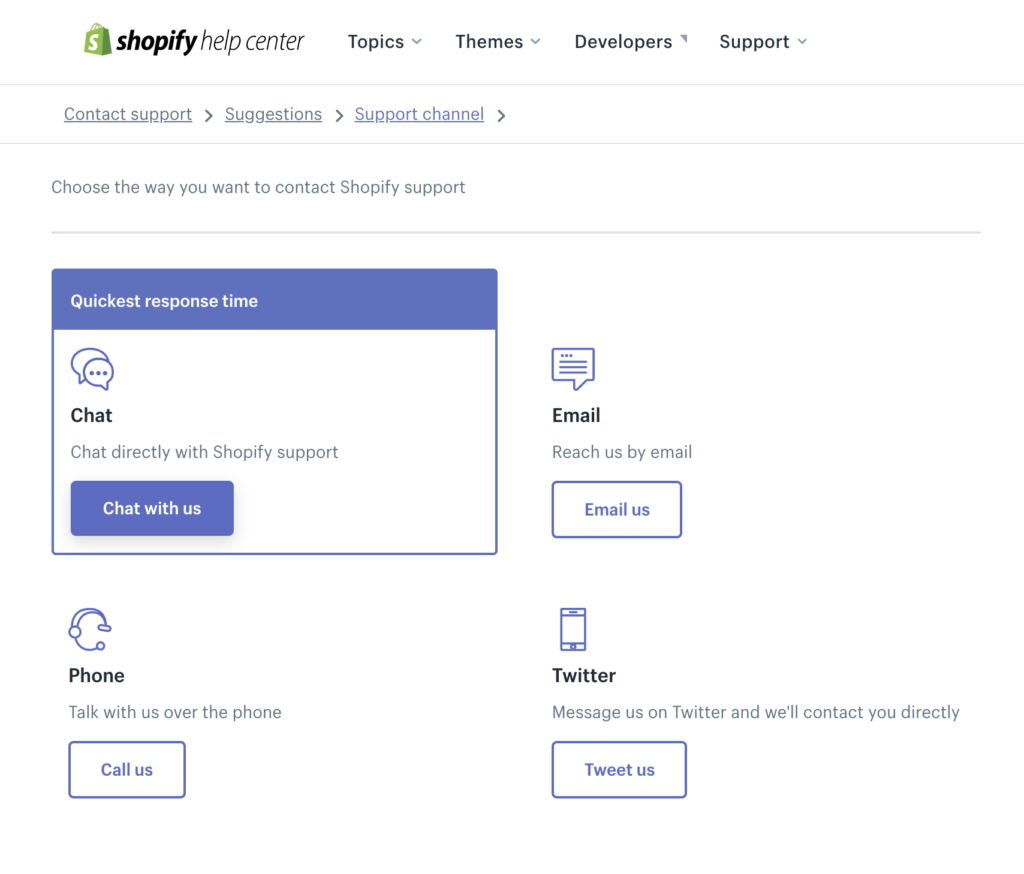 Shopify has some of the best support around and offers you a lot of ways to get in touch to get answers and solutions to problems that may come up.
Marketing apps expand options and capabilities
Much like WordPress plugins, Shopify apps can be added on to help you run and grow your store.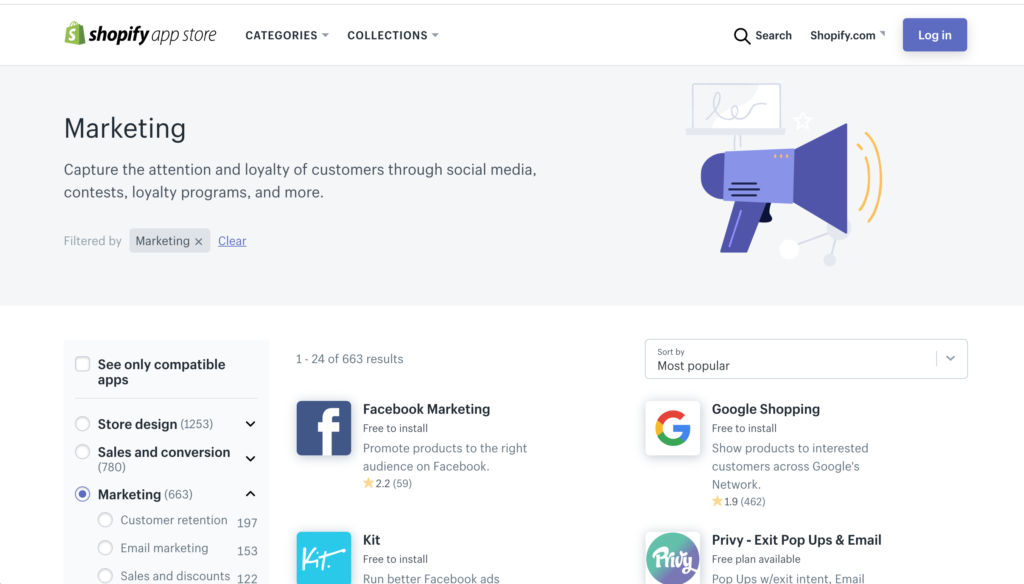 The Shopify App Store has a bunch of apps covering everything from sales and marketing to productivity and customer service. There are thousands of options here, and each app is vetted to make sure it's up to snuff with Shopify's high standards. 
But the apps are there to help you run an online store more smoothly and even help you market your store so that you can easily manage things as you grow. 
The Drawbacks
Blogging is an afterthought
Shopify is built with commerce in mind. It's clear when you're setting up a site with this platform that blogging was sort of an afterthought. The blogging capabilities are very basic and don't offer you much in terms of formatting, style or checking SEO before publishing.
While some online brands rely heavily on paid ads for their store, others like to add content marketing to their marketing plan. And many times, people decide to use a different platform to host their blog so that they have better content management options.
It's not too terrible if you're not focused heavily on blog content, but it could be much better.
Themes are expensive 
While some of Shopify themes are free, the more unique ones come with a decent price tag.
The lowest-priced theme in their theme shop is $140 and go up to $180. Be that as it may, themes on other places like Themeforest have Shopify themes for as little as $49.
But these haven't been vetted by Shopify, and any support you might need will need to be handled by the theme developer instead of Shopify.
The Cost of Shopify
The base price for Shopify starts a flat monthly rate of $29 and can go up to $299.
However, this price doesn't cover costs like third-party tools, your email service provider or apps you're using that require additional subscriptions.
You can save a bit of money by paying for a full year instead of just month-to-month too. However, compared to WordPress, the pricing is much more straightforward.
WordPress vs. Shopify: Which is better?
Both WordPress and Shopify have a lot of things about them that make them great.
For eCommerce, Shopify is the easiest to use and makes it simple to get your store up and running without having to install anything. However, it's not great for inbound marketing and comes with sticking points if you plan to push a lot of blog content.
Coupling WooCommerce with WordPress gives you many of the same features that you'd get from Shopify plus the added benefit of a pimped out blogging platform. But the lack of support and the constant maintenance needed can be enough to drive someone mad.
If you're still on the fence, consider your objective for your site.
Will you be selling a lot of products or just a few? Are you pretty tech-savvy or do you think you'll need help with working out kinks along the way?
If ease of use and support are important to you, then Shopify likely suits your needs best. But if you have just a few products for your store, plan to sell online courses or digital product, you can get a pretty slick looking eCommerce store up and running in no time.
When you compare your ultimate goal with the features and benefits each option has, one will start to stand out to you as your best option.
And that's a win in our book.