How To Start Dropshipping – Step By Step Guide For Beginners
Are you dreaming about starting a drop shipping business but don't have the money to invest?
We're going to make that dream come true. In this guide, we'll show you how to start a drop shipping business online for less than $45 that'll help you earn a profitable income from home.
The best part is you don't even have to stock up products in your garage or ship products one at a time, with a dropshipping store, retail service providers take care of that for you.
All you have to do is open the store, import products from another site, promote, and start collecting the money.
This guide is all about starting a dropshipping business with Shopify. It's completely beginner-friendly and we'll take you through the process step-by-step.
By the end of this guide, you'll learn how to:
Pick a profitable niche for your dropshipping store.
Find products that sell.
How to promote products.
How to setup a drop shipping store with Shopify.
Import products from AliExpress using Oberloo.
How to make more sales using Instagram.
And more.
Before going any further, bookmark this page so that you can easily get back here for reference while building your store.
Let's get started, shall we?
What is Dropshipping?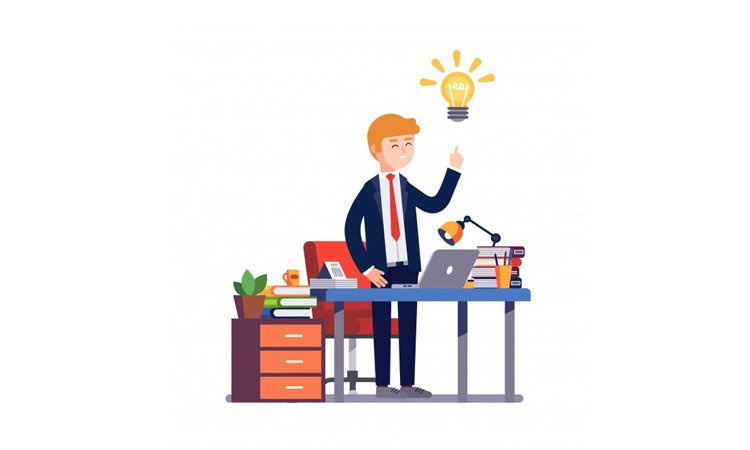 No inventory, semi-automated, earn up to $1K in first month
Dropshipping is an eCommerce strategy that involves selling products without keeping stock. You simply buy products from a wholesale agent like AliExpress and sells the products for a profit. You never have to handle the products, shipping, or returns.
Simply put, when you have a dropshipping store, you find products from a third party whole selling site like AliExpress and feature those products in your own store at retail price. AliExpress doesn't charge you for featuring these products in your dropship store.
And, when a customer buys a product from your store, you process the order through AliExpress and they handle all the logistics for you by managing the inventory and shipping the product to your customers.

For example, here you see a shop selling a product at the full retail price. On AliExpress, it only costs $35. Which means, this seller earns a $15 profit from each sale of this product.
Can You Make Money Dropshipping?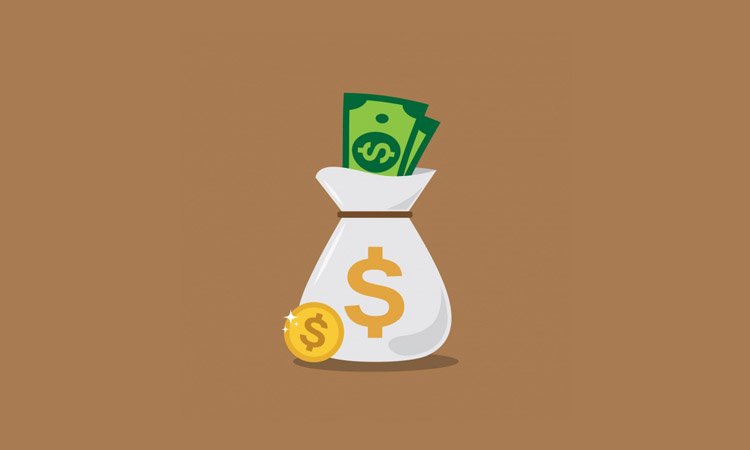 Dropshipping is one of the easiest ways you can start a business and make an incredible profit. Some dropship sellers make over $20,000 per month, doing minimum work.
Want proof? Meet Tanner Planes. At only 16 years old, Tanner started a dropshipping store using Shopify. Every day, after coming home from school, he would spend his free time managing his Shopify store.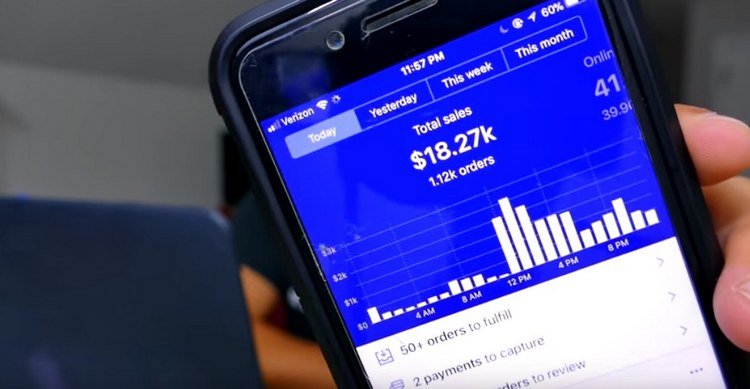 Tanner's store makes up to $20,000 in a day. It's no fluke. He makes this happen by promoting his products on Instagram via influencers. Tanner is one of the many people who make profitable dropshipping businesses online.
Yes, you can make that much money with your dropship store too. The key is to pick the right niche. We'll talk more about that in a moment.
What Is Shopify & Why Use It?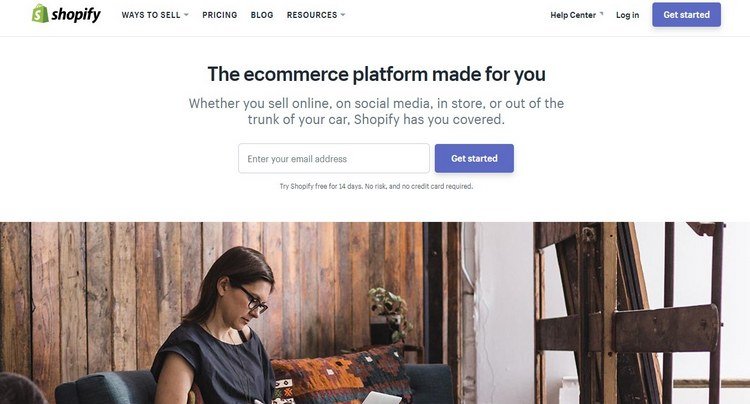 To setup your dropship store, we're going to use Shopify.
Shopify is an online eCommerce software that allows you to setup stores quite easily. With this software, you don't need to worry about designing websites and hiring web developers.
In fact, it only takes less than 20 minutes to setup a dropship store in Shopify. You can complete the entire process in just a few clicks. It's that easy.
Shopify is not free software. They give you hosting, manage checkout systems, and more to help you serve your customers. So you'll have to buy a Shopify subscription to open your store to the public, which only costs $29 per month. That's really nothing compared to what you can earn with your store.
Of course, you can test drive Shopify for free for 14 days. No credit card required.
How To Find A Profitable Niche & Products That Sell
The number one reason most dropshipping businesses fail is that they try to include lots of products in dozens of categories. More products don't necessarily mean more sales.
Instead, you should try to find a niche and include a collection of the best products on your Shopify store. This will make things easier for you to manage and promote your products more easily.
To find a profitable niche, go to AliExpress and search for a product category. Then look for the best selling niches in that category.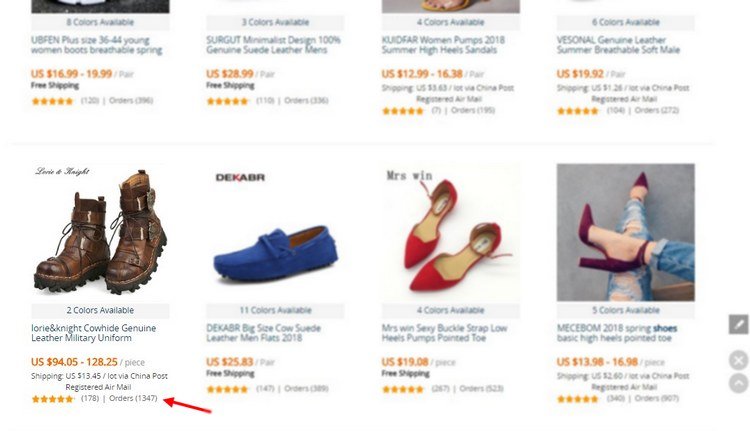 For example, let's say that you're looking to start a dropship store to sell shoes. Then search "shoes" in AliExpress and see what kind of shoes has the most sales.
As you can see, there's a steampunk-style boot selling like hot cake.
Instead of building a general shoe store, you can start a niche-store for like Steampunk shoes or Military Boots.
Use this same tactic to find the best items to dropship from your store as well.
Find A Name For Your Store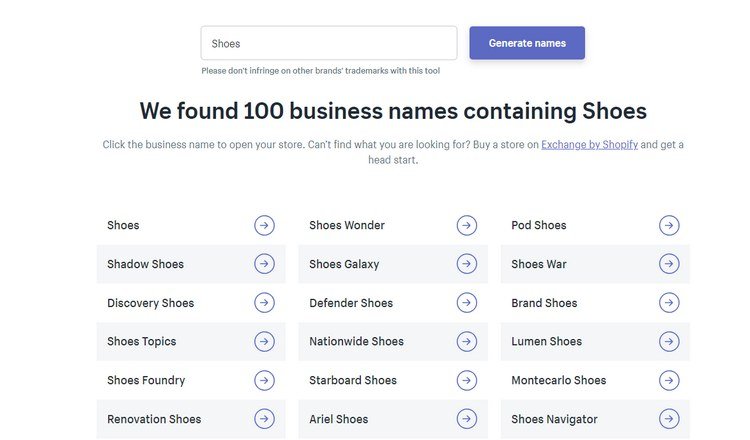 Before starting the store building process, lets come up with a cool name for your store. You can change this later, but it's best to go into the process prepared.
A great way to come up with a unique name is to combine two words, for example, you can try something like Infinite+Shoes=InfiniShoes.
Or, you can use Shopify Business Name Generator tool to quickly generate a name for your store
Make sure that your store name is also available to buy as a domain name.
Design A Logo By Yourself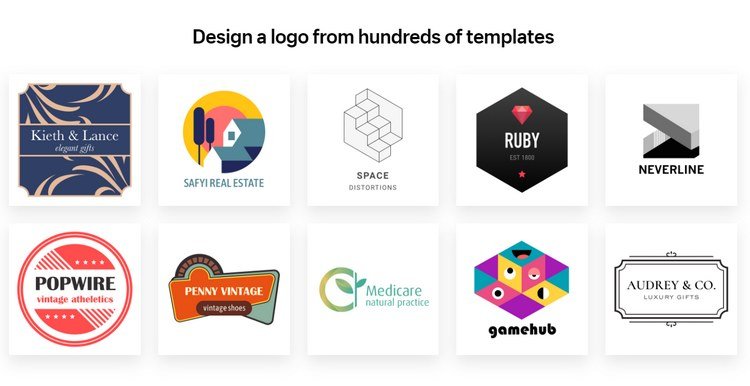 It's important that you make your dropship store look as professional as possible to gain customer trust and generate more sales. Start by designing a unique logo for your store.
Use Shopify Logo Maker tool to quickly create a simple logo for your store.
Step 1: Signup With Shopify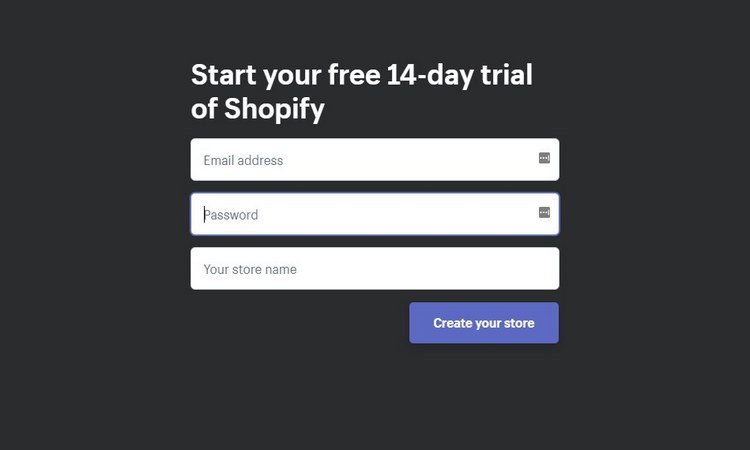 Let's start by signing up for a Shopify account.
As we've mentioned earlier, Shopify costs $29 per month to maintain your dropship store.
But, you can signup and build the site for free with its 14-day free trial. That's two whole weeks for free! More than enough time to test the platform and get comfortable.
Sign up using the link below.
Step 2: Setup Your Store
After completing the signup process, you should be able to login to your Shopify account dashboard. This is where you'll be setting up and managing your dropship store.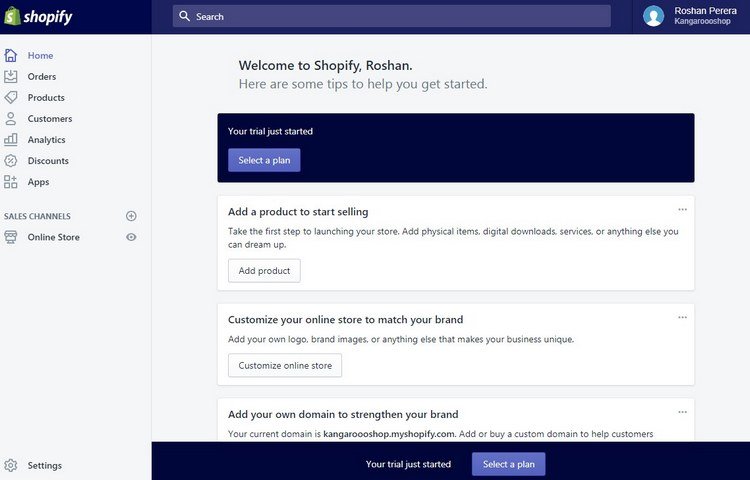 The dashboard may look empty at the moment, but once your store is up and running, it will show you analytics, orders, sales, and a lot more info about your store.
You'll notice that Shopify has already setup the store for you. There's very little work you have to do it customize it.
First, head over to the Settings page. Now, don't feel overwhelmed by all the options and tabs on this page. Shopify has already configured most of the settings and you don't have to change them unless you want to.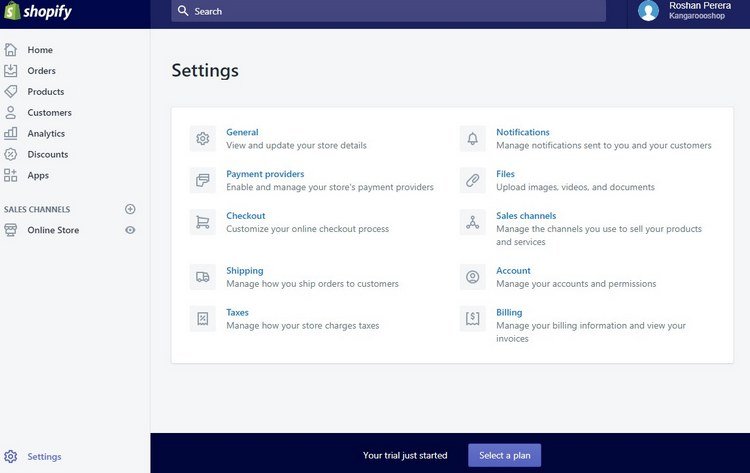 Here are a couple of things that you should customize.
Go to General options and change the currency to USD.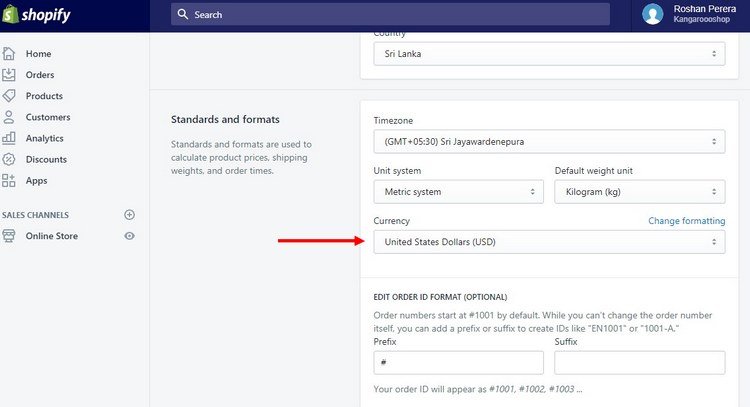 Go to Taxes and choose how you'd like to charge for taxes (it's best to include taxes in your price choose that option).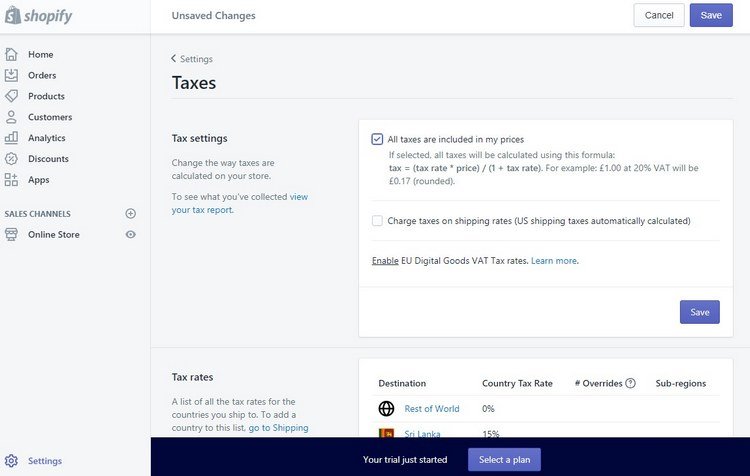 Go to Payment Providers and choose how customers can pay during the checkout. You can allow your customers to pay with many different options, including PayPal, credit card, Skrill, Stripe, and many more.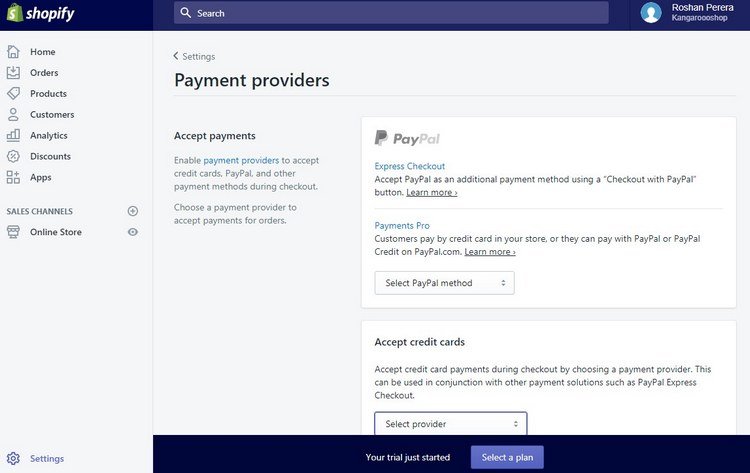 After choosing a payment method, Shopify will request you to activate it by connecting Shopify with your preferred payment processor.
If you have PayPal, connect your PayPal with Shopify.
That's all you have to configure for now. We'll get to the Shipping section later.
Step 3: Install A Theme
To make your store look more professional, you should install a Shopify store theme.
You can either browse a collection of free themes or buy a premium theme from the Shopify Theme Store. Using a premium theme will make your shop look more professional.
For now, let's use a free theme.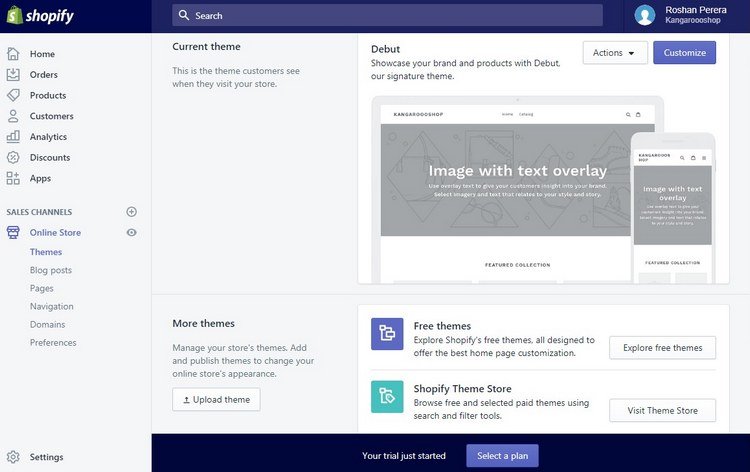 Go to Online Store >> Themes and select Explore Free Themes to browse themes and choose one that fits your store. The Supply theme is our favorite free theme.
Click on the Customize button to customize your store design.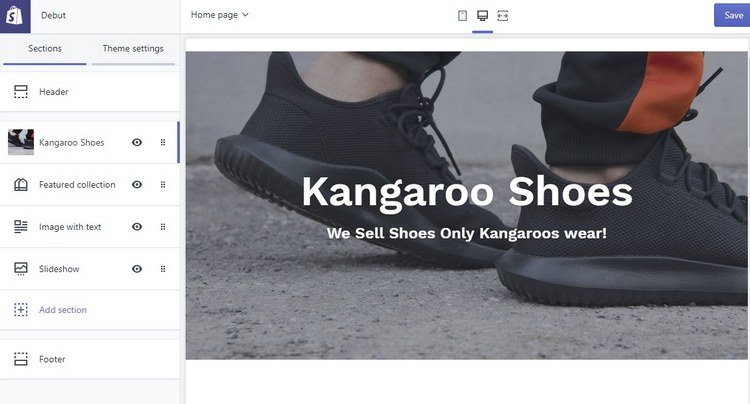 From here, you can add a background image to your store, upload your logo, change colors, and do much more.
Switch over to the Theme Design tab to change the store colors and fonts.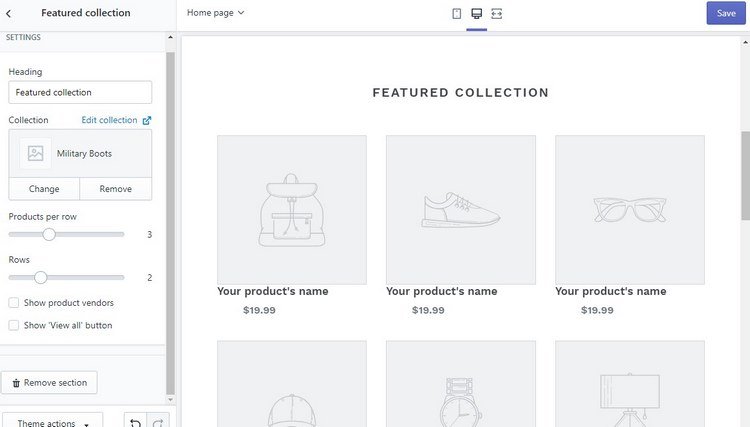 Notice that here you can also choose which Collections to show on your homepage. Select the appropriate Collections to show in different sections on your Store. We'll show you how to create Collections next.
Step 4: Create Collections
Before adding products to your store, you need to create Collections.
Collections are like categories for your products. It helps you to organize your products properly and arrange your products on your store homepage.
For example, if you're selling shoes, you should have shoes in different styles like Boots and Sneakers.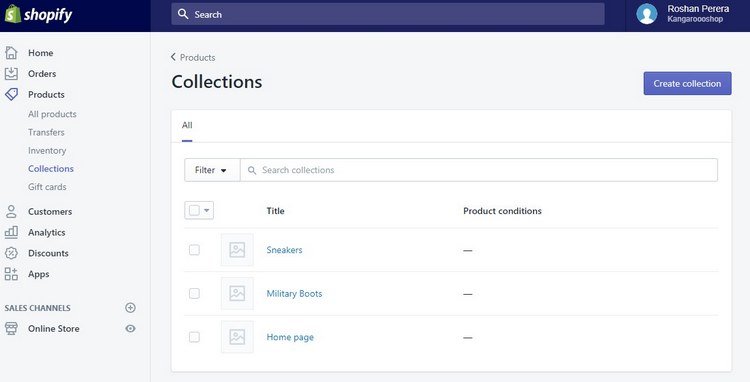 Go to Products >> Collections and create different Collections for categories.
When creating Collections, choose the Collection Type as Manual. This enables you to add products manually to your store.
Step 5: Buy A Domain Name
Even though it's optional, we highly recommend that you use a custom domain name to make your store look more professional and build authority.
Shopify will give you a free sub-domain for your store (eg: mystore.shopify.com). But, this usually makes your store look cheap and amateur-like. And customers will avoid buying on your store if it looks unprofessional.
So, buy a custom domain name, like yourstore.com, to make your store stand out.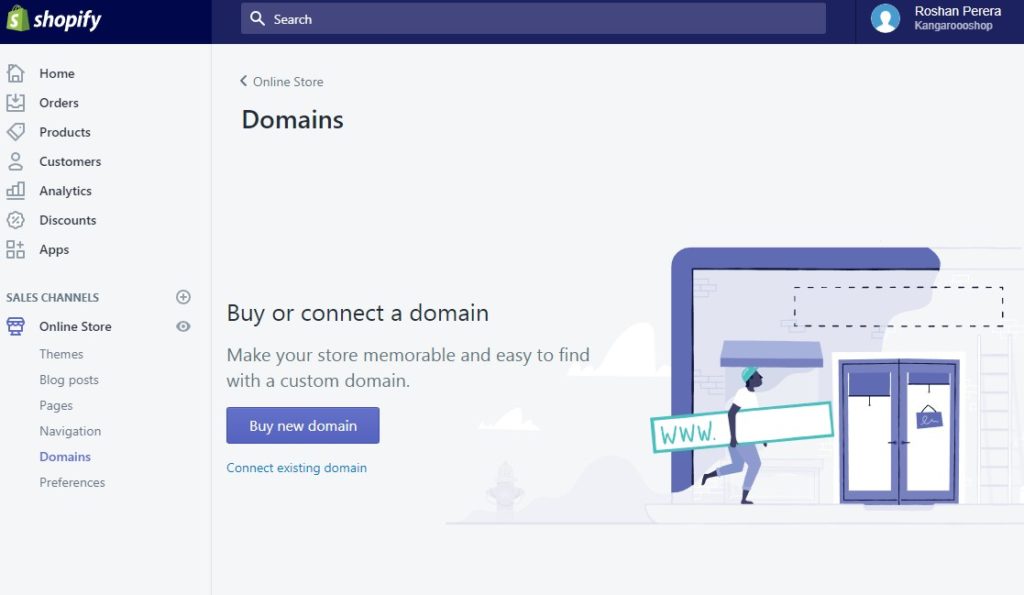 Go to Online Store >> Domains to buy a domain name for your store. It will cost around $14. Shopify will manage the domain and connect it to your store for you.
Step 6: Install Oberloo
AliExpress is the platform we'll be using to add products to your store. AliExpress is a popular retail service provider that supports dropshipping stores by providing products at wholesale prices.
Now, you don't have to use AliExpress directly to add products to your store. Instead, we'll be using a tool called Oberloo to make this process easier.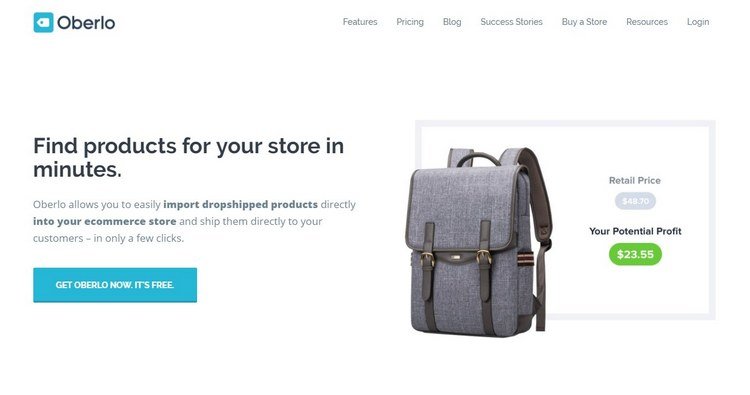 When using Oberloo, you can easily browse the products on AliExpress and instantly import those products to your store, including the product images, descriptions, and tags.
Signup for an Oberloo account by installing the Oberloo app in Shopify. It's free.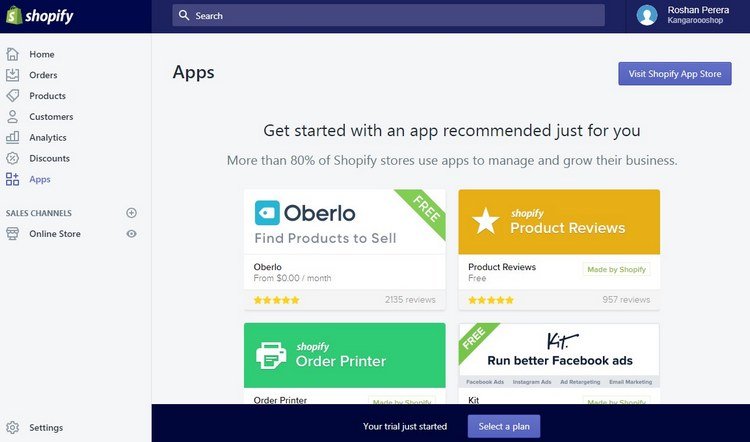 From your Shopify dashboard, go to Apps and click on Oberloo app to install it. Shopify will ask you to login again during the installation process. Use your login info and follow the instructions to create an Oberloo account and integrate it with Shopify.
Step 7: How To Find Products With Oberloo
Once you connect your Shopify store with Oberloo, it will redirect you to your Oberloo account dashboard.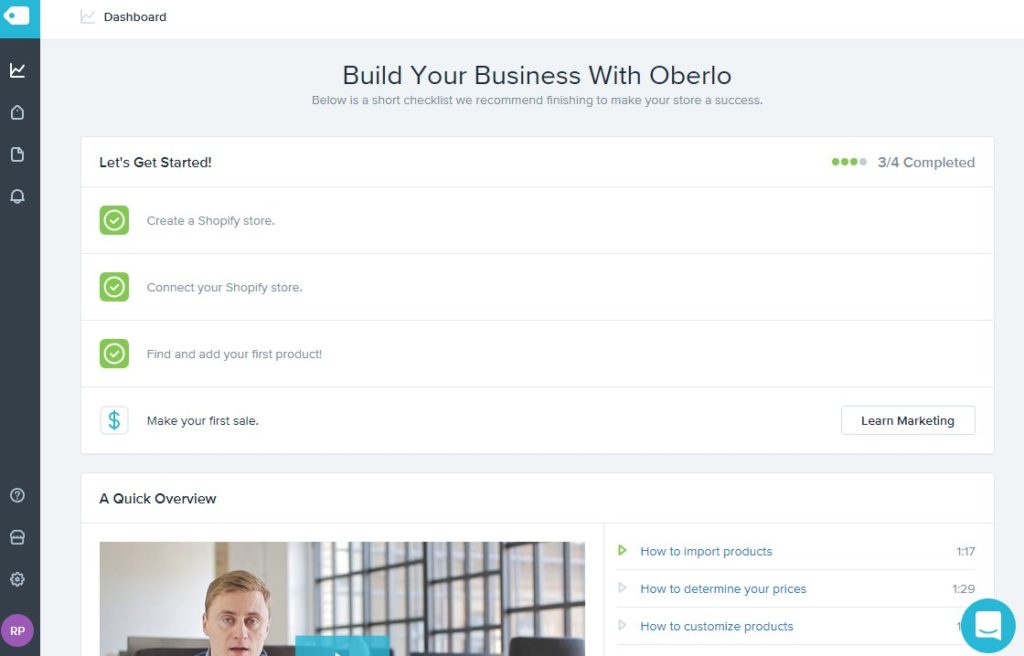 Now, you won't find AliExpress products directly on Oberloo. Instead, you have to install the Oberloo Chrome extension to import products from AliExpress.
Use this link to install the Oberloo Chrome extension. You will need the Google Chrome browser for this extension to work.
After installing the extension, go to AliExpress website and search for a product. You'll see a whole lot of new information showing up for each product in AliExpress when you hover your mouse over them.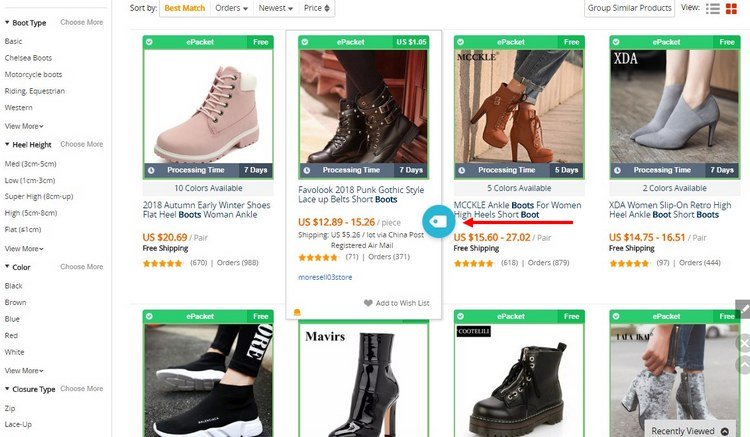 Simply click on the Oberloo tag icon to add a product to your Oberloo import list.
Step 8: Import Your First Product To Your Store
After finding a product you like on AliExpress, you can start adding them to your product Import List to upload the AliExpress products to your Shopify store later.
Once you add a few products to your Import List, go back to your Oberloo account dashboard and you'll find all those products in your Import List.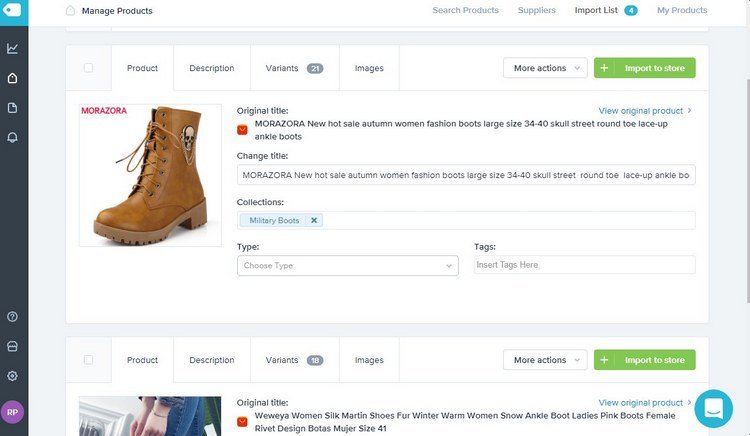 From here, you can customize the details of each product before uploading them to your Shopify store. You should change the title, choose a Collection to add the product, write a custom description, and choose which images to import.
Use the Variants tab to set the price for your products.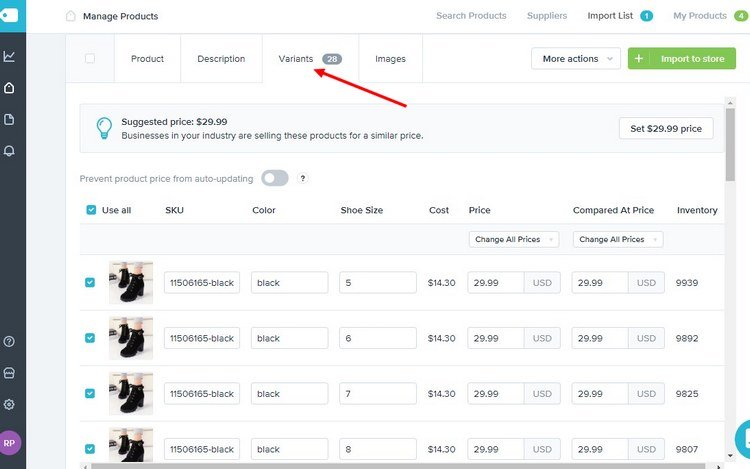 After customizing the products, click on the Import To Store button to add the products to your dropship store.
If you need to make any changes after importing a product, simply go to the Products page from your Shopify dashboard and click on the Edit button.
Your shop is now almost ready to go live!
Step 9: Setup Shipping
Before going live, you should set how you charge for shipping from your customers.
Go to Settings >> Shipping page to change set shipping rates and countries.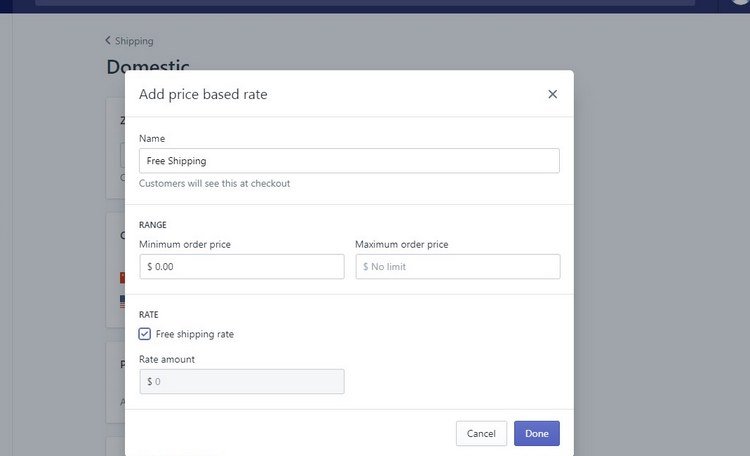 Since your orders are processed via AliExpress, you can include the shipping costs in your price. So, create a Free Shipping Rate. And hit save to save the changes.
Step 10: Do A Test Purchase
Now you need to make sure that everything in your store works perfectly before opening the dropship store to your customers. You can do this by placing a test order.
You're still on Shopify trial so your store won't be available in public for you to place an order. To activate your store and start accepting customers, you need to switch to a paid plan.
Simply pick a Shopify pricing plan and enter your billing info to make your store go live.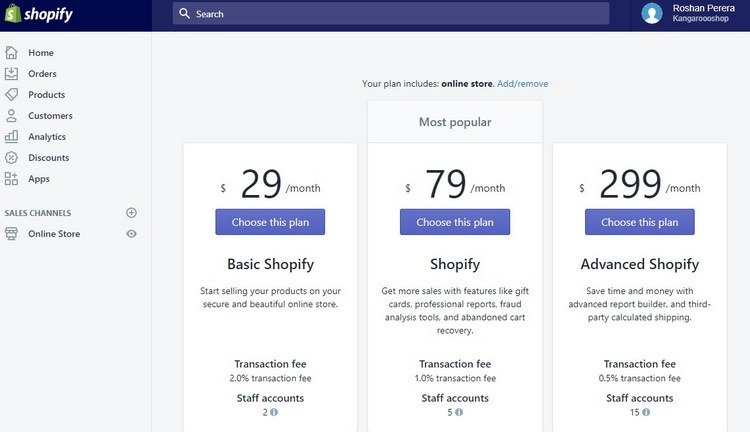 After doing that, go to your store and place an order (it's best to create a sample product with a lower price to make this easier for you).
Go back to your Shopify account dashboard and you'll see that there's an Order waiting to be fulfilled. Since we're dropshipping from Oberloo, you can't process the orders from your Shopify dashboard. You need to go to Oberloo to do that.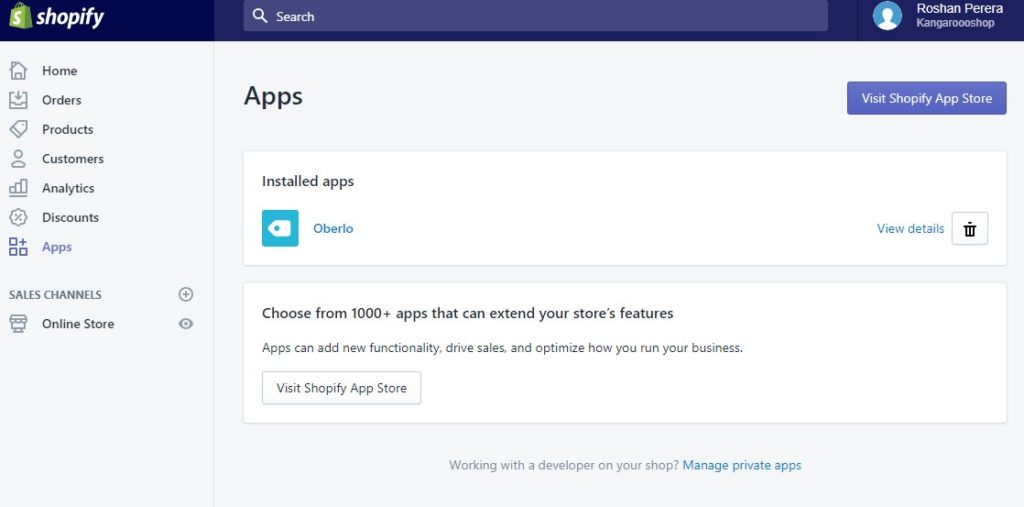 From your Shopify dashboard, go to Apps and open the Oberloo app. On the Oberloo app dashboard, you'll see the orders waiting to be fulfilled. Simply click the Order Product button to process the order. Confirm and Pay for the product on AliExpress.

If you have multiple orders to be fulfilled in Oberloo, click Sync All Orders button to place orders for all products at once.
That's it! You're now all set.
Let's do a quick overview of how the whole process works.
You import a product to your store from AliExpress using Oberloo
A customer buys a product on your store
You handle the checkout process and approve the order
You process the order via Oberloo
Your store sends all the shipping details and info to AliExpress
AliExpress sends the product to your customer
Best Method To Promote & Sell Products
Now that your store is up and running, it's time for you to start promoting your products to bring in customers to your store.
There are many different methods you can use to promote your dropship store and sell products. Some of which includes:
Guest blogging on other sites
Facebook and AdSense Ads
However, the most effective method of promoting products is Instagram influencer marketing.
This method involves reaching out to Instagram users with high follower counts and engaged audiences and paying them to promote your product as a sponsored post.
Of course, it will cost you some money. Depending on the influencer you're targeting, they might charge you somewhere from $50 to even $1,000. But, it will generate a ton of sales for your store as well.
Remember the story we told you about the 16-year-old Tanner Planes? He used this same strategy to generate nearly $20K in one day.
When executed correctly, this strategy will bring you profitable results.
Wrapping Up
You now know how to build a successful dropshipping store, find the best selling products, and promote them. As you can see, it's not as difficult as most people make it out to be.
Even though, don't expect instant results. As with most businesses, dropship stores also take time to grow and generate revenue. Give it a couple of months and keep investing in your store and testing new promotional strategies to make the most of your efforts.