Dropified Vs. Oberlo: Which is the Best Dropshipping App in 2021?
It's the battle of the dropshipping plugins! Dropified Vs. Oberlo – who is the winner? And more importantly, which is the right choice for you?
Dropshipping is one of the easiest and cheapest ways to get started in eCommerce. In fact, the hardest and most time-consuming part of setting up a dropshipping store is probably choosing products and getting them on your site.
A dropshipping app or plugin speeds up the process by importing products from third-party retailers in just a click.
There are several plugins available that provide this service but Dropified and Oberlo are two of the most popular.
In this post, we'll look at the differences between them to help you make an informed decision on which one is the best choice to use on your eCommerce site.
What is Oberlo? An Overview
Oberlo is a Shopify app that simplifies and speeds up the process of finding products, customizing them, and adding them to your online store.
It also includes lots of handy features to streamline your processes and boost your sales such as automated pricing, one-click order shipping, and integrated order tracking.
Oberlo was founded in 2015 and has become one of the most popular dropshipping apps for Shopify, as it's so easy to use.
With extras such as a free Dropshipping 101 course, Chrome extension, and YouTube channel of tips and tricks, Oberlo is a great choice for eCommerce newbies.
If you want to learn the ropes of dropshipping and get a helping hand with choosing products, Oberlo is a really helpful tool for getting started.
What eCommerce platforms does Oberlo work with?
You can currently only use Oberlo with Shopify so you're out of luck if you're looking for a dropshipping plugin for your WooCommerce or BigCommerce store.
Where can I source products with Oberlo?
Currently, Oberlo integrates with AliExpress only. This means you can't add products from Amazon, Etsy, eBay, or other marketplaces to your store.
Oberlo pricing
Oberlo has three plans and the basic Explorer Plan is free.
The free plan gives you access to the basic product search and import features, and is suitable for people who sell up to 500 products in their store and orders are unlimited.
With the free plan, you'll also get access to 2 free courses as well as ebooks and guides to get you started.
The Grad Plan at $7.90 a month is the next step up. This plan is also limited to 500 products but you get unlimited access to all courses as well as coaching and trending products reports helping you scale up your sales.
Higher volume sellers should consider the Boss Plan at $29.90 a month. This plan is suitable for up to 30,000 products and comes with additional features such as bulk orders, shipment tracking, and multiple staff accounts.
What is Dropified? An Overview
Dropified offers similar basic functionality to Oberlo but it integrates with more eCommerce platforms and vendors, making it a more flexible tool.
It's quick and easy to get started using Dropified, as it comes pre-filled with default settings and there's a one-click order fulfillment process to save you time.
There's also a full library of courses and support materials to talk you through setting up and running your store, finding products, and marketing strategies.
What eCommerce platforms can I use Dropified on?
You can use Dropified on an eCommerce store running on:
Shopify
WooCommerce
BigCommerce
GrooveKart
CommerceHQ
Dropified supplier and marketplace integrations
Dropified connects with AliExpress, eBay, Wayfair, Wish, and over 75 other sites, so you can choose a local supplier for faster shipping if you wish. You can also use the integrated product database to source products or suppliers.
Dropified Private Label Plan
In addition to the basic product import plan, Dropified offers a private label on-demand plan that enables entrepreneurs to source high-quality products from US suppliers and ship them with their own branded labels.
There are no minimum order quantities and no need to hold stock. You pay only for what you sell. This plan works just like the dropshipping model, but products are labeled with your own branding before being packed and sent to your customers.
Available products include:
Supplements
CBD & Hemp products
Pet treats
Skin care
Coffee
Dropified Pricing
Dropified's Import Plan costs $17 a month plus 8% of the product cost. This plan includes integration with all available suppliers, one-click order fulfillment, access to all training, and you can import up to 10k products.
This price is for a single user and store. Additional users are charged at $5 a month and additional stores are $10 a month.
If you're interested in the private label on-demand service, this costs $97 a month plus 3% of the product cost.
If you sell a high volume of products, you'll want to avoid paying Dropified 8% of each product you sell. For these users, it's recommended to upgrade to the Dropified Black plan, which costs $297 per month with no transaction fees.
This plan also includes everything you get with the private label on-demand service and an increased 50k product limit.
Dropified Vs. Oberlo: Feature Comparison
When you're trying to choose between two different services, it can be helpful to compare all their features side by side.
I've compiled all the major features of Oberlo and Dropified into a table so you can understand how the services compare at a glance.
To make this a fairer comparison, I'm using the most expensive Oberlo "Boss" plan because this plan has the most features and also because Dropified doesn't offer free plans.
| | | |
| --- | --- | --- |
| | Oberlo Boss Plan | Dropified Import Plan |
| Monthly price | $29.90 | $17 + 8% of product cost |
| Product limit | 30,000 | 10,000 |
| Monthly order limit | Unlimited | Unlimited |
| Ecommerce platforms supported | Shopify | Shopify, WooCommerce, BigCommerce, CommerceHQ and GrooveKart. |
| Supplier/marketplace integration | AliExpress | AliExpress, eBay, Amazon, Etsy, Wish, and 75+ other suppliers. |
| Support & training | Unlimited courses, ebooks, guides, weekly coaching talks, and trending product reports | 60-day step-by-step ecommerce dropshipping training course |
| No. of stores | 1 | 1 ($10 a month for each additional store) |
| No. of users | Unlimited | 1 ($5 a month for each additional user) |
| US supplier product database | ✗ | ✓ |
| Chrome extension | ✓ | ✓ |
| One-click order fulfillment | ✓ | ✓ (AliExpress and eBay products only) |
| Product customization | ✓ | ✓ |
| Bulk orders | ✓ | ✓ |
| Bulk product edit | ✓ | ✓ |
| Automated order placing | ✗ | ✓ |
| Shipment tracking | ✓ | ✓ |
| Variant mapping | ✓ | ✓ |
| CAPTCHA solver | ✓ | ✓ |
| Advanced custom pricing rules | ✓ | ✓ |
| Automatic price & inventory syncing | ✓ | ✓ |
| Upload custom product images | ✓ | ✓ |
| Hide non top brand products | ✗ | ✓ |
| Google product feeds | ✗ | Available as add-on |
| Facebook product feeds | ✗ | Available as add-on |
| Create product bundles | ✓ | Available as add-on |
| Import product reviews | ✗ | Available as add-on |
This gives you a pretty good overview of what you'll get with each tool. As you can see, both services offer similar features with the main difference being that Dropified can be used with multiple ecommerce platforms and suppliers while Oberlo is Shopify/AliExpress only.
Let's take a more detailed look at where one of these services offers an advantage over the other.
Product Research
Right away, Dropified users are at an advantage because they have access to dozens of suppliers and a much larger range of products.
Dropified also maintains a database of AliExpress products available from US suppliers for dropshippers who want to avoid the long shipping times and other disadvantages of sourcing products from China.
Dropified users also get discounted access to a tool called AliExtractor, which helps you to find bestselling and most profitable products and sort product lists with advanced filtering.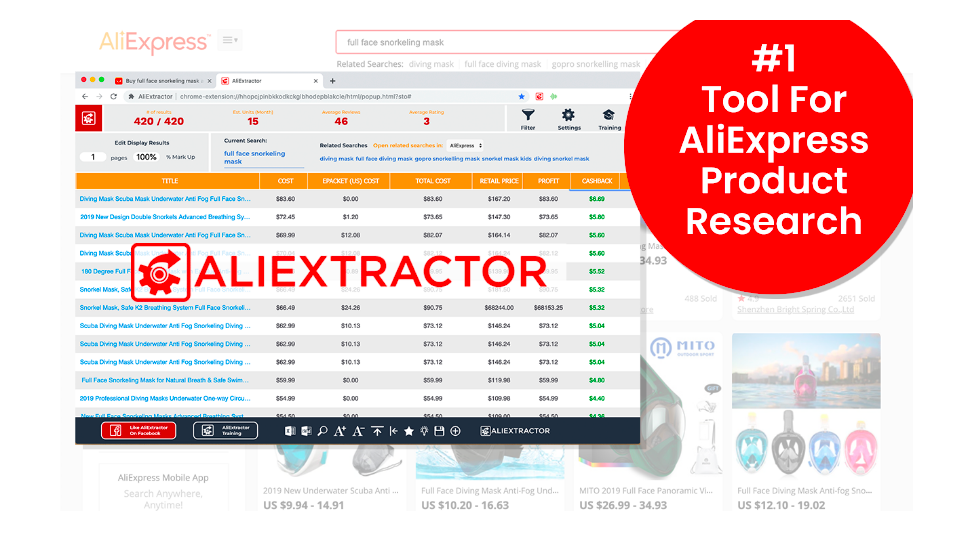 Dropshipping Automation
One area in which Dropified definitely beats Oberlo is in its automation features. Dropified comes with lots of handy automations that can speed up and streamline the process of running your eCommerce store.
Both Oberlo and Dropified come with a CAPTCHA solver, which is a really handy feature for speeding up the process of placing orders. AliExpress requires users to solve a CAPTCHA when placing orders, so doing this manually for hundreds of orders is definitely something you want to avoid.
Dropified also allows you to automatically place orders in a queue for processing in the background. As orders are automatically placed one-by-one, they are less likely to be flagged as fraudulent, and you won't end up with dozens of order windows open in your browser at once.
Oberlo does also not have the capability to auto-place orders for bundled product sales. Dropified users can create product bundles across multiple suppliers and product variations and process the orders in just a few clicks.
eCommerce Marketing Tools
A huge part of being successful in eCommerce is getting your marketing right. You can't just build a store and expect to start getting sales right away. You have to target the right potential customers and find some way of getting them to your site.
Both tools offer free online training that will help you to learn the most effective ways to market your eCommerce site.
Dropified also comes with some very useful add-ons that can help you to promote your products.
Two of the most effective marketing add-ons are Google and Facebook feeds that enable you to list your products on Facebook and in Google shopping results.
The TubeHunt add-on for Dropified can also help you to get the most out of your online ads. With this add-on, you can quickly find YouTube channels and videos related to your niche and do precision audience targeting to reach your ideal customers and keep your bid cost low.
Customer Support & Training
Oberlo's real strength is its friendly and supportive approach and the range of courses, tutorials, tips, and tricks that are available. This makes it an excellent choice for beginners who are learning as they go along.
There are also plenty of caste studies and success stories to inspire you. You get the real feeling that Oberlo wants you to succeed in your dropshipping business, whatever your level of knowledge or experience.
Users on the Grad and Boss plans get unlimited access to the full course library, access to weekly members-only coaching talks, and trending product reports produced from real data.
However, while Oberlo offers 24/7 support via email, there's no live chat or telephone support, which is a big disadvantage for some.
Dropified, on the other hand, has support agents available during office hours (8 am – 5 pm Central US) and you can contact them via email, live chat, or Facebook Messenger.
While Dropified has some more advanced tools that are suitable for more experienced dropshippers, it's still a great choice for beginners. Step-by-step training is included that walks you through every aspect of setting your store up, managing orders, and marketing.
Which is Better: Dropified or Oberlo?
Hopefully, by now you should have a better idea of what exactly you'll get if you sign up for an account with Dropified or Oberlo.
While it's clear that Dropified offers some handy features that you just don't get with Oberlo, that doesn't mean it's the best tool for everyone.
It's important to keep your budget in mind, especially when you're just starting out, and you can't beat Oberlo's free plan for value for money.
Dropified does offer some advanced features that can really help you to make more sales and increase profits. However, much of Dropified's advanced functionality comes in the form of paid add-ons, which can significantly add to the monthly cost.
Also, keep in mind that there are various Shopify apps and other tools that can replicate the additional functionality in Oberlo, many of them free.
Still not sure which one is the best choice for you? Here's a quick summary:
Oberlo might be a better option for you if:
You're setting up your first dropshipping store or you just want an easy option to help with picking and importing products.
You're looking for a free tool
You have a Shopify store and only want to source products from AliExpress
You have a team of staff helping to run your store (the Oberlo Boss plan includes free staff accounts, while you'll have to pay an additional $5 a month for each extra user in Dropified.)
Dropified might be a better option for you if:
You're a more experienced dropshipper and you want a tool with more features and flexibility
You want to import products from suppliers other than AliExpress
You want to source products from US suppliers
Your eCommerce store isn't built on Shopify
You run multiple stores (you can add another store to your Dropified account for $10 a month, while Oberlo requires you to maintain separate accounts for each store.)
You want to sell custom branded private label products.