Bluehost Review 2023: The Good & Bad (Honest Thoughts)
Considering using Bluehost to host your website?
Bluehost is one of the most popular web hosts out there. However, it has some pros and cons, so you'll want to make sure it fits what you're looking for in a web host.
To help you make that decision, our Bluehost review will cover both the good and the bad and make some recommendations so that you know if Bluehost is right for you…or if you should pick another host.
Here's how we'll divide our 2023 Bluehost review:
Let's get started!
⚙️ Bluehost Key Features
Let's kick off our review of Bluehost with a look at the features that you get. We won't go too in-depth here because you can find all of this on Bluehost's website, but here's a quick rundown of what you get with Bluehost:
Easy WordPress installer tool.
Automatic WordPress updates.
Free email hosting.
Free SSL certificates to secure your data.
Built-in caching solution to speed up your site.
Staging sites to safely test changes.
Custom hosting dashboard + cPanel access.
Custom companion WordPress plugin to access key features from your WordPress dashboard.
Automatic backups via CodeGuard (only on the Choice Plus plan, though).
Bluehost also offers some generous "billing-related" features such as:
Free domain name for your first year.
Unlimited websites (excl. cheapest plan).
Unlimited storage (excl. cheapest plan).
Unmetered bandwidth.
Overall, for a budget host, Bluehost is quite good when it comes to features. It gives you everything that you'd find at most other shared hosts, with the addition of some unique options such as free staging sites on all plans (most shared hosts don't offer staging sites or only offer them on the expensive plans).
🚀 Bluehost Performance Tests
How quickly your website loads is very important, and your hosting plays a big role in load times. For that reason, you want to choose a host that can help your website load quickly.
To optimize your site, Bluehost offers a built-in caching tool. If you're not familiar with caching, it's one of the most important things you can do to speed up WordPress, so having this feature built-in by default is very convenient and eliminates the need to use a separate WordPress caching plugin.
Beyond that, though, performance at Bluehost is a bit of a mixed bag.
To test Bluehost's performance, we set up a test site by installing the popular Astra theme and importing one of its full demo sites built with the native block editor (the Sierra Industry template). Beyond using Bluehost's built-in caching solution, we didn't make any other performance improvements.
Then, we ran our test site through WebPageTest (configured to run nine separate tests and take the median value):
Overall, the results were solid enough for most people's needs. Our test site passed all of Google's Core Web Vitals metrics, which will help you do well in Google's Page Experience algorithm update.
The fully loaded time was also under three seconds, which is fast enough for most uses, though by no means the fastest host we've tested.
Load Testing With BlazeMeter
WebPageTest is useful for showing the experience for a single visitor. However, your actual website will likely have multiple people browsing at the same time, so it's important that your server can also stand up to traffic.
To test that, we used BlazeMeter, which lets us see how the server responds to 35 visitors browsing over the same four-minute period (a somewhat difficult test for a cheap shared host).
Ideally, you want the chart to be flat, which means that your site loads just as quickly for the 35th visitor as it does for the first.
Overall, Bluehost handled most of the test, but it did spike a bit around the three-minute mark and hit some errors before recovering. This suggests that, for a high-traffic site, you might want something a little more powerful. However, most sites won't get near this traffic level, so Bluehost should be fine.
Conclusions on Bluehost's Performance
Overall, Bluehost's performance will be fine for most people, especially if you have a low-traffic site (e.g. just a few hundred visitors per day).
Is Bluehost the fastest shared host out there? No, it's not. But as long as you're implementing WordPress performance best practices, Bluehost can be fast enough for most people's needs, especially for simple blogs, portfolio sites, or business brochure websites.
🤗 Bluehost User Experience
One of Bluehost's strong points is its user-friendly dashboard and overall beginner-friendly experience, especially when it comes to WordPress sites.
Bluehost has built its own custom hosting dashboard, while also still giving you access to cPanel, which is useful for more advanced users to be able to access the many tools in cPanel.
If you're a beginner, though, you can skip cPanel and do everything from Bluehost's custom dashboard.
Installing WordPress
Bluehost makes it super easy to install WordPress. You can set everything up using this simple wizard: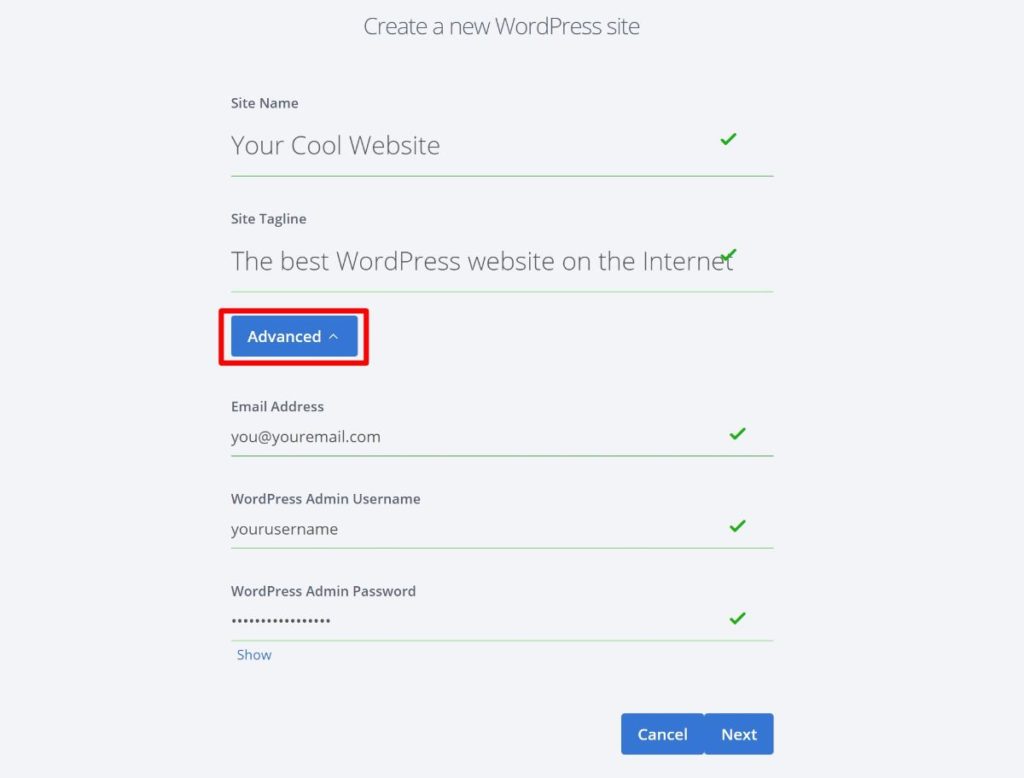 Then, within a couple of minutes, you'll have a working WordPress website.
Even if you've never made a website before, you will have zero problems creating a site with Bluehost. This is why we chose Bluehost in our guides on how to start a website and how to create a blog.
Managing Sites
When you open a site's dashboard in Bluehost, you'll be able to manage not just its hosting settings, but also WordPress-specific settings and options, such as your WordPress users, plugins, and themes.
The one downside of this interface, though, is that Bluehost will fill it up with upsells (as you can see in the screenshot below):
Upsells aside, the interface is very useful and beginner-friendly.
For example, if you go to the Security tab, you can activate an SSL certificate with one tick and also scan your WordPress core files for problems:
And in the Plugins tab, you can view and manage all of the plugins installed on your site, including controlling automatic updates:
Overall, this custom dashboard is quite good and a real strongpoint of Bluehost.
Using the Bundled WordPress Plugin
If you use Bluehost's WordPress installer, Bluehost will install its own companion plugin that offers a setup guide in WordPress and also lets you access some useful tools from your WordPress dashboard.
The main Home area in the plugin's settings gives you a guide to set up important parts of your site:
You can then explore other tabs to access useful tools.
For example, the Staging area lets you create a staging site. This is basically a duplicate of your site in a safe sandbox so that you can test changes and updates. Once you verify that the changes are working, you can "deploy" your staging site to your live site so that your visitors see the update:
The Settings tab is another useful area that lets you control caching behavior, automatic updates, and other important features:
All in all, this custom companion plugin is another feature that makes Bluehost so beginner-friendly to newbies.
Accessing cPanel
If you do need to access the full cPanel dashboard, you can do so via the Advanced tab:
📞 Bluehost Support
Bluehost offers 24/7 support on all its plans via live chat, phone, and ticket.
Bluehost support is adequate. It's not the best in the hosting space, but it's not bad for the price that you pay. Most of the hosts that offer better support also cost more, so this is the trade-off if you want a budget host.
Basically, you need to weigh whether you'd rather get top-notch support or save some money – because it's pretty rare to find amazing support on a budget host.
That's not to say Bluehost's support is horrible. For most basic issues, they'll get the problem fixed for you and are friendly while doing it. But for complicated issues, you'll usually need to escalate, which can take time and be a little frustrating.
In addition to its 24/7 support, Bluehost also maintains a detailed knowledge base where you can help yourself.
💰 Bluehost Pricing
Bluehost offers affordable prices that are very competitive in the shared hosting space.
There are two important things to understand when discussing Bluehost's prices, though.
First, Bluehost only offers three billing terms on its shared plans:
One year
Two years
Three years
You cannot pay monthly on Bluehost's cheap plans.
You'll get the best price if you pay for three years upfront, and this is the price you advertise. If you only pay for a year at a time, you'll pay a higher monthly rate, though it's still pretty cheap.
Second, Bluehost uses a promotional pricing strategy, which is true of most shared hosts. What this means is that you'll get a discounted price for your first billing cycle, but you'll need to pay full price after that.
Now that you understand how things work, here are the prices for all the plans on a monthly basis (but remember, you'll need to pay for the full term upfront):
| | | | |
| --- | --- | --- | --- |
| | One Year | Two Years | Three Years |
| Basic Promotional Price | $4.95 | $3.95 | $2.95 |
| Basic Full Price | $8.99 | $8.49 | $7.99 |
| Plus Promotional Price | $7.45 | $6.95 | $5.45 |
| Plus Full Price | $12.99 | $11.99 | $10.99 |
| Choice Plus Promotional Price | $7.45 | $6.95 | $5.45 |
| Choice Plus Full Price | $16.99 | $15.99 | $14.99 |
All plans come with a free domain name for your first year.
Which Bluehost Plan Is Best?
Most people should choose at least the Plus plan as this plan gives you unlimited resources and supports unlimited sites.
The Choice Plus plan looks like a no-brainer because it has the same promotional price as the Plus plan while also adding backups. However, make sure to note that the renewal price of the Choice Plus plan is higher than Plus, so the price is only the same for your first billing cycle.
👍👎 Bluehost Pros and Cons
As we finish out our review, let's recap some of Bluehost's pros and cons:
Pros
Very beginner-friendly experience, especially for WordPress users. The custom dashboard, WordPress install wizard, and WordPress plugin make it very easy to get started.
Affordable pricing, especially if you're willing to pay for multiple years upfront.
Bluehost includes features that many other shared hosts don't, such as staging sites on all plans, built-in caching, and more.
You still get cPanel access.
Cons
You can find faster shared hosts if performance is most important to you.
Bluehost will try to upsell a lot of services to you, which can get annoying.
You only get the best price if you pay for three years upfront and you can't pay monthly.
❓ Bluehost Review 2023 FAQ
Here are some common questions people have about Bluehost…
Is Bluehost good for beginners?
Yes! Bluehost offers a very beginner-friendly experience. In fact, Bluehost is one of the most beginner-friendly web hosts that you'll find.
Does Bluehost let you pay monthly?
No, you cannot pay monthly on Bluehost. The shortest billing term is one year.
Which Bluehost plan should I use?
When in doubt, we recommend going with the Plus plan, as it allows unlimited websites and resources. While the automatic backup on the Choice Plus plan is nice, you can easily achieve the same thing using a free WordPress backup plugin.
Is the Bluehost domain free?
Bluehost gives you a free domain name, but it's only free for the first year. After the first year, you'll need to pay to renew your domain name.
🤔 Should You Use Bluehost in 2023 and Beyond?
Overall, whether or not Bluehost is right for you depends on what you value. Let's go through when Bluehost is a good pick, and when you should pick a different host.
Use Bluehost If…
If you're a beginner looking for the easiest way to get started with a website, Bluehost is a good option because of its beginner-friendly dashboard and simple website setup wizard. Even if you've never built a WordPress site before, you should have zero problems creating a working website with Bluehost.
Bluehost also does a good job of guiding you through setting up your WordPress site thanks to its custom plugin that enhances the WordPress dashboard.
If you want to get started, we have two guides that show you the complete process of setting up WordPress on Bluehost:
Use Another Host If…
On the other hand, if fast page load times are of utmost to you, Bluehost isn't as strong in that area. For example, if you've already built your site, you're growing it, and you're now looking for a host that can handle that traffic and load your site quickly, you'll probably want to choose another host.
Here are some good options for growing websites looking for top-notch performance:
Cloudways – a great option as long as you're already knowledgeable about building websites (not great for beginners, though).
Kinsta – an excellent managed WordPress host, but a definite step up from Bluehost in terms of pricing. Read our Kinsta review – it's also the host we use to host this blog.
A2 Hosting – good performance for shared hosting if you choose the Turbo servers (which use LiteSpeed server).
You can also find some other options in our full collection of the best WordPress hosting.
And that sums up our Bluehost review in 2023. Still have any questions about Bluehost? Ask us in the comments!