12 Stunning Genesis Child Themes for WordPress (2023)
The Genesis Framework has long been touted as one of the best WordPress frameworks on the market. SEO optimized, cleanly coded, and fast loading times are just some of its greatest features.
Offering a solid foundation for any WordPress website, Genesis is like a blank slate. With it, you utilize child themes as a way to customize your website to reflect your design needs. Each child theme sits upon the Genesis Framework to make your site look unique. And, instead of making direct changes to the framework itself, all of your website's customizations are applied to the child theme.
Although Genesis does have a developer-level feel to it, most child themes work great out of the box. Plus, you can use any number of available plugins to increase your site's functionality.
In the end, once you know how to maneuver the framework, you are set for life. This is because the Genesis Framework remains the same in any child theme you activate. The only thing that changes is your website's design.
And best of all, the Genesis Framework is now completely free, including the Sample Theme. This is a basic bare-bones theme that you can use as a template to create your own designs.
If you're looking for an out-of-the-box theme for Genesis, you have a few options:
Purchase Genesis Pro. This gives you access to all 10 StudioPress child themes along with additional content blocks and features for site-building. Genesis Pro currently costs $360 a year.
Purchase a hosting package with WPEngine or Flywheel. All levels of hosting include the 10 premium Studiopress themes as a bonus.
Purchase a third-party Genesis child theme. As Genesis Framework is now free, you only need to pay the price of the theme.
StudioPress themes are no longer available for individual purchase. They are only accessible to those with Genesis Pro or a hosting account with WP Engine or Flywheel.
Flywheel hosting starts from $13 a month and WPEngine managed WordPress hosting starts from $25 a month. This works out slightly cheaper than buying Genesis Pro and much cheaper than buying multiple premium themes if you're hosting several websites.
So, unless you specifically need the extra developer features that come with Genesis Pro, it's well worth considering signing up to WPEngine (use our 20% off coupon) if you're setting up a new site or thinking about upgrading your hosting.
Otherwise, if you're looking for a Genesis child theme to buy, you've come to the right place! We've compiled a list of the best Genesis child themes to suit every budget and type of website.
1. Essence Pro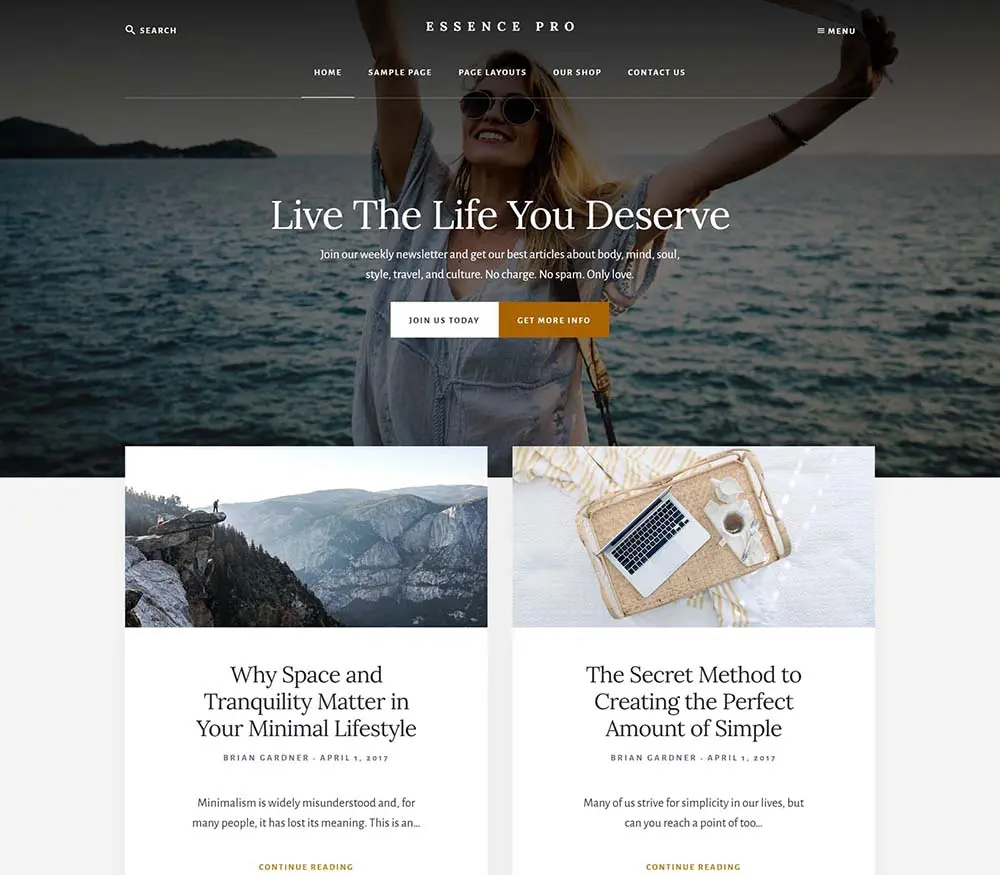 Essence Pro is a simple but creative theme with a focus on photography. It's ideal for lifestyle, health, and wellness blogs that want to draw attention to their content without extras cluttering up the design.
Optimized for use with Gutenberg, this theme includes block-based demo content that can be imported for easy setup. And importantly, Essence Pro looks just as good on mobile as it does on a laptop screen, with a fully responsive design.
Other features you can look forward to in Essence Pro include:
Pre-styled for WooCommerce so you can set up a shop in minutes
Real-time theme customizer to adjust colors, fonts, and settings
Pricing tables with 2-4 columns
Choice of full-width or left/right column layouts
Threaded blog comments
PRICE: Included with Genesis Pro ($360) or WPEngine/Flywheel hosting (from $13/$25 a month)
2. Revolution Pro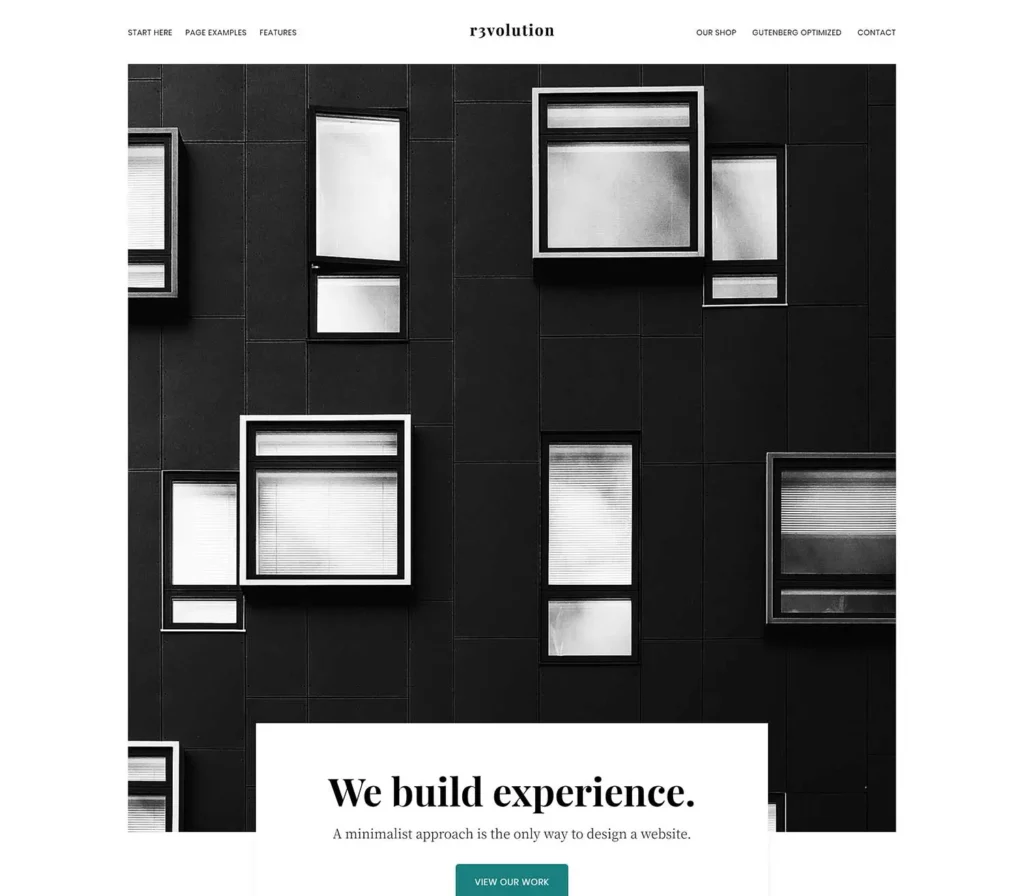 Revolution Pro is a minimalistic monochrome theme with a heavy focus on photography. Suitable for an agency or photography portfolio, the attention to typography and white space also makes it a beautiful theme for a lifestyle blogger or even a small business.
Revolution is designed as a blank canvas to put the focus on your content. With flexible layout options, a landing page, shop, pricing page, and more, this theme can be as simple or as full-featured as you need it to be.
Some of the features of this simple but beautiful theme include:
Optimized for Gutenberg
WooCommerce integration
One-click theme setup with demo content
Mobile responsive design
Eye-catching headlines and blockquotes
PRICE: Included with Genesis Pro ($360) or WPEngine/Flywheel hosting (from $13/$25 a month)
3. Altitude Pro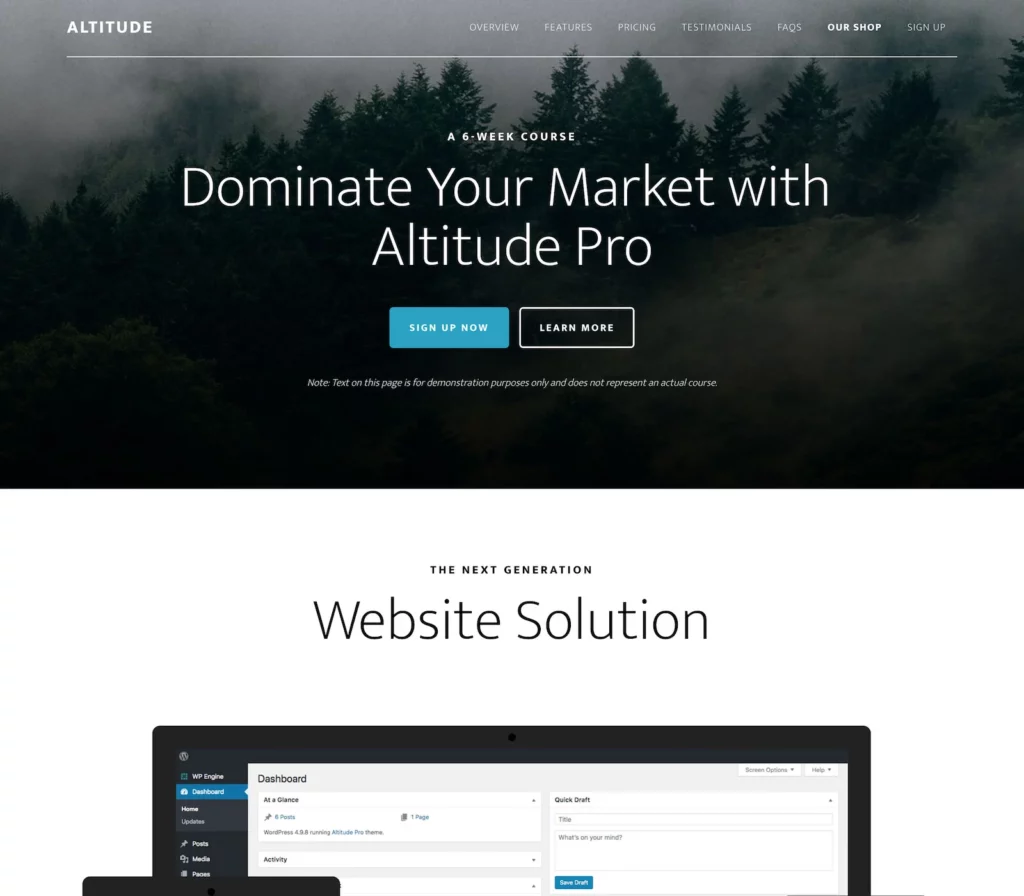 If you need a simple, yet eye-catching website for your business, consider Altitude Pro. Its bold design with parallax scrolling effects will keep eyes on the screen, while powerful features make it easy to set up at the backend.
With Altitude Pro you can easily set up a one-page long scrolling website to advertise your product or business services. Or you can add additional pages, a blog, and a shop to make it a fully functioning business site.
With pricing tables, styled feature lists, full-screen quotes, and CTA buttons, Altitude will enable your business to reach new heights.
Other features include:
Optimized for Gutenberg
Unlimited color options
Homepage and footer widget areas
Multiple menu options
4 built-in page templates
PRICE: Included with Genesis Pro ($360) or WPEngine/Flywheel hosting (from $13/$25 a month)
4. Navigation Pro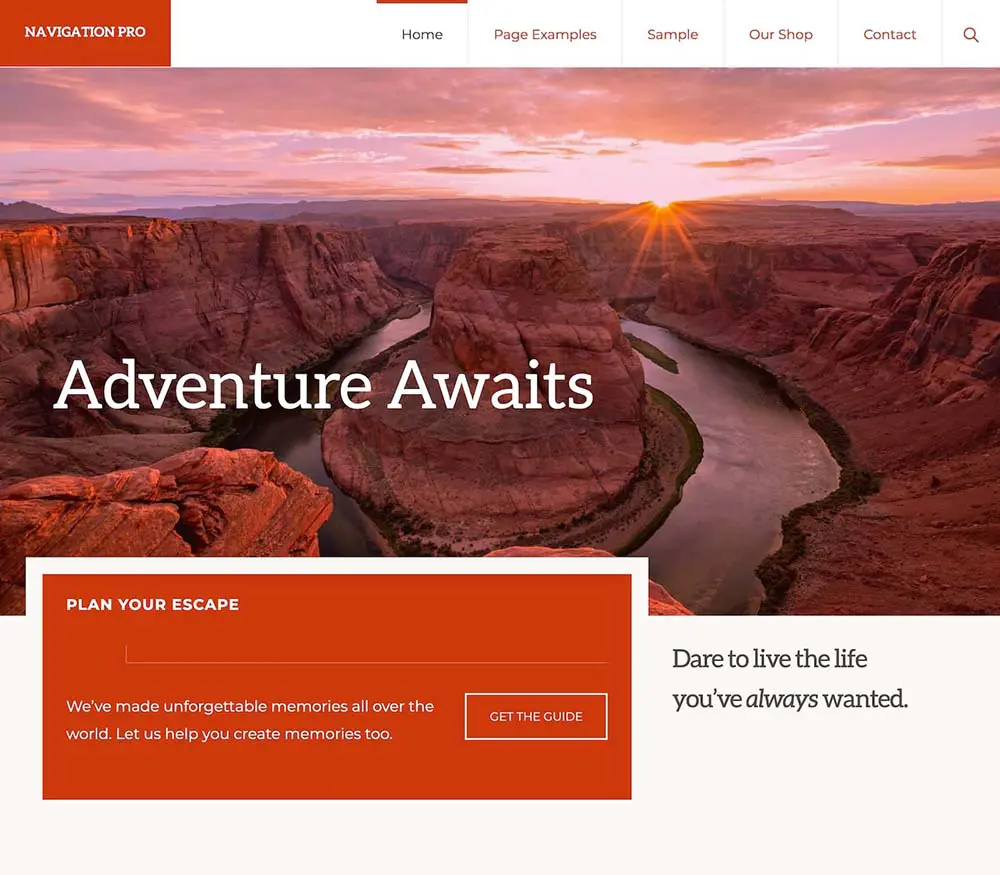 Navigation Pro is a bold and clear theme that comes with starter packs suitable for building a site based around travel, cuisine, fitness, or law.
The homepage blocks with image hover effects make it easy for you to draw attention to your best content, and there are additional eye-catching blocks for quotes and CTAs or downloads.
The theme is also fully compatible with WooCommerce and comes with pre-styles shop pages for products, shopping cart, user account, and checkout.
Other features of Navigation Pro include:
Fully responsive design that looks great on mobile screens
Gutenberg-compatible, with pre-designed blocks
Theme customizer to change colors, settings, and content in real-time
4 pre-designed home pages to suit different types of content
Pre-built newsletter signup and CTA blocks
PRICE: Included with Genesis Pro ($360) or WPEngine/Flywheel hosting (from $13/$25 a month)
5. Magazine Pro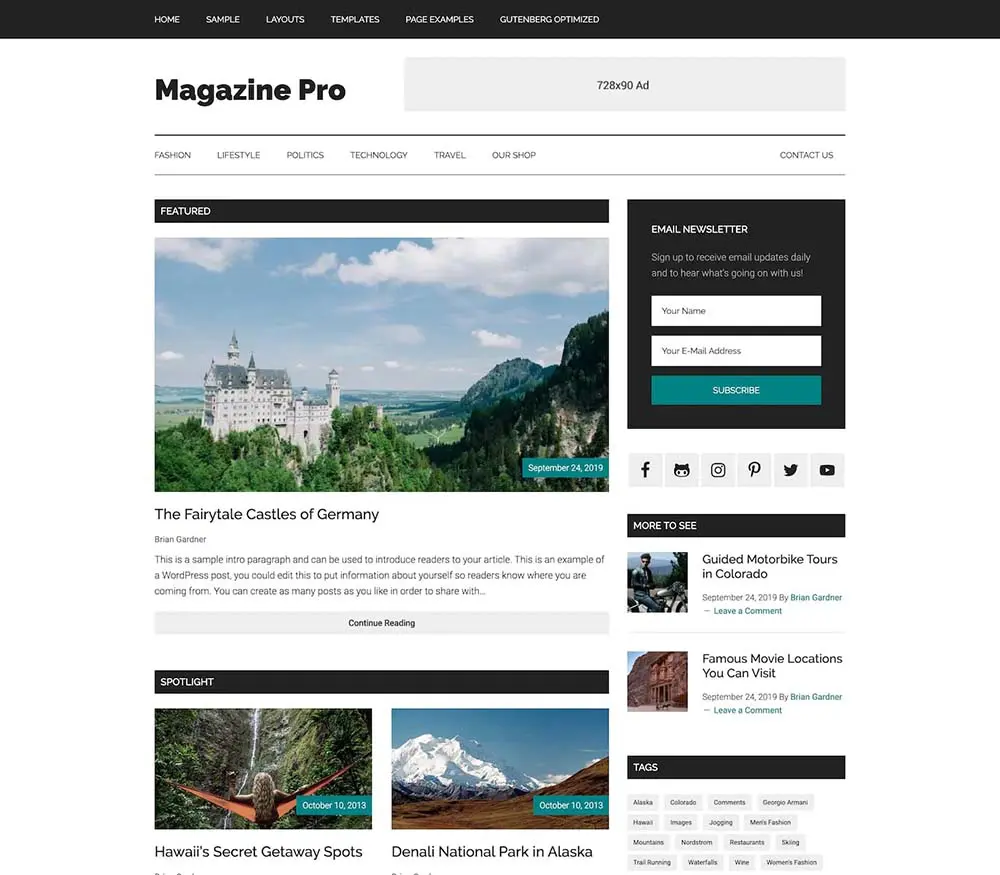 Magazine Pro is a flexible and bold theme designed for online publishers to organize a lot of content on the home page without it being cluttered. With built-in advertising blocks and a number of layout and column options, this Gutenberg-optimized theme is ideal for online magazines in any niche.
This theme features a sticky main menu and a secondary menu with dropdowns, a widgetized footer, multiple layout options, a built-in landing page, and pre-designed pages for email sign-up, social media, and more.
6 basic layouts with 0-3 sidebars
Fully compatible with Gutenberg block editor
One-click setup with demo content for fitness, cuisine, travel, or multi-topic sites
Mobile-friendly design
Built-in advertising blocks.
PRICE: Included with Genesis Pro ($360) or WPEngine/Flywheel hosting (from $13/$25 a month)
6. Mai Delight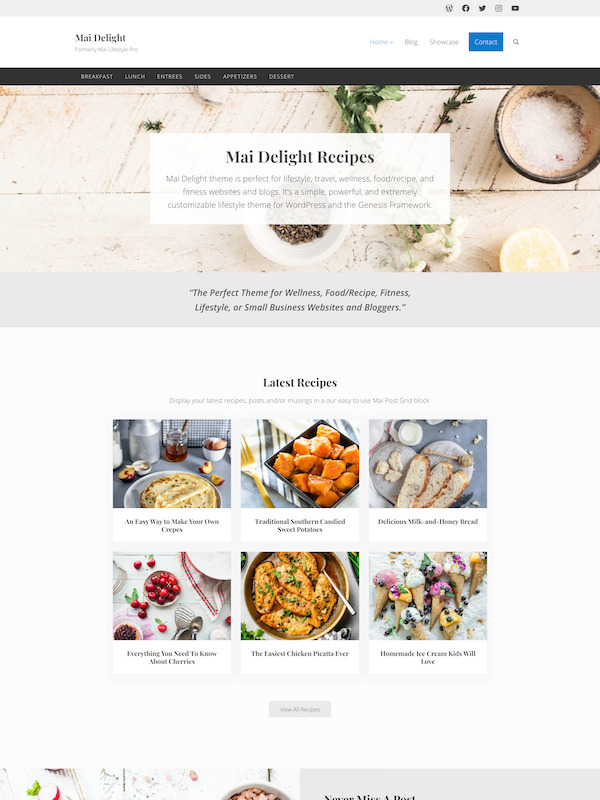 Mai Delight is an aesthetic and image-focused theme that's ideal for travel, food, and lifestyle blogs. With a layout designed to show off beautiful photography, this theme is perfect for bloggers who want to share their stories and experiences with the world.
This Genesis theme comes with a number of templates that are perfect for different types of lifestyle content, including menus, travel itineraries, archives, and more. Mai Delight is also fully compatible with Gutenberg blocks, making it easy to create your own unique content layouts.
Some of the standout features of Mai Delight include:
Simple, modern design that's ideal for lifestyle bloggers
Pre-built menu and recipe pages for food and restaurant sites
Fully compatible with Gutenberg and pre-designed blocks available
Mix and match templates and pre-built patterns from other Mai themes
PRICE: $99 a year
7. Foodie Pro Classic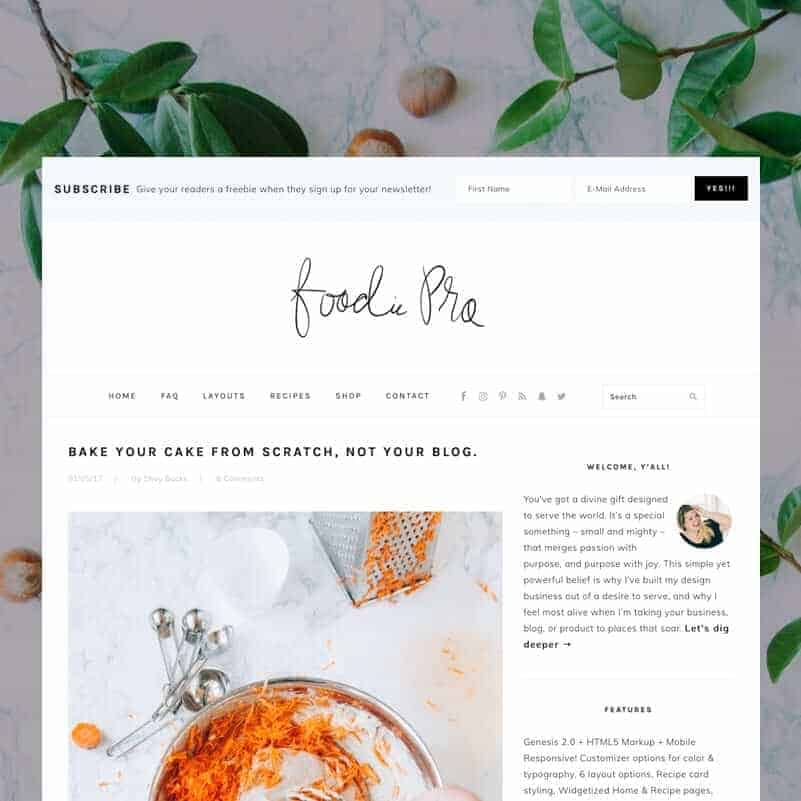 If you're looking to start a food blog on a budget, then Foodie Pro Classic is the perfect theme for you. This gorgeous Genesis child theme by the Feast Design Co team has everything you need for your first year of building a food blog.
This theme is built to load fast, be easy for visitors to navigate, and show off your food photography to perfection. To ensure your blog is a success, this theme includes a free bonus of a digital strategy bundle including templates, checklists, and worksheets to help you plan and grow your blog.
Key features of Foodie Pro Classic include:
Built-in ad space
Easy import of demo content and widgets
Widgetized home and recipe pages
Easily customize typography and colors
A professional theme for a budget price
PRICE: $9
8. Hazel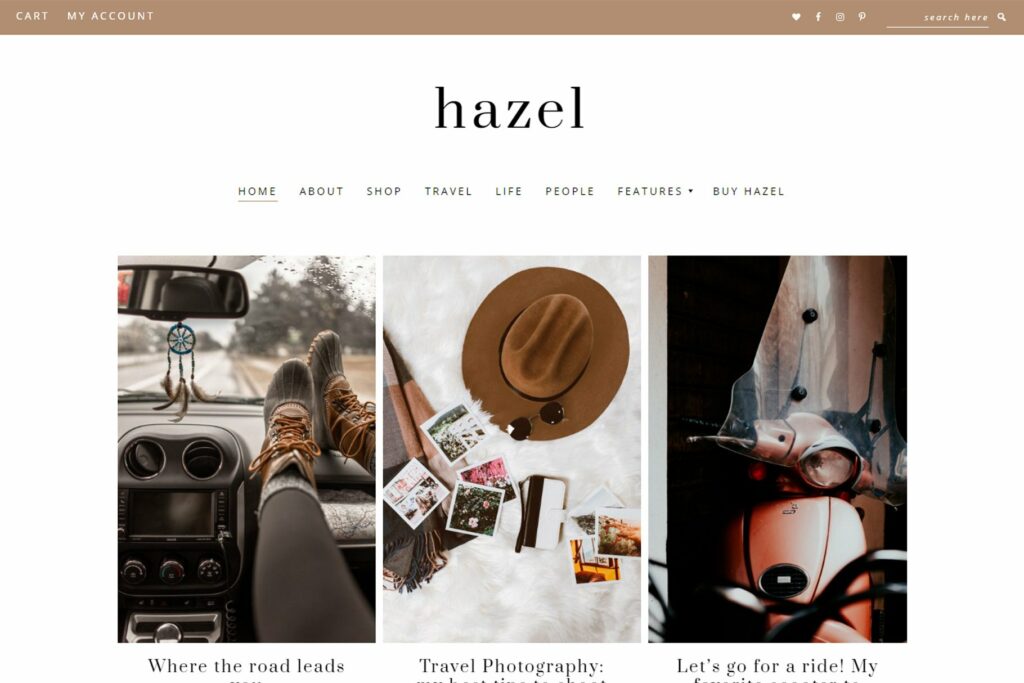 Hazel is a modern blog theme designed to show off your content in style. With numerous customization options, multiple pre-built layouts, and seamless integration with Gutenberg, this theme is perfect for bloggers who want a great-looking site with very little effort.
This Genesis child theme is fully responsive and coded to the latest web standards, ensuring that your site looks great on any device. Hazel is also fully compatible with WooCommerce so you can easily sell products right from your blog.
Some notable features of Hazel include:
4 pre-made layout options with vertical, square, or horizontal images
Customizable colors and fonts
Optimized for Gutenberg block editor
Compatible with WooCommerce
PRICE: $49
9. Mai Success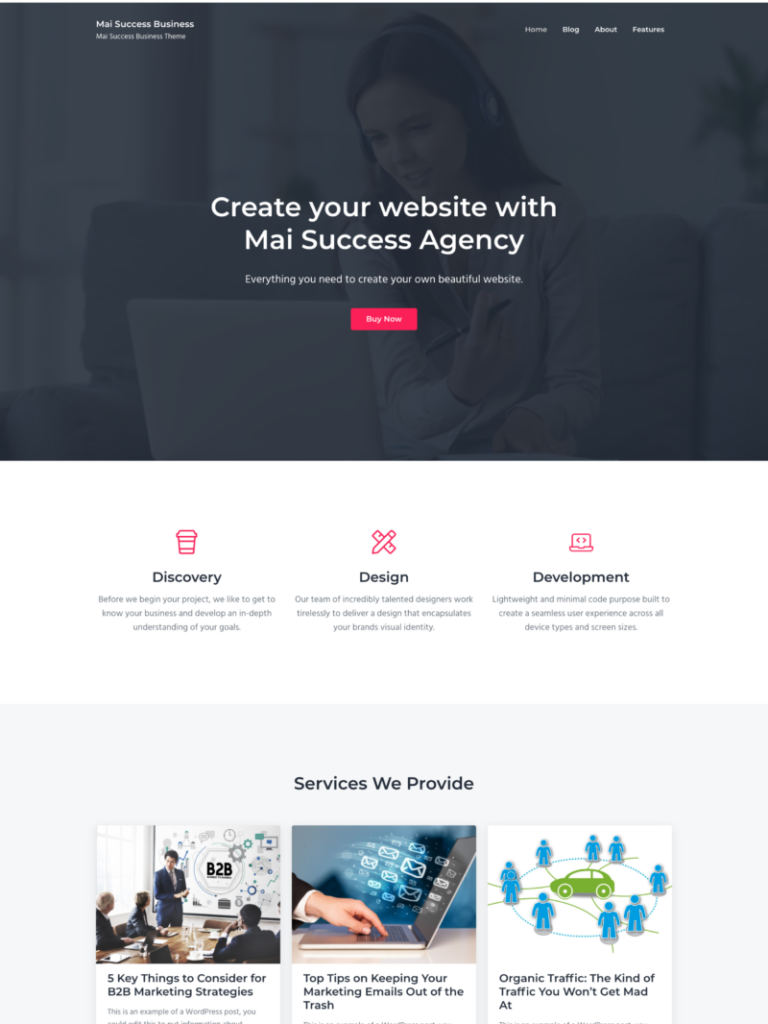 Genesis is the framework of choice for many bloggers and creative professionals. But there are also some excellent business-focused child themes available for Genesis. Mai Success is a theme designed for agencies and businesses with all the features and flexibility you need to succeed online.
The theme is highly customizable and suitable for businesses of all sizes, in any industry. The sleek and professional design is ideal for showcasing your services, capturing leads, and driving traffic via content marketing.
Some other features of Mai Success theme you can benefit from include:
Customizable blog archive page
Easily switch between multiple site layouts
Add your business phone number, social media icons, and a search to your header menu
Highlight sections of content with Mai Divider
Option to sign up to Mai Solution for an additional small monthly fee, which gives you access to all Mai themes, plugins, and hosting for extra flexibility and ease of use
PRICE: $99
10. Mai Creative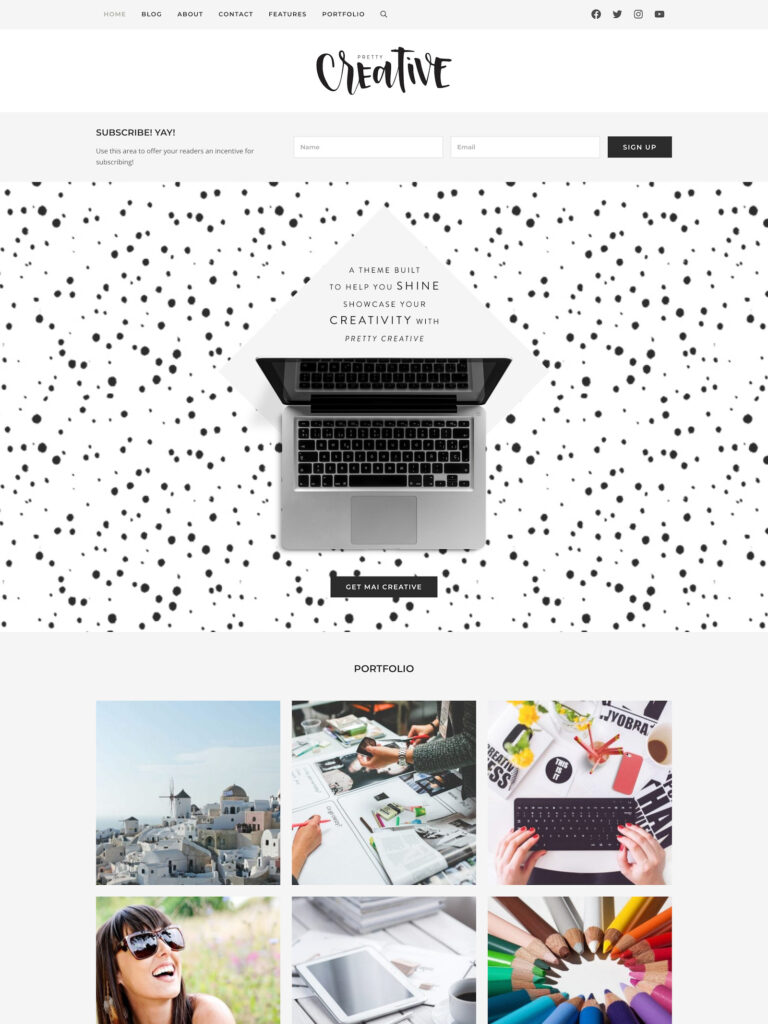 Mai Creative is a visually stunning portfolio theme that would be perfect for any creative professional, such as a photographer, artist, or graphic designer. With this Genesis child theme, you can easily showcase your work, sell your products, and build an audience for your creative business.
The theme includes a bold full-width header image to grab attention, a pre-built portfolio page, full customization options, and all you need to show off your work in style.
If you're a creative professional, you'll definitely want to check out this theme. Some of its main features include:
Pre-designed image blocks to showcase your artwork, photography, or designs
A customizable header section with social media icons and search functionality
Multiple portfolio layouts
A newsletter sign-up form on the homepage to capture leads
Product blocks to sell artwork or merch right from your blog
Display Instagram posts directly on your site
Built-in integration with WooCommerce, Adsense, and LearnDash to make it easier for you to generate revenue from your site
PRICE: $99
11. Cravings Pro Classic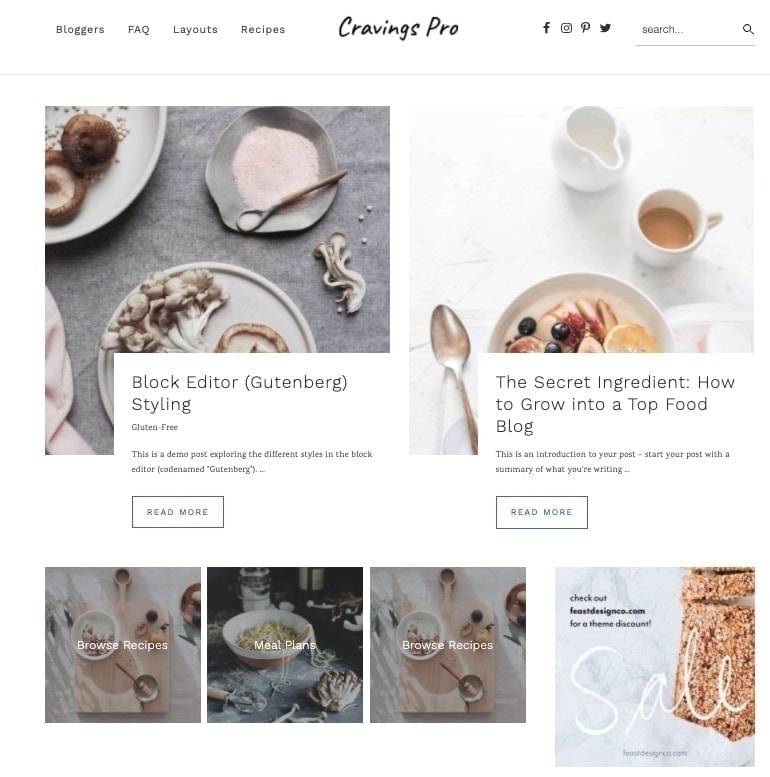 This elegant food blog starter theme is perfect for anyone in the first year of building their recipe blog. With a light and airy design, multiple homepage display options, and integrated social media support, Cravings Pro will help you to build your audience and share your culinary creations with the world.
Cravings Pro is priced to be affordable and comes with no support. Once you've established your blog, it's recommended to upgrade to the Feast plugin for additional design options and features.
But if you're on a tight budget and ready to start food blogging, you really can't go wrong with this starter theme. Some of its features include:
Optimized for Gutenberg block editor
Multiple page and post layouts
Recipe archive page with categories
Built-in advertising space
Widgetized homepage with customizable colors and typography
Floating drop-down menu
Bonus digital strategy bundle included
PRICE: $9
12. Isla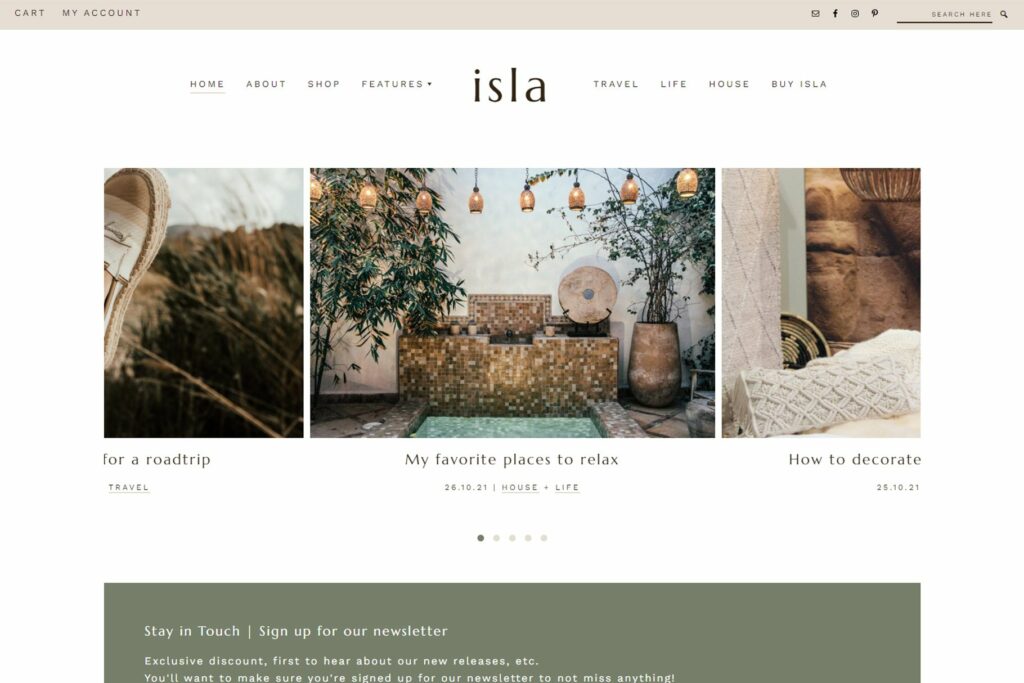 Isla is a modern and minimalist Genesis child theme with a feminine touch that makes it a great fit for lifestyle bloggers. The theme is highly customizable and includes a range of features to help you create a beautiful blog that stands out from the competition.
Isla is fully compatible with Gutenberg and comes with a block library for highlighted content, galleries, quotes, columns of text and images, and more. This theme also comes with a landing page template and the option to add a shop so you can easily sell digital or physical products from your blog.
Some of the other features of Isla that make it stand out include:
4 pre-made layout options
Fully customizable colors and fonts
Compatible with WooCommerce to sell your own products or link to affiliate products
Translation-ready so you can easily launch a blog in multiple languages
Responsive design that looks fantastic on any device
PRICE: $49
13. Mai Prosper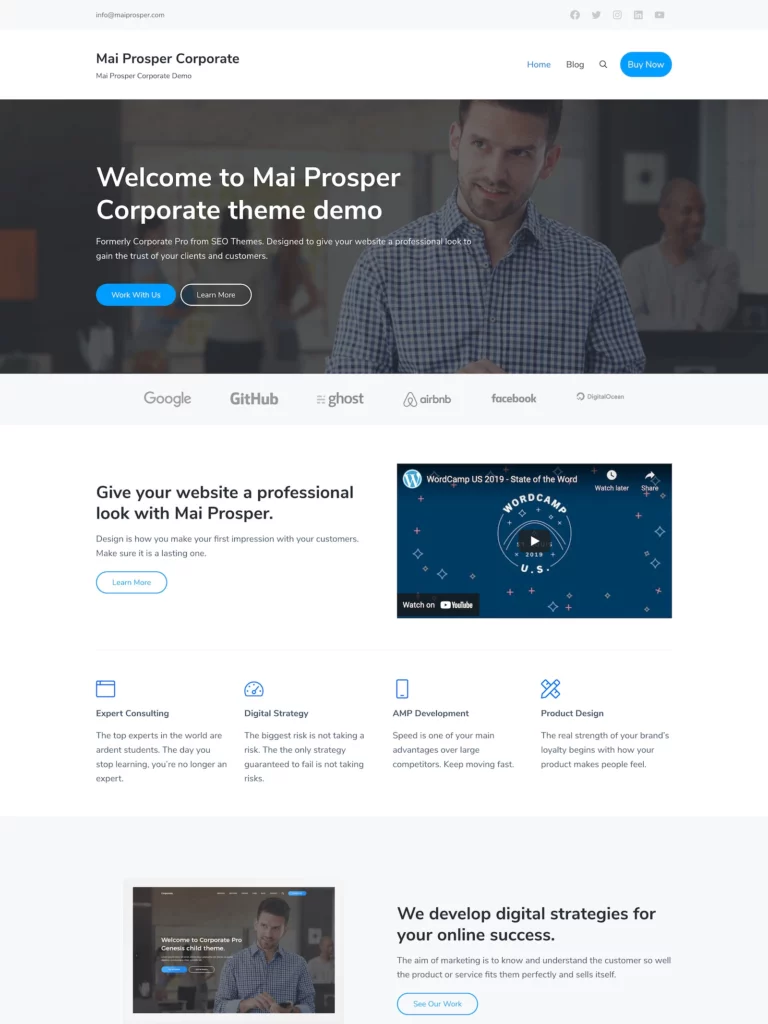 If you want to create a strong online presence for your business, Mai Prosper is the perfect corporate WordPress theme for professional businesses and agencies. Designed to help you gain the trust of your clients and customers, this clean and sharp Genesis child theme will help you to build a fast-loading website that looks great.
Mai Prosper is carefully designed to highlight the most important content on your homepage including services, projects, CTAs, client testimonials, and a pricing table. And with a selection of page templates, you can easily create an engaging website that's designed to convert.
Other features of Mai Prosper include:
A block-based layout that's easy to customize
WooCommerce integration to add e-commerce functionality
Pricing table designed to generate maximum revenue for your business
CTA blocks to help you convert website visitors into customers
Blog post layout to share your latest news and thoughts with your audience
Client or customer testimonials and partner logos to build trust and authority
PRICE: $99
14. Mai Reach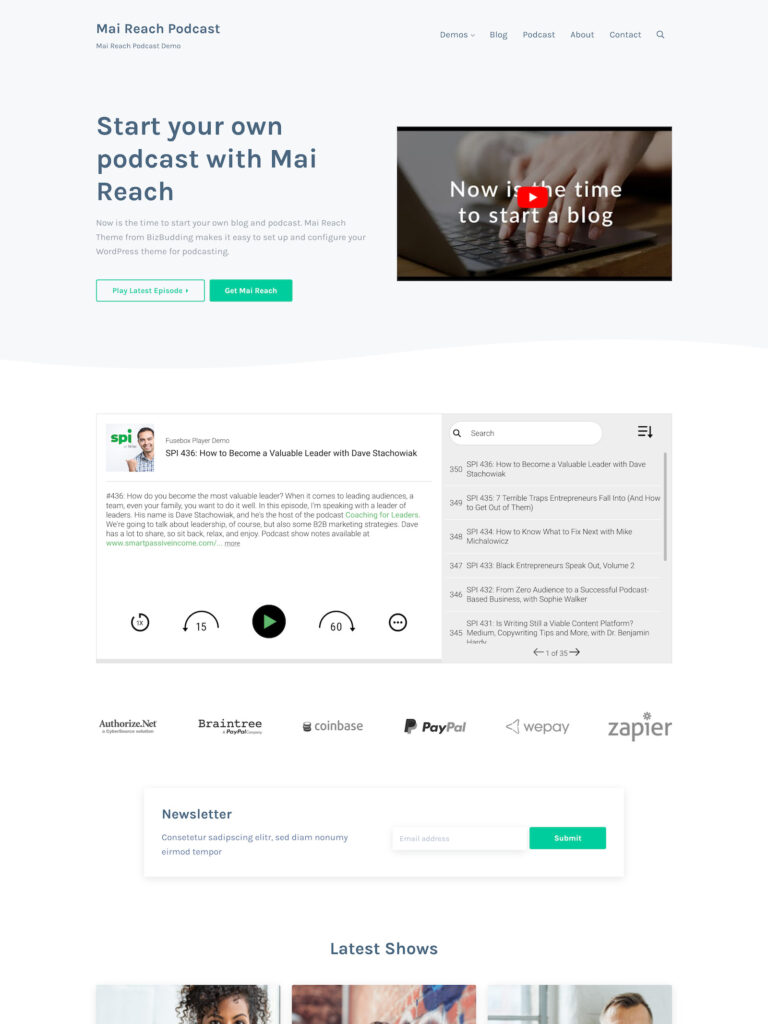 Mai Reach is a Genesis child theme that's built with the needs of podcasts in mind, although it would work equally well for agencies, consultants, and other service-based businesses.
The theme design includes colorful dividers to separate your content into easily digestible chunks, and video blocks so you can create podcast or sales pages in seconds. With lots of customization options and pre-designed blocks for pricing tables, FAQs, client testimonials, and more, Mai Reach makes it easy to create a website that's both visually appealing and optimized for conversions.
Reasons you'll want to consider this theme for your podcast or business include:
Customizable archive, podcast, and shop pages
Fully compatible with Gutenberg editor including pre-made blocks
Multiple layouts suitable for agencies, podcasts, and more
Personalize the design and change any visual setting from the customizer panel.
Ecommerce-ready and compatible with WooCommerce
Built-in features for podcasts
PRICE: $99
Which Genesis Child Theme Will You Choose?
With the Genesis framework now available free of charge, there's no better time to start building your website or give your blog a fresh new look.
And with so many amazing child themes to choose from, you're sure to find the perfect design for your business or creative project.
FAQs
What is the Genesis Framework?
The Genesis Framework is a platform for WordPress that makes it quicker and easier for you to build a website of your own design without needing to start from scratch. Genesis also comes with a number of professionally-designed child themes that have been built on the framework. When you use a Genesis child theme you have the flexibility to customize the theme to your liking without needing any coding skills.
Should I use the Genesis Framework?

The Genesis Framework is a great choice if you build a lot of websites or update your site design regularly and want fully-customizable and flexible WordPress themes. Both the framework and child themes are well-designed and coded, secure, and updated regularly.
How do you customize a Genesis child theme?
All Genesis child themes are fully customizable. You can use the built-in theme customizer to make small changes to the color scheme, layout, fonts, and other settings. You can also directly edit the stylesheet to customize the child theme to your requirements. Additionally, there are several plugins designed to make it easy for you to customize any Genesis child theme without any coding.
What is the difference between a child theme and a parent theme?
All Genesis child themes are built off a single Genesis parent theme and incorporate the functionality of the parent theme. While they may look very different, the "skeleton" of the theme is the same. The Genesis "framework" is just another name for the parent theme.
Do child themes come with the Genesis Framework included?
The Genesis Framework is now free so you can download it at no additional charge, wherever you purchase your Genesis child theme from.