15 Best Forum Software to Build an Online Community in 2022 (Free & Premium)
Are you in the market for a forum software to get your online community off the ground?
There are a lot of options to choose from. Some forum software applications are simple and free. Others are a lot more complex and even offer their own hosted servers.
In this post, we've gathered the best forum applications to use for building online communities.
The Best Forum Software for Building Online Communities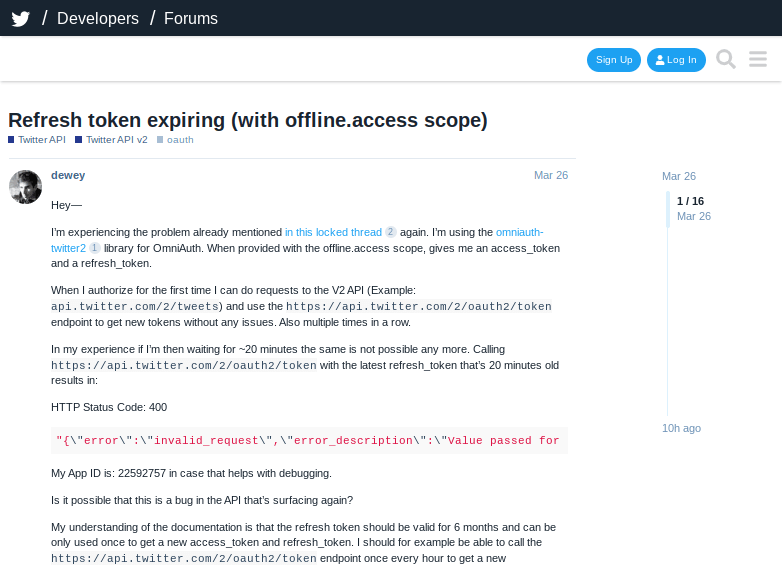 Discourse is an open-source forum software. It's used by over 3,000 online communities, including Twitter Developers, Atlassian Developer and Asana.
This forum software doesn't break threads into multiple pages. It loads additional replies swiftly instead when users scroll.
It also has a well-organized reply system.
Users can reply to the original post or replies in the thread. Replies to replies are hidden with a "show replies" button. This prevents "tree-branch discussions" from cluttering the main discussion of the thread.
It also has many of the community management features you'd expect from a forum software.
These include moderation, spam filtering by Akismet, badges and a trust system.
Additional styling is available via custom code or themes.
Integrations are available for WordPress, Zendesk, Slack, Patreon and more.
Discourse is free on GitHub for self-hosting on Linux servers. A managed hosting option costs at least $100/month.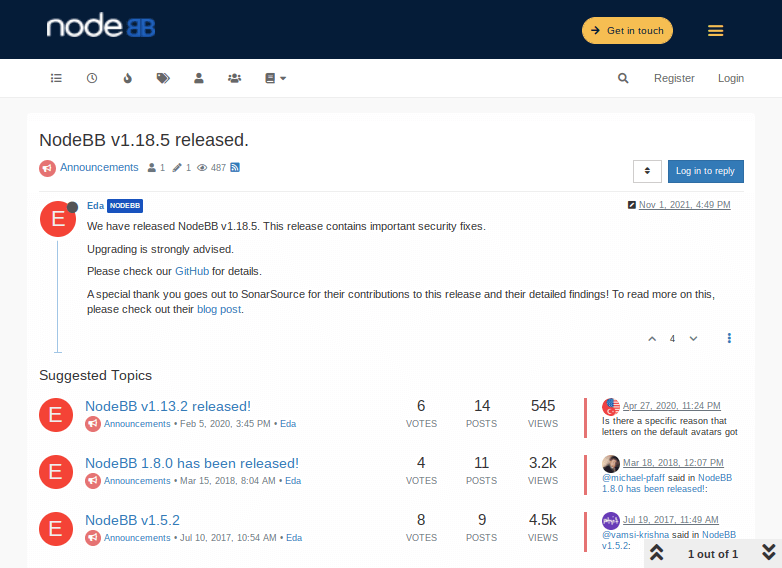 NodeBB is an open-source forum software. It's used by Moz, Bethesda, Opera and more.
Its modern design loads additional replies when you scroll rather than breaking discussions up into multiple pages.
However, its reply system is a little messy and reminiscent of traditional forum software.
It has a "show replies" button, but it also adds those replies to the main discussion thread. This means certain replies appear twice.
You can create additional admin accounts or moderator accounts for forum management. A number of different themes are also available for styling.
Integrations exist Zendesk, WordPress, Salesforce and more.
NodeBB is free on GitHub for self-hosting on Linux and Windows servers along with numerous cloud platforms. Managed hosting costs at least $250/month.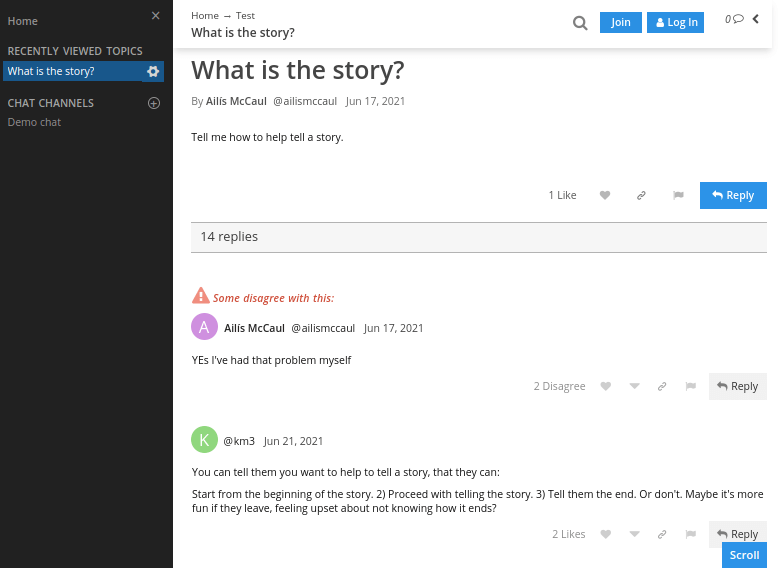 Talkyard is an open-source community platform software that combines the functionalities of platforms like Stack Exchange, Reddit, Slack, Discourse and Disqus.
Create a questions-and-answer forum, have your community provide feedback on new features, and replace your blog's comment section.
Additionally, the team chat feature is similar to Slack.
Talkyard is free to download from GitHub for self-installation on Ubuntu servers via Docker. Pricing for managed hosting starts at €1.90/month.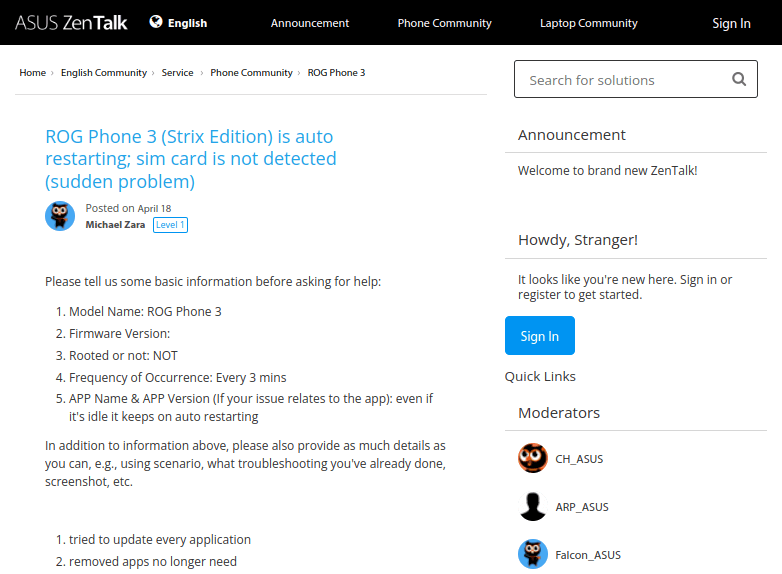 Vanilla Forums is a popular open-source forum software. Notable users include Spectrum, ASUS, Acer, Twilio, TeamViewer and Nokia.
Along with general forum posts, members can ask questions and create polls. They can also @ mention other members and chat with them via private messaging.
User profiles, a knowledge base feature, themes and integrations are also included.
Every forum also has access to a "Best of" page where members can find the community's most popular discussions. Moderators can add discussions to this page themselves.
Vanilla Forums is free to download for self-hosting. Hosted plans are customized for each customer.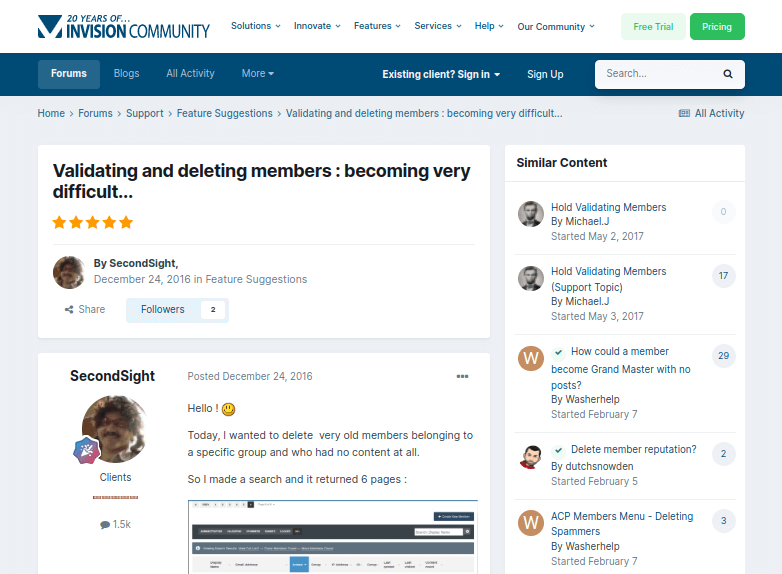 Invision Community is a multi-function community platform. It's used by Evernote, LEGO, Corsair, Mattel, Gibson and Jenny Craig.
A huge part of this platform is, of course, forums.
Forums use a modern UI and come in multiple views: traditional, grid layout (with images for each category) and fluid.
One of the more powerful features of this forum software is its search function. Users can filter searches by author, replies, tags, dates and more.
Stunning user profiles are available, and users can private message each other.
Q&A posts, recommended posts, a "hot topics" section, a moderator's control panel, and a follow functionality for posts are also included.
Other functionalities include ecommerce, blogs, file sharing, galleries and a calendar.
Invision Community is broken up into different apps. A self-hosted license for the Forums app costs $150 upfront and $40 for renewal.
Pricing for hosted plans starts at $99/month, and multiple apps are included.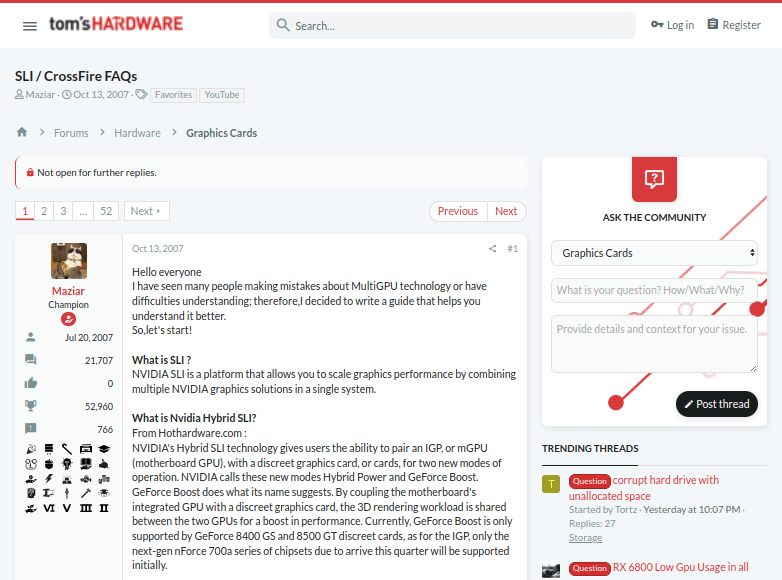 XenForo is a sophisticated community platform with forum software baked into it. Some of its most popular users include cPanel, Unity, MacRumors, IGN, Tom's Hardware, AnandTech and MSI.
Its UI is simple yet sharp enough to belong in the 2020s.
Admins and mods can create structure with subforums. Users can create general discussions, Q&A-style posts, and polls.
They can also watch and bookmark specific threads and write better posts with a WYSIWYG editor.
Users can also sign in via social media, edit their profiles and earn trophies.
A self-hosted license costs $160. Hosted plans start at $60/month.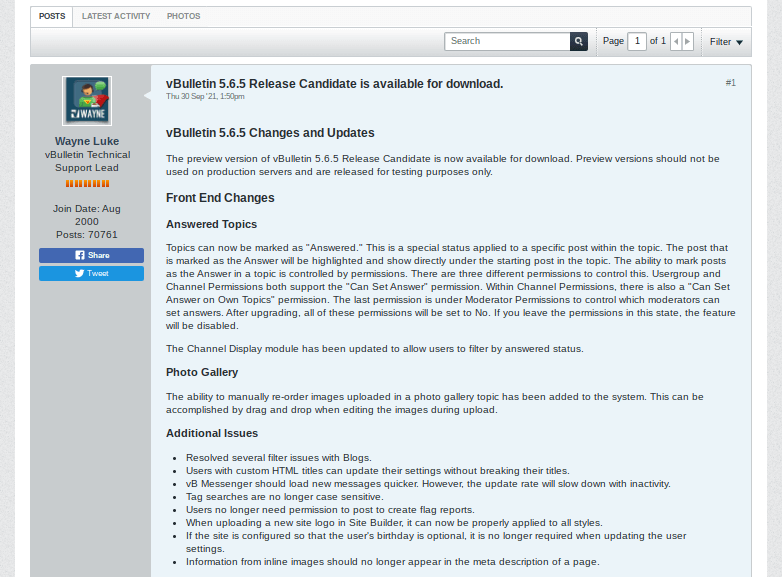 vBulletin is another popular forum software with over 100,000 users. They include such names as Sony Pictures, Steam, NASA and BodyBuilding.com.
It has a dated UI and style templates when compared to some of its biggest competitors, but it's still a powerful forum software.
Users can create threads, polls and groups. They can also message other users privately.
Blogging capabilities are also included. They enable individual members to create their own blog posts.
vBulletin costs $249 to install and host it yourself. Pricing for hosted plans starts at $19.95/month.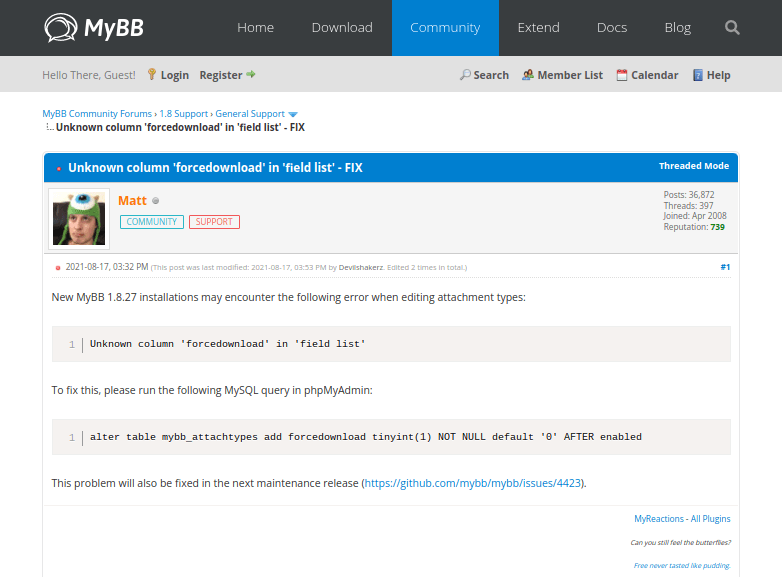 MyBB is a free and simple open-source forum software. Its UI design is similar to WordPress' classic design despite not having any affiliations with the content management system (CMS).
It has discussion threads, private messaging and moderation.
Plugins are available from the community. Plus, while premade themes are not available, you can create your own stylesheets.
MyBB is free to download and self-host directly from the website.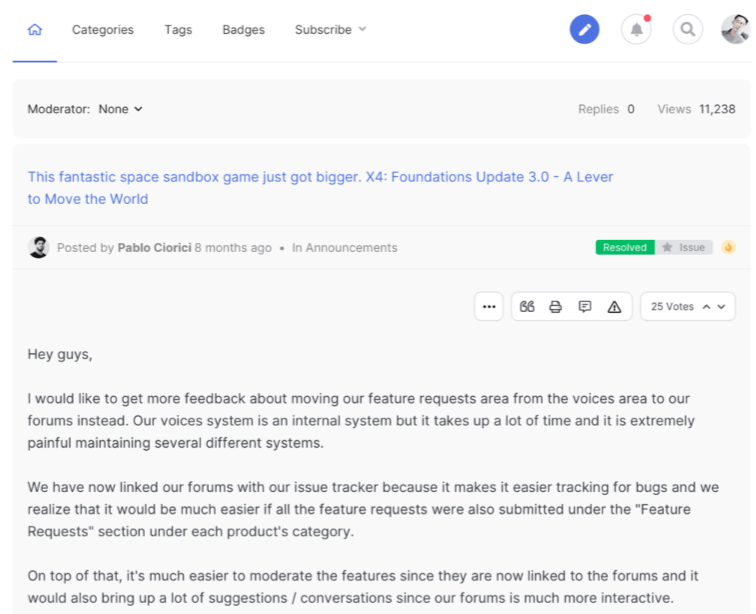 EasyDiscuss is a forum software available for the Joomla CMS.
It has a stunningly modern UI and numerous features members can use to engage with one another.
They include discussion threads, achievements, stickers, polls, voting and more.
Plans start at $79. A discount is available for renewals.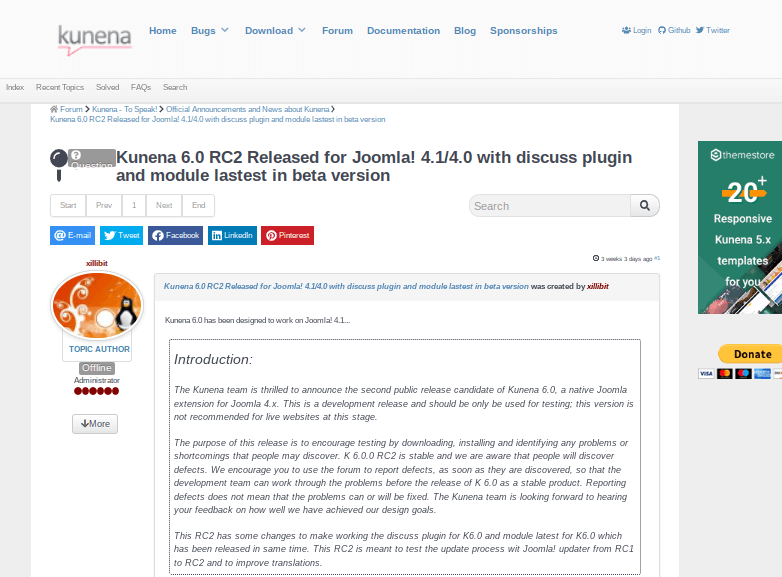 Kunena is another forum extension for Joomla.
This one uses a much simpler UI and doesn't come with nearly as many features, but it's still an effective forum solution.
It's a great option for those who simply need a place for their customers or community to discuss topics.
There's even a premium style template if you want a different look.
This forum extension is free.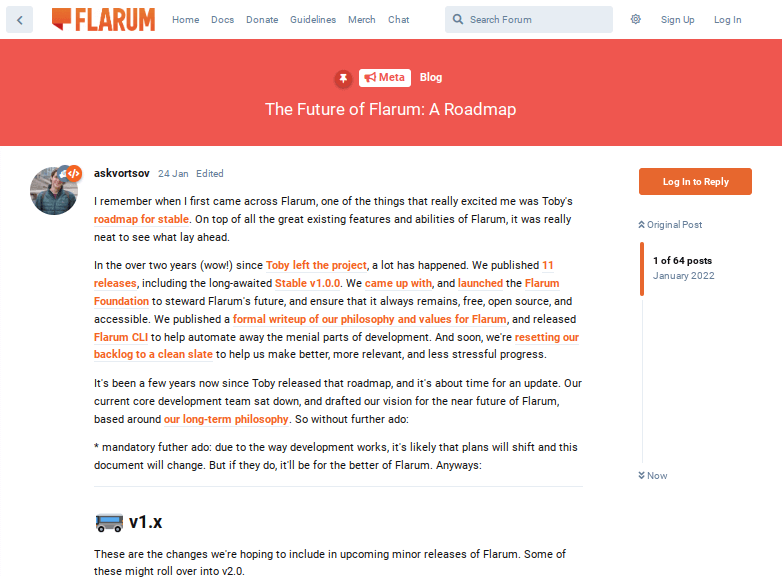 Flarum is a free and open-source forum software.
It's one of the more simple options on this list.
Its modern UI makes it perfectly suitable for those who want a free forum solution that doesn't sacrifice style for simplicity.
The forum's central page has a list of topics users can sort via the following filters: Latest, Top, Newest, Oldest, Trending and Upvotes.
A sidebar provides quick access to all of the categories in your forum.
Flarum is free to download.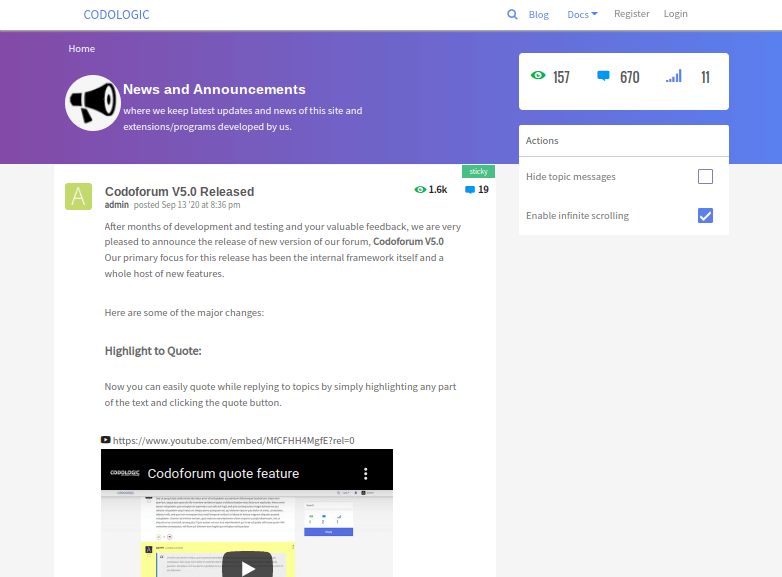 Codoforum is a free forum software that blends simplicity with sophistication. It's a newer forum software originally released in late 2020.
It has a sleek UI that encourages user engagement.
Tagging, subscriptions and digests are available right now, and the software's roadmap is even more impressive.
Codoforum is available for free. Pricing for licenses, which include security patches, starts at $49.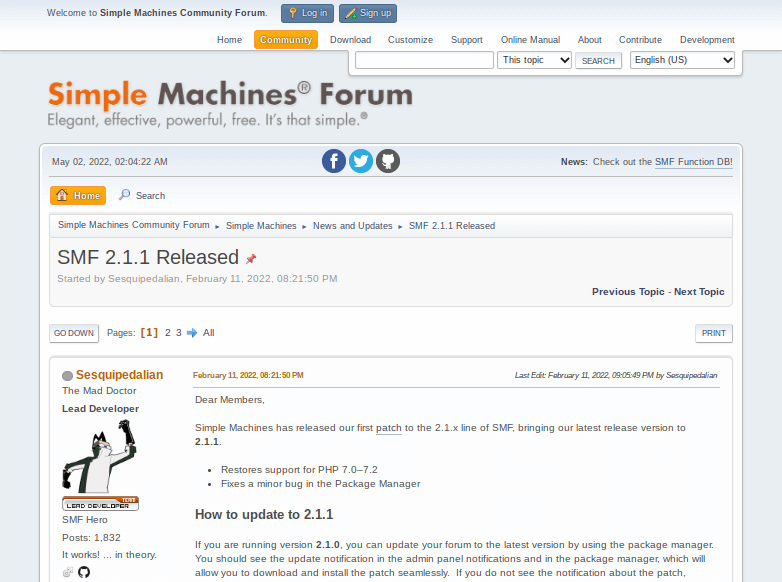 Simple Machines Forum is a free and open-source forum software.
Its UI is a bit dated, but it's still a popular forum software you'll see out in the wild here and there.
It has an active contributor community. There are over 1,300 themes and more than 2,000 mods you can use to extend the software.
SMF is free to download on a server that supports PHP and a MySQL database.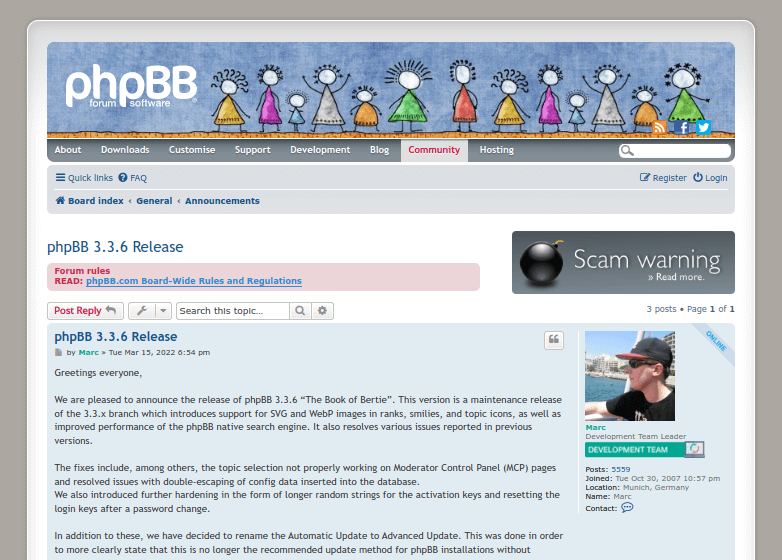 phpBB is a free and open-source forum software.
It's another one of those forum applications that was widely used in the past but is becoming outdated in terms of style and functionality.
Even so, it's a simple way to give your community a way to have discussions.
Plus, it still receives updates!
phpBB is free.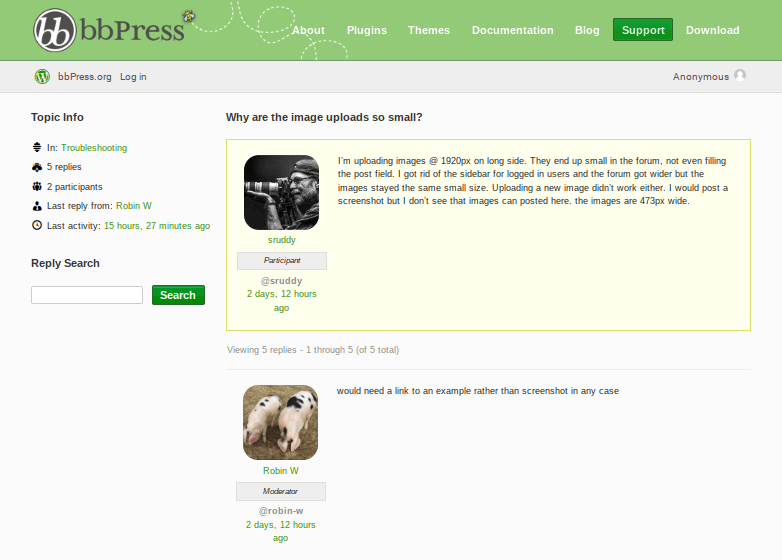 bbPress is a simple forum plugin for the WordPress CMS.
It's the number one forum software for WordPress and features a similar UI to WordPress' classic design.
It's suitable for small communities, but bbPress has definitely not kept up with some of the more sophisticated options on this list.
bbPress is free to download from the official WordPress plugin repository.
Final Thoughts On Forum Software
There's a lot to consider when choosing a forum software.
Do you want a simple forum or a sophisticated layout with structured categories? Do you want to host a forum on your own server or rely on the software's hosting solution?
A simple forum hosted on your own server is certainly the cheapest way to go.
However, forum software that offers its own hosting has server configurations tailor-made for the software at hand. Plus, the software is likely pre-installed when you purchase it.
You should also consider the type of community you want to build and how you'd like them to be able to engage with one another.
Some forum applications only have typical features you expect to find in a forum: threads and maybe the ability to break up your forum into categories or subforums.
Other options on this list go all out, giving you the opportunity to offer multiple post types, user profiles, private messaging, a point/reward system and more.
Lastly, some forum software have numerous premade themes to choose from if you want to go for a different look. Others require you to use CSS or learn the software's template system.
Consider each of these points as you narrow down your list of options. They'll lead you in the right direction.