20 Simple But Powerful Examples of Testimonials Done Right
Most people think selling a business or product online requires little more than some clever copy, high-quality product images, maybe even a compelling video. But often, these marketing tactics alone aren't enough.
Why? Because consumers don't trust ads.
The way consumers react to marketing has changed. According to Nielsen Global Trust in Advertising Report, 83% of online respondents say they most trust the recommendations they get from friends and family. In another report, 88% of consumers said they trust online reviews and testimonials just as much as recommendations from people they know.
Related: 8 Best WordPress Testimonial Plugins Compared
Why are testimonials so effective?
Testimonials build trust and give your brand credibility. It can be hard to know who to trust, and hearing positive testimonials from real-life customers—who haven't been paid to say nice things—can be powerful.
The best reviews tell a story imbued with emotion. An online shopper tells her frustration in looking for the perfect winter coat and her excitement of getting the perfect coat in the mail. A business owner shares how they struggled to find a host that fit their business's needs and how relieved they were to find a host with the right features and fantastic customer service to boot.
Below, I've included 20 examples of the best ways to display testimonials and reviews. If you are considering adding customer testimonials or reviews to your website, these examples will give you plenty of inspiration to get started.
01.

Zendesk

Customer service and support company Zendesk knocks it out of the park with a beautifully designed customer testimonial page. They start by highlighting big brands that use their software, including Airbnb, and use plenty of beautiful images. You can even sort testimonials by location, product, or industry.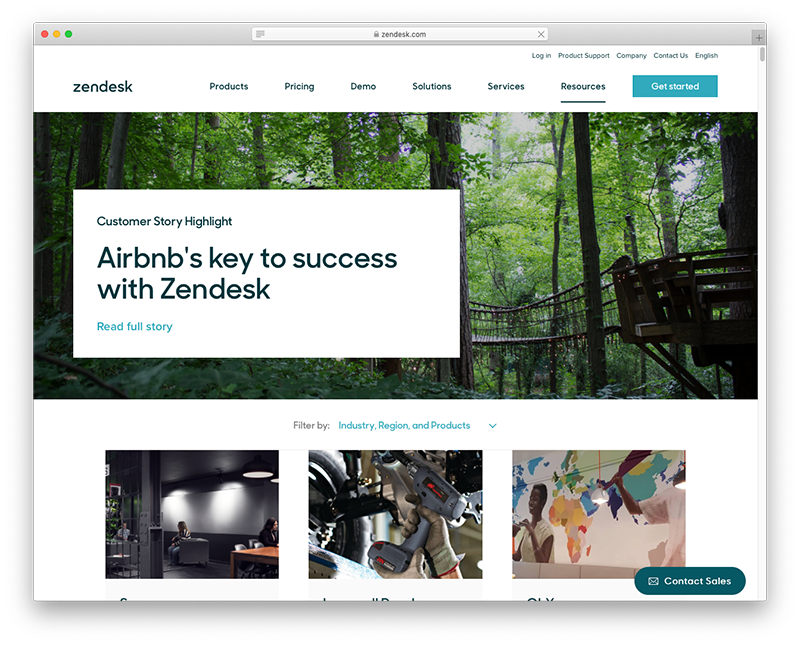 Each review is an in-depth dive into the customer, showing the types of products they use, the number of customers they have, and how long they have used the product.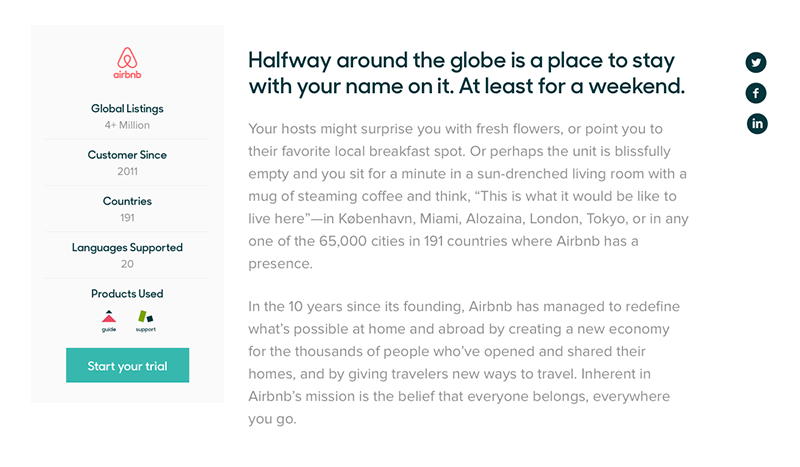 This level of detail not only makes it easier for prospective customers to see the products Zendesk offers, but also gives the client (in this case, Airbnb) an incentive to share the testimonial.
02.

Shopify

eCommerce software company Shopify uses a similar format, hosting their customer's success stories all on one page with the ability to filter by category.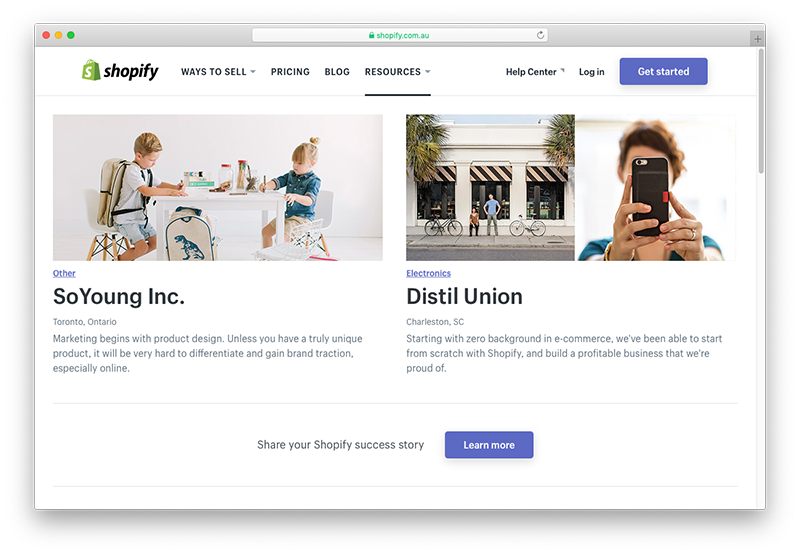 Shopify's page also contains a link to encourage current customers to share their own stories. This is a simple way to get more testimonials for your brand.
Interested in Shopify themes? Check out 15 Top Shopify Themes for Your Online Store.
02.

GreenGeeks

While beautiful, the previous two examples may be too complex for a smaller company to implement. GreenGeeks, in comparison, keeps it simple.

GreenGeeks is a hosting company dedicated to offering their customers fast, high powered hosting that is eco-friendly. At the bottom of their website, they have placed several customer testimonials.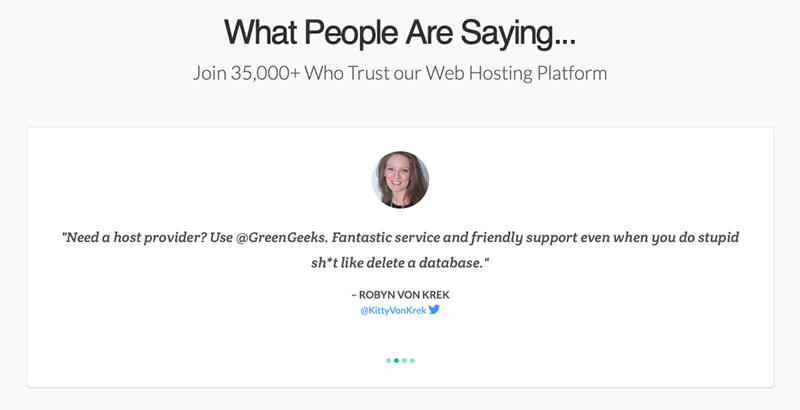 There are a few things GreenGeeks' testimonials do well. First, they use their customer's Twitter handle and include an image, which gives the review more authenticity. The language is also casual, but also a little techy, which likely works well for their target audience.
On top of all that, including testimonials on every page of their site increases the chances of their testimonials being seen.
04.

ChowNow

Online food ordering service ChowNow also keeps it simple but effective with fullscreen video testimonials on their homepage.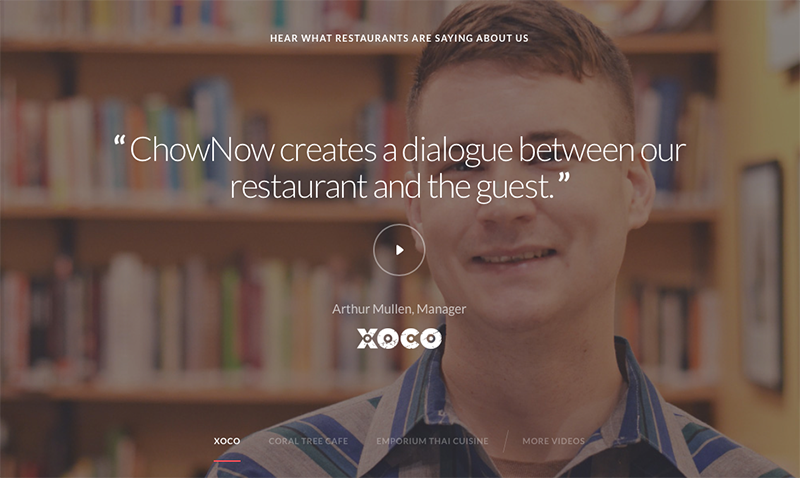 Their testimonials page is easy to find in the main navigation at the top of the page and features dozens of restaurant owners discussing why they like platform. The video format allows them to include lots of information in an easy-to-digest format.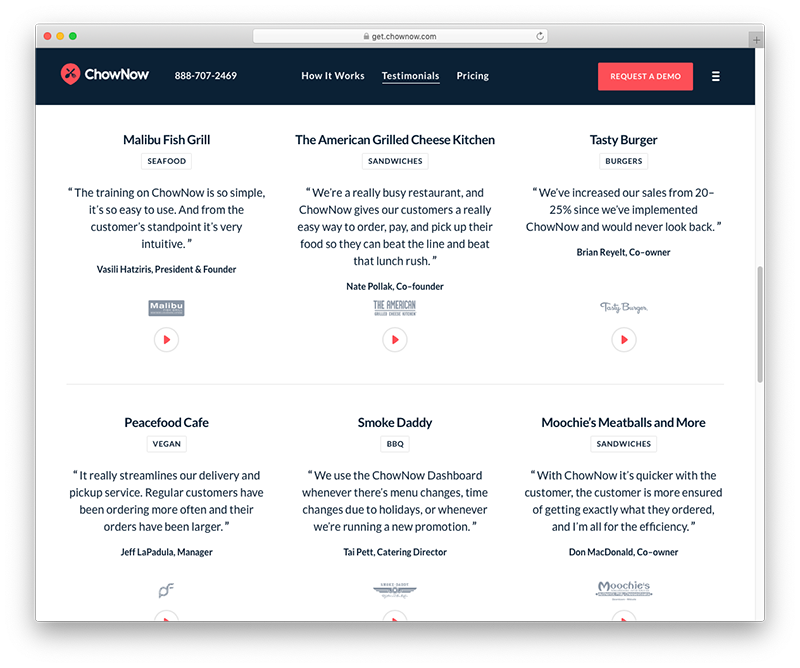 05.

Uber

Ride-sharing company Uber uses a similar format to ChowNow, highlighting dozens of drivers all on one page. Each testimonial features a short snapshot of why the driver likes working for Uber, encouraging readers to click through to read more about whichever testimonial catches their eye.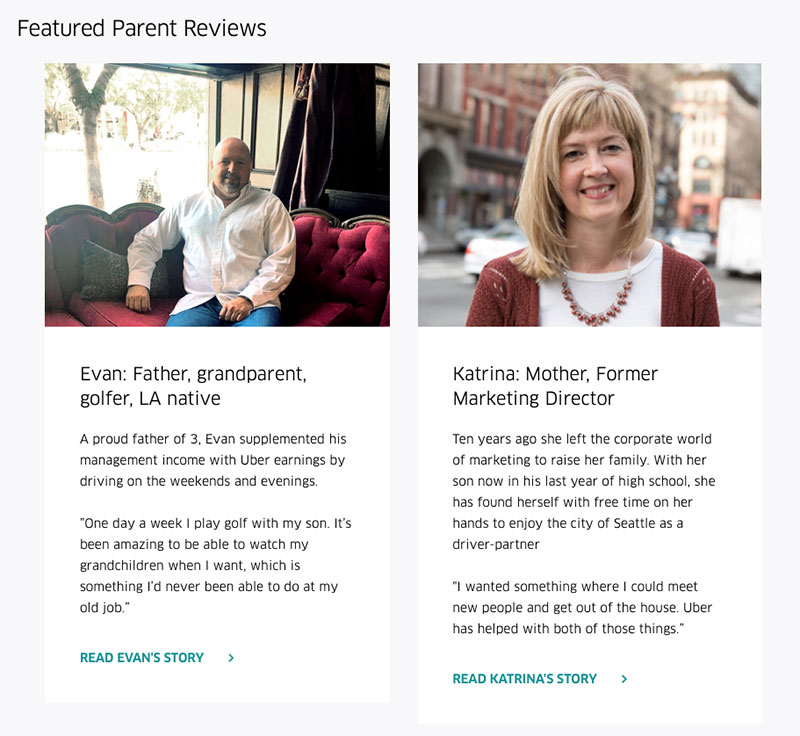 What's interesting about Uber's Driver Stories page is that it organizes testimonials into different sections of the community, including students, artists, parents, and even small business owners. In doing this, Uber is able to show the range of different types of people who drive for the company.
06.

Startup Institute

Testimonials don't need to be boring. Startup Institute, a company offering a wide range of career accelerator programs, highlights their alumni through storytelling. Each testimonial is a story of success.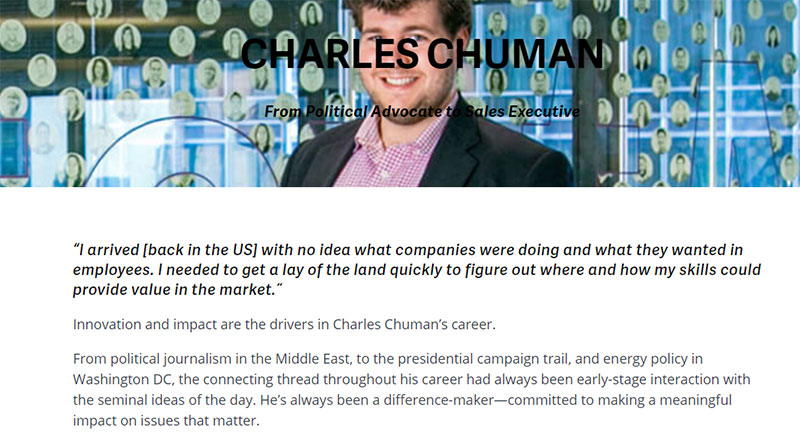 In their case, providing more background offers more credibility than a short blurb such as: "I took X course and got a job 8 weeks later making 100K a year!"
Instead, they humanize each alumnus, making their reviews both more interesting and more believable.
07.

 Bizzabo

Bizzabo is an online platform offering tools to make event planning a more intuitive process for brands. Their Customers page stands out by offering tons of different formats for reviews, including Tweets presented in a unique format and in-depth case studies of brands.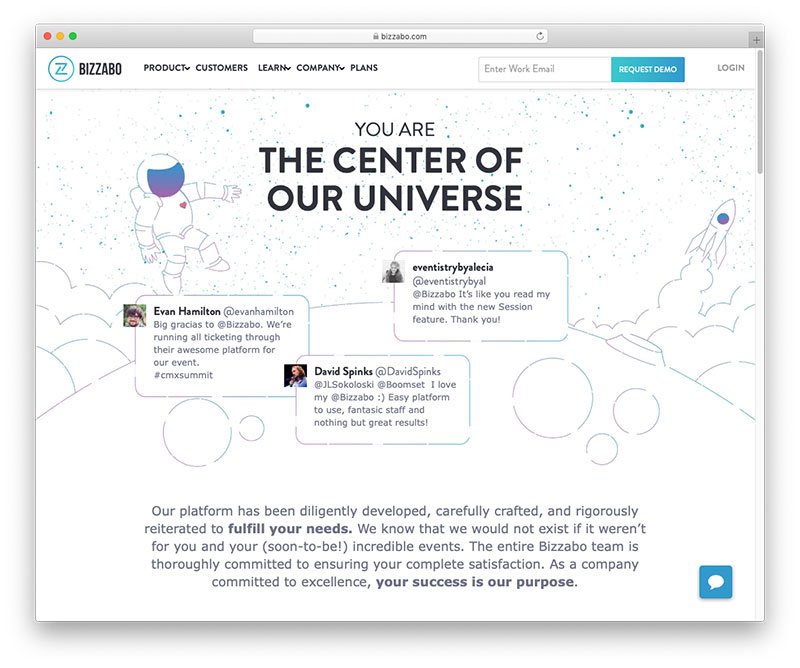 By offering both formats, they are able to move prospective customers down the path to purchase. From "hmm, this looks cool…" with the Tweets to "Oh man, we have to have this!" with the in-depth case studies that discuss features, the company uses a variety of different testimonial formats to give prospects an overview of what to expect.
08.

Booker

Unlike other brands that bury their testimonials page in the footer, Booker puts its customer stories front and center right on their homepage, just under the fold.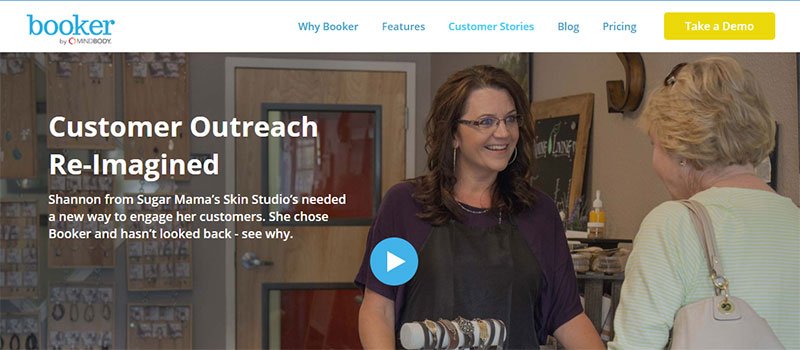 Instead of trying to convince people to buy their product, they let their customers do the selling for them. Simply and effective.
09.

Codecademy

Teaching platform Codecademy knows it's not just selling coding courses; they are selling people the power to change their lives. Their testimonials focus on the empowerment angle instead of just talking about their courses.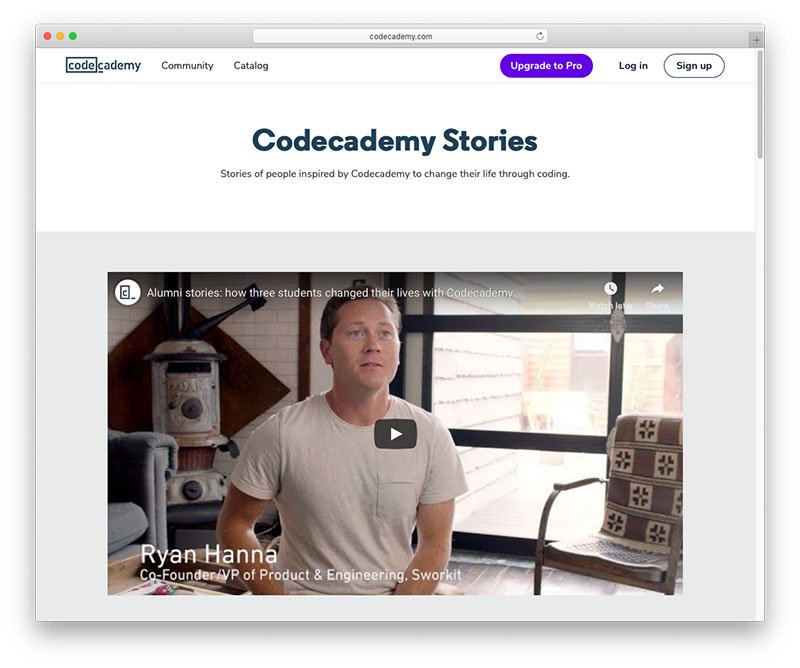 Beneath the featured video, they display a variety of other testimonials with short blurbs that allow readers to choose a testimonial that most matches their life. The display is clean, and modern.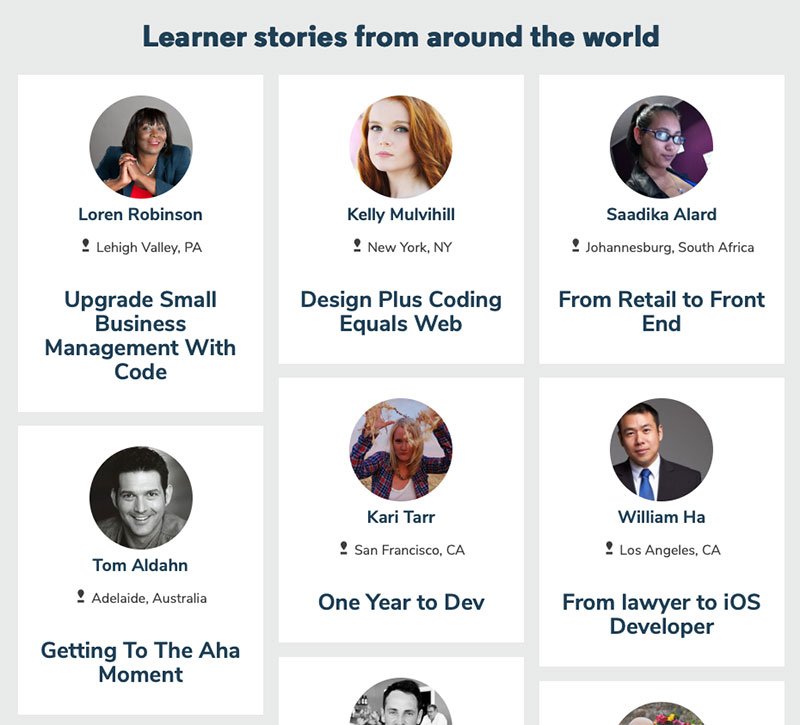 10.

Squarespace

Website building and hosting company Squarespace is another fantastic example of storytelling. Each testimonial features professional photos of the customer, an interview, and a walk through of the features they used to build their site.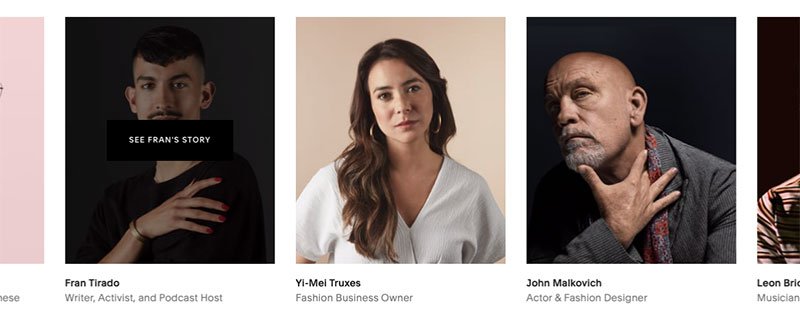 By highlighting their customer's companies, Squarespace creates a collaboration with the customer where they both benefit. And prospective customers get an authentic, in-depth view of what it is like to use Squarespace.
Thinking about building a site with Squarespace? Check out 25 Examples of Unique Sites Using Squarespace.
11.

Canada Goose

High-end winter weather retailer Canada Goose offers another example of storytelling in its testimonials.

Instead of highlighting everyday people, they tell the stories of "everyday heroes" who wear Canada Goose gear in extreme weather conditions. For example, Ray Zahab, who spent two months crossing the Canadian Arctic. His testimonial is one part journalism, one part activism, and one part testimonial.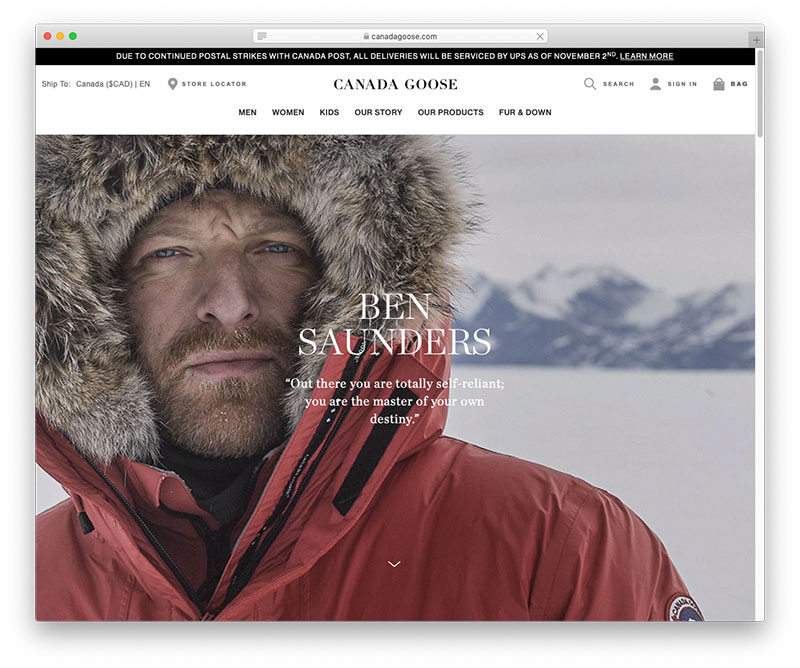 With an average jacket costing around $500, Canada Goose customers aren't just buying a warm coat; they are buying into a lifestyle. Their testimonials page makes customers feel like they are joining an elite group of adventure seekers.
12.

Xero

Small business software company Xero includes reviews on their "Why Your Business Page." The top of the page talks about the features, while the bottom of the page features simple testimonials.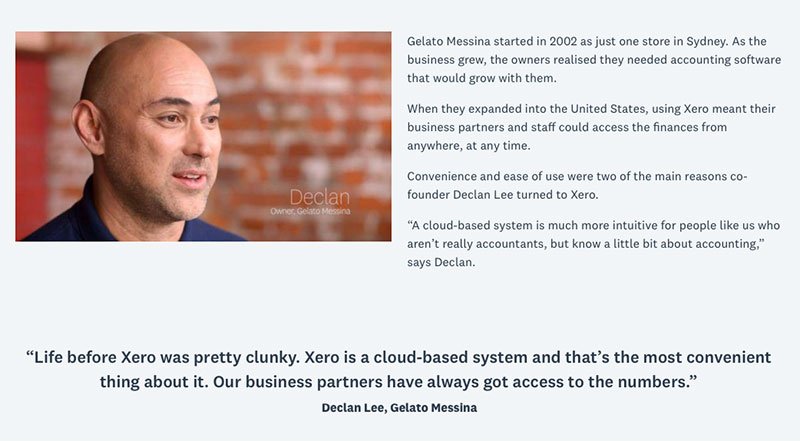 There are no fancy images or design layouts, yet it works by highlights the client's own words. By including the number of subscribers who use Xero, they establish social proof.
13.

American Provenance

Brands that sell physical products might think they are stuck with boring product reviews, but personal care company American Provenance shows that doesn't have to be the case.

They highlight customer reviews on their homepage, and many of them highlight non-product related benefits, such as great customer service or fast delivery times.
Then on their product testimonials page, the company posts longer reviews. This ensures more people will see their reviews while keeping their homepage uncluttered.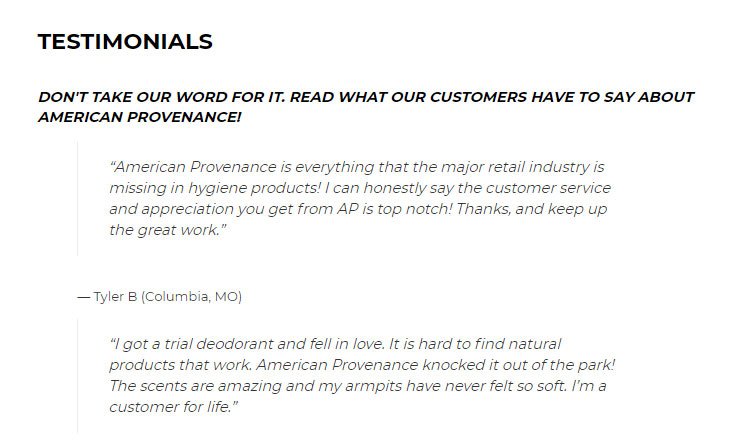 14.

 Dribbble

This online community of graphic designers and artists has a unique consumer base, and their testimonials page shows that well with funky pictures of artists on the platform.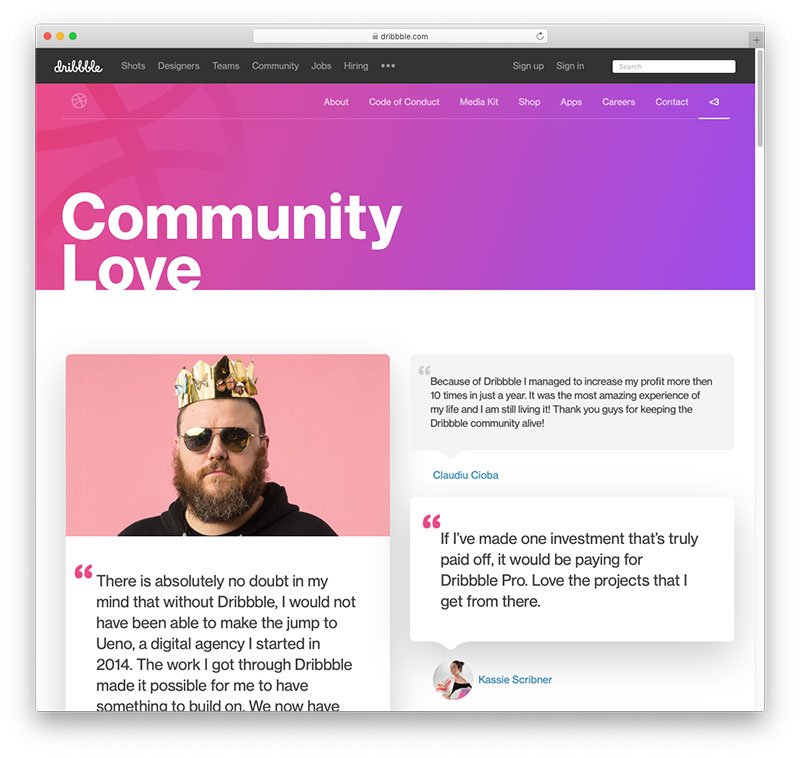 Many brands use grids and keep all their testimonials in equal sized boxes. But Dribbble uses speech bubbles of different sizes, which keeps it interesting and helps highlight specific testimonials.
15.

Slack

The way we work is changing, and work chat platform Slack is on the cutting edge of the changing industry. Its testimonials page reflects their innovative, forward-thinking brand by presenting testimonials in a modern grid with wide margins and plenty of white space. It is uncluttered and clean, just like they want your email inbox to be.
16.

Casper

It's hard to imagine a mattress company having a beautiful design for displaying their testimonials, but Casper fits the bill. The company has a bit of cheeky edge and a modern take on the mattress industry, and their testimonials fit perfectly.

The headlines help break up the text, the locations add authenticity to each review, and the cute cartoon profiles are just quirky enough to make you smile. The display perfectly fits with their brand and lets them share profile photos without asking customers to upload an image.
17.

BlueBeam

Many of the examples here are simple, which helps keep the focus on the testimonials. BlueBeam, however, takes a more modern approach. The software company offers technology solutions to help businesses work more effectively.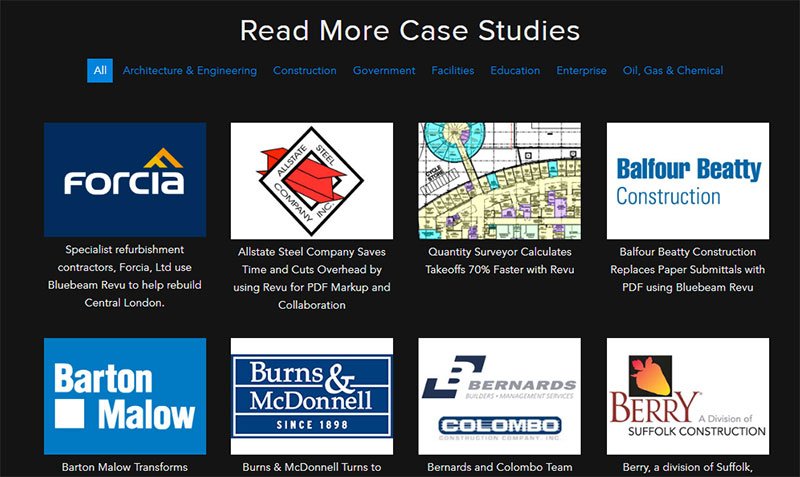 Their software is a large investment for most businesses, so it makes sense that they use case studies instead of two or three line reviews. The display is still clean, but with a modern edge that works well for the brand. Once again, they allow readers to sort by industry to find a review that matches their company and expectations.
18.

99Designs

Online platform 99Designs connects businesses who need logos, websites, and other branding materials with thousands of graphic designers all over the globe. Their testimonials page is clean and modern, befitting a company in the design world.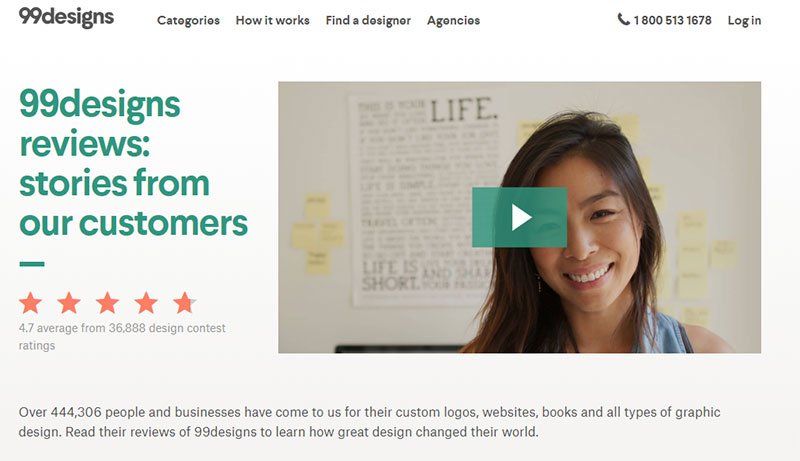 Their testimonials page features a large video highlighting one of their customers, an accessories designer in LA. She details the process she went through to get her logo and shares her excitement in finding the right one.
Under the video is written testimonials, which can be sorted by industry or category. There are, incredulously, over 3,000 pages of testimonials, which offers a great deal of social proof.
19.

BirchBox

Makeup retailer BirchBox is best known for their monthly subscription box, which sends customers a collection of makeup and beauty care items based on each subscribers' profile.

Their testimonials include a picture of the customer in a Polaroid frame, an item that customer loves, and a few reasons why that customer loves Birchbox. Simple, beautiful, with just a little bit of flair to make them stand out.
20.

Zenni Optical

Online glasses company Zenni is on a path to disrupt the optical industry. Unlike other brands, where words or videos are front and center, most of Zenni's testimonials are images showing happy customers.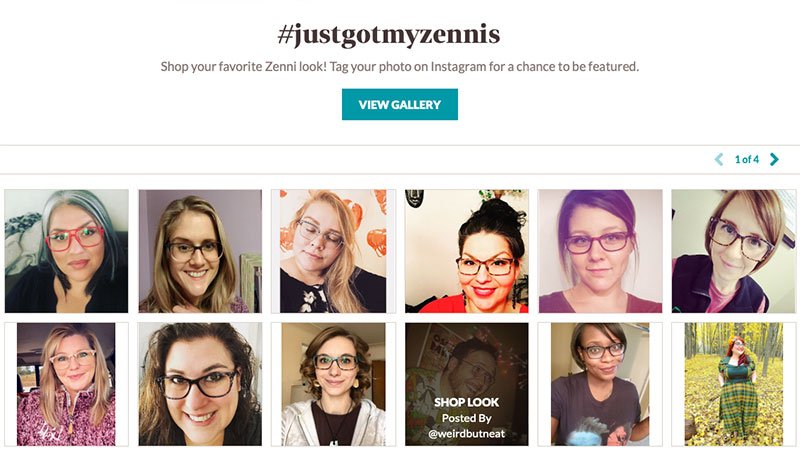 Each testimonial depicts a real person wearing their Zennis. Click on any of the images and the site magnifies the image, and gives product information for the frames.
Why are these authentic images so important? Because most people can't imagine buying glasses before trying them on. Seeing the glasses on real people help buyers imagine what they would look like in the frames, increasing confidence in the brand.
Wrapping Up
Testimonials are an effective way to address pain points, increase customer confidence, and invite prospective customers in to experience the culture off your brand.
When choosing the right design for displaying your testimonials, consider who your customers are and what they are really buying from you. For example, you may be selling eco-friendly socks, but your customers are really buying the feeling that they are making an impact in the world.
These 20 examples should give you plenty of inspiration to get started designing your own testimonials page. You may also want to take a look at article on best Testimonial plugins for WordPress.
Do you have any favorite testimonial examples? Share yours below in the comments!