Top Lightweight Blogging Platforms For Your Next Blog
Blogging has become a very popular activity in the past few years, and while new services and opportunities keep coming up every now and then, blogging as an act does not seem to be dying anytime soon. In fact, on the contrary, blogging seems to be rising in popularity year after year.
Today, there are professional bloggers who blog for money, whereas there are hobbyists who run a blog or write posts for other blogs a hobby and passion. No matter what the topic and subject of your interest is — be it fashion, food, technology, mobile, aromatherapy, or sports — you can easily find millions of amazing blogs in every single niche.
WordPress, of course, is the most popular blogging tool out there, and it currently powers nearly a quarter of the total websites on the internet. It is feature-packed, and can be used to create photo blogs, portfolio sites, news sites, and a lot more.
However, what if you do not need all of those features? What if, say, you just need a no-nonsense platform that lets you write, and nothing else?
In this post, we take a look at some of the most popular simple and lightweight blogging platforms that you can choose to create your blog with.
WordPress Alternatives: Top Lightweight Blogging Platforms For Your Next Blog
1. Medium
Medium is a very popular and impressive tool for writing on the web. If you are looking for a place to publish your writings, and have an audience of like-minded individuals reading your work, look no further than Medium.
Basically, Medium offers a community-centric model for blogging. You write and publish your posts, and Medium users can read and comment on your works. It is as simple as it gets, and apart from formatting tools, you can also add featured images to your posts.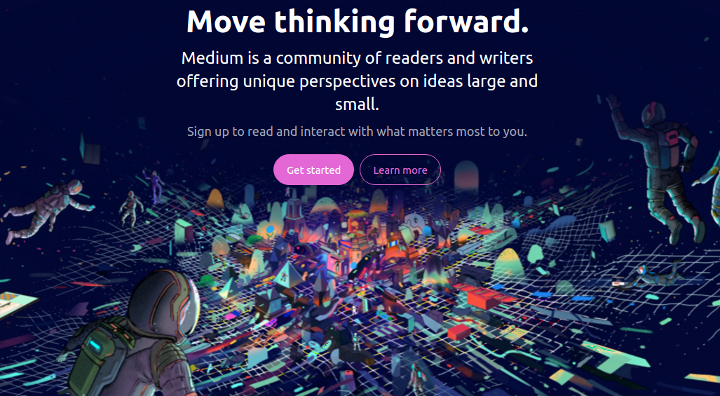 Clearly, Medium is a paradise for writers who are looking to express their views and want their works to be read and acknowledged. Medium also offers in-depth stats for your articles and writings, so you can follow and check your progress accordingly.
However, Medium does not have a truly personal blog appeal to it. It appears as if you are writing on your own personal space within a larger notice-board. You are not given a blog such as yourname.medium.com but instead, are given a page for your writings, such as medium.com/yourname
This means you do not truly have a blog-like vertical of your own, but instead a column for your writings in the larger Medium hemisphere. For many users, this is the ideal approach. However, for still others, such a model just does not cut as they might need a blog of their own, in every sense of the word.
2. Svbtle
Svbtle is what you get when you take a blogging platform, and eliminate everything from it except the publishing tools.
Svbtle is, by far, the most minimal and agile blogging tool out there — you can sign up and start blogging right away. The interface is too minimal, with a lot of whitespace. Plus, there are no themes or plugins to customize, nor are there any major settings to configure. Instead, you can edit your post, and hit Publish. That's all.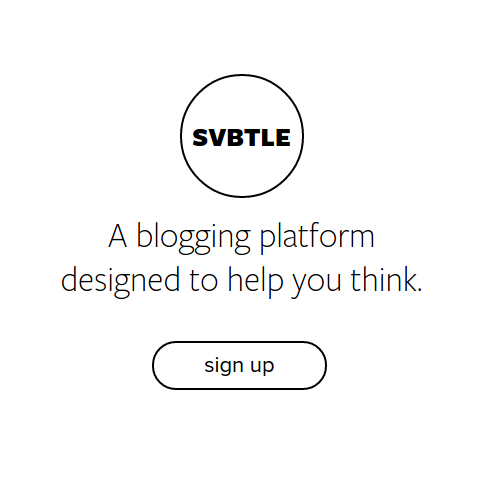 You can add links to your website or Twitter account, and that will show up in the sidebar. In addition to that, you can also save your post ideas as Drafts, and work on them later. Svbtle's editor relies on Markdown, so if a WYSIWYG editor is something you are looking for, Svbtle might be a little tough for you.
Svbtle gives you a sub-domain based blog, and if you want, you can also map your own domain to it. There are no themes to edit or setup, but you can use minor color tweaks to personalize your blog.
On the downside, Svbtle's user base is not huge, so be sure that you will not get amazing exposure in terms of community readership, as you might get on Medium or elsewhere.
3. Ghost
Ghost began basically as a response to the bloated nature of WordPress, citing that WP was no longer meant for blogs, and it was more of a CMS. Ghost, therefore, focuses purely on blogging, and offers a lightweight interface.
Blogging via Ghost is pretty much like WordPress, but without the heavy set of features. You can rely on extensions and themes to customize your blog, much like you would if you were using WordPress. However, there are no shortcodes, custom templates, custom post types etc. that you can play with.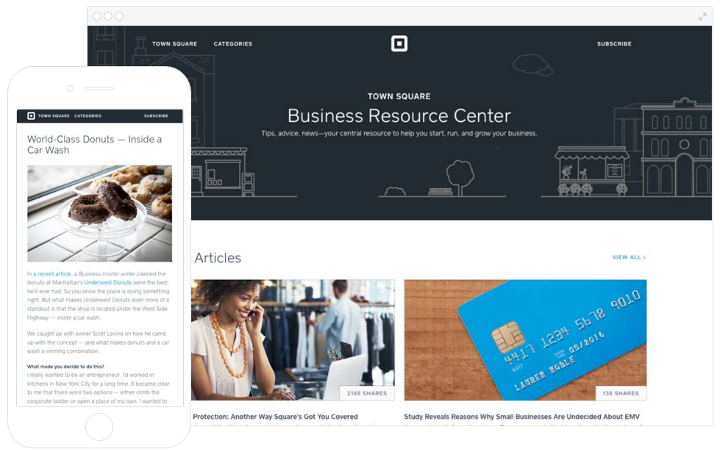 Ghost also relies on Markdown, though you can change that by means of extensions. Ghost is available in two variants: self-hosted, which you can download and setup on your own server, or hosted, that lets you run your blog on Ghost's servers.
For self-hosted, however, life is not as easy as it is for WordPress users. PHP is a standard for web development by now, and almost every major web host offers it; whereas Node.js still has not gained wider acceptance, and many shared web hosts do not yet support it. As such, you might need a VPS to run Ghost, which will be costlier to manage.
4. Jekyll
Jekyll is not purely a blogging platform, but instead, it is a site generation engine. Confused? Let me explain.
In simple words, you use your content — in Markdown, HTML/CSS, Textile or plain text — and Jekyll converts it into static site. Jekyll is blog-ready — in other words, it can handle your categories, pages, permalinks etc. accordingly.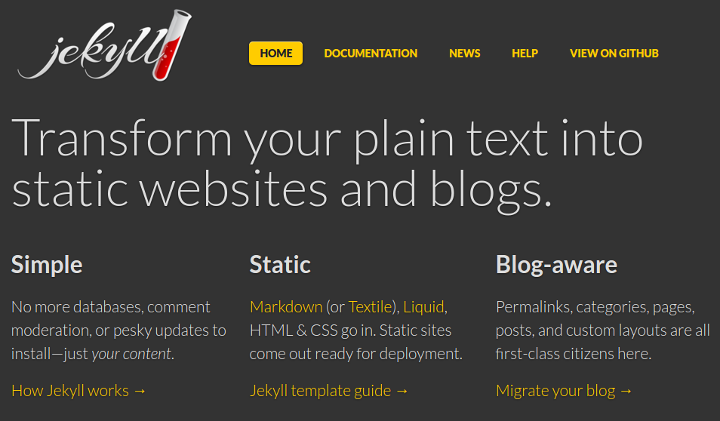 Thus, Jekyll leaves you free from headaches such as database management, comment moderation, security issues, etc. and you can handle your blog in an easy manner. You can also use GitHub Pages to host your Jekyll website for free, with a custom domain mapped to it.
Naturally, Jekyll is not everyone's cup of tea, as it is more geared towards geeky users and developers who have no trouble in setting up their blogs on GitHub Pages. Plus, if you need dynamic features such as comment moderation, Jekyll is of no use for you.
However, if you just want a tool that lets you post your writings within minutes and are not shy of working with a bit of code, Jekyll is the solution meant for you.
5. Dropplets
Dropplets (not a typo) is a lesser known player in the field, but a worthy option nonetheless. It is a simple tool, that you can upload to your server and setup within minutes. Much like Jekyll, Dropplets too does not use a database.
Next, you can compose your posts offline, using Markdown, and upload them to Dropplets. That's all!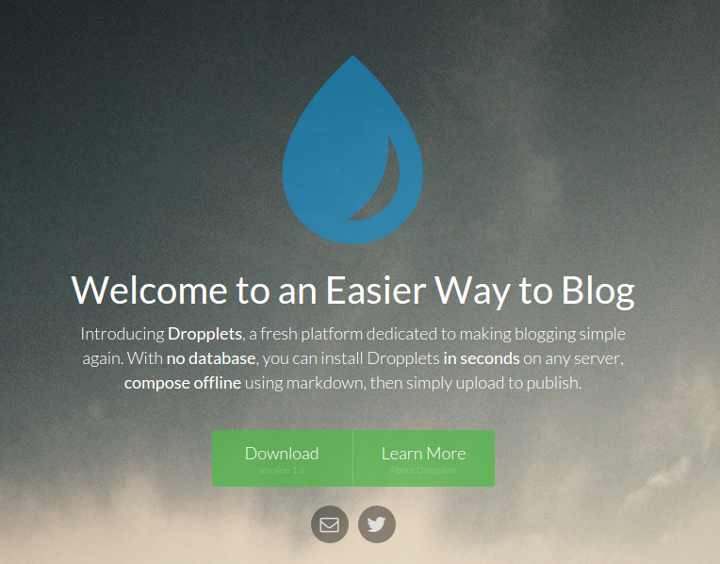 Dropplets comes with an MIT license, and is available on GitHub. Plus, it is backed by premium templates if you wish to customize your blog's appearance.
For anyone looking for a simple blogging solution, Dropplets is definitely a very promising tool. However, as of now, Dropplets is mostly a one-man operation, and does not have a viable business model except for the premium templates. As such, using it to build your blog might feel like betting on an unknown newer horse, which may or may not perform well in the long run.
Over To You
Which blogging platform do you use to blog, other than WordPress and Blogger? Share your preferences and opinions in the comments below!