30 Impressive Websites Built With Sahifa WordPress Theme
Sahifa WordPress Theme is the #1 highest selling blog & magazine theme on Themeforest, where it sells exclusively. A clean and modern Magazine theme, Sahifa is used by more than 27,000 websites among the top million web pages on the internet.
Developed by TieLabs, Sahifa is one of the most popular WordPress theme across all niches.
Stats aside, it is the features and functionalities that are packed into Sahifa which makes it a favorite. To begin with, Sahifa theme brings one-click customization right into your WordPress Admin panel. The easy customization options like blog fonts, layouts and color schemes, available right in your Admin Panel helps you focus more on content and less on tweaking the design of your blog.
About Sahifa Review
The theme comes packed with multiple blocks and layouts which can be used to modify your homepage through the drag-and-drop TiePage Builder. Users can switch between three layouts – Boxed, Framed, and Wide.
Integration with WooCommerce, bbPress, and BuddyPress makes it easy to extend the functionality of your blog/magazine. Also included are $74 worth of plugins like Lightbox, Sticky Sidebar, custom buttons, and an Instagram plugin. Custom sliders, 35 custom widgets, custom backgrounds, support for RTL languages, custom shortcodes, and Ajax live search are some of the amazing features of Sahifa that make it popular among WordPress users.
Being Responsive and Mobile ready, this theme allows users to access your blog on any screen size, without facing any resizing issue. The responsive feature can be turned off. For users, it means that their readers can access the magazine from any device. Sahifa works with all operating systems and browsers.
If your blog features content across a wide range of categories, you will be glad that Mega menu is included, so readers can find content on your WordPress without difficulty. Support for custom icons, post views counter, a breaking news section, and a built-in review system will make your WordPress a full-featured online magazine.
To get a better understanding of how powerful this theme is, it would a good idea to get a glimpse of how folks on the internet have been using the theme for their online magazines/blogs.
01. SmallBizTrends
A popular blog on the internet, Small Business Trends uses the custom colors of Sahifa to instill the brand's personality. The Sticky Mega menu and the Trending topics on the site give it a professional business magazine look.
Links to social media and some other links are also provided in an accent bar at the top of the blog through the breadcrumb navigation. This business magazine makes use of the custom widgets like popular topics and polls to provide a better experience to their online readers.
02. Joe.My.God.
Joe. My. God. is a blog that focuses on the little-discussed and controversial topics like the LGBT communities, Elections, and Politics. This blog makes use of the minimalistic main menu feature of Sahifa instead of the Mega menu. The blog maintains an overall minimalistic look.
So you can see that although the theme comes feature-packed, you can tone it down by doing away with the features you do not require for your blog. The theme carries word-tags in the footer to allow readers to move directly to some of the more topical subjects on the blog. The sidebar space is almost entirely devoted to advertisements.
03. The Drive 97.1fm
Chicago's classic rock station, the Drive, features a dark design with some black and white pictures and plenty of yellow accents. No doubt this website is jam-packed with all things rock and roll.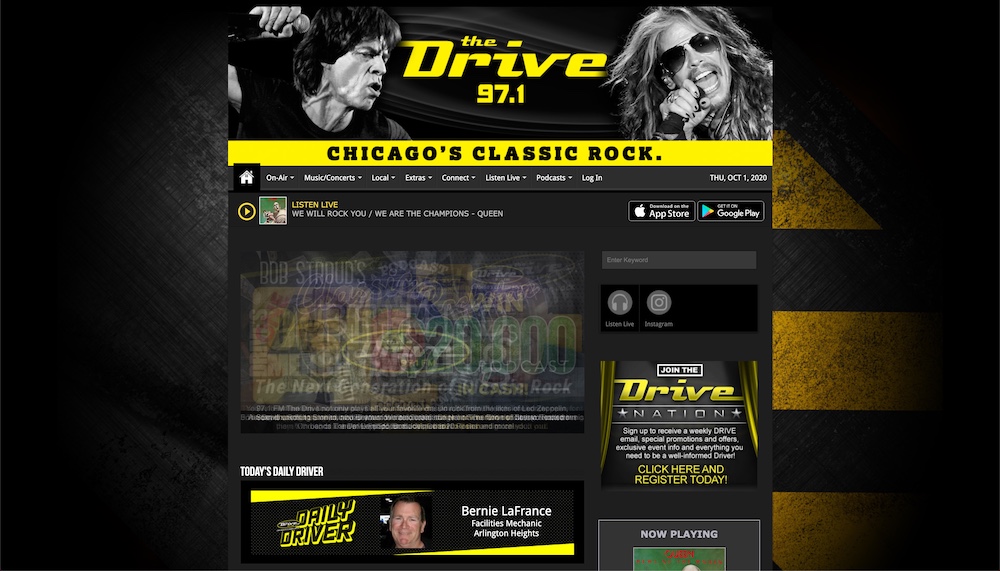 Live radio stations have a lot going on between playing music (of course), sharing upcoming concerts and shows, promotions, and so on… Naturally, their website has to house all of this and it does a great job of letting visitors knowing what's up.
04. We Rock Your Web
We Rock Your Web is a site dedicated to helping people understand anything and everything with easy terminology. Specifically, they're there to help small businesses not only create and maintain successful websites but know how to leverage them too.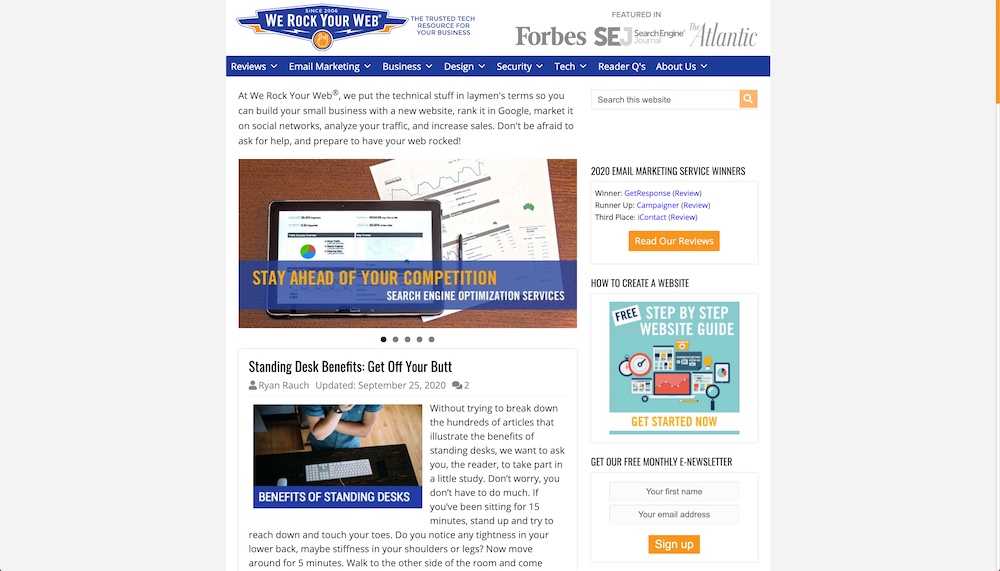 The website uses a simple design layout for their blog and post pages which would probably suit those looking to learn more technical subjects.
05. FantasyCrushers
What sport doesn't FantasyCruncher cover? Only those that don't have fantasy leagues as this is a specifically curated website, meant to help you create your most optimal lineup. It's a practical and useful resource if you're looking to find critical information for your league during crunch time.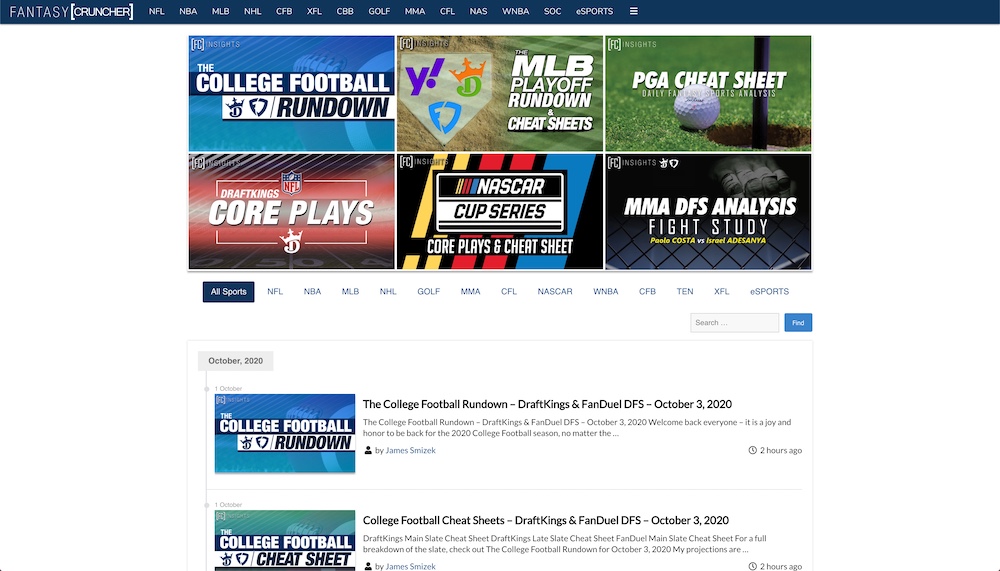 This website features a simple design and layout that doesn't get in the viewer's way. For each article preview, you'll notice a medium-sized image and a clear headline that's well written. Inside each post, you'll find all the necessary information that's organized in a simple way as well.
06. Defense Review
Defense Review is a portal where readers can keep themselves informed of the latest events and trends relating to the defense industry.
The Sidebar extends beyond the main content area. It is content heavy, with space for advertising, links to a blogger network, their list of content partners and similar stuff. The layout is boxed and is set against the backdrop of heavy military equipment.
07. Load The Game
Load The Game is a true treat for a gaming enthusiast. The website prides itself on objective journalism in the gaming arena. All game platforms are covered and this is the place for latest reviews and previews and breaking news concerning games.
Trending game news is placed on a slider at the bottom. The header sports an innovative logo – a joystick and an underlining horizontal bar that shows the progress of loading a game.
08. Ghana Moton
Ghana Motion is a great website to check out if you want to keep up to date on Ghana's music scene. The website features all kinds of music news and updates such as newly released singles or music videos. Additionally to Ghanaian music, you'll find music from neighboring countries as well as sport and business news too.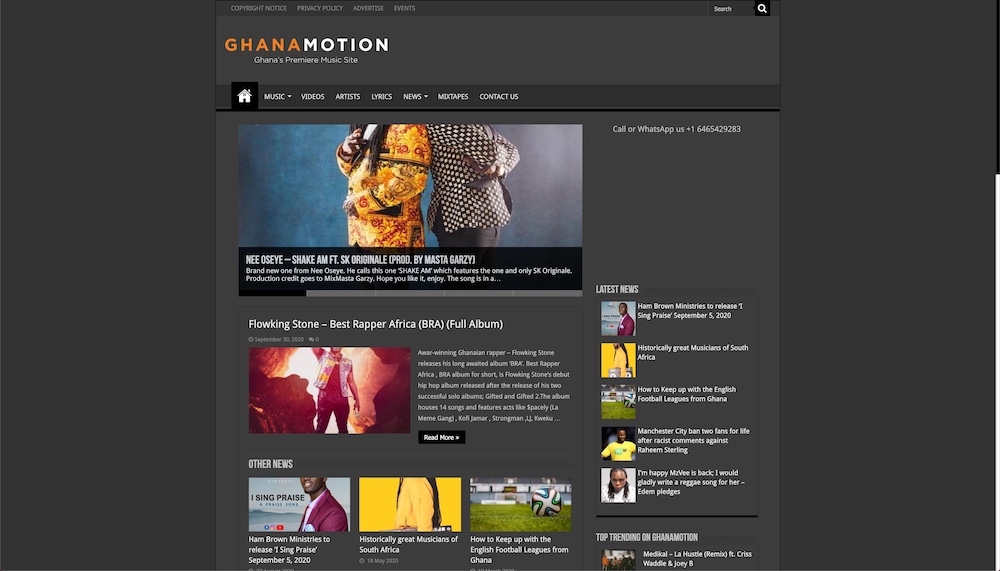 This website is easy to navigate. The homepage features many different subsections that you can also access through the top navigation. There are news and trending snippets on the side's sidebar to easily find even more content.
09. PopHorror
For those who love horror, PopHorror might be right up your alley. The website centers around covering all things related to popular horror culture. PopHorror likes to dig into today's horror blockbusters, TV shows, and videogames.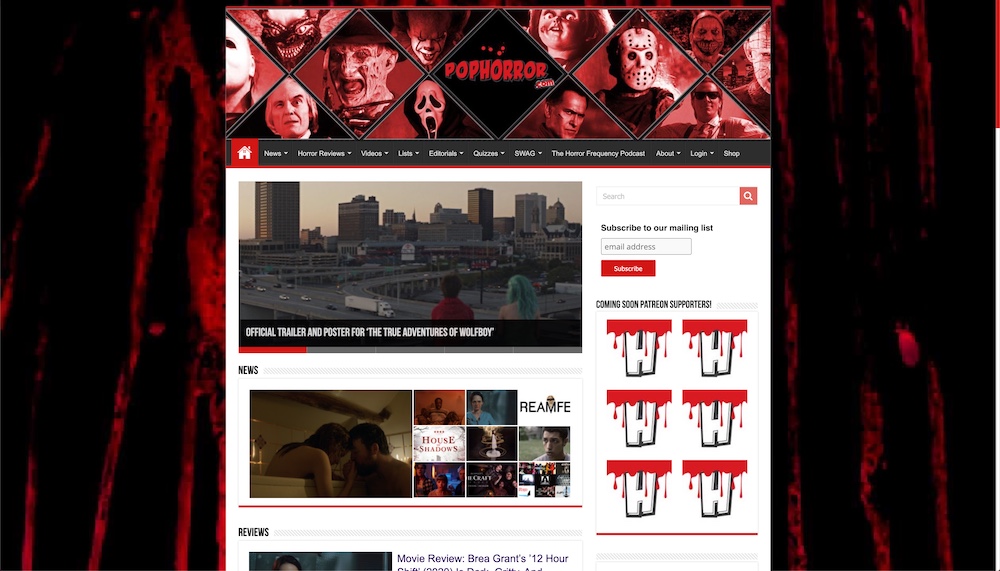 On their website, you can easily find the latest news, reviews, or recommendation. The site is easy to use and navigate and each page is filled with horrific content. Although PopHorror is young, it's gaining more and more visitors each day which is allowing them to build a community around horror fans.
10. GovConWire
If you're in the government contract sector, GovConWire might be a great resource for you. As you may have suspected, this website features breaking business news for government contracts.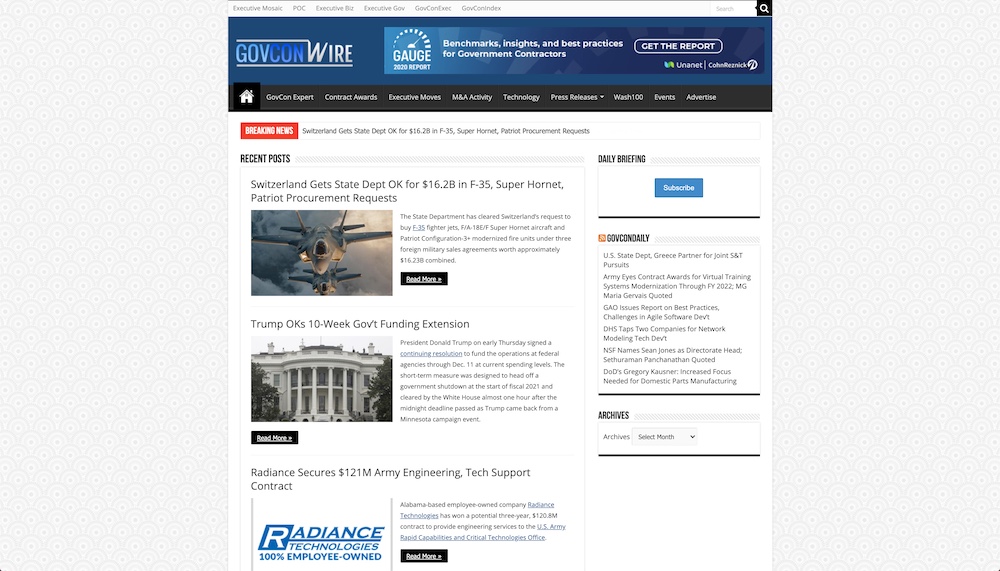 GovConWire doesn't leverage any special web design gimmicks, it's focus solely lies on providing news and updates to their readers as swiftly as possible. You won't find any unnecessary bells or whistles here, but you will find plenty of information.
11. Earth's Friends
A website devoted to promoting 'eco friendly and environmentally conscious living', Earth's Friends uses green color and a wooden background for the boxed layout to convey an earthy feel.
With sections for family, animals, climate, living and health, almost all aspects of eco friendly living are covered. Articles that are to be highlighted are placed in a slider below the menu.
12. 1150AM KKNW
Up next we've got another radio website, this time it's for 1150AM KKNW from Seattle. There is a lot this station has to offer, including podcasts, events, and contests.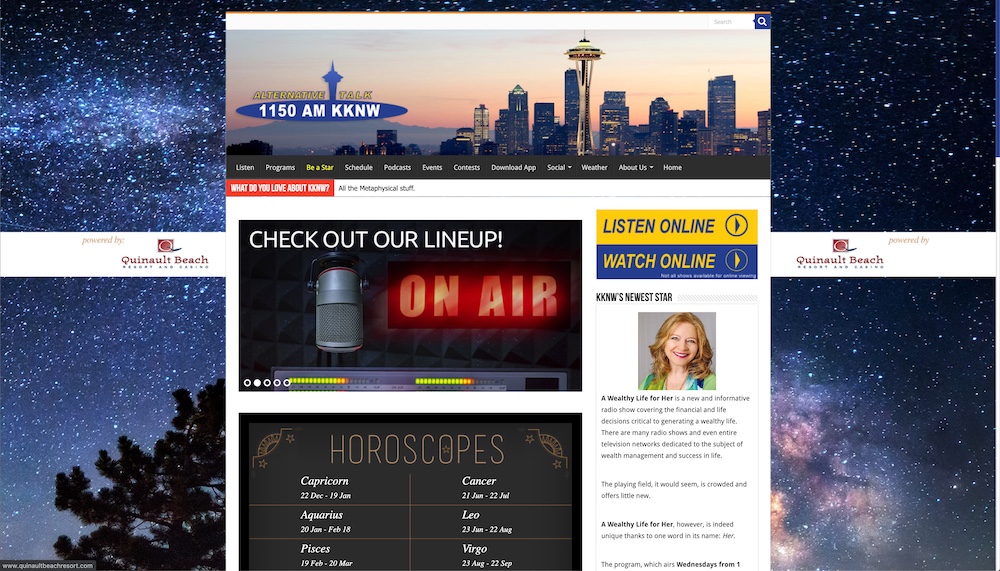 You can easily get to any of their content straight from the navigation or the homepage which also includes many updates on what's going on at the station live.
13. Rocky Mountain Region, Porsche Club of America
If you happen to have a big interest in Porsche and live in the Rocky Mountain Region of the US, this club's website might be of great interest to you. You can find all kinds of information here such as upcoming tours, socials, or track events, club news, driving lessons, and, of course, membership information.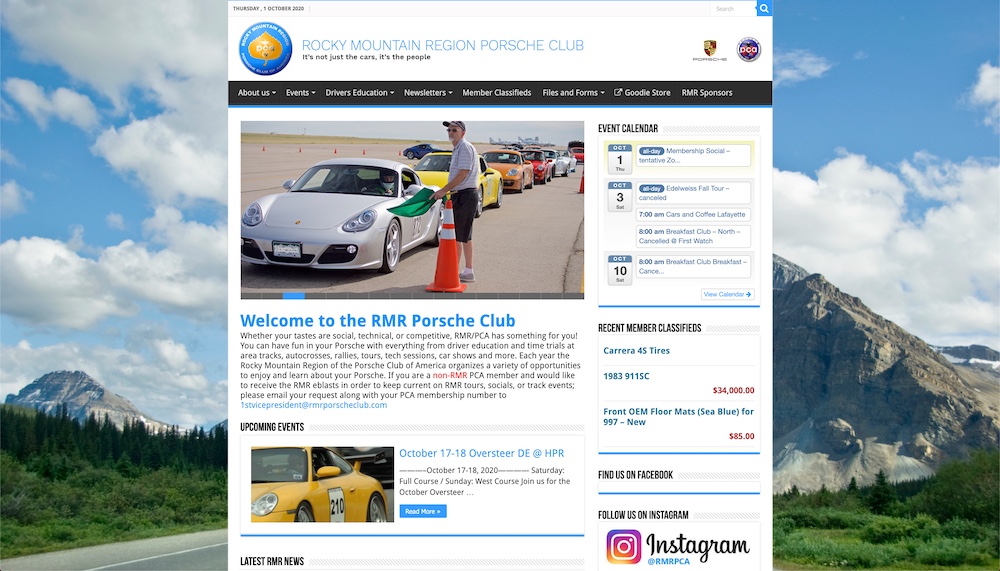 14. WUFT-FM
WUFT-FM is a Florida based radio station that also uses Sahifa. This station's site uses the sticky sidebar, the header breadcrumb navigation, and the Megamenu. these features are great because they help visitors navigate the website easily and efficiently.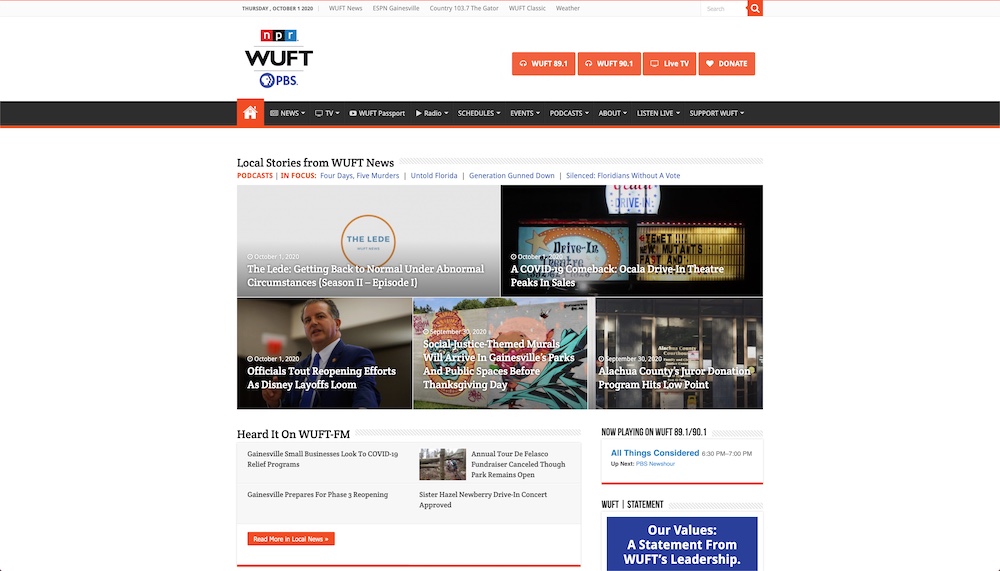 The homepage features top news stories, what's currently playing on WUFT-FM and even the local weather. Additionally, the site has a light color sscheme that uses orange as an accent color such as with links, buttons or card decorations.
15. Young Engineers
The Swiss Young Engineers chapter uses the Sahifa WordPress theme. The organization focuses on helping students of all ages gain knowledge, understanding, and interest in robotics, engineering, and sciences.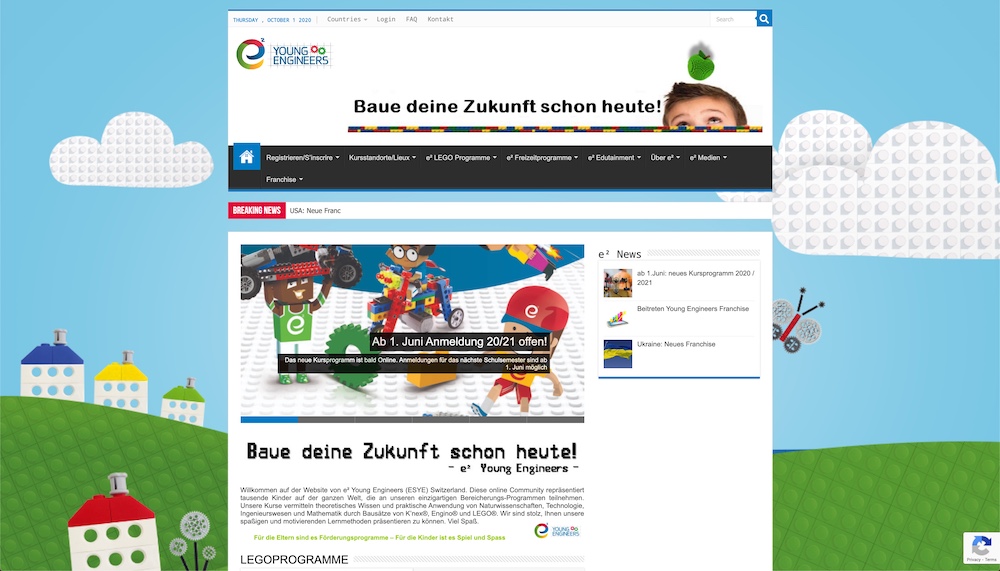 On their website, you can find a simplified footer and top navigation, plenty of colorful images including a fixed background image, and decent use of primary accent colors taken from the company's branding.
16. Neoxys
Jeremiah Neubauer's personal website, Neoxys, runs on the Sahifa WordPress theme. It's a very simple and straightforward two-page site. He uses the homepage to talk about his experience in web design and SEO. The sidebar is used to provide his quick bio as well as social media. The only other page on his site is a contact page that you can easily assess through the top navigation.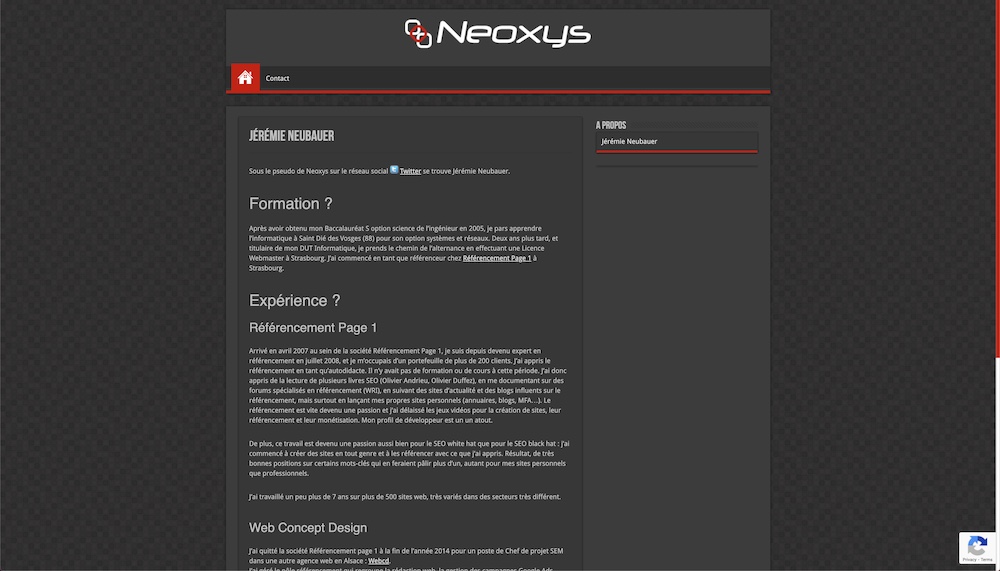 17. FirstCry.com
FirstCry.com uses a light theme design with pink as the accent color. It's quite an appropriate color scheme since this is a website designated for sharing educational content on pregnancies and child care. It features many different topics from advice on conception, prenatal care all the way up to preschool-aged child care.
If you're viewing the site in it's original language, Arabic, you can see that the theme not only supports RTL languages, but it looks good while doing so. It's a great example of further design customization options of Sahifa.
18. Udaipur Kiran
Up next is Udaipur Kiran, an Indian daily news website. They cover a large amount of topics from business and Bollywood to breaking news from around the world daily; after all, it is a news site! Udaipur Kiran uses many of Sahifa's features such as the live Ajax search box, the random article button, breadcrumbs, and the double navigations.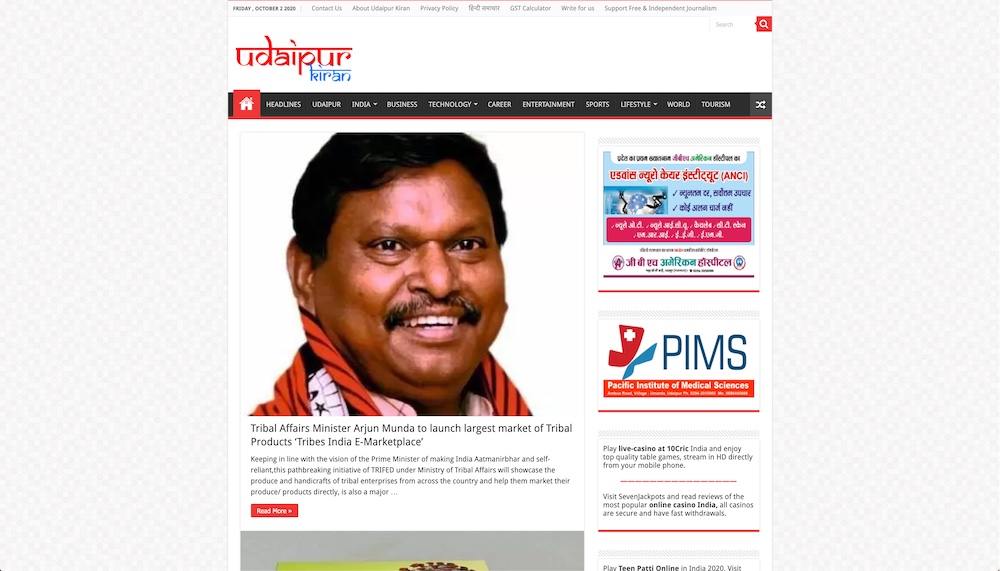 19. WRUF
It shouldn't come as a surprise that WRUF is not only another radio station on this list but a sports one at that. It's a local Floridian sports station that also features Gator sports and ESPN radio. Their homepage – which is a landing page for more niche information – is exceptionally well organized.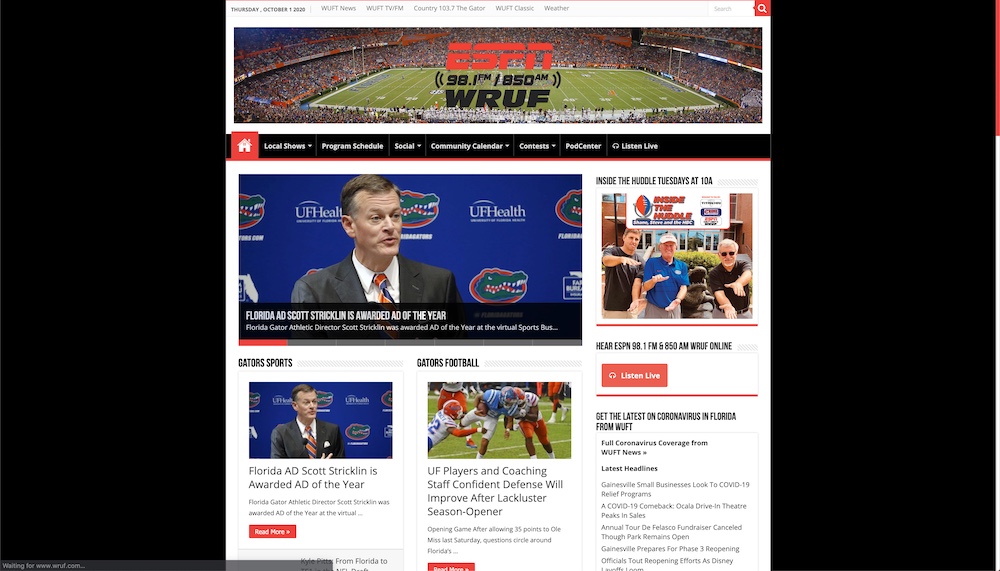 Naturally, you can find the latest news atop but as you start scrolling down you can find the top stories categorized by sports, local leagues, and so on. Additionally, WRUF also leverages its sidebar to provide even more content from recent or popular posts to upcoming podcasts and even the latest Coronovirus coverage in Florida.
20. African Retail
As the name of the site suggest, African Retail is a website filled with news, updates, and similar coverage surrounding Africa's online and on-site retailers. The awesome thing about this example is that they truly customized the theme to their needs. They customized the header, sidebar, and footer. They customized the color scheme completely too. All in all, for a site that reports on retail, they knew exactly what to do with their website to make it practical and work well for their needs.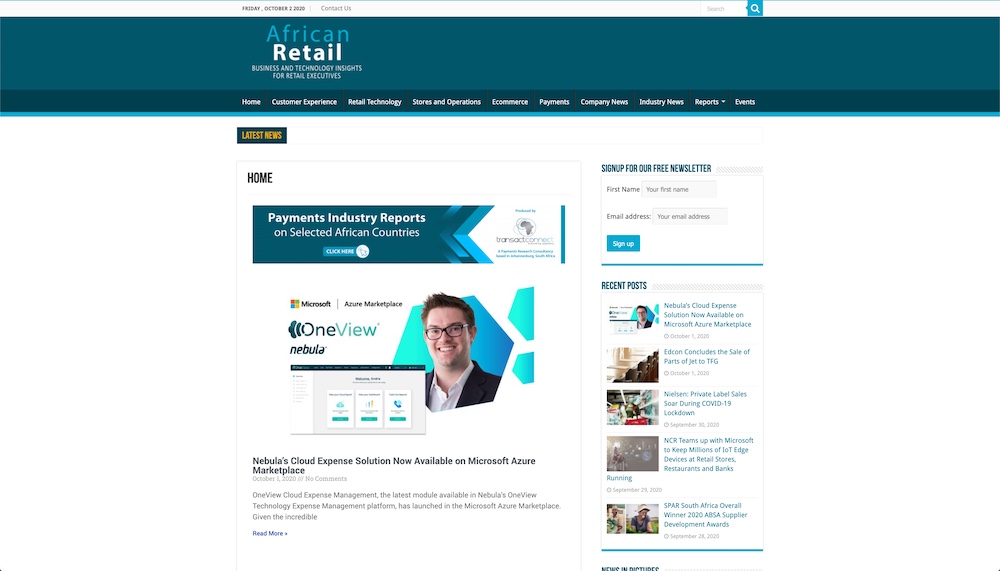 21. Diiirce
Milene, a stay-at-home mom to two kids, runs Diiirce, a mom-advice blog. The blog covers a verity of different topics though they all provide advice on how to raise your kiddos.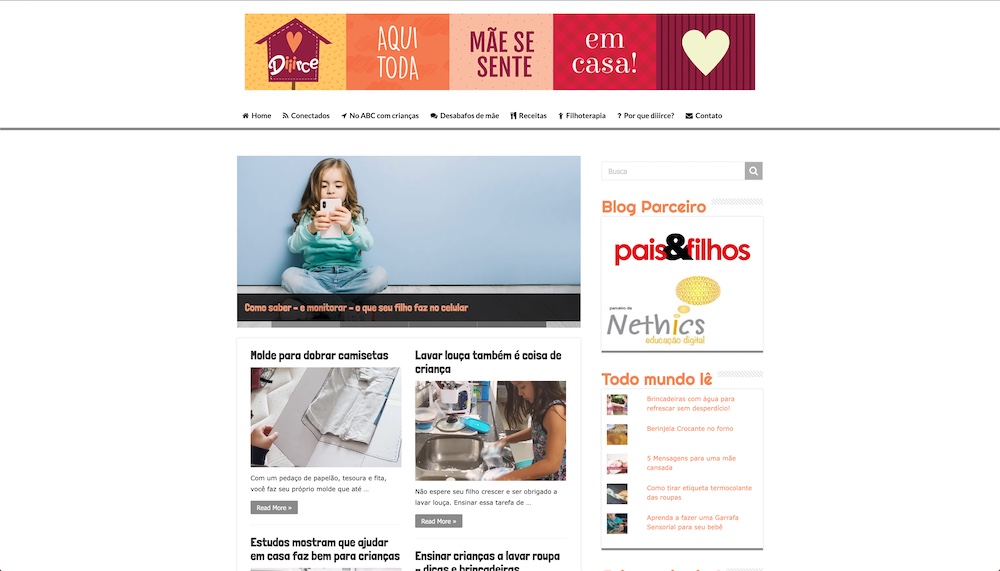 Because of the audience and nature of Diiirce, it's no wonder the blog uses a light theme and integrates plenty of fun and colorful images with each post. Diiirce definitely took advantage of Sahifa's content organization options to make sure different topics are easily navigable.
22. J'ai un pote dan la com
Up next is J'ai un pote dan la com, a French marketing blog that makes great use of Sahifa. First, you may have noticed the homepage's grid slider which shows the latest articles. Maybe you also saw that they're using the Mega Menu too? What about the fact this blog uses a wide layout design that looks great when you resize it or on mobile devices?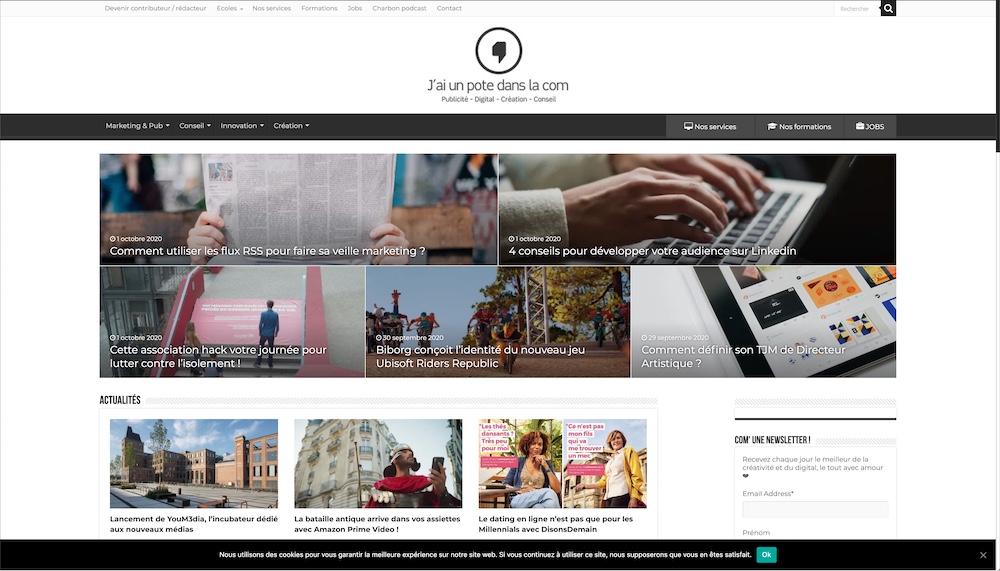 All in all, J'ai un pote dan la com, make great use of the Sahifa WordPress theme and it's many features to create a cohesive, exciting marketing news website.
23. Frontstretch
If you're a fan of car racing such as NASCAR, IndyCar or F1, Frontstretch would be a great plate for you to get all of your caring news in one spot. The blog posts a large amount of daily new coverage so you're bound to find something of interest for yourself on the site.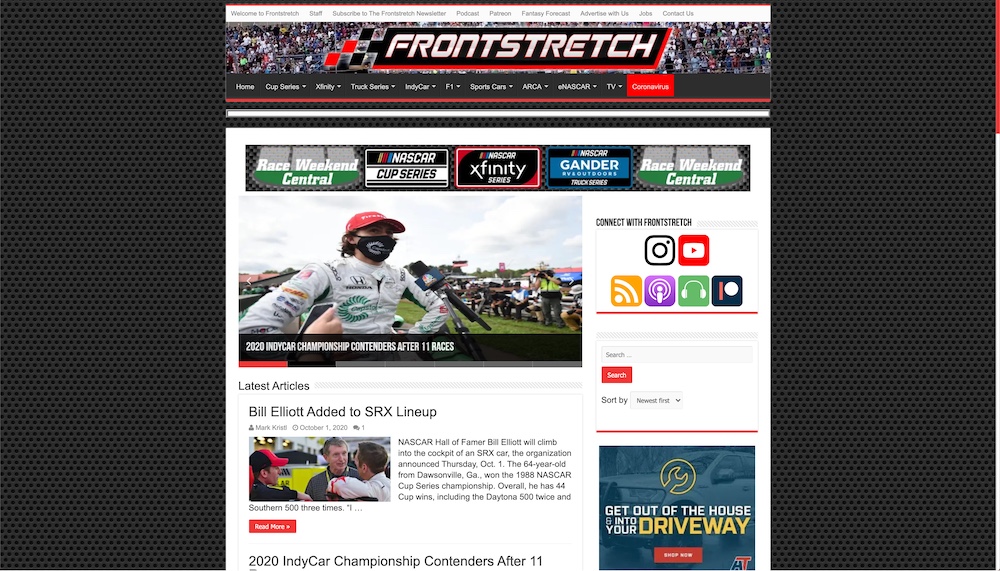 Of course, Frontstretch uses many of Sahifa's features to make content consumption as easy as possible for its readers, such as the sidebar, social links, mega menu, and double navigation for less important links at the literal top of the page.
24. WorldInsidePictures
WorldInsidePictures is a popular web blog on the internet that believes that 'A picture speaks a thousand words'. This website has used some of the amazing features of Sahifa to carry forward this message.
A sticky Mega menu, custom background, homepage featured articles, sidebar plugins, and a simplified footer navigation layout are some of the features of Sahifa that have been enabled on the website.
25. Fantasy Sharks
When you first visit Fantasy Shark's site, it's hard to miss their red and blue logo atop. Additionally, it's also hard to miss the rotating content slide show above the fold as well. It's a great feature that quickly and easily allows their visitors to see what's been most recently published on the site. Alternatively, you can use the content slider to highlight your biggest posts instead too.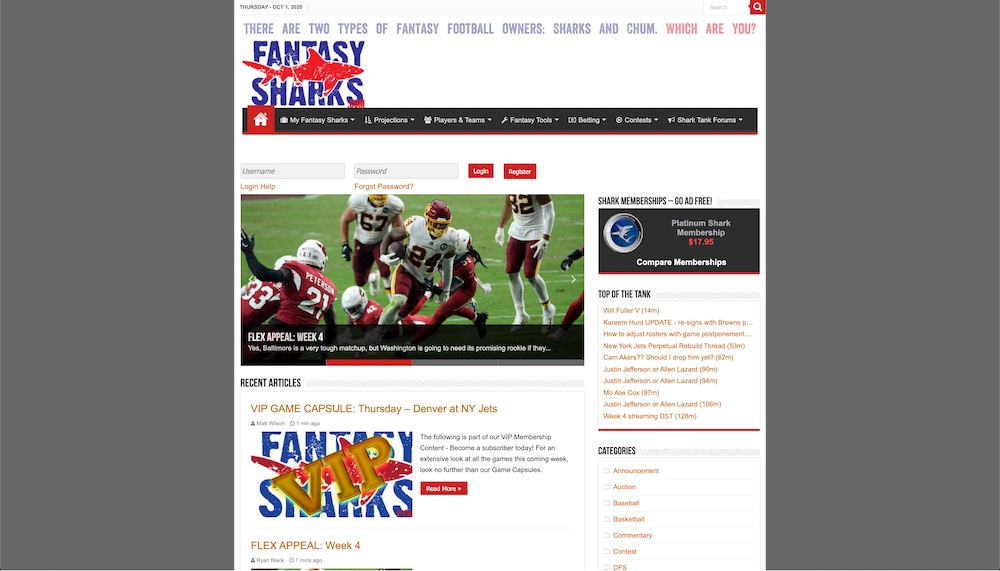 Either way, Sahifa suits Fantasy Sharks well. It lets the visitor read each post in peace, meaning there aren't distractions within the blog posts.
26. MalaysiaMalaysia
As the name of this next blog suggests, it's about MalaysiaMalaysia – specifically about tourism, business, and politics in Malaysia. It's a very simple and straightforward blog that allows all of the focus to be on the blog posts. Besides the sidebar, it doesn't use too many of the special features provided by Sahifa. Yet, the content looks great and is easy to navigate through whether you're reading it in the original Chinese or translated into English.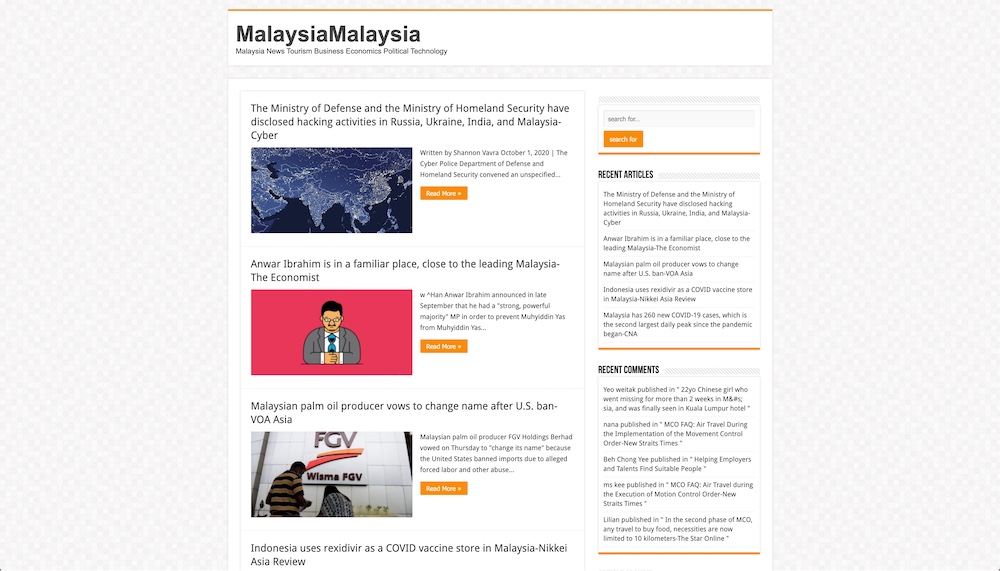 27. Magezon
Magezon provides Magento extensions for improved eCommerce efficiency. The company's blog happens to use the Sahifa WordPress theme. On the blog, you'll find plenty of Magento and Magezon Extension tutorials as well as tips to improve your eCommerce sells and strategies.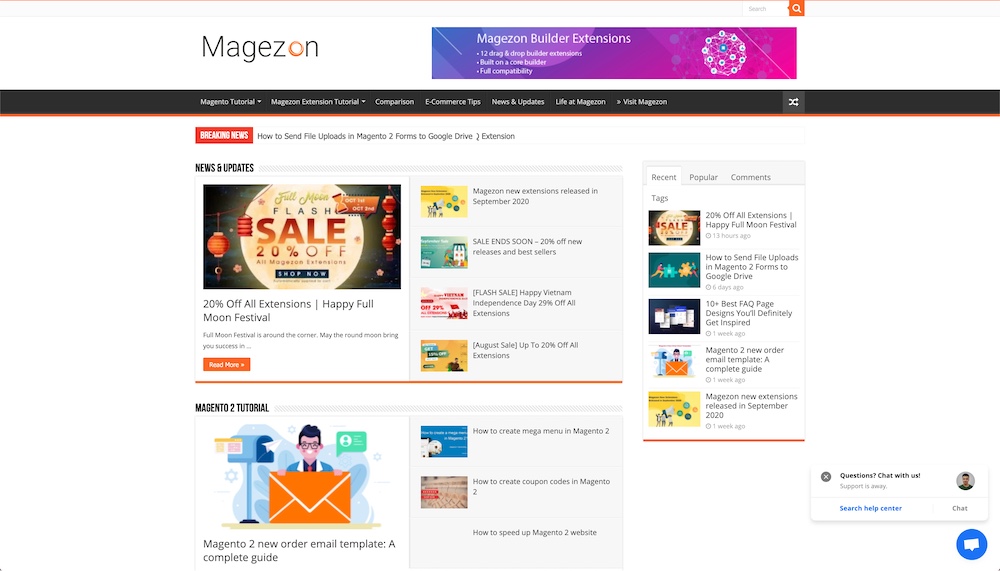 The Magezon blog features the random article button, Ajax search, and a homepage content sliders. The blog's homepage is well organized into different categories starting with the most recent news and updates, which include many sales offer for the extension, and continues with different sections of the blog centered around tutorials.
28. YardHype
Up next is YardHype, a Jamaican entertainment website that focuses on bringing quality content from both Jamaica and the Caribbean especially surrounding reggae and dancehall music. On the site, you can view trending stories, watch the latest music videos, or even the latest Jamaican news such as the county's Covid-19 updates.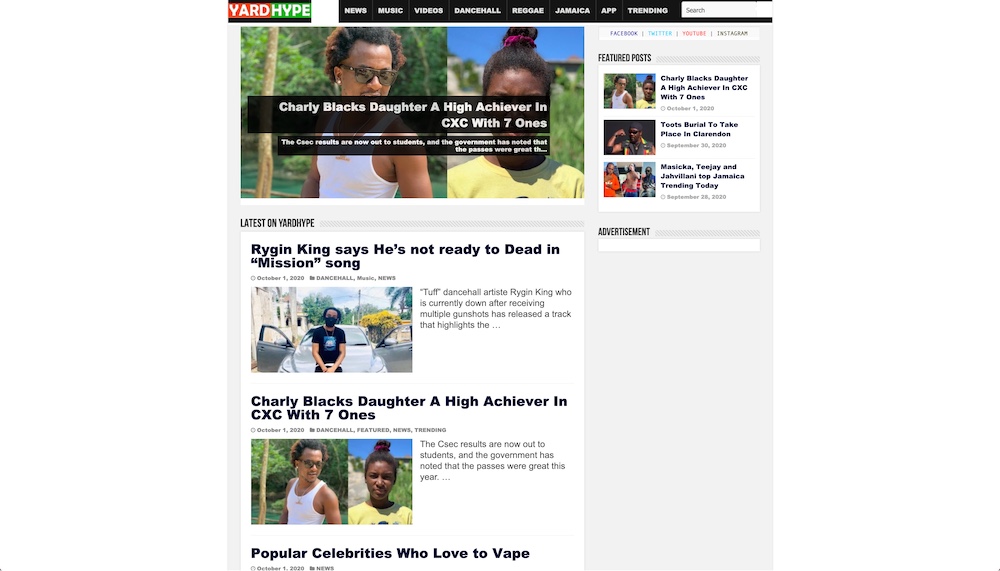 YardHype features a sicky sidebar, social media widgets, and top navigation. At the end of each post, you can find a number of different relevant posts such as in post links, trending posts, and previous/next posts as well.
29. Diabetes in Control
Diabetes in Control is a great resource for those looking to get help in managing this condition. the green and gold website features a content slider on the homepage, a sticky sidebar, and extensive navigation.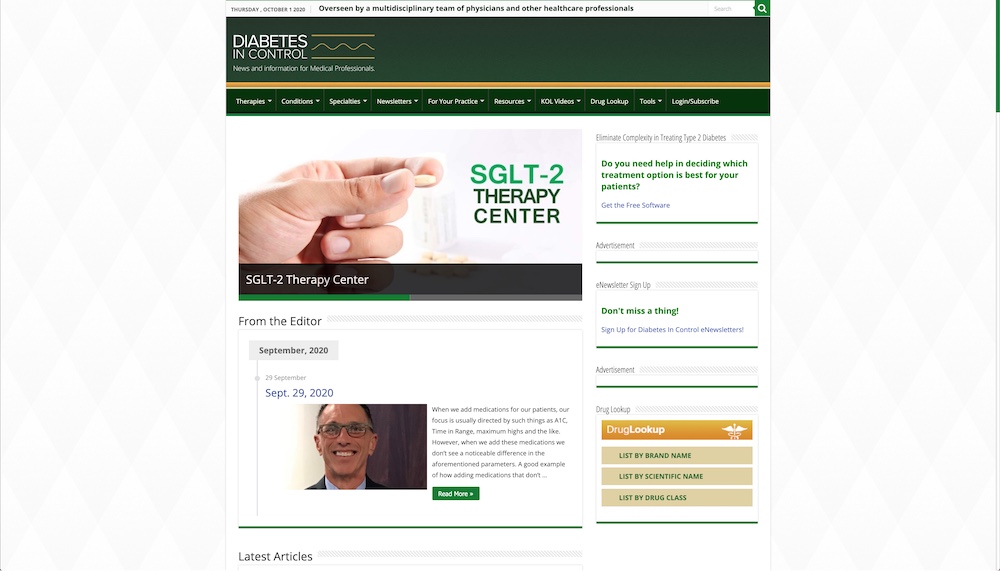 The website covers all kinds of topics from different therapies, must know depending on your specific diabetic condition and additional resources such as case studies and clinical presentations. All in all, the website does a great job of allowing their visitors to browse and navigate through their large amounts of content.
30. LED Schuhe
Nils Werner runs a small hobby site for LED Schuhe. On it, you can find all sorts of cool information all relating back to LED shoes, of course. It's a small website but it's still a fantastic example of how you too can use Sahifa even if you're starting out with small amounts of content.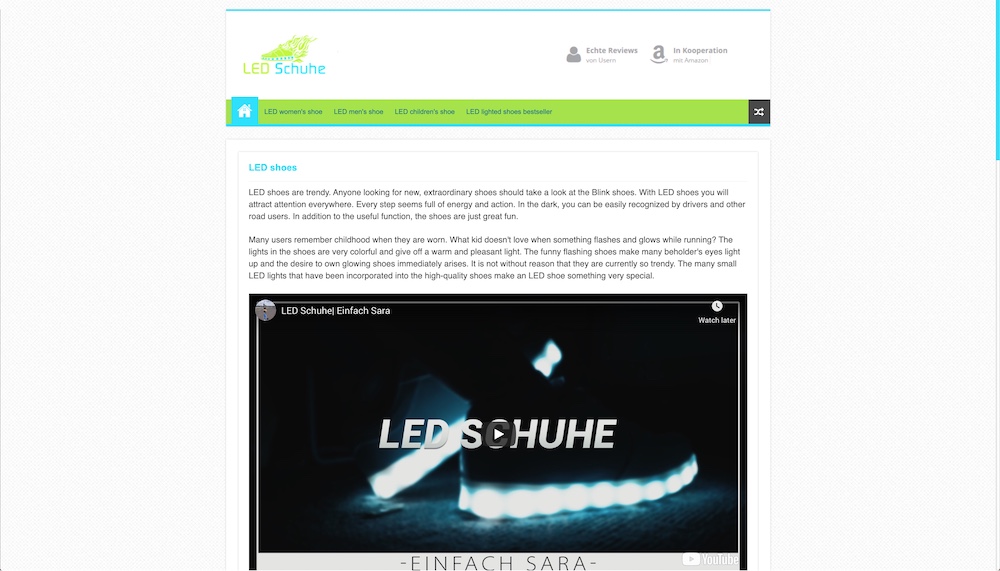 For example, you can still customize the footer or the header to meet your current content needs. And, you can also customize the look and feel of your site to fit your branding too.
And Finally
That rounds off my list. I trust I have left readers with a fair idea of how versatile Sahifa is. The RTL feature makes it a hit with websites using RTL languages as well. If you have come across any particularly interesting website that uses Sahifa, let us know in the Comments below.