35+ Beautiful Fonts for Logo Designs (2023)
Finding fonts for logos can be a difficult task to accomplish efficiently. There are thousands of free and premium fonts available on the web, and you don't exactly have the skills or time to create a logo from scratch. That's what this list is for.
Let's go through a list of some of the best premium fonts you can use to create stunning new logos, among other types of designs.
This list contains fonts from such markets as HypeForType, Creative Market, GraphicRiver, and FontShop. We've listed them by price, featuring the least expensive font first and ascending upward in cost from there.
Let's get started.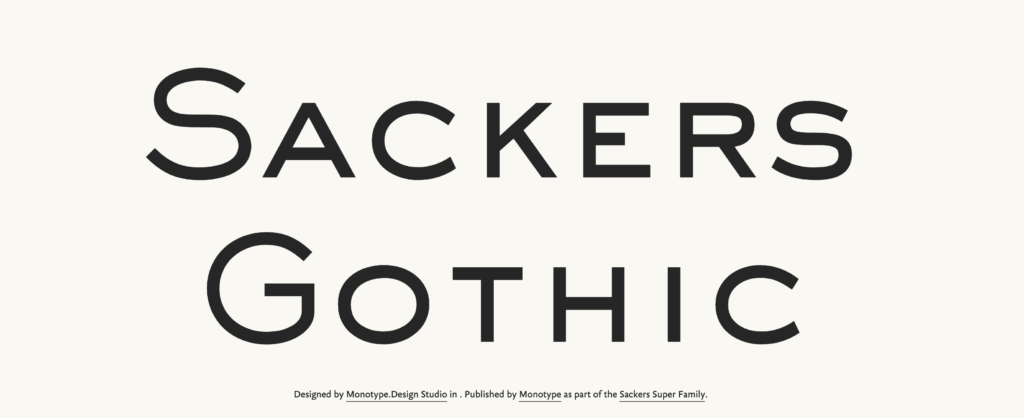 Sackers Gothic, a display and san serif font, comes in 3 different eight and supports up to 50 different languages. is a script font by Typefaith. The font has a very dominant and striking appearance.
Not only it would look great in a logo, but it will also look stunning on stationery, marketing materials, websites, and company swag like t-shirts.
Price: Starting at $35.
Diadema is a sans-serif font by Chrisworks Design. The font combines vintage elegance and simplicity with modern curves to create a unique font that can be used for a variety of different purposes, including simple logo designs and headings in articles. This font is available in TrueType TTF format.
Price: Starting at $9.00.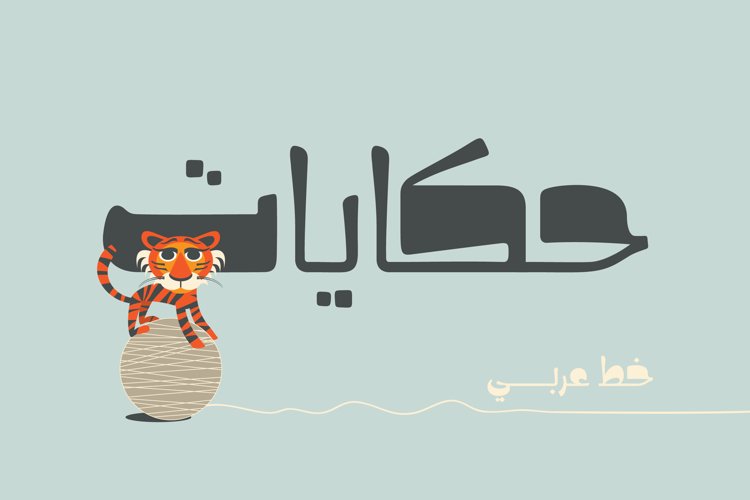 For those of you looking for a and edgy Arabic font for your logo, Hekayat might be the right choice for you. Hekayat is a well-designed display font that strikes a great balance between soft and heavy design elements to create its unique design style.
Additionally, you should know that Hekayat features two different dot settings if you need a little bit more customization in your logo.
Price: Starting at $22.
Softhand Script is script font by Abogawat. The font offers a perfect balance between simple and cursive styles, creating a style that's elegant yet clearly legible. The font makes for a simple logo, but its elegant style gives it that ever-so-bold touch it needs to catch the eyes of a brand's customers.
Price: Starting at $9.00.
Dejavu is a display font by Deep Blue. The font represents "time shift where left shift represents the past, solid letter represents the present and right shift represents the future."
The font comes in three different styles, each one offering different variations of the shift. The font is available as an OpenType OTF file.
Price: Starting at $11.00.
Commune is a modern san-serif with striking designs. The details of its fine lines and smooth links are top-notch. It's an interesting font because it has a mixture of different vibes within it – it looks retro, modern, fun, and classic all at once.
Price: Starting at $14.
MOAM Typeface is a sans-serif font by Nawras Khrais. The font is simple yet bold, allowing you to create stunning logos without needing to get too crazy. This typeface comes in three different styles, the main style you see above, an engraved style and a slim style. It also comes with plenty of glyphs for you to use. Font files include TrueType TTF and OpenType OTF.
Price: Starting at $12.00.
Oregon is a simple sans-serif font by Mark van Leeuwen. The font gains inspiration from vintage designs and uses modern clean, minimalist styles to create a font that's simple yet bold. It can be used for a variety of different purposes, including logos and headings in editorials.
Price: Starting at $12.00.
Revelation is a sans-serif, stencil-type font designed by Sunny Tudu. This font is simple, and it looks no different than any other all-uppercase, sans-serif font out there at first glance. However, you'll find the stencil-style to be a creatively unique feature upon closer inspection as it gives the font that extra pizazz it needs to stand out from the crowd.
Price: Starting at $12.00.
If you're looking to design a bold and confident logo, Larken might be the right font for you. Its designer, Ellen Luff, wanted to specifically create a font that is reflective of nature, softness, and uniqueness. And she did a great job as Larken has a great flow.
Typometry Pro is a display typeface by Emil Kozole. It combines retro styles with the minimalist styles many designs today have, a combination that creates a stunning typographic design. This font is perfect for creating custom logos, but it can also be used to create unique designs on advertisements and editorials.
Price: Starting at $32.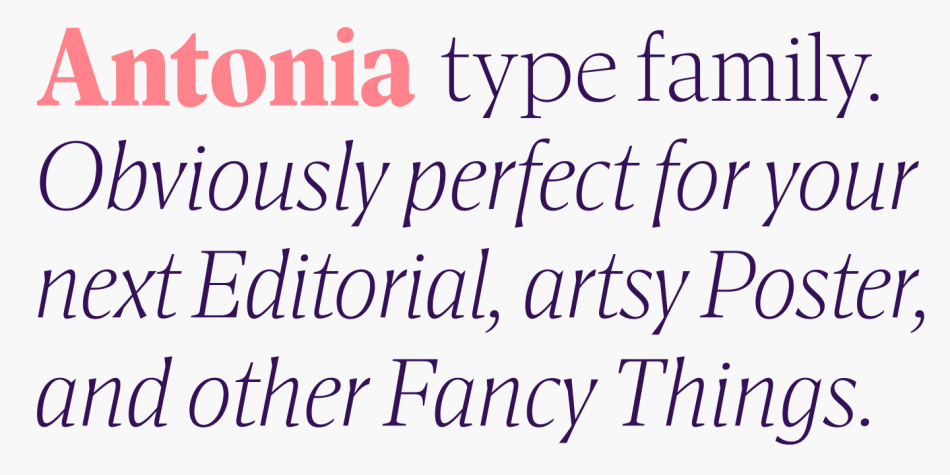 Designed by Franziska Weitgruber and Michael Hochleitner and published by Typejockeys, Antonia is a wonderful serif family. The font family includes whopping 46 fonts with 7 different weights and 4 optical sizes. Additionally, you should know that Antonia's designer aimed to strike a balance between traditional and modern design with a stylish and classic look within a contemporary design style.
Price: Starting at $70.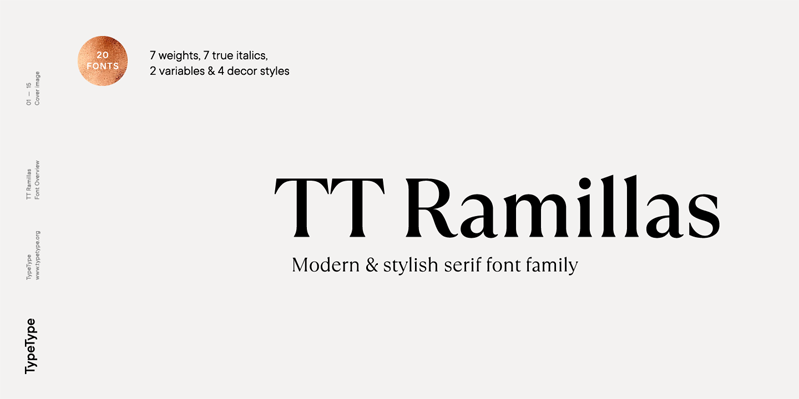 TT Ramillas was designed and published by the TypeType team. It's a great font for editorial, fashion, or any other high-end company logo.
With TT Ramillas, you get what you pay for, meaning this font includes a slew of fantastic features such as support of over 180 languages including Latin and Cyrillic, 20 styles, and 25 OpenType features in each style.
Price: Starting at $49.
What can we say about Branch? To start, it has such a lovely and soft presence to it. It's a perfect font for a logo, especially for an elegant, feminine brand. For the price, Branch includes a wide range of font files including SVG, OTF, and TTF, and instructions on how to use the font in design apps.
Price: Starting at $19.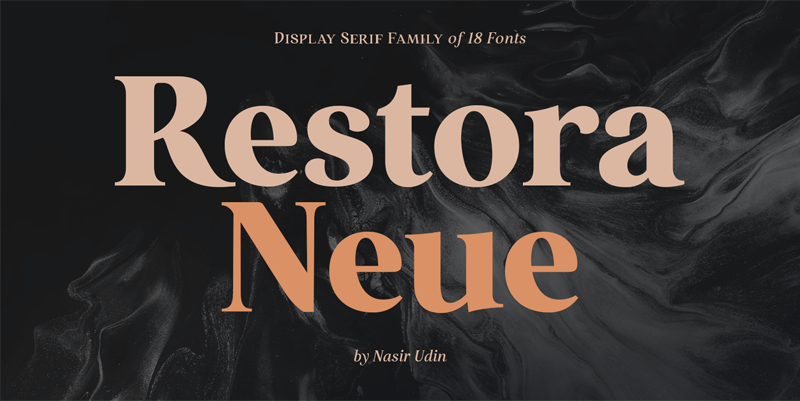 Designed by Nasir Udin, Restora Neue features even neater shape design and contrast compared to its predecessor, Restora. The overall design of this font incorporates a mix between classical roman serifs which give it a unique and versatile style.
Price: Starting at $25.
Stone Harbour is a script font by Nicky Laatz. The font combines script styles with the sloppy yet bold appeal of dry erase markers. The brush script font comes in two different styles and includes a set of swashes, such as the one beneath the font name in the image above.
Price: Starting at $18.00.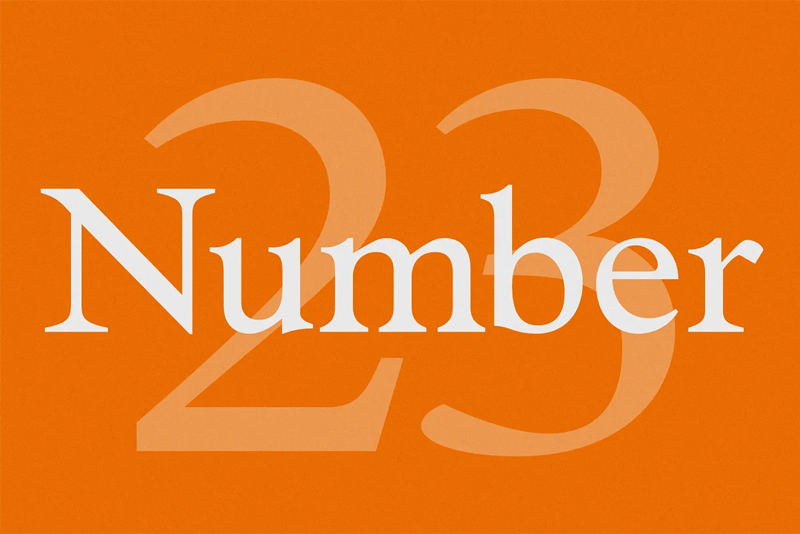 Up next is Number 23. It is a serif typeface in a traditional/classical style. However, it's main feature consists of little imperfections that give it plenty of character. Additionally, for a traditional serif font, it fits well in certain modern easthetics which could be perfect for your brand's logo.
Price: Starting at $45.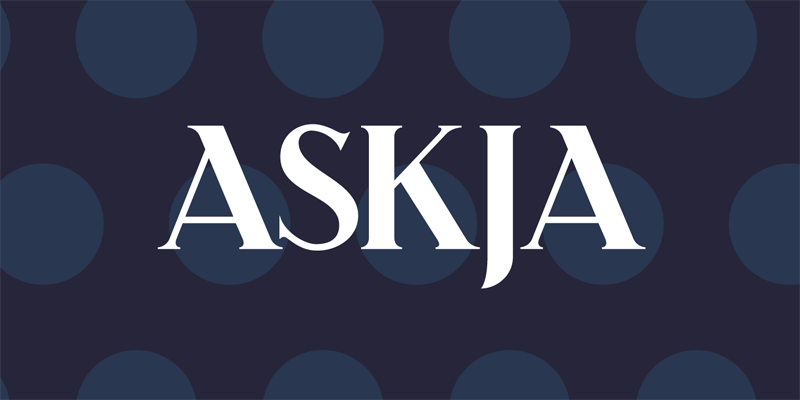 Askja is a modern and decorative font that could work very well for a trendy brand looking to make a statement with their logo.
The serif comes with many ligatures, larger upper case letters, and nested or overlapping letters too. If you combine or pair Askja with a modern sanserif in your branding, you're bound to create a gorgeous design.
Price: Starting at $19.
Estilo is a simple, minimalist font by Dino dos Santos of DSType. The font comes in 11 different styles and 2 packages. If you do not purchase a package, you must purchase each style individually.
The font's Text Light SC style is an ideal choice for sites and brands going for minimalist designs on their websites, branding and advertisements.
Price: Starting at $24.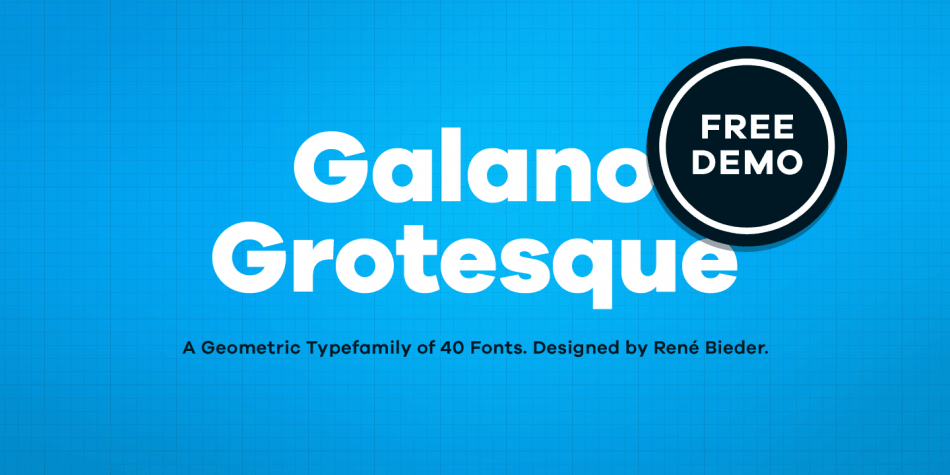 Up next is Galano Grotesque which is quite a massive font family consisting of 42 different styles and weights. Such diversity is great if you're aiming to incorporate typography as a big element of your branding design.
The design of Galano Grotesque is meant to compete against the likes of Futura and Avenir which are very prominent modern fonts. Galano Grotesque also includes Galano Grotesque Alt which focuses on legibility, especially in smaller font sizes. All in all, Galano Grotesque is a very well thought out font that would be a great choice for your brand and logo.
Price: Starting at $30.
The Wallington Pro is a decorative-serif font that embodies "vintage and elegant curves with functional structure." The font was designed by Indonesian-based designer Zeune Ink Foundry. The font comes in two basic styles, one in uppercase and the other in standard case. Overall, the font has 721 glyphs, 268 unique ligatures and 10 stylistic sets.
Price: Starting at $24.00.
The Art Deco Bundle is a bundle of 4 typeface sets and 3 badge sets by Tugcu Design Co. The typefaces and badges available in this bundle can be combined to create a variety of different logo designs that have vintage styles mixed with modern minimalist tones. The designer has chosen which styles to feature in this bundle carefully, ensuring each style matches the other, though you can purchase each of these sets individually as well.
Price: Starting at $29.
Rosie is a lovely, elegant, and stylish san serif. It would be perfect for any modern brand that's looking to create a modern logo with a creative and bold logo font. Its design is striking with a vintage/retro vibe. Rosie comes with 3 different weights, works well in all caps, and supports a variety of languages. Your purchase will include TTF, OTF, and web fonts.
Price: Starting at $25.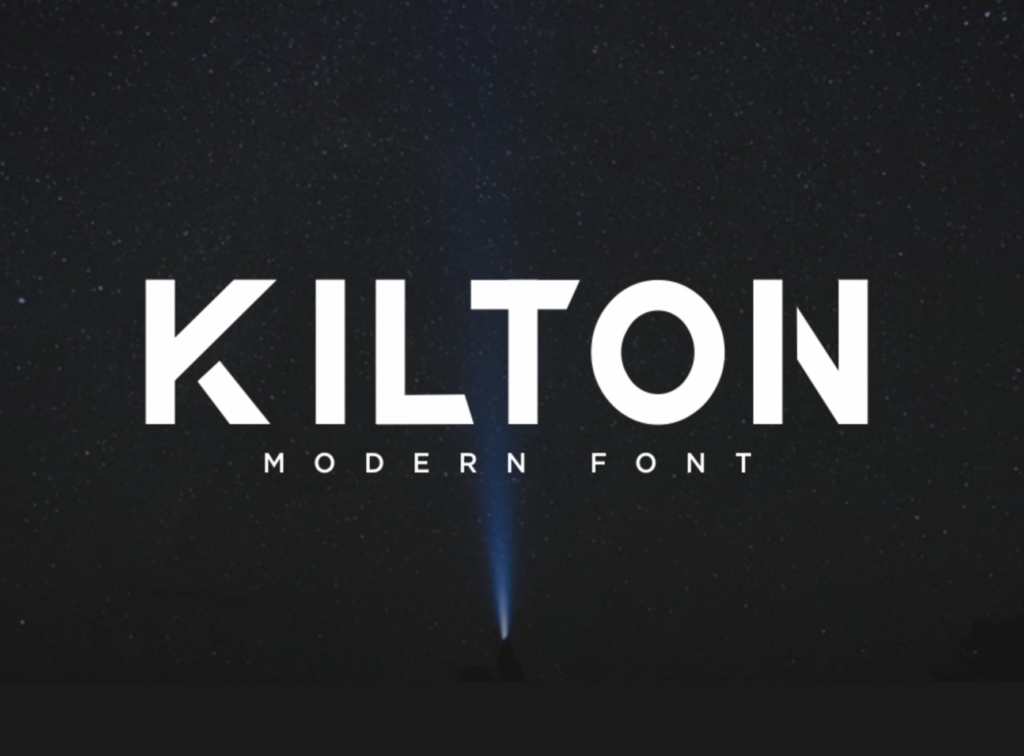 Kilton is another modern san serif on this list that could also be classified as a display font. Regardless, it would make for a great logo thanks to it's geometric and tech-inspired design. Kilton would work well for tech companies or those wanting a minimal, modern and clean logo design that's still unique and distinguishable.
Price: Starting at $13.
This font was designed by Evert Bloemsma of FontFont. It comes in 18 different styles, but you'll need to purchase each one separately for $55 or buy the entire family for a one-time fee.
The designer recommends using the font for anything that requires branding, whether it be logos on advertising and packaging or within editorial platforms.
Price: Starting at $55.
Salamat is a script font by Joluvian, a designer from Sudtipos, a design studio ran by Alejandro Paul. The font draws inspiration from a variety of different calligraphic styles.
It all started with a simple brush stroke and transformed into what it is now a variety of different "swash capitals, contextual ligatures, ascending and descending, starting and ending letters." Fun fact: Salamat means thank you in many Filippino languages.
Price: Starting at $59.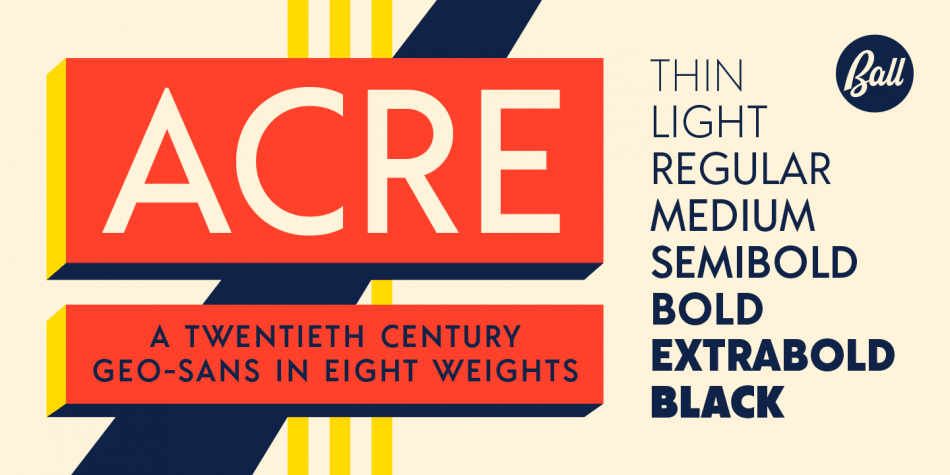 Designed by Jonathan Ball, Acre is a geometrics san-serif font with eight different font weights. The font's design was inspired by the designer's grandfather, Tex Acre, who was also a designer and sign maker mostly in the mid-century Americana style which you can see reflected in Acre's design. You should know that this font supports European languages and includes tabular and old-style figures too.
Price: Starting at $24.
Sugar Pie is a script font by Sudtipos. The font draws inspiration from the designer's Candy Script script font. It uses round-to-sharp concepts, which the designer says "echoes the concept of the clean brush scripts found in the different film type processes of the late 1960s and early 1970s." Overall, the font has a striking appearance that catches the eye while managing to remain simple.
Price: Starting at $79.
Calgary Script is another script font by Sudtipos. This one was inspired by a "Welcome to Calgary" sign in Calgary, Canada, a sign that featured brush script lettering.
The designer combined this inspiration with their extensive knowledge of American sign painting to create a typeface that has a "true supermarket spin."
Price: Starting at $99.
How about a modern take on a vintage font? Blunt family strikes a great balance between the two. When you purchase this font, you're actually going to get many different assets included in the bundle that will allow you to truly customize your logo to your branding needs.
The bundle includes ligatures and ordinals, multi-lingual support, special and numerical characters as well as over 60 logo design templates, over 100 ribbons, and badges and over 100 icons.
Price: Starting at $16.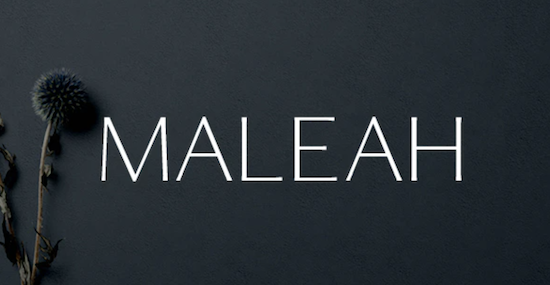 Maleah is a small, four font family pack. Don't let that deter you as it not only has a lovely design, it comes with many features. Naturally, it comes in 4 different weights, TTF, OTF, and web font files as well as support for multilingual letters and characters in both upper- and lowercase.
Use Maleah if you need a logo that must be elegant, stylish, and professional while looking good across various channels like web or print
Price: Starting at $0.
Sometimes, a logo calls for intimate and personal typography. In this case, it might be a great idea to use a signature style font like Scarlette Script. Signature fonts have a certain elegant yet informal look to it.
Don't you think? Scarlette Script includes a doodle font that has many dingbats and ligatures to make your logo extra spectacular.
Price: Starting at $15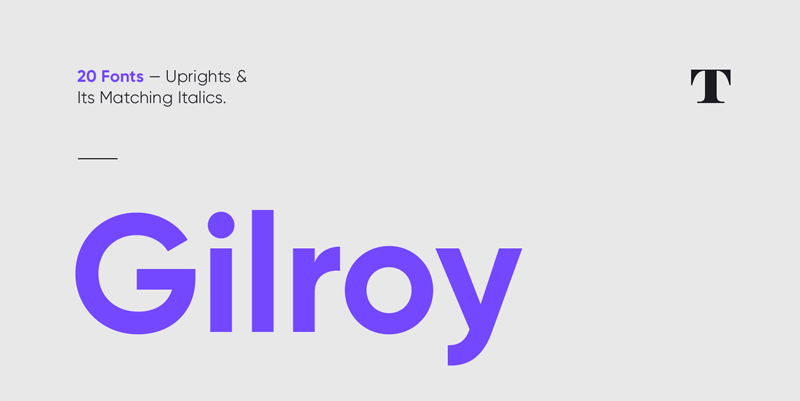 Gilroy is another fantastic choice if you're looking for a premium font for your logo. The font's design is san serif with a geometric touch and versatile styles. Gilroy was designed by Radom Tinkov and comes in 20 weights and 10 uprights with matching italics.
Price: Starting at $25 per style, $180 for the entire pack.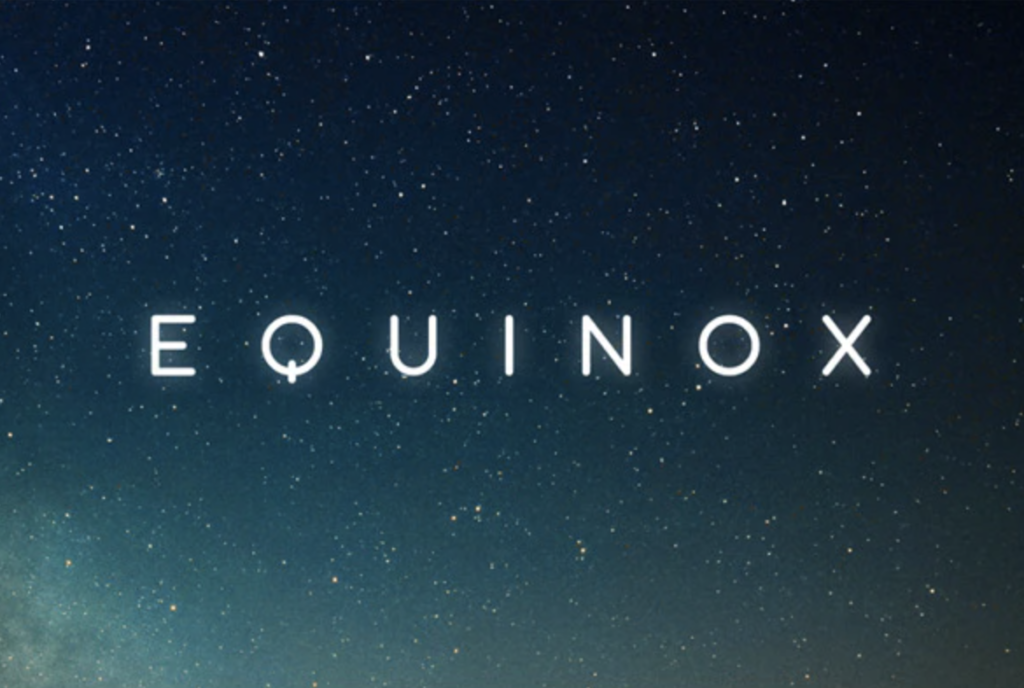 If you're not looking to pay too much for a font, Equinox is one of the cheaper premium fonts on this list.
The font is modern, minimal, and stylish. It is an uppercase font that has a very specific design, almost sci-fi like but isn't too ultra-modern, fantasy or techie so that it can work well with other types of brands too.
Price: Starting at $15.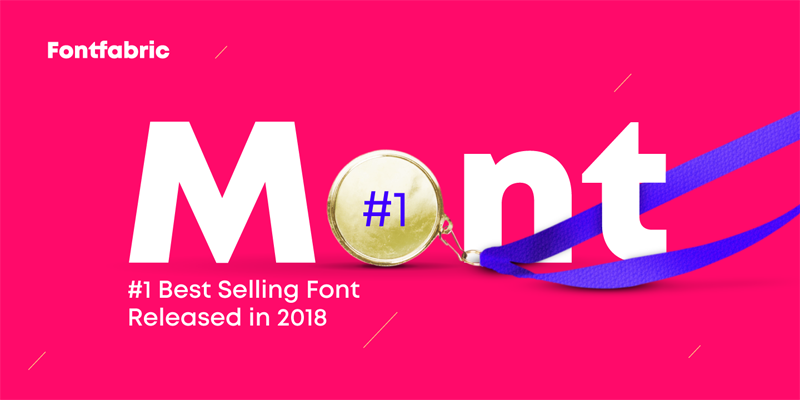 What can be said about the last font on this list? Mont is a lovely choice if you're looking for a font that can work in a variety of different setting within your branding.
Yes, it would make a great logo but thanks to its various font weight, you can easily use it as a main feature of your brand and really have fun in your marketing material or website.
Price: Starting at $35 per style, $245 for the entire pack.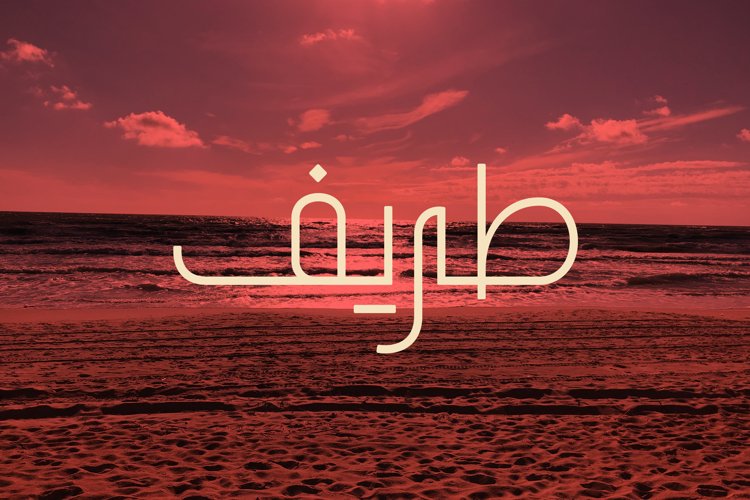 In Arabic, Tareef means quaint; it's a great term to describe this modern font too as it balances sleek modern design against a stylish and personable design style. Tareef is suitible for both digital and print designs and will work great as a logo font for your brand.
Price: Starting at $25.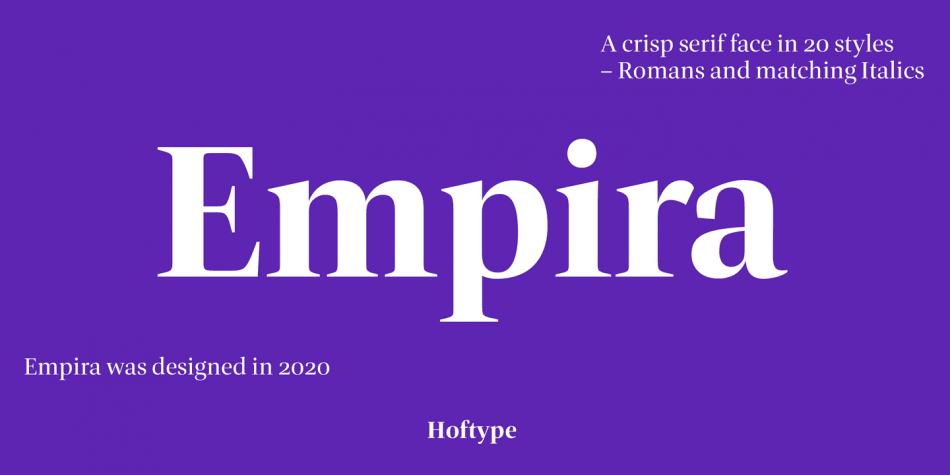 Although Empira has a strong design rooted in a traditional style, it's a force to be reckoned with as a contemporary font. Thanks to it's sharp details, Empira will make for a bold logo within any brand that wants to have a strong, dominant yet modern look and feel. This font supports over 80 languages and comes with a verity of OpenType features that will allow you to customize the look of your logo even further.
Price: Starting at $25.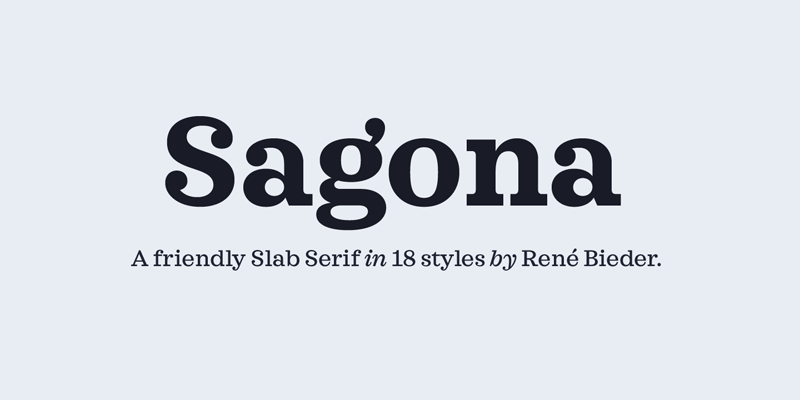 The very last premium font on our list today is Sagona. To start, Sagona is a modern slab serif font with roots in the clarendon and ionic designs which feature extremely strong and well-defined details. Although it has a classical look and feel it doesn't come off as stiff or dated. Sagona would work well for a whimsical brand as well as a traditional one.
Price: Starting at $39.
Final Thoughts
Designing new logos for clients on a regular basis can get pretty hectic, and designing your own logo can be nearly impossible for some. Using custom-made, premium fonts from reputable graphic designers is among the simplest ways to design new logos in no time.
Just make sure you choose a font that not only represents you and your brand but also possesses the ability to capture the attention of anyone who glances at it. Social media has never been more prevelant. Your logo and advertisements just may be how potential customers experience your brand for the very first time, and you want to leave a good impression.
We hope you like this list of fonts for logos. Pop your own favorites into the comments!