5 Best WordPress Management Plugins for Single Dashboard Control
WordPress management: Who needs it?
The short answer is: anyone who wants to manage multiple websites with WordPress.
If you are manually managing updates, backups, plugin installations, passwords and SEO – then you know how much this can suck, especially if you have more than a handful of websites to run. Even if you are using separate plugins to handle each specific task, it's just not practical.
It's on par with spending an entire Sunday washing your clothes by hand, or churning your own butter (because nobody does that unless they are visiting a dude ranch). Website management software is designed to help you work smarter, not harder.
That's why we want to outline the best WordPress management plugins for controlling multiple sites on a single dashboard.
Features to Look For
Good WordPress management software will allow you to automate recurring tasks, making your life much easier. The first two tasks you want to automate will probably be backing up your site and performing bulk updates. However, this is just the tip of the iceberg. Below are some examples of tasks handled by management software broken up into 3 categories.
Managing WordPress: manage multiple sites from single dashboard, schedule automated backups, schedule automatic updates, save backups on a cloud server, bulk editing, bulk posting, manage users, edit WordPress settings etc.
Security Features: monitor uptime, filter spam, scan for viruses etc. For more see hardening WordPress.
Other: analyze traffic, integrate Google Analytics, SEO, automatically generate content, manage the database, custom branding, customize the dashboard, white labeling, custom login etc.
01.

ManageWP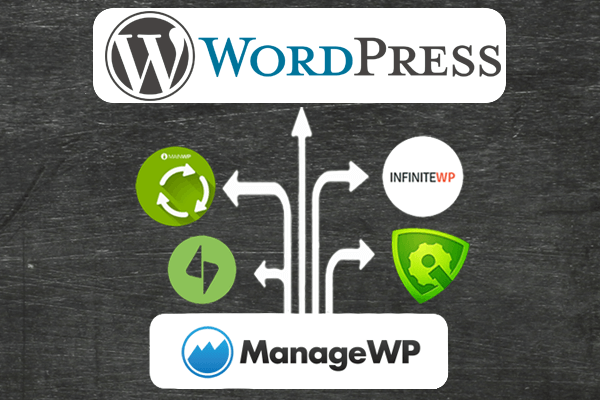 ManageWP is a dream for WordPress power users looking for an easy way to manage multiple websites. It provides a free WordPress management service, along with a wide variety of add-ons for checking your security, making updates, managing your site performance, and white labeling your sites.
Some of the other tools include real-time info about vulnerable plugins, the running of code snippets in bulk, beautiful comment management, an advanced maintenance mode, Google Analytics, and SEO tracking.
Keep in mind that GoDaddy has officially acquired ManageWP. Vladamir Prevolac, ManageWP's founder, strongly believes that the recent acquisition is a sign of good things to come. It's tough to tell the future after an acquisition, but the hope is that GoDaddy allows for ManageWP to run as its own independent company, seeing as how it's a wonderful resource for developers with multiple websites to manage.
Pros
Completely free, unless you opt to pay for some of the premium plugins
ManageWP works brilliantly for beginners and advanced users, since it's one of the few true solutions where all sites are managed on one dashboard
You get one-click updates for all sites, plugins, and themes
Clone and backup your websites
Collaborate through a team dashboard
Benchmark your website performance and use the security check to prevent malware
Cons
It's tough to tell what's going to happen after an acquisition. Although the founders seem optimistic, history has shown us that mergers and acquisitions can lead to unexpected results for the consumer. For example, sometimes prices goes up and performance goes down because of less competition. However, some acquisitions have resulted in lower pricing. Anyway, it'll be interesting to see how ManageWP ends up, but we're crossing our fingers it all turns out okay.
Pricing Plans
Basic WordPress Management: Free for unlimited sites
Basic Add-ons: Free for options like monthly cloud backups, analytics, client reports, and maintenance mode
Premium Add-ons: They sell individual add-ons starting at $1 (like for white labeling and an advanced client report). This pricing is per website. Bundles start at $25 per month for placing these plugins on up to 100 sites.
02.

Jetpack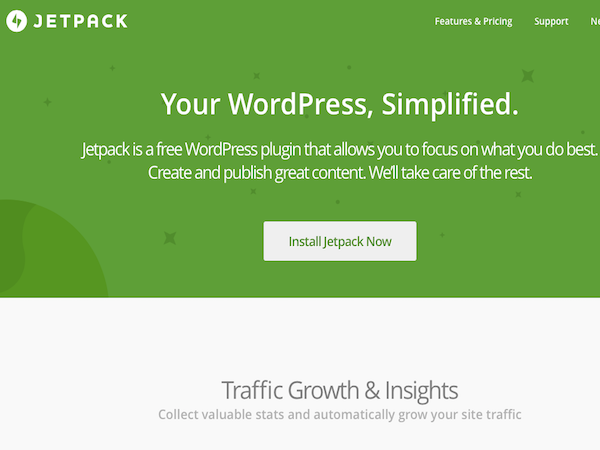 Jetpack, owned and operated by Automattic, is bundled with every fresh installation of WordPress. On a self-hosted site, all you need to do is install it and connect it to a WordPress.com account. Because you have to log into a third party server, this makes it a hosted solution. Jetpack installs like a single plugin, but it contains dozens "modules" that act just like separate plugins. You can toggle modules on or off from the dashboard.
You'll find modules with everything you need to: manage websites, create content, grow your traffic, and secure your sites. We recommend it for beginners because it is simple to use and intuitive.
While the free version of Jetpack has lots of goodies, you will need to purchase one of the paid subscription plans if you want to do anything substantial like schedule a backup, scan for malware and filter out spam.
Pros
Convenient
Beginner-friendly
Real-time backups
Uses WordPress REST API
Cons
Lacks features of a dedicated management plugin (i.e cloning and theme switching).
Pricing Plans
Free: $0
Basic: $200 per year
Premium: $420 per year
03.

InfiniteWP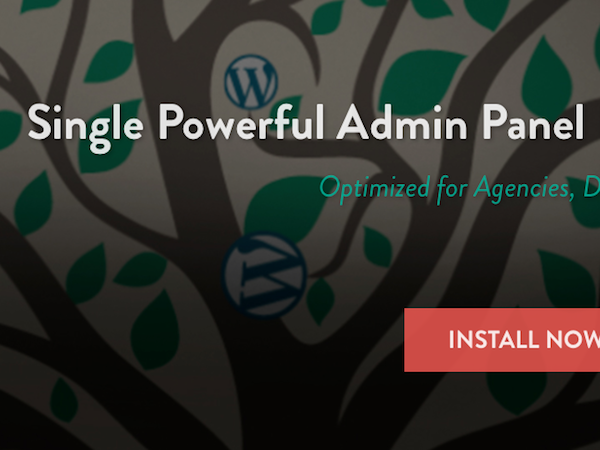 InfiniteWP has a full list of features and it's free, sort of. It is free to download, but if you want to get any sort of practical use out of it, you will need to make a purchase. This may be very well worth it. Before we get back to the price, let's speak a little bit about how it works.
The software works wonderfully, as it's a full suite for managing WP.  It's a more complete solution than Jetpack, but it comes at a price. The base app, which is free to download, is limited. You can only do a couple of things like create backups and install bulk plugins.
Certain features are only available via addon, which you will have to purchase as well. This can be a problem for those with a small budget. If you have lots of clients and your budget isn't tight, this is a great solution, especially for developers or anyone else who wants tighter control over their management system.
Pros
Reliable
Full-featured
Flexible
Easy to Use
Self-hosted
Cons
High price
Free version lacks functionality
Pricing Plans
Free
Addons (one-time fee) $49 – $99
Addon Suite (one-time fee) $399
Enterprise Solution $399
04.

MainWP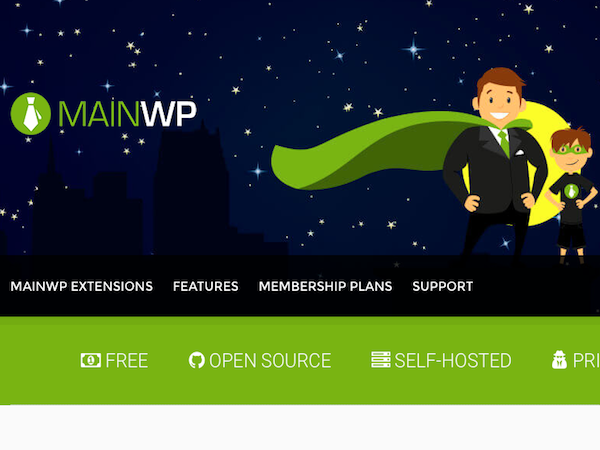 MainWP is an affordable multisite management plugin that offers an impressive value. As an open source enthusiast, I appreciate it when vendors keep their product license open source. The MainWP core is free to download. If you want to view the source code, you can find it on Github. Compared to InfiniteWP, it's neck and neck. The main difference is the price.
The free version is more powerful than Jetpack or InfiniteWP. For features like setup backup schedules from the dashboard, you will have to buy an extension. One thing to consider is project scope. MainWP has had some known issues with larger sites. We recommend MainWP for smaller developers who don't have lots of clients or tons of data to deal with.
Pros
Reliable
Full-featured
Affordable
Cons
Issues with large amounts of data
Pricing Plans
Free
Addons (one-time fee) $29 – $69
05.

iControlWP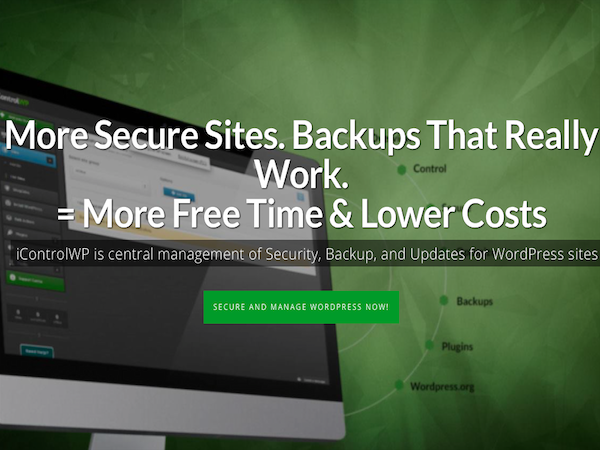 Like Jetpack, iControlWP is a hosted management solution for WordPress. This means you will need to login to the iControlWP website to manage your websites. But this is nice because you won't have to install any standalone software.
If you are mainly looking for a backup solution, iControl is a good choice. The incremental backups make efficient use of server resources and you get a full-set of management features. You can get a free trial version, where you get access to all of the features for 30 days.
Pros
Lightweight
Efficient incremental backups
Cons
Some features left to be desired (i.e. user management, analytics)
Can be pricey if you have lots of sites
Pricing Plan
Shield (10 Sites) $15 per month + $1.50 per additional site
Shield Growth (15 Sites) $39 per month + $2.95 per additional site
Shield Protect Pro (50 Sites) $99 per month + $2.00 per additional site
Wrapping Up
When figuring out which WordPress management plugin is best for you, I would start with ManageWP. Although the acquisition raises questions, it's still free, with tons of cool features for your WordPress site network. InfiniteWP is a close runner-up, mainly because the free version is more watered down than we would like. JetPack should technically be installed for all sites, but it's not remotely close to giving you the WordPress management tools you need for multiple installations.
Overall, ManageWP looks like the winner here, but keep an eye out for any developments with the acquisition by GoDaddy. If you have any thoughts about the best WordPress management plugins, feel free to let us know in the comments section below.